Travel trailers are increasingly popular with small families and friends who like to camp together under one secure roof.
Most RV parks and campgrounds will accommodate these sites for about the same amount that you would pay for a tenting site. This makes it easier than ever to find an RV trailers with 2 bedrooms that can meet your needs.
One of the more common priorities in this market segment is the need for a travel trailer that has two bedrooms.
Especially, if your children have grown into teenagers or you frequently travel with another couple. So, what are some of the best two bedroom travel trailers sold today?
The answer might surprise you. In fact, more and more quality RV manufacturers are making a concerted effort to meet this growing demand.
Some of the more popular camper trailer floor plans with 2 bedrooms to consider include the:
In this article, we'll take a look at some of the best two-bedroom travel trailers.
This starts with some of the more well-known manufacturers who have the experience necessary to develop a camper that replicates two distinct sleeping accommodations.
We'll also keep an eye out on important factors that go into staying comfortable when traveling with your family, or a co-vacationing couple.
10 Best Travel Trailers With 2 Bedrooms
A two-bedroom travel trailer camper is a great way for large families and co-vacationing couples to enjoy camping with a sense of personal privacy.
The following buyer's guide reviews are designed to help you find the perfect travel trailers with 2 bedrooms.
So here are the list of 10 best travel trailers, all featuring 2 bedroom floor plans.
1. The Jayco Jay Flight Bungalow Travel Trailer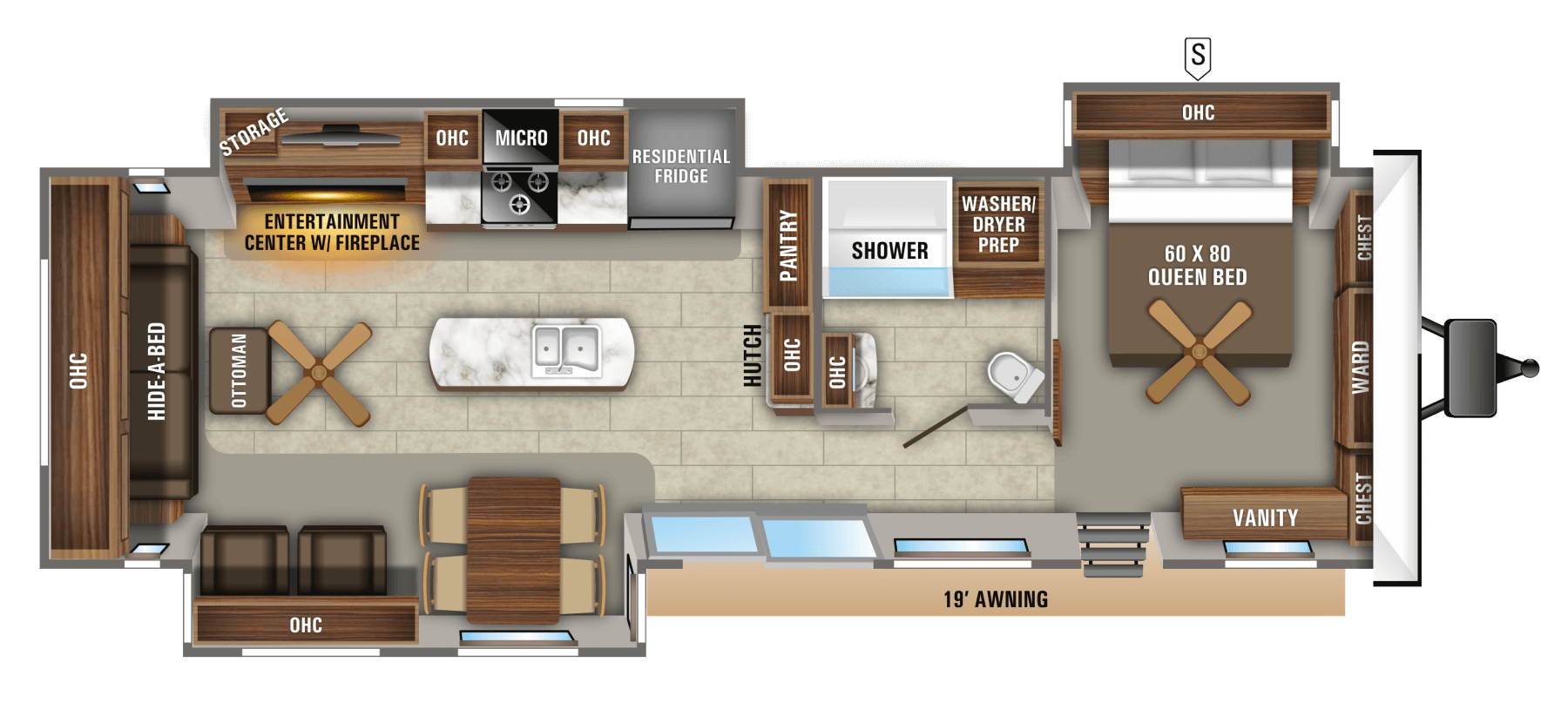 Specifications
Jayco is an RV industry leader with a diverse line of high-quality RV's and campers for you to consider.
The Jay Flight is one of the more popular models in their wide range of travel trailers, with the Bungalow being geared toward groups who prioritize two distinct bedroom spaces.
Several of their camper floor plans feature a true "Master Bedroom" that with the privacy you prioritize, as well as a living area that also hosts a pullout bed. This includes their 40 RLTS, as well as their 40 BHTS and 40FBTS.
In the case of the popular 40 RLTS the 2 bedrooms floor plan bedroom configuration is really meant more for a family with a teenager, rather than a pair of co-vacationing couples.
The master bedroom is more of a master suite with a queen size bed, with vanity and ward. The second sleeping area is in the main living area in the form of a comfortable couch/hide-a-bed.
The Jay Flight Bungalow also has many of the comforts of home. This includes a spacious bathroom, with a large sink and a shower. It's even set up for an optional washer and dryer stack.
The kitchen feels very much like a conventional home kitchen. It has a three-burner range with stove and overhead microwave. It was even designed to accommodate a large energy efficient residential refrigerator.
2. Forest River Wildwood T30QBSS Travel Trailer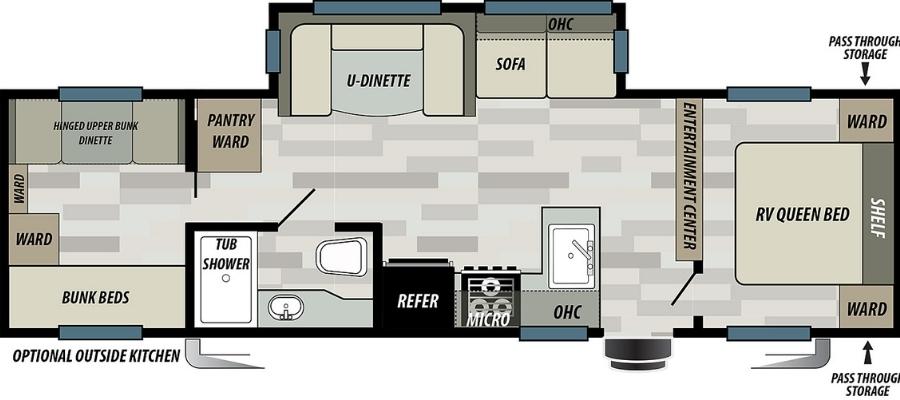 Specifications
Forest River is another powerhouse in the RV industry with a primary focus geared toward offering high-quality travel trailers, fifth-wheel campers, and a few toy haulers.
They have several affiliates that help make their line exceedingly versatile. Many models have multiple floor plans.
The Wildwood itself is available in 14 different floor plans as well as two 2 limited "Special Edition"versions for you to consider.
Within these 7 models have a distinct two-bedroom floor plan. Among these the Forest River Wildwood T30QBSS likely has the most appeal for families who need travel trailer with two bedrooms.
Technically, the second bedroom in this RV does have bunkbed options as standard, but there is room to easily convert the space to handle a queen-size bed.
The frame and total length of models in the Wildwood line can range from a relatively compact 26'10" all the way up to 39 feet.
This likely means you will need a three-quarter-ton or even a one-ton pickup truck to safely tow the larger models. In the case of the T30QBSS, you are looking at a sleek 33.83-feet.
3. Highland Ridge RV Open Range Roamer RT292RLS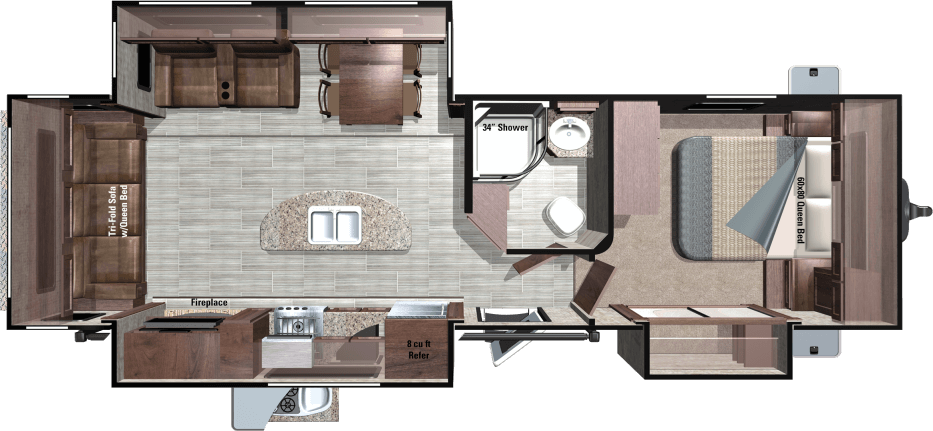 Specifications
This RV is so large enough that the manufacturer offers it as a fifth-wheel camper as well as a travel trailer.
One thing to note about this unit is that it was also designed to handle cold season camping.
While it is well-insulated and has thoughtfully engineered ducting for the forced air furnace, it might not be enough to handle the deep cold of a northern winter.
If you need to camp in the desert in the spring or fall or spend a night at altitude, this is still a great option for keeping your family toasty warm.
When it comes to families and couples who need two distinct bedrooms in their RV, the RT292RLS is probably the most appealing of their 7floor plans.
This four seasons RV trailer has one dedicated bedroom with a queen size bed and the spacious couch in the living room area then folds out into a queen size bed.
Just bear in mind that at an average gross weight of over 10,000 pounds you won't be towing the Highland Open Range with a half-ton pickup truck like an F-150 or a Silverado.
This will take at least a three-quarter pickup truck with a diesel engine, especially if you need to tow it up a grade.
4. Dutchmen Rubicon 2500 Toy Hauler And Travel Trailer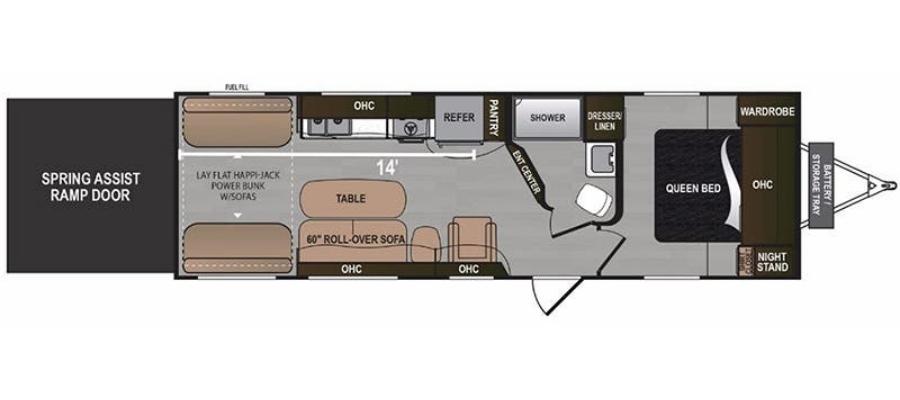 Specifications
Dutchmen is another trusted name in well-designed, high-quality RVs. Their Rubicon 2500 offers a little something interesting in that it's designed to be a toy hauler that can also pull double duty as a comfortable travel trailer.
This makes it a great option for families and co-vacationing couples who want to bring ATVs, UTVs, and snowmobiles with them.
When you get to your intended campsite the spring assist door opens up and folds back to provide a heavy-duty ramp. Once you back your "Toys" out, you can get to work converting into a comfortable sleeping space.
There is a queen-size bed in the front near the tongue forward area. When you convert it to a full camper the rear sleeping accommodation hosts a special "Flap Jack" queen size bed.
A few things to keep in mind with the Rubicon is that not all models have an indoor shower. Some come with only an exterior shower.
If you intend to camp in cold conditions, you might also want to note that not all floor plans come with a forced-air propane furnace.
Though it is available as an optional extra. The unit Dutchmen recommends produces 30,000 BTUs of heat.
5. Prime Time Avenger ATI 26BK Travel Trailer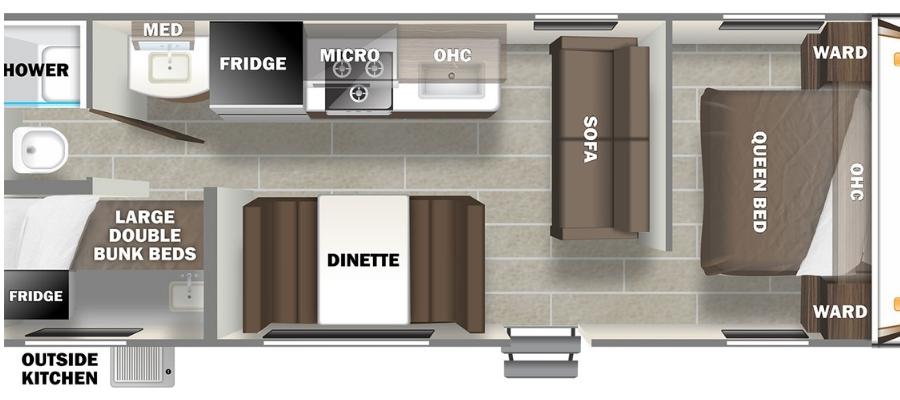 Specifications
Prime Time is a lesser known RV manufacturer. Still, you shouldn't let their limited marketing presence put you off.
They actually that have a long history of maintaining a presence in the travel trailer niche.
Their Avenger in the 26BK floor plan has a dedicated queen bed in the master bedroom section at the front.
There is a large double bunk in the rear area as well as a sofa that could comfortably sleep a child.
It comes with an air conditioner and furnace as standard, though they are a little on the small side for a 28-foot travel trailer.
If you intend to travel in blazing hot areas like the desert, or you might also want to use it as a hunting base camp lodge, then you might want to talk to the dealer about upgrading the AC or forced air furnace.
6. Palomino Puma31FKRK Travel Trailer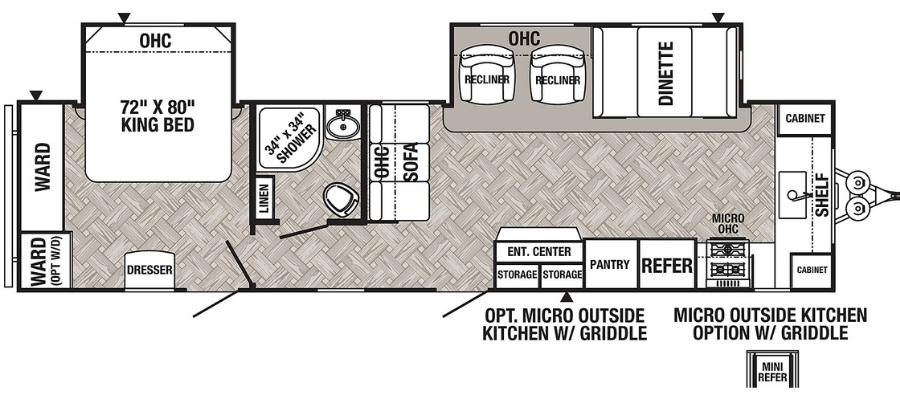 Specifications
Palomino is an established name in the RV industry that has recently merged with Forest River and its affiliate Berkshire Hathaway.
The 31FKRK Travel Trailer is the floor plan that best mimics a two-bedroom feel. There is a dedicated master bedroom complete with a king-size bed.
A modest bathroom with toilet and shower stall separate it from the main living area. There is an optional sofa with a pull out sleeper bed that can double as a second bedroom.
However, you will need to put the bed away to use the recliners and other seated areas beside the dinette.
The kitchen even includes a spacious double door refrigerator. There are even hookups for an optional washing machine and dryer.
Weighing in at a little over 8,600-pounds dry weight, the PUMA 31FKRK could be towed by a half-ton pickup truck with an 8-cylinder engine and an upgraded tow package.
If you are planning to take it up steep hills or at altitude, you might want to take it a step further and go with a three-quarter or one-ton pickup truck.
That way you know you have the power you need to handle the grade, while also reducing the chance of trailer sway problems.
7. Winnebago Minnie Plus 30RLSS Travel Trailer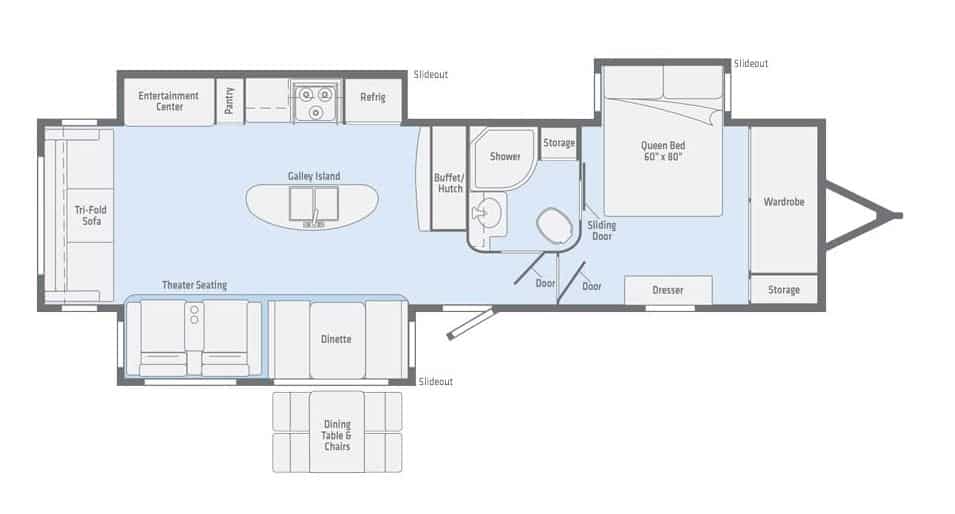 Specifications
Winnebago is a former titan of the RV industry that has come down a little from their once lofty heights to just become a trusted giant.
They have a decades-long reputation for producing high-quality motorhomes which led to them expanding into travel trailers, fifth wheels, toy haulers and more.
Their Minnie Plus is one of their more popular travel trailers, with multiple floor plans being offered in recent years.
Families and co-vacationing couples who want two distinct sleeping areas are more likely to be interested in the 30RLSS floor plan.
It features a true master bedroom with a latching door, wardrobe closets and other amenities that verge on luxury.
On the far another end of the travel trailer, there is a spacious trifold couch that expands into a true full-size bed.
There is a bathroom with direct access from the master suite or the main living area of the camper. It includes a basic foot pedal flushing plastic toilet and a spacious shower stall.
The kitchen has a three-burner stove with an oven, as well as a refrigerator and pantry. There is even a galley island for laying out on the go food items.
8. The Keystone RV PREMIER 26UDPR Travel Trailer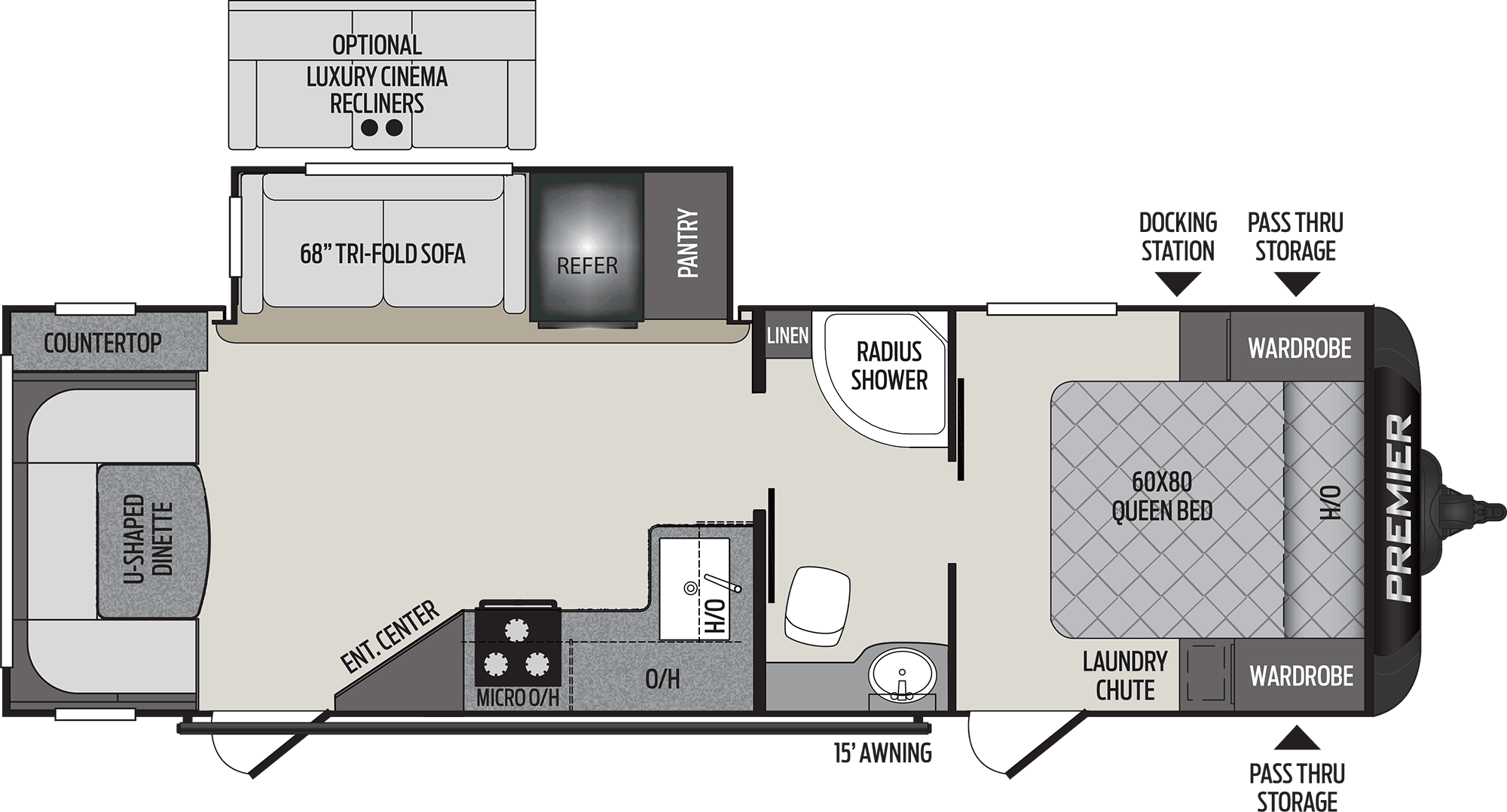 Specifications
Keystone is a subsidiary of the high-quality RV manufacturer Thor Industries. They have a fair number of fifth-wheel trailers that can be deployed as a two-bedroom of bunkhouse RV.
The Premier is one of their most popular travel trailer campers. It's available in a variety of floor plans, but their 26UDPR is probably the most accommodating for families and co-vacationing couples who want two distinct bedrooms.
There is a master suite in the front with its own internal and external doors. As standard, it comes with a queen-size bed and a lot of thoughtful storage, including a laundry chute.
A spacious bathroom with a toilet and radius shower stall serves as a buffer zone between the master suite and the rest of the RV.
The main living area includes a kitchen with a gas-electric refrigerator, a large pantry, and a 3-burner range with oven.
A tri-fold sofa in the main living area can then be deployed to create a second bedroom. It's also worth noting that as an optional extra you can swap out the sofa for a pair of comfortable recliners.
One nice thing about the Keystone PREMIER 26UDPR is the gross weight of around 7,500 pounds.
This means you could potentially tow it safely with a half-ton pickup truck with a heavy-duty tow package.
9. The Airstream Globetrotter® 30RB
Specifications
Airstream is one of the trusted and most classic names in RV travel trailers. They have a sleek look paired with a long-standing reputation for quality.
Even older models that are no longer road worthy, have enthusiasts turning them into lodging features on vista locations like the Pacific Coast Highway.
Versatility is one of the features that has helped them remain popular for so long, this shines through in the Airstream Globetrotter® and it's 8 different floor plans.
Families who need two separate sleeping areas might want to start by looking at the Airstream Globetrotter 30RB which is a perfect small travel trailer with two bedrooms.
It has a master bedroom that comes with a queen-size bed and dual nightstands. There is also a lot of thoughtful storage as well as a space for wall mounting a flat-screen television.
There is a split bathroom with a toilet and vanity on the left. On the right side of the central hall are a spacious shower stall and a separate wardrobe.
The kitchen has a three-burner stove with an oven as well as a microwave and a single basin sink. It also has multiple cabinets and cupboards to store cookware. There is a 6.7 cubic foot gas-electric refrigerator.
The front of the Globetrotter® 30RB spends the day as a spacious lounge with seating for up to six adults.
This is really nice for times when heavy rain might trap you inside. At night the lounge can then be reorganized into a 38″ x84" sleeping area.
This type of configuration is likely more preferable for families who need a separated sleeping area, rather than co-vacationing couples.
However, it is light and aerodynamic enough to be towed by a half-ton pickup truck. This is something you can't always say for a sturdy dual axle travel trailer.
10. Dutchmen RV AEROLITE 2923BH Travel Trailer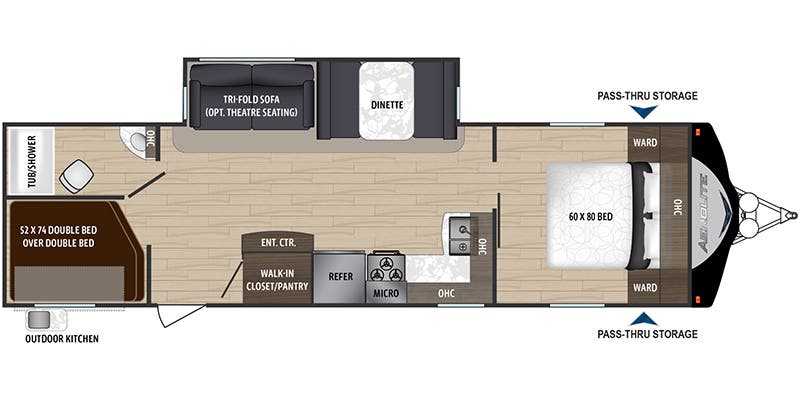 Specifications
The Dutchmen AEROLITE is one of the more popular travel trailer campers in their diverse line. There are multiple floor plans, each with its own custom options available.
The 2923BH is one of the better places to start looking for families who prioritize two separate sleeping quarters.
The front of the camper has a master bedroom with a queen-size bed with separate interior and exterior doors. There is also a lot of storage, including a pass-through compartment.
The main living area has an entertainment center with a fireplace as well as a separate dinette. In the kitchen, you will find a refrigerator, a three burner range with an oven, an overhead microwave, and a dual basin sink.
The main living area also has a sofa that hides a tri-fold bed. It can be deployed to offer a separate sleeping area for a couple of a teenager.
In the rear of the travel trailer, there is a 52" X 74" double bed with its own separate wall.
The bathroom has a toilet and a sink with well-designed vanity. There is also a bathtub-shower combination stall.
Common Travel Trailer Terminology
There are a lot of marketing and proprietary terms thrown about by RV travel trailer manufacturers that can sometimes obscure what you really get.
Sorting through some of the more popular ones in advance will help you streamline your search as well as helping you prioritize features you want in an "Ideal" travel trailers with two bedroom.
Bunkhouse
This is a term you might hear being thrown around with travel trailers. They are especially popular with hunters, anglers, and families that have multiple children.
Some of the more popular models have a master bedroom in some form and a larger living area that can be transformed into a sleeping space for multiple people.
This might be an attractive feature for you. Still, if you are looking for a true "Two Bedroom" travel trailer camper, you probably want to tend away from "Bunkhouse" models.
The people sleeping in the bunkhouse area likely won't have the privacy they prioritize. It's also worth noting that most bunkhouse areas rarely have beds that can sleep two, which could be an issue if you frequently travel with another couple.
Tri-Fold Couch
This is essentially the more evolved version of the classic "Hide-a-Bed" that become all the rage in the 1980s.
As the name implies it spends the day as a standard couch in the RV's primary living area. At night, you remove the cushions and pull the mattress and frame out in three contiguous sections.
You can rest easy knowing that most modern tri-fold couches use upgraded materials and engineering.
This makes them more comfortable and quieter than the old hide-a-beds that gave this type of sleeping accommodation a bad name.
Privacy might still be an issue with this type of sleeping arrangement. If you are traveling with a teen or another couple, you might want to consider investing in something like an opaque dressing screen to deploy at night.
Toy Hauler
This term refers to a travel trailer that can be used to transport ATVs, UTVs, and even snow machines.
When you get to your intended destination, you open up the back of the camper to take the small vehicles out. The rest of the camper is then converted into living accommodation.
There are some RV manufacturers who offer toy haulers with some type of fold-down, Murphy or pull out bed.
Though most just leave this spot open allowing you to sprawl out your interior living space. In a pinch, you could use this empty space in the back to set up an air mattress on a cot frame.
A simple curtain or dressing room partition can then serve as a temporary wall offering some added privacy
On Travel Trailers With 2 Bedrooms
As you can see, you can see, there are a lot of two-bedroom travel trailer options that are worthy of your consideration.
Some have two distinct sleeping areas or a bunkhouse room that can sleep, multiple people.
Your preferred level of privacy and the privacy needs of your fellow travelers will need to be an important factor before pulling the trigger on a specific unit.
If you've whittled your options down to one or two and you are still biting your fingernails, you might want to try renting one.
There are some dealerships and rental agencies who will allow you to do so, especially if you've shown interest in buying one of the units on their lot.
Of course, there will be some fees and insurance requirements that go with it.
Another option to consider is renting a similar unit through a second party or a peer-to-peer rental site like Outdoorsy or RVshare.
These networks allow you to connect with an RV owner who has the type of two bedroom travel trailer you are interested in. They will often let you rent it for cheaper than a dealership or rental agency.
It can also be a great way to "Pick Their Brain." If possible, try to start up a conversation with them to see what things they like most about the unit you are interested in.
Many of these people even maintain a presence on the site's message board forum.