A true four-season RV appeals to people who want to go beyond the fair-weather times of summer vacationing.
This might include things like fall leaf viewing trips, using an RV as a hunting base camp or getting out on the ice during the depths of the northern winter.
You might even be interested in taking a four-seasons-hardy RV on a high-altitude camping trip.
If these RV adventures sound like the sort of thing you are interested in, then you are likely looking for things like the best insulated 4 season travel trailer, a 4 season fifth wheel camper, of a cold weather-hardy motorhome.
Which RV's Are Truly Four Season? These are the best 4 Season Travel Trailer and RV Campers ideal for for all-weather camping.
In this article we will take an in depth look at the kind of features you might want to prioritize in a 4 season travel trailer, camper, or motorhome.
Along the way you want to keep in mind that some of these units are geared to specific niche interests like ice fishing or public land hunting.
Just don't let a niche interest turn you off to consider a particular model. The cold hardiness will serve you well when the mercury dips.
11 Best 4 Season Travel Trailer And RV Campers To Live In Year Round
1: Jayco Redhawk 25R Class C motorhome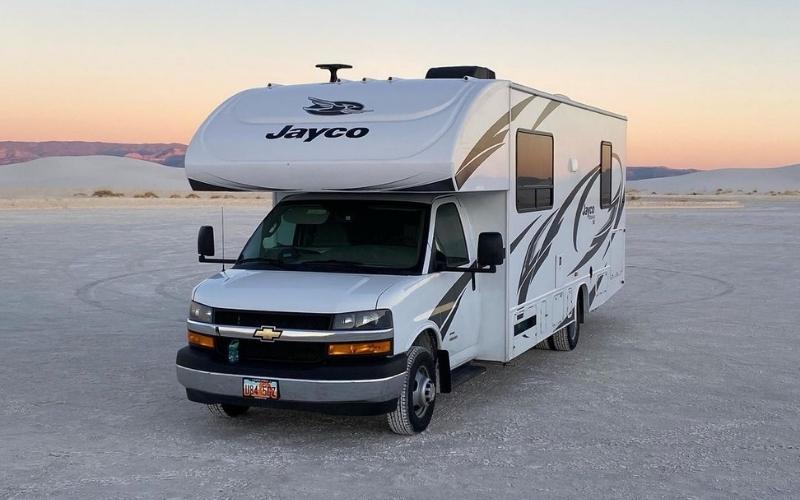 Jayco is a titan in the RV industry with a wide range of 4 season camper units. They have built their reputation by designing with an eye toward quality and functionality, while also absorbing other smaller manufacturers into their line and tapping into the best of their best features.
Their Redhawk is a Class C motorhome is one of the best four season class C RV available in several different floor plans.
It is constructed with what Jayco calls its "Climate Shield" weather protection system.
This gives it the insulation properties that you want to handle the cold in winter, as well as prevent the invasion of heat and humidity in the summer.
This Class C motorhome is built on a Ford frame with a reputation for durability and proven longevity.
The V10 engine also gives you the power to handle rough roads for times when you might want to take this RV off the grid for things like taking a hunting trip on public land.
The amenities and special features can vary depending on which of the six-floor plans you choose. In the middle of their line, the 25R is very appealing for a couple with a small family.
Specifications
2: Tiffin Wayfarer Class C Diesel Motorhome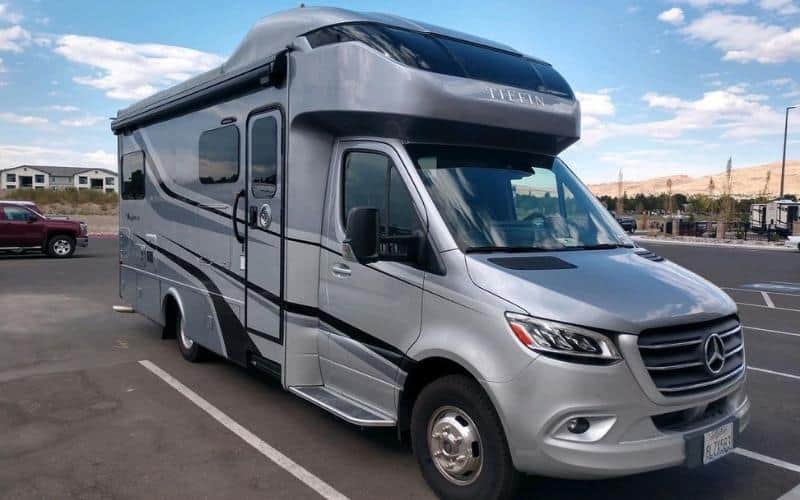 This is another Class C Motorhome that was designed with four-season travel in mind.
That being said, it has some bells and whistles like heated mirrors and 12-volt pad heaters for the water tanks. Yet they try to save weight and cost by not heavily insulating the underbelly.
This ultimately means that this all seasons rv can handle cold weather, in the mid-latitudes and at altitude during the summer.
Unfortunately, it's not robust enough to handle upper midwestern or Canadian winters without additional modifications.
You could handle an overnight stay at sub-32-degrees, but I wouldn't recommend pushing it beyond that without at least adding some level of insulation to the water lines, or putting anti-freeze treatment in the gray and blackwater tanks.
Specifications
3: Keystone RV Montana Fifth Wheels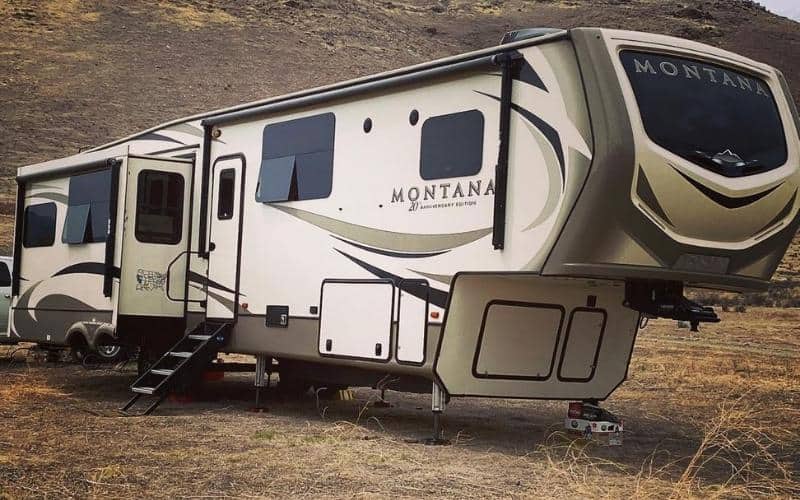 The Keystone line of RVs is manufactured under the Thor Industries umbrella.
This is another cold weather rv manufacturer in the industry that continues to expand its market reach by developing quality RVs while merging with other smaller manufacturers to infuse their line with well-designed features.
This 4 season travel trailer has a robust heating and air conditioning system to handle both ends of the seasonal weather spectrum.
The tanks are also large, which allows you to stay off the grid for longer periods of time or Boondocking when winter RV parks might not be open.
The Montana is available in 22 different floor plans, and just like the big sky state it is named for, each has spacious accommodations.
The least expensive of the line, the 3120RL, rings in around $80,000. At the high end of the line, the 3740FK and the 3741FK are prices tagged at just under $93,000.
The sleeping spaces and special features of the Montana vary throughout the line. Still, even the most basic of their line feels on par with an efficiency apartment.
The highest end of their line could easily be mistaken for a luxury SUV for "Glamping." Though most share some baseline construction specs.
If you want a four season RV that you can use off the grid for a hunting trip or base camp for a backwoods hiking adventure, yet you want to stay clean and comfortable, the Montana deserves a good hard look!
Specifications
4: Forest River Arctic Wolf Explorer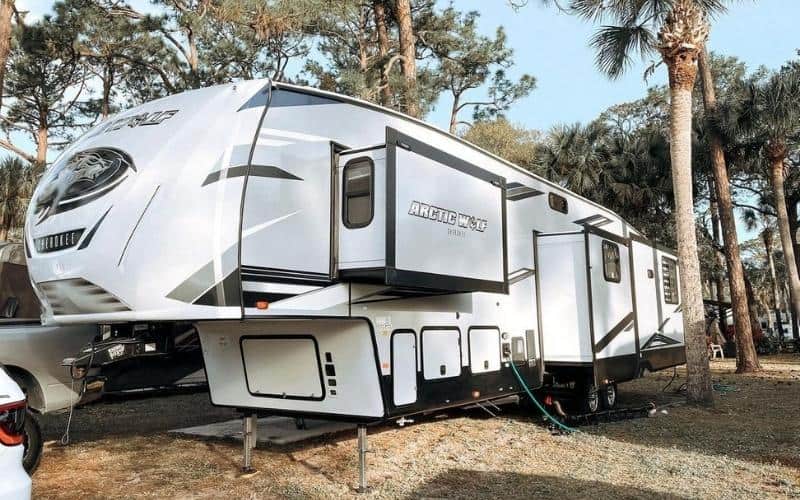 Forest River is another one of the giants in the RV industry with units to appeal to just about every interest.
They have become a trusted name for cold weather rv manufacturer who prioritize quality and thoughtful engineering.
Their Arctic Wolf shares much in common with the very popular Cherokee.
Yet it has some extra material characteristics and special features that set it apart and help it endure as a true four-seasons fifth wheel RV.
When shopping through the Artic Wolf floor plans, keep in mind that not all models have their proprietary "Elemental Protection Package."
This helps insulate the interior spaces to reduce heat loss or to better retain air conditioning.
It also reduces the vapor exchange allowing you to better deal with humidity issues that can be a problem in dog days of summer.
5: Jayco Eagle Fifth Wheels 321RSTS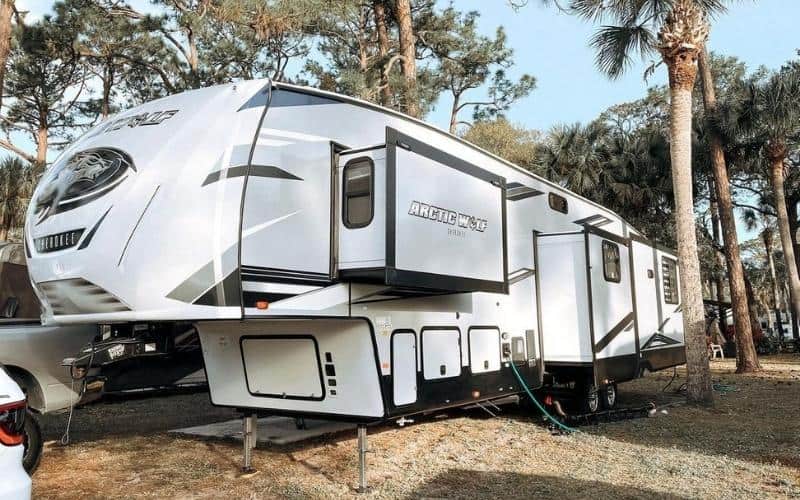 As you might well imagine an RV giant like Jayco was sure to include a durable four-season fifth wheel camper in their line in the form of the Eagle.
This spacious 4 season fifth-wheel trailer is available in a wide range of floor plans, each with its own optional features and benefits.
You will need at least a three-quarter-ton or one-ton pickup truck with a gooseneck trailer to tow this heavy beast.
There are multiple trim models and its available in seven different floor plans. Some allow you to sleep up to 8 people, while others are designed with plus amenities for a couple or perhaps a small family.
Like other four-season RVs in their line the Eagle is one of the best 4 season fifth wheel comes with their Climate Shield™ zero-degree-tested weather protection.
This 4 season fifth wheel includes things like an insulated underbelly as well as superior insulation in the ceiling and floor.
The fact that the underbelly is fully enclosed and insulated means you can keep it off the grid, in freezing temperatures without having to worry about the tanks slushing up or freezing.
Specifications
6: The Heartland Bighorn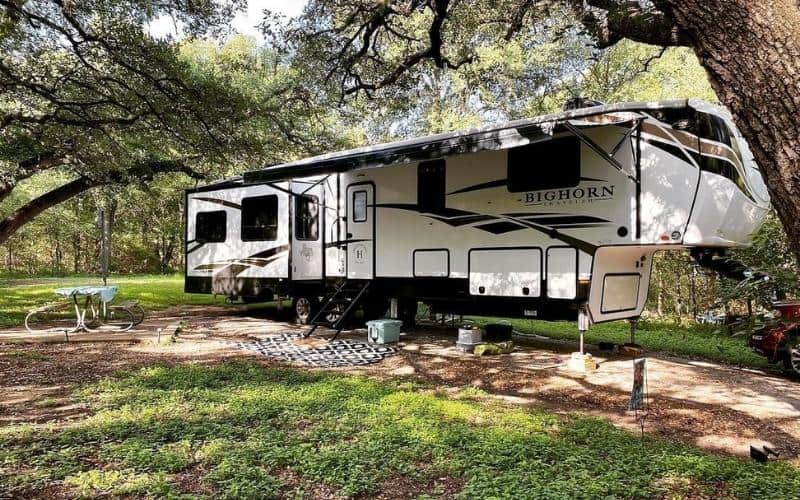 Heartland is a subsidiary of Thor Industries that has been allowed to maintain its own brand identity while also being able to the RV giant's high-quality materials, engineering, and components.
This ensures that you are getting a great product with the durability to keep you in comfort.
It has superior R-Values rated in the specifications including:
R-Value of the walls = R-11
R-Value for the floor = R-38
R-value of the roof = R-40
This level of insulation helps lock in the heat in winter and the air conditioning in the summer.
The Big Horn travel trailer is designed to handle most four-season weather.
Though you might need to take a few extra precautions in extreme winter weather where the temperatures dip below zero degrees Fahrenheit for multiple days.
The optional dual air conditioner upgrade package is also a nice touch if you need to tackle blazing heat and humidity during summer vacations.
There are several trim levels within the Big Horn moniker. Their "King of the Mountain" seems to be one of the most popular with four-season RV enthusiasts.
As the name implies it has a king-size bed, yet most optional packages include sleeping space for more.
Specifications
7: The Ice Castle All Seasons Traveler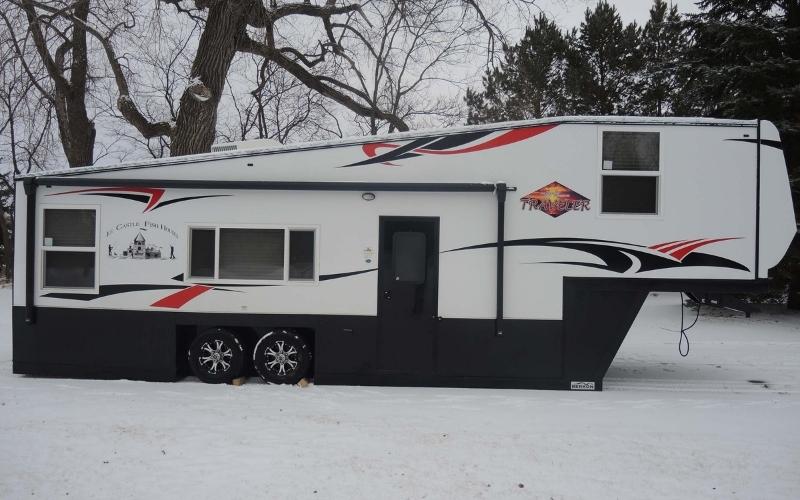 One could argue that this fifth wheel camper belongs in the ice/fish house category.
Yet, when you take a closer look at it, you see that it lives up to the name "All Seasons Traveler" as a camper that can occasionally travel out onto the ice.
The All Seasons Traveler is more geared towards families and groups of tradesmen who need a base camp to stay at while working projects in the coldest times of the year.
When paired with a heavy-duty generator it gives you the ability to live off the grid for up to a week without resupply.
It even has 12 and 110-volt outlets for times when you need to be off the grid or have shore power available.
If you want to ice fish during the depths of winter this might be a good unit to consider.
Though the 9,740 gross means that you can only really use it on the thickest of ice for something like 4 to 6 weeks out of the year and only in the most northern climes of North America.
If you work in the trades and you need to stay in comfort during a remote project, this is a great way to keep you and other workers comfortable.
Specifications
8: Ice Castle RV Extreme Fish House/Travel Trailer with Arctic Insulation Package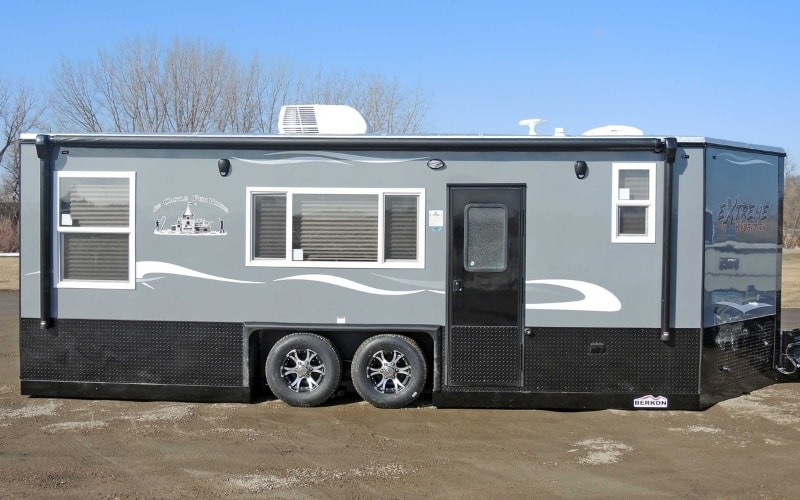 This is a niche that started out to serve ice fisherman who wanted to live on the ice for long weekends, without having to go ashore.
Over the years the industry has seen rapid growth catering to those who want a 4 season travel trailer that can handle the worst that winter can throw at them, yet still, let you live in comfort during the summer.
Most are designed to be surprisingly lightweight, as their priority purpose is to be pulled out onto relatively fragile ice sheets.
Yet this also means you can pull a travel trailer of 18-feet or more behind a half-ton pickup truck!
9: Glacier A818RD
Glacier has a wide range of ice house travel trailers that are designed to take anything an upper midwestern or Canadian winter can throw at it. When you aren't using it for fishing, you simply leave to floor hatches in place.
Their A818RD cold weather RV is a staggering 18-feet long, and 96-inches wide with dual EZ-lube axles, and a 22,000-pound maximum cargo capacity yet it only has a dry Weight info 5,250.
The gross vehicle weight can vary depending on the floor plan and features you prioritize. The standard model has 3 bunks and sleeps up to 4 with 9-hole hatches in the floor.
This ice house camper was designed to let you ice fish in style, without having to leave the lake for the weekend.
Still it has the suspension and other features you need to take it with you in the summer for a family camping trip.
Just keep in mind that while the windows are braced for air conditioners, they do not come with it as standard.
Specifications
10: Ice Castle American Eagle Fish House Trailer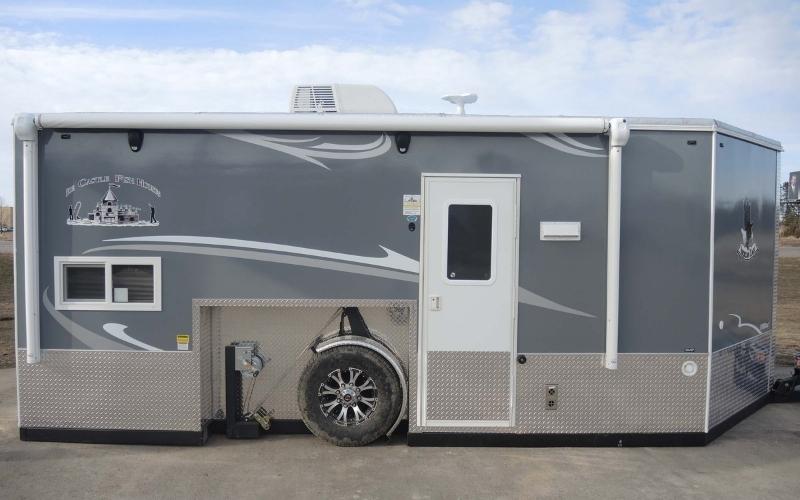 Ice Castle is one of the dominant and still fastest growing brands in the ice/fish house niche.
The American Eagle is one of their more popular cold weather travel trailer units that is just as at home on the ice as it is in an RV park at the edge of the Saguaro Desert in Arizona.
It rings in at just over 21 feet long, yet it is light enough to be supported on a single axle. The standard model can sleep up to five adults, and it has six hatch covers on the floor.
The spray foam insulation in the Arctic package offers superior insulation for deep cold. It also reduces vapor transfer during times of high humidity.
The rooftop air conditioner also speaks to the fact that Ice Castle designed the American Eagle is a true 4 season camper to handle summer trips just as well as they do the winter.
Specifications
11: Highland Ridge Open Range Roamer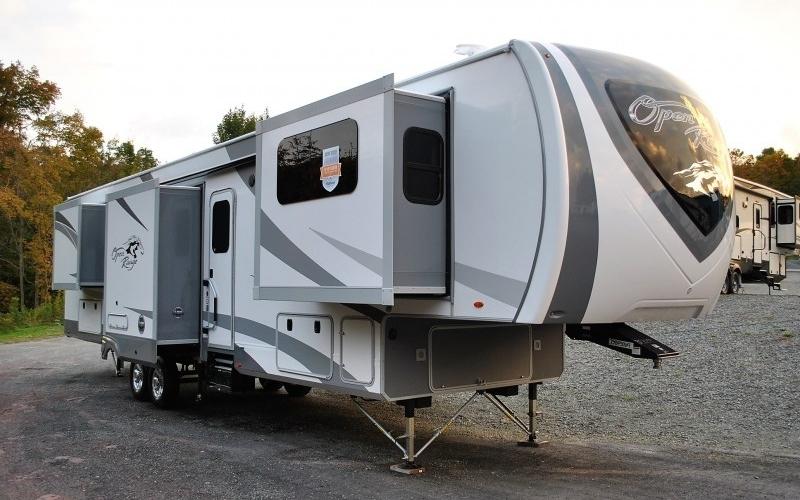 This is a relatively large travel trailer that Highland also offers in a fifth wheel floor plan. They designed it with their special "Four Seasons Package.
This includes superior R-Factor insulation in the walls, ceiling, and floor. The Open Range Roamer also has thoughtfully engineered ductwork connected to the forced air furnace.
Just bear in mind that this 4 seasons travel trailer is meant more for cool-season camping or winter at temperate latitudes.
If you need to camp in the desert in the spring or fall or spend a night at altitude, this is still a great option for keeping everyone nice and warm.
Just bear in mind that straight from the manufacturer it might not be insulated well enough to handle sub-zero temperatures.
It's also worth noting that with an average gross weight over 10,000 pounds you will need to tow it with at least a three-quarter pickup truck. Preferably one with a diesel engine.
Specifications
How Will You Use Your Four-Season RV?
To really dial in the type of four-season options you want to target you should take a few minutes to sit down and think the way you'll use it most as well as the kind of weather you'll be facing.
It helps to research the top destinations you are considering, factoring in the time of year, and the type of weather conditions your RV may have to face.
The following are some key questions you should try to answer When looking to buy a 4 season travel trailer or RV camper.
What's the average and record high temperature?
This will help you gauge just how robust of an air conditioner you need. A large RV might need to frequently deal with high heat and humidity.
If so, then you likely need an air conditioner rated to 15,000 BTU's or perhaps one that can accommodate a secondary air conditioner mounted in the window.
What's the average and record low?
Winter snow and cold is typically the biggest challenge faced by four-season RV.
If you are going to frequently travel where the temperatures dip below 32-degrees Fahrenheit at night, or even stay below freezing throughout the day, you should prioritize a forced air furnace rated to produces at least 30,000 BTUs.
There are a few things that can help hedge your best in cold conditions. This includes things like:
Underbelly insulation
Tank heaters
Double Pane, Thermal, or Argon glass
How Much Precipitation Will There Be?
Most RV's are designed to handle a reasonable amount of summertime precipitation. A few can even handle a modest amount of snow.
Still, if you're going to be traveling where extreme snowfall or heavy rains are a common problem, you might want to look for special features like reinforced hatch covers, or seamless rubber roofing.
These things help the roof do things like bear snow load or shed water quickly before it has a change to invade the interior of the RV.
Special features like this might not always come in an RV's standard package, but a dealer might offer then as an optional extra.
If you do find a unit you love, but the roof is just basic sheet metal, you might want to ask the dealer if they have any weather proofing upgrades available. Some might be able to accommodate your needs for a nominal fee.
Will Ice Be A Problem?
Ice can cause traction issues on the road, which essentially robs your tow vehicle or the motorhome's engine of the power it needs to move down the road.
If you are going to be traveling in a region where ice is a frequent issue, such as the mountains during the transition seasons, you might want to inquire about tire options.
While robust tires and chains won't be necessary for a travel trailer of fifth wheel camper, they can make a world of difference for a tow vehicle or a motorhome.
Many motorhomes are rear wheel drive, which can "Break Loose" or "Spin out" on an icy road. This could be a major problem if you are driving up or down hill on icy roads.
Are There RV Parks That Are Open Year-Round?
You also might want to do some research into the kind of RV facilities that might be available during off-peak times of the year.
Even if you are thinking of traveling to past haunts you enjoyed in the summer, that same RV park might not be open during an off-peak time of year.
In a situation like this, or one where you intend to say use the RV for hunting or ice fishing, you might want to put a higher priority on a unit that has the ability to Boondocking.
This essentially means it can run off its own water and generate power for a significant period of time without the need to connect to municipal services.
Different Types Of Four Season RVs
When you hear the the term "Four Season RV" your knee-jerk reaction might be to think of a motorhome.
While there are some that are set up to handle the winter, there are fifth-wheel trailers, toy haulers, travel trailers, and even portable ice fishing shanties that deserve your consideration.
Four Season Motorhomes
Motorhomes are some of the most popular options for four season travelers and campers who want to get out despite the winter snows. They come in various classes and sizes.
Class A motorhomes are the largest of these models. Some have significant special features to keep you traveling and camping in the lap of luxury.
In some states, you need a special license endorsement to operate these behemoths of the road. So, make sure to include that in your shopping research.
Class B and C motorhomes tend to be smaller. Some can be as small as a camper van or a panel van conversion. Yet there are others that are large enough to rub shoulders with a Class A motorhome.
Four Season Fifth Wheel Campers
If you have a heavy-duty three-quarter ton or one-ton pickup truck, you might be in the market for a four season fifth wheel camper.
This large trailer is attached to a special gooseneck hitch mounted into the cargo box of the truck.
Some four-season fifth-wheel campers can feel a little stripped down and basic. Though there are a few that have enough special features to play with the word "Luxury."
Four Season Travel Trailer
Depending on your specific interests, you might find yourself spoiled for a four season travel trailer choice in this market segment.
Manufacturers offering new units have taken to designing features that four-season RV enthusiasts need.
Though there are also units geared toward tradesmen, miners, and construction workers who need a place to live off the grid while working on remote projects.
In northern-tier states and parts of Canada, you can also find pre-owned models, that were originally designed to serve as a summer camper trailer, that someone converted themselves to handle winter conditions.
Though for our purposes here we'll look at relatively newer models with manufacturer's specs.
In this segment also resides so-called "Fish House" campers. Niche manufacturers in North Dakota, Minnesota, Wisconsin, Michigan, Maine, and Southern Canada produce units that are designed to cater to ice fishermen with families.
The philosophy behind these units is often described as "You can use a fish house to camp, but you can't use a camper to ice fish."
While they do appeal to a certain segment these units are also designed to be stout and warm in even the most severe of winter, off-the-grid conditions.
The one thing to bear in mind with these campers is that they generally don't come with any type of air conditioning. Though some can be used to handle an RV window air conditioning unit.
Common Four-Season RV Questions
Right off the bat, there are a few common questions you might want to keep in mind while you explore your four season RV options.
Important Materials And Construction Features To Look For In A Four-Season RV
A good forced air furnace or air conditioner is just the tip of the ice berg to look for when shopping for a four-season travel trailer or RV camper.
When we're looking to buy a 4 season RV Things like insulation, windows, wind-proofing, waterproofing, hatch covers, pipe insulation, tank insulation, window qualities and even electronic braking system can all come into play.
This includes things like:
How Important Is RV Insulation?
The effectiveness and overall efficiency of an RV air conditioning or heating system will be greatly affected by the quality of insulation in the walls as well as the ceiling.
Different manufacturers use different insulation strategies in their RVs. At the same time, newer models are more likely to have more thermally efficient materials.
It's helpful to take a few moments to look into what type of insulation the four season travel trailer has in the walls.
Even if the manufacturer doesn't immediately note what materials they used, you can still get a good idea of how well insulated it is by the R-Value rating.
In general, the higher the R-Value, the more thermally efficient it will be at holding warm air from the furnace as well as cold air from the air conditioning.
In certain conditions, R-Value can also help reduce the invasion from outside humidity.
The type of seals on the panels might also be a factor. Especially if you are considering an older "Pre-owned" model.
A poor seal or compromised gasket by a propane line can cause a significant air leak which could take a significant amount of air with it.
What Are the Benefits Of RV Skirting?
If you are going to be camping in spring through early fall, you probably won't need skirting to keep the underbelly warm.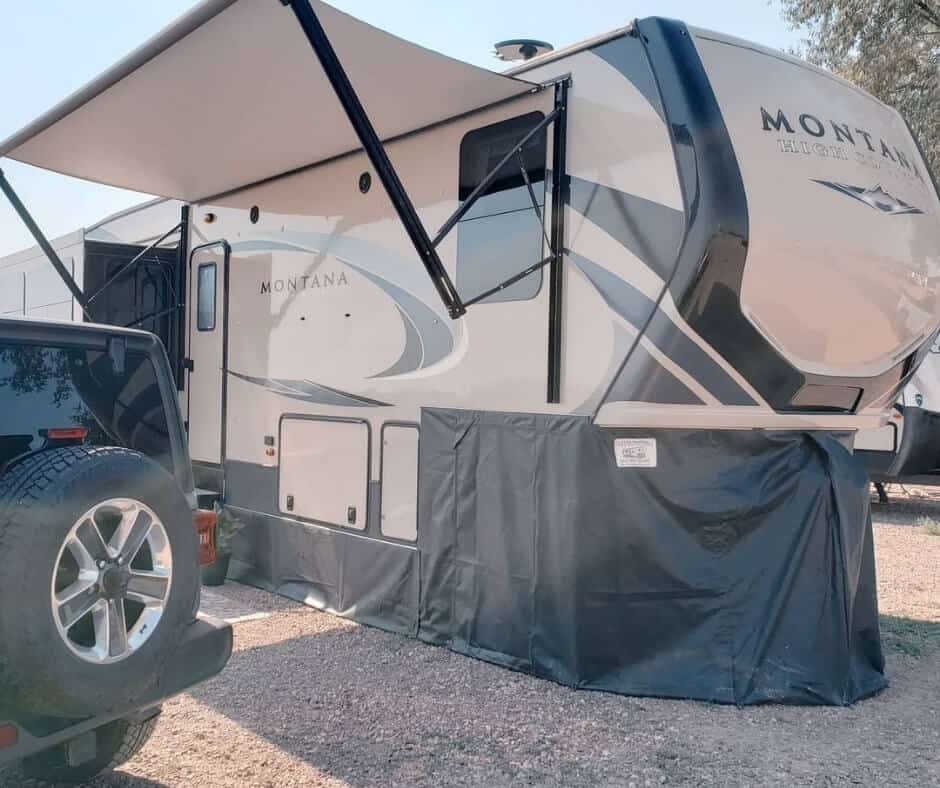 It would certainly help keep your toes warm, but in general, the cost of skirting, hauling it with you, and installing it won't give you a big return on your investment during the fair-weather times of year.
On the more extreme end of the spectrum an Four Season RV that needs to serve as a mobile hunting shack, or a winter ice fishing house, will certainly benefit from skirting.
Anytime the temperature dips below 40 degrees or so, even the slightest puff of wind can start to rob heat from your floor.
In high winds, the windchill effect can be so great that it can even cause uninsulated pipes to freeze and make rubber gaskets brittle.
When it comes to skirts, there might be some Four Season RV manufacturers who might offer it as part of a "Special Package" or "Bundle."
Even if your RV doesn't come with skirting, you can still choose to build it yourself or buy it online.
Sourcing it through an online retailer tends to cost more per square foot for the materials.
Still, you have to weigh this against the value of the time it would take you to build it yourself.
Do-it-Yourself Trailer Skirting
There are a few different options to consider based on your budget, mechanical skill, and the materials available as well as the overall aesthetic appearance of your RV.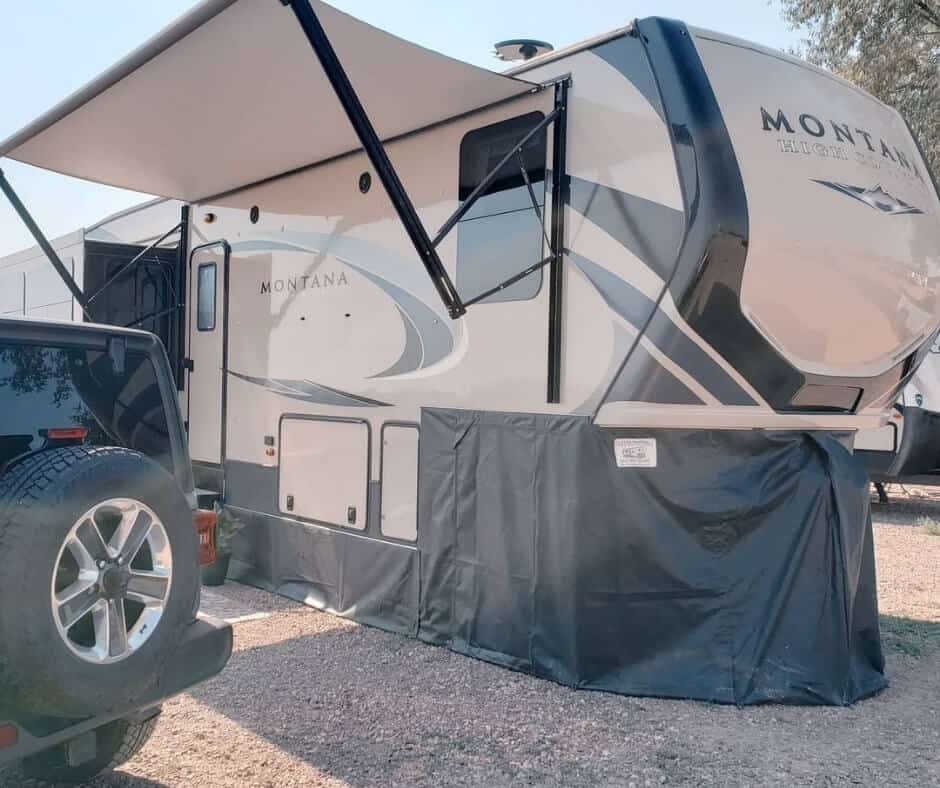 Some of the more popular options for homemade skirting include:
Insulation sheets attached to aluminum siding

Fiber-cement sheets

Vinyl sheeting with a wooden frame

Home exterior foundation insulation panels
Do I Need An Insulated Underbelly?
An insulated underbelly is an absolute must for the times when you stay in sub-zero conditions. At least if you intend to use onboard water and drainage.
You see as water freezes it gradually starts to expand. Even though it becomes solid ice at 32-degrees a minor amount of molecular expansion starts to occur at 39 degrees.
Once water enters its "Transition Phase" it can start to turn into slush, which can clog lines or hamper water pumps.
Left unchecked it could crack water lines, damage water pumps, clog freshwater and gray water tanks, or lead to other unforeseeable catastrophes.
An insulated underbelly is your best defense against these problems. Ideally, you want to look for a four-season RV that comes with an already insulated underbelly.
If not, there are things you can do to have one installed. Some dealers will even offer it as an upgraded service or can point you in the direction of a spray foam installer who can apply one for a modest fee.
What Types Of RV Windows Improve Thermal Efficiency?
Twenty or thirty years ago RV windows were pretty barebones. Many were little more than a single pane of glass or a flimsy sheet of plexiglass. '
If you were lucky a few of them would crank open for a little added airflow in the summer.
Some were just single panes of glass into vinyl tracks and you had to live with whatever breeze you could get.
Today, modern RV windows can potentially rival the windows you find in a home. Though you will most often find them trending on the cheaper side.
Just like the walls, the glass of a window and the seals can greatly impact thermal efficiency. Be prepared to be underwhelmed by some of the options you find on the marketplace.
There are a few different window options that you should keep an eye out for.
Double Pane, Thermal Glass or Argon Windows
These are common terms that you might see an Four Season RV manufacturer use to describe a window with two sheets of glass separated by a special gas like argon.
The exterior glass buffers against the cold or heat outside and one that helps to maintain the internal temperature.
Reducing the physical contact between the two panes reduces the heat transfer from interior to exterior.
If you have time to tour a showroom model, take a moment to look at the seals around the sills of the windows.
Are they hard plastic or vinyl, as vinyl tends to leak as they age. Also look for weather stripping to help maximize the seal potential. In the end, the best glass has little value if the seals around it leak.
Some type of window lock is also a bonus for safety, as well as minimizing leaks around the sealing edge of the sill.
You might want to also prioritize an RV that has thick, or a reinforced window sill capable of holding a window air conditioner.
Many manufacturers are rushing these to market for people who want to stay where the temperatures can soar.
Just keep in mind that if you go this route, you will also need some type of onboard, or secondary generator to power the AC unit for more than a few minutes at a time.
Does RV Roofing Matter?
The roof of an RV is just as important for a cold weather RV, if not more important than the walls. With some RV's snow load can be a factor.
A major winter snowstorm can impact the structural integrity of an RV much the same way it can affect a house.
It might not necessarily mean that the snow will collapse the roof. Still, it could damage other things like the exterior air conditioning components, bathroom/plumbing vents, and hatch covers.
If possible, look for a travel that has things like "Heavy Duty" hatch covers, and vents.
Even if you fall in love with one that doesn't, you might still be able to buy upgraded ones for relatively cheap.
A Tip For Dealing With Snow On An RV
Certain parts of North American like the front range of the Rocky Mountains or the Great Lakes Region, can drop enormous amounts of snow with little warning.
Keeping a roof rake of a push broom in the RV will allow you to clear snow that accumulates before you set off the next day.
Driving off with a major load of snow and ice could damage vents and hatch covers as the hard snow shears off with the wind.
What Size Air Conditioner Do I Need In A Four-Season RV?
Ideally, you want your RV's overhead air conditioner to be able to handle the cooling duties of the main living area, without having to augment it with a motorhome's dash AC.
Most modern-day RV air conditioners are set up to handle the basic living area without exceeding the capacity of the onboard electrical system.
If the RV is under 32 feet in total length a 15,000 BTU roof mounted air conditioner should keep you comfortable on an typical hot summer day. A smaller interior space under 20 feet or so, might do just fine with a 13,500 BTU air conditioner.
When shopping for a four season RV a unit that has more than one AC system per 32 feet,or has the ability to accommodate a secondary AC system of some type is certainly attractive. Some of the better RV AC units to keep an eye out for includes:
The Coleman Mach 15
Coleman Mach 3
Dometic 640315C Penguin II
Dometic B59516.XX1J0 Brisk II
Should I Consider A Window-Mounted RV Air Conditioner?
If you've ever been on a trip in extremely hot humid conditions, you've noticed that your RV's air conditioner will struggle from time to time.
Especially when it comes to the initial cool-down phase after traveling or being away all day.
Some RVs come with reinforced window sills that are specifically designed to hold a window AC unit.
Even if a unit you are interested in doesn't have sills to accommodate one, there are braces and bracket accessories available that might be able to get the job done.
Four-Season RV Plumbing With Pex Piping
In the past copper tubing was the most common way to plumb an RV. As the price of copper started to soar worldwide, it was gradually replaced with more freeze-resistant PVC.
Today Pex piping is becoming even more popular due to its affordability and ease of installation. It also happens to have better freeze resistance than its predecessors.
Hot Water Heater Tank Capacity
If you are going to be staying off the grid, or there won't be any open RV parks in the wintertime, you might want to also keep an eye on the size of the water heater tank.
The larger the tank the longer it will take for the insulated water inside to cool.
This allows you to fire up the generator in the morning to fill and warm the water in the tank, then go out for the day, trusting that you won't come home to a lukewarm shower.
Does The Size Of The Water Tanks Matter?
If you feel reasonably confident that you can find an open RV parks in the wintertime, the size of fresh water and gray water tanks might not be a big deal.
However, if you are going to be Boondocking, off the grid, for a significant amount of time, such as using the RV for winter hunting trip, you might want to factor tank size and underbelly insulation.
As you might imagine, the larger the tank, the longer you can stay off the grid, or away from municipal services.
At the same time, smaller tanks are more likely to slush up. Even if the pipes and water lines are fully insulated the tank itself might be exposed to the cold air under the RV.
As time goes on the water can enter the "Transition Phase" where it turns to slush before freezing. This can lead to all manner of complications.
A larger tank with a relatively full volume is a greater heat sink and will take longer to enter the transition phase than a small or somewhat low tank.
If you are going to be Boondocking, you might want to prioritize a larger freshwater, gray water and black water tank.
What Size RV Furnace Do I Need?
For a four seasons RV under 32 feet, you should target something in the neighborhood of 30,000 BTUs.
This is usually sufficient for heating an internal space against temperatures that dip below freezing for a prolonged period of time.
A forced air propane furnace rated to produce 35,000 BTUs or more should be able to keep you toasty during times when even the day time temperature struggles to get over 32-degrees. Especially, if you have a high R-Value insulation and an insulated underbelly.
A all seasons RV with a smaller internal space of say 20 feet or less might be able to get by with a 20,000 BTU furnace.
Still, if you are going to go this low, you might want to keep some type of augmented heat onboard for times when an inclement stretch of severe cold strikes.
Do I Need An Electronic Braking System On A Four-Seasons RV?
In some states an electronic braking system is required for 4 seasons travel trailers over a certain weight or length.
So, make sure to check your states requirements. Most larger travel trailers and fifth-wheel campers will come with an electronic braking system built-in.
To use it, you will need a corresponding control unit installed in the tow vehicle. This is something that most RV dealerships can handle for you.
It will also require you to either connect the trailer to your tow vehicle's onboard power or connect it to the RV's onboard power.
The system is designed to apply special trailer brakes when you depress the tow vehicle's brake pedal. This is incredibly helpful if you are going down grade on a hill or mountain during icy conditions.
How To Prepare Your RV for a Winter Adventure
The fresh water, gray water, and black water tanks are all vulnerable to freezing, as are the water and drain lines.
The fresh water tank and the accompanying water lines are the most vulnerable to freezing, or clogging up as the water cools into the slushy "Transition Phase."
The gray water and black water tanks tend to have other things in them like soap and other waste products, which can potentially lower the freezing point down to around 28-degrees.
Your best, and possibly easiest option is to have closed sell foam insulation sprayed onto the tanks and pipes.
Some dealerships and even home insulation companies will offer this as a service for a small fee.
You could try to install pipe insulation sleeves and fiberglass sheeting under the RV. Just make sure it is thoroughly connected.
If some of it pulls loose while you are driving down the road it could cause a major headache.
Not to mention the highway patrol could level you with a major fine for debris road hazards!
Cover The Windows With Plastic
Just like you do with your home in winter, covering the windows with sheets of clear plastic will also improve their insulation value. It's especially handy if your RV has single pane windows or the sills are leaky.
Use Protective Skirting
There are sheets of skirting you can buy online or in stores that are specifically meant for RV's. You deploy it essentially create a temporary, insulated wall sealing the air gap under the RV.
If you are a do-it-yourselfer, you could build your own skirting from insulated panels and other construction materials.
Install A Wood Pellet Or Corn Burning Stove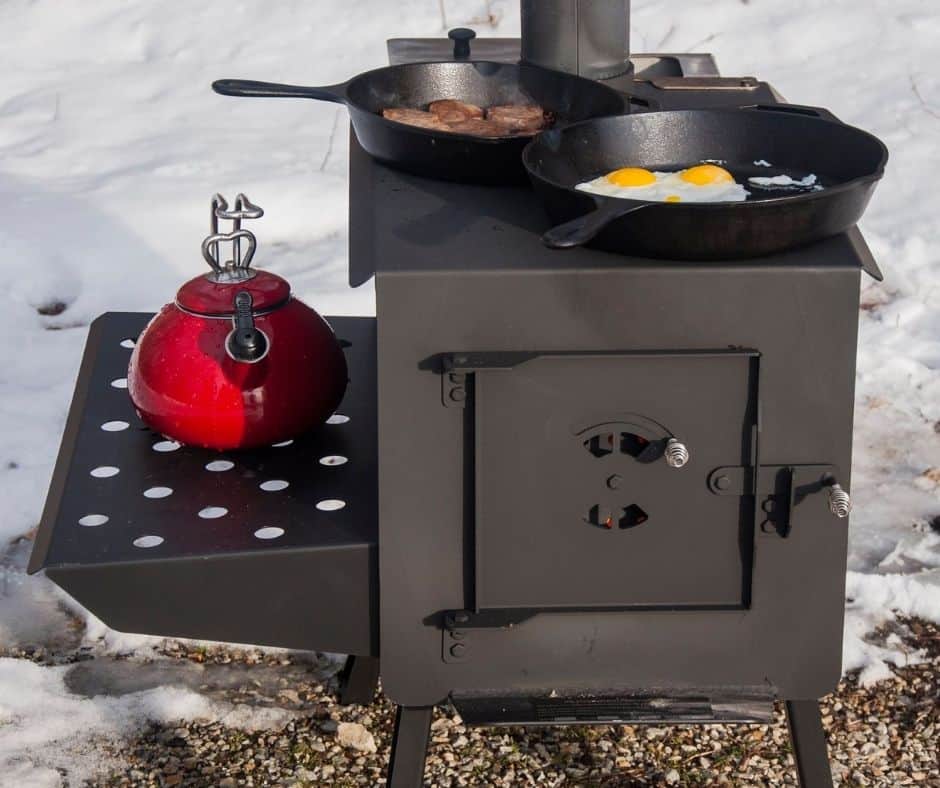 These units are popular in Northwoods cabins. They run off a small amount of power that drives an internal auger, which delivers the corn or wood pellets to a small internal fire pot. A small fan then blows the heat out to the rest of the interior space.
Just bear in mind that RV wood stoves need a secondary chimney and other fireproofing safety requirements.
You might also want to double check your RV insurance policy. Some will void coverage if a non-propane furnace is installed.
Upgrade Hatch And Vent Covers
RVs that are designed for summertime travel tend to have hatch covers and vent covers that are made from thin plastic.
The weather stripping in these areas also tends to be rather poor. Upgrading to more sturdy covers, insulating existing covers, or upgrading the weather stripping will help hold hot air inside the RV.
In Conclusion
There is a certain misconception shared by many that RV's simply aren't meant to handle the full brunt of all four seasons.
For many models, geared for the average family this is indeed true. Yet there are those out there who are intrepid enough to want to travel and adventure the wide world no matter what mother nature throws at them.
This niche of RV adventurer can take solace in knowing that today there are RV manufacturers who produce high-quality motorhomes, fifth-wheel trailers and travel trailer campers that can pull double duty as an ice house.
Every year this space in the market continues to grow along with demand and new material innovations.
When shopping for a true four-seasons RV, take the time to consider things like:
The number of people you need to sleep

The average and extremes of weather you might encounter

The need and availability of a tow vehicle

Your heating and air conditioning needs

The amenities you want to prioritize
With a little forethought, and time spent putting in your due diligence, chances are you can find a true four-seasons RV that is perfectly tailored to fit your needs.