There are many reasons you should consider 4×4 camper vans for sale if you want to significantly enhance your vacation experience.
For instance, all four wheels of these powerful vehicles receive power, which increases traction on mountainous terrains, slick highways, and sand-covered areas. They provide more than just that, though.
With their higher ground clearance and rugged tires, these vans make it much simpler to go on off-road adventures. If this fulfills your wildest dreams and more, you're probably curious: Which are the finest off-road camper vans for sale with four-wheel drive available in 2023?
I'm glad you started here before choosing your off-grid camper van for sale. In this piece, I will cover everything you need about 4WD vans.
I will then present the best eight off-road 4WD vans on the market.  Ensure you read until the end because I will also answer frequently asked questions about 4X4 camper vans for an overland adventure.
8 Most Extreme 4×4 Camper Vans For Off-Roading In Remote Destinations
Now that you're itching to find your ultimate adventure rig, we've finally come to the best part: 4WD camper vans with extreme off-road maneuverability!
So, without further ado, check out eight exploration-ready off-road camper vans with 4×4 drive perfect for your overland adventure.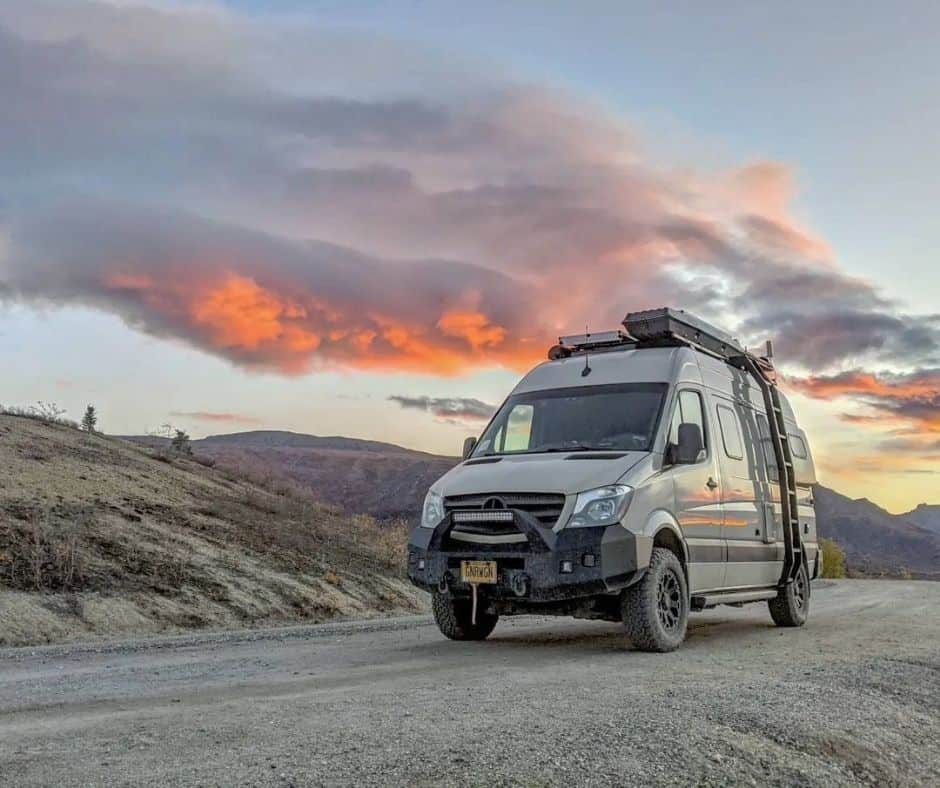 The Winnebago Revel 4×4 offers a modern on-demand 4WD system that caters to the needs of adventurers and explorers. This camper van has great high and low-range capabilities and ensures superior off-road performance.
Its electronic stability and traction control further enhance safety and maneuverability, giving you the confidence to tackle diverse terrains. The vehicle also offers four-wheel ABS brakes, guaranteeing reliable stopping power on any terrain.
The Winnebago Revel 4×4 is a durable motorhome with a reliable Mercedes-Benz Sprinter Chassis. It has a solid 3.0L 6-cylinder turbo-diesel engine, which provides 188 horsepower. This formidable engine delivers power and efficiency, allowing for an excellent driving experience.
4×4 capability
Mercedes-Benz Sprinter chassis
Compact size
Off-grid capabilities
Versatile interior layout
3.0L V6 turbo diesel engine
5-speed automatic transmission
Roof-mounted solar panels for power generation
This van can handle up to 5,000 pounds and tow additional equipment or recreational vehicles. Hence, it can expand the possibilities of your outdoor adventures.
Inside, the Winnebago Revel 4×4 offers a comfortable and functional living space. The interior can comfortably accommodate up to two people, making it ideal for couples or solo travelers. The power lift bed, accompanied by a convenient gear garage below, ensures a versatile and efficient use of space.
The wet bath with a cassette toilet provides the convenience of onboard facilities, while the compact kitchenette, complete with an induction cooktop, allows you to cook meals on the go.
Every inch of this camper van maximizes comfort and convenience during your travels.
2. Sportsmobile Classic 4×4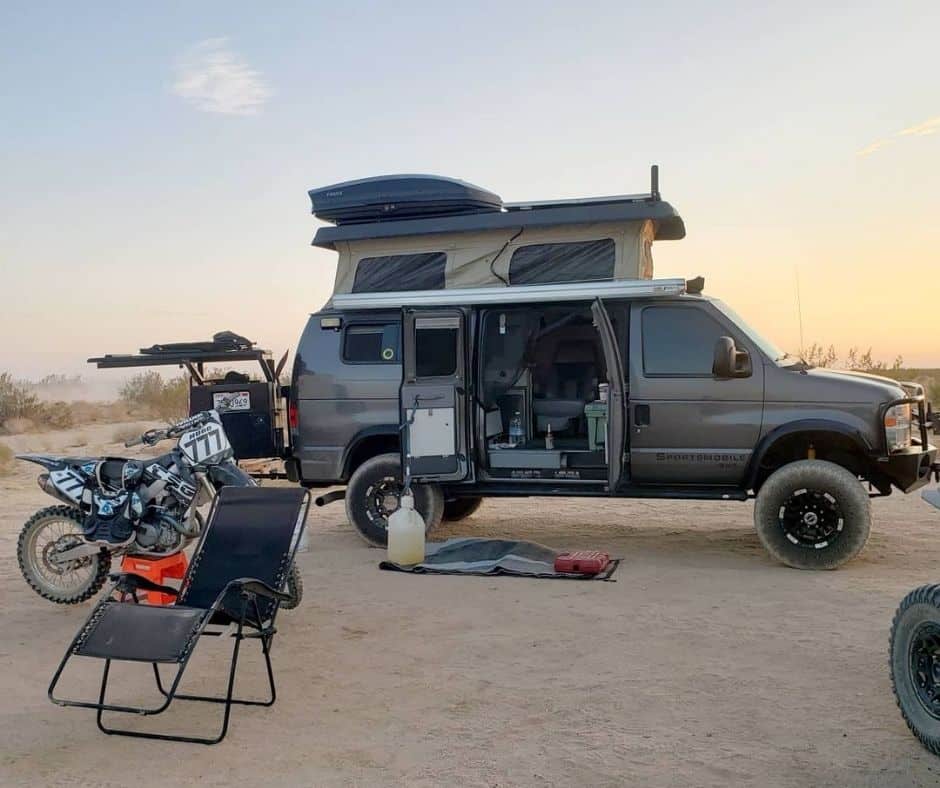 Meet the Sportsmobile Classic 4×4, an exceptional heavy-duty 4WD camper van for sale, ready to take on any adventure. This vehicle combines raw power with excellent performance. It gets power from a robust 7.3L V-8 engine and a 4R100 torqshift five-speed transmission.
Its suspension utilizes a partial military wrap leaf shackle system, ensuring reliable stability and durability on even the most challenging terrains.
The front sway bar's quick disconnect system enhances maneuverability, allowing for effortless navigation through diverse landscapes.
4×4 capability
Ford E-Series or Chevy Express Van platform
Customized interior layout options
Off-road suspension and performance upgrades
Roof rack system for additional storage and equipment mounting
Multiple engine options are available
Upgraded tires and wheels for off-road traction
The Sportsmobile Classic 4×4 provides the versatility to bring all your gear and equipment with an impressive towing capacity of 10,000 pounds.
Step inside the interior of this off-grid 4×4 camper van for sale and discover a world of comfort and convenience. The penthouse top offers excellent ventilation and additional sleeping space for two adults, making it perfect for accommodating travel companions.
Moreover, the sofa on the main floor easily converts into a bed, ensuring a restful night's sleep after a day of exploration.
The Sportsmobile Classic 4×4 features a compact kitchenette, allowing you to prepare meals on the go to cater to your culinary needs. Whether enjoying a quick snack or preparing a gourmet feast, this space offers functionality without sacrificing comfort.
3. Tourig Xtreme Adventure Van 4×4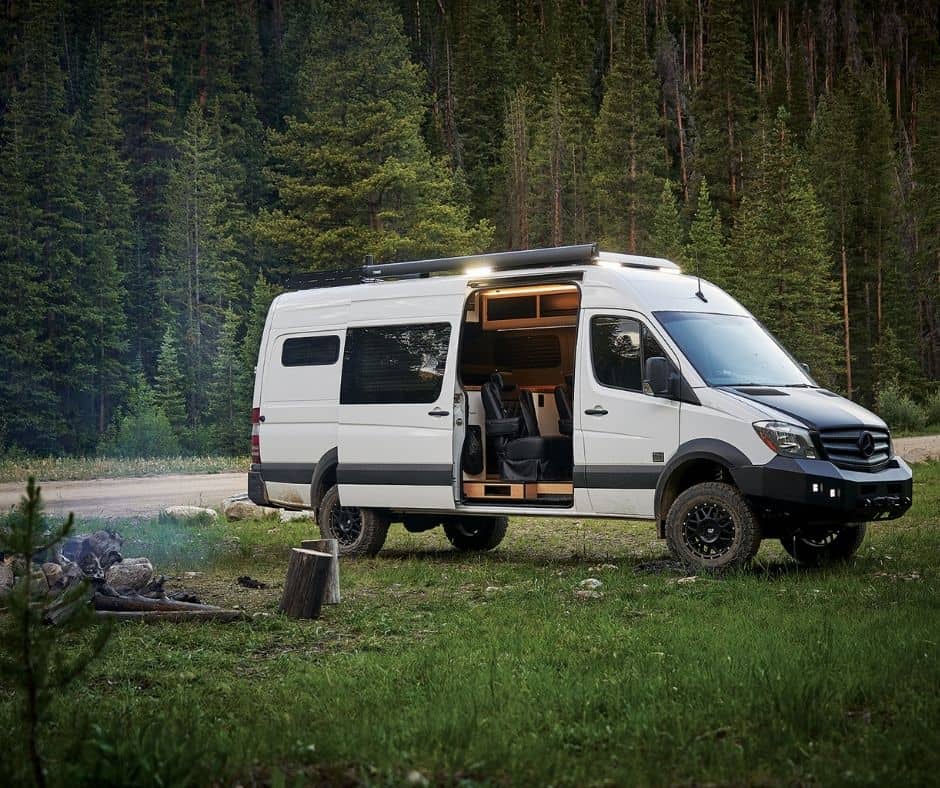 The Tourig Xtreme Adventure Van 4×4 is available in 4WD and all-wheel-drive configurations. Tourig has custom-built these exceptional vans on a Mercedes Sprinter or Ford Transit platform, ensuring high-quality craftsmanship and reliability.
What sets the Tourig Xtreme Adventure Van apart is its remarkable off-grid capabilities, designed to provide an autonomous and excellent outdoor experience.
This van offers unparalleled independence while exploring remote locations. It has a 40-gallon filtered water system, 600 amp hours of lithium batteries, a powerful 3,000-watt inverter, and 375 watts of solar power.
Engine options: V6 gasoline or V6 diesel
Transmission options: Automatic or manual
Off-road suspension upgrades
Advanced safety features
Customizable interior layout options
Upgraded tires and wheels for off-road performance
High ground clearance for off-road maneuverability
You can also personalize the interior according to your needs and preferences. Standard features include a refrigerator, sink, and toilet, ensuring convenience and comfort during travel.
The vans also have a stove, auxiliary hydronic heat, and hot water systems, allowing you to enjoy warm meals and cozy surroundings wherever your adventures take you. The Tourig Xtreme Adventure Van offers spacious, comfortable sleeping arrangements, accommodating individuals and families.
4. Storyteller Overland Beast MODE 4×4 Sprinter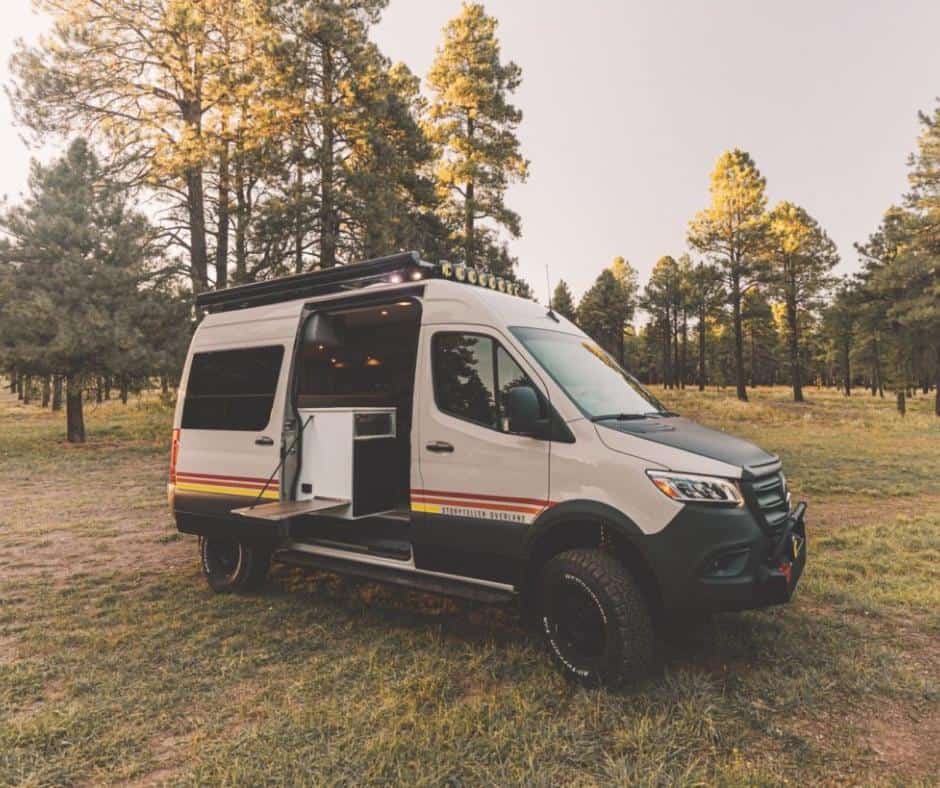 The Storyteller Overland Beast Mode 4×4 is an exceptional heavy-duty 4WD camper van for sale. This van's powerful 7.3L V-8 engine and five-speed 4R100 torqshift gearbox give it a powerful combination of performance and sheer power. One of the standout features of this camper van is its customizable interior, translating into better personalization.
This van has an upgraded suspension system which enhances the off-road performance. This increases ground clearance, improves handling, and enhances stability when driving rough and uneven terrain. You can easily take this camper van on off-road expeditions, knowing it can handle the challenges that come its way.
Mercedes-Benz Sprinter 4×4 chassis
Turbocharged V6 diesel engine
Customizable interior with various configurations and finishes
Off-road suspension and performance upgrades
Lithium-ion battery system provides extended off-grid power
Ample storage space for outdoor and adventure gear.
Moreover, it has a lithium-ion battery system providing extended off-grid power capabilities. It also lets you stay connected and powered up even when venturing into remote locations.
5. Sync Van's Atlas 144" 4×4 Mercedes Sprinter Van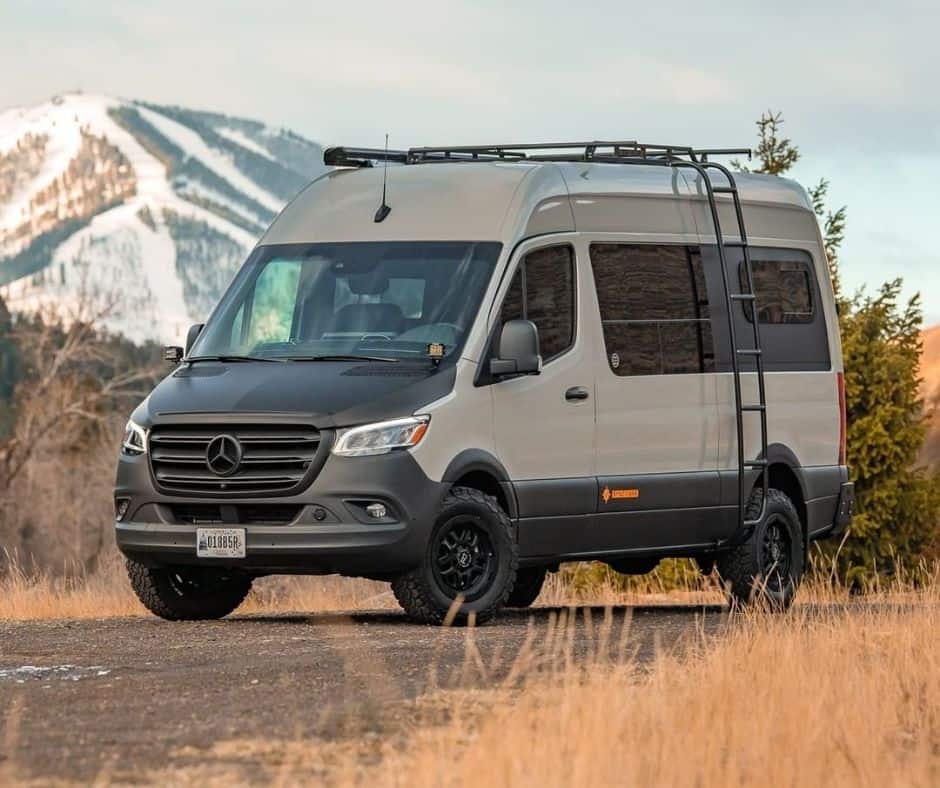 Sync Vans presents another remarkable 4×4 van built on a Mercedes chassis. These 4×4 camper vans for sale offer complete customization options, available on the 144" or 170" Sprinter wheelbases, providing a range of possibilities to suit individual preferences.
Sync Vans collaborates closely with customers to design their ultimate mobile home, allowing for personalized choices in fabrics, cabinet finishes, flooring materials, and other features. As a result, each van is unique in its specifications and offerings, tailored to the desires and needs of its owner.
Mercedes Sprinter 144″ wheelbase
Engine options: 2.0L 4-cylinder or 3.0L V6 turbo diesel
Transmission options: 7-speed automatic or 6-speed manual
Customizable interior layout options
Upgraded suspension for off-road performance
Integrated navigation and infotainment system
The specifics may vary, but every Sync Van has essential features to enhance your travel experience. These include a reliable Dometic fridge, a convenient pull-out toilet, a functional sink, a roof rack complete with a light bar, a 12-volt air conditioner, an onboard air compressor, and ample storage space for all your gear and belongings.
Sync Vans has a comprehensive lithium battery system and a Goal Zero power system to provide unparalleled independence, enabling you to venture entirely off the grid.
Embrace the freedom of exploration and create unforgettable memories with a Sync Van, a custom-built 4×4 camper van for sale designed for your unique lifestyle and travel aspirations.
6. Off Highway Van 4×4 Van Builds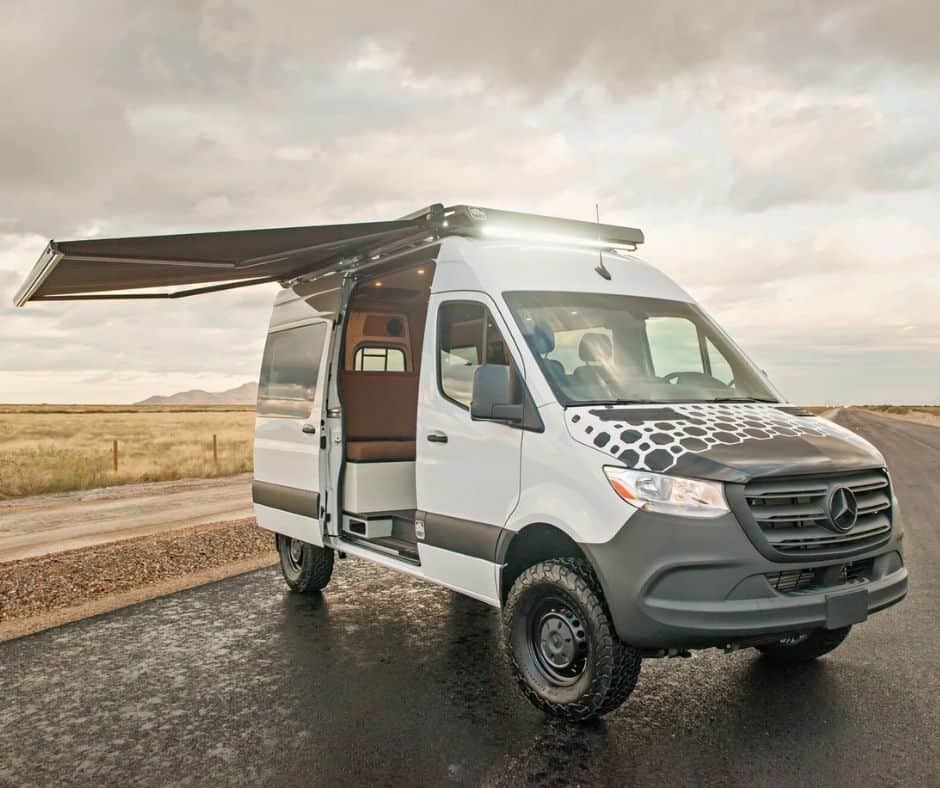 OHV allows you to order a custom-built van according to your preferences and needs. They offer six different floor plans with customizable options, including Mercedes Benz Sprinters, Ford Transits, and Dodge Promaster vans.
Each model provides a unique advantage, ranging from spaciousness to practicality. You can visit their website and choose from various features, such as folding and lifting beds, kitchen layouts, electronics, seating options, exterior enhancements, and more. This level of customization ensures that your van perfectly aligns with your vision.
OHV is a lifesaver if you dream of owning a custom-built van but don't have the time or energy to take it head-on. They save you the hassle of building a camper van from scratch.
Custom-built vans for off-highway adventures
Multiple van models available (e.g., Ford Transit, Mercedes Sprinter)
Engine options vary based on the chosen van model
Customizable interior layout options
Off-grid power system with solar panels and lithium-ion batteries
Auxiliary lighting for improved visibility off-road
If you can't wait to get your personal camper van, OHV also offers pre-built van options for delivery in as little as six weeks. However, the availability of these vans depends on their current inventory.
Experience the joy of owning a van designed to your specifications with OHV. Whether you choose a custom-built or pre-built van, OHV ensures high craftsmanship and attention to detail, making your van ownership dreams a reality.
7. Vandoit Quigley "LIV" Ford Transit 4×4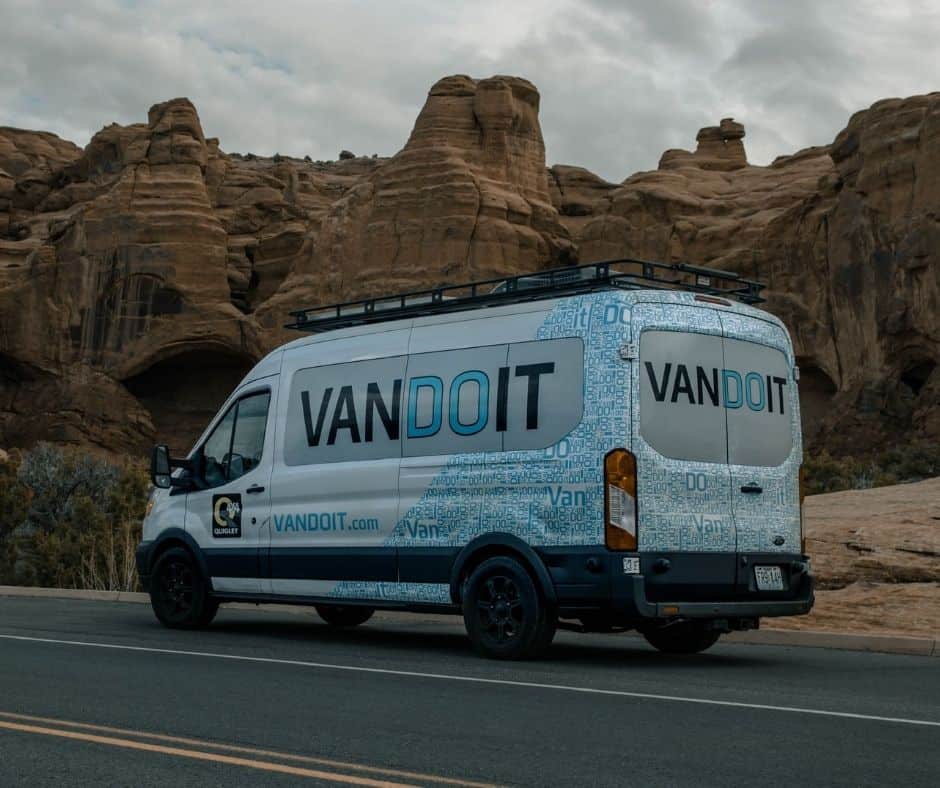 The Vandoit Quigley 4×4 is a remarkable conversion of the Ford Transit integrated with the reliable Quigley Transmission. Notably, the conversion process does not compromise Ford's warranty, ensuring peace of mind for owners.
The Ford Transit, known for its cargo-carrying capabilities, becomes even more versatile with the addition of the Quigley Transmission, providing the sought-after 4WD functionality.
The Vandoit Quigley 4×4 offers a choice between two distinct floor plans, allowing flexible accommodation options. This van redefines the concept of sleeping space in its class with its one-floor plan, which can accommodate up to six people in one version and up to eight people in the other.
Moreover, including a kitchenette ensures you have the necessary amenities to prepare meals on the go, enhancing your overall camping experience.
Quigley 4×4 conversion
Spacious interior
Customization options
Advanced technology
Off-road accessories
Te Vandoit Quigley 4×4 is built practically and incorporates ample gear storage compartments. It also enables you to bring all your essential equipment and belongings. Additionally, fold-up platforms are thoughtfully integrated, serving as versatile workbenches or desks to cater to various needs.
8. Oasis Sienna Campervan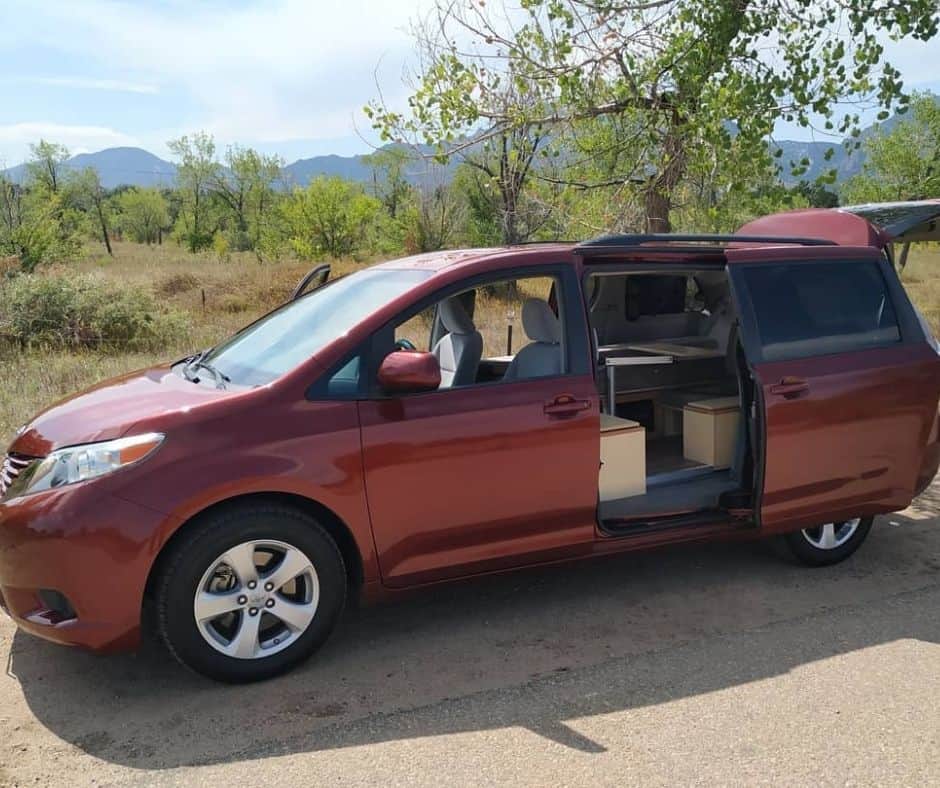 Calling all Toyota fans!
Oasis Sienna Campervan ticks all the boxes for those seeking a stealthy and compact 4×4 camper van for sale. The Toyota Sienna AWD chassis lies at the core of this remarkable creation. As your tiny home, it allows you to blend into any surroundings seamlessly.
This camper van offers less space than larger builds, but its attention to detail is exceptional. The cabinets are built with Baltic birch and demonstrate impeccable craftsmanship. Moreover, you can also choose the face wood of the cabinets, the flooring material, and the color of the cushions and curtains, ensuring a personalized touch.
You can experience the ultimate self-sufficient and convenient minivan conversion with Sync Vans. This remarkable conversion has a Jackery Explorer 1000 battery, a Jackery solar system, and a Dometic fridge powered by the battery.
The Lagun table and bench seat are versatile and easily fold to accommodate a queen-sized bed.
One of the most remarkable aspects of this van is its versatile storage capacity. Oasis has ingeniously designed four spacious storage compartments beneath the bed, alongside the table and bench seat.
These compartments allow ample space to store camping equipment, clothing, food, and other essentials, ensuring you have everything you need for your adventures.
What's The Average Maintenance Cost Of A 4×4 Off-Road Camper Van?
The average maintenance costs of maintaining a 4×4 off-road camper van vary based on the model of the van, its age, and how you use it. Individual driving habits and the average cost of your van's repair components can also influence maintenance expenses.
On average, you can expect to use from $500 to $2,000 yearly on routine maintenance for a 4×4 off-road camper van. This figure includes routine maintenance procedures, including brake checks, tire rotations, filter replacements, and oil changes. These numbers are only approximations, and you may have to spend more in case of unexpected breakdowns or repair costs.
You can save your greenbacks by following the manufacturer's recommended maintenance plan and handling any problems as soon as they arise.
Why Invest in a 4×4 Camper Van?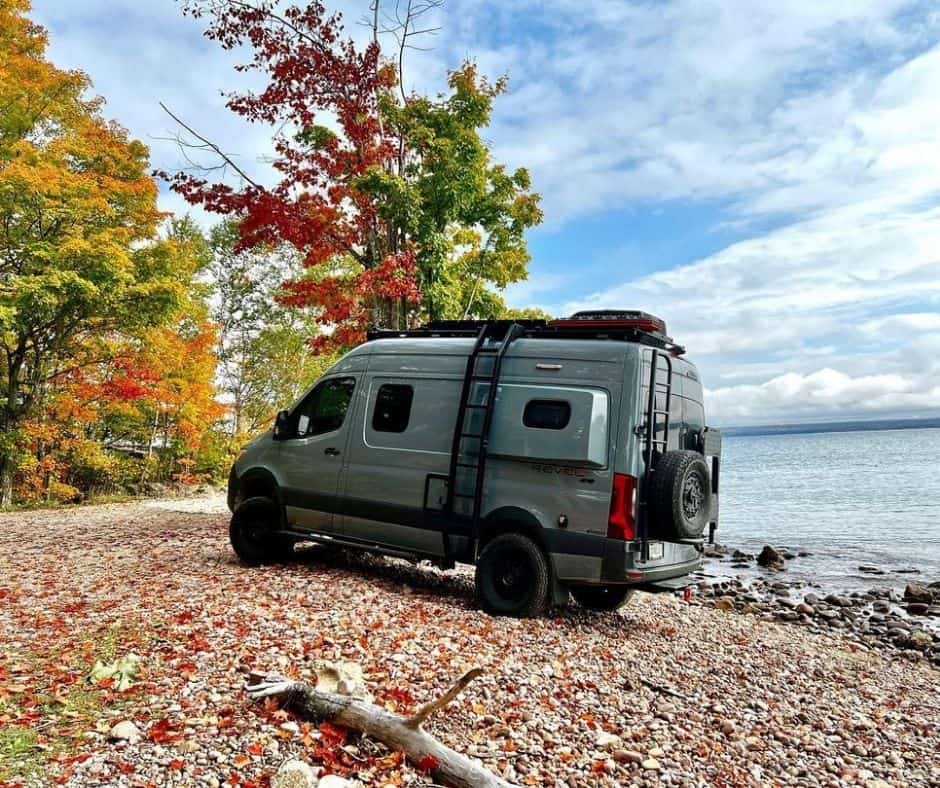 There are many good reasons to purchase a 4×4 camper van, but these vehicles are not for everyone.
For instance, they are usually more expensive than 2WD vehicles, have lower MPGs, and have higher maintenance costs.
This is why it's very important to consider how you will use your van. If your rig rarely leaves the pavement, a 4WD powertrain may be overkill.
Nevertheless, if you plan on exploring off-grid destinations every chance you get, live in a harsh climate like New England or the Midwest, or want to boondock as much as possible – a 4×4 off-grid camper van is for you!
1. Traction Control
The number one benefit of a 4WD powertrain is the increased traction control you receive.
This will help when driving over ice, snow, sand, and other compromising surfaces.
2. Higher Ground Clearance
Most 4×4 vans are built to handle off-roading and therefore have higher ground clearance than their 2WD competitors.
This means the chassis sits high above the road, allowing you to navigate rocky and washed-out roads without fear of bottoming out.
3. Smooth Driving
If you've ever been off-roading, you know things can get a little bumpy.
This is why many 4×4 camper vans have a suspension system that can handle even the roughest terrain.
You'll be thankful the next time you drive down a neglected dirt road to your next boondocking destination.
4. Increased confidence
Sometimes it's the mindset, am I right? Knowing you can conquer just about any surface that comes your way will give you peace of mind and allow you to explore places you normally avoid.
We all can agree; there is no greater feeling than packing up your gear and setting out on the open road, knowing you are fully prepared for any situation.
How I Made This List
My list of the best 4×4 camper vans for sale isn't a random number shuffle you'd find on most websites. I put all my efforts to research and bring the best vans for you.
Here are all the factors I considered while doing my homework and selecting the vans:
Cargo Capacity and Storage
Cargo capacity and storage are crucial factors for overland adventures. The ability to carry all necessary gear, equipment, and supplies is essential for extended trips.
I carefully checked the size and configuration of storage areas, such as cabinets, drawers, and compartments. I have prioritized camper vans with ample storage space, smart organization options, and efficient use of available space.
Water and Fuel Capacity
There may be a lack of access to water and fuel sources in remote locations. Therefore, I looked at the water and fuel capacity of the camper vans. I favored larger water tanks and fuel capacity vans, as they allow longer periods between refills.
This factor is crucial for self-sufficiency during overland adventures in areas with scarce reliable water and fuel sources.
Safety Features
Safety is essential during off-road travel. That's why I gave particular importance to the safety features of these vans. These features include advanced driver-assistance systems, stability control, anti-lock braking systems, and traction control.
Moreover, I checked off-road safety enhancements to ensure the vehicles are highly protected in rugged terrains.
All-Weather Performance
Overland adventures may involve encountering various weather conditions. Therefore, I picked the all-weather performance of the camper vans. I also evaluated factors such as the effectiveness of heating and cooling systems, water resistance, and insulation.
The list contains camper vans that performed better in various weather conditions, including rain, snow, and extreme temperatures.
Accessibility
Another checkpoint was the ability of the camper vans to navigate challenging terrains and tight trails. I prioritized vans with good ground clearance, optimized approach, departure angles, and features like four-wheel drive.
Maintenance
Maintenance is a significant factor on my list for long-term ownership and reliability. The availability of service centers, accessibility of spare parts, and ease of maintenance was my priority.
Camper vans with a strong network of service centers, widely available spare parts, and straightforward maintenance procedures are on my list too. This ensures owners can easily repair their cars and get help, even on isolated expeditions.
Using this selection procedure, I found camper vans that stand out for their cargo space, water and fuel capacity, safety features, all-weather performance, maneuverability and accessibility, and maintenance.
What Is a 4×4 Off-Road Camper Van?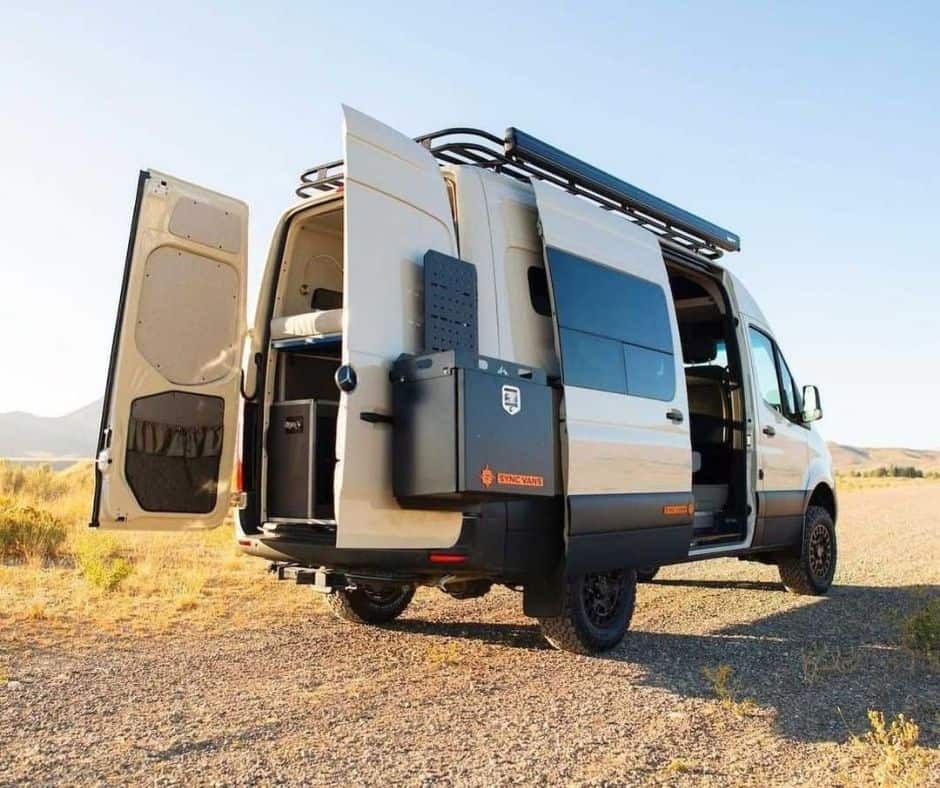 A 4×4 Off-Road Camper Van is a 4WD vehicle that can distribute torque to all four tires, providing enhanced control in challenging driving conditions like slippery roads, snowy surfaces, or loose sand.
This remarkable feature enhances the vehicle's traction and ensures optimal performance in extreme conditions.
The four-wheel-drive system equips vans with the ability to easily conquer rugged terrains and navigate the most demanding environments.
Consequently, a van with a reliable four-wheel-drive system becomes a trusted companion for adventurers and explorers, giving them the confidence to traverse treacherous landscapes and conquer nature's obstacles.
Conclusion
A 4×4 camper van for sale is an excellent option for taking your loved ones on an off-road picnic. On rugged terrains, these robust vehicles improve traction and agility. Their improved ground clearance and tough tires make your off-road travel more feasible. I hope now that you know the benefits of every model, you are ready to choose the one that's best for you. And I also hope your chosen one will allow you to go to far-off places and have priceless experiences.
FAQs
4×4 camper vans for sale: Where can I find 4×4 camper vans for sale?
You can find your favorite RV up for sale at numerous online sources. Some reputable ones include RV Trader, Conversion Trader, and Storyteller Overland. If you prefer going via dealerships, visit RVs of America ROA Offroad or Rocky Mountain four-wheel campers.
4×4 Sprinter Camper Van for sale: How can I buy a 4×4 Sprinter Camper van for sale?
You can find a used Mercedes 4×4 Sprinter Camper Van at RV Trader or The Van Camper. Contact the private seller, chat, plan a meeting, and have a test drive of your potential new toy.
Off-grid 4×4 camper van for sale: Where can I find off-grid 4×4 camper vans for sale?
You can find an off-grid 4×4 camper van both online and in dealerships. Some reputable online brands include RV Trader and B.MYVAN. More people prefer going through dealerships.
4WD Campervan for sale: Where can I buy a 4WD campervan for sale?
You can go through two routes: Either scroll through online websites and stores and order a 4WD Campervan while sitting peacefully at home, or pay a visit to dealerships and get an answer to all your queries in person.
4×4 Campervan for sale: How can I find a 4×4 Campervan for sale?
Talk to your adventurous friends who own a 4×4 Campervan, visit online stores, or visit your nearest 4×4 Campervan dealership. You'll indeed find a Campervan that ticks all those boxes for you.
Used 4×4 camper van for sale: Where can I find used 4×4 camper vans for sale?
You can visit websites or go to dealerships to find used 4×4 camper vans for sale.