If you recently purchase a 5th wheel trailer without considering how to tow it safely, you're probably realizing it won't hook right up to your bumper-mounted hitch like a standard trailer.
So, having the right type and size of 5th wheel hitch for your truck is essential for safely towing your large rig to far-flung (or nearby) campsites, but you'll need to be careful to invest in the right hitch setup to guarantee safe towing of your new investment!
You'll find hitches for 5th wheel towing available in many different sizes, weight classes, designs, and, of course, prices.
And you'll need to be careful to make sure that the hitch you select is compatible with the specific make and model of your towing vehicle.
In our experience dealing with many types of recreational vehicles, we get how choosing the best 5th wheel hitch may feel a bit overwhelming. And that's why we've put together this guide!
This 5th wheel hitch guide will walk you step-by-step through the process of selecting the a 5th wheel hitch.
Our goal is to ensure that you find the best match for your truck, trailer, traveling style, and budget.
There's quite a bit to cover when it comes to 5th wheel hitches, so let's dive in! And somewhere along the way you're going to find the right 5th wheel hitch for your needs.
What is a 5th Wheel Hitch?
A 5th wheel hitch is a U-shaped hitch coupling that secures in the back of your tow vehicle.
Because that's usually some type of truck for towing 5th wheels, these hitches will secure directly to the truck bed to provide an attachment point for the hitch ball on your 5th wheel.
The hitch must support the weight of your rig while also allowing it to sway and pivot sufficiently while towing.
What Kind of Hitch Do I Need For a 5th Wheel Trailer?
The make and model of your towing vehicle will be a big factor in determining the 5th wheel hitch type you should buy.
For long-bed trucks (8 feet or longer), traditional fixed hitches will be sufficient.

But for short bed trucks (any bed under eight feet in length), you'll need an automatic or sliding 5th wheel hitch with an extended pin box.
5th Wheel Hitch Key Terms
Before we get into reviewing these hitches, there are some key terms that you'll see throughout the rest of this article.
In the interest of you getting the most out of this guide, let's define these terms so that you're familiar with them as you read on.
Extended Pin Box
This is a 5th wheel towing accessory that's often recommended for towing a 5th wheel with a short bed truck.
It serves to prevent your 5th wheel from bumping the cab of your truck when you're making tight turns.
Hitch Coupler
On a 5th wheel hitch, the coupler is the flat part that sits in the bed of your truck.
Depending on the design, it will either be bolted or welded to the frame of your truck and it serves at the attachment point for the king pin on the 5th wheel itself.
Hitch Locking Leveler
This mechanism locks down on top of the bar that is used to release the hitch coupler from the 5th wheel's pin box.
The locking mechanism is a fail-safe to keep your 5th wheel from detaching during towing.
King Pin
Usually located under the front of your 5th wheel, this pin is permanently attached to your rig and it connects to the hitch coupler in the bed of your truck.
This pin keeps your rig attached to your truck and allows the 5th wheel to pivot while towing.
Mounting Rails
Most truck beds require mounting rails to be installed before installing the hitch coupler. These rails fasten to your truck bed to provide a secure mounting surface for the hitch coupler.
Pucks
Some trucks come with these attachments that indicate the presence of an underbed hitch prep package.
Truck beds with pucks usually have the mounting rails attached to the underside of the truck bed instead of on top.
Slider 5th Wheel Hitch
This is a special type of 5th wheel hitch that is most commonly used in short bed trucks.
It slides forward and backward in the truck bed to provide a smoother ride, prevent the 5th wheel from hitting the cab of the truck on tight turns, and provide optimal turning angles when navigating into tight campsites.
5 Best 5th Wheel Hitches For your Pickup Truck In 2023
For those of you that have already spent some time researching the best fifth wheel hitches available, you've come to the right place.
These hitch options vary from incredibly simple to complex (but highly useful) mechanisms.
At RVing Know How, we're here to help! And we've installed and tested the top hitches on the market.
Here are our top five favorite 5th wheel hitches and (hopefully!) one will work best for your truck, your existing bed rails (or lack thereof), your fifth wheel, and, perhaps most importantly, your budget!
1. Best Overall 5th Wheel Hitch: B&W Companion RVK3500 5th Wheel Hitch
The B&W Companion 5th Wheel Hitch RVK3500 is our choice for the best overall 5th wheel hitch because it's easily one of the most adaptable designs out there.
It gives you the ability to make vertical and front-to-back adjustments so that it can adapt to a wider variety of truck and 5th wheel combinations.
In fact, this hitch adjusts from 16.25 Inches up to 18.25 inches vertically.
It also allows for a full four inches of front-to-back adjustment and allows you to choose from a total of three different coupler positions.
This is a four-way hitch with a fully articulating pivot head. That means it pivots from side-to-side and front-to-back to make it safer for you to tow your 5th wheel on rougher roads.
It also boasts a cam-action latching handle that makes it easy to secure and release your 5th wheel from the hitch when you're parked.
And that's true even if you're parked on less-than-level ground, which can be an issue with some other hitch types.
The RVK3500 is rated for 20,000 pounds gross trailer weight (GTW) and 5,000 pounds vertical tow weight (VTW).
The hitch itself weighs 70 pounds and it's also built with polyurethane bushings that serve to provide quieter, more rattle-free towing.
Things We Like
Things We Don't Like
2. Best Value: CURT 16245 Q24 5th Wheel Hitch
If you're looking for a hitch with a slightly lower price tag, then check out the CURT 16245 Q24 5th Wheel Hitch.
Despite being about two-thirds of the price of the B&W Hitch, it still offers a load rating of 24,000 pounds GTW and 6,000 pounds VTW.
This hitch features a double-jaw design and it's built with a wide, self-aligning head that makes it easier to connect the king pin.
It also boasts a spherical, axial bearing that allows the head to tilt in any direction needed to reduce resistance and provide safer towing on rugged roads.
It is also equipped with a coupling indicator that shows you the status of your hitch.
It will signal whether your 5th wheel is coupled, uncoupled, or ready to tow, which can be a useful feature for folks that are newer to towing a 5th wheel because it makes it easier to make sure everything is secure before you begin driving.
The CURT Q-Series is also equipped with a single, short-throw handle that makes it super easy to operate.
Once your 5th wheel is secure (and you've double-checked the coupler status indicator), this handle locks into place for extra security while towing.
Things We Like
Things We Don't Like
3. Best Gooseneck Version: Andersen Aluminum Ultimate 5th Wheel Connection
For those of you out there with a gooseneck-style 5th wheel, we highly recommend the Andersen Hitches Aluminum Ultimate 5th Wheel Connection.
With a base weight of just 35 pounds, this is also the lightest hitch on our list, which makes installing and removing it easier than with any other.
The aluminum design of this Andersen hitch is specifically made for flatbed trucks with a recessed gooseneck ball and a large fuel tank or toolbox.
But it can be adjusted to three different heights to accommodate different 5th wheels and it's rated to handle up to 24,000 pounds GTW and up to 4,500 pounds VTW.
You'll be able to set it at heights of 16-¾", 17-⅞", or 19-⅛", depending on your preference.
When measuring the appropriate height for your truck and 5th wheel setup, please keep in mind that this height should be measured from the bed of your truck to the top of the mount ball on the hitch.
This Ultimate 5th Wheel Connection is also outfitted with a custom ball that offers three inches of adjustable height.
That hitch ball also rides inside a greaseless coupler to minimize the amount of mess you'll deal with when coupling and uncoupling your 5th wheel.
Things We Like
Things We Don't Like
4. Best Sliding Hitch: CURT 16516 Hitch for Short Bed Trucks
If your truck bed is less than eight feet long (and you already read above that you'll need a sliding hitch), we recommend checking out the CURT 16516 E16 5th Wheel Slider Hitch.
It's rated for up to 16,000 pounds GTW and 4,000 pounds VTW.
This hitch features a two-way pivot head that does provide about 10 degrees of lateral movement.
So, while it might not provide the same lateral movement as a four-way pivot head hitch, it will provide more side-to-side flexibility than other two-way hitches with no lateral movement whatsoever.
The base of this hitch measures 26-⅜" across and the height can be adjusted from 14 inches up to 17 inches, depending on your needs.
In total, this hitch can slide up to 12 inches forward and backward to provide that extra clearance you'll need to keep your 5th wheel from hitting the cab when towing with a short bed truck.
The coupler on this hitch also features an auto-locking mechanism to guarantee the safety of your 5th wheel once it's attached.
And it also features an anti-rattle skid plate that reduces ratting and vibrations at the coupling point so that you can enjoy a quieter, less stressful towing experience.
Things We Like
Things We Don't Like
5. Best Auto Slide: PullRite 2914 Automatic Sliding Fifth Wheel Hitch
If you have a short bed truck and you're willing to spend a little extra money to avoid manually adjusting your sliding hitch every time you're about to make a tight turn, then you should consider the 20K SuperGlide Automatic Sliding 5th Wheel Hitch.
This hitch is rated for up to 20,000 pounds GTW and 5,000 pounds VTW.
The good news about this hitch is that it comes fully assembled, but it's also specifically made for short bed Ford Trucks with an OE puck system.
The hitch itself can slide up to 14 inches to help prevent your trailer from striking the cab of your truck and both the hitch head and the cam arm mechanism are built from high-quality, American steel components.
When installing or removing this automatic sliding hitch, you'll be able to remove two pins to disassemble the hitch into two parts.
The 40-pound hitch head comes off first and the remaining base is the second-lightest among all the sliding hitches on the market today.
Things We Like
Things We Don't Like
Steps For Choosing The Best 5th Wheel Hitch
Do you have a few models in mind now? Hopefully just one or two of those hitch designs stood out to you as you perused our reviews.
But if you're still wondering which one's the right choice for you, let's dive into the nitty-gritty of how to select the right 5th wheel hitch for your setup.
Understanding The Style Of 5th Wheel Hitches
As is the case with many RV towing products, there are several different styles of 5th wheel hitches that you'll be able to choose from.
So, to us at least, the logical place to start is to define each and discuss some of their unique pros and cons.
Fixed Hitches
Most 5th wheel hitches are of the fixed variety. You'll also see these hitches called 'traditional 5th wheel hitches' and they are the best option for long-bed trucks (over 8 feet long).
As you might guess, the hitch mounts in the bed of your truck between the cab and the rear axle. Once mounted, the hitch remains fixed in that location and then you can attach your 5th wheel to it.
While fixed hitches are available with both permanent and removable installations, they are best suited to larger 5th wheels and towing vehicles.
If you tried to use a fixed hitch with a short bed truck, for example, you'll probably find out (the hard way!) that the front of the 5th wheel makes contact with the cab of your truck when you make tight turns.
One of the downsides of a fixed hitch is that it will offer minimal cushioning to reduce the effects of bumps you encounter along the road.
But you will have the option of purchasing a padded pin box to reduce rattle when towing. The good news about those pin boxes is that they can typically be transferred from truck-to-truck.
This hitch style is also usually lightweight and relatively inexpensive when compared to others.
Sliding Hitches
This type of 5th wheel hitch is best for short bed trucks. It will allow your 5th wheel to slide forward and backward as you're towing, which is essential for keeping the trailer from bumping the cab of your truck when turning.
There are two types of sliding hitches: manual slides and automatic slides.
Most of the base models that you'll see on the market these days are going to be manual sliding hitches. And if this sounds like it might be annoying, you're probably right.
You'll have to put your truck in park, get out, manually adjust your hitch, lock it into place, drive around a tight turn, park again, get out again, and reset it to the standard towing position.
So, you can probably see why many folks that need sliding hitches are willing to spend the extra money to get a hitch that slides automatically.
The only problem with these automatic sliding hitches is their price tag. In many cases, they are almost two times more expensive than their manual counterparts or other non-sliding hitch varieties.
Comparing /Head Types on Fifth-Wheel Trailer Hitches
The heads on these hitches also have many different designs. So we'll discuss those designs and discuss their advantages and disadvantages as well.
Two-Way Pivot Head Hitches
This type of 5th wheel hitch is designed to move in two directions: forward and backward.
By limiting the pivot movement of the head to just two directions, this type of hitch eliminates side-to-side sway, which can be dangerous on rocky, uneven terrain.
So, as you might imagine, this might not be the best type of 5th wheel hitch for you if you plan on taking your rig on less-frequently maintained dirt roads to find off-grid camping destinations.
The extra side-to-side resistance that comes with two-way hitches can be troublesome when towing on these types of roads.
That being said, two-way pivot head hitches are generally less expensive than some other types of hitches.
And they perform very well if you know that you're only towing your rig on paved, well-maintained roads.
Four-Way Pivot Head Hitches
Four-way pivot head hitches are able to move in all four cardinal directions: forward, backward, left, and right.
This type of hitch is best for folks that like to explore both developed campgrounds and more remote destinations. The extra sway that these hitches allow for makes them useful on rougher roads.
While you might think you don't need a hitch that moves in all four directions if you know you'll never be traveling on unpaved roads, they can be useful on paved roads as well.
When you encounter large potholes or roads that clearly need to be repaved, this type of hitch can be a safer bet for allowing your rig to pivot in all four directions.
You also need to consider the possibility of having to take a detour on a lesser-maintained road due to traffic or highway construction.
For our money, choosing a four-way hitch over a two-way hitch is like buying an extra level of insurance for your 5th wheel.
Double Jaw Hitches
This type of hitch utilizes two 'jaws' to close around the king pin on your 5th wheel. Their double-jaw design generally allows them to be more snug and secure than sliding hitches.
In most cases, the two jaws interlock together, but not all double jaw hitches are designed in this fashion.
Another benefit of the double-jaw design is the ability to minimize the amount of noise emitted from the king pin as you're towing.
They can also reduce the amount of movement between your trailer and your truck, which ultimately leads to safer towing conditions.
The only minor disadvantage of the double jaw hitch is that each individual jaw isn't designed with as much strength as the jaws you'll find on your single jaw hitches.
Instead, they rely on their combined strength when interlocked together, which can become problematic if one of the jaws happens to crack or fail.
Single Jaw Hitches
Single jaw hitches are mainly designed for trailers with weights over 25,000 pounds.
They are arguably the strongest type of hitch on the market and they are specifically designed to tow the largest 5th wheels safely.
As we mentioned in the last section, these hitches can be stronger than double-jaw designs because they don't require two interlocking parts to come together and remain as such.
Instead, the single jaw wraps entirely around the king pin on your 5th wheel in order to maximize the jaw-to-pin contact.
The extra contact provided by single jaw hitches also serves to further reduce the amount of noise and clunking you'll hear when you're towing your 5th wheel.
Gooseneck Hitches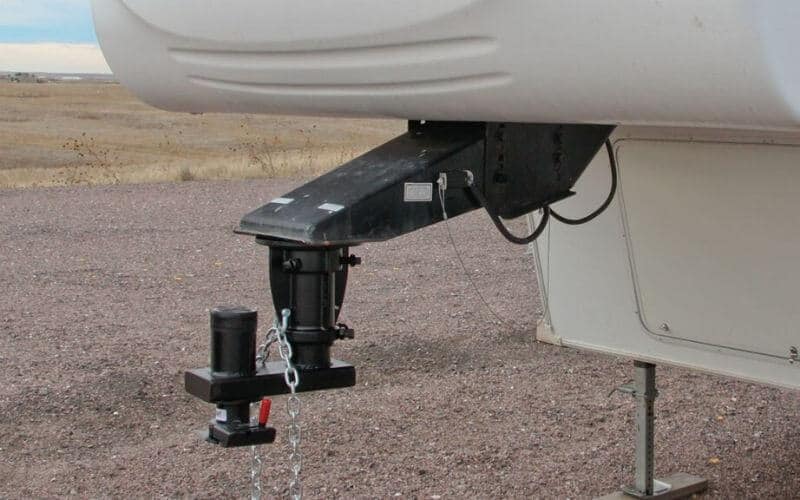 Gooseneck 5th wheels tend to have heavier king pins that require a bulkier hitch. These rigs are the ones that you see hanging over the back of your truck bed and their extra pin weight requires a hitch with a greater degree of support.
If you know that you have a gooseneck 5th wheel, this is honestly the only type of hitch that you should consider for towing your rig.
They are designed specifically for this type of 5th wheel to ensure even weight distribution and the appropriate amount of pivot around tight turns.
That being said, it is possible to use a gooseneck hitch for towing a traditional 5th wheel.
The main case in which you might explore this option would be if you have a larger, heavier 5th wheel that requires a hitch with a higher load rating.
Towing Capacity and Weight
Obviously you're going to need to make sure that your hitch is rated for more than the weight of your 5th wheel.
But before that, you'll need to make sure that your truck is also rated to hold the tongue weight of your trailer.
Simply put, there's no reason to waste time and money installing a 5th wheel hitch if you're truck isn't rated to tow your rig.
But we're hoping you thought this (mostly) through already, so we're going to focus on the two weight capacities you'll need to pay attention to when choosing a 5th wheel hitch.
And those weights are the gross trailer weight (GTW, or sometimes GVW or GVWR) of your 5th wheel and the maximum king pin weight (or maximum tongue weight) that will be depressed on the hitch.
To keep things simple, your king pin weight is always going to be a smaller number than the gross weight of your 5th wheel.
And most hitches will specifically tell you the maximums they are rated for in each of those weight categories.
That being said, it can be smart not to walk the line too closely when it comes to these weights.
In other words, the risk of detachment or damage is going to increase the closer that your 5th wheel's gross and tongue weights get to the maximum ratings of your hitch.
As a rule of thumb, it's best that your trailer or tongue weights don't exceed about 80 percent of the rated capacities for your hitch.
Staying under this threshold will help you avoid overloading the rear axle of your towing vehicle.
Measure Your Pickup Truck Bed Length
The length of your truck bed is also going to factor into your choice of hitches. Short bed trucks are going to require different hitch styles than long beds, to put it simply. But it gets a little more complicated than that.
Anything under eight feet is going to require a sliding hitch. This is due to the fact that towing a 5th wheel with a shorter truck comes with the risk of the trailer striking the cab of the truck when maneuvering around tight turns.
So, for a short bed truck, you'll be looking for a manual or automatic sliding hitch. But if you have a long bed truck, you'll have a wider variety of hitch options at your disposal.
And your final choice can be more dependent on the design of your 5th wheel and the type of terrain you typically encounter on your camping trips.
Pucks or No Pucks?
Some trucks are equipped with pucks that providing a built-in mounting platform for a 5th wheel hitch.
If your truck came with a factory-installed towing prep package and it's less than about 10 years old, the odds are pretty high that you have pucks to help you install your hitch.
Pucks will allow you to install compatible hitch models without having to drill extra holes or install aftermarket brackets and the accompanying hardware.
But, if you have an older trucks or a base model without pucks, you may need to purchase and install some extra equipment before you're ready to secure your hitch in place.
If your truck isn't equipped with a puck system, the typical method for securing a 5th wheel hitch is to utilize removable or permanent 5th wheel base rails.
These rails are usually designed to be bolted (removable) or welded (permanent) into your truck bed to provide a stable base to which you can then attach your hitch.
Pivoting System
The degree to which the head on your hitch pivots will dictate how much flexibility you'll have to take your 5th wheel on less-maintained roads.
Hitches with two-way pivot heads, for example, should really only be used for towing on well-maintained paved roads.
If you ever intend on taking your 5th wheel down dirt roads (or you simply want to be prepared for detours around traffic or construction), a four-way pivot head hitch is the way to go.
While they will cost a little more, many 5th wheelers opt for four-way pivoting system because it prepares you for a wider variety of terrain you may encounter on your road trips.
Quality and Durability
To be honest, these two things are synonymous with one another. A quality hitch is, more times than not, also going to be a durable one.
That being said, you can tell a lot about a hitch from the type of metal used in its construction.
The two main metals you'll see in the construction of the hitches we reviewed above are steel and aluminum.
Steel obviously has the benefit of being stronger and more corrosion-resistant, but aluminum has the benefit of being lighter, which makes it easier to move your hitch around when it's not bolted into your truck bed.
If you have a smaller 5th wheel, you might get away with an aluminum hitch with a slightly lower weight rating.
But most of the hitches that are designed for larger rigs are going to be made of steel to support the extra weight and guarantee the security of your 5th wheel.
Price
As you've probably already seen from combing through our reviews of the best 5th wheel hitches above, there can be a bit of price separation between hitches from different manufacturers.
And while we'd caution you on the dangers of making a decision based on price alone, we know that your budget is going to factor into your final decision.
So, while you'll find certain models for less than $500 and others with four-digit price tags, there is indeed a sweet spot that we believe you can shoot for.
If it were our money, we'd set our budget somewhere between $550 and $1,000 if we wanted to make sure we were getting a high-quality 5th wheel hitch that's really worth the price.
What Is The Best 5th Wheel Hitch For 2023?
That's a great question, right?! And, to be honest, there are so many different combinations of trucks and 5th wheels out there that it makes it tough to choose just one hitch model that's best for everyone.
That's why we're going to pick our top two recommendations from the five hitches above and provide some context as to the type of 5th wheel traveler they'd be perfect for!
The reason we chose the B&W Trailer Hitches Companion 5th Wheel Hitch RVK3500 as the best 5th wheel hitch overall is that it offers exceptional adjustability so that it can accommodate a wider variety of truck and 5th wheel combinations.
It allows you to adjust the height as well as the front-to-back alignment of the coupler and the head is also fully articulating for superior versatility.
But for those of you looking for a slightly lower price tag without sacrificing durability or weight capacity, the CURT 16245 Q24 5th Wheel Hitch is our selection for the best value product out there for good reason.
It actually offers a slightly higher towing capacity than the B&W Hitch and it's available for less than two-thirds of the price!
Frequently Asked Questions
Don't you want to know a little more about how to use, store, and maintain a 5th wheel hitch? Yes? We knew it! So we'll cover those topics (and probably a few more) in this Frequently Asked Questions section.
How to install a 5th wheel hitch?
In a proper 5th wheel installation, the weight of your recreational vehicle will sit between the cab of your truck and its rear axle.
That will ensure that there isn't too much weight on the axle itself or, in an even worse case, behind it.
Because there is quite a bit of variety in the design of 5th wheel hitches, the exact installation process will depend on the model and manufacturer you choose.
Following the manufacturer's provided installation instructions, then, becomes critical.
But we know that paper instructions can often leave something to be desired. That's why living in the digital age has its benefits sometimes.
So if you are feeling confused by the written instructions that came with your 5th wheel, go ahead and Google '[insert product model and manufacturer] installation' and you'll probably turn up a video or two that will walk you through the process.
There's also no shame in asking for help when it comes to installing a 5th wheel hitch because doing so improperly can result in catastrophic damage to your 5th wheel, truck, or both.
So it's often more cost-effective to pay for professional installation than to fix damages to your vehicles down the line.
Can I use a 5th wheel hitch with a plastic truck bed liner?
Yes! But you'll probably need to cut a hole in the liner to access the mounting rails below.
This will obviously depend on the exact design of your truck bed, but most trucks designed for 5th wheel hitches don't feature bed liners.
Additionally, having a liner in your truck bed may exclude you from using a sliding 5th wheel hitch.
How to use a 5th wheel hitch?
While the steps involved to use a 5th wheel hitch properly will vary depending on the product you purchase, here's a general checklist that will help you use and operate your new hitch safely:
Lower your 5th wheel and set the king pin to the correct height

Open truck tailgate

Open hitch locking bar

Back up truck to connect 5th wheel's king pin to hitch coupler in truck bed

Secure hitch locking bar

Put tow vehicle in drive to check for a secure connection.

Attach safety chains, wiring harness, and breakaway switch cable

Check all lights and brakes on truck and back of 5th wheel

Raise and secure truck tailgate

Raise 5th wheel's jacks and/or landing gear

Remove and store wheel chocks
When it comes time to drop your 5th wheel again at a new campsite, you'll simply need to reverse this process.
And, of course, you'll need to perform the opposite action as described in the list above (changing raise to lower, remove to install, secure to unlock, and so on and so forth).
What are the best 5th wheel hitch brands?
Odds are you already have a good idea of some quality hitch brands just from the reviews above. But it doesn't hurt to have a little more info on them to further aid in your selection process.
Let's start with B&W Trailer Hitches because they make our choice for the best overall 5th wheel hitch.
They have been in business since 1987 and trace their roots back to the small town of Humboldt, Kansas.
All of their hitches are American Made, built to last, and they go a step further to make sure that all of their steel is sourced domestically.
You'll also see two selections from Curt Manufacturing above because they are one of the most well-known hitch manufacturers in the industry.
Truth be told, the Curt brand is actually subsidiary of Lippert Components, Inc. and they are the leading manufacturer of custom-fit trailer hitches in the U.S.
They also safety-test all of their products with some of the most comprehensive in-house testing capabilities in the industry.
And, finally, we'd be negligent if we didn't mention Andersen Hitches because they are one of the longest-running hitch manufacturers in the industry.
They've been in business for over 50 years and they are headquartered in Idaho Falls, Idaho.
In addition to their primary focus on delivering top-of-the-line towing products, their services also include custom metal machining, manufacturing, and fabrication.
Are 5th wheel hitches removable?
The short answer is yes…mostly. The longer answer is that it's going to depend on the model and manufacture of the specific 5th wheel hitch in question.
Even with removable hitches, however, you'll still have the mounting rails and bars left once the rest of the hitch is removed.
The good news is that the kind of hitches that aren't removable are typically only used on large commercial trucks.
That's partly because their permanent installation allows them to be rated for much higher weight capacities than what you'd typically need for towing a 5th wheel.
Most 5th wheel hitches are removable by pulling some type of pin that connects the coupler to the mounting rails.
But, as we mentioned earlier, some parts of the hitch design won't be easily removed from the bed of your truck.
The only problem with removing a 5th wheel hitch is that it is built of some very heavy components.
This is generally why the assembly will break down into multiple pieces to allow for easier removal. Still, you may find that this winds up being a two-person job once you get it started.
Conclusion
Most experienced 5th wheelers wind up having a checklist of safety items that they must complete every time they attempt to move their rig.
This is just a good general practice to make sure you don't forget anything that could lead to damage to your truck or 5th wheel.
But having confidence in your 5th wheel hitch is imperative to safe 5th wheel towing.
Otherwise, you're going to be sweating bullets as you go down the road and, honestly, you should probably stop and reassess why you don't feel so good about the security of your recreational vehicle.
If you're in the market for a new 5th wheel hitch, we hope you've found our reviews of these five hitch models useful today.
And, as always, we wish you the best of luck finalizing your choice and enjoying safe towing experiences for years to come!