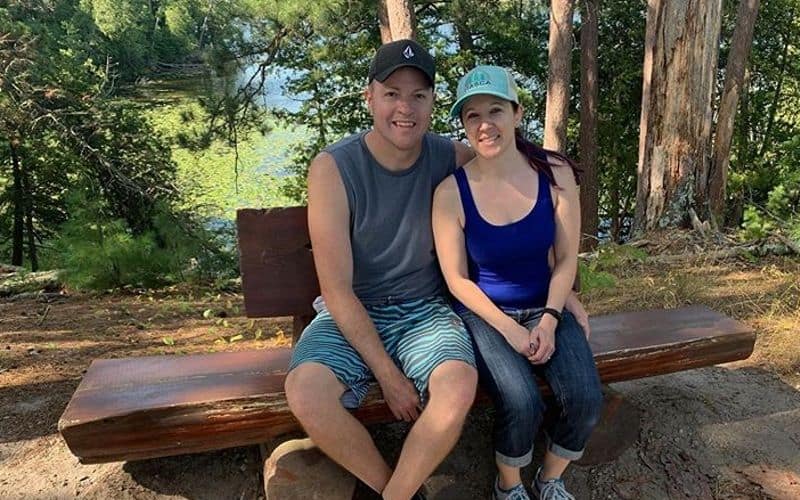 Hello, RVing world! We are Aaron and Evelyn Richardson. With our dog, Skye, we've been traveling using our ever-trusty RV since July 2017.
At first, we thought our modest research was enough. We even made a checklist. But alas, we encountered some mishaps and surprises along the road.
Yes, such circumstances are ordinary. But then we realized those were avoidable if we armed ourselves with a more informative arsenal and strategic planning.
And so we started creating more detailed plans and checklists. We know we couldn't keep those hidden inside our humble RV. Thus, another baby came into our lives, which you will fondly call this website, RVing Know How.
We aim for RVing Know How to serve as a one-stop shop for our fellow campers where they can get quick answers and explanations.
Even beginners are welcome! We are sure you'll find our RVing basics enlightening and easily understandable.
In our quest to visit all US states, we've gathered experience and knowledge about the complete guide to surviving the van life.
You can get all kinds of information here for free! From designing, DIYing, packing, ideas, and everything in between—RVing Know How is the place to be.
RVing Know How For All Your Outdoor Needs
When we were reading articles on the internet, we noticed that some blogs only focus on a certain model.
One of our initial problems was determining how to make the van more livable. Buying a van is one thing, but making it more comfortable and appropriate to your lifestyle is where the real work begins.
Since we know a lot of campers also experience this dilemma, we developed RVing Know How with different categories.
First, you must learn the different RV types. Should you buy your own or rent? We'll explain all the necessary factors when purchasing or renting a van.
RVing Know How also compiles beginner information, such as the best time to buy a travel trailer to save money and how to dump RV waste.
Are you wondering about the most effective ways to sanitize your camper's fresh water system? One of the frequently asked questions is—do you need a special license to drive an RV? All the answers are found in RVing Know How.
Lastly, the buyer's guide will teach you how to have a keen eye when purchasing a van, amenities, or other relevant tools for camping. You'll surely get heaps of information from the best ultra-lightweight travel trailers to the top trucks for towing fifth wheels.
We value sustainability and technology. These factors drive us to ensure our articles have positive implications for your trip.
RVing Know How hopes that these topics will boost your confidence in camping. In effect, you can turn this experience more personalized.
We make efforts to provide the best answers, tips, tricks, and hacks. But in the end, the effectiveness would depend on your preferences and requirements.
Meet Aaron, Evelyn, And Skye
How Did We Start?
Back in January 2017, for our anniversary, we decided to take a big leap of faith and move to the great outdoors.
The cost was the first issue. It's not simply about buying a van; we also have to consider the makeover and maintenance fees along the way.
Rvtrader became our haven for a month of search. This is until we land a good deal over a used 2008 Lance 815 for only $7,750.
Pro tip: negotiation works wonders! Also, don't be afraid to compare units and prices at rvusa.com and rvtrader.com.
This is a significant change from our apartment with a lawn and garage. We quit our day jobs and strived to secure remote tasks.
Yet, our hunger for experiencing both the sunshine and cold months on the road inspired us.
After scoring our sweet deal from rvtrader.com, we started our mission to renovate the van. We had to ensure the amenities and set up were ideal for a couple and a dog.
We had some external help for the electrical system since we wanted to guarantee proper installation. And, of course, safety comes first!
Good thing that, as DIY lovers, we are well-skilled in designing, plumbing, carpentering, framing, shelving, and insulating.
Finally, we achieved our dream of living the nomad life and exploring the world on wheels!
How Much Do You Spend On Maintenance?
That depends on your initial build. After buying a used van, we allotted $6,000 for the consequent building, repairs, and maintenance.
Whenever we encounter malfunctions or breakdowns, about $1,500 is a modest price to pay for restoration or minor patch-up.
Are You Going To Live In A Van Forever?
Oh, we get that question a lot. Our answer also changes frequently. Our first plan was to try RVing for only a year.
But we fell in love with this setup, especially how we are always so close to mother nature. Besides, Skye, our dog, gets a wider area to play.
Skye knows when it's time to drive and when she can have free time to talk, walks, or dip in rivers.
For now, we may not be stopping anytime soon. We might even meet you on the road in the future!
How Do You Survive?
When we hear this question, it's a combination of where we get food, how we take baths, and how we earn money.
We spend a relatively long time at National Parks or campsites. Sometimes, it's like having free accommodation at local festivals and state fairs.
Of course, we can't prepare a full-course meal all the time. We minimized our meat intake since vegetables and fruits are easier to store, clean, and cook.
Likewise, bathroom breaks are different from the usual setup. But if you plan those properly, these daily necessities will be satisfactory.
Don't worry; we could teach you our hacks in our articles.
Aaron is a marketer for a Fortune 500 company. These days, he works as a content creator and marketing strategist from the road. Aside from being a part-time copywriter, he also does some video editing in his free time.
When Evelyn is not busy doing interior designing tasks, she juggles her time between developing websites for clients and doing outdoor photography.
Together with Skye, we assist fellow campers through RVing Know How. This website earns some money from ad placement and affiliate marketing.
We earn a commission from your purchase but rest assured that there's no additional cost on your end.
In this way, we only recommend useful products worth every cent. This is also our means to keep the website operational.
What's Your Advice To Those Who Want To Pursue This Lifestyle?
Go ahead! Don't let the four walls of your home limit your life. Traveling and camping opened our eyes to the fact that we could balance work and leisure at the same time.
Remember always to consider what will make living outdoors manageable and comfortable. Create a game plan that will help you stay on the right track.
Even so, do set your expectations. Although you may see us hiking or swimming, it differs from our everyday routine. You'll discover how camping comes with several surprises.
RVing is an adventurous lifestyle. We learn new things all the time, which we will share with everyone. Together, let's roam around the world and become savvy campers!
By the way, if you do not see what you're looking for, drop us a message so that we can answer your questions for you.