Airstream travel trailers are one of the original and prevailingly popular RV campers ever made.
While they do offer great build quality throughout their line, Airstream also has a knack for adding the cost of their brand name into each travel trailer in their line.
Of course, other RV manufacturers have caught on to this. A few have even gone so far as to offer their own competitor take on Airstream travel trailers. To the point that it's started to turn to tides of brand loyalty.
However, this is turning into a flooded field. If you are in the market for one, you might be wondering what are the best Airstream alternative travel trailers?
You might be surprised to hear that there are a variety of airstream look alike trailers. Some of the best Airstream alternative campers include the shiny, and luxurious living vehicle travel trailer, as well as the Bowlus Road Chief. Though there are also some ecological Airstream alternative campers out there like the Homegrown Trailers Timberline edition.
Filtering through your options can be a challenge. Especially if you've never shopped for a travel trailer camper before.
Thankfully, we've taken a deep dive into this market niche to help you find the best alternative Airstream travel trailers on the market today.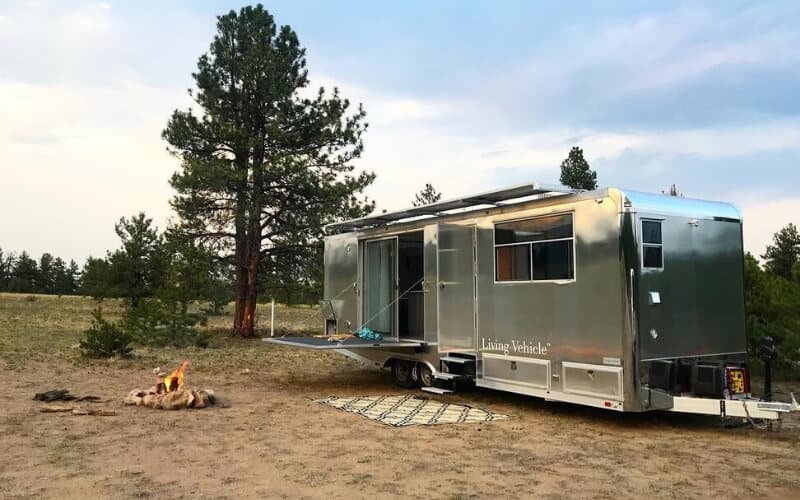 5 Best Airstream Alternative Travel Trailers To Consider
You might be surprised to hear that there are more than a couple of Airstream alternative travel trailers on the market.
Both new and slightly used options can be appealing, both for their friendlier price point, as well as the willingness to innovate.
The following are some of the best alternative travel trailer options that are airstream 'lookalikes'.
1. The Living Vehicle Travel Trailer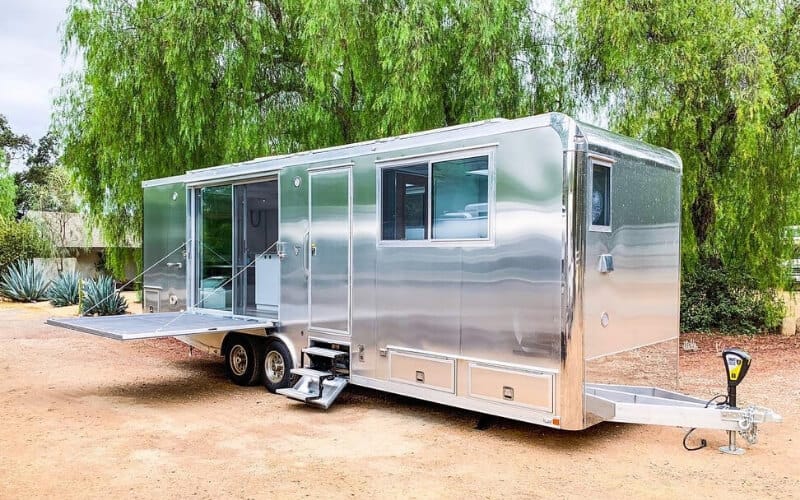 The Living Vehicle Trailer was designed to appeal to people who need to live in it for extended stays, or those who want a true touch of luxury.
It has an exterior that is reminiscent of an Airstream with the telltale gleam of aluminum. It also has a retractable awning that lets you enjoy your own sort of porch area.
The interior of the Living Vehicle Trailer also shines brightly with stainless steel and touches of luxury.
It was engineered to have all the comforts of home and then some. This includes a state of the art media center with a WiFi router, a high-end speaker system, and 42-inch 4K Smart TV.
In the Chef's kitchen, you'll find a large 13.5 cubic foot refrigerator and freezer combo.

The range top is stainless steel and includes an oven large enough to make a thanksgiving turkey. It even comes with a microwave and a dishwasher.
The sleeping accommodations are a little sparse, yet luxurious. The master suite is in the front of the trailer and features a queen size memory foam mattress.
There's also a lot of storage and wardrobe space. In the living room, the lounge seating dinette turns into the equivalent of a twin size bed.
Of course, the trade-off for all this luxury is a price tag that nearly rivals the equivalent level of an Airstream.
Though one could argue that you're getting a lot of cutting edge features like the 42-inch 4K Smart TV and the WiFi router in the Living Vehicle trailer that you don't necessarily get in an Airstream's standard package.
2. The Bowlus Road Chief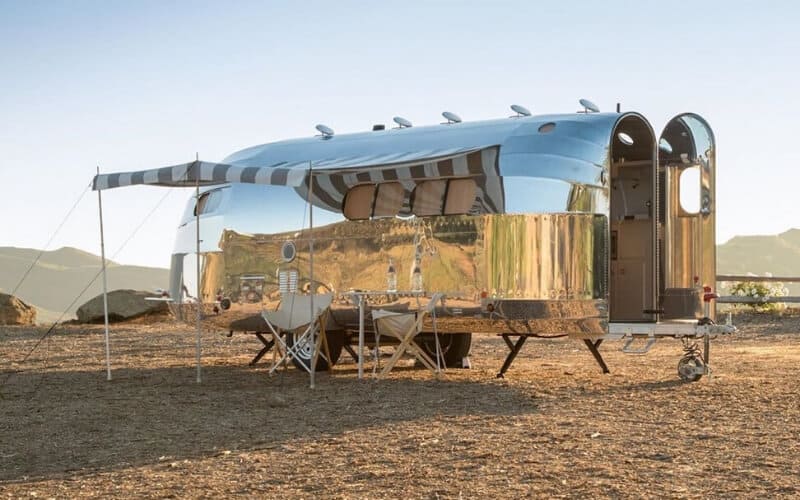 Here again, the Bowlus Road Chief borrows a lot of its exterior look and trim from the Airstream.
Though it is particularly lightweight and easy to tow. With a hitch weight of only 250-pounds and a total dry weight of only 3,300-pounds, it's reasonably in range of most mid to full-size SUV tow vehicles.
On paper, the Bowlus Road Chief is technically 25-feet long, but a fair amount of that space is consumed by the aerodynamic front end shape.
The freshwater, gray water, and black water tanks are all a little on the small side for a family that likes to boondock off the grid.
Still, you get the feeling that the Road Chief was designed to live at an RV park where resources and dump stations are right nearby.
The interior is comfortably appointed, and the sleeping areas let you sleep up to four people at a time.
This makes the Bowlus Road Chief a good option for small families and couples who like to travel.
Though the interior ceiling height is only 6-feet 4-inches. So, it might not be ideal if someone in your family is particularly tall.
3. The Oliver Travel Trailer Legacy Elite II
Oliver campers are surprisingly popular and widespread throughout the United States and much of Canada.
They don't have the exterior gleam of some Airstream alternative trailers, but they none-the-less have a similar aerodynamic shape.
This is thanks in part to the fiberglass exterior and insulation, which you see a lot in the Oliver Legacy Elite II.
This also has the net effect of helping to keep the price low, which is a real contrast to the arguably over-inflated price tag of the Airstream.
You also see a fair amount of molded fiberglass on the interior, which adds to the overall durability.
If you order your custom, direct from the factory you can choose the color scheme of the upholstery, flooring, and awning.
They even have a graphics package that you can upgrade to for added personalization.
The Oliver Legacy Elite II is somewhat small, which makes it towable by a full-size SUV or a mid-size SUV with a robust tow package.
Though the tradeoff here is that it can only sleep up to three people, which makes it more in line for small families.
It's might also be a great Airstream alternative for a traveling tradesman who sometimes needs to work at a remote, off the grid job site.
4. Riverside Retro 166 Travel Trailer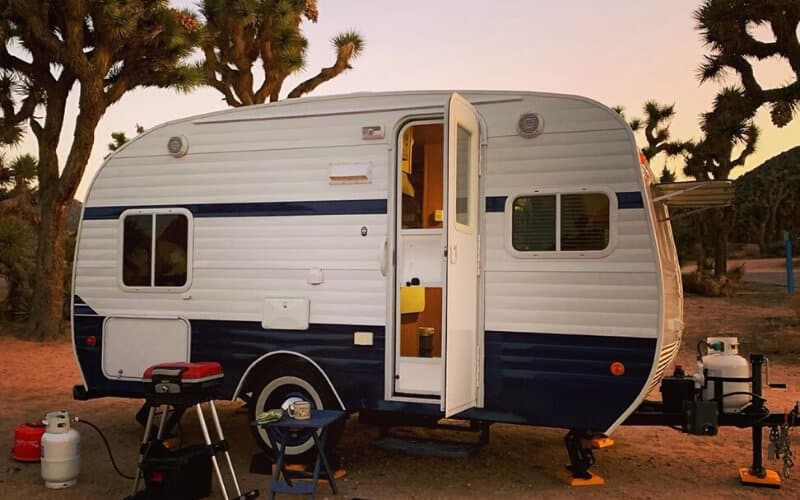 The Riverside Retro 166 Travel Trailer is lightweight, easy to tow, and at a very friendly price tag in its standard floor plan.
This makes it a great option for couples and families who want to travel and need a place to rest their heads without breaking the budget.
As the name implies the exterior does have a retro look that harkens back to the early days of RV travel.
Yet they made a point to upgrade the materials and engineering to meet modern standards and quality.
There's even an outdoor shower that lets you wash up without taking up a lot of interior space.
There is a queen-size bed in the rear of the Riverside Retro 166 Travel Trailer, and the front dinette can be converted into another sleeping space for one adult or perhaps two small children.
The standard kitchen comes with just a microwave. However, the Riverside Retro 166 does have a lot of optional extras available, if you buy direct from the manufacturer.
This includes things like a stove with an oven and an RV absorption gas/electric refrigerator. There are also two air conditioning options.
A 10,000 BTU, which will get the job done on your average warm summer day, or a whopping 15,000 BTU rooftop air conditioner for times when you truly need to tackle the heat.
There's also an option back up assist camera for people who maybe aren't 100% comfortable with backing up a small camper.
5. The Homegrown Trailers Timberline Edition
The Homegrown Trailers Timberline resides in a strange gray area between being an Airstream competitor and thumbing its nose at Airline's metallic exterior concept.
With the Timberline, you find a largely wooden exterior, made from sustainable wood.
This is very much in line with Homegrown Trailer's philosophy of making ecologically conscious products like the Timberline and it's sibling the Woodland.
Since it's essentially a coach-built or stick-built camper, there is a fair amount of customization available, so long as you go through the manufacturer.
Though there are a few available on the used RV marketplace, but not many.
The wood exterior has an aerodynamic shape that is somewhat reminiscent of the Airstream.
It's made from sustainable wood that has been waterproofed by non-toxic chemicals. There are also solar panels that can produce between 600 to 800-Watts.
Not only does this make the Timberline more ecologically conscious, but it also makes it a good option for traveling families who want to boondock, but don't necessarily want to invest in a loud, stinky generator.
The interior of the Homegrown Trailer's Timberline has the same organic wood feel as the exterior.
There are a few different floor plans available, which can influence the number of people you can sleep in.
In the floorplan with the most bunk space, you can reasonably sleep up to six people.
It's a great option for families with two or more children or families with children who have friends sleepover.
The appliances are all energy-efficient, which helps you make the most out of the electricity produced by the solar panels.
The kitchen is reasonably large for a teardrop trailer of this size. It comes with a 3.5 cubic foot RV absorption refrigerator that can run on propane or electricity.
This makes it durable, as well as accommodating boondocking off the grid.
The bathroom is modest in size. Still, there is a comfortable shower. The Homegrown Trailers Timberline also has an ecologically conscious composting toilet.
Even if you don't plan to compost it yourself, you can still empty it at most RV dump stations.
Conclusion
If you've fallen in love with the look and feel of an Airstream travel trailer, but you aren't in love with the price, there are still some decent Airstream competitors available on the new and used RV marketplace.
Finding the best Airstream alternative for you and your family might vary depending on how many people you need to sleep as well as how you are most often going to use it.
If you are ecologically conscious and you also like to do a fair amount of boondocking, then the Homegrown Trailers Timberline might be the best Airstream alternative for you.
It's based on largely sustainable wood construction. It comes with solar panels as well as energy-efficient lights and appliances.
If you are looking for a travel trailer that can pull double duty as your home away from home, then the Living Vehicle Travel Trailer might be the best Airstream alternative camper for you.
It borrows a lot from the exterior gleam of an Airstream with an interior that argues the term "Luxury."
It was also designed to accommodate people who need to live in their travel trailers for months at a time.
Just be mindful of the somewhat high price tag that comes with this level of creature comforts.
In the case of a small family on the go, who likes a little bit of a retro feel, the Riverside Retro 166 Travel Trailer might be the best Airstream alterative.
Sure, it only sleeps up to three people at a time, but it still has all the basic creature comforts you want.
Not to mention the exterior appearance is sure to be a conversation starter when you are getting to know the neighbors at the RV park.
Yet it's also easy to tow and comes with a very friendly price tag to boot!
Whatever your needs and budget are, chances are good that the best Airstream alternative camper for you is somewhere on this list!