When driving an RV, size is a big consideration. Many people just think about the length of the RV when determining the maneuverability of the vehicle, but height is also important.
You won't be able to pass under low-clearance bridges, or enter some parking lots or drive-throughs with an RV that's too tall.
So, how tall is an RV? Most RVs are about 10 to 14 feet tall, 8.5 feet wide, and between 20 to 45 feet long.
In many cases, the average height of an RV will depend on the class, Here are the breakdown of different types RVs and their average height.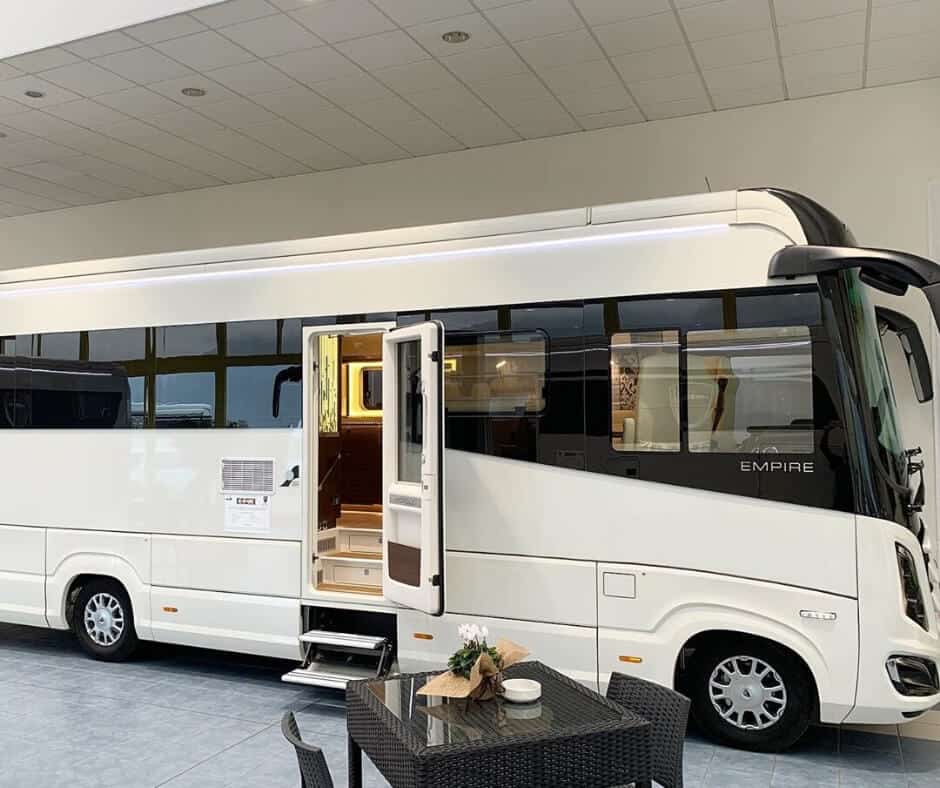 ​Now that you've seen the averages, I thought it would be helpful to provide some examples of different models for each type, and their associated height.
But first, let's discuss the regulations for RV heights and bridge clearances across the country.
​Federal and State Regulations on RV Height
Even if you have an RV that's on the taller side, luckily, the Federal Highway Administration has set minimum clearance requirements for bridges and other structures.
Bridges over interstates must have a clearance of at least 16 feet, and the clearance must be at least 14 feet over roadways in both urban and rural areas.
Although there's no federal maximum height regulation for recreational vehicles, states have their own laws and restrictions.
For example, in Georgia, the maximum height of any vehicle (commercial or recreational) is 13.5 feet.
So, be careful if you have a taller Class A motorhome and you plan to be traveling through Georgia or Eastern U.S. states with similar regulations.
You'll be fine on or near the interstate, where the maximum height is 14 feet, but you might run into trouble elsewhere.
Some Western U.S. states are more lenient, with Colorado and Nebraska allowing a maximum vehicle height of 14.5 feet. Alaska is the most flexible, with a maximum of 15 feet.
How Tall Is The Average Class A Motorhome?
Class A RVs are usually the tallest types of motorhomes, with an average height of 13 feet, 6 inches. Some have a total of 14 feet in height, and may be even taller with an air conditioning unit or satellite dish on top.
Let's talk about a couple of real examples.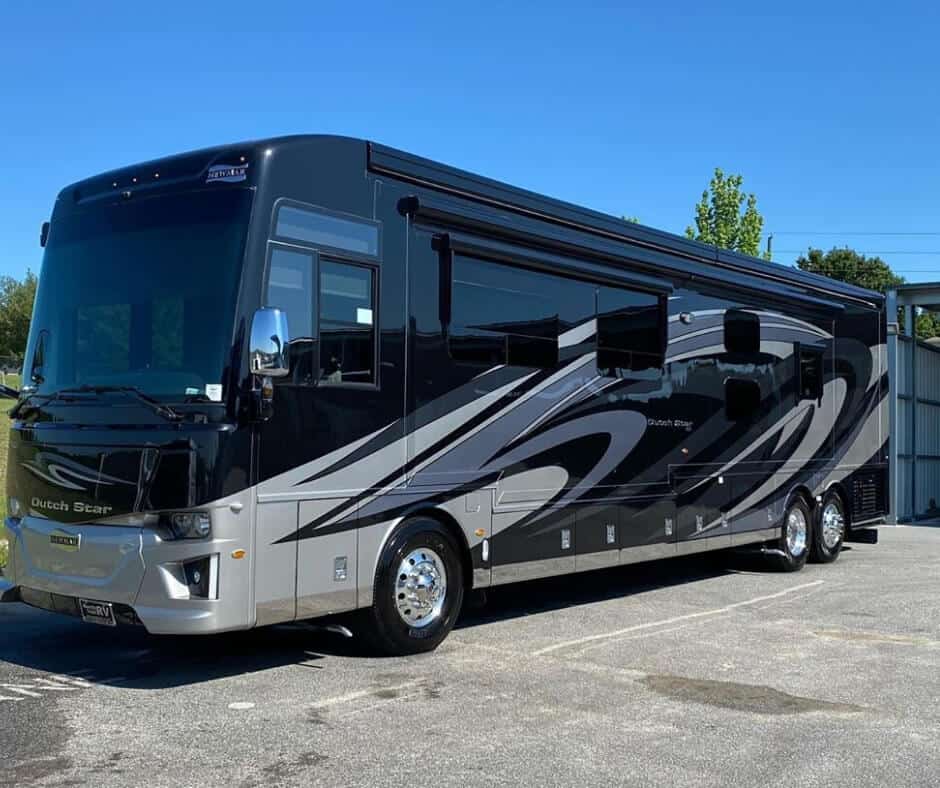 1. Entegra Coach 2020 Cornerstone – 12' 11"
​As a luxury Class A motorhome with a diesel engine, the Entegra Coach 2020 Cornerstone will have you traveling in the peak of comfort.
There are six different floorplans available, and they all have a total exterior height of 12 feet, 11 inches (including the A/C and satellite). The interior height is 84 inches, or 7 feet.
​2. Fleetwood RV Flair – 12' 4"
​There are five different floorplans available for the Fleetwood RV Flair model.
This Class A motorhome has a nice interior height of 82 inches (over 6 feet), and an exterior height of 12 feet, 4 inches.
It also has the unique addition of a drop-down queen bed in the hide-a-loft over the driver's cabin.
​3. Newmar Dutch Star – 13'
​With over a dozen different floorplans to choose from, the Newmar Dutch Star Class A motorhome has something for everyone.
The lengths range from 37 feet to 43 feet long, and most have an exterior height of 13 feet, although some models are 12 feet, 10 inches tall (3709, 3717, and 3736).
All Newmar Dutch Star motorhomes have an interior height of 83 inches, just under 7 feet.
How Tall Is A Class B Motorhome?
Class B motorhomes are the smallest RVs available, and usually come in at 20 feet long or less, with an average exterior height of 7-9 feet and an average interior height of 6 feet, 3 inches.
​Camper vans often fall into the Class B specification for RVs, and offer a more compact and maneuverable home on wheels.
Here are some Class B RV models to give you an example of what's available in terms of height.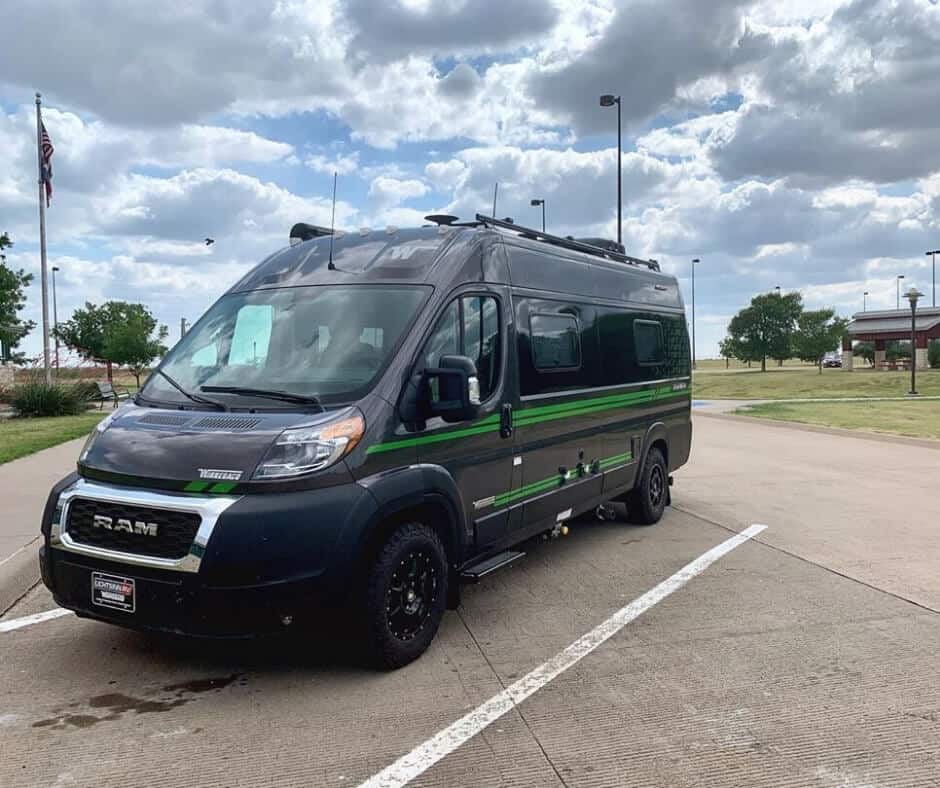 ​1. Pleasure-Way Ontour 2.0 – 10'
The Pleasure-Way Ontour 2.0 Class B RV is under 20 feet long and is built on a Ford Transit 2500 Van Chassis.
Including the A/C, it has an exterior height of 10 feet. Its interior height is taller than most Class B motorhomes, coming in at 6 feet, 6 inches.
Despite its small size, it has everything you need including a wet bath and a fully-equipped kitchen.
2. Regency RV National Traveler – 9' 4" to 9' 9"
The Regency RV National Traveler is a bit longer than the Ontour, with an exterior length of 20 feet, 11 inches.
There are three different floorplans, which range in exterior height from 9 feet, four inches to 9 feet, 9 inches (112 – 117 inches).
Two of the three layouts only sleep two, but the Explore plan sleeps four with a 50 x 65-inch Euro bunk above the convertible dining and living area.
3. Winnebago Travato – 9' 4"
With four different floorplans, the Winnebago Travato can sleep two or three people, depending on the design you choose.
All of the models are 21 feet long, 9 feet 4 four inches tall in exterior height, and 6 feet 3 inches inside.
Each of the Winnebago Travato vans has a flex bed system, full wet bath, and fully equipped kitchens with extendable counter space.
What Is The Average Height Of A Class C Motorhome?
Class C motorhomes fall between Class A and Class B RVs in size, with varying lengths and average heights of 10 to 11 feet tall, although the three examples I've listed here are all a few inches over 11 feet tall.
The key difference with a Class C motorhome is the overcab loft which normally includes a secondary sleeping area.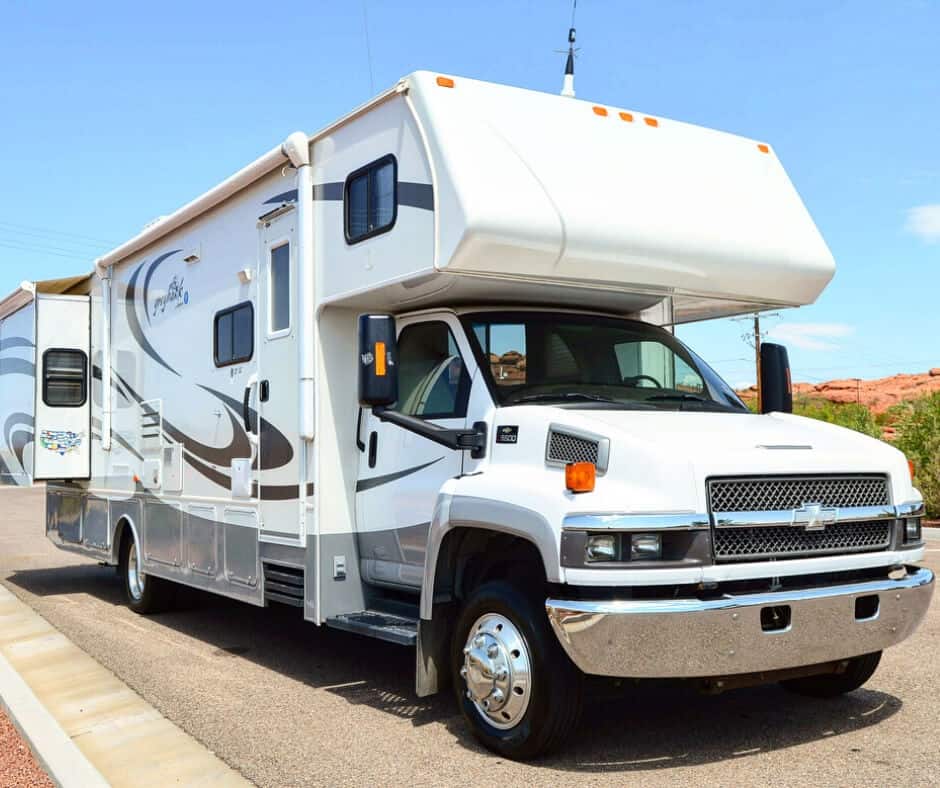 ​1. Forest River Forester Classic – 11' 3"
Forest River has a couple of Class C RV brands, and their Forester Classic offers nine different floorplans to choose from.
Based on either a Ford or Chevy chassis, these models have an exterior height of 11 feet, 3 inches, and are at the taller end of Class C RVs.
The Forest River Forester Classic sleeps 6-10 people, depending on the model you choose, and the 3271S even has a bunkhouse. Some models even have a fully-equipped outdoor kitchen.
2. Jayco 2020 Greyhawk – 11' 8"
Another Class C RV that's a little bit taller at 11 feet, 8 inches (including the A/C) is the Jayco 2020 Greyhawk.
There are six floorplans to choose from, but all have a higher interior at 84 inches (7 feet), so they are all nicely spacious for taller individuals.
The 31F also has bunk beds to accommodate more people with dedicated sleeping space.
All of these models have lots of storage throughout, so that your personal items and adventure gear can all be stowed securely when you're on the move.
3. Winnebago Vita – 11' 7"
Two floorplans allow you to choose your preference for the master bed size and interior space in the Winnebago Vita, with the 24P including a queen-sized bed and a large side slide-out.
Both models have an exterior height of 11 feet, 7 inches including the air conditioning unit. Inside, the Winnebago Vita has an interior height of 7 feet, for plenty of headroom.
The Winnebago Vita offers the largest batteries available in a Class C, paired with 200-watt solar panels to keep you powered up even when you're not hooked up in a campsite, so it's great for boondocking or more rugged camping locations.
What Is The Average Height Of A Travel Trailer?
With so many different brands and styles of travel trailers, there is a wide range of sizes to be found. Generally, travel trailers have an average height of 10 – 12 feet tall. Teardrop and tent trailers often have a significantly lower travel height, and may even be shorter than your towing vehicle if it's a larger SUV.
However, standard travel trailers and Airstream trailers typically follow the general average of between 10 and 12 feet in height.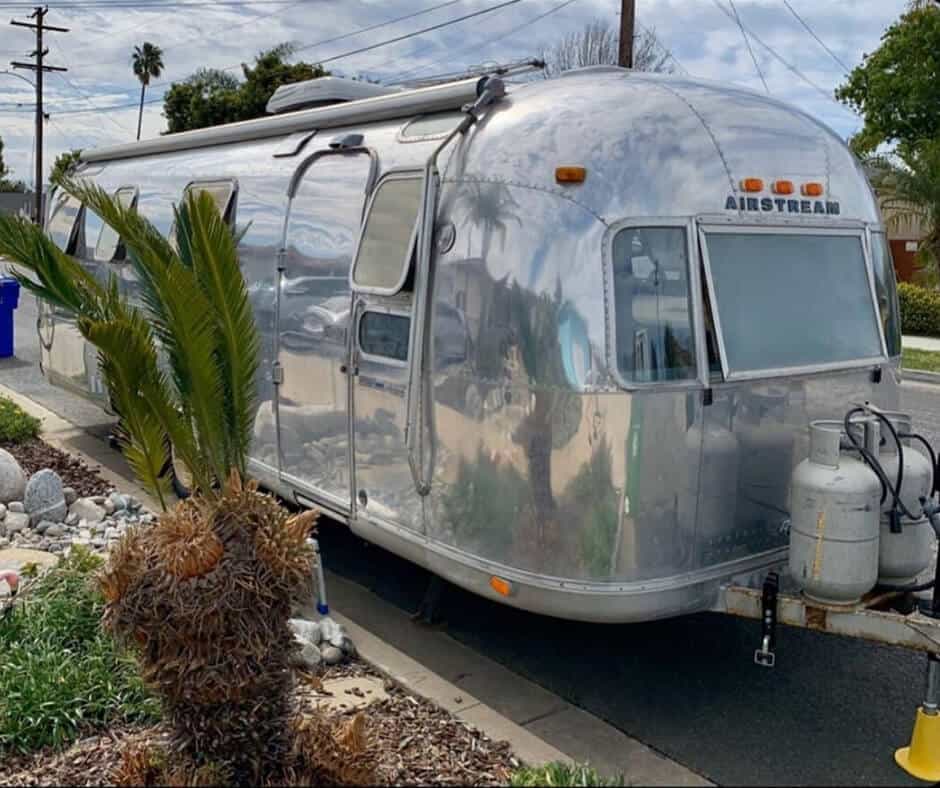 ​1. Airstream Classic – 9' 9.5"
The Airstream Classic is the iconic "silver bullet" travel trailer that adventurers have enjoyed for decades.
It comes in at a slightly shorter height than most travel trailers, at 9 feet, 9.5 inches. However, it's still comfortable inside even for taller travelers, with an interior height of 6 feet, 7.5 inches.
There are four floorplans available, depending on length and whether you want a queen bed or two twin beds in the main bedroom.
2. Forest River Cherokee – 11' 1"
Toy haulers excluded, there are over 20 different Forest River Cherokee travel trailer floorplans available.
All of them have an exterior height of 11 feet, one inch. Choose from floorplans with a bunkroom, full second bedroom, large living area, front or rear kitchen, and more.
​Many models have an outdoor kitchen, and as many as three slide-outs to expand your interior space when parked in your campsite.
3. Keystone RV Premier Ultra-Lite – 11' – 11' 4"
With eleven different floorplans to choose from, you're sure to find the perfect Keystone RV Premier Ultra-Lite layout for your needs.
Most of the models are 11 feet tall, but some of the larger ones are as much as 11 feet, 4 inches. The headroom in the living area is quite nice as well, at 6 feet, 11 inches.
The majority of the floorplans can accommodate up to six people for sleeping, although some, like the 19FBPR and the 24RKPR, only have sleeping space for up to four.
What Is The Height Of An Average Fifth Wheel Camper?
Fifth wheels are some of the largest and heaviest travel trailers, and often feel like a full-sized residential home with all of the space they offer. However, they can compete with Class A motorhomes with regard to height, and average 11 to 13 feet tall.
One thing to keep in mind with fifth wheel RVs is that the front of the trailer is often raised to offer a standing-height room above your trailer hitch, which may significantly increase the highest point of your fifth wheel.
​1. Forest River Sierra – 12' 10" – 13' 5"
With well over a dozen different floorplans featuring front or rear living and entertainment spaces, a bunkhouse or second bedroom/office, outdoor kitchens, and more, you can take your pick with Forest River's Sierra fifth wheel models.
The exterior height of these fifth wheel RVs ranges from 12 feet, 10 inches to 13 feet, 5 inches.
The taller models are at the higher end of RVs available, but still come in at well under the 14-foot maximum in many states.
​2. Grand Design RV Solitude – 13' 5"
Select from over 15 different floorplans available with the Solitude fifth wheel from Grand Design RV.
These fifth wheels are designed for luxury and extended stays, built with high-quality, durable materials and residential-style finishes in beautiful, thoughtfully-designed layouts.
The Solitude is another fifth wheel on the taller end of trailers available, at 13 feet, 5 inches in total exterior height.
You'll have plenty of room to stand up inside the Grand Design Solitude, with 8 feet of interior headroom.
3. Northwood Arctic Fox Grande Ronde – 13' 5"
Spacious, residential-style living areas are a priority with the Northwood Arctic Fox Grande Ronde fifth wheel trailers.
There are six floorplans available, which range in length and interior layouts and features, although they all have an exterior height of 13 feet, 5 inches.
Although the longer models (just under 40 feet) have a lot more space, these fifth wheels from Northwood only accommodate up to four for sleeping, and are better for couples or small families.
​Tips for Figuring Out the Height of Your RV and Driving Safely
You can find the actual height of the RV you're considering in the specifications listed on the brand or manufacturer's website.
​But there are some key things to consider:
​Summary About Average RV Heights
In general, the average height of your RV will depend on the size of the vehicle. Class A RVs and fifth wheels will tend to be larger and therefore taller, with an average height of over 13 feet tall. Meanwhile, most Class C RVs and travel trailers will be between 11 and 12 feet tall, and Class B motorhomes and camper vans will be the shortest at around 9 to 10 feet in height.
You'll definitely find outliers, like Airstream travel trailers, which are below average at less than 10 feet tall.
And, although I didn't cover any extremely tall Class A motorhomes or fifth wheels in the examples on this list, they are certainly out there!
Just be sure that, with all exterior fixtures such as your air conditioning unit or satellite, your RV is 14 feet tall or less, and you should be just fine to travel the roads of the country worry-free.
Always keep the tips I mentioned above in mind, however, since you might find some low-clearance bridges or structures along the way, particularly in more rural areas that are further from the interstate system.