When you are making a transition to life on the road, there is a lot to consider. If you're just starting your RV journey, then it may be even more daunting.
Choosing the best 5th Wheel RV for full-time living is somewhat subjective. When making this list, I tried to take multiple perspectives into account, not just my preferred living space.
It isn't uncommon to buy your first 5th wheeler and then want to trade it in for a new one just after a year or two.
Honestly, finding the perfect rig takes a bit of trial and error. You have to get used to living small and within certain limits. To make that as comfortable as possible, finding the right living space is key.
No matter what your laundry list of preferences may be, there are three critical specs you should always look at when deciding what to buy.
Gross Vehicle Weight Rating (GVWR)

Unloaded Vehicle Weight (UVW)

Cargo Carrying Capacity (CCC)
If you are visiting a dealership, they'll be posted on the trailer, and online they should be easy to find on the product page.
The last one on that list is often overlooked, and it should be a primary focus when deciding which RV to buy.
This is because your cargo carrying capacity is going to be how much weight you can carry in the trailer. This weight will have to include water storage, fuel storage, waste holding tanks, and all of your personal belongings.
Other considerations that will drive your purchase will be discussed once we've listed our top five 5th wheel RVs for full-time living below.
What Are the Best 5th Wheel RVs for Full-Time Living?
1. Grand Design Solitude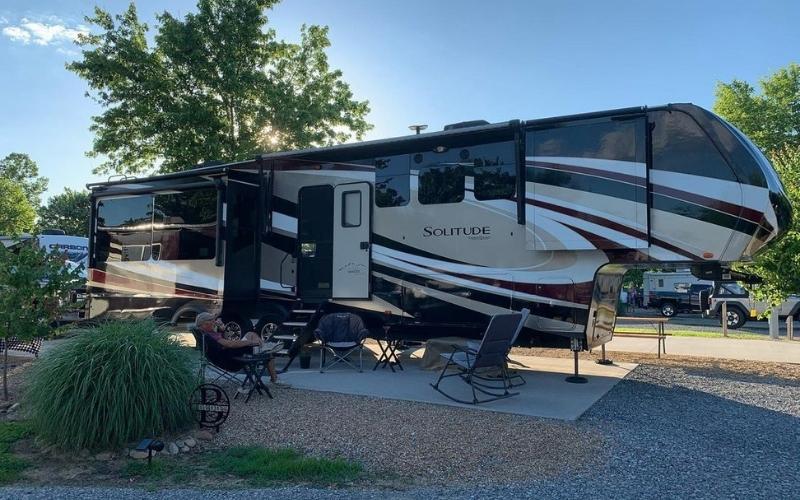 GVWR: 15,000 lb

UVW: 12,100 lb

CCC: 2,900 lb

Length: 34' 11"
"Varies In Specs" So Check All Floorplans of Grand Design Solitude
This made the top of the list because I think it is one of the best 5th wheelers for people transitioning into full-time RV life.
This means that the Grand Design Solitude may not be the last RV you own, but it will be one of the best first RVs to test out and see if the full-time life is right for you.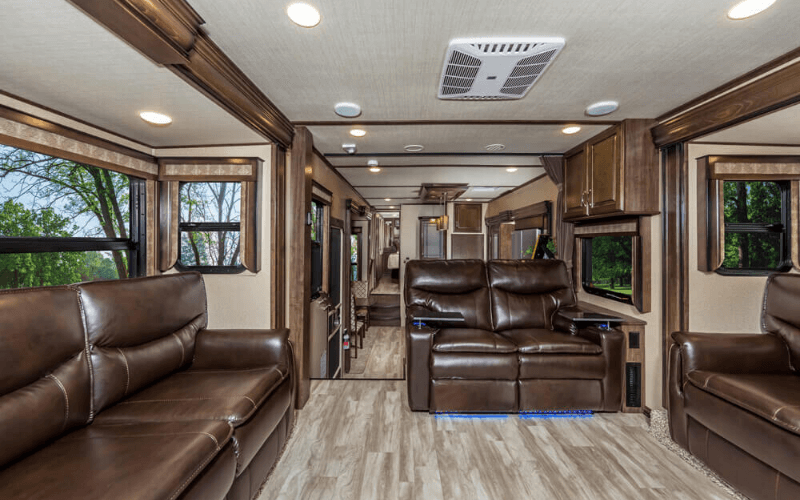 This RV rivals many apartments in size, storage space, and functionality. It is easy to move around in the space, there are tall ceilings throughout, the kitchen has an island for more counter space, and there is even a walk-in closet for multi-season clothing storage.
Other 5th wheel campers will have a similar luxurious design and layout, but trust me, they will cost an arm and a leg. This is a more affordable option than other luxury 5th wheel RVs.
Key Features:
2. Coachmen Chaparral Fifth Wheel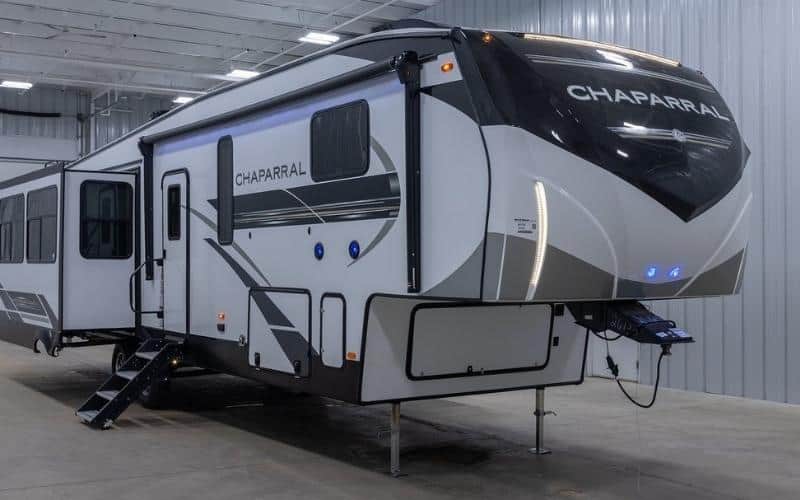 GVWR: 12,000-15,000 lb

UVW: 9803-13030 lb

CCC: 1481-3172 lb

Length: 33' 6" – 41' 9"
"Varies In Specs" So Check All Floorplans of Coachmen Chaparral Fifth Wheel
Coachmen is a well-known company to choose when deciding a traveling living space. Like a few of the other 5th wheel RVs on the list, the Chaparral model offers a wide array of floor plans to ensure you can find the right layout for you.
That being said, all of the different floor options have the option of additional add-ons to customize further.
There is still plenty of storage for your belongings in any of the optional floor plans.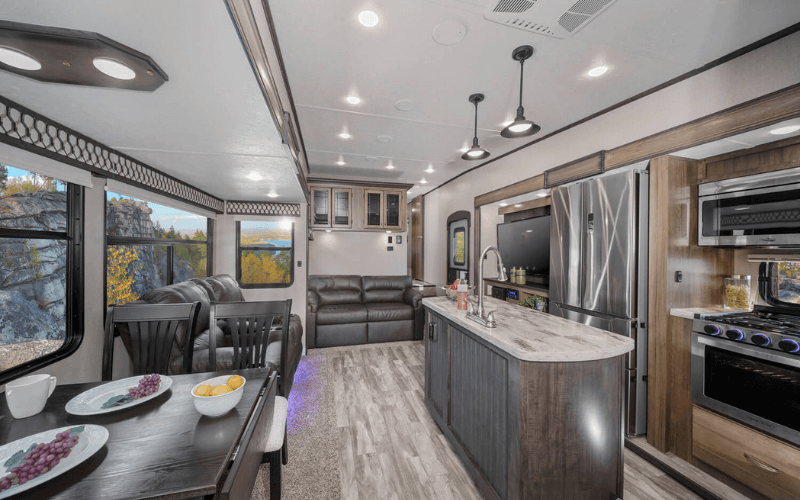 The only downside to this trailer is the weight. It is a bit too heavy for some people to be able to tow with their vehicles.
One particular aspect of this RV that caught my attention was the kitchen. All of the appliances are a bit larger than other models.
Having a functioning kitchen that you enjoy using daily will become an essential aspect of your life on the road.
While convenience food may be fine when you're going from place to place, having a space that you can feel at home is important.
Key Features:
3. Northwood Arctic Fox
GVWR: 15,500 lb

UVW: 10,876 lb

CCC: 3203 lb

Length: 37' 7" with the hitch
"Varies In Specs" So Check All Floorplans of Northwood Arctic Fox
The Northwood Arctic Fox 5th Wheel RV is going to be one of the more compact designs chosen today. It partly made the list because of the classic design.
Sometimes, simplicity is key when you downsize for a life on the road. Don't worry though, this 5th wheel still has all the bells and whistles that you'd need in a full-time rig.
One key feature that I look for when I am browsing any kind of camping vehicle is if there is an alternative power source like solar panels available.
This can be a huge selling point for folks that don't always stay in outfitted campgrounds when they park their RV.
Another huge selling point is the amount of storage space and the weight that this trailer can handle.
This is a perfect choice for anyone looking to pack in adventure gear along with all of their personal belongings. There will be no worries about overloading this trailer.
Key Features:
4. Forest River Wildcat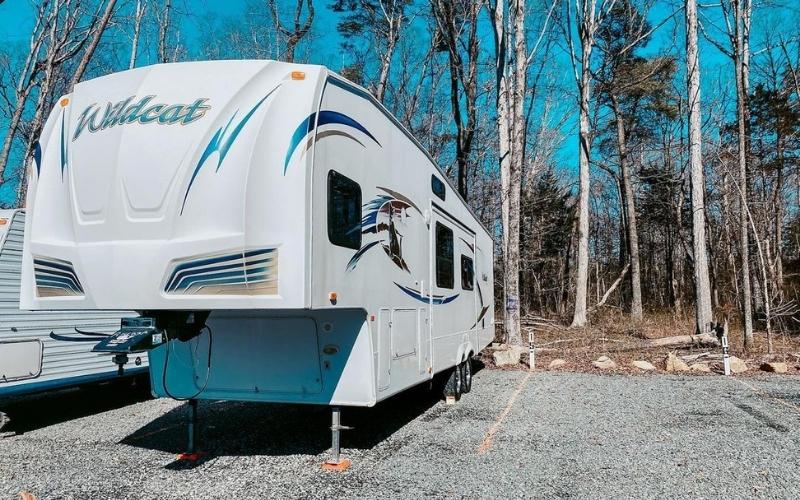 GVWR: 8450 lb

UVW: 9364- 12,785 lb

CCC: 1958 – 4165 lb

Length: 31' 3" – 42' 4"
"Varies In Specs" So Check All Floorplans of Forest River Wildcat
The Forest River Wildcat is one of the most versatile and personalizable 5th Wheel options on the list. It has an exceptional number of floor plans to choose from.
Plus, a stunning number of add-on features to make it perfect for your needs.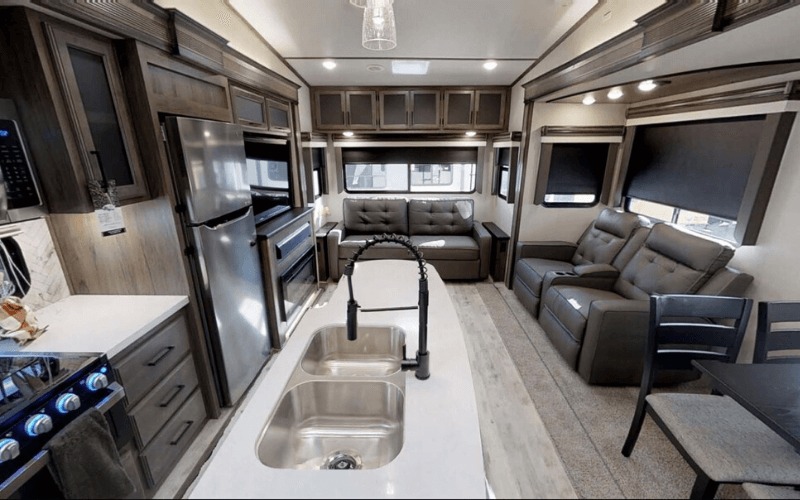 Even if you get the standard version of this 5th wheel, you will be satisfied with the features.
The usual design allows for a free flow space, a large refrigerator, and plenty of seating for entertaining guests.
Just keep in mind that there are plenty of floor plans to choose from on this model, so you will likely find one that fits your taste.
Key Features:
5. Jayco Pinnacle
GVWR: 16,500 lb

UVW: 13,275 lb

CCC: 3,335 lb

Length: 40' 9"
"Varies In Specs" So Check All Floorplans of Jayco Pinnacle
Numerous Jayco options would be great for full-time Rving, but I chose the Pinnacle because of the size and floor plan.
While it will be too large of an RV for some people, it is perfect for families. The space is much wider than other RVs on the list, and there is a full bath plus a half bath.
It is effortless to move around in this space even with the side pull-out sections pushed back in, which is a plus when you're on the road.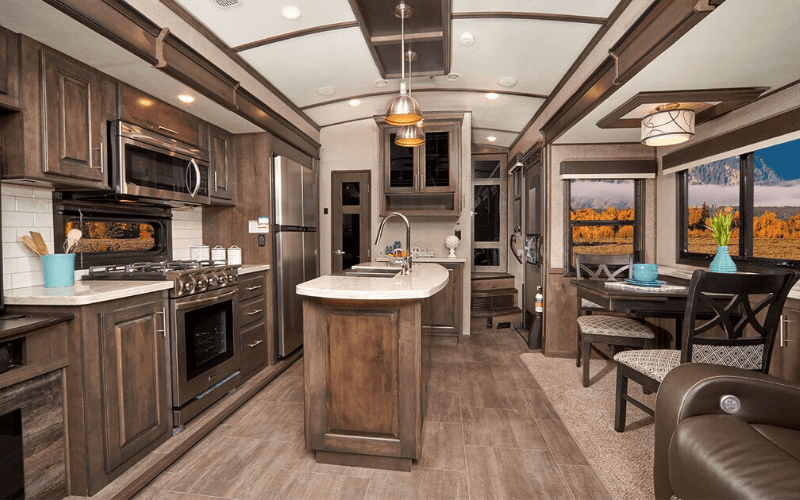 I am partial to kitchens with an island, and in this RV, it doesn't take away from the space because the rig is so wide.
There is ample storage to make it great for adventure families to hit the road. Plus, it has a relatively good CCC, so taking extra gear shouldn't be too big of a deal.
Jayco, as a whole, also had to make the list because of the warranty. It has one of the best warranty systems available for RVs, which is a huge factor when buying new.
Key Features:
Runners Up (Other 5th Wheel Models to Check Out).
While the five listed above are the first choice, they may not be suited for your specific needs. If you're still looking for a model that's right for you, here are a few more 5th wheel options to consider:
KZ Durango Gold

Heartland BigHorn

New Horizons Majestic

DRV Full House

Luxe Toy Haulers
How to Choose the Best 5th Wheel For Full Time Living
Whether you are searching for an upgrade for your full-time living space or you are working on transitioning into full-time RV life, it can be tough to decide which RV is right for you.
It can be tempting to just go with the first affordable price, but you should treat this like buying a new home. I mean, you are going to be living in it!
So, your budget should always be the first decision that you make when buying a new RV. Once that is out of the way, you can focus on other essential factors.
The aspects that I've chosen to look at are not the only things that may be important to you.
Something that helps many new 5th wheel owners narrow down their choices is by determining their specific needs. Then, after looking at a few models, making a pros and cons list of each 5th wheel.
Let's get into it then. Below are some primary factors to consider when buying a full-time 5th wheel:
Floor Plan
Many of the options listed above had different floor plan options. This will be an intensely personal choice in your decision-making process. For me, my biggest concern is the kitchen.
If the kitchen is not functional on the floor plan, I won't bother going to look at it in person.
For other buyers, they will be more concerned with things like storage space, the bedroom layout, or the bathroom.
Deciding a floor plan that fits well with your day-to-day needs may take time and even owning a few RVs to figure out.
I do recommend that if you are buying an RV for the first time, spend plenty of time walking around various dealerships.
This exposure to it in real life versus online will give you a perspective to scale with your body. Not to mention a better idea as to the general functionality of the space.
Additionally, you should consider the way the floorplan flows when the slideouts are closed.
This may seem like an unnecessary aspect, but when you're on the road, it can be helpful to access parts of the kitchen or even the bed and bathroom without having to open the RV up completely.
This added mobility can give you extra resting periods in store parking lots, dry camping locations for layovers, or even if you need to park outside a friend's house just for a night or two.
So when you're checking out new RVs at dealerships, be sure to walk around them with the sides open and closed.
Outside of the interior floor plan is the exterior living space. Living in an RV, it is expected that you would enjoy spending time outdoors as well.
So, having a 5th wheel that fits that lifestyle is important. As before, the kitchen is important to me, and so is an outdoor cooking space.
Having a nice awning and enjoyable flow to an outdoor kitchen makes the RV life that much more spacious and enjoyable.
Materials
Knowing what to look for in this section can be tricky, especially for first time RV owners.
My biggest piece of advice in regards to quality materials is that if it looks and feels cheap, it probably is cheap. Go with your gut on this one. You are looking for a home!
You're going to be living in it full-time. You do not want to live in a low-quality trailer that will fall apart at any moment.
I will cover this in more detail in the warranty section, but one thing to mention here is that as an RV owner, expect things to break from time to time. Things break in a home from time to time too, that's just life.
Still, looking for quality materials is a big deal, especially when buying new. So, for an idea of a few important things to look for, I put together the list below:
Full body paint is the most durable

Fiberglass roofs last longer than rubber ones

Gelcoat can be buffed to shine nicely

Non-opening skylights with no shade or insulation will add heat during summer months

Disc brakes make emergency stopping much safer (you can add later if manufacturer does not have them)

High R-factor insulation will give better temperature regulation

Try all the sitting areas and beds in all the positions to make sure they're comfortable

Dual paned windows for better heat retention

Cabinet doors are made from sturdy materials

Stainless steel kitchen appliances are a plus

Flooring will be easy to clean – Decide if you want carpet or not

Check solar panel size to see if they match generator size

Check for gaps in the structure, especially underneath the RV. This is a tell-tale sign of a rushed building.
The list above is not an all-inclusive, end-all list to go by. These were just a few key items that can often be overlooked in the excitement of buying a new RV.
With that as a starting point, you will be able to tell if you are viewing a high-quality build or not.
You can become even more meticulous as you do more research and read reviews about common issues that previous owners of that model have had.
Available Storage
Having enough storage is important in any camper trailer, but it becomes exceedingly important when you live there full-time.
The transition to full-time RVing can be a rewarding experience as you begin to thin down your belongings and find only room for the essentials.
For me, minimalism is a part of everyday life whether or not I am living on the road.
This sentiment is not true for everyone, though, and that is why optimal storage and carrying capacity are being brought up here.
When discussing available storage, it must be brought up that you can only pack as many things as your trailer can carry. This doesn't mean space-wise, I mean carrying capacity weight.
Carrying capacity factors in things like water tanks, waste, fuel storage, as well as personal belongings.
The weight of the water you carry can take away a lot of the weight in the capacity, so knowing how much weight you can carry before you buy is vital.
Beyond the carrying capacity, available storage comes down to if there is enough room. This could mean storage inside the RV itself as well as storage underneath in the "basement."
The storage under the living space should be reserved for items that you don't use daily, like outdoor gear.
Other folks invest in an RV that has a "garage" type feature on the back to store larger drivable toys and to have a tool shop.
Another aspect of storage includes mechanical and system accessibility. How easy is it to get to your basement, furnace, water pump, circuit breaker panel, landing jacks, hot water tank, converter, battery compartment, or slideout mechanisms?
While you won't need to access all of these frequently, if something needs to be fixed, you should hope you can get to them without much trouble.
Check to see if they're tucked away in hard to reach spots or if the design makes sense to make fixing things easier.
These accessibility points are especially important for people that like to fix things themselves.
All of this is to say that when you are shopping around, take a look to see how deep cabinets are if there is storage under the bed, if the space is utilized fully, accessibility of systems, and what the carrying capacity is.
Heating and Cooling System
Now, when you're choosing to live full-time in your 5th wheel, this means that it should have 4 season capabilities.
The temperature regulation will become a priority primarily in the summer and winter months. Additionally, the area of the country that you live in will determine how often it is used.
Having a heating system in cold weather should take priority over a cooling system.
However, having both fully functioning and not a nuisance is ideal. Look for adjustable vents, multiple vents throughout the RV, and how much noise it makes while it is running.
RVs are much smaller spaces than you may be used to, so the noise of an air conditioning or heating system may be a lot louder than you're used to.
Have them run the AC when you are at the dealership and go to common areas you would relax.
Does the vent blow directly on the couch? Is it above the bed? These are nuisance spots that would alter your comfort level during high heat months.
Generally, RV owners struggle much less with the heat than they do with cooling.
However, the heating system functionality usually comes down to how well insulated the trailer is. This goes back to the materials used and if they are of good quality.
Ensuring that the windows are sealed correctly, there are no cracks or gaps structurally, and that doors seal will give you a good idea of how well your trailer will hold heat.
Unique Features
Choosing a floor plan is always exciting, but then moving on to unique features to add is where the fun really begins.
You may be looking for unique features that fit in the standard model, but you should also delve into the possible add-ons.
When looking at RVs, always ask for a list of features that are included in the standard model.
This will give you a baseline of price, but it will also tell you if what you're viewing includes any add-ons or not.
Most baseline versions include a fair amount of features like outdoor waterproof speakers, awnings, outdoor kitchen, USB charging ports, and more.
Each floor plan may be slightly different in what they include, so be sure to inquire about differences amongst them.
Most high-quality RVs will give an extensive list of options to allow owners to personalize their RV to their specific needs.
These unique features will either be individual add-ons or upgrades to entirely different models.
To get a better idea about upgrade options and additional features, visit the manufacturer's website or visit a dealer near you.
Warranty
Knowing the warranty of something that you buy is usually important, but it is especially important in this case because your RV is your new home.
Making sure that things will be functioning properly will make your life more comfortable day in and day out.
Something that should be said about owning and living full-time in an RV is that you should expect there to be problems.
It isn't ideal, but RVs that come straight from the manufacturer almost always have a laundry list of issues to sort out in the first few years.
Most of these issues should be covered under warranty, so get all the warranty fixes out of the way while you can.
If possible, you could opt to buy a used RV that has already gone through all of the warranty fixes. Then you would only have to worry about general maintenance and upkeep.
When you're buying new, finding a dealership that is trustworthy and capable of getting your RV fixed promptly will make a big difference.
Not all dealerships are easy to work with, so take note of the process when you are shopping.
Take a look at reviews online of not only the 5th wheels you're interested in but also the dealerships you may buy from.
Personal Choice Will Be the Deciding Factor
There is a lot to take in and consider when you are moving to be a full-time RVer.
If you have lived in an RV for some time and are looking for an upgrade, you will likely have a better idea about what you are looking to buy.
In either case, personal preference and your daily life will drive the decision.
The list of five RVs that are listed in this article are simply the five I chose. I used basic criteria to make my decision like durability, functionality, storage capacity, and ability to personalize.
Not all of these 5th wheel RV models will be perfect for you, but I hope it gave you a good idea of what to be looking for in your full-time RV.
If there is just one take away from this article, I will hope that it would be to go and look at RVs in person.
Make an event out of it! It can be a great weekend activity as you get to know your preferences. It can be helpful to narrow down to a few models and then make pros and cons lists.
Even consider renting a few different options for weekend trips before committing to one fully.
Whenever I am going to view a new RV, I always bring a notepad or make notes on my phone about specific features that I enjoyed or red flags that came up.
It is easy to forget little things after seeing so many in a day or over the course of a few weeks.
Keep the key criteria like floorplan functionality, unique features, quality materials, storage space, and warranty in mind, and you will find the perfect full-time 5th wheel in no time!