KOA Campgrounds (aka Kampgrounds of America) have been around since 1962. That's when the first one opened in Billings, MT and started charging RVers $1.75/night!
A lot has changed since then — both in terms of campground pricing and the number of KOA campgrounds.
Since its humble beginnings in Billings, KOA has expanded to over 500 locations across the U.S. and Canada.
KOA campgrounds are family friendly RV parks that offer an array of amenities — from splash parks for the kiddos to pool side movie theatres.
But the sheer number of KOAs offering different amenities might cause you to wonder: what is the best KOA campground?
While there's no one-size-fits all answer, the best KOA campgrounds tend to be situated around popular attractions or by beautiful national/state parks.
In this article, we'll cover 10 KOA campgrounds around the U.S. and show what makes them the best KOA campgrounds you can find.
So, have a gander at this list to decide which is the best KOA campground for you.
But First, Here's What To Expect At A KOA
KOAs might vary in terms of the amenities they provide, but you can expect the same level of service and offerings at any KOA you go to.
For example, while not every KOA has a poolside movie theatre, nearly all of them offer full hookup RV sites (with most providing 50amp service), cabins for rent (for those extra family members who might join you), fire rings at your RV site, and a store where you can purchase the essentials.
Unlike other RV parks scattered across the U.S which can vary in some big ways, KOA offers a consistent level of offerings from coast to coast.
Because KOA is a franchise organization, that means that individual park owners can't be part of the system without agreeing to provide the same basic level of services to RVers.
All of that translates into a reliable campground experience for you.
The 10 Best KOA Campgrounds (In Our Humble Opinion)
We're listing these in no particular order because each of the 10 best KOA campgrounds we list here would be best depending on your wishes.
For example, if you like more urban environments, certain KOAs we list will be better for you, whereas if you tend more toward rural campgrounds by scenic sites, other KOAs on our list will be for you.
Here are the 10 of the best KOA campgrounds in the United States that should be on your bucket list this year:
1. Nashville KOA (Tennessee)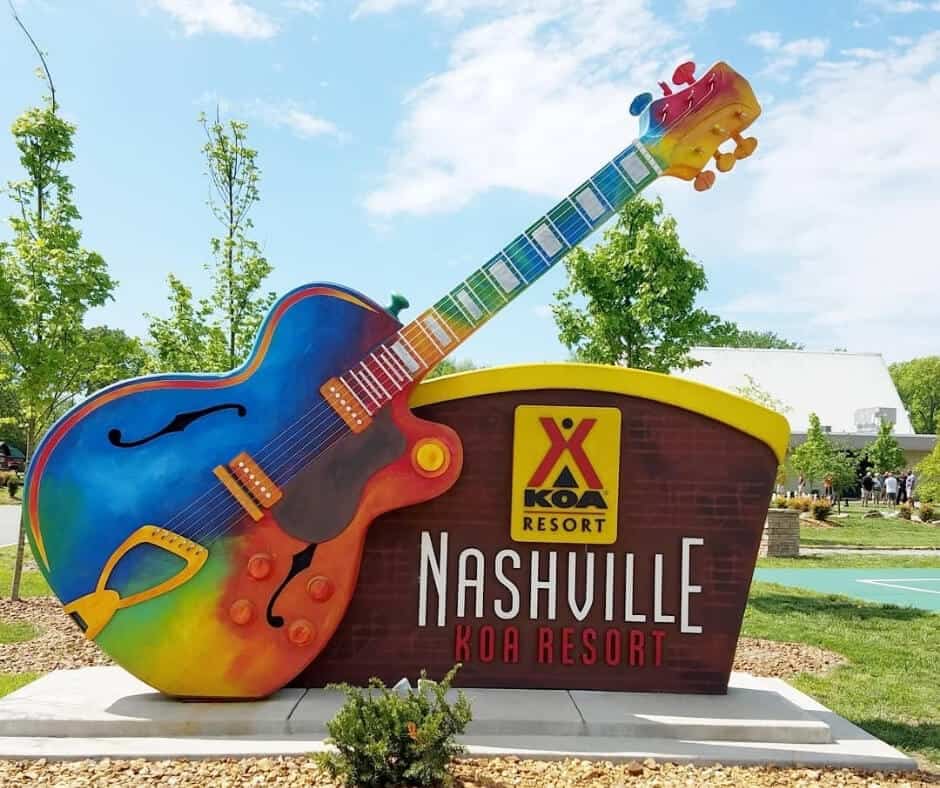 Nashville, TN is the world's hub for country music. The area is also epically beautiful and offers tons of fun activities for the whole family.
Situated in a wooded area — yet just a short drive from downtown — the Nashville KOA is a wonderful base for the whole family to enjoy.
It offers a very popular swimming pool with hot tub and poolside movies, a natural playground for the kids, outdoor yard games, a hip cafe, and much more.
The KOA is also one of the most family friendly on our list because it offers an array of activities that the whole family can join in on.
While the KOA itself offers plenty to keep you entertained, you'll also be a stone's throw from the Grand 'Ole Opry — one of country music's most famous sites.
The Nashville KOA is one of our favorites because it offers an all-inclusive oasis that's still close to one-of-a-kind musical attractions.
Rates: $60-120/night
Location: 2626 Music Valley Drive Nashville, TN 37214
How to make a reservation?
2. KOA Myrtle Beach (South Carolina)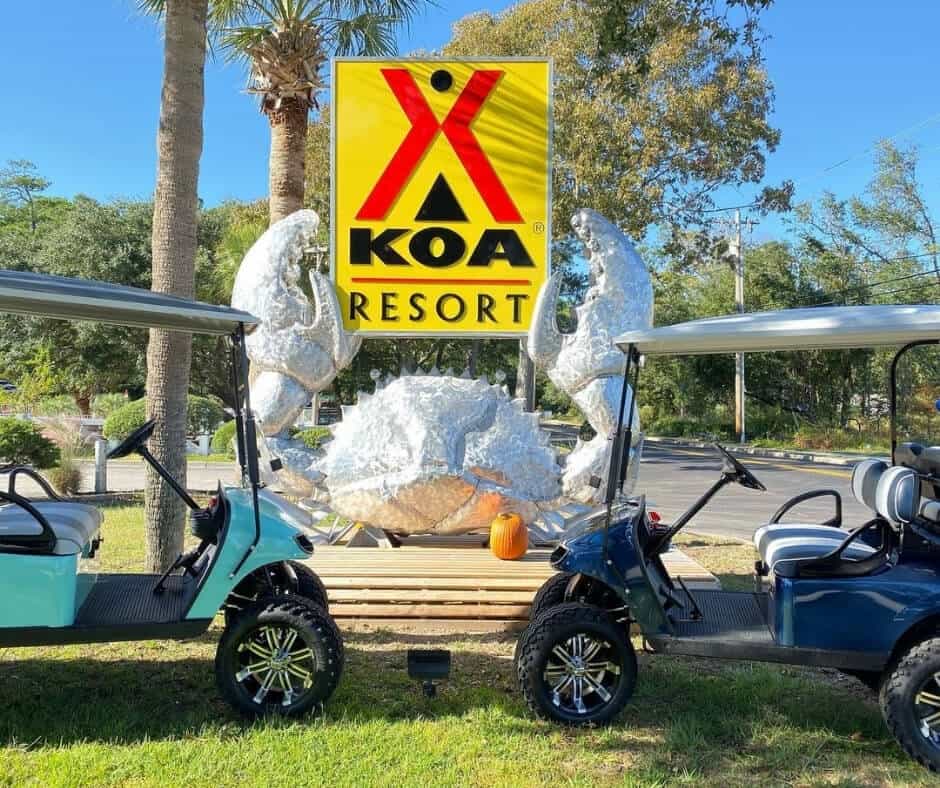 What could be better than a park that is nestled between some of the U.S.'s largest old growth pines and is walking distance to one of America's most popular beaches?
You'll get all that and more at this wonderful family friendly KOA.
The Myrtle Beach KOA offers a pool, deluxe cabins, pancake breakfasts, and other fun activities like yard game tournaments.
It also features an adventure trail and a fenced in "KampK9" area for your four-legged friends.
Best of all, the Myrtle Beach KOA offers a free shuttle to the beach so you can camp out and easily roll over to the wonderful sun and sands of South Carolina.
Rates: $75-150/night
Location: 613 5th Avenue South Myrtle Beach, SC 29577
How to make a reservation?
3. Ouray, CO KOA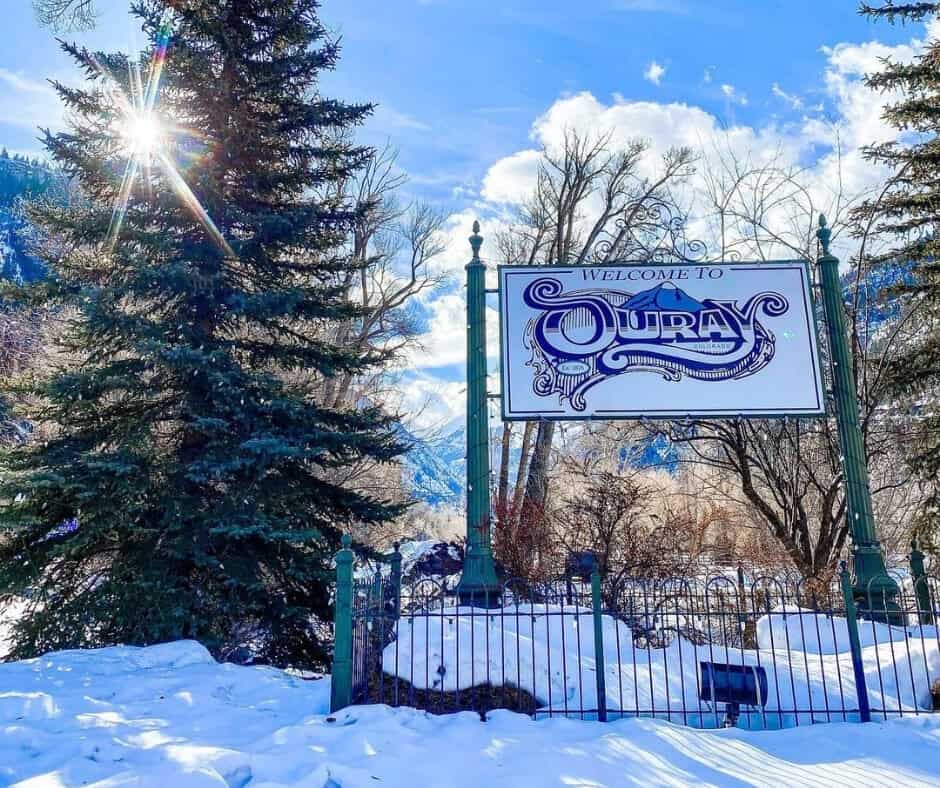 Our favorite part about the Ouray, CO KOA is that it's nestled between the San Juan Mountain ranges — one of the most beautiful sets of mountain vistas in the world.
In fact, Ouray is known as the "Swiss Alps of America" because of how dramatically the town resembles those villages situated near famous European peaks.
Ouray is also the Jeep capital of the world and the Ouray KOA is the only campground we've ever heard of where you can rent a Jeep at the campground.
The Ouray KOA offers spacious sites, a wonderful clubhouse/store, and deluxe cabins.
But this KOA's true charm lies in the natural playground that awaits just out your front door.
Ouray KOA situates you in Colorado's adventure epicenter where you can turn the nature trails, mountain views, raging rivers, and mountain biking routes into your very own Kamping playground.
Rates: $60-120/night
Location: 225 CR 23 Ridgway, CO 81432
How to make a reservation?
4. Pigeon Forge KOA (Tennessee)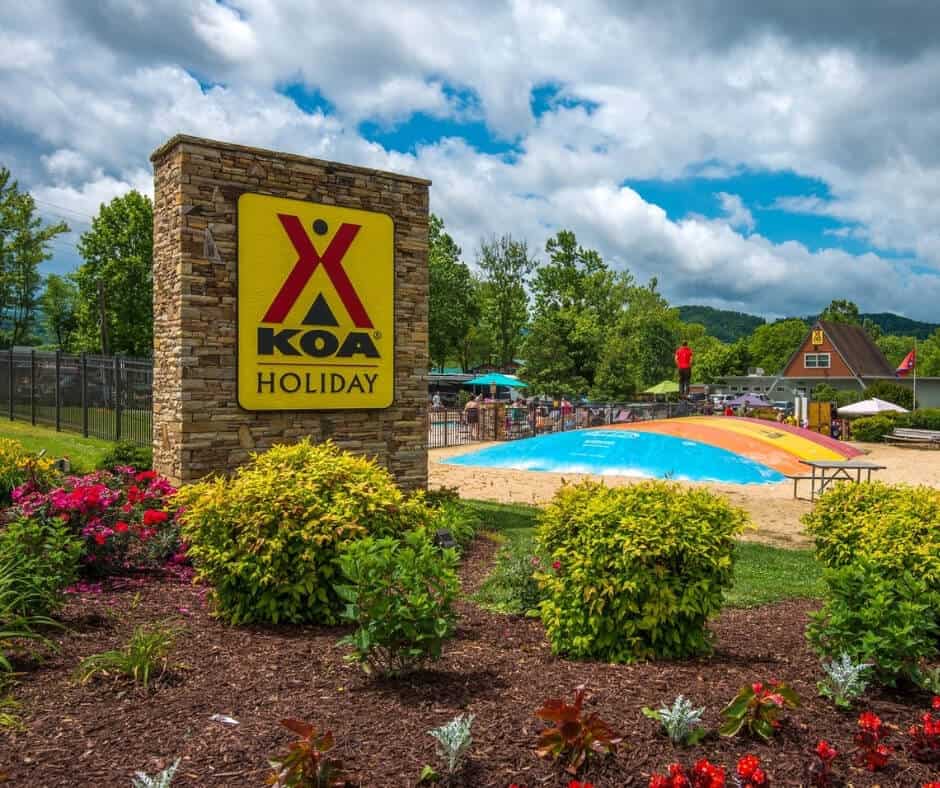 The are two major reasons why this KOA is a best KOA campground — Smoky Mountain National Park and Gatlinburg, TN.
Smoky Mountain National Park is one of the most popular national parks in the U.S. for good reason.
From its beautiful forested rolling mountains to its raging streams to the wildlife watching, Smoky Mountain National Park has something for everyone.
Gatlinburg, TN is one of the adventure capitals of the U.S. From its renowned performing arts scene to the Dollywood theme park, Gatlinburg has something to offer everyone in the family.
The Pigeon Forge KOA campground is one of the best KOA campgrounds because it puts you in close proximity to all of the above while offering great amenities like a gravity rail playground and on-site bike rentals.
Rates: $50-120/night
Location: 3122 Veterans Blvd. Pigeon Forge, TN 37863
How to make a reservation?
5. St. George KOA (Hurricane, Utah)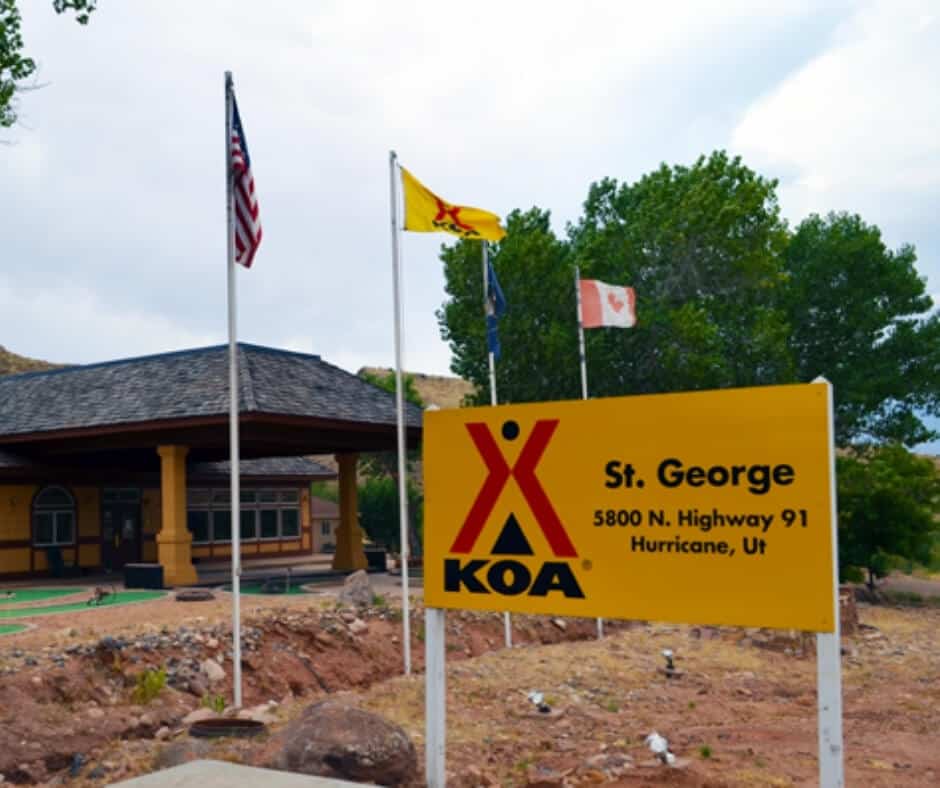 This KOA is a best KOA campground because of its close proximity to 3 national parks: Zion Canyon National Park, Bryce Canyon National Park, and Grand Canyon National Park.
The St. George KOA offers the standard amenities we've come to expect — including a fun summer pool.
But it's crowning achievement is the fact that you can camp in comfort while being within a day's drive of 3 of the greatest attractions the U.S. has to offer.
Rates: $40-90/night
Location: 5800 North Old Highway 91 Hurricane, UT 84737
How to make a reservation?
6. Leavenworth/Pine Village KOA (Washington)
The Leavenworth KOA is a best KOA campground because of its proximity to some of the Northwest's most pristine forests and because of the town of Leavenworth itself.
The Leavenworth KOA is nestled in the Cascade Mountains, making it a wonderful jumping off point for the rainforest-like state, county, and national parks that dot the entire mountain range.
On top of that, Leavenworth, WA is a famous town because the city fathers decided in the 1950s that it should be a Bavarian inspired village.
As a result, from it's German style Christmas markets to its alpine themed construction, the entire town is a very unique place to camp near.
Downtown Leavenworth is a short walk from this KOA that features modern full-hookup RV spots and wonderful nature.
Rates: $40-80/night
Location: 308 Zelt Strasse Leavenworth, WA 98826
How to make a reservation?
7. Mount Rushmore KOA (South Dakota)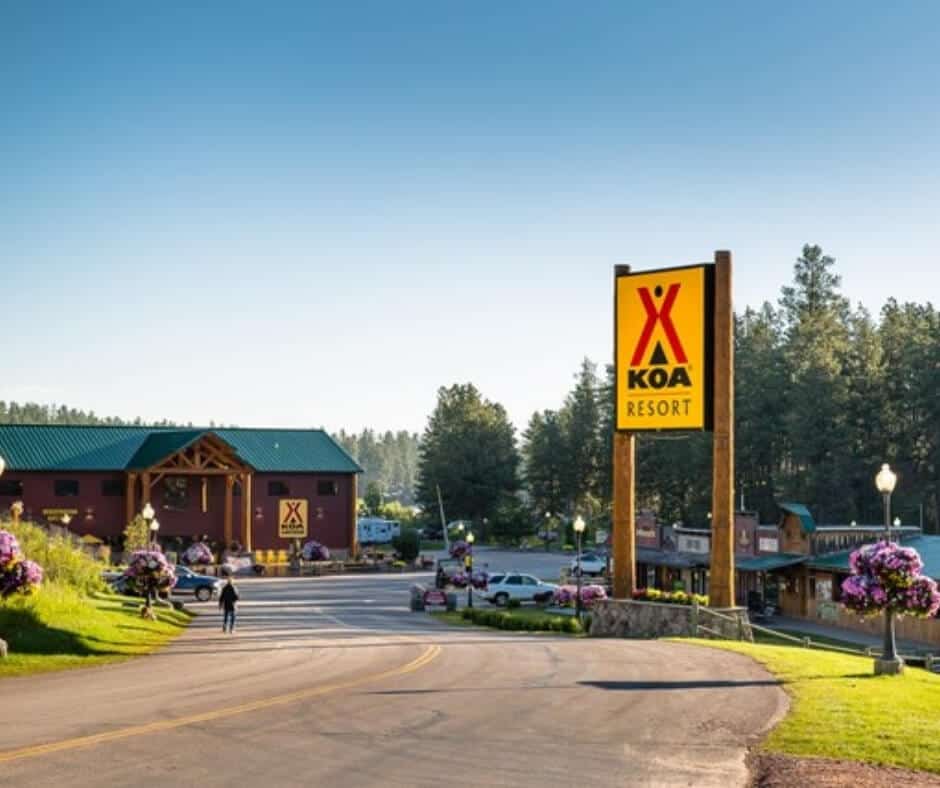 The name pretty much says it all as to why this KOA is a best KOA campground.
Situated in Hill City, SD, this campground puts you just a 6 minute drive from its namesake landmark.
It also features activities like wagon rides and live entertainment.
You can even rent an ATV at the campground and go exploring some of the awesome trails within the Black Hills.
Rates: $75-130/night
Location: 12620 Highway 244 Hill City, SD 57745
How to make a reservation?
8. Tucson Lazydays KOA (Arizona)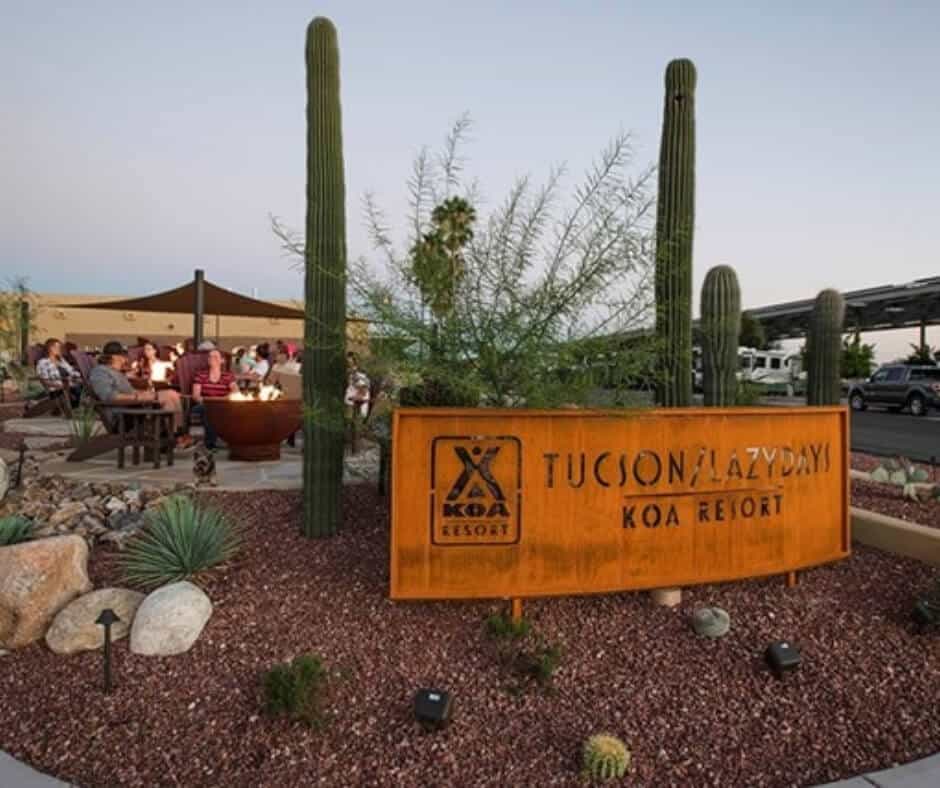 Tucson, AZ is the snowbirds dream. With an average winter temperature hovering around 65 degrees fahrenheit and abundant sunshine, Tucson is the place to be when the mercury drops for the winter.
Tucson's Lazydays KOA takes full advantage of this location and is a best KOA campground because it is a full-on ultra-lux RV resort.
From deluxe adobe cabins to RV sites featuring patios and fireplaces, this KOA would be your oasis while escaping harsher winters.
This KOA also blows the typical putt putt golf range out of the water by providing a full-scale 9-hole putting green!
Tucson is a terrific jumping off point because of its renowned food scene and close proximity to natural sites like Saguaro National Park.
And if all that weren't enough, the Lazydays KOA is situated right next to one of the best RV dealerships and service shops in Arizona.
That'll allow you to easily get work done on your rig (or even purchase a new one) while you hang out at this epic KOA campground.
Rates: $55-100/night
Location: 5151 South Country Club Road Tucson, AZ 85706
How to make a reservation?
9. Boston/Cape Cod KOA (Massachusetts)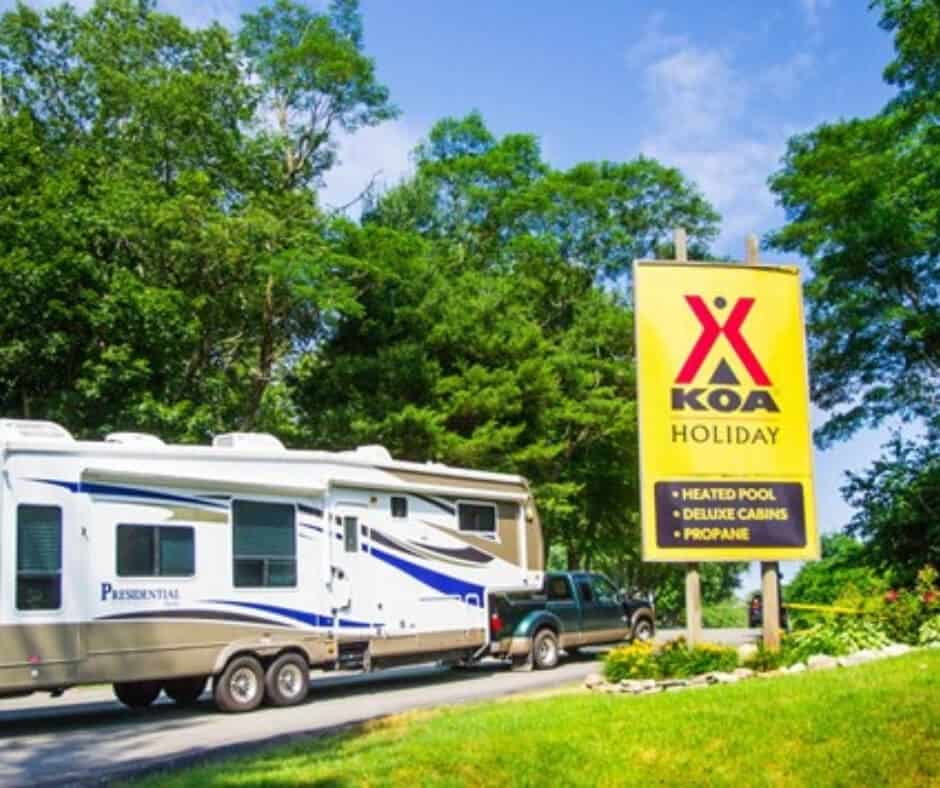 The thing that makes this a best KOA campground is its close proximity to some of America's most important historical sites.
From the Freedom Trail to the Old North Church Paul Revere rode to, Boston is a wonderful, walkable city where you can tour American landmarks.
The Cape Cod KOA puts these landmarks at your fingertips while also featuring a comfortable oasis for your stay.
It features a heated pool, fire rings at every site, and a jumping pillow for the kids.
In addition to its close proximity to urban history, this KOA's location in Cape Cod also makes it the ideal jumping off point for small town beaches in the bay.
Rates: $65-125/night
Location: 438 Plymouth Street Middleboro, MA 02346
How to make a reservation?
10. Palm Springs/Joshua Tree KOA (California)
Location, location, location is what makes this a best KOA campground.
You'll not only get to stay at a cozy KOA with the amenities you've come to expect, you'll also be just 10 minutes away from Palm Springs, CA — a subtropical desert oasis that features over 80 golf courses, 50 miles of hiking trails, and world class shopping.
When you've got your fill of Palm Springs, you can take a short drive from your campsite to Joshua Tree National Park.
Joshua tree offers some of the most stunning natural beauty of any national park through its iconic Joshua Trees and spectacular rock formations that abound.
Palm Springs/Joshua Tree KOA is a best KOA campground because it provides you easy access to all the above while giving you a well-equipped place to call home in your RV.
Rates: $45-85/night
Location: 70405 Dillon Rd Desert Hot Springs, CA 92241
How to make a reservation?
Book here or call 800-562-3046
---
Kampgrounds of America has many wonderful RV parks spread around the U.S. and Canada.
No matter which KOA you choose, you're certain to have a good time in your RV while also benefiting from excellent amenities.
The list we've put together above takes that to a whole new level by showing you the KOA campgrounds that offer a truly once in a lifetime experience.