For a lot of modern-day RVers their truck means to them what a trusty steed meant to a medieval knight.
Taking care of your truck and kitting it out with convenient accessories like an LED lightbar not only helps personalize your truck, but it can play into overall campsite safety as well as road safety.
Of course, LED is slowly taking over all sectors of the lighting industry thanks to its energy efficiency, virtual non-existent heat production and impressive lumens.
Though you might be surprised to hear that not all truck LED lightbars are created equal.
If you've been confused by some of the technical terms, you're probably left wondering what is the best light bar for my truck?
You might want to start by looking at the Nilight – 15026C-A or the Keosow, YACE-DY-441WCDTir-DB1.
Both are popular models for their lumen production, ease of installation and compatibility with most foreign and domestic pickup trucks. Of course, they aren't the only names in this sector worth considering.
So, we decided to shine a light on some of the important details to help you find the best-LED light bar for your truck.
What Is An LED Lightbar?
An automotive LED lightbar is essentially a long, thin supplemental light that can be attached to either the front bumper or the roof of most pickup trucks and SUVs.
The LED elements inside the bar create an intensely bright, directional beam of light to help you see not only where you are going but it can also help you spot obstacles that your truck's normal headlights might not fully illuminate.
The LED lights use far less power than traditional light bars, while also generating heat.
There are even some with color options like red, which can help illuminate your campsite without necessarily drawing in a ton of mosquitos and moths like white light is prone to do.
LED lightbars tend to be the most popular with truck and SUV owners who like to do a lot of off-roading.
They help you spot obstacles in your vehicle's path in places where no streetlight would dare to shine.
The Best Place to Install an LED Lightbar On Your Truck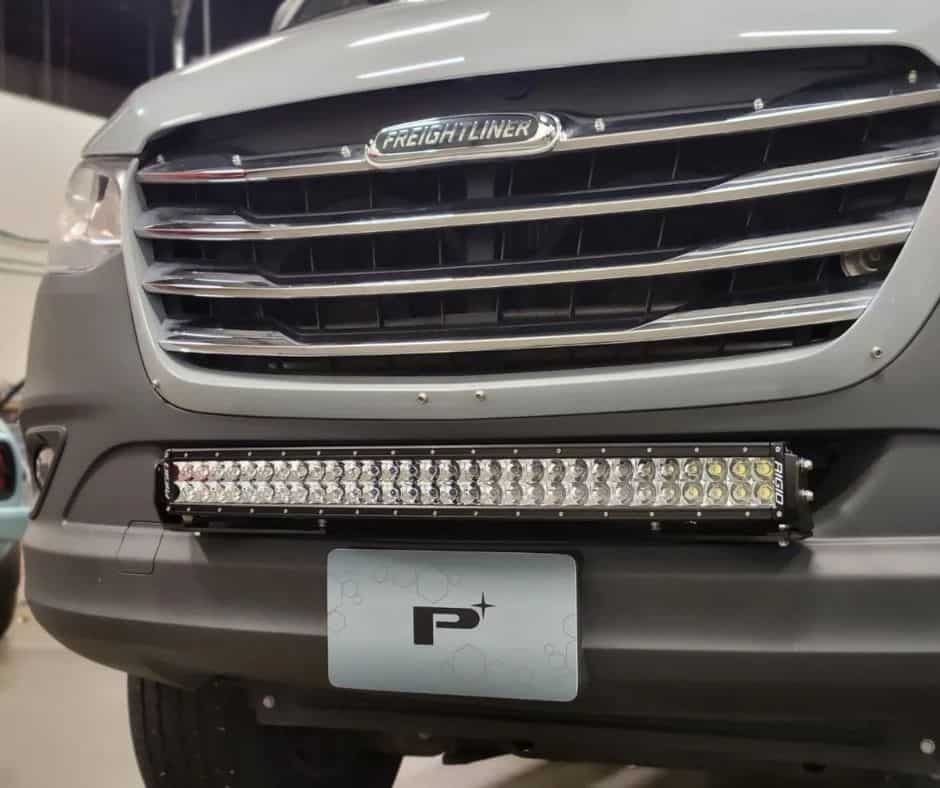 The two most popular locations to mount an LED lightbar on a truck is either on the roof or on the bumper.
Each has its own potential benefits and drawbacks. The best location for your truck will depend on how you are most likely to use it.
Installing An LED Lightbar On A Truck's Bumper
Mounting an LED lightbar on your truck's bumper makes a lot of sense in that most of the wiring you need is already there, and it's relatively easy to secure any mounting hardware.
It also means you don't have to make any serious alterations to the exterior or structure of your roof.
In the real world the benefits of mounting an LED lightbar on a truck's bumper becomes a little more skewed, depending on how you'll use it.
On the highway and most public roads, local law enforcement are likely not going to take kindly to you turning the LED lightbar on while driving, as it can cause problems for other motorists.
So, you're likely only going to be able to use it on backroads, like the gravel roads leading to a primitive campground or driving off road.
Though in these environs having an LED lightbar mounted on your truck's bumper lets you see obstacles and wildlife like deer that are just waiting to bounce out of the bushes to cause an accident.
Though if that deer does jump up and you happen to accidentally hit it, the LED lightbar on the bumper can be damaged.
It can also be damaged by rocks kicked up by other cars on gravel roads or other roadside obstacles.
At camp the LED lightbar is a little bit of a mixed bag. It can be an absolute godsend if you need to set up camp in the dark as the directional light it casts is perfect for letting you see what you're doing and read instruction manuals.
Though when you sit down to relax at camp, the bumper mount makes it a poor option as someone will inevitably end up with the stream of intense LED light shining straight in their face.
Mounting an LED Lightbar on a Truck's Roof
Mounting an LED lightbar on a truck's roof does take more install time. You're going to have to run wires and you'll need to mount it securely.
Ideally, affixing a set of roll bars is better than making holes in the roof of your truck's cab to accommodate the mounting hardware.
It also means less risk of creating an accidental water leak or altering the resale value of your truck if you ever want to remove the lightbar later before trading it in.
Many people who decide to mount an LED lightbar on their truck's roof end up hiring a professional to ensure it's done correctly. This will drive up the initial cost by as much as $150 to $200.
On the road, an LED lightbar mounted on the roof of a truck will provide light over a wider area.
It still might draw the ire of other highway motorists, but it's more likely to not be an issue on back roads.
A deer's kicked-up stone, brush, or brambles are also far less likely to get damaged.
Even the slightest rollover will likely destroy it if you like to rock crawl with your truck.
At camp, an LED lightbar mounted on the truck's roof will illuminate the entire campground and should give you sufficient lighting to see what you're doing if you need to set up camp in the dark.
If you need extra lighting around the campsite, without it blazing someone's eyes.
What To Look For In An LED Lightbar For Your Truck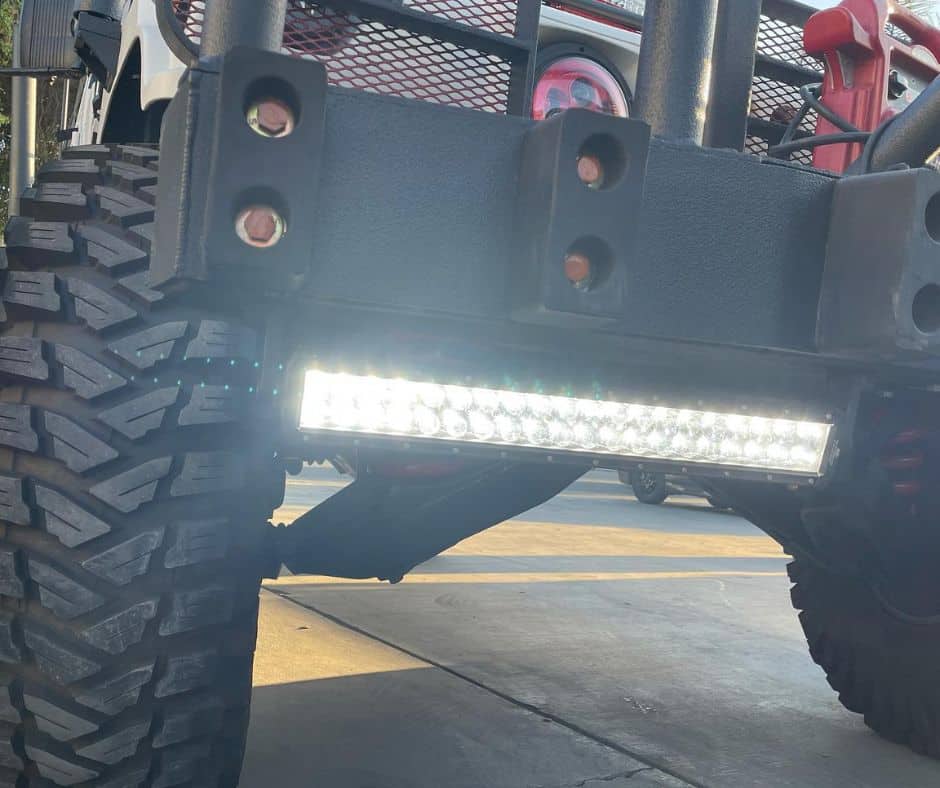 There are a few things to keep in mind when choosing the best LED light bar for your truck.
This includes things like wattage, lumens, and light type. Understanding some of the finer details will go a long way toward making sure you find the best deal on your truck's new LED lightbar.
Lightbar Wattage
Wattage is the measure of power consumption for almost all light fixtures. The higher the wattage rating the brighter the LED lightbar can be.
However, LED lights are very energy efficient, so wattage isn't the best measure of real-world brightness and light intensity in a truck's lightbar.
However, it can give you a rough barometer of how much electrical draw the LED lightbar will have if you need to run it with the truck turned off as support lighting when setting up camp.
You can then convert wattage into amp hours to estimate run time. One amp hour is equal to 1000 milliamp hours.
You can quickly convert watt hours to milliamp hours, you multiply watt hours by 1000 and then divide by volts of your truck's electrical system.
Lightbar Lumens
Lumens is the unit of measure you need to use to truly understand the brightness of any LED light, including an LED lightbar for your truck. Lumens specifically measures light output, not power.
This effectively measures the amount of light sent from a source. The higher the lumens rating of an LED lightbar, the brighter your light.
This allows you to directly compare two light bulbs in a real-world metric regardless of their type or wattage.
The Lightbar's Beam Pattern
You also need to consider the beam pattern when shopping for your truck's new LED lightbar.
This is the angle or spread of the light. It's especially important since LED lights are directional by nature.
However, lightbar manufacturers produce models that have different beam patterns such as flood, spot, and/or combination beams.
Can You Use an LED Lightbar on a Truck While Driving on the Road?
Most of the truck LED lightbars designed for camping use are not considered to be road legal.
Except for a narrow selection of "Street Legal" light beams that have earned SAE or ECE certification for highway use.
If you want to use your light bar on the highway, it must meet the regulations, or you can get fined.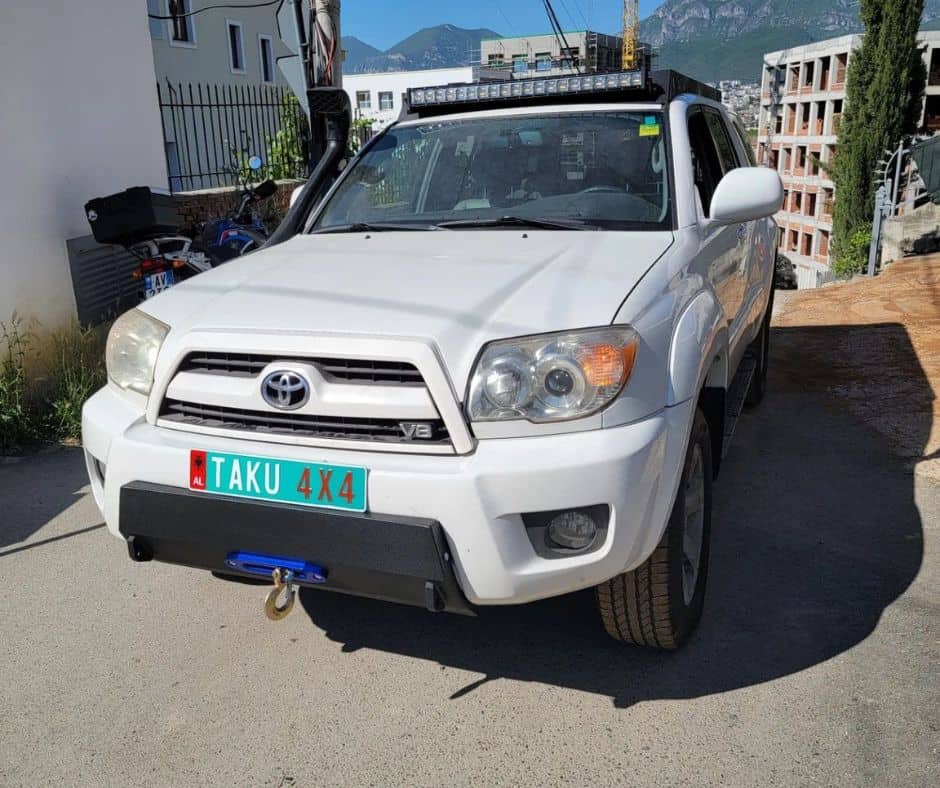 5 Best LED Lightbars For A Truck or SUV In 2023
When reviewing the best LED light bars for a truck we tried to find models with spot, flood, combination, and street legal beam patterns.
Then we also looked for ones that were easy to install for self-installation on your bumper or to minimize the cost of professional installation on your truck's roof.
This included accounting for lumen production as well as real-world functionality. The net product is a glowing conglomeration of LED lightbars befitting just about any truck.
1: The Keosow YACE-DY-441WCDTir-DB1 32-Inch Curved LED Lightbar
This 32inch light bar features triple row LED fixtures for maximum light density. It has a combination LED light pattern with spot and flood facets.
This provides both a widespread and long-distance light, brighter than the usual dual-row work lights.
It's rated to produce over 44,000 lumens and has a maximum wattage draw of just 441 watts.
It comes with basic mounting hardware that you can use to mount on the bumper of your truck, as well as an IP68 waterproofing rating.
Combined with it's highly efficient cooling engineering, it has all the durability you need for years of outdoor use as your truck's primary lightbar.
The 32-inch version of this Keosow LED lightbar is meant more for light-duty trucks, the bumper of a half-ton pickup truck, SUVs and UTVs.
If you wanted to fit the same light bar on the roof of a full-size truck, you might want to go with the 42-inch version.
2: The Nilight 15026C-A 52Inch Spot Flood Combo LED Light Bar
This is a 52-inch big boy of an LED lightbar for a truck. It has a truly commanding presence with an awesome spread.
It has dual rows of LED chip fixtures, with the outer LEDs casting a flood light pattern and the inner LEDs casting a spot light pattern.
This gives you the best of both worlds all in one massive spread. Though at 52-inches it is meant more for a roof or a rollbar mount on a full-size truck.
The Nilight – 15026C-A has a 22000LM-30000 LM lumen rating and runs off of up to 300 watts.
It also comes with a 360-degree adjustable bracket that lets you alter the angle of the light.
This can come in handy if you need the light to illuminate the road surface while driving, but you need it to cast further afield when setting up your off-road campsite.
It also carries an IP67 Waterproof rating to effectively resist water and dust, avoiding moisture and condensation.
3: The TERRAIN VISION B07QNWP9P8 32 Inch Curved Led Bar
This is a combination pack of heavy-duty off-road LED lights for a truck. It include a 32-inch curve LED lightbar with a flood/spot combination light beam pattern as well as two light pods that you can mount on the backside of your mirrors or along your bumper.
All the mounting hardware and wiring is included in the purchase, which puts it in the realm of what an accomplished DIYer can handle.
You can also get this light bar in 42-inch and 50-inch versions. It is IP67 waterproof with 5D Tempered Glass Fish Eye LENS makes a Super Bright lighting, anti-dazzle.
The thick tempered glass lens is more durable, scratch resistant and non-yellowing than a lot of the competition.
When all the elements are active, this Terrain Vision LED lightbar and lighting pod combo produces up to 18,000 lumens and draws on 180 watts.
4: Rigidhorse Spot Beam Combo 30000LM Off Road LED Light Bar
This 32-inch LED lightbar by Rigidhorse creates a flood pattern with a distinctive soft white light.
This is great for seeing over a broad area but means that the ideal location to mount it is on the roof of your truck. To that point it comes with the necessary universal mounting brackets.
The LED lightbar is made from Die-cast 6063 aluminum, to save on weight. It also has a waterproof rating of IP67 with quick cooling system to prevent the lightbar from getting foggy.
This 32-inch Rigidhorse LED Lightbar was rated to draw up to 310 watts. It then turns that into 30,000 lumens in a flood beam light pattern.
It is DOT Certified,CE,RoHS, but is still not considered to be a road legal LED lightbar for a truck.
5: Aurora ALO-20-P4E4D-E3 20 Inch Street Legal LED Light Bar
This is a rare "Street Legal" LED lightbar for a truck. Though whether or not it is permissible on public roads can vary from one state to the next.
So, before you attach this LED lightbar to the roof of your truck and pull out of the driveway, you need to put in the due diligence to make sure that your particular state, and municipality allow LED lightbars.
It is technically E-Mark approved, which makes it legal by European road safety standards, which are typically more stringent than those in the United States.
The Aurora 20 is rated to produce up to 23,760 lumens and is equipped with a combination beam pattern.
They also include the wiring harness for easy installation, but you might need to source additional mounting bracket hardware if you intend to mount this LED lightbar on the roof of your truck.
It is made from high-quality 6063 aluminum and sealed with 316 stainless steel screws every 1.5 inches to create a nearly impenetrable seal.
This translates into an IP 69 waterproof rating, which means it can be submerged up to 3-feet deep without water being able to penetrate the seals on the light housing.
Conclusion
Adding an LED lightbar to your truck is a great way to augment your existing lighting system.
Though the biggest return on investment comes if you plan to frequently use your truck for primitive or off-road camping.
A lot of the best LED lightbars for a truck have a combination beam pattern with spotlight LED fixtures in the center of the bar and flood light elements at each side to illuminate the periphery.
Though there are a few LED lightbars for a truck that might even be considered street legal.
If you want a street legal lightbar, then the Aurora 20 might be the best LED lightbar for your truck. It meets European road safety standards, though you'll want to check what your state and local regulations are.
If you are looking for a model that has a combination spot and flood light beam pattern then theNilight – 15026C-A might be the best LED lightbar for your truck.
It can produce up to 30,000 lumens from 310 watts, while also having an adjustable bracket to let you adjust the angle of the light beam for the situation you need it to serve.