Coming in under your allotted gas budget on RV trips is nearly impossible. Sure, you could wait for electric RVs to hit the market a decade from now.
Or you could buy one of the best gas mileage RV models available now.
On average, Class B RVs (also known as camper vans) are the most fuel-efficient recreational vehicles available.
Class C RVs rank below them and luxury Class A RVs are the least economical when it comes to gas mileage.
Within each of these categories, there are models with better fuel economy than others. But the all-important question is: what is the best fuel-efficiency RV for me?
While Class A and Class C RVs are generally less fuel-efficient, they offer a host of other perks.
So while you can skip straight to the camper vans with the best fuel economy if you like, be sure to consider some of the reasons we've laid out for you regarding the trade-offs between gas mileage and other important RV features!
If you want to save money on gas and spend more on adventure find out which motorhomes have the highest fuel efficiency.
What is the Average MPG for an RV?
The average mileage per gallon (MPG) for an RV depends on whether you choose a Class A, B, or C model.
It also depends on the length and weight of the specific RV model as shorter and lighter rigs tend to be more fuel-efficient than longer RVs.
Class B RVs and camper vans offer the best fuel economy and range between 18 and 25 miles per gallon.
Class C motorhomes average between 14 and 18 miles per gallon while most Class A coaches come in somewhere between 7 and 13 miles per gallon.
Here are those average gas mileages for the three main RV classes one more time:
| RV Type | Average MPG |
| --- | --- |
| Class A | 7-13 |
| Class B | 18-25 |
| Class C | 14-18 |
There are numerous factors in addition to RV type that will impact your RV's true fuel economy. Here are some examples:
Steeper mountain grades, headwinds, a tendency to over-accelerate, lower quality gasoline, towing a car or truck, and loading your RV up to its maximum gross vehicle weight rating will also decrease your fuel economy.
Top 3 Class A RVs with Best Gas Mileage
Class A RVs are going to be the least fuel-efficient options out there, but here are three different Class A motorhomes that offer fuel economy at the higher end of the spectrum compared to other class A rigs (8 MPG or better).
Here are 3 of the most fuel-efficient Class A RVs you can buy today.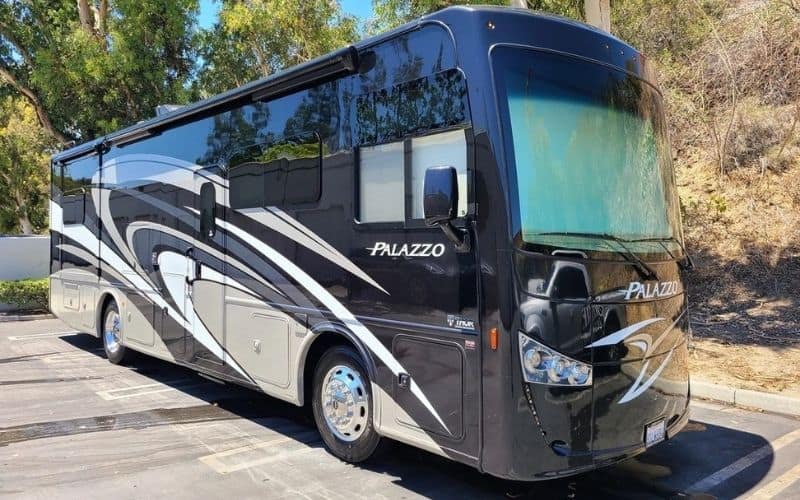 The Thor Palazzo 33.5 is a class A diesel pusher that averages 10 to 12 miles per gallon.
It is a great option for large families and multi-family outings because of its large sleeping capacity and ample storage capacity both inside and underneath.
This luxury class A RV is a leader in gas mileage and also provides a luxurious ride.
It boasts an I-beam front axle, Sachs shock absorbers, and Air Ride suspension that combine to provide improved stability and handling for the driver as well as added comfort for the passengers.
The Palazzo offers plenty of tank capacity for longer boondocking trips as well.
You should be able to go several days between hookups and fill-ups with the 95-gallon freshwater tank capacity, 105-gallon propane tank capacity, and 40-gallon blackwater and greywater tanks, respectively.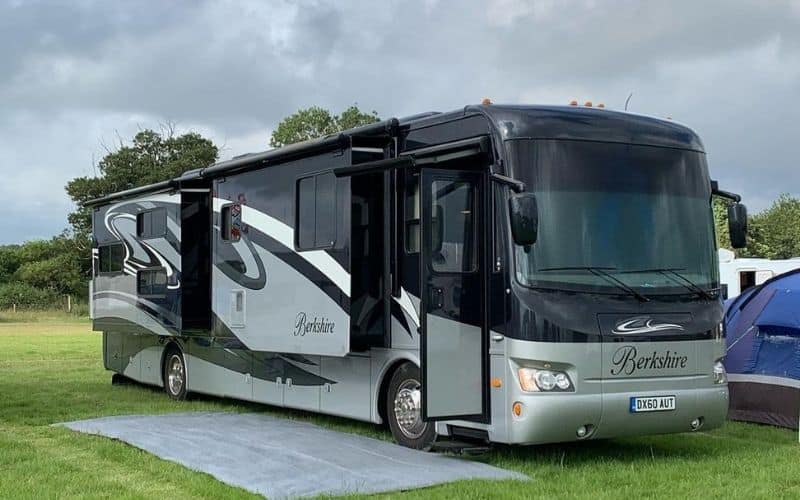 The Forest River Berkshire is built with a 360-horsepower Cummins turbo diesel engine and gets between 9 and 12 miles per gallon.
It is set on a Freightliner XCR Raised Rail chassis and boasts a six-speed Allison transmission that is one of the most trusted in the industry and makes navigating steep mountain grades safer and easier.
New in 2021, Forest River's 34B floorplan now includes a full wall slide on the passenger side of the RV.
They also increased the size of the exterior awning from 12.8 feet up to 18 feet to provide much more covered outside living space.
Inside, they also added a workstation table near the passenger seat, additional grab handles in the entryway, a new central vacuum system, a new induction cooktop in the kitchen, and much more.
When you are parking or navigating in tight campgrounds, you will also love the ten-inch dash screen with color back-up and side-view cameras.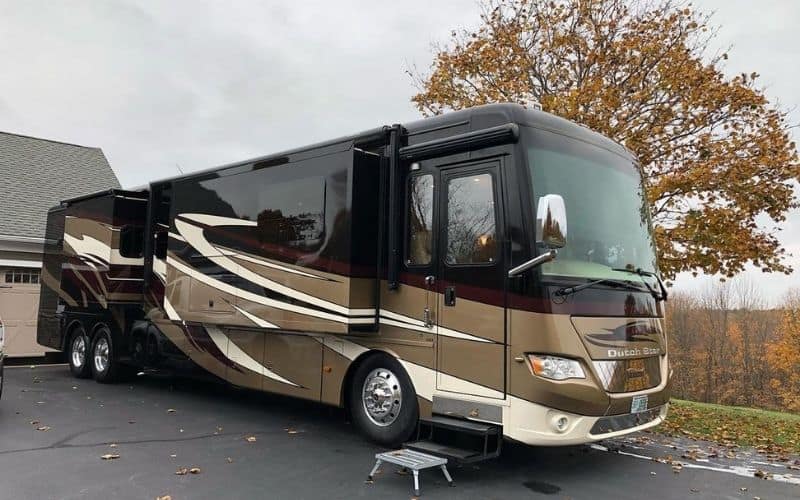 The Newmar Dutch Star is the longest and heaviest RV of any type on our list, which is partly why it averages 8 to 11 miles per gallon.
That said, it is still pretty impressive to hear of a 40,000-pound RV that can still average nearly 10 miles per gallon.
This is a luxury class A diesel pusher that is a great option for retired couples looking for an RV for full-time living.
It offers plenty of interior comfort and the kind of luxury amenities that make RV life feel as close to living in a residential home as possible.
When you invest in an RV that costs nearly half a million dollars, it should also keep you safe on the road.
With electronic stability control, tire pressure monitoring, automatic traction control, and Newmar's patented Comfort Drive steering technology, you are protected when you are moving between destinations.
Best Gas Mileage Class B RVs
Class B RVs will give you the best fuel economy of any RV type. Here are three of the most fuel-efficient camper vans (above 17 MPG) you will find on the market today: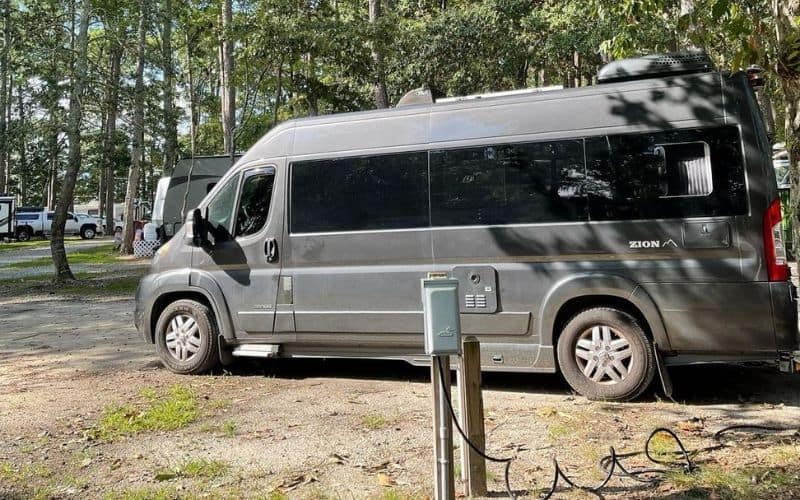 The RoadTrek Zion camper van is built on a Ram ProMaster chassis and it gets approximately 17 miles per gallon.
With its optional folding mattress, this rig is one of the few class B RVs that can accommodate more than two sleepers, which makes it great for the young growing family or couples that want to kick their dog out of the main bed.
The open concept floor plan that RoadTrek is known for is all about customization.
You will have the versatility to store bikes, kayaks, and other outdoor recreation gear inside your rig while still being able to easily convert it to a living, cooking, lounging, and sleeping space once you get to camp.
It is also equipped with several standard features that make it great for boondocking.
That includes 330 watts of solar, an outdoor shower, a retractable electric awning, and a refrigerator with five cubic feet of storage space in the galley.
The 2021 RoadTrek Zion also features an automatic propane heating system and an 11,000 BTU roof-mounted air conditioning unit.
But the feature that really caught my eye was the fact that the rear area easily transforms from a sofa to two twin beds to a king-sized bed on a powered system that requires minimal effort to switch.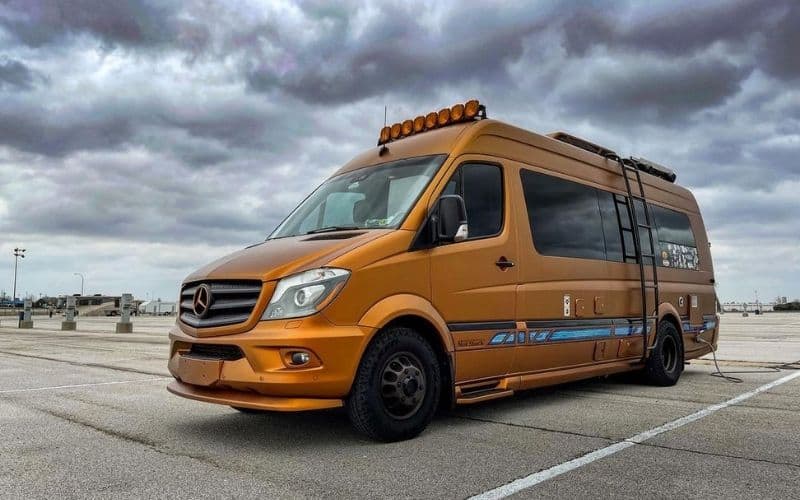 Yes, Airstream makes touring coaches now! And they build them with the same exceptional quality that their streamlined trailers have been known for now for decades.
The Interstate 19 is a super-nimble camper van for couples or solo travelers and is averages about 18 miles per gallon on the highway.
This class B RV has some awesome features that make living in it more like glamping than camping.
For starters, it has the industry's largest bed and can provide nearly unlimited hot water (for dishes or showering) via its Truma furnace and water heater.
Airstream also partnered with Mercedes-Benz on the creation of this compact camper van.
That partnership means you will get the benefit of industry-leading safety features.
Some of the best examples include rear and side-view cameras, as well as a Parktronic parking assist system.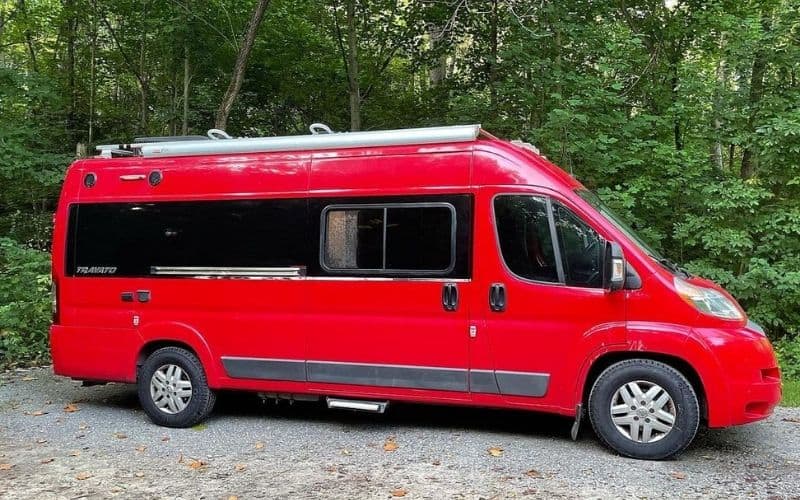 At approximately 20 miles per gallon, the Winnebago Travato is tops in its class (and also among almost all RVs) as one of the most fuel-efficient RVs out there.
In combination with its industry-leading fuel economy, this class B coach also boasts a Pure3 Advanced Energy Management System, which are the top two reasons why it is currently the best-selling camper van in the U.S.
This energy management system makes the Travato a great choice for extended dry camping trips.
It utilizes automotive-grade technology to provide up to 9,600 watt-hours of power for your interior appliances.
Actually, you can upgrade to outfit your camper van with a four-module energy pack that boosts that total up to 12,800 watt-hours.
In addition to giving you the power storage you need for off-grid camping, the Travato is also ready for four-season travel.
It boasts heated holding tanks, dual-pane insulated windows, and an insulated roof and sidewalls. Plus, the Eco-Hot water system delivers on-demand hot water.
Best Gas Mileage Class C RVs
Class C RVs sit in the "Goldilocks zone" when it comes to balancing gas mileage with interior living space and comfort.
Let's go over three of the most fuel-efficient Class C RVs (14 to 18 MPG) out there: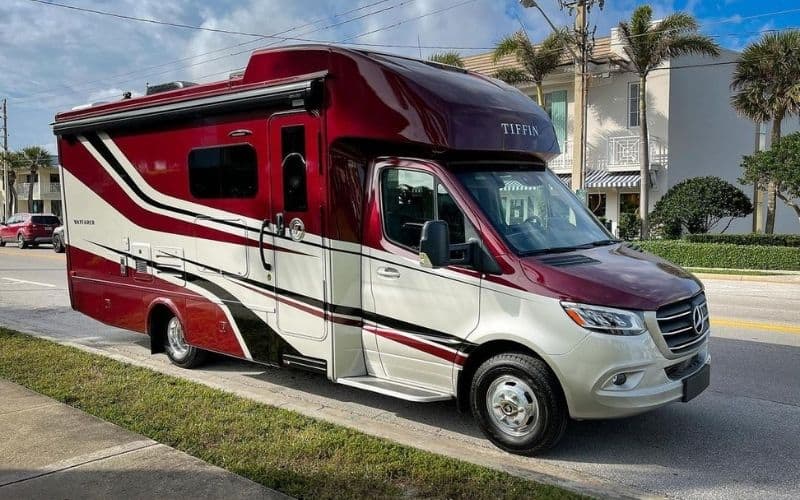 The Tiffin Wayfarer averages about 14 miles per gallon and provides the most sleeping capacity among the more fuel-efficient Class C RVs.
The Tiffin name is also synonymous with quality construction that is built to last and the Wayfarer is no exception.
It is built on a high-performance Mercedes-Benz chassis that includes some really exceptional safety features.
It offers lane-keeping assist, attention assist, collision prevention assist, and load-adaptive electronic stability control.
In addition to keeping you super-safe while you are driving and navigating windy national park roads, it also offers plenty of interior comforts.
Two twin mattresses in the rear easily convert to a plush king-sized bed and a five cubic-foot refrigerator provides plenty of perishable storage space.
There are also a lot of little things that make life more comfortable and convenient in this RV.
Things like a height-adjustable shower head, privacy shades on all the windows, and a power awning with built-in wind sensors all contribute to the thoughtful design of the Wayfarer.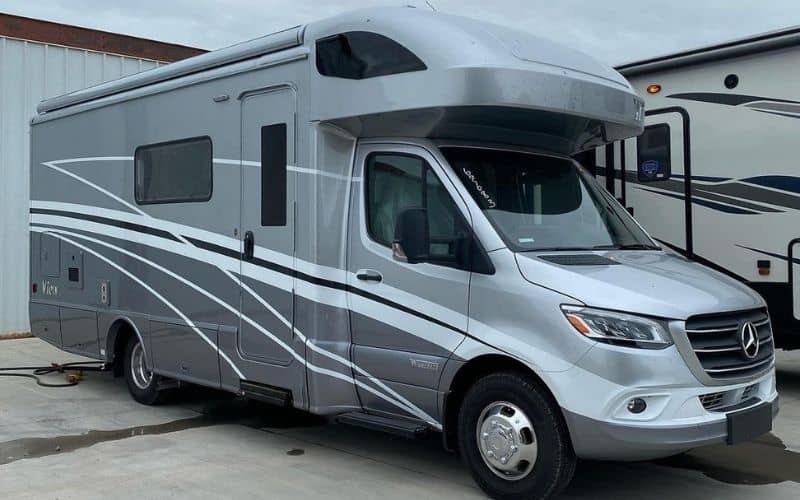 The Winnebago View Class C RV is all about providing abundant luxury within a compact and easy-to-drive package.
It averages 16 miles per gallon and offers some of the best amenities in the industry and also offers the reliability of being built on a Mercedes Benz Sprinter chassis.
In the cockpit, solo travelers will love taking advantage of the interactive voice interface for navigation, a WiFi hot spot, and so much more.
When you park and are ready to relax, the 24D floorplan features theater seating and an optional entertainment package that allows you to stay up-to-date on current events, your favorite shows, or sports.
Above the cockpit, Winnebago innovated to provide one of the most comfortable sleeper decks in the industry.
The area is now thermally and acoustically insulated so that your family might argue over who gets to sleep up there instead of pulling straws to see who had to get a rough night's sleep in the cab-over bunk (as is the case with other class C RVs).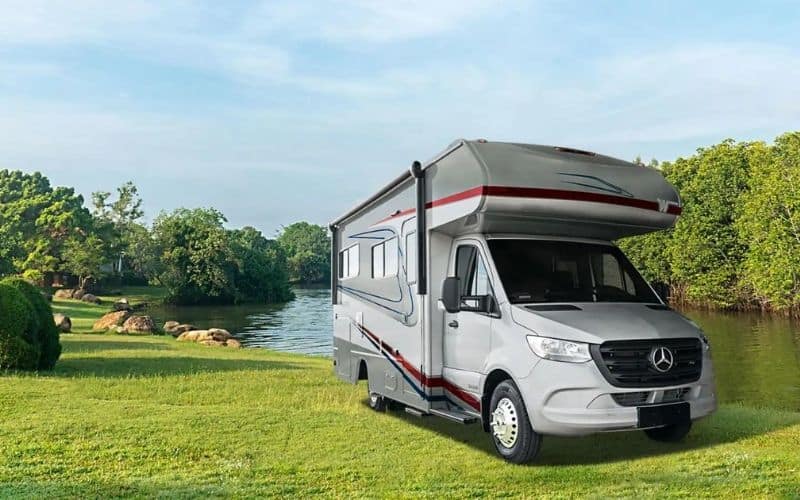 The Winnebago Porto is one of the most compact and nimble Class C RVs out there and it averages between 16 and 18 miles per gallon.
It's hardly any bigger than some of the best camper vans on the market but boasts significantly more interior living space and a higher sleeping capacity.
At under 25 feet in length, however, it is compact and nimble enough for solo travelers while providing enough comfort for a family of four.
It also provides industry-leading storage capacity and gives you the ability to load in up to 1,810 pounds of personal items, recreation gear, and other camping accessories.
The lounge area is also super versatile and features a small slide-out on the driver's side.
The seats in the cockpit swivel around completely to face towards the back of the rig and you will also have the option of including theater seating.
Plus, you will have the advantage of the largest battery bank among Class C RVs and up to 475 watts of solar panels.
Reasons For Choosing an RV With Slightly Lower Gas Mileage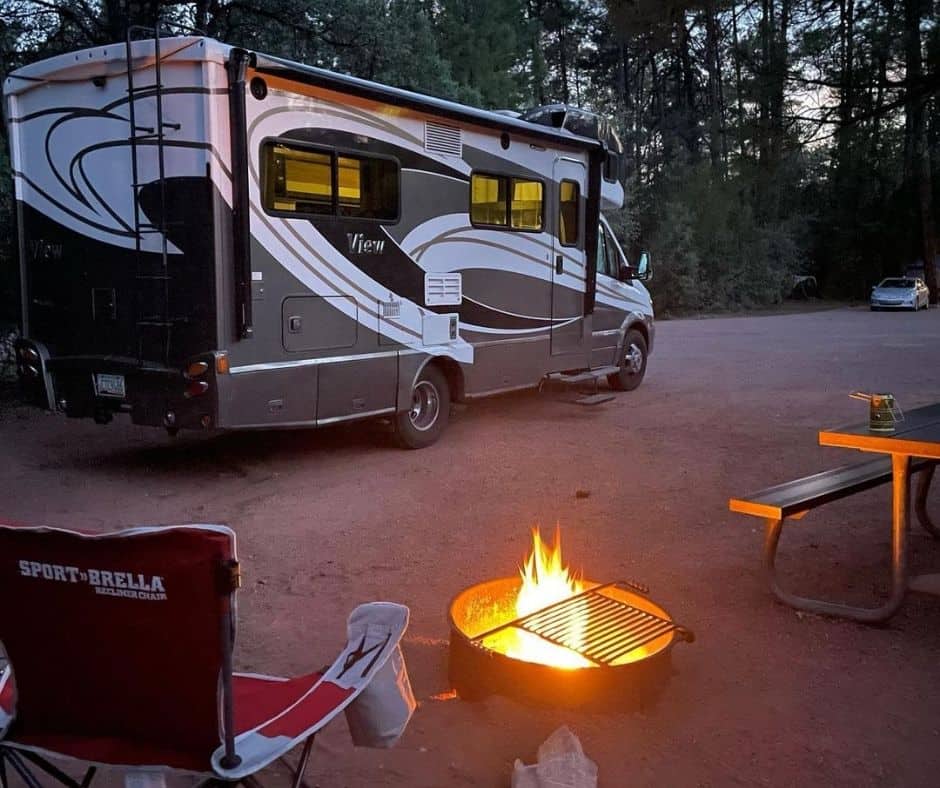 In some cases, you might compromise fuel economy to get an RV with other features that are a higher priority for you.
Here are a few common reasons why you might not choose one of the best gas mileage RV models:
More Living and Sleeping Space
We would not suggest trying to pack a family of six into one of the most fuel-efficient camper vans out there.
The first reason you might not choose one of the best gas mileage RVs is because you need more living and sleeping space.
Class A and Class C RVs tend to be much larger than their Class B counterparts. As such, they offer more interior space.
This extra space also equates to more overall vehicle weight, which is one factor that decreases fuel economy.
But saving a few bucks at the pump might not be as important to you as making sure that everyone has enough space inside your rig to sleep and lounge comfortably.
Residential-Style Appliances and Amenities
Another reason you may opt for an RV with lower gas mileage is to enjoy the kinds of appliances and amenities you would regularly use at home.
Some of the most fuel-efficient class B RVs, for example, may not have a functional restroom inside.
This may not be a big deal if you are spending all of your nights in campgrounds with restroom facilities, but it is a deal-breaker for boondockers and dry campers.
Being able to live in and use your RV comfortably is a solid reason for choosing a rig with lower fuel economy.
Better Towing Ability
Many larger RVs also give you the freedom to tow a larger secondary vehicle or trailer.
This is especially the case with diesel pusher RVs, which tend to be the best rigs available if you plan on towing.
Towing a vehicle is always going to decrease your RV's fuel economy.
But if you are intent on doing so, you may opt for a rig with lower gas mileage in a trade-off to make sure you have enough power to get up steep mountain grades.
Tips For Getting Better Gas Mileage in your RV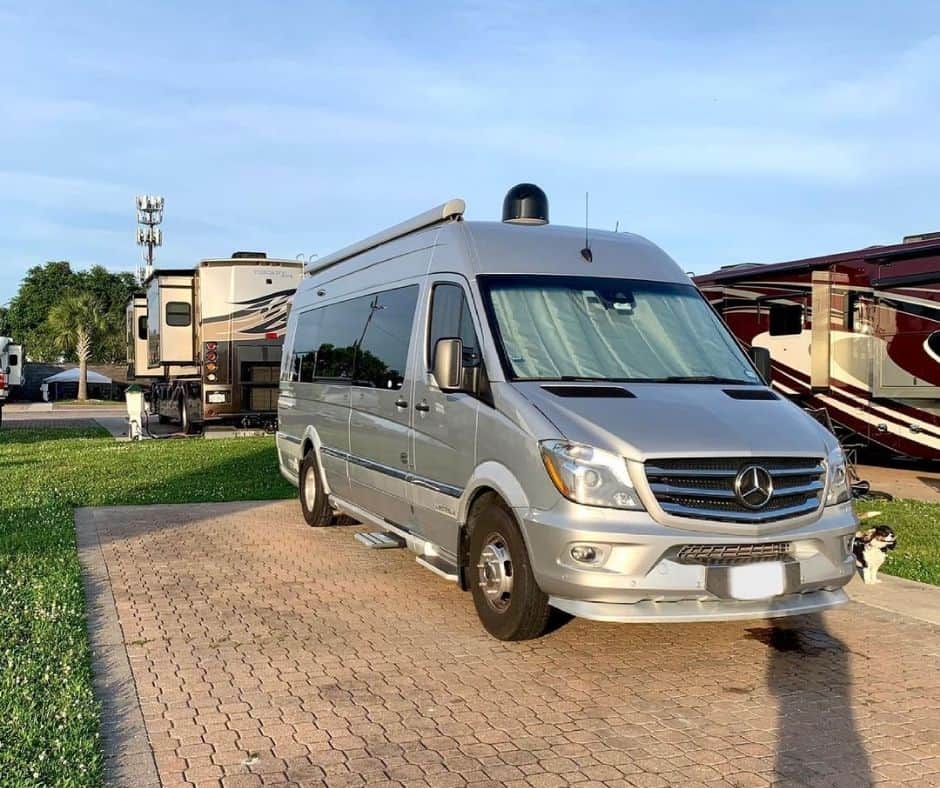 Even if you have to choose an RV with lower gas mileage due to one of the factors mentioned above, there are small things you can do to get the best gas mileage possible with your given rig.
Maintain Optimal Tire Pressure
Every RV comes with a recommended tire pressure rating. This rating is usually displayed on the vehicle information sticker posted somewhere inside your rig.
It may be on the wall next to the entry door or next to the captain's chair in the cockpit.
On this sticker, you will see the optimal tire pressure to maintain if you want to optimize your RV's fuel economy.
We recommend using the PSI indicated on this sticker instead of the pressure indicated on the sidewalls of your tires themselves.
This is because tire manufacturers often specify different ratings than the manufacturer of the RV itself.
Tire manufacturers make tires that are designed to work with a wide variety of vehicles. Your RV manufacturer knows what is best for your specific RV model.
In some cases, you may fill your tires an additional 2-5 PSI above the recommendation on your vehicle information sticker (or in your RV owner's manual).
This can increase your overall fuel economy, but it is more important that all of your tires are filled to equal pressure.
Become A Minimalist When It Comes To Packing
One of the things we love about RV travel is that you can bring a lot more than you would if you were just camping out of the back of a car or truck.
However, your gas mileage is going to decrease proportionally to the amount of weight you pack into your RV.
While we aren't going to suggest you leave all of your recreation gear behind, it is important to consider the benefits of renting at specific destinations instead of lugging the extra weight around.
If you are going on a two-week RV trip and you only plan on using your kayak once, for example, you are probably better off renting a kayak locally for that one day than strapping it on top of your RV and decreasing your fuel economy for the entire trip.
Change Your Engine Air Filter Regularly
Ideally, you should be checking the status of your engine air filter every time you change your RV's oil and oil filter.
If it looks particularly dirty (i.e. you can't see through it when you hold it up to a light), it is time for a replacement.
Your air filter is responsible for allowing a healthy amount of clean air to flow over and through your RV's engine.
If it becomes clogged, airflow will be restricted and the performance of your engine will suffer.
If you're not sure what a dirty air filter looks like, as your RV mechanic next time you stop in for routine service.
He or she will gladly show you some of the dirty and clogged air filters they have pulled out of recent vehicle visitors.
Keep Up With Regular Engine and Transmission Maintenance
Along that same vein, there are other important engine and transmission maintenance items that you need to keep up with to maximize your RV's fuel economy.
This includes making sure all fluids are clean and topped off, tires still have plenty of tread and have been rotated on schedule, and differentials have been serviced at regular intervals.
Fortunately, the maintenance schedule for your RV should be located right in your owner's manual.
According to your RV's current odometer reading, you will know which maintenance items to ask your mechanic about next time you head into the shop.
Conclusion
One of the points of RV travel is to be able to go out and recreate once you get to a camping destination.
In many cases, this requires spending some additional money. The better fuel economy you can get with your RV, then, the more money you can keep in your pocket for activities or delicious meals.
We hope you have enjoyed our collection of the best gas mileage RVs on the market right now.
As always, we wish you the best of RV adventures in the months and years to come!