True off-road camper trailers are a must-have item for a lot of RV adventurers who love to boondock off the grid for days at a time.
The best off-road ready campers tend to be easy to tow and comes with special features infused into heavy-duty material build quality which make them perfect for your overlanding trip.
If this sounds like the kind of travel challenge that you are up for, then look no further.
We dove headlong onto this rich field to find some of the best off-road camper trailers that can be towed by robust SUVs and pickup trucks.
Along the way, we kept a keen eye out for the more rugged, heavy-duty features and superior material build quality you need when living off the grid, as well as convenience features that make living easier once you get there.
What Is An Off-Road Camper Trailer?
Off-road camper trailers are built tougher than standard travel trailers and teardrop campers. They are engineered with enhanced features like raised suspension systems, off-road tires, and reinforced chassis, as well as superior material build quality.
Some of the best off road RV trailer also have special features like an articulating hitch.
These off-road upgrades make it easier to get to remote locations that are far off the grid in challenging terrain.
It makes it possible to do things like crawl the trailer over rocks, or ford through shallow water and traverse glutinous mud.
Then when you get there, you have the creature comforts and resources of a well-stocked RV right at your fingertips.
What Are Things To Look For In An Off-Road Camper Trailer?
A lot of the best off-road camper trailers also have special features that make it easier to work with them or live in them when you are boondocking off the grid. This might include things like:
An Articulating Tongue
This makes it easier to hitch up when you need to navigate uneven terrain. Then you can also get the tongue out of the way a little more when you need to park up in a tight campsite.
A Reinforced Chassis or Frame
Taking a camper trailer off-road often means pulling it over rough terrain. This can easily go beyond bumpy roads to include things like pulling it up steep hills, over small logs, and enduring massive potholes.
Ideally, you want to keep an eye out for an rugged camper trailer that has some sort of reinforcement to handle more abusive terrain without breaking down.
Off-Road Tires
When the tires on your off-road camper lose traction, it can dramatically steal from the tow vehicle's towing ability.
This is especially troublesome in steep or wet conditions. Though the tradeoff here is that if you go with too robust of a tire, you risk a very bumpy and noisy experience when towing it down the road.
Superior Suspension
The rough terrain that off-road camper trailers have to endure, typically requires improvements in the suspension system.
This might be beefed-up leaf springs, coil suspension, or independent wheel suspension systems.
The goal is to reduce the amount of impact force that is transferred from the tires to the frame when you hit a pothole, drive over a rock, or need to power through a rough patch of the forest floor.
Innovative Storage
A lot of the best off-road camper trailers are relatively small. This makes them easier to take on rough terrain with a modest tow vehicle, but can also limit the amount of gear you can bring with you.
A camper with innovative storage engineered into it ensures that you can take all your essential gear with you when you want to camp off the grid for several days of consecutive boondocking.
A 5-Gallon Cassette Toilet
Another trade-off to debate is the fresh and wastewater tanks you want to prioritize.
The more water you take with you on rough terrain, the more weight your tow vehicle has to deal with.
One way around this is to invest in an off-road camper trailer that uses a 5-gallon cassette toilet.
Not only will this help save travel weight, but you can remove the black water cassette to make a dump run, without having to break camp or bring a portable wastewater tank with you.
A Tankless Water Heater
Tankless water heater technology has advanced to the point where it is a truly viable way to get on-demand hot water in even a small camper.
This means you can opt away from an off-road camper with a hot water heater to save both weight and space.
A Solar Power System
Here again, solar technology continues to advance to the point where the efficiency of photovoltaic cells can help top up an off-road camper's house batteries.
This allows you to get further off the grid without having to worry about finding some sort of shore power connection or electric service to recharge your batteries.
A Generator
If your power needs are more than what an RV solar system can provide, then you might want to prioritize an off-road camper trailer that comes with a generator included in the purchase or one that is at least wired too quickly connect to one.
How Much Does An Off-Road Camper Trailer Cost?
You might be able to find an off-road camper trailer for as little as $8,000. Though some of the more well-appointed models can cost over $10,000 to as much as $18,000. It all depends on the features you prioritize.
10 Best Off-Road Camper Trailers In 2023
When reviewing some of the best off-road camper trailers, we tried to keep out eyes out for key criteria like heavy-duty build quality, beefed-up suspension, tires and tongue. Along the way, we also tried to think about other important factors like creature comforts, storage, and possible niche interests.
This included making sure some models could sleep a medium-size family as well as off-road camper trailer for couples and families that perhaps have only one child.
Without further adieu, here are the top 10 off-road ready camper trailers perfect for more adventurous camping and overlanding:
1. Opus OP-15 Off-Roading Hybrid Caravan
If you are looking for a heavy-duty off-road camper trailer that can accommodate a medium-size family, to camp in comfort for days, then you need to feast your eyes on the Opus OP-15.
It has a fully galvanized & welded chassis as well as a stone guard underbody for superior reinforcement.
There's also independent coil suspension to help tackle rough terrain while minimizing the force applied to the chassis. You also have to love the all-terrain tires that come standard on the Opus OP-15.
They are truly the kind of heavy-duty tires you want to make your way through mud, sand, and uneven forest.
As an added nice touch Opus even throws in a pair of spare all-terrain tires in the purchase. The trade-off for these studly tires is that they are rather loud, and a bit gruff when towing it at highway speed.
The Opus OP-15 can sleep up to six or possibly more. This is thanks in part to the popup roof, which maximizes vertical space for bunk beds, while also improving the overall airflow.
The kitchen features stainless steel appliances, and there's even a heavy-duty RV absorption refrigerator and freezer, which is tough enough to handle the knocks that come with traveling over rough terrain.
2. Airstream Basecamp X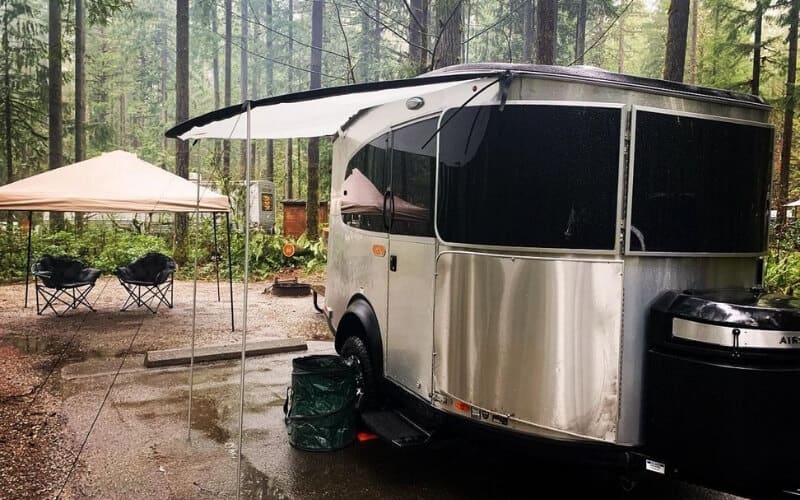 The Airstream – Basecamp X was designed for couples who love to boondock off the grid for several days at a time.
This off road rv trailer features a heavy-duty frame and a suspension system with a 3-inch lift kit for superior ground clearance.
It comes with Goodyear® Wrangler all-terrain tires, that can easily tackle rough terrain, while also being able to handle highway speeds without a lot of excess noise and vibration.
With the Airstream – Basecamp X you get the classic Airstream gleaming aluminum exterior, and sleek aerodynamics. The interior is also very comfortable with a dinette area that converts into a comfortable, large king-size bed.
There's even a rudimentary bathroom that lets you wash up when you are away from a campground or RV park. The kitchen features stainless steel appliances and includes a small sink for washing up essential items and dishes.
All of this is supported by a 22-gallon freshwater storage tank that should be able to keep you supplied for three or possibly even four days of boondocking.
3. BOREAS XT-12 Off-Road Camper Trailer
The BOREAS XT-12 is a cutting-edge hybrid camper that has recently burst onto the RV market as both a teardrop camper and pop-up camper in one.
It features all-metal construction, to prevent the decay and cracking that eventually comes with wood.
It is built on a powder-coated steel chassis, with robust build quality throughout. There's also a Cruisemaster DO35 hitch coupler to securely marry it to your tow vehicle of choice.
The BOREAS XT-12 has an independent suspension that's been lifted to produce up to 20-inches of ground clearance. It comes with all-terrain tires and a single spare tire is also included in the initial purchase.
This camper can comfortably sleep up to four people. There is an interior wet bath including a basic shower and a cassette toilet. It's supported by a rather large for its size 50-gallon freshwater storage tank.
With all this durable built quality and comfort features, the BOREAS XT-12 might be the best off-road camper trailer for a small family with one of two children.
4. Polydrops P17A Travel Trailer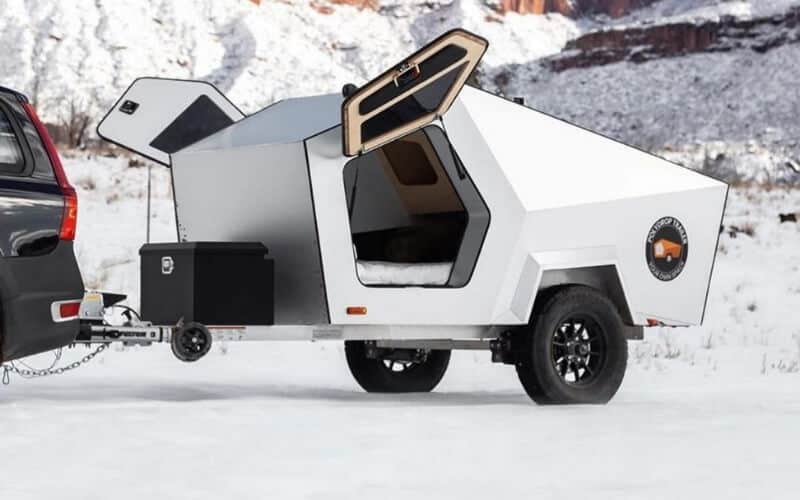 Polydrops is an innovative RV manufacturer with a strong focus on producing 21st Century teardrop campers that are as tough as they are innovative.
You see this really shines through in the Polydrops P17A. It has a lightweight aluminum frame with an aerodynamic exterior and underbelly.
The Polydrops P17A off road rv trailer has independent suspension, which is great for navigating over rough terrain and uneven surfaces.
Especially if you need to challenge potholes that might consume one wheel, without even affecting the other. It also comes with a pair of all-terrain tires that can navigate rough roads but won't scream at you when towing it down the highway at speed.
5. Opus OP4 Off-Road Pop Up Camper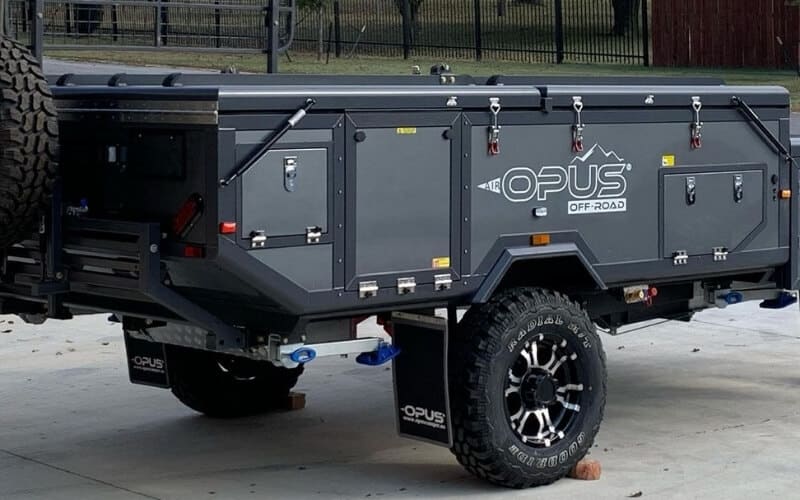 The Opus OP4 takes a little bit of a different twist in what an off-road pop-up camper can be, in that it uses rapid air cells to inflate a large domed tent.
This off road pop-up camper also means you have a much smaller, aerodynamic trailer to tow behind you. All built on an aluminum frame that's protected by a high-quality powder coat layer.
The independent suspension system in the Opus OP4 uses a synergy of coils and springs. Each when operates independently to reduce the impact transferred to the frame.
The use of an inflatable dome to create a sleeping area capable of sleeping up to 6 people also helps to save weight. This gives you an impressive 1,100-pound payload capacity for bringing all your essential items with you for many days of off the grid living.
6. Black Series HQ22T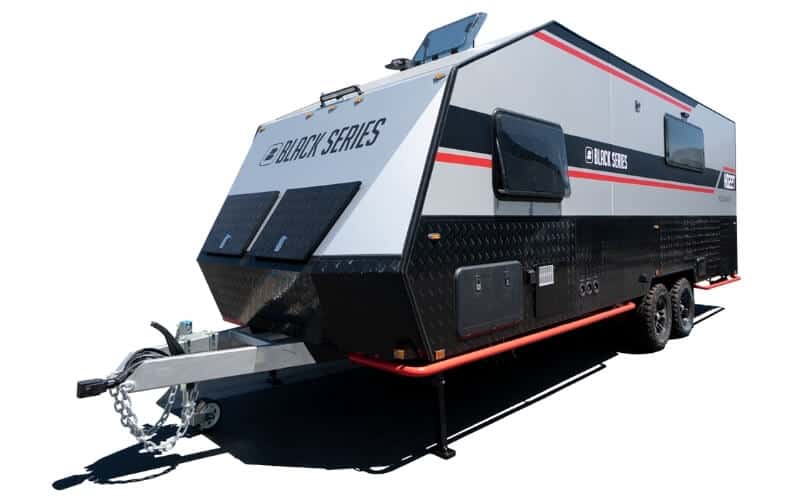 The Black Series HQ22T is a great synergy of heavy-duty off-road build quality and luxury.
The chassis is double layered for superior rigidity and it has an aluminum composite panel+aluminum Diamond plate exterior.
There are even an exterior water tap and outdoor kitchen to go with it. The suspension system on the Black Series HQ22T is also impressive. It features independent quad shocks that allow each of the wheels to respond to its own surface contact.
This is a great way to spread the load when traveling over uneven terrain, while also reducing the impact force to the trailer's chassis. When totally set up the Black Series HQ22T can sleep up to six people on paper and in real life.
This isn't something that can be said of a lot of trailers that tend to count every square inch of the padded surface as a sleeping space. This makes the Black Series HQ22T one of the best off-road camper trailers for things like hunting trips and family get-togethers.
7. Lotus OG166 D/T Off Grid Travel Trailer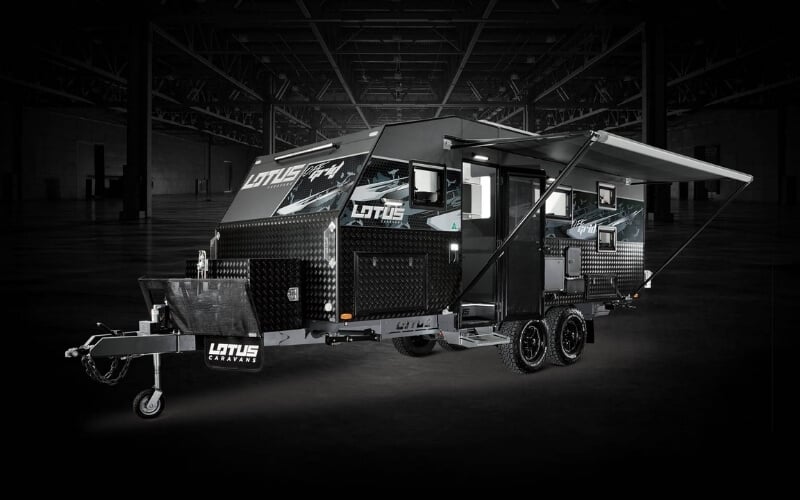 The Lotus OG166 D/T is a heavy-duty off-road camper trailer clad in a sleep black. It has a hybrid frame that's made from lightweight aluminum and a blend of high-quality, marine-grade composite wood. This gives it superior durability as well as impressive long-term water resistance.
This particular iteration of the Lotus OG166 D/T has a full-size bed in the front that serves as the master suite. Then there are a pair of bunk beds at the rear. This makes it one of the best off-road camper trailers for a small family with two children.
8. Bruder EXP-6 Expedition Travel Trailer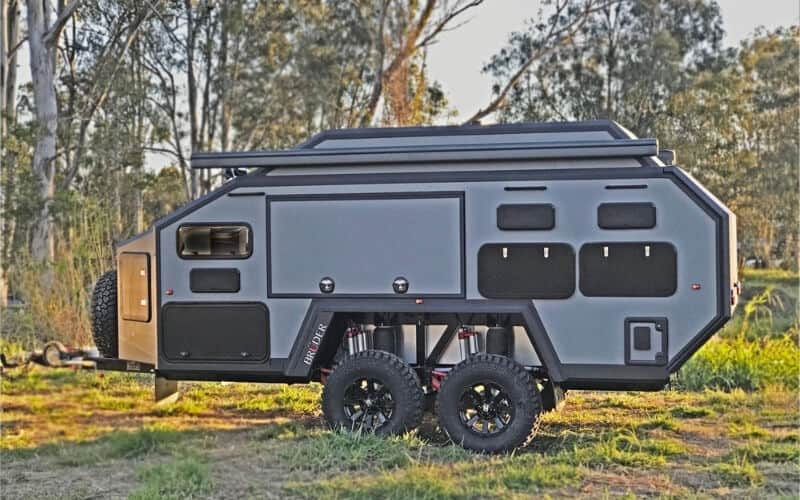 The Bruder EXP-6 Expedition uses an innovative approach to tackle the challenges posed by off-road RV travel. It uses a heavy-duty contoured epoxy chassis to prevent water and air leaks.
There's also a rear recovery which to help get it out of tight spots and set up camp without over-using the tow vehicle. One of the things that really stands out about the off-road capabilities of the Bruder EXP-6 Expedition is the suspension system.
Each of the four shock absorber systems acts independently, to provide 26-inches of ground clearance.
There can also be up to 12 inches of difference between one suspension unit and the next, which helps keep the Bruder EXP-6 Expedition perfectly level, even on incredibly challenging uneven terrain.
9. Escapod Topo Off-Road Teardrop Trailer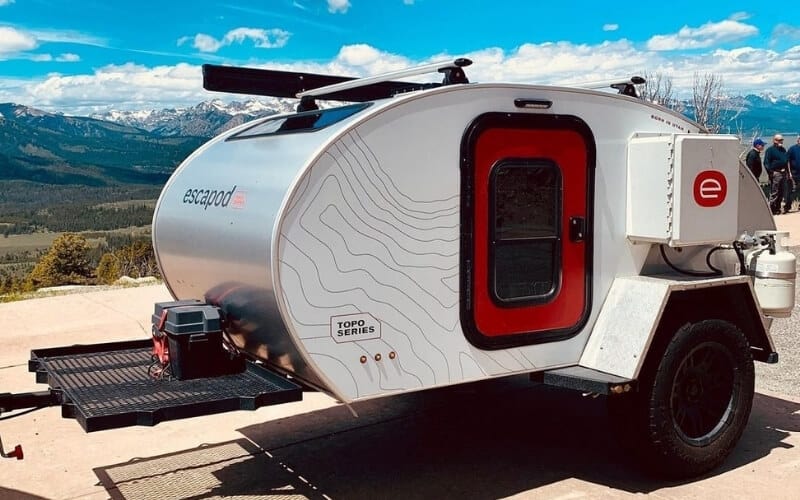 The Escapod Topo is a truly 21st century teardrop camper with the durability to handle life off the grid, and the innovations to keep you comfortable for long stretches of boondocking. It starts with a frame that is made from thick tube steel and then powder-coated for superior protection as well as rust resistance.
It also has 31-inch all-terrain tires with 17-inch wheels, which give the Escapod Topo an impressive 18-inches of ground clearance. This is way more than you get with most teardrop campers.
With a tongue weight of only 135-pounds and a dry weight of just 1,650-pounds the Escapod Topo can be towed by a wide range of mid-size SUVs. It's a great option for a small family with perhaps one child who wants to camp off the grid for several days at a time.
There are also several optional extras to consider with the Escapod Topo. This includes things like a 21-gallon fresh water storage tank, a Fresair S7i 12V powered air cooling unit, and a 100 watt solar panel.
Each of these things adds to the overall creature comforts while only having a minimal impact on the weight.
10. Taxa Outdoors Cricket Overland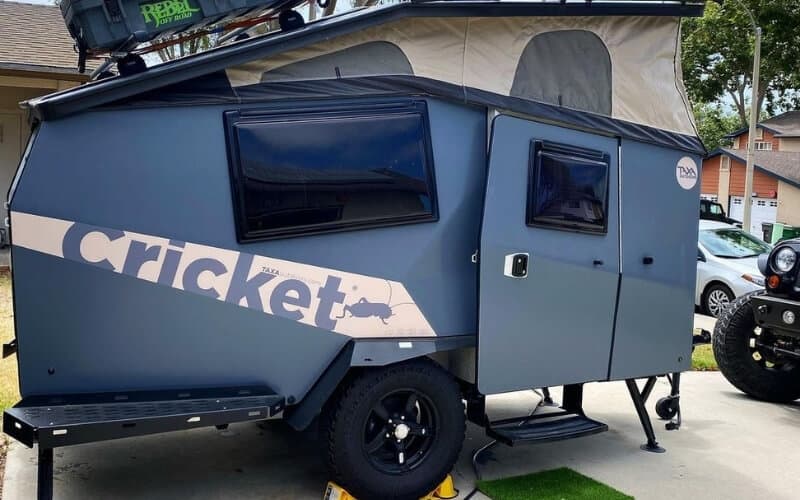 The Taxa Outdoors Cricket Overland is a spry, lightweight hybrid camper that tows behind you like a popup camper or teardrop camper.
The roof then expands to maximize the interior space. The rigid part of the shell is made from aluminum panels, which both saves on weight, while also providing you with superior durability. With a dry weight of just 1,978-pounds, you can tow it with a lot of mid-size SUVs.
One thing that might go underappreciated about the Taxa Outdoors Cricket Overland is the suspension system. When you look underneath, you'll see that there is no axle! Each wheel operates independently of the other.
This is great for going over rough roads, while also making it easier to level the camper when you want to park it up on uneven terrain.
Frequently Asked Questions
Which Is Better For An Off-Road Camper A Generator Or A Solar Panel System?
This comes down to a matter of just how much power you plan to consume on an average day.
You have to keep in mind that 12 Volt deep cycle batteries, like you, find with a lot of RV house batteries, start to drop in performance after losing 80% of their maximum charge, and can be damaged if they go below 50%.
If you have modest electric needs and a small camper like the Escapod Topo, then a solar panel system might suffice.
If you need to run a lot of lights, appliances, and entertainment devices, in a larger travel trailer like the Black Series HQ22T, then you should lean toward a generator that can keep your RV's house batteries fully charged for on demand electricity.
Is It Bad To Pull A Camper With All-Terrain Tires On The Highway?
As an all-terrain tire, it can be pulled at highway speeds. This is assuming you are maintaining the proper level of inflation. Under or over-inflated tires can be prone to severe treadwear at highway speeds.
Still, some all-terrain or mud tires pulled at highway speeds can be excessively loud and produce an unsettling vibration.
The Wrangler All-Terrain adventure tires use a Kevlar casing, which makes for a surprisingly smooth towing experience at highway speeds.
How Do I Keep Leveling Jacks From Sinking In When Parking A Camper On Soft Surfaces?
Soft surfaces like forest soil, sand, mud, and wet ground can make leveling your off-road camper challenging.
You might set it up perfectly level on day one, only to find your jack stands are buried the next day.
A camper with independent suspension will help reduce this problem, as the wheels themselves will adapt to changes in the trailer's profile.
You can also hedge your bets by placing 24-inch by 24-inch heavy-duty plywood squares under the feet of the jacks.
Conclusion
If you are the type of person who loves to break away from the doldrums of RV parks and campgrounds with street lights, then you might feel spoiled for choice with so many great off-road camper trailers available.
Filtering by the number of people you need to sleep at any given time is a good place to start as any. You can then factor in other key components, like water storage tanks, bathroom facilities, and special features like solar power panels.
If you have a family with two or more children, and you want to get off the grid, yet still enjoy the comforts of a more traditional travel trailer then the Opus OP-15 should be high on your list.
It's a great off-road camper travel trailer with the water storage, sleeping space and a lot of the creature comforts that a family prioritizes. If you are traveling alone or with a significant other then the Polydrops P17A might be the best off-road camper trailer for you.
Especially when you consider it has a zero-emissions carbon footprint when the solar panel array is fully deployed. Whatever your preferences and family size, chances are good that the best off-road camper trailer for you can be found somewhere on this list.