If the call of the open road has found its way to you, then chances are good you are thinking about taking the plunge to invest in the RV of your dreams.
You might even feel understandably overwhelmed by the staggering array of options on the new and pre-owned market.
There are so many places you can purchase an RV, but what makes one better than another?
To help you find the best motorhome or travel trailer at the right price we decided to take a closer look at some of the most popular opportunities in today's RV marketplace where you should actually make the purchase.
This includes some of the major national dealerships, online dealerships and major RV tradeshows where you can find the best new and used models.
What Are The Options?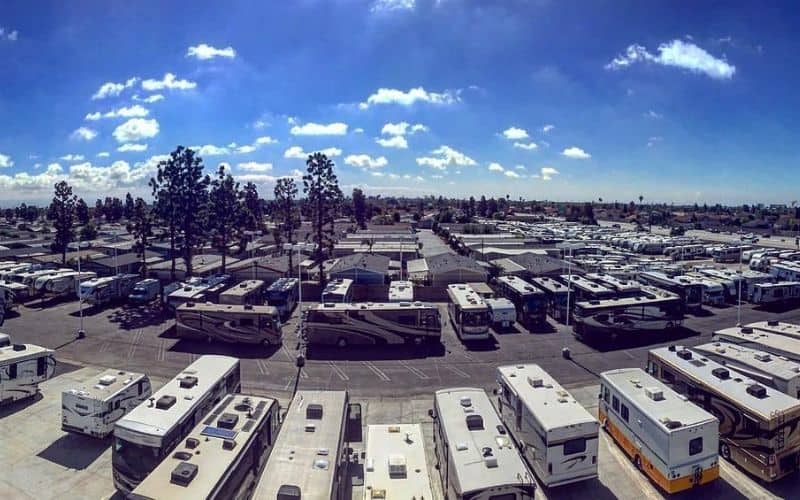 There are a few different avenues to explore when shopping for the right RV for you. Each has its benefits and potential drawbacks.
Private Parties
There are a fair number of people whose family has outgrown the RV or it's time for them to downsize now that the kids have left the nest.
This can be a great place to find a gently pre-owned RV at a decent price.
The downside is that there isn't going to be any sort of warranty, and you have to trust that the previous owner properly maintained it throughout the RV life.
RV Dealerships
Here you get the comfort and security of knowing that whether it's a new or a trade-in RV the dealer has gone through it to make sure everything is in good working order.
The potential downside here is that there is going to be an inevitable markup in the asking price which will drive up the initial cost.
Not to mention that new RVs depreciate as soon as you drive them off the lot, just like a car.
Online Portals
There are a fair number of websites out there that connect RV sellers and buyers.
Many of the best have rules and standards that give you a greater measure of confidence than you would from answering an ad in the newspaper.
They also have resources to help you determine which type of RV is best for you.
The potential downside here is that you might live in Miami only to fall in love with an RV parked in Seattle.
If you want to pull the trigger on buying it, you have to also factor in the travel costs to get it home.
With so many intriguing options, we decided to take a closer look at some of the major players in the new and used RV market.
The Best Places To Buy A New Or Used RV
The internet has made it easier than ever to connect with dealership and private parties selling just about any imaginable type of RV.
The following list contains some of the biggest national dealerships and vendors who specialize in specific types of RVs.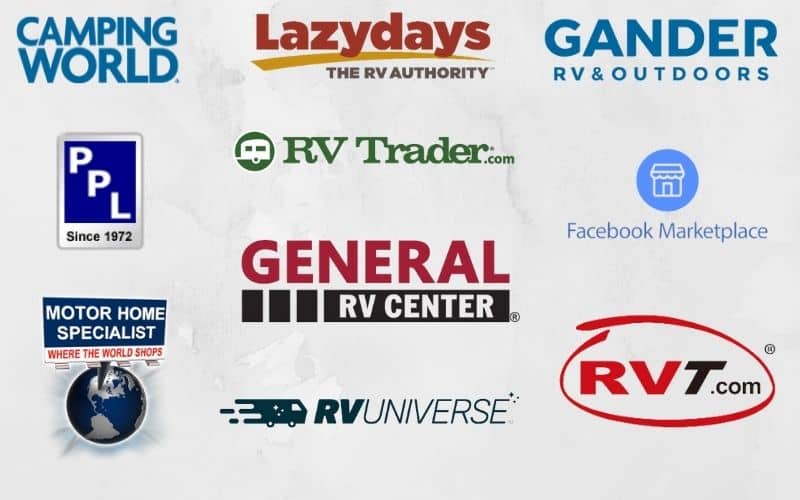 Camping World is one of the major RV dealerships in the United States. They have over 130 dealership locations, with an impressive inventory of new and gently pre-owned RVs.
They make it easy to peruse their lineup on their website and have a wide range of tools to help you do things like calculate your monthly payments, compare sale prices and check local availability.
Camping World also hosts a wide range of articles on their websites to help answer common questions and make it easy to get the most out of your RV experience.
Gander RV is affiliated with Camping World, though they retain their own identity and lineup.
They tend to cater to the needs of hunters and outdoorsmen. Many of their RV dealerships are also connected to retail stores to create a one-stop shopping experience.
If you are already a loyal Gander customer, Gander RV might be a great first stop when looking for your next RV.
Founded in 1976 LazyDays RV has worked hard to build a reputation for quality customer service.
They have steadily grown over the last 45 years with physical dealerships in RV hot spots including Minnesota, California, Arizona, Colorado, Oregon, Washington, Wisconsin, Indiana, Tennessee, Florida, and Texas.
Their website also includes a bevy of online tools to help you find the right type of RV to meet your travel style, as well as secure financing and articles about the RV lifestyle.
RV Trader is one of the biggest online portals for finding new and used RVs.
They can connect you with private sellers, consignment agents, and dealerships around the country. This gives you access to virtually every type of RV, make, and model.
RV Trader even hosts special tools that help you get insurance quotes, estimate monthly payments, and set up price alerts on key models.
Of course, you also face the chances that the RV of your dreams is on the other side of North America from you, and bringing it home will add to the cost
For some people, the word "RV" instantly conjures up mental images of a motorhome, rather than a travel trailer or fifth-wheel.
If this sounds like you, then PPL Motor Homes is probably the first place to start shopping.
They are an online resource with physical dealership locations that focuses on motorhomes.
Though they do also have a selection of other RVs, which are often trade-ins.
This means you can shop all categories, makes, and models, with an eye on location as well as availability.
They also have pricing tools, articles on buying and negotiating strategies. They also offer online comparison tools to help you decide if you want to invest in a new or pre-owned RV.
One of the other nice things about PPL Motor Homes is that they have delivery options available, which is handy if you fall in love with a specific model, but it isn't near your location.
General RV Center touts themselves as being the United States' largest family-owned RV dealer.
Though they don't have the same reach that you find with some of the larger RV dealerships.
At this time, their physical locations are limited to Florida, Illinois, Michigan, Ohio, Utah, and Virginia.
Which makes them a more viable option if you live in those regions. It's also worth noting that General RV also maintains a vast, nationwide network of service bays.
So, if you do purchase an RV through them and you need service under the warranty, you can still find an in-network mechanic to take care of you, no matter where you are in the country.
7. Facebook Marketplace
Facebook continues to evolve beyond just being a social media platform into a way to connect private sellers and buyers.
To that end they host a variety of RV classifieds and similar groups.
You do have to search for them, but it is a great way to connect with private sellers without having to worry about consignment costs or dealership markups.
Though a lot of smart RV dealerships do post their inventory in many of these groups as well.
8. MHSRV
MHSRV is another motorhome-centric RV dealer. They are based out of Texas and do an impressive job of offering great deals on their new and used motorhomes.
They also have some trade-ins available, but you will find the majority of their stock are motorhomes.
They dominate their regional niche by offering impressively slashed prices.
So, even if you live on the other side of the country, the purchase price will help make up for any travel costs to bring your new RV home.
9. RV Universe
Based out of Lincoln Nebraska RV Universe proudly connects dealers, and consignment agents with prospective buyers.
They make it easy to find the RV you want as close as possible to your current location.
If you do fall in love with an RV that isn't necessarily in your neck of the woods, RV Universe can help streamline the delivery process through Fr8Star.
They also maintain a small international presence in Australia, Canada, Italy and even South Africa.
10. RVT.com
As a direct competitor of RV Trader, RVT.com is another major online-only outlet offering RV opportunities throughout North America.
They maintain an extensive number of online classified listings. This gives you access to virtually all makes models and styles from top manufacturers.
They also have tools that help connect buyers with dealerships and private owners all across the United States.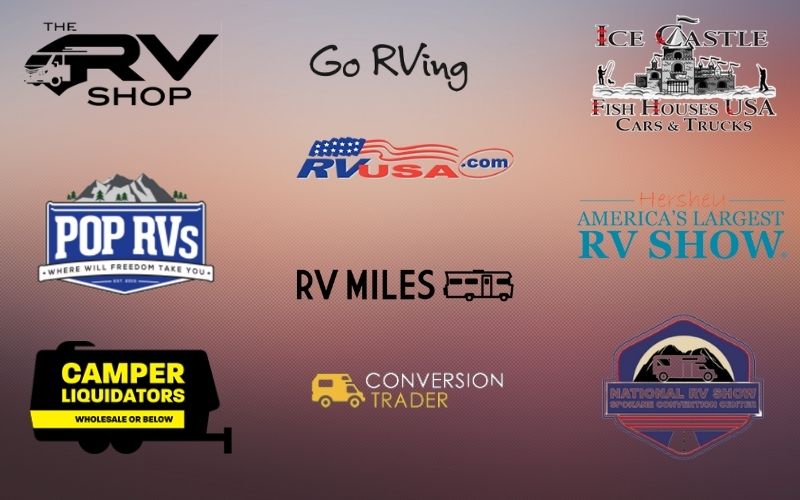 11. RV Shop Online
This is a nationwide RV classifieds website. They have tools that help you search for just the RV you want based on size, price and location.
This helps you narrow down the search to models that are near you. They also have communication tools that let prospective buyers connect directly with sellers.
This eliminates some of the "Middleman" costs you sometimes see with similar services.
12. Ice Castle USA
Specializing in "Fish House" campers Ice Castle USA is based out of Minnesota with delivery options throughout the upper Midwest.
They also offer custom builds to let you live on the ice all winter long. While their models are focused on ice fishing enthusiasts, they are still fully functional travel trailers during the other three seasons of the year with all weather durability.
13. Pop RVs
Pop RVs maintains listing for over 2,000 RVs across the United States. They are quickly growing and have new listings coming in almost daily.
Their online tools help you sort your options by price, brand, category, and manufacturer.
They also have a feel-good element to them in that a portion of Pop RVs proceeds support the Make a Wish Foundation of Southern Florida.
14. Camper Liquidators
Camper Liquidators lineup focuses on "Handy Man Specials." These are RVs that have suffered some cosmetic or functional damage that reduces their value.
If you are an accomplished do-it-yourselfer with the tools and skills for the job, you can get a great deal on an RV.
Just bear in mind that you will need to put more money into it, and some of the models might be limited to a salvage title, which will limit your resale value later on.
Camper Liquidators has locations in Connecticut, Indiana, Massachusetts, Pennsylvania, Vermont, and South Carolina
15. Conversion Trader
Another online-only source is Conversion Trader, which sells all kinds of RVs, including sprinters, schoolies, and buses.
The site stands out for offering a wide selection of specialty vehicles, including stealth, off-grid, and handicap vehicles, as well as unfinished projects.
16. RVUSA
RVUSA is a website that offers online ads to private sellers who want to connect with a wide crowd.
One of the nice things about their site is that they have an extensive catalog of specifications.
This makes them a great research tool for apples-to-apples comparisons. Once you've narrowed down your search, you can peruse through various ads from across the country.
Though here again, you might find the RV of your dreams only to find that it's on the other side of the continent from you.
17. RV Tradeshows & Special Events
There are several RV tradeshows and special events across the United States that draw prospective buyers who want to get an up-close and personal look at some of the best RVs on the market. Every year thousands of dealers sponsor these shows.
It can be a great opportunity to connect and find the RV of your dreams. Some of the dealers and vendors might even be inclined to offer great "Clearance" deals.
18. America's Largest RV Show
This is a showcase and website based out of Hershey, Pennsylvania. It is sponsored by over 40 of the most popular RV manufacturers and offers over 1,400 RVs.
They also offer educational seminars, and giveaway specials, as well as meet-and-greet opportunities.
Though it's a limited-time event, which isn't ideal for someone who wants to take their time comparing various models and options.
It's more for potential buyers who have truly done their homework. If you know what you want and you are ready to pull the trigger, it might be a great opportunity.
19. RV Miles
RV Miles is a website that maintains a wide range of listing on RV tradeshows around the continental United States.
This lets you find the show that is closest to you. They also host a variety of RV tools and articles on their website including a podcast.
They also have an extensive article about the Pros and Cons of different RVs.
20. National RV Show
Headquartered out of Moses lake Washington near Spokane the National RV show draws thousands of prospective buyers to the Pacific Northwest every year.
It is a five day event with manufacturer reps from most of the big names in the RV industry including Winnebago, Thor, Forest River, and Keystone, just to name a few.
Many of the models on display are available at clearance prices, though the lineup is based on the manufacturer.
If you find a model that isn't specifically available at the tradeshow financing and delivery is available nationally.
21. Florida RV SuperShow
This is another sponsored RV show that lets you browse, ask important questions, and interact with attending dealers.
It is held at the expansive Florida State Fairgrounds is one of the biggest and most comprehensive RV events in the United States.
22. Indy RV Expo
A lot of RV manufacturers have facilities or headquarters in the Elkhart, Indiana area.
So it's no surprise that one of the biggest RV shows in the country is hosted at the Indiana State Fairgrounds in Indianapolis.
It is generally held in the winter months when friendly financing and deals on popular RVs are common.
23. Chicago RV & Camping Show
Chicago borders Northern Indiana, so this is another opportunity to get your hands on RVs that have very few miles on them.
To that point, the Chicago RV & Camping Show has celebrated over 5 decades of activity.
It's usually held in late summer, which is another time of year where RV manufacturers and dealers are looking to move inventory at friendly prices.
24. California RV Show
California is one of the most popular RV travel states in the country. The California RV Show is typically held in the early fall which is another time of year where manufacturers are trying to sell last year's models at clearance prices. It's seen as the West Coast's premier RV show.
For many people, the California RV Show is a big part of their fall tradition.
This year will be no different as it's held in early October and there are discounts on last years models to get you excited for what's coming next season! But unfortunately after 68 years the show has come to an end .
The board decided they don't need anymore because dealerships have so much inventory that can help them sell some new stuff too instead – sad news indeed…
Frequently Asked Questions
Do RVs Have A High Cost Of Ownership?
Just like a car or pickup truck, an RV needs routine maintenance. If you live in a northern state where you don't travel in the winter, you will also need to take into account winterizing and the overall costs of winter storage.
Storing your RV indoors may cost a little more, but it will also help extend its lifespan and preserve the potential resale value.
Can I Rent An RV Before Buying?
Websites like Outdoorsy and RVshare help people connect with RV owners who are offering their trailers and motorhomes for rent.
This is a great way to get a feel for the kind of RV you want, or simply to take a vacation without having to invest a lot of money in purchasing an RV.
Let's say that you find an RV on the other side of the country, and you want a test drive, you might be able to find a similar model on Outdoorsy or RVshare that can get you behind the wheel for a test drive trip without having to get on a plane.
Conclusion
The internet has made it easier than ever to research the RV you want and connects with prospective sellers.
It helps to put in a fair amount of research on sites like RVUSA to dial in the type of RV you want and the kind of technical specs you prioritize.
From there you can cast a broad net browsing multiple online sites like Camping World and RVTrader.
If there's a local dealership near you, a planned visit will let you get up close and personal.
If you live near one of the major RV shows a day walking the grounds might reveal the perfect RV deal to bring home.
Just make sure you have your financing pre-approval before you set foot at an RV expo!