One of the best reasons to get an RV is to explore places that you otherwise couldn't spend the night comfortably. But an RV for boondocking is different from just any old RV.
It needs to have certain features and components that make it well-suited for spending multiple days, or even weeks, off-the-grid.
In my opinion, the best RV for boondocking is a pop-up truck camper because it has a low profile and allows you to access more remote dry camping locations than any other option. Motorhomes, travel trailers, and fifth wheels may have more living space and luxury amenities, but my personal boondocking goal is to spend as much time outside as possible.
That's why my choice for the best RV for boondocking is the one that gives me the ultimate freedom to explore places that other RVers would never dream of going. But I'll still have a comfortable place to sleep at night.
If you have similar priorities, but you'd like a little more weather protection and living space, then my second recommendation would be a hard-sided 4×4 truck camper.
You'll still have all the off-road capability of a normal four-wheel-drive truck, but you'll have your fully self-contained camper with you wherever you go.
Even though those two are my personal top choices, there are many other types of RVs for boondocking out there.
And, as you might imagine, each of them has different pros and cons, which we'll address here.
We'll also provide some must-have recommendations to make all of your boondocking adventures easier and more comfortable.
Let's get started!
What Is The Best Type Of RV For Boondocking?
While most off-grid campers prefer the convenience of a hard-sided truck camper, that might not be the best choice for your specific boondocking needs.
So, in order to fully answer this question, we'll need to describe each of these boondocking campers and provide some advantages and disadvantages of each.
1. Hard-Sided 4×4 Truck Campers
If you want a boondocking camper that will provide the maximum degree of off-road capability while also giving you the comfort to camp in it year-round, a hard-sided truck camper is the way to go.
Compared to the other options, it provides the perfect balance of weather-resistance and freedom to maneuver on a wide variety of terrain.
Hard-sided truck campers are the boondocking RV of choice for many because they allow you to maintain the ability to maneuver your truck on unmaintained dirt roads that extend far off the beaten path.
You'll essentially have a turtle shell on the back of your truck and you'll still be able to tow another trailer, boat, or vehicle without removing the camper.
These campers tend to be more weather-resistant than their soft-sided, pop-up counterparts and they can more easily be detached in your driveway when you're not using them.
Their compact design also makes it easy to fit in tighter camping spaces, even if they come with a higher profile than a pop-up truck camper.
Things We Like
Things We Don't Like
2. Pop-Up 4×4 Truck Campers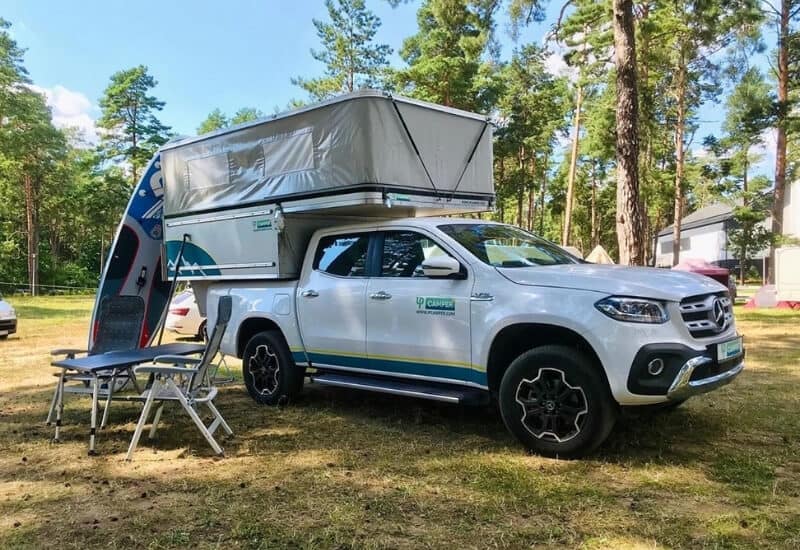 If you like the freedom of movement provided by a hard-sided truck camper but you need something that's a little more affordable, look no further than my first choice for the best RV for boondocking.
Pop-up truck campers are one of the cheapest alternatives for dry camping and they also make it easier to maximize the investment you've already made into a four-wheel drive truck for boondocking.
Pop-ups are great campers for boondocking because they have a low profile.
Just like their hard-sided counterparts, they allow your truck to navigate just as it would without a camper on the back and you'll also retain the ability to tow an additional vehicle behind you if you so desire.
While pop-ups aren't quite as weatherproof and insulated as a hard-sided truck camper, these are still a great choice for three-season boondocking.
And they're much more affordable than a hard-sided 4×4 truck camper. They are also much lighter and you'll retain more of your truck bed for gear and camping equipment storage.
Things We Like
Things We Don't Like
3. Small Class C 4×4 Motorhomes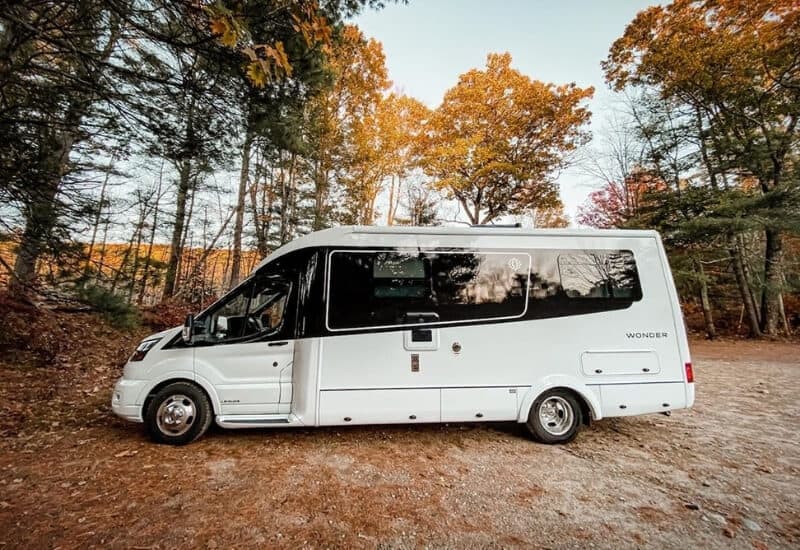 Those of you searching for something that's fully self-contained will like the benefits of a small Class C motorhome.
Unlike a truck camper, trailer, or fifth wheel, you'll be able to climb directly from the cab into the back of your motorhome.
And you also won't have to worry about staying warm in colder climates because of the extra insulation these rigs boast.
Small Class C Motorhomes are a great option if you don't have a truck to put a pop-up or hard-sided camper on.
These rigs tend to offer more living space than truck campers and they are fully self-contained, which means you won't need to worry about getting a portable toilet or solar shower.
Most of these rigs are also surprisingly nimble and have good off-road capability, even if they might not be able to go quite as far off-the-grid on some less-maintained roads.
They also offer decent weather resistance and they come with the added benefit of not having to go outside to enter the living space.
So if you arrive at your destination in poor weather, you'll simply be able to climb from the cab into the living area without getting wet or cold.
Things We Like
Things We Don't Like
4. Fifth Wheels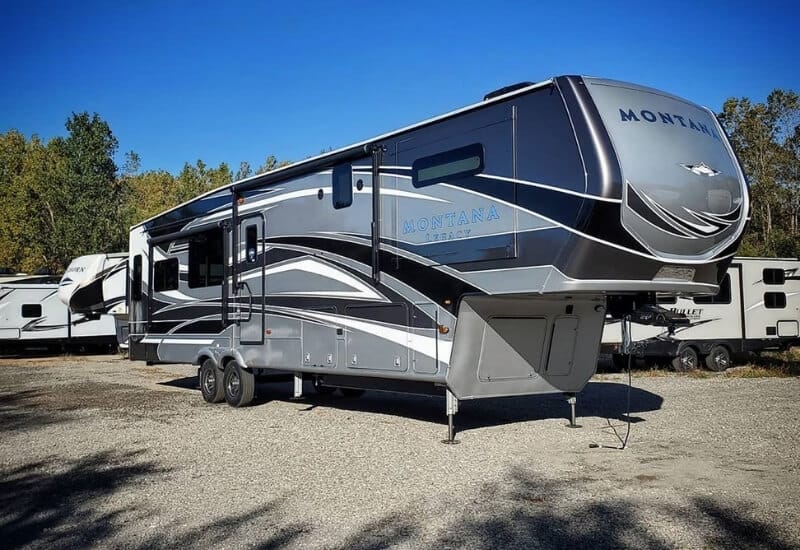 If you already have a large four-wheel drive truck with plenty of towing capacity, you might prefer the added luxury of a fifth wheel for boondocking.
Fifth wheels provide more living space and luxury amenities than almost any other option and they allow you to detach from your truck when you get to your destination.
This can make runs into town for groceries much easier than with a larger motorhome.
Although they require a larger truck than travel trailers, pop-up trailers, and even some truck campers, fifth wheels are still the best RV for boondocking with children.
This is because they have the most living area of all these RV types. You won't be crammed on top of one another and many of these rigs actually tow much better than some travel trailers.
That being said, the higher profile and larger size of fifth wheels will limit you to more level boondocking spots that are easier to get to.
But once you get there, they will allow you to stay off-the-grid for longer than some truck campers or travel trailers because of their larger holding tanks and increased battery storage capacity.
Things We Like
Things We Don't Like
5. Travel Trailers
Travel trailers can give you more flexibility than a fifth wheel because most of them can be towed with a smaller truck or even an SUV.
And most of them also come with a much smaller price tag than today's luxury fifth wheels.
Even though travel trailers don't have as much off-road ability as a truck camper, many of them will allow you to flip the axle over in order to increase their ground clearance.
Most travel trailers also have decently-sized holding tanks and battery storage capacity.
Their profiles are also typically a bit smaller and more compact than most fifth wheels, which allows you to fit in smaller campsites that you'd never even consider trying to wiggle a fifth wheel into.
Another benefit of a travel trailer over a pop-up trailer is that they boast more insulation for year-round boondocking.
And if you plan to set up in one place for a week or so, you'll be able to detach your towing vehicle just in case you want to run into town or drive to a nearby trailhead.
Things We Like
Things We Don't Like
6. Class A Motorhomes
When compared to all other RVs for boondocking, Class A motorhomes arguably offer the most luxury you can find.
These rigs are fully self-contained and many of them (especially those with diesel engines) allow you to tow an additional vehicle behind you so that you can set up the motorhome and then move around in a more fuel-efficient vehicle.
Boondocking in a Class A Motorhome is arguably going to challenge some folks' definition of what 'boondocking' really means.
You'll be limited as to how far you can truly get off-the-grid with one of these RVs, but there's no question you'll be comfortable once you get there.
And the larger holding tanks and battery capacity of these RVs will also allow you to stay there for longer than other rigs.
Class A Motorhomes are known for their monstrous size and luxury amenities. Many of them come with all the bells and whistles you need for the most comfortable boondocking experience possible.
So if you're into exploring nature without really going too far off-the-beaten-path, Class A RVs can still be a great choice if you're just dipping your toes into the boondocking waters.Things We Like
Things We Like
Things We Don't Like
Must Haves For Easy Boondocking
Once you've chosen the best RV for boondocking that suits your unique needs, it's time to outfit that rig with your boondocking essentials.
So here are a few must-have for easy boondocking that should be high on your priority list.
Large Tank Capacity
When it comes to the capacity of your RV's holding tanks for boondocking, more is always better.
Make sure you consider the capacities of an RV's freshwater, grey water, and black water tanks before you buy it with the intention of boondocking for any extended period of time.
Most of the larger Class A RVs, fifth wheels, toy haulers, and travel trailers will have water tanks that can hold 100 gallons or more.
Truck campers, pop-up trailers, and smaller Class B and C RVs tend to have tanks with much smaller capacities.
For some, this is fine as long as you bring extra water in a jug or collapsible water container.
To figure out how much water tank capacity you'll need, examine your average daily water usage for the next week.
Make sure to account for all the water you utilize. That includes, but isn't necessarily limited to, drinking water, water used for cooking or preparing beverages, water used for cleaning dishes, water flushed when you use the restroom, and water used for showering and other hygiene needs.
In addition to the capacity of an RV's water tank, you'll also need to consider the capacity of the grey water and black water storage tanks.
Of these three tanks, the grey water tends to the first that causes you to leave your boondocking campsite in search of a dumping facility.
That's because grey water usually fills up before you run out of fresh water and also before your black water tank fills up.
Water used in your kitchen, shower, and sinks goes directly into your grey water tank.
That's opposed to only water and waste flushed down the toilet going into your black water tank.
That's why the grey water tank capacity usually dictates how long you can stay out boondocking, and it should not be overlooked when you're choosing the best RV for your off-grid camping needs.
Water Heater Efficiency
If you opt for an RV that has a shower and kitchen facility inside, you'll also have a water heater to furnish you with warm water for showering and washing dishes.
If you opt for a smaller camper or van that doesn't have an indoor kitchen or shower, you won't have to worry about water heater efficiency but you will have to find another means of warming up water for dishes or showers.
In dealing with the former scenario, dry camping requires the type of water heater that can supply hot water on-demand.
In this industry, Truma is one of the most trusted names around. Their Combi and AcquaGo water heater systems are perfect for dry camping because they continue to circulate water through the system even when you're not using it.
That kind of system ensures that you can get an ample supply of hot water even when you're not plugged in.
And it also helps to minimize the amount of propane the heater utilizes when doing its job.
A water heater that works when you're not plugged into shore power and doesn't require a lot of propane is a must for boondocking.
Battery Accessibility
The capacity of an RV's battery bank can also dictate how long you can live out of it without plugging into shore power.
Most of the smaller appliances and outlets in many RVs will work using the DC power supplied by a common deep cycle marine battery.
But when it comes to dry camping, many RVers will upgrade or add additional batteries to their setup so that they can remain off-the-grid longer.
Messing with your RV's battery setup requires that you have access to wherever that battery (or batteries) is located.
And because this is something you might change or mess around with frequently in the future, choosing an RV with an easily-accessible battery compartment is a must-have for RV boondocking.
Versatility of Appliances
Your RV's appliances are there for a reason. Whether it's to keep your rig cool, reheat leftover foods, or keep those foods cold, all of these appliances require some type of power source.
And the best RVs for boondocking is equipped with appliances that can function using multiple different power sources.
This gives you the versatility to run your appliances in various situations. For example, many RV refrigerators will run off DC or AC power, as well as liquid propane gas.
That's essential for boondocking because you probably aren't going to be plugged into a direct source of AC power.
Easy boondocking with an RV that doesn't run off liquid propane gas will require you to have a massive battery bank to supply DC power.
When it comes to food security (and the function of all your RV's appliances when dry camping), the versatility to run off multiple power sources is what you're looking for.
DC-to-AC Inverter
Electricity can be complicated (if you allow it to be!). But in the interest of keeping things as simple as possible, you should be aware that some of your RV's appliances require direct current (DC) and others require alternating current (AC).
For example, most RV refrigerators can run just fine when connected to the DC power supplied by an RV battery bank.
But if you try to plug your laptop or run your coffee maker when you're not connected to AC power, you're going to be disappointed.
That's why the best RVs for dry camping are always outfitted with a quality DC-to-AC inverter.
These inverters convert the power stored in most RV batteries (DC) to the power your smaller appliances and electronics require to function properly (AC).
Generator
Generators come standard on most Class A and Class C RVs. These days, they are also common on luxury fifth wheels and travel trailers.
These generators typically run on propane or gasoline and they can supply the extra power that your larger appliances (i.e. air conditioning units and microwaves) will need to operate.
Onan is one of the most trusted names in RV generators, but if the RV you choose for dry camping doesn't include a built-in generator, you'll need to purchase a portable generator for boondocking.
That will give you the ability to generate (pun fully intended!) the added electricity you need so that all of your systems function properly when you're not plugged into shore power.
Storage Capacity
Most RVers don't decide that dry camping is their go-to form of recreation because they love to sit inside their RV once they reach their destination.
Whether kayaking, mountain biking, riding ATVs, or rock climbing is your specialty, your RV will need enough storage space to allow you to bring along all of your favorite gear.
There are, of course, many creative solutions for securing extra gear to the top of your rig or towing it behind.
But those methods do come with the added risk of forgetting to strap things down or secure the pin on a towed trailer (trust me, you don't want to make that mistake!).
So, the easiest way to make sure you have everything you need to enjoy your favorite activities once you reach your destination is to choose an RV with plenty of storage capacity.
This is also a must-have for easy boondocking because it reduces clutter inside your RV and makes it more easily livable.
Ground Clearance
Ground clearance is the amount of space between the ground and the axle (or axles) of your RV, travel trailer, or fifth wheel.
And if you choose a hard-sided or pop-up truck camper, then you'll only be limited by the ground clearance on your truck itself.
But if you buy a new RV, trailer, or fifth wheel, you should inspect its ground clearance before taking it dry camping.
More ground clearance is always better because it gives you more room for error on especially rocky or rutted roads.
And more ground clearance will also give you the freedom to dry camp in locations that other RVers won't be able to get to!
Conclusion
In addition to these must-haves, we'd also recommend looking into The Dyrt App. This app is a great resource for all types of campsites nationwide.
It allows you to customize your search and identify the best boondocking camping areas in your region (or other regions!) before you actually drive all the way out there.
We hope that you have enjoyed this collection of must-have boondocking accessories and our in-depth answer to the question of what is the best RV for boondocking.
And, as always, we wish you the best of luck in your boondocking RV search and your upcoming boondocking adventures!