Reliable Internet can be tough to come by when you live or travel in an RV. It doesn't have to be that way, but if you live in an RV park like the one I've spent the winter in, it's easy to feel a bit frustrated with management over the lack of reliable connectivity.
Your ability to maintain reliable Internet connection will, to some degree, depend on just how "off-grid" you want to live.
But if 2020's global situation is teaching me anything, it's that we're more reliant on virtual connectivity than ever before.
If you're a full-time RVer who also works from the comfort of your rig, it gets old having to go into town everyday and work from a coffee shop.
Trust me, I've been there and done that. While the coffee is good and the Internet is reliable, I just don't want to have to spend an extra $10 to $15 on coffee and pastries every day just to get decent WiFi.
One possible solution: WiFi extenders. The purpose of a WiFi booster is to strengthen the speed of an existing Internet connection or improve the area over which you're able to connect to an established network.
When it comes to finding a RV WiFi booster that's right for your RV, you might not be sure where to start.
That's why I've taken the time to research the best RV WiFi booster for full-time, part-time, and other RV living applications.
In this guide, I'll outline 8 of the best Wi-Fi Boosters and Extenders for RVs and detail exactly what I believe their best use is.
Also, in case you don't know the differences between a WiFi Booster, Repeater, and Range Extender I'll also include a comprehensive Buying Guide and Frequently Asked Questions at the end of this guide to clear up any outstanding confusion.
At A Glance:Our Top Picks For Best RV WiFi Booster
8 Of the Best WiFi Boosters for RVs In 2023
Some folks might think that a quality WiFi booster has to cost an arm and a leg.
While it's true that "you get what you pay for," I've found that quality WiFi boosters range from a few hundred dollars to less than the cost of one bill with Andrew Jackson's face on it.
So, which WiFi booster should you buy for your RV? A good RV Wi-Fi extender is secure, compatible, cost effective and easy to set up.
I've tested and reviewed the top extenders from ALFA Networks, Google, and others to help you choose.
Without further adieu, Here are the 8 best Wi-Fi extender for RVs based on my tests of range, speed, and ease of use.
1: Best Overall: Google WiFi system AC 1200
If you want a quality WiFi signal boost that also replaces your existing router or modem, the Google WiFi system is an excellent choice.
At this price point, and with the quality of the user reviews this product has received, Google WiFi System is the best WiFi booster Router for reliable coverage throughout even the largest of RVs.
This system comes in a one-pack or three-pack variety. The one-pack should be enough for most RV owners, as it's rated for spaces up to 1500 square feet.
Each WiFi point in this system has two Gigabit Ethernet ports where you can plug in external devices for a more reliable wired connection.
It's a dual-band WiFi booster that simultaneously amplifies 2.4 GHz and 5 GHz connections. It configures easily to a variety of network settings.
What I like most about this WiFi booster is the ability to replace your existing router and retain compatibility with large Internet providers, including Comcast, Time Warner, and Verizon Fios.
Things We Like
Things We Don't Like
2: Best Rooftop Antenna: KING KF1000 Falcon Automatic WiFi Range Extender
For those searching for a directional WiFi extender that will help you stay connected while you explore destinations that are a bit off the beaten path, the KING KF1000 Falcon rooftop RV WiFi antenna is a great solution.
Install this WiFi booster on the roof of your RV for superior long range signal acquisition.
It's important to note that this product comes with both a directional rooftop antenna and a WiFi booster that is installed inside of your RV.
The booster itself closely resembles a traditional WiFi router and extends to frequencies up to 5 GHz for faster connection speeds. The antenna itself extends to frequencies of 2.4 GHz.
At a weight of just 2.7 pounds, it's not like you'll have to haul a heavy antenna onto your roof before installation.
The antenna is high-gain and automatically realigns its direction in order to acquire the best signal possible.
When setting up this antenna, you'll be able to download the KING app on your iOS or Android device.
The app will walk you through the installation and configuration processes step-by-step so that everything is done properly.
Things We Like
Things We Don't Like
3: Best Budget: NETGEAR RV WiFi Range Extender EX6120
If you're looking for one of the most cost-effective WiFi extenders on the market, look no further than the NETGEAR EX6120.
This small extender is great for boosting an existing signal over a larger area.
When I was living as a property manager in Costa Rica, we utilized a model very similar to this one to boost the signal from one house on the property to the other.
After a very simple setup process, we found the results to be very satisfying for the duration of the six months we spent down there.
Although it's a relatively small unit, this booster is rated for a coverage area up to 1200 square feet.
Just for comparison's sake, my 40 foot class a RV (at a width of 9 feet) has a total square footage of just 360feet, and that includes the cockpit area where we rarely sit to try to connect to the Internet.
Also it will help to coverage WiFi signal, when you are out of your RV in the camper ground or RV park for work in laptop or mobile.
It provides 2.4 Ghz & 5.0 Ghz up to 1200 mbps performance and supports routers, modems, and gateways with 802.11ac & b/g/n system requirements.
It includes one ethernet port to support a wired connection and allows you to set up both WEP and WPA/WPA2 security protocols.
Things We Like
Things We Don't Like
4: Best Long Range Repeater: Alfa WiFi Camp Pro 2 Long Range WiFi Repeater RV Kit
If you've had the unfortunate luck to be placed in a site that's as far away from the RV resort's WiFi router as possible, you'll like the benefits of the WiFi Camp Pro 2.
It's made for both RV and marine applications and especially useful when you're in an RV park where you can't necessarily sit right next to the router or modem all day.
Because it's made for marine use, I love that this product offers exceptional ability to perform in adverse weather conditions.
The outdoor WiFi antenna is encased in fiberglass to protect it from the elements.
That antenna has a total gain of nine dBi and the entire kit comes with Alfa's R36A USB repeater, which includes specific upgrades to improve throughput speed.
Alfa has also updated the setup process for this repeater and reduced the configuration instructions down to just a single page.
You will need to connect your computer to this repeater via the included ethernet cable for initial setup and configuration.
Once it's set up with your desired password, however, any device within a few hundred feet will be able to connect to your newly boosted network.
Things We Like
Things We Don't Like
5: Best For Simple Setup: Winegard WF-4035 Black ODU Extender
If you're always on the move and need consistent, nationwide 4G coverage, the Winegard WF-4035 is an excellent mobile WiFi extender that will work even when your vehicle is in motion.
It can obtain a reliable signal using mobile data, which makes it a mobile WiFi extender.
It's important to note, however, that your ability to obtain an uninterrupted connection with this RV WiFi booster will require the additional purchase of a Winegard 4G LTE data plan.
Please be careful to consider the added cost of this plan to ensure that the extender, as well as the data plan, fit within your desired budget.
The five external antennas that come with this unit serve to increase its total range and provide faster performance for all users on the network.
The antennas should be installed on the roof of your RV while the indoor unit finds a safe, out-of-the-way home inside your RV.
In case a more secure connection is required, this unit comes with a 25-foot ethernet cable to support a hardwired connection.
It also allows you to grant users access through WPA or WPA2-PSK password protection or separate guest network access.
Double firewall protection and denial of service attack prevention provide an additional layer of security.
Things We Like
Things We Don't Like
6: Best Weather Resistance: Bear Extender RV & Marine USB Outdoor WiFi Antenna
If you live in a place with frequent inclement weather and require a WiFi extender that offers premier weather-resistance, the Bearifi BearExtender is just what you need.
It's hard to beat a WiFi booster with an IP65 Certified Ingress Protection rating.
But what does that mean? It's an international standard for waterproof protection, but also protection against dust, dirt, and other debris getting into and causing problems with the booster's performance.
This is a 2.4 GHz WiFi booster that supports 802.11n system requirements.
It's made only for a single computer and must be hardwired into that computer via USB cable in order to boost the signal strength of that device's WiFi network.
It does have a directional antenna with a gain of 10 dBi, which is one of the highest gains I've seen amongst the best WiFi extenders I've researched.
I like that this booster can be mounted in multiple ways.
It has a detachable tripod that works best for tabletop use and also comes with an adjustable band for mounting on a metal pole.
Finally, it has a Velcro strap for pole mounting as well. It's certainly worth noting that this booster is compatible with Windows Vista, Windows 7, 8/8.1, and 10. It is NOT compatible with Mac OS X, iOS, or Android devices.
Things We Like
Things We Don't Like
7: Best with Rubber Duck Antenna: Alfa AWUS036NH USB Wireless WiFi Network Adapter
For the best WiFi booster that offers the versatility to be installed and removed every time you relocate, be sure to check out the Alfa AWUS036NH.
As I'm digging deeper into these WiFi boosters, extenders, and repeaters, I'm realizing that many full-time RVers trust their rig's Internet connection to the fine folks at Alfa.
This is one of their most affordable options and it is best categorized by the small, screw-on swivel rubber antenna that can easily be mounted to the outside of your RV.
The best part about the screw-on adaptability of this antenna is that it can easily be removed when you decide to head down the road.
Compatible with IEEE 802.11g/n system requirements, the four-inch rubber duck antenna with this booster has a total gain of 5 dBi.
It's an incredibly secure booster. It allows you to set up wireless data encryption with 64/128-bit WEP, WPA, WPA2, TKIP, and AES.
It also supports drivers for a wide variety of operating systems, including Windows, Windows XP, Windows Vista, Windows 7, Linux, and Mac.
In addition to the four-inch rubber duck antenna, this unit also comes with a panel antenna with a gain of seven dBi.
It supports high speed transfers up to 150 Mbps in a package that weighs less than two ounces, which makes it the ideal solution for the RV owner that likes to pick up and head to the next great destination at the drop of a hat.
Things We Like
Things We Don't Like
8: Best Plug-in Wall Extender: D-Link AC1750 WiFi Range Extender
If you want to put minimal effort into installing and configuring your WiFi extender, you need a model that offers the perfect balance of easy setup and reliable performance.
Check out the products from D-Link and, more specifically, the D-Link AC1750 Wifi extender.
D-Link offers a number of great WiFi extenders, but I selected this model as the best for RV use because, while the next model up provides higher throughput speeds, I just felt that it might be a little overkill for RV coverage, at least at that price point.
When I was looking for a booster for our property in Costa Rica, I wanted something simple.
Sure, I wanted good WiFi, but I didn't want to have to get up on the roof to install an antenna, run a wire down the roofline and into the house (potentially creating another opportunity for water from the heavy Costa Rica rains to run in), and go through an hour-long configuration process.
The D-Link Extender simply plugs into a wall outlet in your RV and it can acquire signals on both 2.4 and 5 GHz frequencies and supports speeds up to 1,300 Mbps on 5GHz and 450 Mbps on 2.4 GHz.
It works for 4K and HD streaming, as well as with advanced gaming platforms if you're an RVer who likes to game in your spare time.
By offering dual-band boosting of the 2.4 and 5 GHz connections at the same time, this booster provides a much more reliable WiFi network.
When your bandwidth needs are exceptionally high, this unit has a Gigabit ethernet port that allows you to connect a wired device, such as a gaming console or smart TV.
Things We Like
Things We Don't Like
How Did We Pick The Best RV WiFi Booster?
So those are your options for the best RV WiFi booster! But how do you know which one is best for your specific needs?
In this Buying Guide, I'm going to detail the various types of boosters, assess pros and cons of boosters, repeaters, and extenders, and detail a handful of additional factors that will help you narrow down your selection.
1: Types of WiFi Boosters
There are actually several different types of WiFi boosters you'll need to choose from if you're looking through the products above.
So I'm going to take a second to explain the differences between wireless signal boosters, mobile WiFi boosters, and dual-band WiFi boosters.
Wireless Signal Booster
From everything I've read, this is probably the simplest and best option for anyone that doesn't have a huge budget to spend on a WiFi booster.
Most wireless signal boosters are easy to install and set up with your existing Internet router.
They boost the signal to your phone, laptop, and other devices to improve a poor WiFi connection.
Mobile WiFi Booster
Mobile WiFi boosters are great for RVers because they're designed to function while you're on the move.
They don't necessarily rely on an existing router and can boost the mobile signal wherever you end up.
That's what makes them a great option for RVers that prefer to camp outside of established campgrounds.
Most mobile WiFi boosters are compact and portable, which goes right along with your wanderlust-y lifestyle.
Some of them are even as small as the larger smartphone models and only require a reliable power outlet to function effectively.
Dual-Band WiFi Booster
Made for RVers that prioritize adaptability and versatility, dual-band WiFi boosters generally provide a much broader reach than the other two options.
In other words, they're more effective at finding a good signal, even in more remote locations.
Dual-band boosters are also very easy to install alongside an existing network without complications or excessive installation requirements.
This type of booster is available in portable and fixed models, which provides options for both on-the-go and stationary RVers.
Booster Versus Extender
In the product reviews that I've provided for you above, you probably noticed that some products were labeled 'boosters', others were labeled 'extenders', and still others went by 'repeaters'.
Let's take a second to describe the pros and cons of each.
Booster Pros and Cons
A booster (or a repeater) is a device that simply amplifies the strength of your existing Internet connection, but it does not create a signal all on its own.
They're a functional option for RVers that frequently stay in parks that offer a WiFi connection, as many of those parks might not offer a network with the strongest signal.
While a booster is designed to strengthen the signal in a localized area, it won't necessarily function to increase the range of that signal as well.
As you move farther away from the localized connection, signal strength typically decreases.
Extender Pros and Cons
WiFi extenders are designed to increase the reach of an existing signal. That means you should be able to enjoy the benefits of an existing connection over a larger total area.
An extender is typically installed between an existing router and the area where you'd like to receive WiFi coverage.
However, extenders do not increase the speed or quality of an existing connection.
Repeater Pros and Cons
A repeater is designed to capture a localized WiFi signal and rebroadcast that signal over the intended area.
The main benefit of this product is that it will increase Internet response time.
However, you should be wary of a repeater that claims it can strengthen a WiFi signal.
A Word of Caution On This Topic
As you go deeper into your search for a WiFi 'booster' it's very likely that you'll see the terms 'booster', 'extender', and even 'repeater' used almost interchangeably.
Be careful to look into the fine print of each model to make sure you understand exactly how they work before finalizing your purchase decision.
2: Internet Speed
The common rating that you'll get used to when comparing WiFi boosters is megabits per second, which is typically written as 'Mbps'.
While there's a tendency to oversimplify things and think that 'more is better' when it comes to Mbps, a higher rating doesn't always translate to better performance.
Because a booster is simply meant to improve your existing network connection, make sure to check the maximum speed of your network's settings before buying a booster.
Then you can choose a product that offers a similar rating to that of your existing network.
Choosing a WiFi booster that offers a much higher speed than what your current setup can support can actually result in a less-than-stellar connection.
3: Product Design
Design is mostly a matter of personal preference. Some WiFi boosters resemble a small block that plugs right into the wall outlet in your RV.
Others will more closely resemble a traditional WiFi router that you might not want sitting out for everyone to see when they first enter your RV.
Still others will come with a router-like unit and a rooftop antenna that you'll need to install.
As you look at the various designs of the best RV WiFi boosters, the most important thing to keep in mind is the location where you intend to plug the booster in.
Make sure that there's enough space there to accommodate the design you're interested in.
Also, be aware of the height of your RV before adding a large antenna that could compromise your ability to move about in the manner to which you've become accustomed.
4: Safety and Security
At minimum, a quality WiFi booster should provide some degree of data encryption.
While it's great to be able to browse the Internet at lightning speed, it's not so great if the credit card information you just entered to make the latest Amazon purchase is stolen too easily.
It should go without saying, but you shouldhave to enter a password before connecting to your network.
You also don't want just anyone hopping onto your network and using up your bandwidth streaming the latest episode of their newest Netflix obsession.
Look for a WiFi booster that offers layered encryption. Your WiFi network (and booster) should be set up to guarantee protected access through the use of a WPA2-PK (or AES) form.
In some cases, you may even need to upgrade an old router when you bring in a new WiFi booster, which will allow you to increase the security of your network.
5: Features and Add-ons
I always start with a little word of warning when it comes to features and add-ons. It's so easy to get caught in the catchy sales pitches underneath the beautiful photos of each product.
Sometimes, however, it's really important not to take the bait and buy a WiFi booster with a bunch of features and add-ons that you won't really need or use.
One feature that I do recommend looking for is Ethernet ports. One is good, two is better.
These ports will allow you to boost a wired Internet connection to receive higher speeds and they also give you the ability to connect multiple devices to the network at the same time.
For RVers that love to stream their music, I also recommend looking for a booster with audio streaming capability.
This feature will allow you to stream music from your phone or laptop through connected headphones or speakers.
This is a great feature for cranking up the tunes and getting an impromptu dance party going in your RV.
5: Device Compatibility
Although most current WiFi boosters are designed to function with all current Internet setups, you should still be careful to understand your network's current configuration before purchasing a booster.
Most existing WiFi routers or modems come with certain system requirements.
It shouldn't be too difficult to locate these requirements (either on the unit itself or through a quick Google search), but you'll need to know what you're currently working with so you can be sure that the booster you choose is compatible with the requirements of your current system.
There are also certain boosters that only work with newer WiFi-enabled devices and might not support a great connection on an older phone, tablet, or laptop (see Google WiFi System).
Please make sure you research this topic before buying a super fancy RV WiFi booster that won't be compatible with your old iPhone 4.
6: Installation Requirements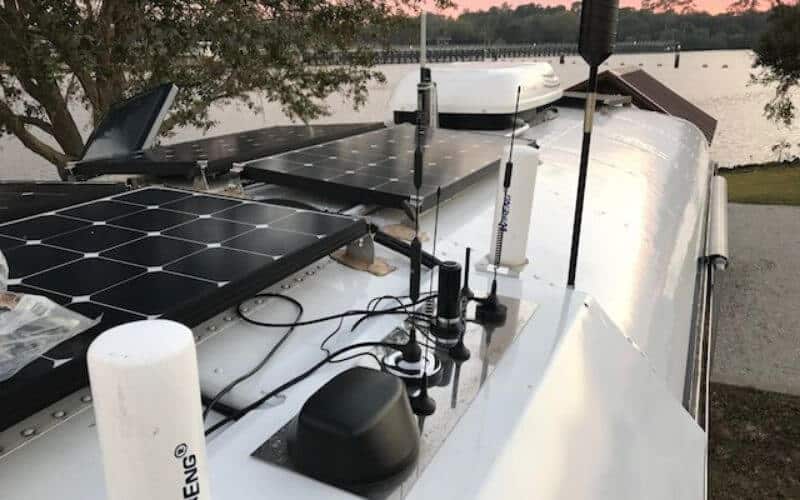 This is the time where you get to seriously ask yourself (and probably your partner) how much work you want to do installing your new WiFi booster.
They range from plugging into a wall outlet to full-on mounting to the roof of your RV.
Some boosters contain multiple parts that you'll need to install separately and then configure together.
If you're a bit like me when I was living down in Costa Rica, you might hit the easy button and opt for a booster that simply plugs into a wall outlet and configures wirelessly from your laptop.
Boosters with multiple antennas that tune to multiple frequencies can, ultimately, provide a more reliable connection.
Whatever you choose, just be sure to feel comfortable with the installation requirements recommended for the booster you choose.
7: How much Dose it Cost
Now we're down to the nitty-gritty. Only you know how much you're willing to spend on an RV WiFi booster, but I think it's reassuring to know that there are ample options that will cost anywhere from about the same as a five gallons of gas (if you're paying $3.99 per gallon like we often do here in California) up to multiple triple digits.
When it comes to your budget, there's always a balance to be found.
While there's always some truth to the old "you get what you pay for" saying, I've found that a more expensive booster doesn't always mean a better one.
The best RV WiFi booster for you will largely depend on factors other than price, which we'll get into in the next section!
So, Which Is wiFi booster for Your RV?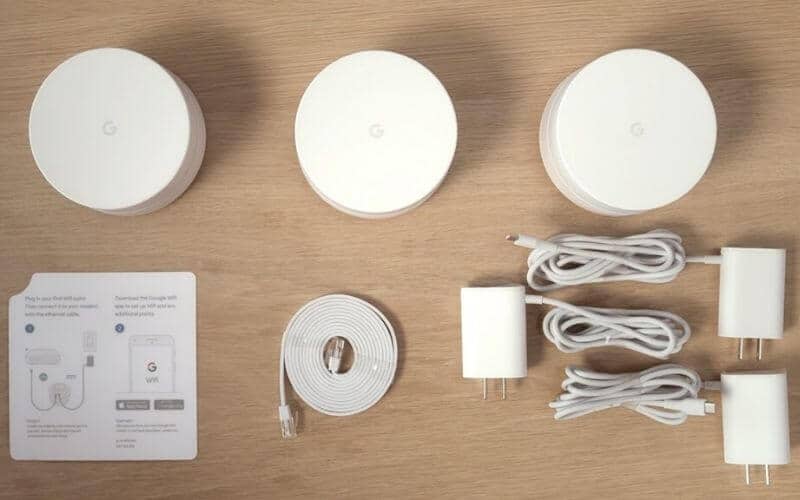 Okay, so that's pretty much everything you need to consider when doing side-by-side comparisons of the best RV WiFi boosterfor you.
But that still feels like a lot to digest, so I'd like to break it down a little bit further. Not all RVers are created equal, so I'm going to provide specific product recommendations for folks that use their RVs in very different ways.
If you're a full-time RVer that rarely moves your rig, I recommend going for the KING KF1000 Falco.
Sure, it requires a bit more in the way of installation time and energy, but long range signal acquisition will ensure that you stay connected at all times.
If you're a young RVer that likes to stay on the move and visit multiple locations on every trip, your best option is going to be the Google WiFi System.
It'll help you make the most of your travels and the system integrates seamlessly with your Android (4.0+) or iOS (iOS 8+) device. If you only take your RV out for a few trips per year, you'll be fine with the D-Link WiFi Range Extender.

It offers super easy installation and you can even unplug it and use it in your house or another space when you're not traveling in your RV.

If you're in search of a budget-friendly option and you have larger plans to upgrade later, you can't go wrong opting for the NETGEAR WiFi Range Extender EX6120.

At that price point, it's a "plug and play" option that will deliver better WiFi service until you're ready to make a larger investment.

If you don't feel like you fit into any of these boxes, feel free to drop a comment on this article and let me know how you go about this whole RV living thing!

I'd be happy to provide a better recommendation once I have a more complete understanding of your WiFi needs.
Frequently Asked Questions
While it was my intention to thoroughly give you everything you need to know about RV WiFi boosters before this point, I recognize that, in order to do the best job possible, it's essential to leave no stone unturned.
In this section, I'll answer five of the most commonly asked questions about WiFi boosters and why they're important for RV living.
Why do I need a WiFi booster?
Most WiFi signals in RV parks are unreliable, at best. While many RVers travel in their rig to unplug and get back to Nature, some of us full-timers need to stay connected to work and pay the bills.
A WiFi booster will ensure reliable connection so you can reply to urgent emails, submit content on time, and send out invoices, not to mention giving you reliable access to all of your favorite shows on Netflix, Hulu, or your other preferred streaming service.
A WiFi booster is also useful for staying up-to-date on the latest weather information that can impact your travels, keeping in touch with friends and family while you're on the road, and accessing useful navigation apps so you find your next destination with minimal side-tracking.
What are the most trusted manufacturers of RV WiFi boosters?
For starters, I'll let you know that I already did you a solid and included only WiFi boosters from reliable brands in this article.
So if you stick to the recommendations above, you'll be buying from a trusted company.
Most of you probably know and trust the folks at Google (ahem, Best Overall), but you can also put your trust in Alfa, Winegard, KING, and the others all represent quality brands that stand by their products.
Are there alternatives to a WiFi booster?
While a booster generally provides the most consistent and reliable service, there are other ways to improve WiFi receptivity in your RV. Some Alternatives for RV WiFi Boosters include utilizing a mobile hotspot, cell phone data, and campground WiFi.
If you're not dead set on hooking up to WiFi in your RV, you can also utilize local businesses and public spaces where WiFi is offered.
How do I install my new booster?
Installation recommendations will vary greatly from product to product. Make sure you check that a WiFi booster comes with a detailed user's manual before making a purchase.
A great place to check on this is in the user reviews below the product on Amazon.
Some models will be as simple as plugging into a power outlet while others will require a more permanent installation on the roof of your RV.
What is the difference between a WiFi booster for RVs and one for household use?
The biggest difference is in terms of product design. WiFi boosters made for RV use tend to be smaller and manufactured with lighter weight materials than those made for household use.
A quality RV WiFi booster should also be reinforced to handle the vibrations that it will experience while you're on the road.
This is a feature that most household WiFi boosters don't have. In terms of performance, however, household and RV WiFi boosters essentially work the same.
What is gain?
You probably saw the measurement 'dBi' mentioned a few times in the product reviews of this article.
Explaining antenna gain can be a bit complicated, but it starts by understanding that a simple antenna radiates energy equally in all directions.
Because this simple antenna has no preference for radiation in any direction, it has "no gain."
Antennas that have been intentionally designed for boosting a weak WiFi signal, however, are a bit more biased than our simple antenna described above.
An antenna that has no gain has a measurement of 0 dBi. As antennas become more directional, they don't create more energy, they simply concentrate, direct, or divert energy in a given direction.
The amount that an antenna intensifies energy in a preferred direction is called gain.
When it comes to WiFi boosters, that energy is being intensified is the specific frequency upon which your desired signal is being broadcast.
Conclusion
I have to admit that I have somewhat of an ongoing struggle with the importance of staying connected.
While I strive to create time to unplug and marvel in the lessons that the great outdoors can teach me, I also rely on a good WiFi connection to get work done and stay in touch with my loved ones.
As a full-time RVer, unreliable WiFi might be one of my biggest complaints about this lifestyle.
It's still slightly baffling as to why more RV parks don't have better WiFi. Fortunately, we have options.
RV living is about independence anyway, right? Maybe it's time to stop relying on RV parks, coffee shops, and our friends for good WiFi. Maybe it's time to invest in one of the best RV WiFi boosters!