Taking a long drive and experiencing the great outdoors doesn't have to sacrifice comfort. A truck with a powerful engine and great towing capacity to tow your 5th wheel effortlessly.
Unlike massive travel trailers, fifth wheels don't sway easily. Why? Because there are factors you have to consider when selecting the best truck to pull a 5th wheel.
What is the up-front cost? What you should know about turning clearance? What is sufficient weight capacity? What features you can't live without? what size truck do you need to pull a fifth wheel?
So, finding a reliable truck to pull 5th wheel is not as easy as it used to be. Luckily, that's actually not the case.
And to help you to choose a truck for fifth wheel towing, we've made this list of 18 best trucks for towing 5th wheel from our carefully scrutinized selection of trucks from well-trusted brands.
18 Best Trucks For Towing 5th Wheel In 2021
Below we have compiled a list of the best trucks for towing a 5th wheel.
1. Ford F-350 Super Duty
The Ford F-350 is a beast to reckon with due to its maximum 27,500-pound rating.
It is armed with a Trailer Reverse Guidance system, which lets you see the fifth wheel and truck from various angles.
Having said that, you won't have to worry about whether your load is light or hefty. Regardless, you get safety, convenience, and comfort features.
2. 2018 Honda Ridgeline
This midsize pickup can tow 5,000 pounds due to its multi-link independent rear suspension. It combines the convenience of smooth riding and towing capacity.
The Ridgeline is not a heavy lifter, but it has superior driving performance. Its suspension and construction offer a good riding experience while towing a 5th wheel.
3. 2018 Ram 3500
With a whopping 30,000-pound towing capacity, there's nothing that this fifth wheel towing truck can't handle. The Ram 3500 brags a 1,000 pound-feet of torque, thanks to its turbo diesel.
In addition, the vehicle includes a factory-installed hitch. It is a powerful, comfortable, and luxurious buddy for any outdoor adventure.
4. Chevrolet Silverado 3500
The Chevrolet Silverado 3500 will boost your confidence in hauling loads up to 12,200 pounds.
With the help of its powerful diesel engine and crash-advance technology, towing fifth campers are comfortable and quiet.
You can select either single rear wheel or dual rear wheel. The 56.1 cubic feet of cargo space in the bed will satisfy all your payload needs.
5. Nissan Titan XD
The Nissan Titan XD is preferable for those who need ¾-ton trucks, but requires comfort and good payload capacity.
It is not too big, yet it isn't too small either. Thus, it's the right size for a 12,280-pound load.
The truck is designed with power and performance in mind which makes it one of the best truck to pull a 5th wheel.
The seven-speed automatic transmission is proof. Aside from a strong engine, an integrated gooseneck hitch serves as a bonus for this model.
6. 2018 Chevrolet Silverado 3500HD
The 2018 Chevrolet Silverado 3500HD won't disappoint you because of its fifth wheel towing package. In effect, there will be no strain in towing up to 23,000 pounds.
This model lets you choose between a double rear wheel and single rear wheel. It also provides cab and bed length options.
These features enable the driver to gain versatility and power when towing a fifth-wheel trailer.
7. 2018 GMC Sierra 3500HD
This diesel powered truck can effortlessly handle fifth wheel towing of 23,300 pounds. It comes with modern technology and powerful engine that provide improved towing capacity.
The GMC Sierra 3500HD is constructed with strength and performance in mind.
With a 360 horsepower and 380 pound-feet of torque, this sweet thing uses a durable engine for quiet operation.
8. Ford F-150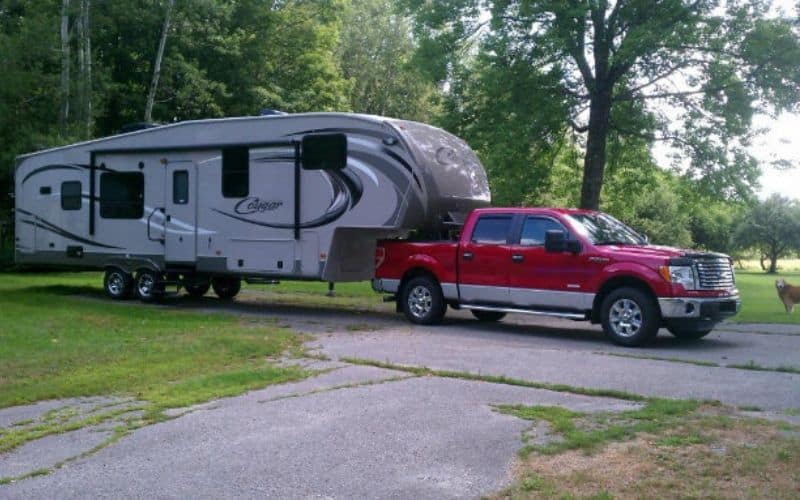 For long-term pickup users, theFord F-150 is a fan favorite, and for good reasons.
The best thing about this unit is its customization options, which suit the unique traits of every driver.
For this year, the F-150 delivers a diesel engine, Lane-Keeping System, Cross-Traffic Alert, and Blind Spot Information System. Such cool features were made for the safety and convenience of towers.
9. 2019 GMC Sierra 1500
The GMC Sierra 1500 comes with a lot of advanced features to tow a maximum of 12,000 pounds.
Not only does it have a redesigned exterior, but it now also boasts a camera, Driver Alert technologies, and a smaller tailgate.
Even though it has a short bed, this fifth wheel truck makes up for having a turbo engine, double cab, ProGrade Trailering System, and hitch guidance with hitch view.
10. 2018 Toyota Tundra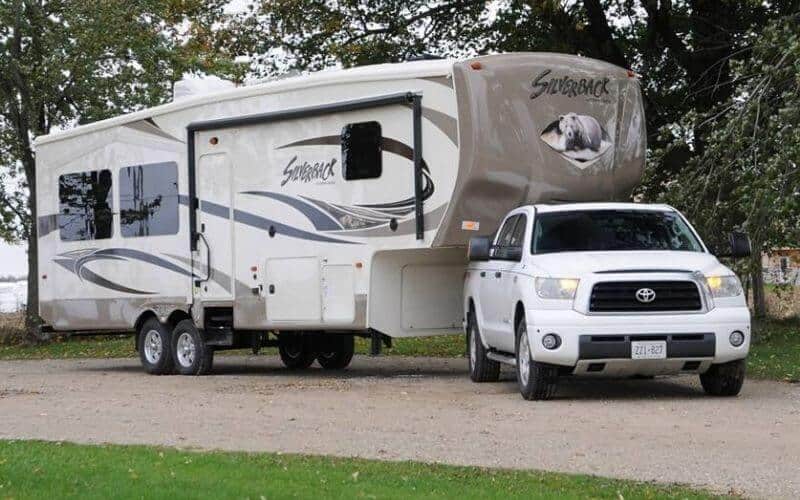 The Toyota Tundra is all about safe towing of trailers up to 10,500 pounds. It provides a lane departure alert with a sway warning system, pre-collision system with pedestrian detection, and radar cruise control.
This half-ton truck is outfitted with a 5.7L engine, towing hitch receiver, integrated trailer brake controller, supplemental transmission cooler, and cab configurations that make heavy hauling job trouble-free.
11. Chevrolet Silverado 1500
Aside from a maximum payload of up to 2,543 pounds, this light-duty truck has a towing capacity of 12,000 pounds.
This diesel operated truck makes fifth wheel towing easy because of its towing hitch platform, receiver, sealed connector, and harness.
Furthermore, this is one of the best best 1/2 ton truck for towing fifth wheel trailer which is equipped with Front Pedestrian Braking, Forward Collision Alert, and Rear Park Assist.
Hence, you can guarantee comfortable and controlled operations in the great outdoors.
12. 2019 Ram 1500
Even though this luxurious fifth wheel truck has a spacious and posh interior, the 2019 Ram 1500 can move up to 12,750 pounds of load. With the help of a coil suspension, towing fifth wheels is no challenge.
Moreover, this vehicle is more fuel efficient and lighter thanks to its V8 engine and eTorque.
It is also fitted with safety features such as Smart Cruising, Surround View Camera, and Blind Spot Monitoring with Rear Cross Path.
13. Ford F-250 Super Duty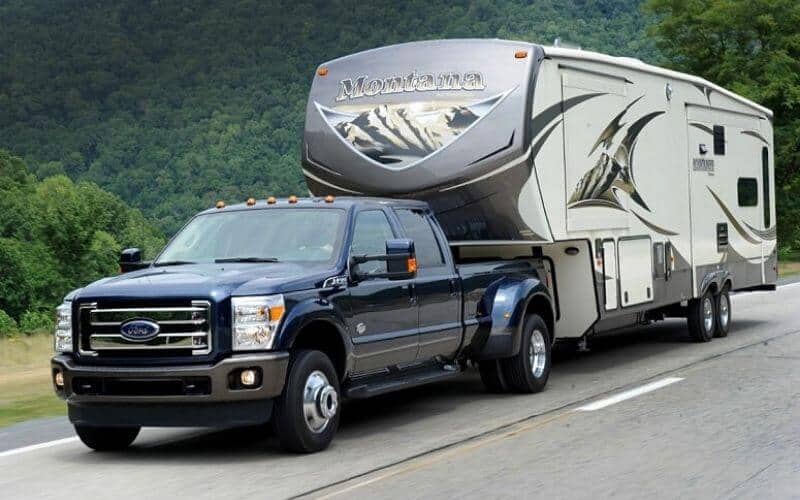 Like any other Ford trucks, the F-250 Super Duty is a versatile towing companion. It has an impressive payload of 7,630 pounds and a tow rating of 18,000 pounds.
Its biggest asset is versatility because of high-tech features. The best one is the Adaptive Steering, which adjusts the steering ratio depending on the driver's speed.
As a result, there's less steering effort and more control when towing fifth wheels.
14. 2021 GMC Canyon
This truck's best feature is its responsive V6 engine. The four-cylinder engine is recommendable for light towing and occasional road trips.
Regardless, it has a maximum payload of 1,567 pounds and a towing capacity of 7,700 pounds.
To make towing easier, you can utilize the automatic locking rear differential, tow/haul mode, integrated trailer brake controller, off-road suspension, and hill descent control.
15. Ram 2500
This diesel powered truck is engineered to tow up to 19,780 pounds. It balances even the heaviest of loads with the help of its Class-Exclusive Rear Auto-Level Air Suspension.
Additionally, it makes use of a Bed Lowering Mode, which brings the rear suspension to its lowest position for easier trailer hook-up.
With these features alone, the Ram 2500 becomes one of the most reliable off-road full-size pickups for towing a fifth wheel trailers.
16. GMC Sierra 2500
When you pick the 6.6L Duramax Turbo-Diesel, you can use the GMC Sierra 2500's torque and horsepower to tow a fifth wheel on a daily basis.
This full-sized truck comes with a 2,381-pound payload rating and a 14,500-pound tow rating.
More than that, it is furnished with an integrated trailer brake controller, automatic locking rear differential, a remote locking tailgate, towing wiring, rear vision camera, and forward collision alert.
17. 2021 Chevrolet Silverado 2500HD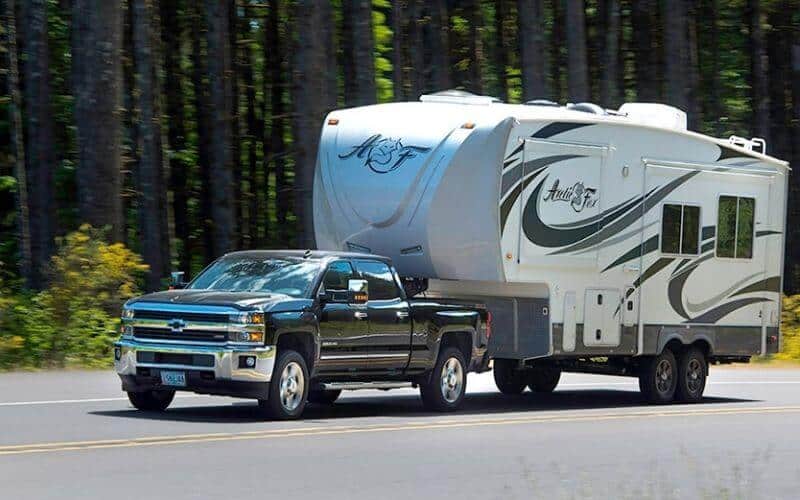 The Chevrolet Silverado 2500HD uses a diesel engine to tow a fifth wheel trailer up to 18,500 pounds.
Chevrolet Silverado 2500HD is one of the best diesel truck for towing 5th wheel when affordability is a concern, but should have a full-length bed and installed hitch.
With improved power and torque, this heavy-duty vehicle is made for a long haul. Its crew cab and automatic transmission enable the rider to use the tow mode.
This unique feature adjusts transmission shifts to diminish shift cycling when driving on steep grades or towing heavy loads.
18. 2020 Nissan Frontier
The Nissan Frontier is well-known for its dependable towing capacity of 6,720 pounds and a 1,400-pound payload.
Since it uses a 4-cylinder engine, you can assure fuel efficiency and superior torque performance.
Aside from that, this midsize 5th wheel tow truck is equipped with a large bed and cab configurations. Therefore, you can tow a surprising amount of gears, items, and supplies.
How To Select The Best Pickup Truck For 5th wheel Towing
Trucks have varying specifications that could either make or break your camping trip. Here are most important specs to consider when selecting the best pickup truck for towing 5th wheel camper.
Consider The Power
Every truck has mechanisms, and sometimes patented technologies, that create a smooth transmission of power.
For 5th wheel towing the truck should be able to transmit ample power or energy without heating up.
Raw power is undeniably helpful, but the next factors would help boost it.
Short-Bed or Long-Bed Truck for a 5th Wheel Towing?
The most important thing to remember when choosing a 5th wheel tow truck is that the bed length will impact your towing capacity and setup cost.
Bed lengths may range from 4 to 8 feet. Beds have become shorter because of people wanting comfort inside a truck's cab.
However, it is ideal to go for a standard 8-foot bed. In this way, you can guarantee ample room for the haul.
Note that a shorter bed would need a sliding hitch despite having a sidewinder. This is because of the tight turning radius in the bed.
Consequently, the setup will be costlier. So, it is better to have longer beds to help you make a sharp turn safely.
| | | |
| --- | --- | --- |
| | | |
| | Typically, fifth wheel hitches should remain in front of the truck's rear axle. In effect, the trailer sits close to the cab. A long bed gives plenty of clearance in making sharp turns even without pin boxes or special hitches. Since it has the best turning clearance, you get a more convenient towing and cost-effective setup. | Even though there are good traction and reduced sway, the mechanism is too large for daily driving. |
| | This is easier to maneuver and park when not towing. With the help of a large can, a short bed may be beneficial to daily driving. | May have clearance issues since the camper is close to the cab and there's less traction. |
| Very Short Beds (Under 6 Feet) | This is the easiest to control because of its lightweight mechanism. It often comes with a large cab, which is helpful for daily driving. | Needs a Sidewinder pin box replacement or a Revolution. The pivot point is 22 inches behind the king pin lock, near the tailgate. This creates more space between the trailer and truck on sharp turns. |
Gas vs. Diesel: Which is Best for 5th wheel Towing?
If you need a more affordable operation for 5th wheel towing, then go for gas engines. Meanwhile, diesel engines are advisable if you want greater towing power, more torque, and better fuel economy.
Gas engines also have benefits, especially in the upfront fees. It also costs less at the pump, as well as in maintenance.
But when you think about it, the cost-effectivity of diesel engine outweighs the benefits of gas engines. In short, you'll actually save more money in the long run.
Diesel engines tend to have better towing capacity thanks to their large torque outputs. They also last longer than their gas counterparts.
So, when you pair a long bed with a diesel engine, you get a powerful towing truck for fifth-wheel trailers. Subsequently, you get a reliable and money-saving assistant for long drives.
Payload Capacity: Do You Need a 1/2 Ton, 3/4 Ton, or 1-Ton Truck?
A large fifth-wheel trailer will require a heavier truck. This is because payload capacity increases with the truck's weight.
what size truck to pull 5th wheel?
A 1-ton truck is the most appropriate size for fifth-wheel towing. Yet, even a 3/4 –ton truck can do the job. To put things in perspective, you can use a ½-ton, ¾-ton, or 1-ton truck as long as the vehicle is rated at your trailer's sufficient weight capacity.
If you have a smaller truck, then you might need to tow a trailer close to the maximum weight capacity of your truck. You will need suspension enhancements to level and stabilize your vehicle.
This is why it's preferable to opt for larger trucks to lessen the strain on the drivetrain components and suspension.
How Much Weight You Can Safely Pull Behind Your Truck?
Check with the manufacturer about how much weight the vehicle can tow behind it.
Your fifth wheel should not go beyond this towing limit, otherwise, the engine will overwork. You could also damage the brakes and transmission.
Keep in mind that an overworked vehicle's motor will overheat at steep slopes. It may even find it difficult to properly haul the fifth wheel.
Hence, it's better to work within the limitations of your truck. In this way, you can avoid accidents and costly repairs.
Which Is Better: Dual Rear Wheel Or Single Rear Wheel?
Frankly, it depends on your situation. A dual real is better when you need to pull a massive fifth-wheel trailer often. Similarly, it can provide a more stable ride.
On the other hand, SRWs deliver more driving comfort. Therefore, this is for occasional towing.
Usually, there's no need for a dually truck, but it has perks. For example, it comes with a higher weight capacity, which delivers stability when hauling a fifth wheel. Consequently, this will lessen stress on the vehicle.
A dual rear also serves as a back-up in the vent of a tire blowout. The extra set of wheels will continue to provide a steady ride, particularly on long rides.
Meanwhile, SRWs are easier to pull and maneuver. As a result, you gain better visibility and greater fuel efficiency.
Do I Need Fifth Wheel Hitches Installed?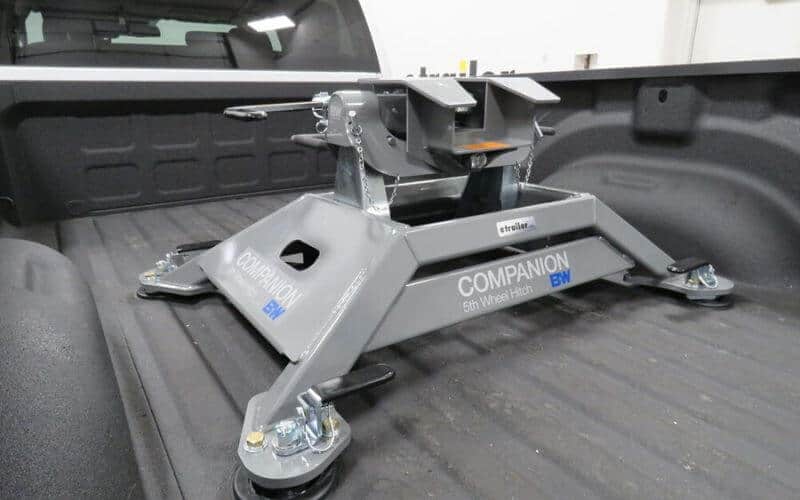 Absolutely. Installing hitches will help your truck achieve the best towing capacity. It is common to install hitch or aftermarket rails in your truck bed. Some manufacturers even offer prep packages to save you the hassle of installation.
Two kinds of installation rails:
1. Rails below the truck bed
2. Rails above the truck bed
Factory prep kits are pre-installed below the truck bed. It includes small pucks that sit flush where the hitch is found.
Note that installation kits are custom-designed. Thus, it's advisable to buy a hitch that is compatible with your brand's kit.
The advantage of a prep package is that it will take more or less 30 minutes to install the hitch. Whereas, installation could take more than 4 hours without a prep package.
Which Hitch Should I Use?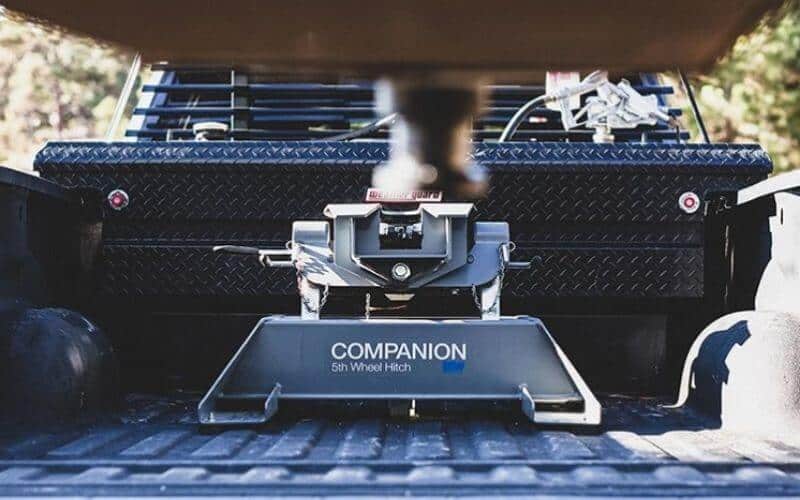 It depends on your truck's bed. For long-bed vehicles, you can use a fixed hitch, which provides great cab clearance. As a result, it's easier for the truck and trailer to make turns.
For short-bed ones, sliding hitches are better because of their turning clearance.
Sliding hitches move backward toward the truck tailgate when the truck makes a sharp turn. Hence, the hitch increases the distance between the trailer and the vehicle.
What If The Hitch Is Incompatible With The Factory Prep Kit?
Don't worry, you can still use the hitch. However, you need to pair it with an above-bed adapter for trucks. But then again, it's better to use a compatible hitch for your rails system.
To ensure compatibility, manufacturers include a fit guide that helps you select the model and vehicle options. Afterward, you can pick below-bed or above-bed rails.
What About Aftermarket Rails?
Aftermarket rails are more affordable than factory installation kits. Besides, they offer custom-fit rails that are on par with factory-made ones.
You can check:
Above-bed
Below-bed
Semi-custom
Universal
5th Wheel Hitch Wiring Harnesses
You can boost the efficiency of rails using harnesses. Thus, you can improve trailer towing. All you have to do is plug the harnesses into the factory wiring of your truck.
If possible, look for a 90-degree angled connectors or a seven-way connector to install the harnesses easily.
In a nutshell, you can install a fifth wheel hitch whether or not you have a prep package. You can always add a hitch, rails, and harnesses later on.
How Much Can A Truck Tow?
Look for a sticker or note on the driver side of the vehicle. It should specify the truck's towing capacity and weight specifications.
Check the Gross Combined Weight Rating. The GCWR is the maximum overall weight of the fully loaded trailer and the loaded truck. It gives a conservative estimate of how heavy a trailer your truck will tow.
Subtract the Gross Vehicle Weight from the GCWR. The GVW is the total weight of your truck, cargo, fuel, gears, and passengers.
The difference between the GVW and the GCWR is the maximum loaded trailer weight that your truck can haul.
For example: 20,000 pounds (GCWR) – 11,500 pounds (GVW)
Calculated maximum trailer weight = 8,500 pounds
As you can see, a full-ton truck has a better towing capacity for a massive fifth wheel trailer. On the other hand, a ½-ton or 3/4 –ton vehicle would suffice for a small fifth wheel.
Is Tire Capacity Important?
Totally. Even tires have load ratings, which may expand your truck's payload limit.
For example: Your truck's tires are rated for 5,000 pounds, but you decide to replace them with 5,500-pound tires. In effect, you may increase the payload limit by 500 to 1,000 pounds.
What Are Trailer Brake Controllers?
Part of your routine maintenance is checking the breaks. This is important especially when you are carrying a huge load and you need to make sharp turns.
Fortunately, electric brake controllers can actuate the braking system when you step on the brakes. Likewise, they will halt the trailer without shuttering.
How To Tow A Fifth Wheel Using A Truck?
Sure, driving a pickup is easy. But controlling it so the fifth wheel behind you won't swerve? Okay, it can be tricky.
Never fear! A fifth wheel will assist you using its great amount of turning angle. When you use any of the trucks we've introduced, towing won't be a burden at all.
The most important thing to remember is that you must drive past the lane you want to turn into before making a turn. This gives you ample space and angle to maneuver the fifth wheel with ease.
In short, take considerably wider turns. This will help you prevent hitting other cars or curbs.
Furthermore, some trailers are long, and they would require extra distance when turning. A fifth wheel trailer won't create any hindrance between it and the truck.
Thus, it's wise to keep a distance between your truck and the vehicle in front of you. Since you're carrying additional weight, slowing down or stopping becomes more difficult.
Practice driving in and out of a driveway before navigating through heavy traffic.
Last Words
Both amateurs and experienced drivers can benefit from the trucks we've introduced. All pickup trucks in this post can maneuver fifth wheels smoothly.
As long as you understand the features, payload, and towing capacity, hauling your outdoor equipment won't be a problem anymore.