Vanlife has been a growing way of life for several years. During the lockdowns and stay-at-home orders for the coronavirus, many DIY-ers are taking advantage of their increased spare time to consider converting a van.
But before you get started on your conversion, you need to choose the best van to use as your base vehicle.
Whether you're interested in converting a campervan for weekend trips or long-term travel around the U.S., there are some vans that are better than others for a van conversion.
Which is the best van to use as your base vehicle for a van conversion?
Small vans like a Volkswagen bus or Westfalia are easier to maneuver and drive, and are also often cheaper than a brand new Sprinter van. However, medium size vans offer the best of both worlds, with plenty of space inside for a camper conversion and maneuverability on the road.
Some of the best brands of vans to convert into a camper van include:
I mentioned most of these in my article about the best vans to live in full-time, but today, I'd like to go over the reasons why each van is ideal for converting into a camper van.
Some vans are great for conversions, but may be harder to drive or present other issues for use as a camper.
Average Cost of a Van Conversion
Before we jump into a discussion about the vans, themselves, you might be curious about the cost of converting a van into a camper or home on wheels.
A couple of months ago, I wrote a comprehensive post about how much a Sprinter van conversion may cost, so if you're looking for a complete guide to van conversion costs, be sure to check that out.
Generally speaking, however, a van conversion costs between $30,000 and $32,000.
Your van conversion could cost as little as $5,000 if you get creative with the materials you use and source a lot of used or upcycled materials.
If you fit your van with all of the bells and whistles and top-of-the-line features, the conversion could cost as much as $150,000.
Remember, this is on top of the cost of the van, itself, so be sure to take that into account as you compare the models below with your overall budget.
Van Conversion Requirements
After cost, there are some important requirements that you should be clear about before you choose the right van for your conversion project.
Some of the top requirements to consider include: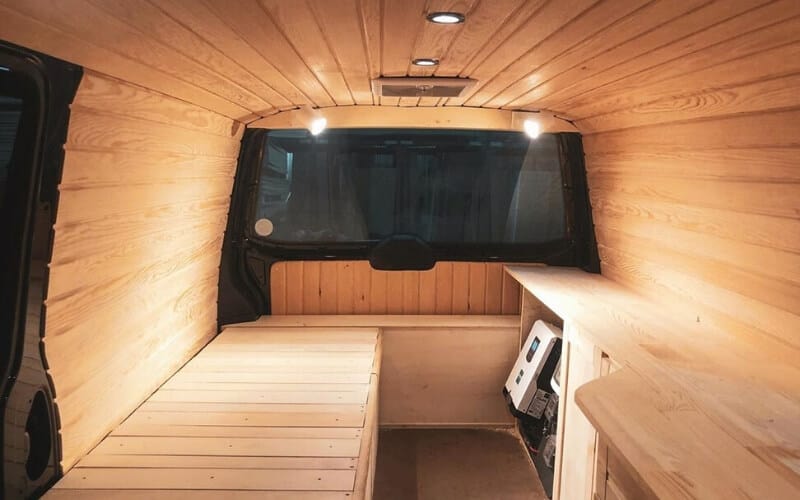 Top 8 Vans to Convert Into a Camper
As the base for your home on wheels, the van you choose for your van conversion is one of the most important decisions you will make.
Things like driveability, reliability, shape and size have a big impact on your build as well as your comfort and living style inside.
I did some research to find the pros and cons of the most popular vans to convert into a camper, including the cost of the base van.
Here are our picks for the best vans to convert into a camper.
1. Mercedes-Benz Sprinter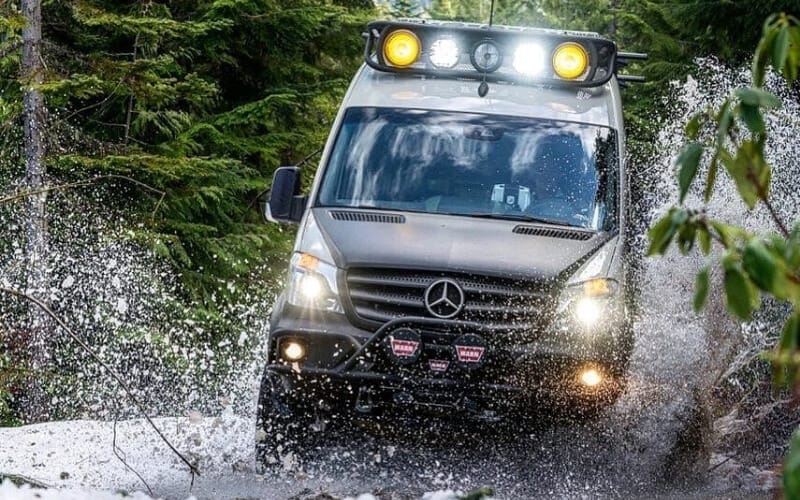 Mercedes Sprinter vans are one of the most popular (if not the most popular) vehicles for van conversions.
Although they cost more than some of the other cargo vans on this list, they make up for it in safety features, driveability, and available variety with regard to size, length, and interior height.
One of the pros of choosing a Mercedes-Benz Sprinter for your conversion is that it's one of the safest vans, equipped with some high-tech safety gear and features.
You can also find Mercedes Sprinters in a wide range of lengths, wheelbases, and variations in roof height for more or less interior space.
Sprinters also have premium cabins that are outfitted with high-tech controls from Mercedes' passenger cars.
A drawback to having a classic Mercedes Sprinter van is that the parts are not as easy to fix or replace at mechanics around the U.S.
So, if you're traveling nationally and your van breaks down, you might have trouble finding a mechanic that can help or the parts might be a lot more expensive than they would be for a RAM ProMaster or Ford Transit.
Probably the biggest detractor of a Mercedes Sprinter is the price. Brand new Sprinter vans often cost between $35,000 and $57,000, so the van may be more expensive than your conversion if you stick around the average of between $30,000 and $32,000.
However, some Sprinters may be more affordable if you choose a used Mercedes cargo van or a U.S.-made model like a Dodge or Freightliner Sprinter van (they're all technically Mercedes).
2. RAM ProMaster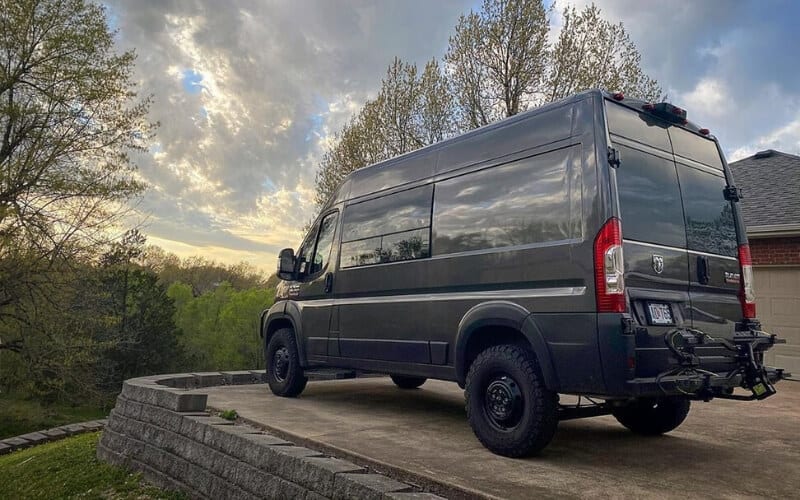 Since they're built here in the U.S., RAM ProMaster cargo vans may be easier to maintain and fix than Mercedes Sprinter vans if you have car trouble.
With that being said, car trouble may be a more frequent occurrence with a RAM ProMaster because of the vehicle's below-average reliability rating.
When considering a RAM ProMaster for your van conversion, the brand has a lot of variety and flexibility to offer.
You can choose between two exterior heights, multiple configurations, and three different wheelbases (118-, 136-, and 159-inches).
In the rear cargo area, you'll love the 90-degree sidewalls which make it easier to cut and fit your build-out.
While you won't have the same premium dashboard in the cab like you would with a Mercedes Sprinter, the RAM ProMaster's dash looks nicer than the one in the Ford Transit.
In terms of driving, the ProMaster can be a little more difficult to maneuver than some of the vans on this list, since it has low ground clearance.
It's also front-wheel drive only, so you won't be able to go off-road in more rugged areas.
When it comes down to it, the RAM ProMaster is one of the more affordable vans to convert into a camper, costing between $31,000 to $44,000 for a new van. Of course, older and used models will be even more affordable.
3. Ford Transit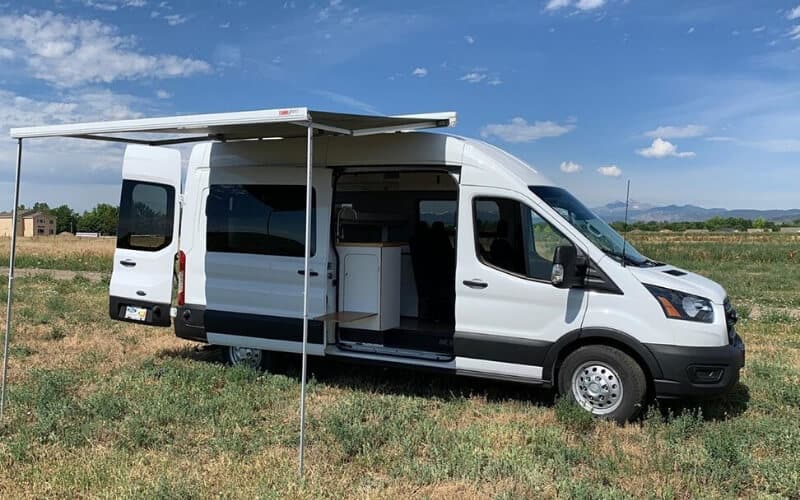 Another top U.S. brand for cargo vans that are great for van conversions is Ford. Their Transit model replaced the Econoline and Club Wagon to offer a reliable, comfortable, and affordable option for vanlife.
Choose between the Crew Van or Cargo Van, which are available in three different lengths, two wheelbase options, three different engines, and a variety of colors.
Both models have high enough ceilings inside (three roof heights to choose from) so that you can stand up straight.
One perk of the Ford Transit over the RAM ProMaster is that the 2020 model has intelligent all-wheel drive to improve your van's traction on snow, ice, and mud.
The Ford Transit engines and mechanics are also standard nationwide, making it easier, faster, and more affordable to get repairs or replacement parts if you break down. One potential drawback of the Transit is its basic driving cabin.
It doesn't have a lot of bells and whistles, but that might not be a priority for your van conversion, especially if you'll be spending more time relaxing in your van or adventuring from your campsite instead of driving for long periods of time.
However, the Transit does have a premium stereo with smartphone connectivity.
A brand new Ford Transit costs between $24,275 and $41,000, which is more affordable than some of the other vans I've listed in this article.
However, since the Transit is a newer model for van conversions, you might have trouble finding a used model if you're on a budget.
4. Nissan NV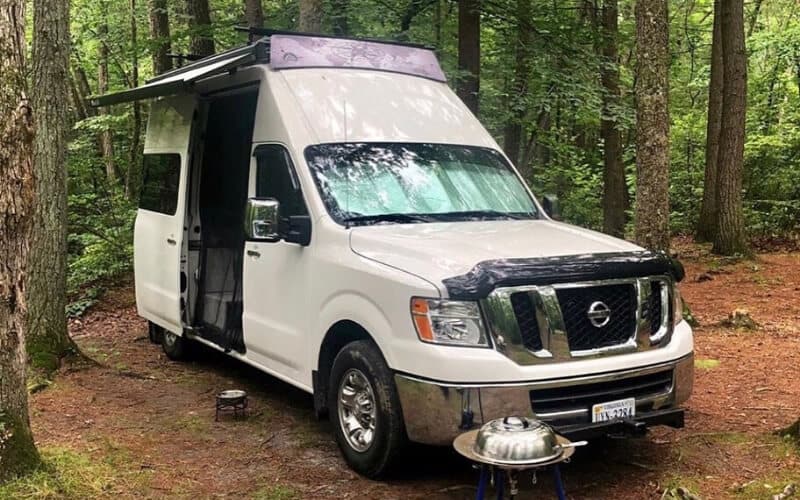 If you're looking for something smaller, more unique in shape, and low-profile for stealth camping, the Nissan NV models might be ideal for your van conversion.
There are three different models available, two different roof heights, and a more spacious cabin for long periods on the road.
The Nissan NV has a long nose and a smaller cargo area, but that might be perfect for your needs.
Some of the cons of choosing a Nissan NV for your van conversion are that the basic trim models are quite barebones, and some owners have complained about the lower gas mileage as compared with other van models and brands.
However, the Nissan NV is a great value for your money, and new vans are more affordable than other models on this list.
With prices for new vans starting at $29,890, you'll get more bang for your buck with a Nissan NV, leaving you more cash to spend on the conversion.
And, since it's a bit smaller than other cargo vans, your conversion might end up simpler and less expensive.
5. VW Crafter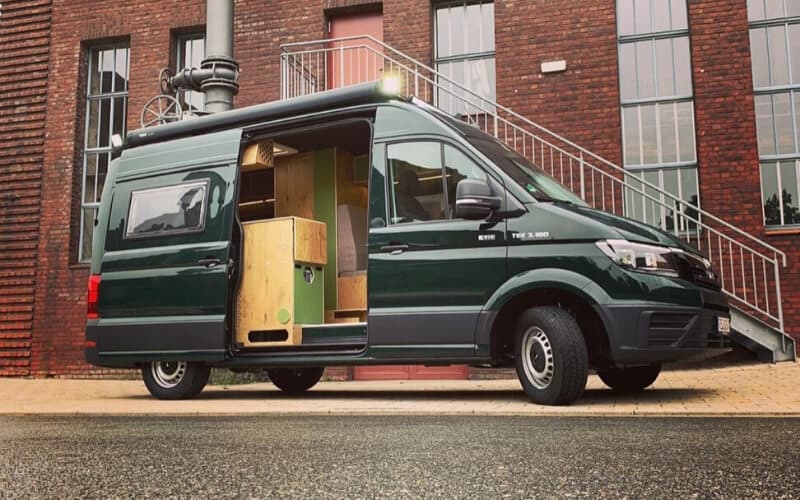 Volkswagen has long been a classic brand for vanlife, with old-school models like the Westfalia and VW bus making Instagram spotlights for the past few decades.
The VW Crafter is designed more like a cargo van, with higher roofs and interior ceilings and more of a modern body style.
The Volkswagen Crafter van comes in three different lengths and heights, so that you can choose the model that suits your needs best.
VW has also primed the van models perfectly for work and van conversions, with 14 recessed lashing rings built into the floor, an interior roof rack, and lashing rails on both walls.
In the cabin, you'll find that you won't really need to make any changes to make driving comfortable, with built-in storage for your devices, water and coffee cups, sunglasses and more.
The cost for a new VW Crafter ranges quite a bit based on the model you choose and where you buy it from, since Volkswagen is a European company.
However, it's been around for awhile and you'll probably find plenty of new and used Crafter vans available here in the U.S.
A new VW Crafter usually costs between £26,745 to £48,046, but if you're buying direct from the VW website, prices start at £32,654 to £34,436.
6. Chevy Express Cargo Van
If you don't need a van with a standing-height interior roof, or you plan to convert your van with a pop-top, the Chevy Express Cargo Van is probably the most affordable van for your conversion.
Although it's called a cargo van, it's more of a passenger van. Chevy has mastered this model with 1500, 2500, and 3500 engines for almost 40 years, and it's not stopping anytime soon.
With such a long, tried-and-true lifespan, this might be the most dependable van base on the market.
It's also easy to find used and older models for a great price, since it's been owning the roads for so many years.
The Chevy Express has been used for UHauls and other cargo transportation and utility vans, and it makes an excellent base for a van conversion as well.
Once you remove the seats, you'll have lots of interior space to build out the inside. The Chevy Express's chassis is very durable, and the engine is highly reliable.
Parts and mechanical service aren't hard to find either, so on the off chance your van breaks down in the middle of nowhere, there's a very good chance the closest mechanic will have no trouble fixing it up and getting you back on the road quickly.
As far as drawbacks go, the Chevy Express doesn't have the headroom inside to stand up fully, but you can convert it with a pop-up top if that's important to you.
Additionally, it's still very comfortable inside, and you'll be able to sit fully upright even after you've completed your build.
Its more low-profile size also makes it ideal for stealth camping (if you don't pop-up the top), and reduces drag while on the road for more optimal gas mileage.
The Chevy Express Cargo Van is also the cheapest base van model on this list, with the price for brand new vans starting at $32,000.
7. Renault Trafic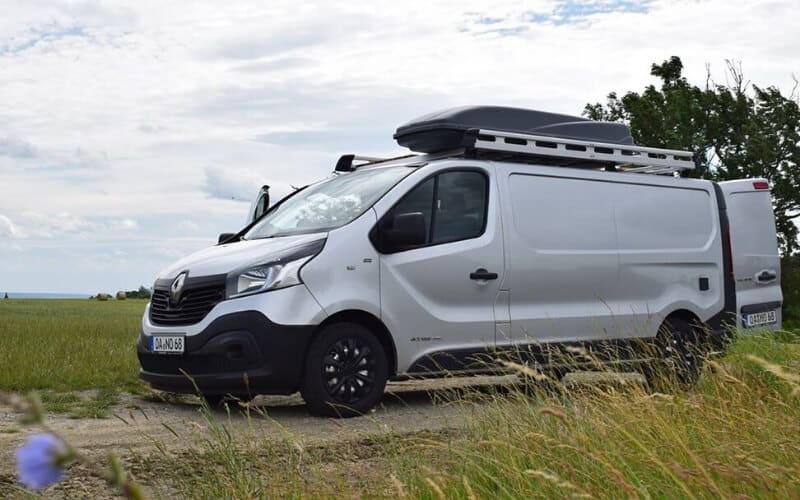 Another European van manufacturer that vanlifers love for their conversions is the Renault Trafic.
Like the Chevy Express, it's designed like a passenger van, so you might have to remove several seats for your conversion.
However, the interior space is ready for a conversion, with plenty of room and modular design to make your build easier.
Even the newer Trafic models are designed with identical dimensions to the older models, so you can use nearly two decades of camper diagrams, designs, and fittings for your conversion.
A perk of the Renault Trafic is that the van has a great reputation for reliability, so you shouldn't need to do much in terms of maintenance and repairs.
That's important, since it's a European vehicle, and auto shops in the more rural areas of the U.S. might not be equipped to do much to help if you break down.
The Renault Trafic also has a high-range 1.6 liter diesel engine that's rated highly efficient as well as powerful, with smooth driving.
The Renault Trafic's driving cab has excellent storage cubbies for your devices and personal belongings, and you can choose to add a SpaceClass table in the rear area if it helps to cut your costs to convert the passenger space for a living area.
In terms of cost, the Renault Trafic ranges in price and starts at £23,450 brand new.
You might be able to find an older or used model on the market as well, further reducing your upfront costs or giving you more room in the budget for your conversion.
8. Vauxhall Movano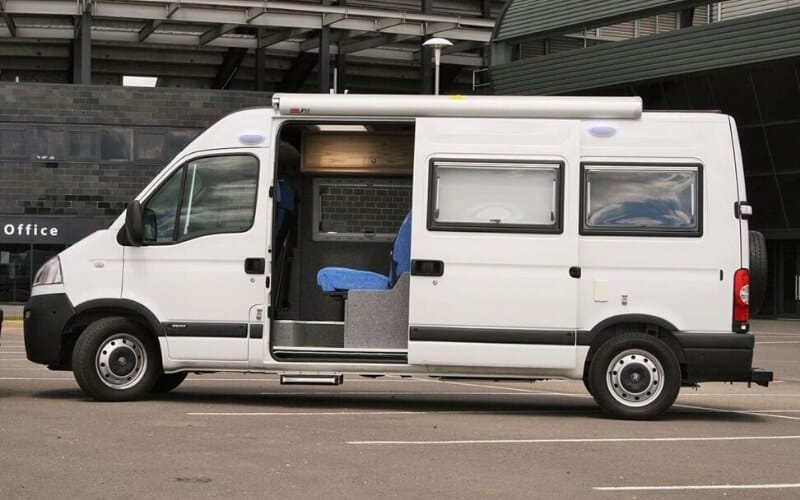 Last on this list, but certainly not least, the Vauxhall Movano is another popular European van that vanlifers consider for their home-on-wheels conversion.
It has a little bit more to offer in terms of choice, with four different lengths, three different heights, manual and automatic transmission options, and a fuel-efficient diesel engine.
You can also decide to have a Vauxhall Movano classic panel van, or, if you're traveling with a family, choose the Doublecab.
Additional perks to note are that the Vauxhall Movano has extra safety features built-in and a Navi 50 IntelliLink Pro Infotainment System with Apple CarPlay™ and Android Auto™ that has a 7-inch touchscreen display and built-in navigation.
The cargo area is quite large, even on the shorter models, so you'll have plenty of space to convert your Vauxhall Movano for your new van home.
The price for a brand new Vauxhall Movano van starts at £29,558.33, coming in at the mid-range for vans on this list.
Although it's not as readily available as the U.S. brands on this list, it's still quite popular among vanlifers and may be worth your while to purchase from the U.K.
Planning Your Layout for a Van Conversion
After you have selected the perfect van for your conversion, it's time to start planning the perfect layout and floor plan. There are some things you'll want to think about, such as:
The steps to take when planning your van's interior layout include:
I developed a helpful guide for designing a functional layout when doing a DIY van conversion a couple of months ago, so check that out if you would like more detailed guidance.
Summarizing the Best Van for Camper Conversions
We've discussed several great vans to convert into campers, and there are a few pros and cons to each one.
There's not really any one van that's the absolute best to convert, so your choice will likely rely on your specific needs for space, options, reliability, and most of all, budget.
At a glance, here is a summary of the best vans for different types of conversions: