For decades truck campers were small and limited to being able to sleep a couple or perhaps a family of three.
As modern materials and engineering have allowed pickup trucks and flatbeds to grow to monstrous proportions, truck campers have grown right along with them in lock step.
Today there are some large truck campers on the market that will boggle the mind and sleep a full family with luxurious comfort.
If you've got a heavy-weight truck and you are ready to upsize your camping experience, then you should feast your eyes on this list of the biggest truck campers.
Though to find the one that is best for your truck, we need to take a bold look at some very big details. This starts with asking and answering some larger-than-life questions.
How Much Does A Large Truck Camper Weigh?
Some of the biggest truck campers can carry a gross weight of as much as 3,000 pounds!
Of course, this means you will need a one-ton pickup truck, flatbed truck or larger with a suspension system and rated payload capacity to handle such a behemoth.
The Importance Of Your Truck's Payload Capacity
Your pickup or flatbed truck's rated payload capacity is the first and most important governing factor that will decide if you can safely accommodate a large truck camper.
When reading the specifics, you want to compare the GVWR (Gross Vehicle Weight Rating) of the truck camper in question to the rated payload capacity of the truck you hope to pair it with.
Ideally, you want the GVWR of the large truck camper to be 80% or less of the maximum payload capacity of the pickup truck.
If the truck camper weighs more than 80% you will need to either find a different model, or have a professional mechanic upgrade your truck's suspension system. This might also include reinforcing some structural components.
Five Of The Biggest Truck Campers Made In The U.S.A 2023
While searching through the marketplace for the biggest truck campers we didn't just look for awe-inspiring size.
We made it a point to keep form and function in mind. As well as manufacturers who have a strong reputation for building high-quality models.
Here is a big, bold listing of largest truck campers that you would be proud to own and enjoy in the real world.
1. Northwood – Arctic Fox Camper 1140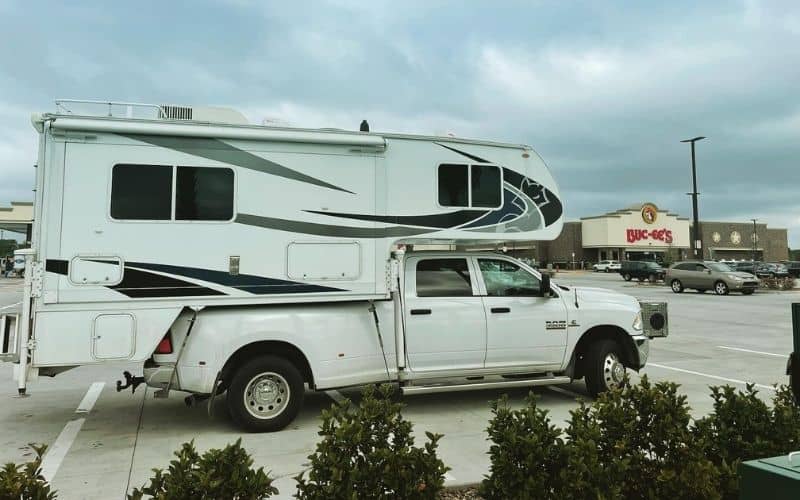 The Northwood's Arctic Fox 1140 is one of the most popular of all truck campers on the market. Year after year people with large trucks gobble up the newest model to bask in all the real-world durability it offers.
It also happens to be a big truck camper with a dry weight of just under 3,500-pounds and a total length of 19-feet.
You'll appreciate that there is a great deal of care put into material build quality with the Northwood – Arctic Fox Camper 1140.
This includes superior insulation, and a robust 20,000 BTU propane furnace that lets you camp comfortably in all three seasons.
The Northwoods Arctic Fox is also rife with creature comforts. This starts with a dry bath that separates the toilet and shower.
The kitchen has a three-burner stove, a dual basin sink and a large RV absorption refrigerator.
The dinette even converts into a bed large enough to keep a teenager happy. The cab over master bed area also comes with its own TV and tons of thoughtful storage space.
2. Host Industries Tahoe SB 9.5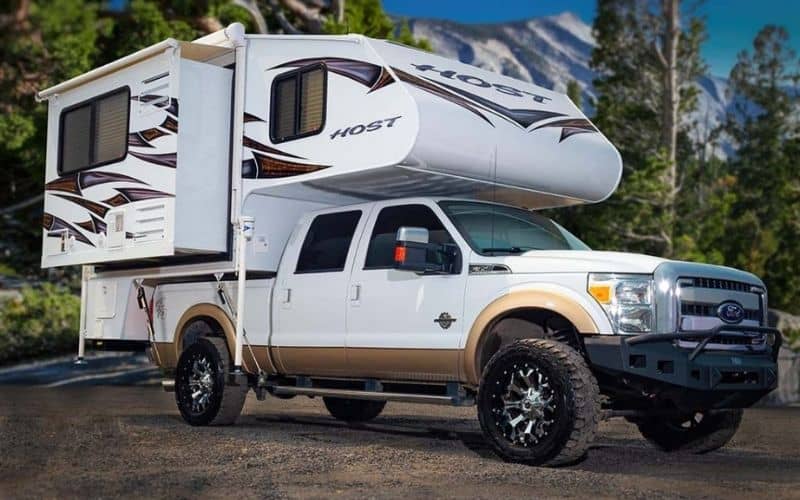 One of the interesting things about the Host Industries Tahoe 9.5 is that while it is a truly large and impressive truck camper, it will still fit on the cargo box of a short bed one-ton pickup truck.
This lets you enjoy the crew cab space of a truck that can transport a family of two adults and one or two children, while still having a big truck camper with lots of living and sleeping space.
When you set foot inside the Host Industries Tahoe 9.5 you are treated to a very open concept living area for what is still a truck camper installed on a short box truck!
The dry bath is nothing short of spacious with a lot of elbow room separating the toilet, shower and sink.
There is even a fair amount of floor space in the main living area to let a family do things like set up game night, or let you work on a project when the weather outside is wet or cold.
The sleeping space in a large queen size master suite in the cabover section of the truck camper.
There's plenty of storage for each person, with arguably a little more storage on the lady's side of the bed.
Down below the dinette transforms into a bed space for a teenager or perhaps two small children.
3. Eagle Cap Luxury Truck Camper Model 1200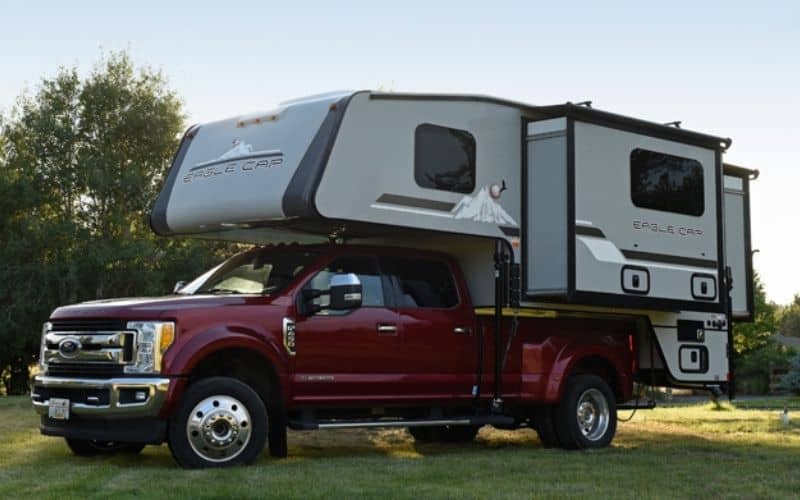 On paper the Eagle Cap Luxury Truck Camper Model 1200 is a behemoth of a truck camper weighing in at 4,933 pounds and a total length of just over 21-feet. On the inside it is a luxury suite meant to keep a small family or a traveling couple feeling like they truly are home away from home.
It is meant to fit a one-ton pickup truck with a long box, and there isn't any wiggle room.
The interior layout of the Eagle Cap Luxury Truck Camper Model 1200 will challenge your notions of what a truck camper can be.
This starts with dual access to the front king size master suite and includes a centrally located dry bathroom. The living space is downright palatial, offering you a couch as well as a free-standing table and chairs.
The kitchen includes a three-burner stove with oven. There's also a large RV absorption refrigerator and a dual basin sink.
Not to mention tons of storage space. A lot of this openness of the living area floor plan is thanks to a side entrance door, which allows things to flow without being bifurcated the way a rear entrance truck camper does.
4. 2023 Host Industries Mammoth 11.6 Triple-Slide Truck Camper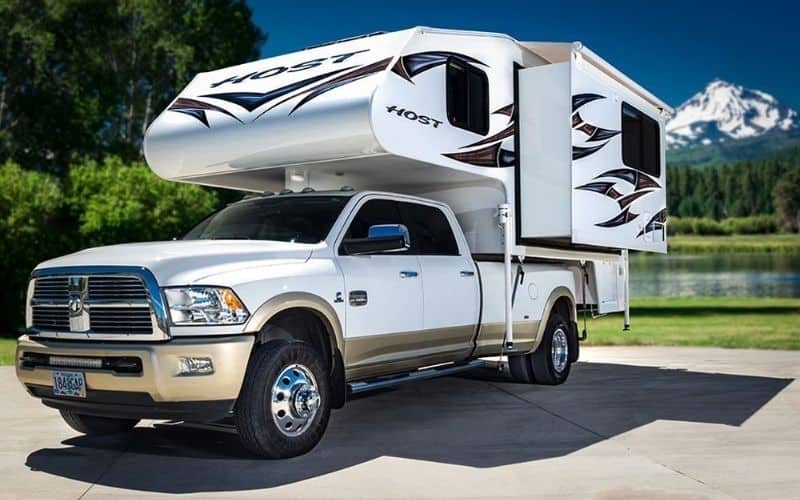 True to its name the Host Industries Mammoth is a giant of a truck camper. Though it isn't just its enormity that makes it stand out. Its power slide-out sections offer you an impressive 180 square foot interior with a flow-thru concept.
Just bear in mind that when it is fully loaded the dry weight plus the combined weight of the cargo and water storage tanks can push the gross weight all the way up to almost 5,000-pounds. So, make sure you have a robust one-ton pickup truck that can handle it.
The flow through concept in the interior offers up a lot of living space. This includes enough sleeping area for up to four people on paper.
Though three is more realistic in the real-world. Great for a traveling couple with a teenager in tow. It includes a spacious dry bathroom area with a large shower, an 8 cubic foot fridge with two doors.
5. 2023 Lance 1172 Truck Camper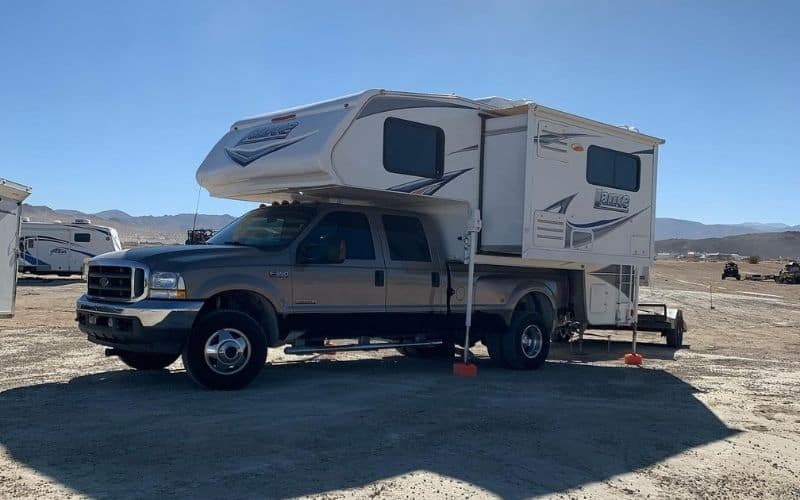 Lance is one of the most popular truck camper manufacturers with models to meet most needs and interests.
So, it only makes sense that they would offer up a giant like the Lance 1172 Truck Camper for families who prioritize elbow room.
This is enhanced by the two spacious power slide-out sections that house a dinette as well as a loveseat.
Though all this space does translate into a dry weight of 4,174-pounds, before the water storage tanks are filled.
The Lance 1172 Truck Camper has a tidy dry bath that shares a wall with the kitchen.
This makes the plumbing convenient, while also opening up the floor plan. You'll also be impressed with the personal storage space in the large cab over master bed.
It lets you keep your clothes and other essential items out of the common area, with room to hang clothes as well. This is rare in even some of the biggest truck campers.
Do Slide-Outs Add Weight To A Truck Camper?
Slide-out sections are always a tradeoff with any RV. They offer up more interior living space by taking things like dinettes and loveseats out to create more floor space.
Though in a truck camper each slide-out section with all its power-retractable components can add 200 to as much as 400 pounds to total dry weight.
This can add strain to the suspension system of the pickup truck that's ultimately supporting it. If the slide out is necessary for your needs, then check this article for the best truck campers with slideout.
What Is The Payload Capacity Of A Three-Quarter Ton Pickup Truck?
The payload capacity of a three-quarter ton pickup truck can vary from 3,000 to 4,000 pounds depending on the make, model, and trim level of the truck.
On paper, this means they have robust suspension systems. Though in the real world, the biggest truck campers need a one-ton pickup truck or larger to safely carry them.
What Are The Benefits Of A Big Truck Camper?
The bigger the truck camper the more people you can sleep in it at one time.
Though this is just the tip of the iceberg when it comes to the benefits of going with a big truck camper, over a smaller model.
If you are on the fence about your upgrade, you might enjoy some of the following features.
Bathroom Facilities
Big truck campers have more room and structural capacity to accommodate a larger bathroom, as well as the fresh and wastewater storage tanks to support it.
While smaller truck campers typically have no bathroom, or a messy wet bath that combines the shower and toilet, a large truck camper can have room for so-called "Dry Bath."
This is a lavatory area where the toilet and the shower are separate, and there is often a small sink for handwashing.
An Upgraded Kitchen
With a big truck camper you have more room for an expansive kitchen. Not only does this translate into more cupboard and pantry space, but it also makes room for bigger kitchen appliances.
In some big truck campers this can mean adding an oven to the range top, as well as a larger refrigerator and even a big microwave.
In some it even gives you a large enough countertop to accommodate a dual basin sink.
More Privacy In The Master Bedroom
A lot of the biggest truck campers prioritize privacy in the master bedroom area.
This includes more distance between the bed area itself and the rest of the interior as well as room for things like privacy screens and other sound buffers.
Larger Beds For Children & Guests
The biggest truck campers tend to also have upgraded seating and convertible beds.
This gives children and guests more room to spread out at night than the padded cot and fold out cushions you find in smaller truck campers.
It can be a real benefit when you have teenagers who need to feel like they have their own space.
Greater Storage Capacity
Not only do you have more room for functional items like cookware in the kitchen, camping gear, and sundry items, but you also gain more storage space for personal items in a big truck camper.
Not to mention larger truck campers tend to also have larger fresh and wastewater storage tanks.
Better Resale Value
Bigger truck campers tend to be made from more robust materials and reinforced engineering principles.
This makes them more durable, which slows the rate of depreciation compared to smaller truck campers.
At the same time, a lot of the biggest truck campers also have luxury features and creature comforts that further help with resale price retention.
So, when it's time to downgrade or sell your big truck camper to a private buyer.
Campsite Access
You can get truck campers into tighter campsites than you can a travel trailer of the same price.
Also, a lot of RV parks have restrictions on which sites a travel trailer or fifth-wheel can be parked up at, but they rarely ever have limits on what campsites you can stay at with a big truck camper.
What Are The Drawbacks Of A Large Truck Camper?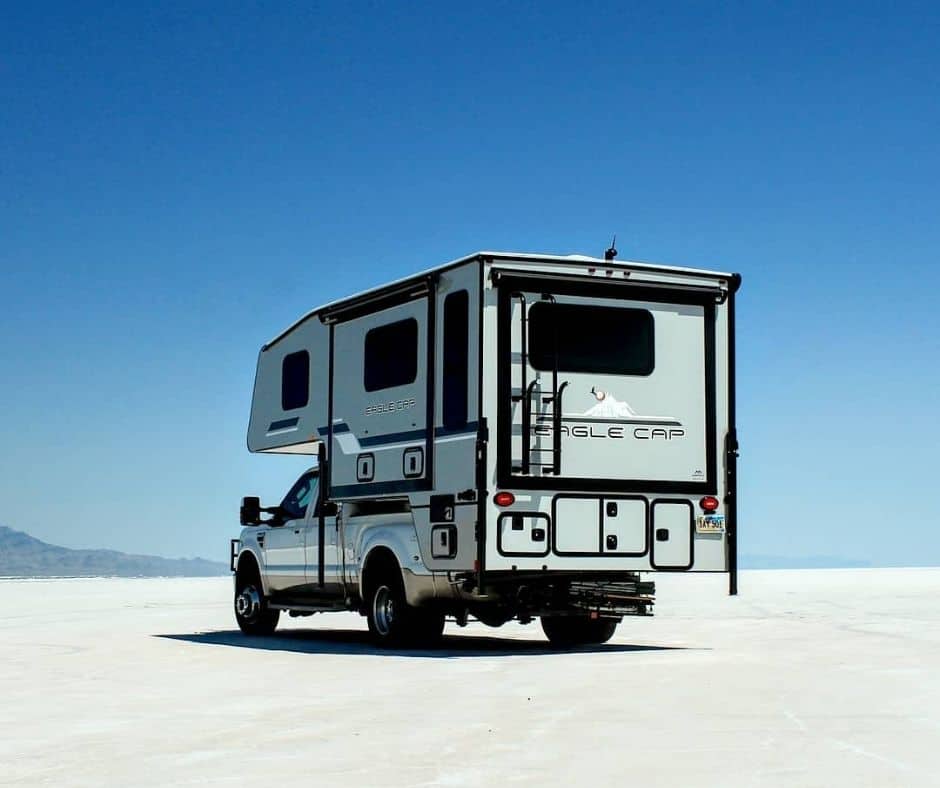 There are a few potential drawbacks to consider before pulling the trigger on a big truck camper.
You'll want to weigh these factors carefully based on your preferred travel style and how you think you will most often use your truck camper.
Big Weight For A Big Truck
With a large truck camper you need at least a three-quarter ton and likely a full one-ton or larger pickup truck to support it.
These larger trucks tend to come with premium price tags attached to them and higher long-term cost of ownership.
With some of the biggest truck campers you might still need to upgrade the suspension system and the structural frame of the cargo box to safely accommodate it.
Fuel Consumption
The heavier a truck camper is, the more fuel it will take to move it. Especially at highway speeds.
At the same time, the biggest truck campers tend to have poor aerodynamics which can further draw down your MPG.
Cost
While they tend to have a better resale value, the upfront cost of a big truck camper can be substantial.
Many are on par with a high-quality travel trailer. Depending on how you use it and luxury features you prioritize a big truck camper can have a higher cost of ownership.
Handling Concerns
The high center of gravity and the board sidewall of a big truck camper can cause handling issues with the pickup truck that carries it.
Especially in tight turns or times when the local weather service issues a high wind warning for tall vehicles.
Off-Road Incompatibility
The larger and taller the truck camper the worse it will handle off road.
This can limit some of the biggest truck campers to life in spartan RV parks and campgrounds, rather than risking a dangerous tip-over event off road camping.
You should still be able to safely maneuver something like a Federal Primitive campground with well-maintained roads.
Though boondocking trips far off the beaten path are typically not a great fit for big truck campers.
Conclusion
If you are the sort of person who fully believes that "Bigger is Better" and you have a one-ton pickup truck to prove it, then chances are good you will fall in love with at least one of the big truck campers on this list.
Though the one that is best for you and your family will depend on your travel style and the size of your family.
If you are a traveling couple who loves to stay at Federally maintained primitive campgrounds without water hookups, then the Host Industries Mammoth 11.6 or the Eagle Cap Luxury Truck Camper Model 1200 might be the best big truck camper for you.
Both have large fresh and wastewater storage tanks, as well as tons of interior living space.
If you need four seasons of comfort, and room to stretch out, then the popular Northwood – Arctic Fox Camper 1140 might be the best big truck camper to meet your needs. It features robust material build quality, superior insulation, a great heater, and tons of interior living space.