There's no doubt about it, the RV lifestyle is more popular than ever before. This has tons of families answering the call of the open road with travel trailers, motorhomes, and campers of every size and type.
Though, you still need to be mindful of your budget. So, if you're watching your bottom dollar, chances are you've joined the debate wondering whether it's better to buy an RV from an RV dealer or a private seller?
Most people will tell you that an RV dealership is your safest bet for buying a new or relatively new pre-owned RV. Though there are certainly some deals to be found from private sellers who are looking to upgrade or downsize from their slightly older RV.
To answer the debate of which is better to buy from an RV dealer or a private seller, we're going to have to take a closer look at the pros and potential cons of both.
Buying an RV from an RV Dealership
An RV dealership is one of the best ways to find a new RV with a warranty and a trained service department that can take care of your rig with confidence if you ever have a problem in the future.
Of course, the salespeople run on commission, and you can be sure that extra markup costs are tacked onto everything. Especially if you want to customize the model you find with optional extras.
Buying a Used RV from a Dealership
RV dealerships might love to sell their newer models, but you might be surprised to hear that a lot of larger dealerships have a significant number of used models as well.
These are often trade-ins from previous buyers who were upgrading or downsizing to a different model. The dealership buys their old one and then discounts the price of a newer RV that they drive off the lot.
The RV dealership wants to make at least some of this money back by selling the used trade-in to people like you. They go through it with a basic inspection to make sure everything is road legal and in good repair.
Then the price is marked based on the age, condition, and any existing depreciation factors. This might give you a little more confidence that the used RV you are buying doesn't have any major mechanical gremlins waiting to blow up your investment a few miles down the road.
Dealerships Sell Used RVs on Consignment
Some RV dealerships also sell used RVs on consignment. This is where a private seller who doesn't have the time, patience, or acumen to sell their used RV themselves confidently lists it for sale through the dealership. Sales professionals clean it up and make sure it is safe for sale, then they try to move the unit to you with a marked-up commission.
Sometimes a used RV sold on consignment is a great deal, sometimes, it's overpriced to the point of embarrassment. You'll need to do independent research to find out if a used RV sold on consignment is a good deal.
Benefits of Buying a Used RV from a Dealership
There are several pros to consider when buying a new, used, or consignment RV from a dealership. Even if you ultimately decide to buy an RV from a private party, a dealership is a great place to start the research process. Other pros of going to an RV dealership include:
The Cons of Buying an RV from a Dealership
While there are some good benefits to shopping or buying an RV from a dealership, they aren't ideal for everyone. There are a few drawbacks to buying an RV from a dealership such as:
Buying an RV from a Private Party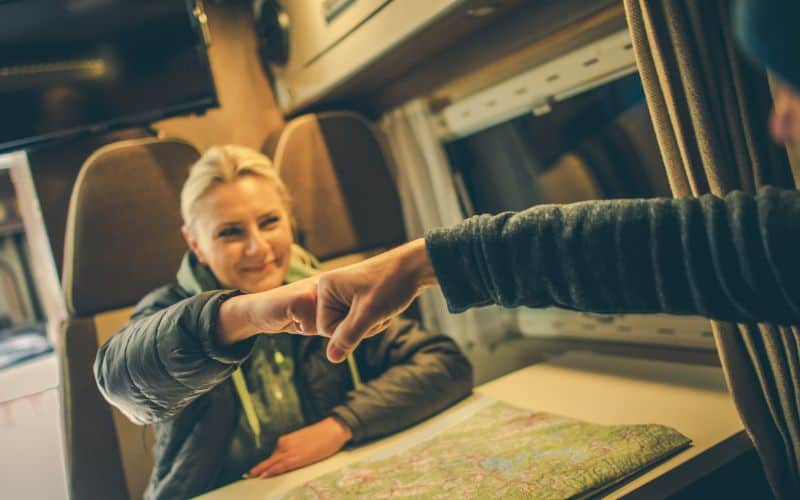 Buying a used RV from a private party comes with its own benefits and potential drawbacks.
Here you are dealing with another person who might have sentimentality and stubbornness attached to their asking price.
There's also a good chance they aren't the savviest negotiators. Private parties tend to say things like "I know what I've got, no low-ball offers" or "Price is firm."
If you attempt to negotiate with them on the asking price, they might shut off negotiations altogether, and you have to start the process of finding the RV you want from yet another third-party seller.
Though, there's also the chance that you're finding someone who wants to sell their RV after the kids have grown and they have little use for it anymore. Sometimes these sellers are happy to pass on a good deal or negotiate with you.
Especially if you strum their heartstrings with tales about how your children will use the RV and love it for making their own cherished family memories.
Yet hidden within this segment of good asking prices are lemon RVs. They might have had a problem that isn't all that obvious, or the RV hasn't been properly maintained.
Many a used RV being sold by a private party has some type of expensive repair hidden in it, that they can't afford.
They might disclose two or three modest flaws that you would expect in a used RV to give you the perception that they are being honest. Then once you buy the used RV "As Is," you drive it down the road, only to discover a money pit nightmare mechanical problem.
Pros of Buying A Used RV from a Private Party
There are several pros to consider when it comes to shopping, negotiating, and eventually buying a used RV from a private party. This includes things like:
The Cons of Buying a Used RV from a Private Party
There are a few potential drawbacks when it comes to shopping, negotiating, and possibly buying a used RV from a private party. Some downsides to buying RV privately, however, include:
Other Possible Ways to Buy an RV
While RV dealers and private sellers are the two most common ways to get an RV, they are not your only options. A few alternatives for buying an RV might come in handy.
1. Buying an RV at an Auction
Nowadays, you can find almost anything at an auction, including used and even sometimes new RVs. These are usually seized RVs, or RVs where the previous owner failed to keep up with the payments and the lender.
When buying an RV at an auction, you have the same potential drawbacks of buying from a private party in that you don't really know how well it's been maintained. Some models might come from crime seizures and have a shady past. They also might not have a perfectly clean interior.
The potential upside of buying an RV at an auction is that you have the chance for a good deal. Some might have little to no interest in the model you want. Sometimes all you have to do is meet the reserve minimum, and you can have yourself a new-to-you RV.
The Reality of Buying an RV at Auction
While there is a chance that you will be able to find a turn-key ready family RV at an auction, the majority of the RVs sold at auctions are some type of fixer-upper. You should go into it expecting to find a project RV at a good price.
If a turnkey family RV does come up for bidding, you should expect the bidding war to be fierce. Chances are someone like you is also gung-ho for a particular RV that their family will fall in love with from day one.
If you have some DIY skills, and you find a model that you think you can handle, while the bidding is light, you might just find yourself a great deal. Though everything sold at auction is going to be as-is with no returns or refunds.
2. Buying Through An Online Consignment Broker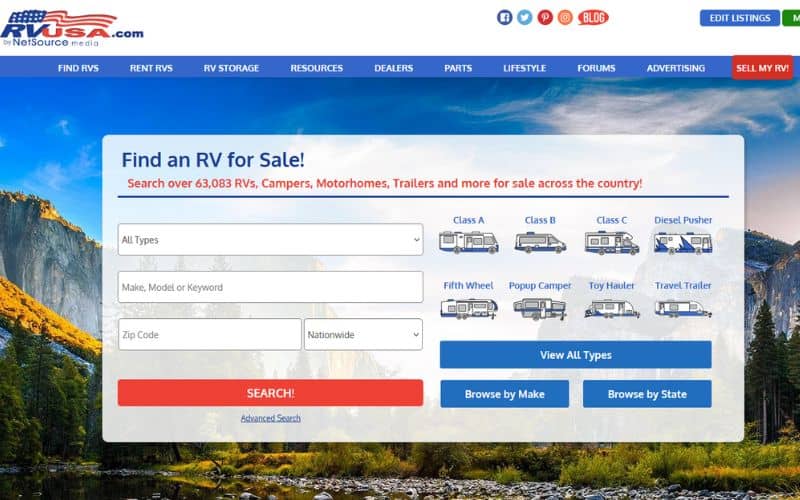 Some online consignment brokers like National Vehicle and others allow you to sell your RV FSBO (For Sale By Owner). They help private sellers sell and market their vehicles on a national level.
They have all kinds of online tools that make browsing easy for the type of RV you want. You can then filter through different options, distances, and types. You'll be presented with a bevy of online ads that match the search criteria you put in.
These organizations offer a variety of services to private sellers for a very small fee. Since the fee is small, the markup passed on to you is also minimal and usually lower than a dealership markup. This can make them an attractive alternative to purchasing from a dealership or working directly with a private seller.
National Vehicle and similar websites also help you, the buyer, to do things like appraising the value of the seller's RV. They also have communication tools and can even help you get the financing you need to buy a model from them.
Dealership vs Private Seller: Which route to choose?
The two most popular options for buying an RV remain going to a dealership or working directly with a private seller.
When you go to a dealership, you get the confidence that comes with dealing with professionals.
They are required by law to make sure that the RV is 100% roadworthy. Many dealerships also have warranties and extended warranties; you can purchase service agreements at a reasonable rate.
The tradeoff is that you will face higher prices to compensate for markup and commission. Salespeople can be pushy and might not have the exact make, model, or floor plan you want.
When you go to a private seller, you have the chance to find a sweet deal. Though some private sellers can be sticklers on price.
Especially if they are sentimental about the RV they are selling, you also face the risk of there being something wrong with the RV that they don't want to disclose. Ultimately, the wisest move is to start shopping for your new RV at a dealership.
If anything, it allows you to touch, feel, and ask questions about models you are interested in.
Then you do yourself justice by checking through sites like National Vehicle, RV USA, and RV Trader to see if you can find a better deal from a private seller. Just negotiate and buy with skepticism.