The weight of your travel trailer is an important consideration, since it determines which SUVs and trucks can safely haul the camper, how the trailer maneuvers on the road, gas mileage, and more.
There are lots of different types of travel trailers, ranging in style and size.
On average, how much does a camper weigh before you've packed it with your gear and belongings?
Depending on size, campers may vary greatly with regard to weight. Your camper could weigh as little as 500 pounds or more than 20,000 pounds. On the smaller end, teardrop trailers have a dry weight of about 1,500 pounds, and on the larger end, fifth wheel trailers have an average dry weight of around 15,000 pounds.
In this post, I've researched a lot of campers to help you get an idea for the different types of camper weights, understand why weight matters, how to manage weight in your camper, and more.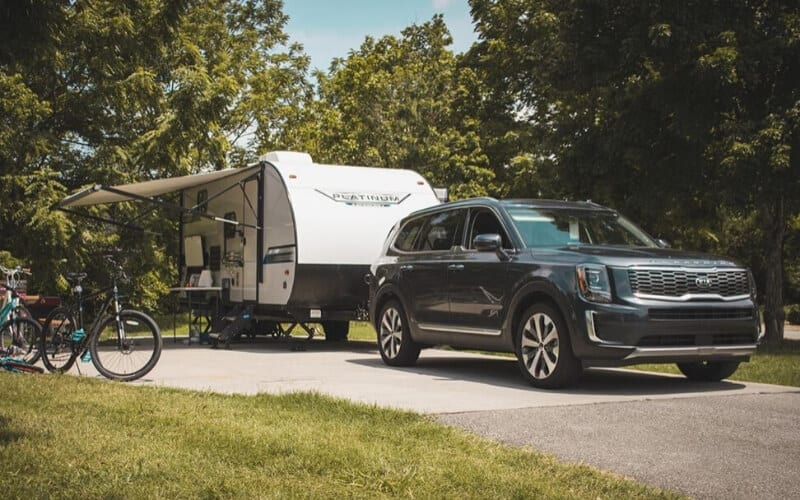 Different Kinds of Camper Weight Specifications
Travel trailers don't just have a single weight. Keep in mind, your gear, supplies, water and fuel all add to the weight of the vehicle.
When looking at the weight specifications for your camper, there are three different areas to look at:
How Much Does A Travel Trailer Weigh?
The average weight of your travel trailer will vary depending on the type of trailer you have and how long it is.
Larger and longer campers tend to be heavier, while teardrop and pop-up campers are on the lighter end of the scale.
Most campers have an average dry (unloaded) weight of 2,550 to 6,600 pounds, and an average GVWR of 3,200 to 8,400 pounds.
Here are a few examples of popular types of campers and how much they weigh:
| | | | |
| --- | --- | --- | --- |
| | | | |
| | | | |
| | | | |
| | | | |
| Small Travel Trailer (<22 ft.) | | | |
| Large Travel Trailer (22+ ft.) | | | |
| | | | |
| | | | |
Why Does Weight Matter in a Camper?
The lighter your trailer, the better. The overall weight of your travel trailer matters for a few different reasons, including:
Towing
Your towing vehicle only has a certain capacity for towing a camper safely. You can't just hook up any SUV to the trailer tow hitch and expect to hit the road.
Before you buy a camper, you should find out the towing capacity of your vehicle to make sure you can safely pull the trailer.
A heavier camper is also harder to tow the closer it gets to your towing vehicle's towing capacity. You don't want your camper to sway too much as it moves down the road or worse, to tip over as you go around a curve or make a turn.
Cargo Weight
If you're hitting the road with your dune buggy and other heavy adventure cargo, your trailer's cargo weight limits must be considered.
You might want to consider a toy hauler, since these trailers have a higher CCC to accommodate sports vehicles.
Just remember that your towing vehicle needs to be stronger in order to handle the extra weight of the camper itself as well as your adventure vehicles.
Fuel Efficiency
The heavier your camper and cargo, the lower your fuel efficiency and gas mileage will be.
A heavier travel trailer that's loaded with gear will make for a more expensive road trip than a small, lightweight camper, so you'll need to take this into account as you budget for your trip.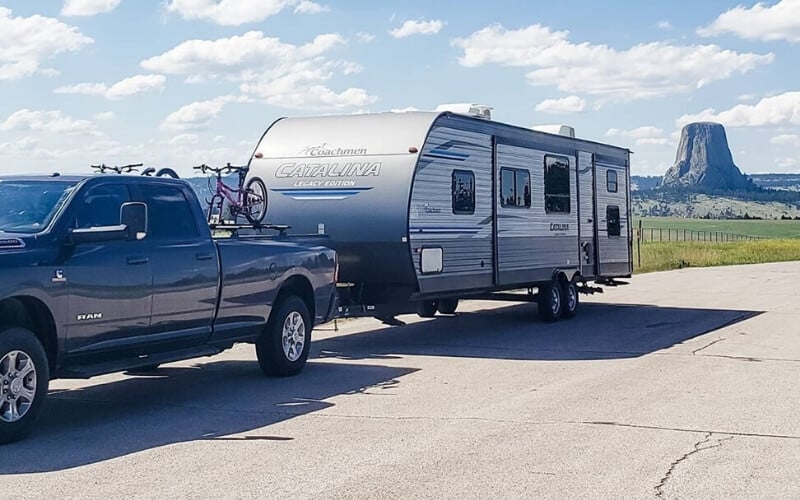 Top Things That Add Weight to Your Camper
As you can see, there's a lot that goes into the weight of your travel trailer, beyond just the camper, itself.
Unless you're traveling in a toy hauler and bringing along your adventure vehicle(s), your belongings and supplies probably won't weigh more than a few hundred pounds, but there are some things that do add significant weight to your camper.
It's important to keep these things in mind, so that you can keep your traveling weight below the specified GVWR and travel more safely.
Some of the heavier items that add weight to your travel trailer include:
Construction Materials
RV and camper manufacturers tend to build with lighter weight materials, especially in newer vehicles.
However, there are some modern trailers (such as Airstream travel trailers) that weigh more because they are built with heavier construction materials as part of their design and brand.
While Airstream trailers have an aluminum exterior, most travel trailers are built with fiberglass to make them more lightweight.
Interior fixtures and furniture also contribute to the vehicle's weight, and more luxurious, residential-style construction may weigh more.
Construction materials and the interior furniture and fixtures are all included in your camper's dry weight, but it's a good thing to keep in mind before you buy a camper.
If you have a smaller SUV or towing vehicle with less capacity for hauling, you'll need a lighter trailer, and therefore, one built with more lightweight materials.
Slide-Outs
Another heavy feature that's included in dry weight but still needs to be considered is slide-outs, if your camper has them.
Although slide-outs have the benefit of creating more interior space when you're parked, the heavy duty construction they require for stability will increase the overall weight of your trailer.
A single slide-out can add around 1,000 pounds to your camper's dry weight.
Alternatively, if you need more interior space but still need a more lightweight trailer, you might consider models with a pop-up top.
Pop-ups can create a second level sleeping area or increase the headroom in your camper when you are parked, and don't weigh nearly as much as a slide-out.
Generators & A/C Units
Many modern campers come equipped with generators and air conditioning units, but not all of them do.
If your trailer came with a generator and A/C unit(s), the weight of these systems and their fluids is included in the camper's dry weight.
However, if you or a previous owner added the system, it's not included and will need to be deducted from your available cargo carrying capacity.
In general, a portable generator weighs around 300 to 400 pounds, and each A/C unit weighs around 100 pounds. The higher the wattage, the more the system will weigh.
Water & Fuel
A heavy item that doesn't count in your camper's dry or unloaded weight specification is water.
Fuel and water are pretty heavy, and water is especially so, weighing nearly 8 pounds per gallon.
If your camper has a tank that accommodates 100 gallons of fresh water, you may be tempted to fill it up to the brim before a camping trip, but this could increase your cargo weight around 800 pounds!
If you'll be camped at a campground with hookups, consider only filling up a few gallons before hitting the road to cut back on your vehicle's water weight during travel.
Fuel for cooking (and/or heating) can also be heavy, but it's a lot lighter than water and since campgrounds don't have propane hookups, it's more necessary to bring the full amount needed for your trip.
How to Efficiently Manage Weight in Your Camper
There are a few things you can do to keep your camper as lightweight as possible both while on the move and when parked in your campsite:
Make sure the weight is distributed evenly
Most camper manufacturers lay out the interior of each camper so as to evenly place heavier items and keep the dry weight distributed throughout.
As you pack your trailer, you'll want to keep weight distribution in mind to avoid having your camper swerve or lean as you move down the road.
Get a good weight distribution system, and weigh the camper hooked up to your towing vehicle and disconnected from the towing rig in order to test the weight distribution.
Don't travel with too many people
Consult your camper's manufacturer's manual for the maximum passenger count for your trailer.
Allowing more people in your camper won't affect the weight distribution when you are traveling, since all passengers must ride in the towing vehicle, but even when parked, overcrowding your trailer can impact the weight distribution system negatively.
Even one person extra person weighing 150 pounds can make a difference, so stick to the maximum limit your camper's manufacturer recommends.
Don't over-pack, and get rid of the extras
There are some things that are a good idea to bring along, even if you don't end up needing them such as safety equipment, a spare tire, and the tools to change it.
However, there are probably lots of other things that you just don't need, such as extra personal belongings, kitchen items, full-sized toiletries, and spare tools.
Pack only what is absolutely necessary for your trip and the activities you'll be doing, plus safety equipment just in case you break down or get stuck.
Don't forget to check the exterior of your camper, and remove things you hardly ever use or don't need for your trip.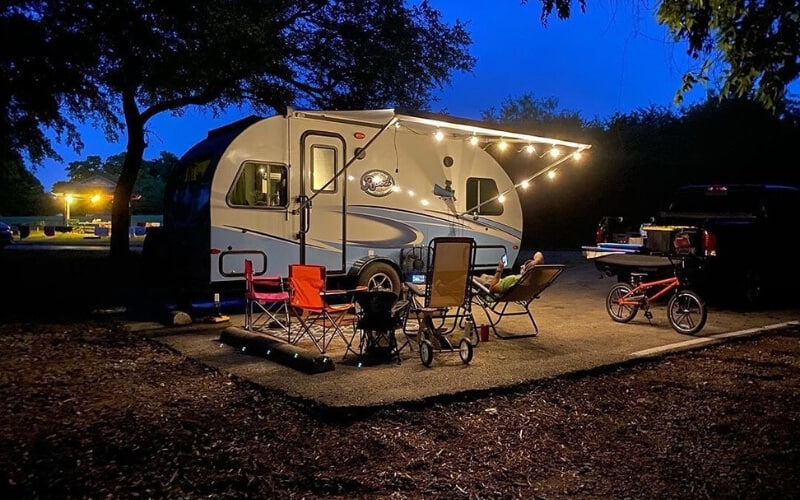 Keep your tires properly inflated
If your tires don't have the correct tire pressure, a heavy trailer could cause you to have a flat or cause damage to the wheels and axels.
Before you leave on your trip, check the pressure on each tire to make sure it's inflated properly.
Switch out any pocket or sliding doors for curtains
Many campers have sliding doors or pocket doors for the bedroom(s) or bunkroom, and these add weight.
You probably want some kind of covering for privacy, but you can switch them out for a more lightweight alternative such as a curtain.
You don't even have to sew your own – although you certainly can – just buy a single panel drape or curtain for less than $20 at your local big box store such as Walmart or Target.
Replace old or damaged items with more lightweight pieces
If your furniture, storage compartments, counters or other fixed pieces are old or break, you can replace them with a lighter alternative or material.
IKEA has some excellent lightweight storage and furniture options that work great in a camper setup, and don't cost a lot.
Use aluminum whenever you make repairs
If you need to patch any holes or fill any cracks in your camper, always use aluminum or other lightweight materials to keep your trailer's weight down.
A Summary About Camper Weight
As I've discussed, your camper's weight can vary a lot depending on the type and size of trailer you have.
Now that you know the average based on trailer style and length, you can find the right camper that has an appropriate weight for your towing vehicle and camping style.
Weight is definitely an important consideration when you're camping and when you're traveling with a camper, but there are some things you can do to keep it lighter and make traveling easier.
I hope the tips I noted will help you enjoy your trip, without having to worry about weight too much.