Many campers turn to RVs for the ability to bring the comforts of home with you while you adventure in the great outdoors.
For a lot of people, this includes an RV that they can stand up and stretch out inside.
Since we are talking about a metal-on-metal connection, a little grease can be a good idea. Though the best type of lubrication, how to apply it, and how often to apply it can be a little bit of a gray area. At the same time, some people are hotly against the idea of greasing the hitch ball as it can lead to other possible complications.
At the same time, the elements can be brutal, and while your RV is meant to be weather-resistant while you are out camping, it will nonetheless suffer greater wear and tear as well as depreciation if it's left in the great outdoors full-time.
This is especially true for the wintertime in northern states. That's probably why so many passionate RV owners choose to store their RVs indoors when not in use.
Though for a taller RV, this might mean keeping it in a somewhat expensive RV storage garage, which can really drive up the cost of ownership.
Though wouldn't it be nice, if you could store your RV in an extra stall in your standard residential garage?
With interior height a strong consideration, and the ability to store then RV in a standard garage bay in high demand, we decided to move these two circles close together to create our own sort of VEN diagram.
This resulted in a list of campers that you can stand up in, and will also conveniently fit in your garage. 
List Of RVs You Can Stand Up In & Will Fit In A Typical Garage
| | | |
| --- | --- | --- |
| | | |
| | | |
| | | |
| | | |
| Taxa Outdoors Cricket Overland | | |
| | | |
| | | |
| The Winnebago Minnie 2201MB Travel Trailer | | |
| | | |
| | | |
8 Stand Up Camper That Fits In Your Garage
While looking for the best RVs you can stand up in and store in your garage, we tried to cast a broad net.
This included popup campers, A-frames, and other expandable models.
The end result was this impressive list of campers that are just small enough to fit in a typical garage bay, while still offering a large enough interior for an average person to stand up in.
1. The 2021 Aliner – Expedition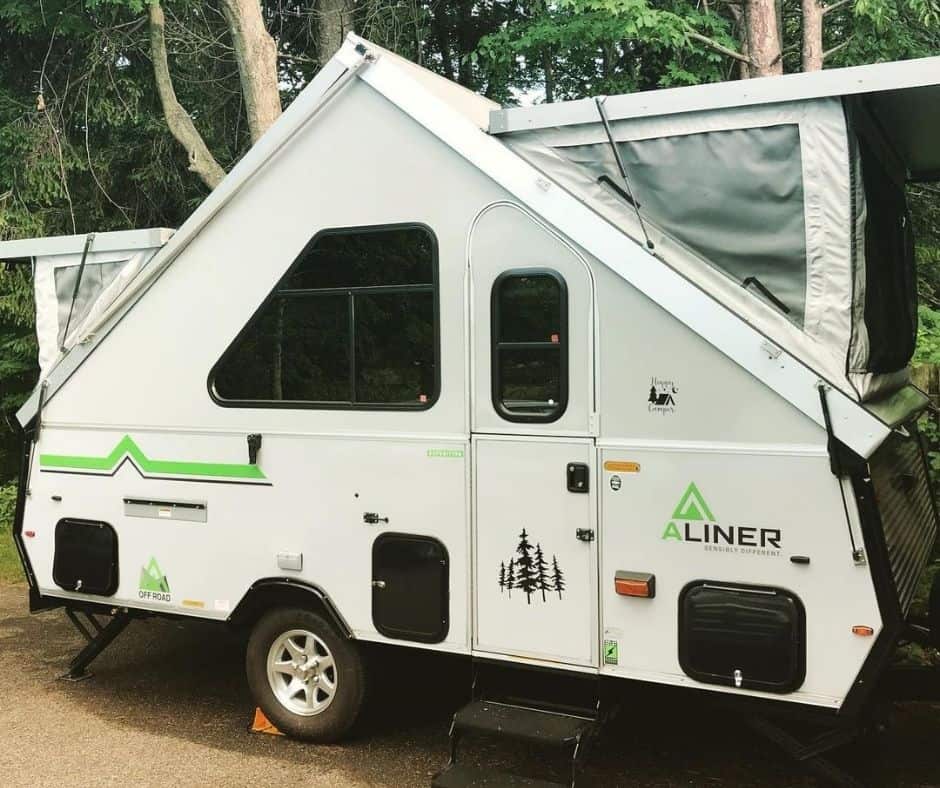 As an A-Frame camper with two dormers, the central peak of the Aliner Expedition offers just over 5'7" of headroom to let a person stand up and stretch. There's also a nice amount of headroom created by the dormers when seated.
All in an RV with a total length of exactly 18-feet from the bumper to the tongue, which means you can park it in your garage bay without having to turn it slightly at an angle to make sure the tongue doesn't lick the hardware on the backside of your garage door.
2. Happier Camper HC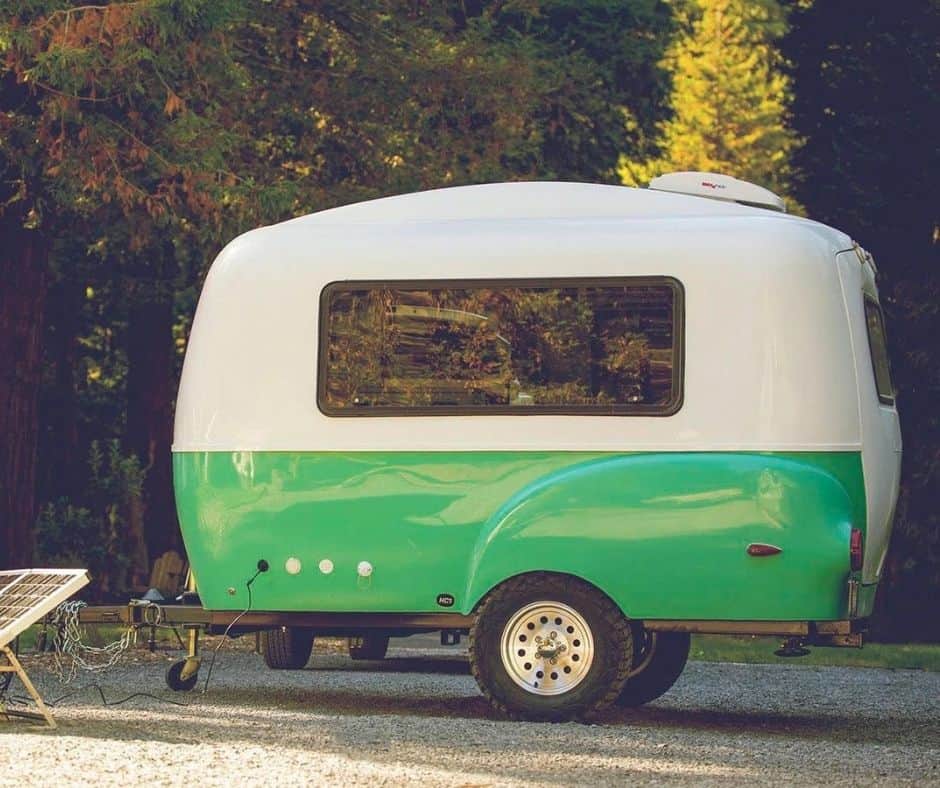 This is one of the rare travel trailers that you can stand up in and still be able to fit in a standard residential garage bay.
It has a modular interior that in the typical configuration gives you a floor to ceiling height of just 5'5", though you can squeeze out more if you work directly with the manufacturer.
When you include the tongue of the trailer it measures 18-feet long and has a garage-door-snug 8-feet of height with the standard suspension and ground clearance.
3. The Scamp 13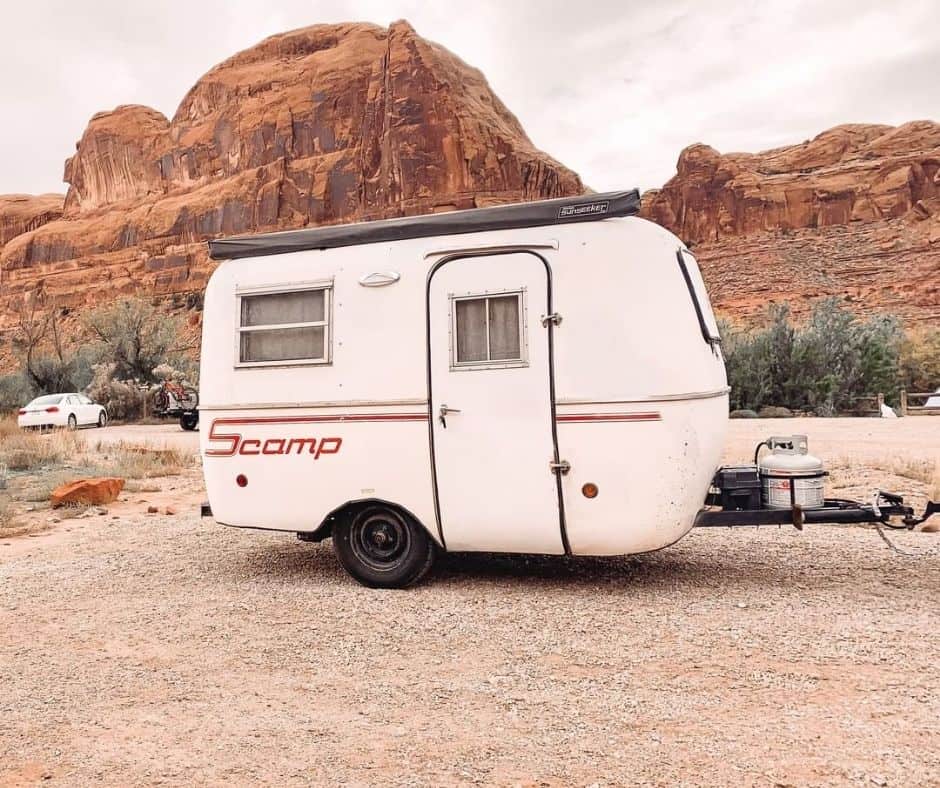 The Scamp 13 is a fiberglass shell travel trailer that has an intensely loyal following in the upper Midwest.
Part of its enduring popularity might be linked to the fact that it has a length of just 13-feet and an interior height that measures at a maximum of 6'3" with a total exterior height of 7'6", which should just fit through a standard garage door.
4. The Taxa Outdoors Cricket Overland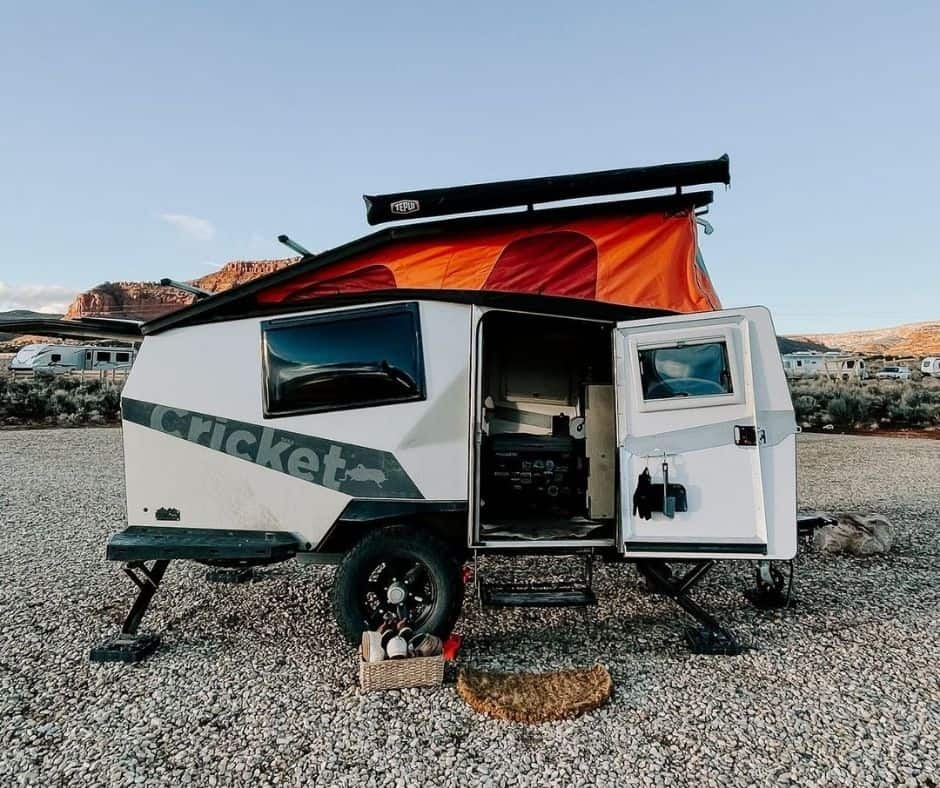 An increasingly popular type of expandable "Pop Up" camper the Taxa Outdoors has a ceiling section that rises up with canvas sidewalls. In this portion of what Taxa calls a "Habitat" a tall person can enjoy up to 6'10" of room to stretch out. Though the rest of the camper's body is only 4'2" high. Taxa specifically designed the Cricket Overland with a short tongue.
While this can make it a little bit tricky to back it up without jackknifing, it does give it a total length of just 15-feet, and a closed exterior height of 7'2" which will fit into most residential garage bays.
5. The Safari Condo Alto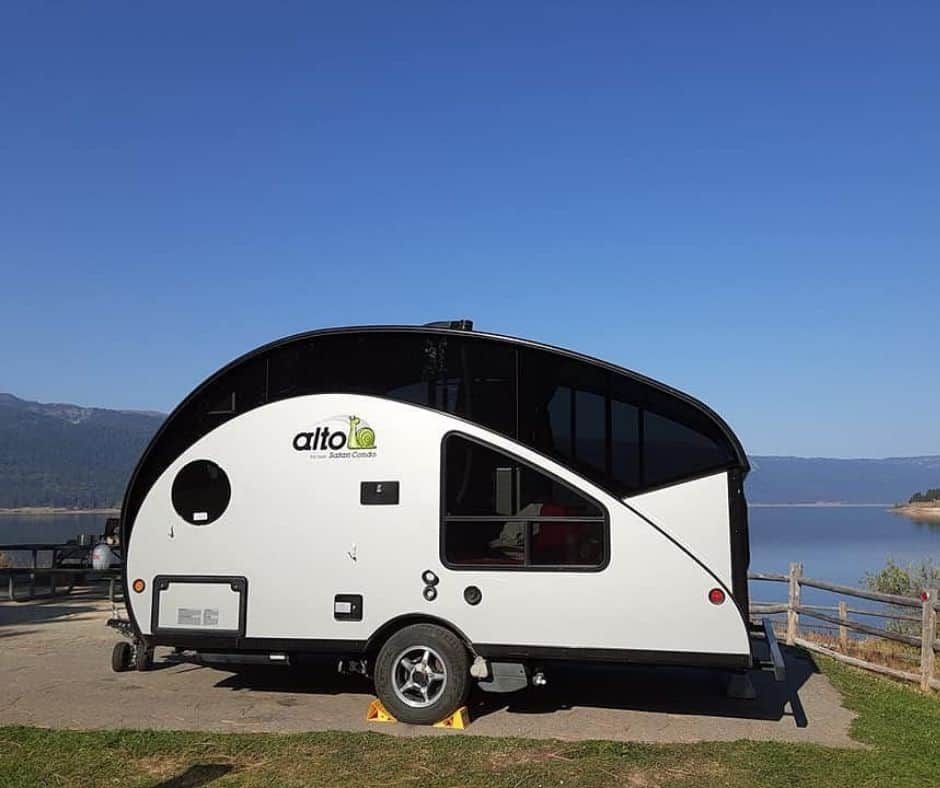 The Safari Condo Alto takes the concept of height adjustability and use of space to a whole new level. This is thanks to an expandable hard roof as well as an adjustable suspension system.
At its most compact the entire rig is just 17-feet long and 83.5-inches tall. When you expand the curved roof and set it up at camp, it offers over 6-feet of ceiling height in the main part of the living area.
6. NuCamp TAB 320 U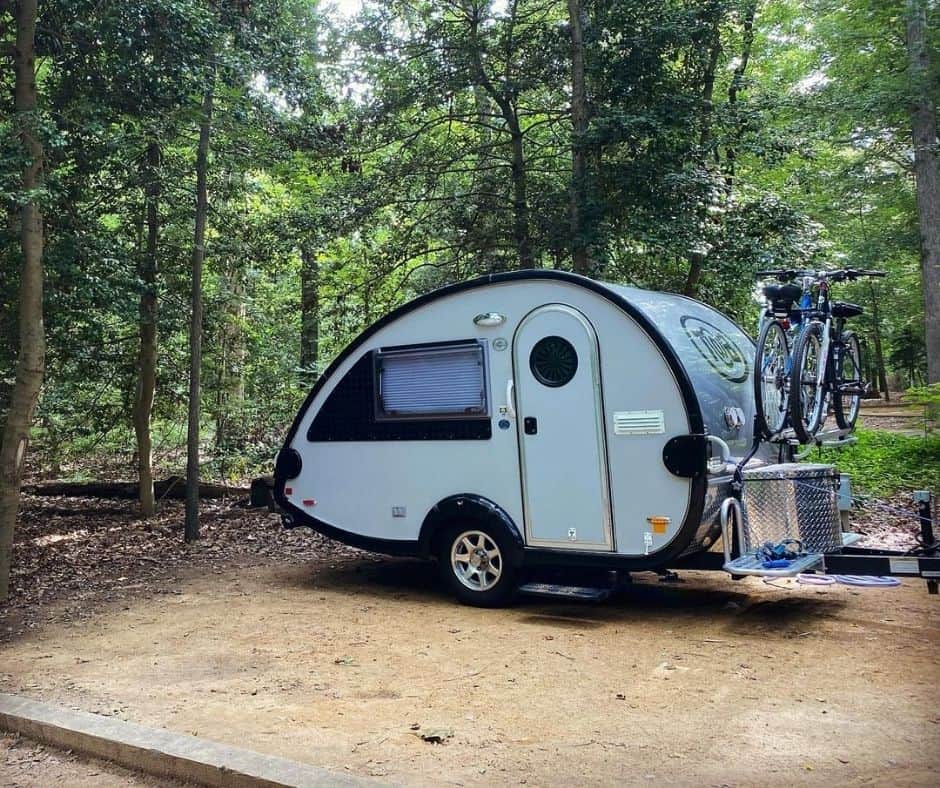 The NuCamp TAB 320 U is a rare teardrop camper that boasts an interior height of 69-inches, which will let a 5'7" person stand up. Though the exterior height of 93-inches will just fit inside an 8-foot tall garage door frame.
All on a trailer that only measures in at just over 15 feet long. Just bear in mind that the interior measurement is for floor plans that don't have a bed in the highest portion of the interior ceiling.
7. The Winnebago Minnie 2201MB Travel Trailer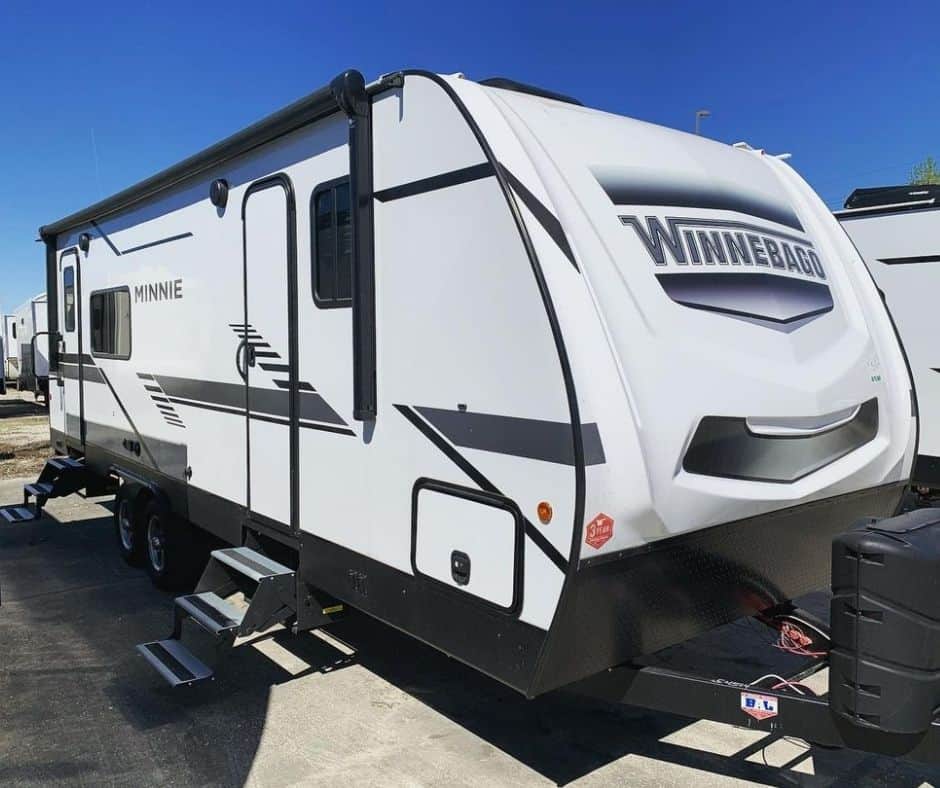 The Minnie is one of Winnebagos' most popular travel trailer platforms. It has varying floor plans. Some of the smaller will fit in a commercial garage or a mechanic bay.
Though with an exterior length of 26'10" and an exterior height of 10'7″ it might be too long and tall for a typical two stall residential garage.
If you do have an oversized garage or a she that can accommodate it, you will be treated to a travel trailer with a 6'8" interior height. This is more than enough room to accommodate a family, with all the bathroom and water storage facilities that have made it such a popular travel trailer.
8. The Meerkat Travel Trailer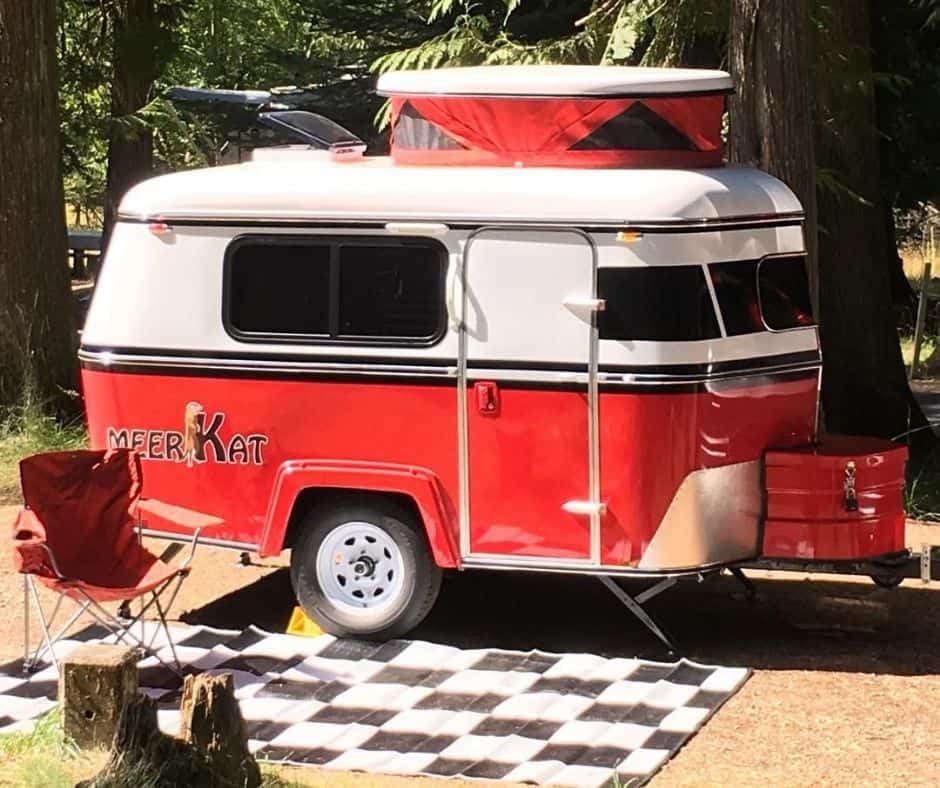 The Meerkat is a great compact travel trailer made with an expanding roof. When it's closed it has an exterior height of just 77", which will fit in most residential garages.
When it's expanded the roof height goes up to 88", and it offers an interior height of 73" which will let just about anyone under 6 feet tall stand up comfortably.
The overall length of just 13-feet makes it easy to fit into most garages with room to spare for storing other essential gear around the tongue of the trailer.
9. The Little Guys TAG Trailer
the TAG is one of Little Guys Trailers' most popular teardrop campers. It offers a total length of just 162" which is just over 13 feet long. The total exterior height is 72" which will easily slide through just about any residential garage door or storage shed.
The interior itself is snug by travel trailer standards, but when you consider the 47" ceiling height it's downright spacious for a teardrop camper. All in a model that weighs only 2,200-pounds, which is light enough for most mid-size SUVs to tow.
Dealing With The Dimensions Of A Typical Garage
The first thing we needed to wrap our heads around was the size of a garage bay.
While there are some people who are blessed with a cavernous garage, the average for most American homes is a garage bay that measures about 9 feet wide and 20 feet deep.
Next, we took into account the dimensions of the door you need to get the RV to pass through.
When opened to the maximum, the typical garage door is 8 feet wide and roughly 8 feet tall, with a small margin of the door getting in the way.
So we limited our search to campers that had an exterior dimension of less than 8-feet or less and a total length of less than 20-feet.
The Interior Height Of An RV
With all apologies to extraordinarily tall people, the average height of a male in the United States is 5'9" with females averaging 5'4".
So, we targeted RVs that were within an inch or two of 5-feet 9-inches tall when they were set up for a comfortable camp living.
Frequently Asked Questions
Where Can I Store My Travel Trailer Indoors?
Almost all travel trailers are too large to store in a typical residential garage.
If you want to store it indoors, you might be able to find a seasonal storage company that will offer you large garage space.
You might also be able to contract out a warehouse area from a local RV dealership.
Another option is to buy a carport tent to keep your travel trailer on your property.
They are relatively inexpensive and offer more interior storage space as well as a larger door opening.
Just make sure to check with the local municipality, or homeowners association to make sure a tented carport is allowed.
Will A Campervan Fit In A Garage?
Most camper vans or Class B motorhomes are more than 8-feet tall, with most being 9 to 10 feet high.
This makes it hard to fit them through most residential garage doors, which measure in at just 8-feet tall.
Though if you have a particularly tall garage door, you might be able to fit a small campervan or touring coach into your residential garage.
Though you would be wise to recruit a spotter when doing so.
Will A Travel Trailer Fit In A Standard Garage?
Most modern-day travel trailers won't fit in a standard garage. The suspension system and roof heights tend to push it over 8 feet in height.
Then you have the problem of the tongue of the trailer frame sticking out several feet beyond the shell of the camper body.
Though there are a few older models and compact new models like the Meerkat that will just make it.
How To Know The Garage Size For My RV?
If you have an existing RV and you are thinking about storing it in the garage for the first time, then it comes down to good old fashioned measuring tape.
Make sure to take into account every inch from the taillight of the back bumper to the very tip of the tongue.
Then add another 6 to 12 inches to give yourself some wiggle room.
If you are thinking about buying an RV and you want to make sure it will fit in your garage, you need to start by measuring the entryway to your garage door, which will typically be about 8 feet high.
Though some people have oversized or extra-tall doors. You can then measure the total length from the back of the garage door when it is shut, taking into account any hardware components. Measure from there to the back wall.
You can then compare these figures to the RV's stated exterior height and total length.
What RVs Tend To Fit In Standard 2 Car Garages?
Tear drop campers are the most likely type of RV to fit in a standard two-car garage.
This is followed up by popup campers that have a reasonably short tongue length. A lot of travel trailers are too long or too tall to fit in a standard 2 car garage, though
What Size Camper Will Fit In A Standard Residential Garage?
To meet the restrictions of a typical residential garage a camper needs to be 8 feet high or less, and shorter than 20-feet long.
This will give you enough room to fit it through the garage door as well as enough length to fit in the garage bay.
Though it's always a good idea to measure for yourself as the trim work on some garage doors can reduce the height and the hardware on the backside of the door, or any finish on the rear wall of the bay can also reduce the length.
Do Pop Up Campers Fit In A Garage?
Most modest size popup campers will fit in a standard residential garage when they are closed or "Popped Down."
Though some with an extra-long tongue or a bumper extension might push the total length of your garage bay.
So, make to measure the total length of your garage bay from the back of the garage door when it is closed to the rear wall of the garage.
Conclusion:
While there are only a few RV trailers that are low enough to fit in a standard residential garage, and still offer enough room to stand up in.
At the same time, there are still a fair number of pop-up campers that are short enough to back into a garage bay with a reasonable amount of room between the bumper and the tongue and the powerful moving hardware on the back of your garage door.
If you want an innovative travel trailer that you can adjust to fit in your standard residential garage, then the Safari Condo Alto might be the best standup camper to meet your needs.
Its adjustable height and contours offer up a lot of living space in one compact package.
If you are content with a popup camper, and you only need enough headroom for a good stretch on a rainy day, then the Taxa Outdoors Cricket Overland might be the best standup camper to fit in your garage.
As an added bonus, it has the outdoor ruggedness to let you take it just about anywhere.