From desert camping in Death Valley to winter in the Sierras, campgrounds in Southern California are the best in the country and will never fails to impress.
Visitors flock here for the balmy surf weather, the laidback culture, and the endless list of attraction and activities.
There isn't a boring day in SoCal, whether you're visiting Disneyland in Los Angeles, chilling on a San Diego beach, or immersing yourself in its unique culture at places like Hollywood or The Griffith Observatory.
With the perfect weather and ridiculously diverse landscape, there's thousands of places to camp in Southern California in every kind of season.
You get to choose from beachfront spots like Moro Campground, lake campsites in Big Bear, or even desert boondocking near Joshua Tree National Park.
With such a wide array of camping opportunities, choosing the best place to camp within Golden State's southern region isn't always as easy it should be.
Read on to learn more about camping in southern California, and discover the best campgrounds and campsites in Southern California before you begin your adventure!
Facts About Southern California
Southern California contains 22 million people and over 60% of the state's population.
Its land mass spreads out over 10 counties and includes landscapes from beaches to deserts to mountainous woodlands. Thus, it's a great place to take an RV road trip!
The two largest cities in California, San Diego and Los Angeles, sprawl across the coast in this region.
Musicians, actors, presidents, and countless pop icons have flocked here and produced a culture unlike any other on the planet. Some of the greatest music albums, movies, food and clothing have been created here.
Additionally, surfer and skateboard culture exploded in Southern California—issuing its own unique fashion, slang, and laidback lifestyle.
Today, it still thrives here, continuing a legacy that has existed for over a century.
California joined the United States in 1850 and has had sweeping effects over American, and world, culture ever since.
If you haven't gone RV camping there yet, you're missing out on a must-see planet—GO NOW!
10 Of The Best Campgrounds In Southern California
Whether you're looking for the ocean views, desert, woods or the mountain peaks, Southern California offers a surprising array of stunning rustic to high-end glamping locations that you can roll your RV into.
Let's look at ten of the best best campgrounds in Southern California to stay at during your travels to the southern half of this state.
1. South Carlsbad State Beach Campground – Carlsbad, CA
Smack dab between Los Angeles and San Diego shines one of the most beautiful state park's in the state.
It contains the best campground in the region—a beachfront wonderland with plenty of options for fun!
NOTE: Pets are only allowed in the campground, not in the State Park itself.
Amenities
The Park features RV sites with full hookups and an on-site dump station as well as showers and toilets.
Day activities within walking distance, include: swimming, snorkeling, fishing, biking, and more. Furthermore, a picnic area allows for group lunches or a romantic dinner.
2. Lake Isabella KOA – Weldon, CA
For hundreds of miles you travel through the Mojave Desert, and then suddenly an enormous lake appears from the dust and stone.
Lake Isabella is truly a magnificent sight. This KOA offers great access to water activities on the lake as well as providing a gateway to Sequoia National Park.
Amenities
KOA's modern take on camping always yields the best amenities. You'll find RV sites available with full hookups as well as showers, laundry, and unique amenities, such as: horseshoe courts, a water play area, and a volleyball court.
3. Serrano Campground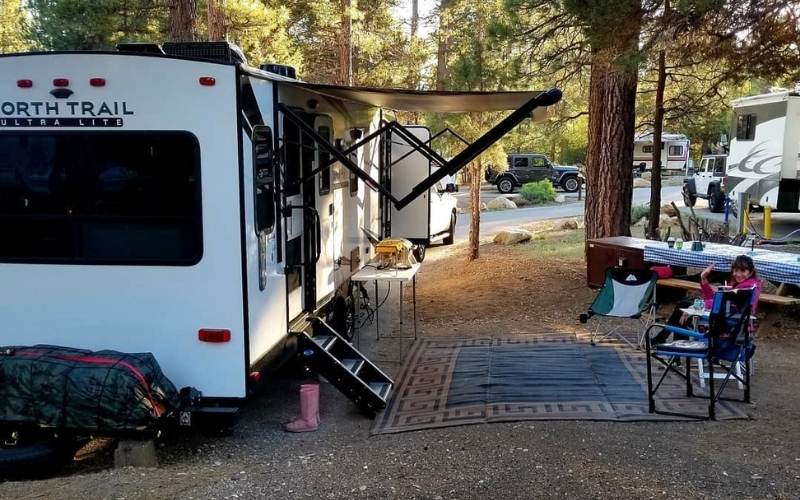 Southern Californians know all about Big Bear Lake. It's a mountain summer retreat for locals that provides cool water and magnificent pine forest hiking.
The campground itself sits on the shores of Big Bear Lake and gives great access to activities in the area!
Amenities
Every campground contains a picnic table, a fire ring, and a grill. If you feel like you need a more modern experience you can stay at one of the full hook-up sites and utilize the on-site dump station.
Activities within walking distance, include: water activities on Big Bear Lake, hiking trails, and plenty of other outdoor activities.
4. San Mateo Campground – San Clemente, CA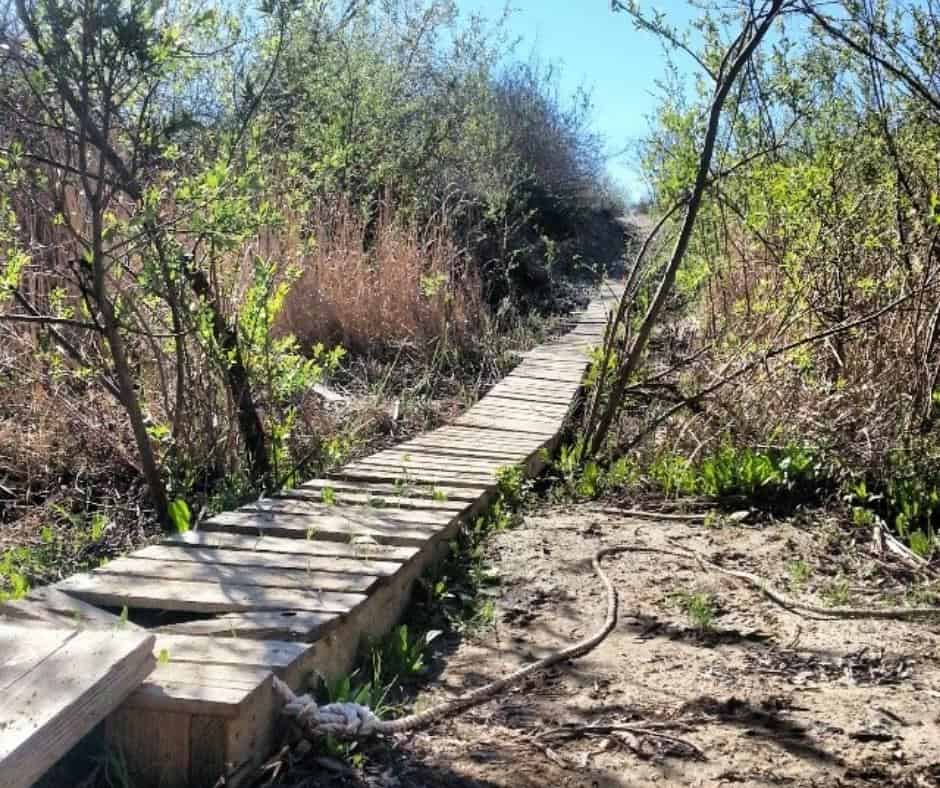 2.5 million beachgoers visit the beautiful San Onofre State Park every year.
They come for the white sandy shores, the surfing, the fishing, and more! Sea life including whales, dolphins, and sea lions can be seen here as well as various bird species.
San Mateo Campground gives you access to all of these exciting things!
Amenities
The campground offers RV sites with full hookups as well as bathroom with showers.
On-site dump stations make it easy to drain your black and grey water tanks, and community picnic areas give you new areas to eat. This is an excellent place for California newcomers!
5. Bonita Ranch Campground – San Bernadino, CA
An alpine oasis offering a breath of fresh forest air and an adventurous stay for all those visiting. to all who visit.
They sit a short drive from the best hiking and fishing in the San Bernardino and put you close to attractions like Coachella, Disneyland, and Glen Helen Amphitheater.
Amenities
The full hookup RV sites sit along Lytle Creek. Showers, dump stations, and restrooms are also featured on the grounds.
You can rent a fire pit to cook marshmallows or walk a short distance to fish in the creek.
6. Moro Campground – Orange County, CA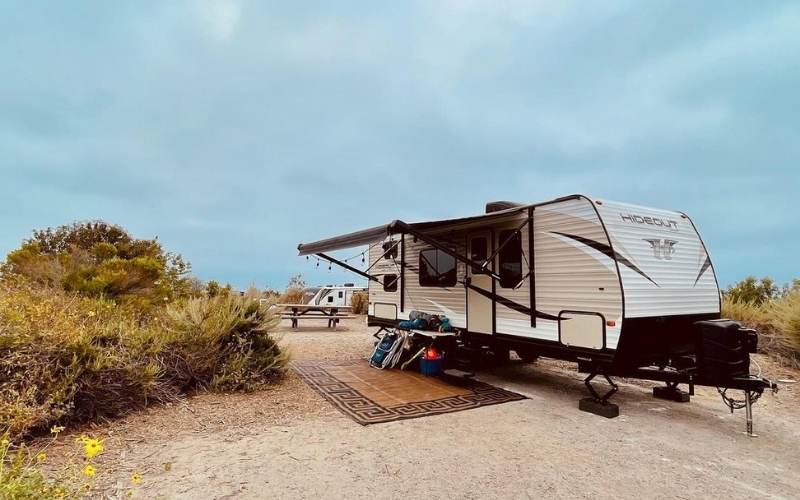 Moro Campground supports Crystal Cove State Park with RV camping options. It's one of Orange County's largest examples of open nature and beach.
It stretches across 3.2 miles of shoreline, 2,400 acres of natural wilderness, and an underwater snorkeling/scuba area.
Amenities
A more primitive site, but featuring shower, restrooms, and full hookups. You can also find a picnic table and fire ring at every site.
Pets are allowed and various backcountry trails connect to the campground.
7. Lodgepole Campground – Sequoia National Park
You'd be remised if you went to SoCal without visiting the Sequoia National Park. Sequoia Trees can only be seen on the West Coast of the U.S.
These giant evergreens live for thousands of years and the largest ones grow to reach as much as 275ft in height and 36ft in diameter.
Amenities
The nearby Lodgepole Village provides vistitors with a market, shower, and laundry facilities. In the summer, you can ride the free Sequoia Shuttle into the park.
This is helpful due to the RV length restrictions in the park which top out at 25ft. Moreover, you'll find many nearby trails located in the area.
8. Furnace Creek Campground – Death Valley, CA
We want to start by saying that we highly recommend visiting this campground in the winter.
This exact area holds the record for the hottest temperature ever recorded on Earth—134 degrees.
Visit when it doesn't feel like you're standing on the surface of the sun and expect spectacular views, impressive wildlife, and an interesting history.
Amenities
Furnace Creek offers the only reserved campsites in the National Park from October 15th to April 15th.
Its also the only campground with full hookups RV sites available. These sites also include picnic tables and fire pits, as well as, flush toilets nearby.
9. Los Prietos Campground – Las Padres National Forest
Los Prietos Campground can be found in Los Padres National Forest. It gives RV campers access to tons of outdoor recreation, including water activities and hiking.
Beautiful oak trees supply plenty of shade and blanketing vegetation keeps the area cool.
Amenities
If you want primitive than you want Los Prietos. It's offers no utility hookups at an campsite nor an on-site dump station; however each space comes equipped with a picnic table, campfire ring, and a grill.
Additionally, flush toilets, drinking water, and trash collection bins are also provided throughout Los Prietos.
10. Dogwood Family Campground – Los Angeles, CA
The campground sits 20 miles away from San Bernardino in a forest of various evergreen trees, filled with plenty of plant and animal species.
You can also access nearby Dogwood and Enchanted Troop Trails for great biking, horseback riding, and hiking.
Amenities
Each campsite features a table, metal fire ring, and grill with firewood available for purchase.
Additionally, the campground comes equipped with toilets, showers, and drinking water.
That's not all! You also get access to an amphitheater which hold campfire shows on the weekends.
Best Time to Visit Southern California
It all depends on what you want out of your California experience. I know what you're thinking, ugh—just tell me when I should go. It's just not that easy though.
Personally, I enjoy September and October because you get the best of Summer and Winter, but you might not agree with me.
So, we're going to outline each of the four seasons and tell you their pros and cons. Then you can decide which one you love the most!
Winter (Late November to February)
Southern California's celebrated Mediterranean weather wavers only slightly in the winter season.
In lower elevations the temperature hangs around 50s for the lows and 70s for the highs; however, higher elevations, like in Mammoth, the temperatures drop low enough for it to snow.
In fact, ski resorts open during this time while some high-altitude campgrounds close.
The colder weather pushes out the crowds, making campgrounds and RV parks cheaper, and popular attractions more accessible.
Though the water and air are colder during this time of year you should still go to the beach for some excellent and surfing, and to catch the grey whale migration. Often times you can see it from the shore!
Pros:
Less crowds
Best time for winter sports (obviously)
More affordable
Grey whale migration off the coast!
Incredible surfing near San Diego
Cons:
The beach sucks
Higher elevation campgrounds closed
More rain in lower elevations
Spring (March to May)
You'll still beat the summer crowds during these months as well as save some money on lower prices.
For many people this is the best time to visit Los Angeles as many flowers bloom during this time and the beaches are comfortable; however, in late Spring fog descends upon San Diego that will remain until Summer.
The festival season also kicks off during this time. Popular events like Coachella, Stagecoach, and Rooftop Cinema festival take advantage of the warming weather.
Coachella offers RV camping spots at their event so it's a perfect time to go if you love music!
Pros:
Less crowds than in the Summer
Music festival season
More affordable than the Summer
Cons:
More fog around San Diego
Higher elevation campgrounds might still be closed
Summer (June to August)
Expect sweaty flip flops and sunscreen covered skin during this time of year. Temperatures can reach the high 90s during the day, making urban areas unbearable.
We recommend avoiding Southern California in July and August due to the high prices and large crowds. On the other hand, going in early June can be a fantastic time to go.
In June the snow in the upper elevations has all but melted, making places like Yosemite excellent to visit.
Furthermore, the beach weather achieves perfection during this month. The hot sunny weather makes for a great contrast between the frigid waters.
DISCLAIMER: Take your time when entering the water. The extreme temperature change can cause cramps and possible drowning.
Pros:
Best time for the beach
All campgrounds are open
June is the best time to visit Yosemite for the waterfalls
Cons:
Most crowded
Hotter Weather
Most expensive
Fall (September to Early November)
This is the least crowded and most affordable time of year. Moreover, it's the best weather you'll find all year in Southern California! The days are warm but not hot, and the nights are cool but not frigid.
Food and drinking festivals emerge in these excellent temperatures to provide delicious treats for the masses.
Check out Oktoberfest at German bars in LA and Taste of Downtown in San Diego.
Lastly, nowhere beats Southern California's love for Halloween. All the amusement parks decorate to match the holiday and music festivals like Escape bring out all the freaks. Don't miss your chance to get spooky in the Sunshine State!
Pros:
Least Crowded
Most affordable
Best Weather
Food and drinking festivals in full swing
Cons:
Some chilly nights in November
Things to do in Southern California
An easier question to answer would be: what is there not to do in Southern California.
This small area contains museums, National Parks, gorgeous beaches, excellent amusement parks, and more! We've included some of our favorites below:
Walk Among Giants at Sequoia National Park
Though it lies far from any major city and tickles the northern part of California, this one-of-a-kind National Park deserves a visit.
Sequoia trees cannot be seen anywhere in the world other than the Western Coast of the United States.
These arboreal giants live for thousands of years and grow to reach as much as 275ft in height and 36ft in diameter.
More information: Sequoia National Park
Visit an Amusement Park
Disneyland, Universal Studios, Knotts Berry Farm—oh my! There's too many amusement parks to name them all, and each one excels in its own way.
If you're with your family go to Disneyland, if you want high adrenaline roller coasters visit Six Flags, and if you love animals check out the San Diego Zoo. There's an amusement park for everyone!
More Information: Disneyland, Universal Studios, Knotts Berry Farm, Six Flags, San Diego Zoo, Legoland, and Belmont Park
Go to the Beach
It's a sin to go the Southern California and not go to the beach. Almost all of them are fantastic but some definitely fit different vibes.
For instance, if you want to get weird and artsy go to Venice Beach, if you want to relax go to Santa Barbara Beach, and if you feel like surfing check out La Jolla in San Diego.
Don't like any of those options? That's okay, there's countless beaches to choose from!
More Information: Beaches in Southern California
Witness Desolation at Death Valley National Park
Southern California devolves into an arid desert once you leave the coast. You'll find this fact most represented in Death Valley National Park, the hottest place on the planet.
Despite its reputation, plant and animal life still thrive here. Go on a safari and don't forget to check out the impressive views.
More information: Death Valley National Park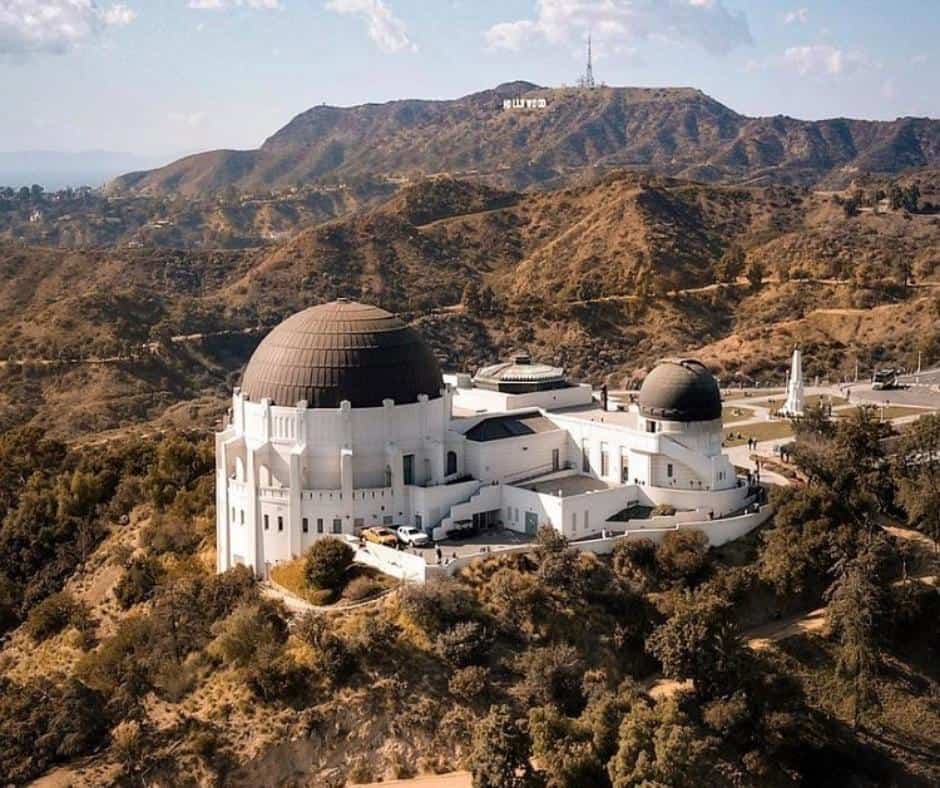 Explore LA
The Greater Los Angeles Area contains over 18 million people and spans almost 34,000 square miles.
Its one of the largest cities in the United States and for good reason—there's a ton to do! The year-round weather, gorgeous beaches, and unique culture makes this a must-see city.
Whether you're stargazing at Griffith Observatory, catching a movie in Hollywood, or sipping a martini at Huntington Beach, there's something for everyone. You could spend weeks here and still not see it all!
More information: Los Angeles
Learn about History, Art, and Culture
California stands as a cultural Mecca. This is no more evident than in its vast collection of museums and art exhibits.
You can learn about dinosaurs at The La Brea Tar Pits and Museum, gander at free art in The Getty, or history at the Museum of the American West.
Whatever you're interested in, Southern California has a museum for it!
More Information: Museums in Southern California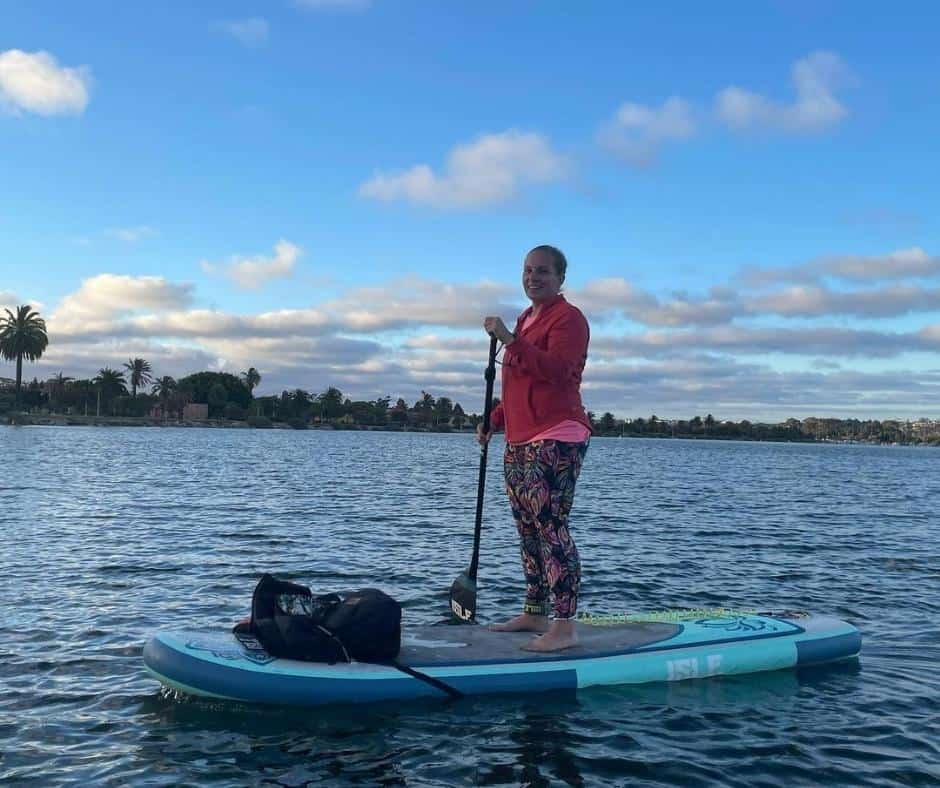 Explore San Diego
San Diego somehow managed to achieve an even more chill vibe than Los Angeles.
It's the surfing capital of the West coast, features year-round beautiful weather, and even offers amazing deep sea fishing opportunities.
The culture here is great, the food is better, and the music is the best. You'd regret missing this one-of-a-kind city!
More Information: San Diego
See a Rare Desert Plant at Joshua Tree National Park
This is one of the few places on the planet you can see a Joshua Tree. On their own they fail to impress, but in a forest that stretches on for hundreds of miles they certainly amaze.
You'll also find a ton of other unique plant and animal life out here. But that's not all! Don't forget to stargaze at night! It's a beautiful place, day and night.
More information: Joshua Tree National Park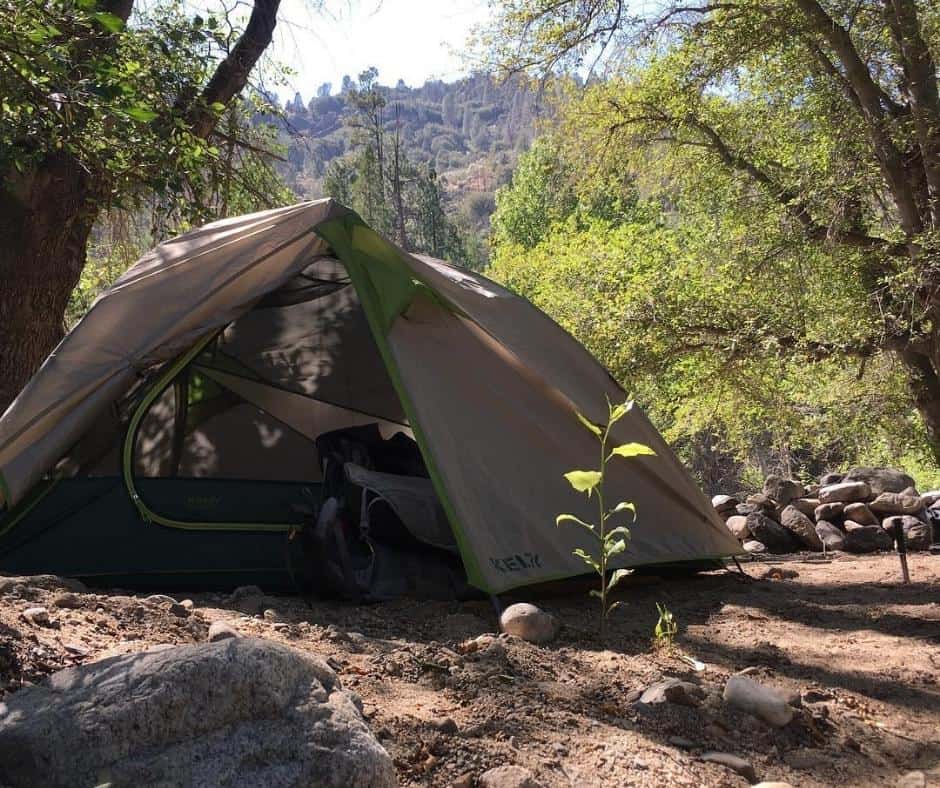 Tips for Camping in Southern California
California is so laidback that you might forget some important things about RV camping.
Don't worry though, we've thought of them for you! Here are our tips on camping in Southern California:
Fire Restrictions
First, and most importantly, fires. More than 10,000 wildfires devastate California every year, making it the most flammable region in the United States.
These infernos destroy forests, businesses, and entire communities. You can help reduce these tragic events by following county fire bans and adhering to fire safety rules.
That means, keeping your fire in a designated receptacle and drowning it when you want to put it out.
Forest Rangers don't play around in this state. You can expect severe fines or even extensive prison time if you break this rule.
Don't Camp in the Summer
Schools out for summer and you think its high time you take an RV camping trip to California.
Maybe—uh—don't. I'm serious, many campgrounds in Southern California fill up several months in advance during Summertime.
You're better off visiting in the fall or spring when there are less crowds, cheaper prices, and cooler weather!
Where to Book Campsites
There are a number of methods you can use to book a campsite in Southern California. Here are the best websites and phone numbers, depending on your situation:
Check to Make Sure the Campground is Open
Despite California's reputation for year-round great weather, the higher altitude campgrounds do see snow.
This forces many of them to close down in the fall and winter months. You should check ahead of time to ensure that the campground you intend to visit
Secure Your Reservation a Couple Months in Advance
Due to California's high volume tourist industry, the state requires a reservation at most of its campgrounds.
If you plan on visiting a National Park or State Park, you should reserve your campsite many months in advance.
The exact time on this varies, but just to give you an idea of how early you should make an attempt, Yosemite opens up its reservation page six months in advance.
These spots sell out super-fast so make sure you're ready to snap them up as soon as they go live.
Bring Layers
California weather fluctuates from warm during the day to cool at night. These aren't extreme temperature changes but they do require a wardrobe that ranges from tank tops to long sleeves.
You should also bring different types of shoes: flip flops for the beach, hiking shoes for the mountains, and fashionable kicks for the city. In California, its chic to be prepared for any situation!
RV Rentals in Southern California
There's no better way to experience Southern California than in an RV. Don't have one?
No problem—AirBnB-esque RV rental websites litter the internet. The best part? They're affordable and easy to use. Here's our top two choices:
Outdoorsy reigns supreme as the most popular and best rated RV rental website.
Why do people love it? While, Outdoorsy provides all the services of its competitors, like RV delivery and user reviews, it also offers customers 24/7 support and 100% roadside assistance.
This is important for first-time RVers who are untrained at handling emergency road situations.
If you want to explore Southern California with peace of mind, use Outdoorsy.
This rising star in the RV rental industry stands as the only competitor to Outdoorsy.
They offer pet-friendly travel trailers and motorhomes for cheap! Their four-step process makes renting an RV easy and you can even have it delivered to you at a pre-established location in Southern California.
RV Share might not be the best, but it's a close second, and a great alternative if Outdoorsy is all booked out.
Southern California has been a cultural mecca for over a century. This reputation, combined with its sun-kissed beauty, makes it the top RV destination in the United States.
If you've ever camped in Southern California, we want to hear about it. Tell us your story in the comments below!