The waves of Lake Michigan sparkle like a thousand diamonds, offering up the chance to snooze in the gentle lake breeze, while you dream of exploring the towering sand dunes.
Dare to explore the interior and you will find the powerful silence of towering forests standing beside communities that offer something for the whole family.
Whatever kind of vacation you've been dreaming of, camping along Lake Michigan has something to offer in all four seasons.
The adventure abounds whether it's spring tulip festival, summer fun on the water, fall color tour, or even winter skiing and snowmobiling.
With so much to see and do, it's no wonder there are many breathtaking state parks, campgrounds and Harvest Host locations where you can park your RV along Lake Michigan. Most of them are just a stone's throw from the beach.
Whether taking a grand tour around the whole of Lake Michigan or looking for a single spot to park up for a week and soak in everything the area has to offer, you'll find plenty of options on the shores of Lake Michigan.
We rounded up our favorite campgrounds where you can park your RV, in the Great Lakes Bay, along with nearby summertime favorites that'll round out the experience like never before.
The Types Of Campground On Lake Michigan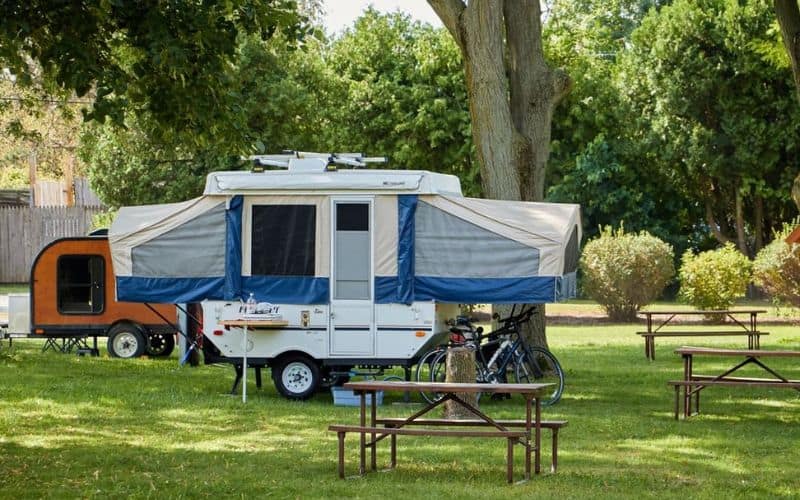 There are different types of RV-friendly campgrounds around Lake Michigan to consider.
You can have a different experience whether you are staying at a State Park, a private campground, or a harvest host site.
Lake Michigan is the only Great Lake contained entirely within the United States.
This means you can take a grand tour to drive the entire way around it without ever needing to pull out a passport, or simply find a great location to let you soak up a wide range of area attractions.
The campgrounds around Lake Michigan also play host to a lot of great festivals and special events.
Not to mention all the wineries, breweries, local fruit farms, and agricultural opportunities created by this great lake's microclimate.
Where Is Lake Michigan?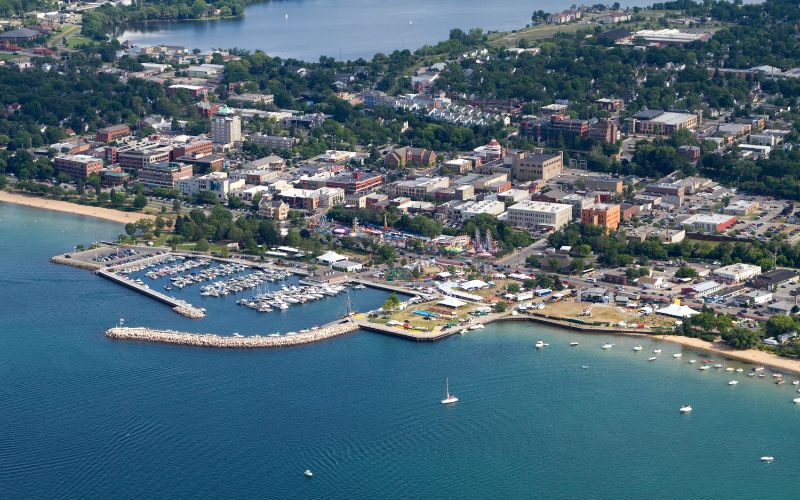 Lake Michigan borders four states, including both the Lower Michigan and Michigan's Upper Peninsula, as well as the stares of Wisconsin, Illinois, and even a small stretch of Indiana.
If you are planning to take a grand tour of the Lake Michigan region, or your intended destination is deep in one of the State of Michigan's peninsulas, then your starting point will also be a major factor when planning your trip.
Best Places To Start A Grand Tour Of Lake Michigan
The part of the country you are coming in from will influence the ideal starting point for a grand tour of Lake Michigan.
You might want to also consider the timing of the season as well as what day you are passing through certain areas.
If you need to pass through Chicago, for example, it's better to plan a mid-day drive in the middle of the week, rather than rush hour or on a weekend.
Visiting Lake Michigan From The West
If you are coming in from the west, then the most likely starting points are either Milwaukee, Wisconsin or Chicago, Illinois.
If you are planning to start out in Milwaukee, it's typically best to head north, or perhaps skip the metropolis of Chicago altogether by taking a ride across the lake on one of the RV friendly ferries that cross portions of Lake Michigan for a modest fee.
Visiting Lake Michigan From The Southwest
If you are coming in from the South or Southwest, then the best place to start your grand tour of Lake Michigan might be one of the RV parks near Chicago, or one of the nearby campgrounds located in Northern Indiana.
Visiting Lake Michigan From The East Or Southeast
If you are coming in from the East or the Southeastern United States, Benton Harbor or Ann Arbor are two great starting points in Southwestern Lower Michigan.
You might also need to plan your route well in advance as there can be a lot of tolls on interstates I-80 and I-76.
Having an electronic pass ready will expedite the drive and might even save you some money in the process.
Visiting Lake Michigan From Canada
If you are Canadian, then the most likely points of entry are Sault Ste. Marie to St. Ignace in the north, or from the East crossing over from Detroit to cross lower Michigan to the shores of Sleeping Bear Dunes in southwestern Michigan.
What Is The Best Time Of Year To Visit Lake Michigan?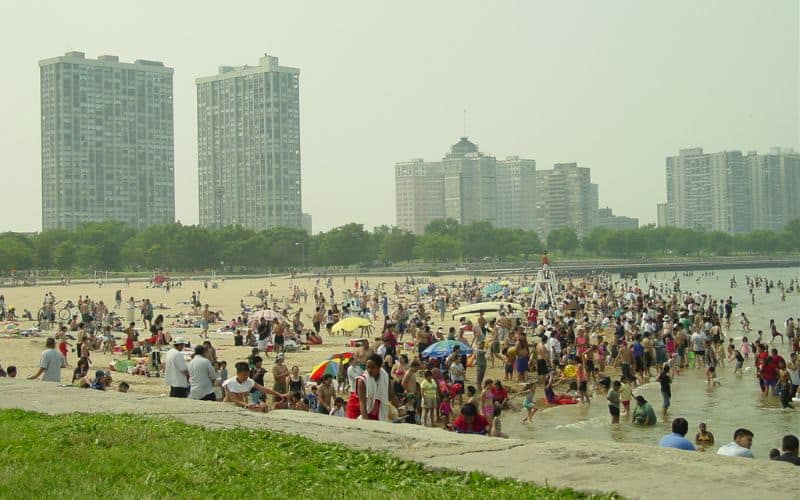 Families often flick to Lake Michigan in the summer months. To that point a lot of RV Parks and campgrounds near the coast only start to open in May.
Savvy travelers who hate bugs might want to put off visiting the Upper Peninsula of Michigan until the middle of July.
Early June through the Fourth of July is when the black biting flies are at their worst in the UP.
The cool breezes that blow off Lake Michigan from West to East helps to mitigate summer heat.
This makes it more comfortable to visit the Lower and Upper Peninsula of Michigan in July and August, than most other parts of the lower 48.
Fall is also an exceptional time to visit Lake Michigan. Campgrounds are typically open until mid-October, and there are plenty of premium campsites to choose from.
Not to mention absolutely stunning fall colors and natural beauty enveloping every shore.
Special Events Around Lake Michigan
There are a lot of special events, and cultural festivals that are worthy of planning for around Lake Michigan.
Many are tied to seasonal activities, such as fruit harvests, or cultural festivals.
There are even some major events like the Regatta sailboat race that goes from the Windy City of Chicago to the Straits of Mackinaw.
Of course, there are also some peak times for premium fresh water salmon, Lake trout and other species.
Every year fish runs and peak season draw tens of thousands of anglers to the shores of Lake Michigan.
Popular Festivals & Events Around Lake Michigan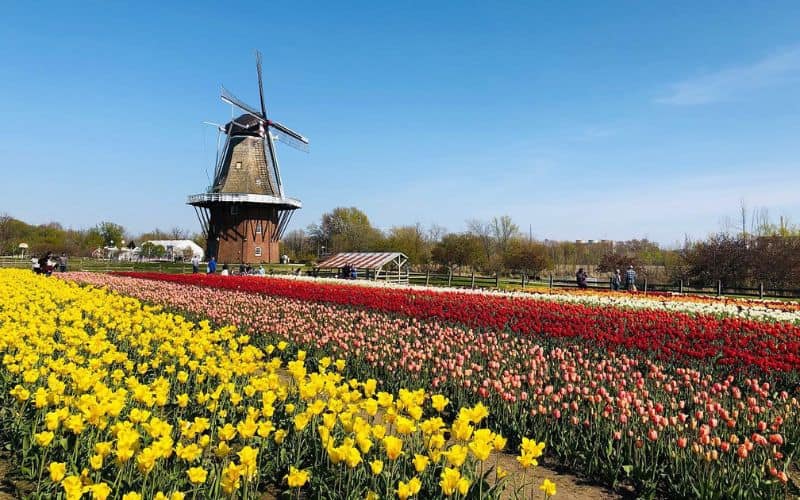 If you are planning to do a true grand tour of Lake Michigan, then you might want to plan your RV adventure to coincide with one of the following popular festivals and special events.
Tulip Festivals In South eastern Michigan
The Eastern shore along Lake Michigan's lower peninsula is well-known for their impressive tulips, perennial gardens and community tulip festivals.
They are typically timed in Early to mid-May when spring tulips are at peak bloom. Of these, Holland, Michigan and the region around Grand Rapids tend to be the epicenter.
It also happens to be the time of year when most privately owned RV campgrounds are opening for the first time and offering discounted rates to try to keep the revenue flowing before peak summer season.
State park campgrounds also tend to have a lot of easy openings and big rig sites that will be booked solid in just a few weeks.
National Cherry Festival In Traverse City Michigan
Traverse City, Leelanau County and the rest of the Traverse Bay region are known for the succulent Cherry harvests.
So, they celebrate it every summer in mid-July. It's a great opportunity to transition from the Fourth of July festivities to another all-American festival of fresh fruit, fun and carnival games.
Of course, the area is also known for wine. It's a great opportunity for an oenophile wine lover to sample and take home some unique vintages that you truly cannot find anywhere else! This is one of those times and places where a Harvest Host membership really pays off.
The Chicago Yacht Club Race To Mackinaw
The traditional Chicago Yacht Club Race to Mackinawworld's longest freshwater sailing event.
It is recognized as one of the most prestigious sailing races in the world, drawing a unique breed of sailors from Maine to California.
It tends to kick off in late June or July, starting at the famous Chicago Navy Pier and finishes between the lighthouse on Round Island and the race committee trailer on Mackinac Island.
Both destinations offer a lot to see and do. Though you will need to make your reservations well in advance.
Salmon Run& Fishing Openers On Lake Michigan
Anglers all around the country flock to Lake Michigan every year for the opening of salmon and lake trout season in May.
Then another influx of fishermen arrive in later summer through September for the traditional salmon run.
Popular towns to camp near for access to premium fishing charter services in Michigan include Escanaba, Muskegon, and Ludington.
Popular towns in Wisconsin for access to premium fishing charter services include Algoma, Sturgeon Bay, and Manitowoc.
Privately Owned RV Campgrounds Around Lake Michigan
The popularity and high tourist density around Lake Michigan and a lot of the Great Lakes region mean that the privately owned campgrounds in the area competitively try to offer campers the best possible experience. Especially in areas with a lot of popular attractions and local festivals.
When it comes to making reservations, you usually need to reserve a prime spot at a privately owned campground a solid four to six months in advance.
Though if you have a smaller rig, like a popup camper, or a teardrop camper, you might be able to make reservations for a tent site or an overflow area over the phone a week in advance. It's all about how much space you want and the level of hookups you need.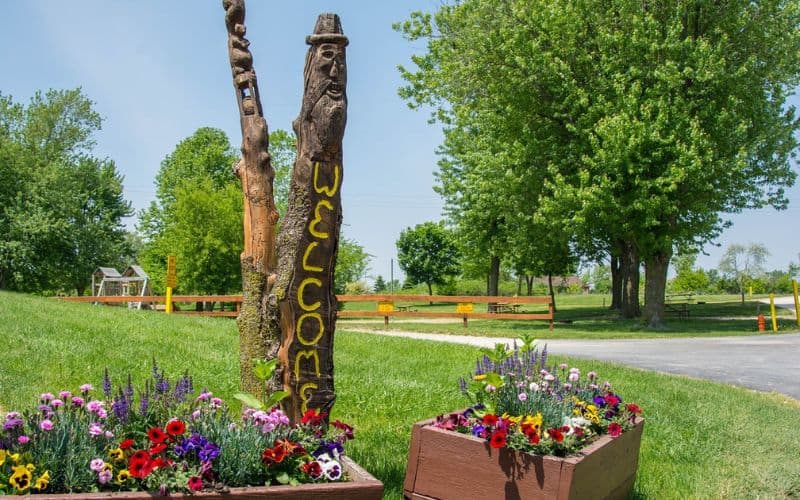 The Chicago Northwest KOA has Pull Thru, 50 and 30 Amps, with full hookups sites.
Several of their pull-thru sites even have patio spaces that you can use, which is handy if you are traveling with a big rig or your travel trailer has a sliding glass door.
There are a lot of amenities, including miniature golf, a pet area, and volleyball nets. It is roughly a 45-minute drive to Millennium Park and the Navy Pier.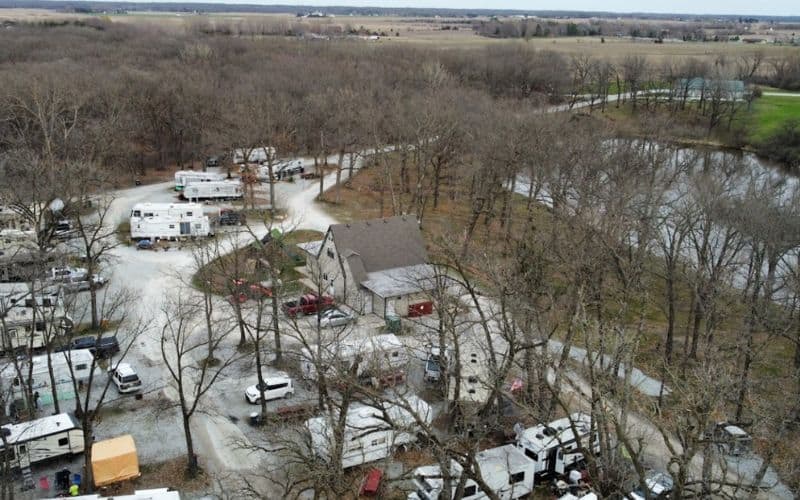 Emerald Trails Campground is perfectly situated in a peaceful, wooded area about a half-mile from the Indiana state line.
It is just 45 minutes to Chicago with the shores of Lake Michigan even closer than that. It offers full basketball and volleyball courts, as well as a large family-friendly playground.
Emerald Trails Campground offers over 140 Total RV-friendly camp Sites. 80 of which have 30-Amp Service, with up to 20 offering full 50-Amp Service.
In total 75 of the sites have electric and water hookups combined. The maximum RV length allowed/recommended is up to 45 feet.
Dunewood campground has two loops for a total of 66 campsites. Though only 53 of these are considered conventional drive-in sites that can host a travel trailer or similar RV.
Each Dunewood campground loop includes modern restrooms and hot/cold showers.
Some sites have limited recreational vehicle length. There are convenience stores and a gas station are located roughly a quarter of a mile away.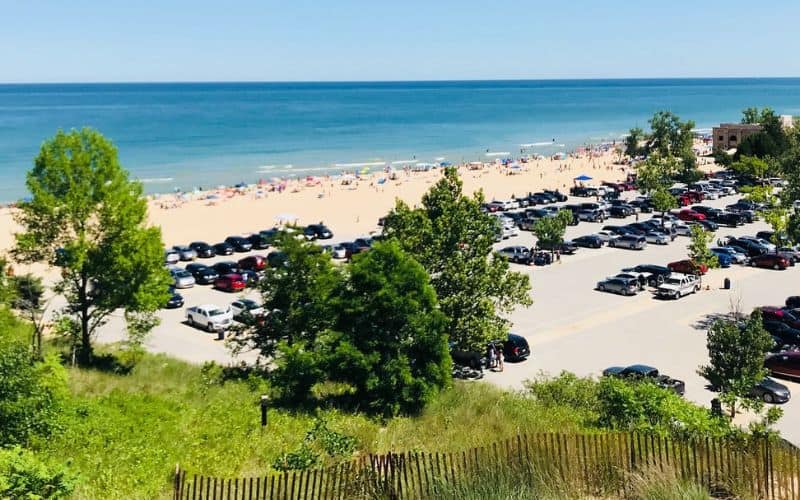 Michigan City is the biggest city in the Indiana Dunes region. While there are some smaller operations and a few motels that will let you park up your RV in their parking lot, Michigan City Campground is the most RV-friendly full-service campground in the area.
They offer premium sites for big rigs, with full hookups as well as most having concrete patios, for just $62 per night.
Though there are still a lot of other RV sites that have full hookups, with water and electricity for more modest-size RVs and travel trailers.
Indiana Dunes National Lakeshore is nearby, access to the I-90 & I-80 corridor with less than 3 miles away, and there are tons of things to see and do within an hour's drive.
This includes four museums, golf courses, wineries, water parks kayak rentals and fishing guides. Not to mention the on-site pool and playground.
If you have your heart on staying near the Indiana Dunes National Lakeshore to soak in what the southern tip of Lake Michigan has to offer, then Michigan City Campground needs to be at the top of your list.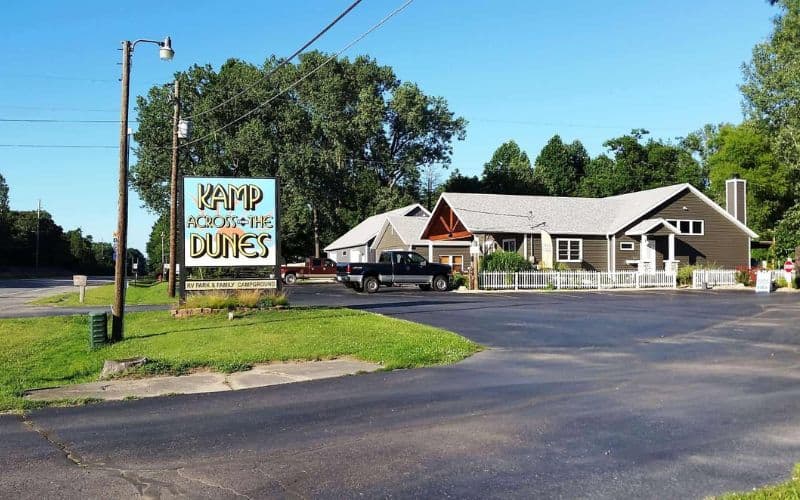 As the name implies Kamp Across from the Dunes is a full-service RV park&campground that is located directly across from Warren Dunes State Park.
They offer sites with electric in20,30,&50 amp, as well as water and sewer available at each site.
Like a lot of the private campgrounds in this area, they are family-owned, family-oriented, and pet friendly.
One of the interesting things to note about Kamp Across from the Dunes is that they are open year-round.
Though in the deep months of winter they require a month-long commitment.
They are conveniently located right off the junction of I-94, and a great destination for summer fun, exploring the massive regional sand dunes, as well as setting up a home base for fall color tours around Lake Michigan.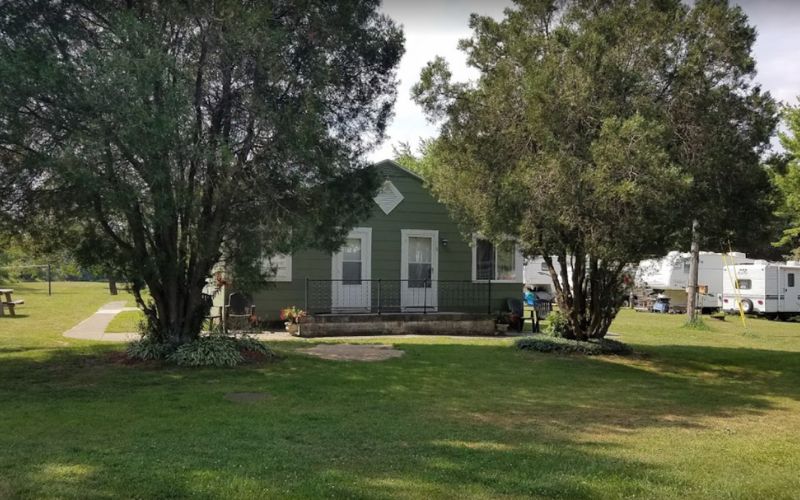 Jensen's RV Park & Motel is located near South Haven, Michigan. It boasts seasonal opportunities and is within striking distance of a lot of natural attractions. Just to the south is Sleeping Bear Dunes and Benton Harbor.
Just to the north is Muskegon, and the smaller communities that are known for their perennial flowers like the world-famous Tulip festivals.
Jensen's offer motel space and cabins, which makes it a great destination for family reunions.
People who want to bring their RV can enjoy some great camp site, and family members who maybe don't have an RV can still rent a room to let everyone stay nearby.
Jensen's location, the local amenities and the nearby attractions makes it a great place to soak into the area for a week-long stay, or to relax for a few days while you recharge your batteries while taking a Lake Michigan grand tour.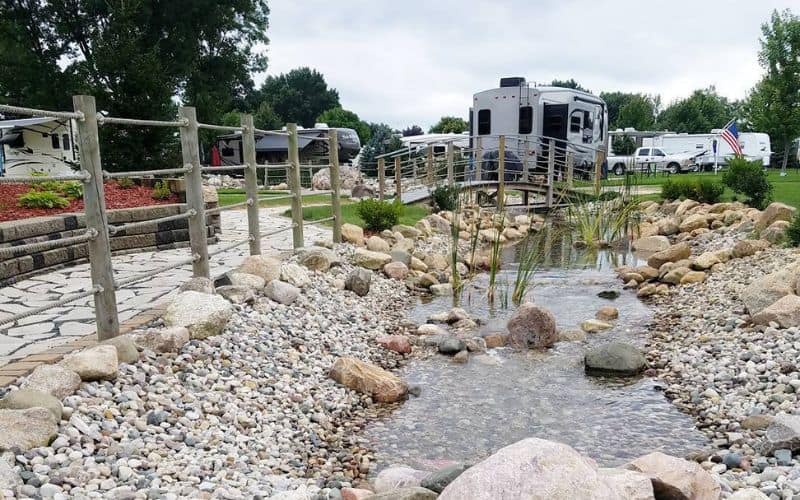 Poncho's Pond RV Park is perfectly located near Ludington State Park with easy access to the Badger Ferry, which is an RV-friendly ship that crosses Lake Michigan from the east coast of Wisconsin to Ludington, Michigan.
Poncho's pond is one of the best full-hookup RV campgrounds around Lake Michigan.
They are open from April 1st to October 31st. The campground sprawls out over 37 grassy acres. With many sites that include city water, and sewer.
All RV sites have30 & 50 amp electric service available as well as television service at no extra charge.
All sites come with a picnic table and a fire pit. Best of all free Wi-Fi is available throughout the park.
They also have RV rentals available for people driving through the area who want some of the classic RV experience.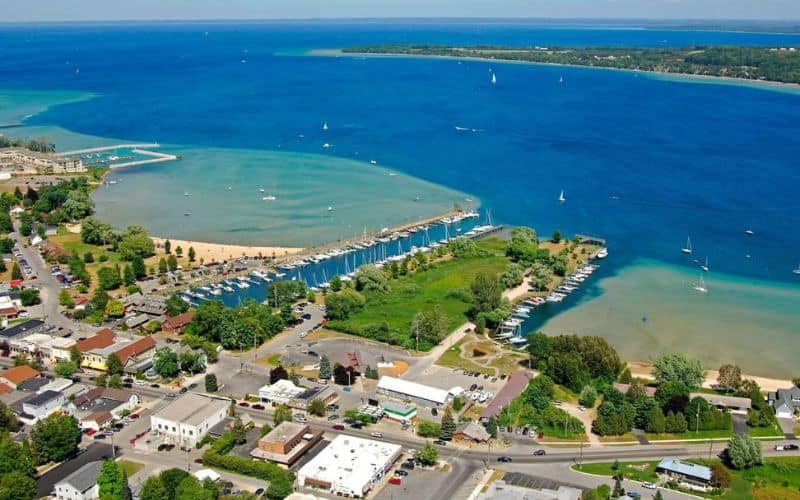 Indigo Bluffs is a full-service campground and RV park near Traverse City, Michigan. It offers a plethora of sites with full service, water and electric hookups.
They even have a playground and a pool on site. They offer access to miles of hiking and biking trails, beaches, and the wonders of Traverse City.
This is a prime location for RV travelers who want to attend the International Cherry Festival.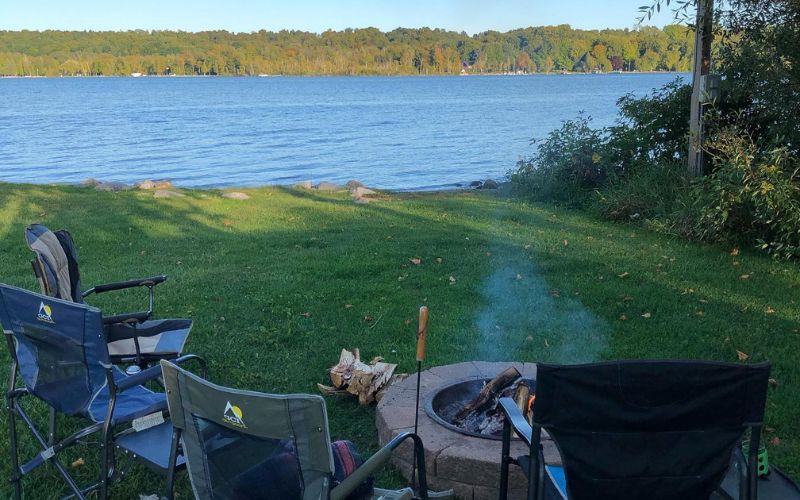 Lake Leelanau RV Park is located just inland from Lake Michigan on Beautiful Lake Leelanau.
This lets you enjoy the gentle waves and fishing of the smaller lake, while still being a stone's throw from the big water opportunities offered by Lake Michigan.
It's a hot spot for boaters, anglers, and water sports enthusiasts, who answer the call of the open road in the RV.
Lake Leelanau RV park offers 249 RV sites. Many of these are back-in, though there are some large premium pull-through sites to accommodate big rigs.
There is also a handful of lakeside RV campsites that are close to the docks as well. Great for RV travelers who tow their boat with them, or want to rent a boat for multiple days.
Full hookups are offered on most of the site. 20, 30, and 50 Amp sites are available with water and sewer hookups being available in more than 50% of the RV campsites.
There's also a laundromat, restrooms and showers on site, as well as a certified RV dump site for models that don't have direct sewer connections.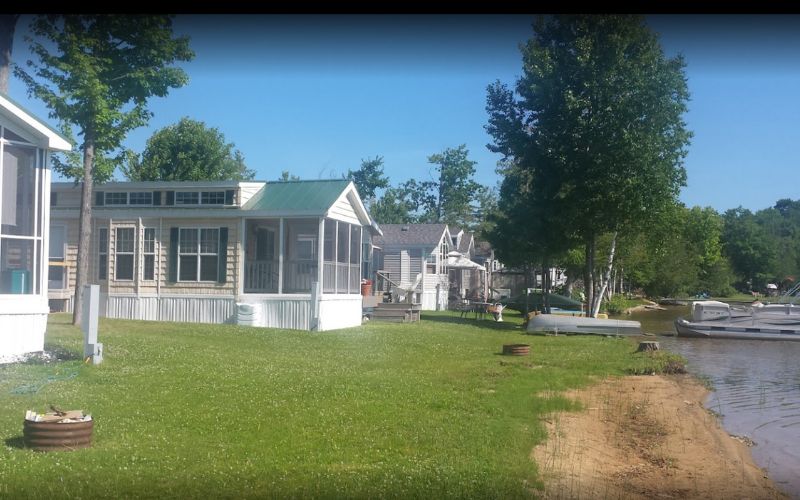 Elk Rapids is a quaint Northern Michigan town located on the shores of Bass Lake, within a stone's throw of Traverse bay. A mile from the town of Elk Rapids.
Honcho's rest's location makes it a great home base for soaking in the surrounding area, while making day trips to regional hotspots.
Activities in the area include hiking the local trails, swimming at the nearby beaches of Lake Michigan, and fishing and boating on the local scenic rivers.
The lake where are located is stocked and loaded with great fishing. Fun for avid anglers and kids alike.
The Honcho Rest campground is exclusive to RVs and features ninety-seven full hook-ups sites.
They are open from early May until mid-October and offer nightly, weekly, and monthly rates. They have 97 full hookup sites, and 7 water electric hookup sites.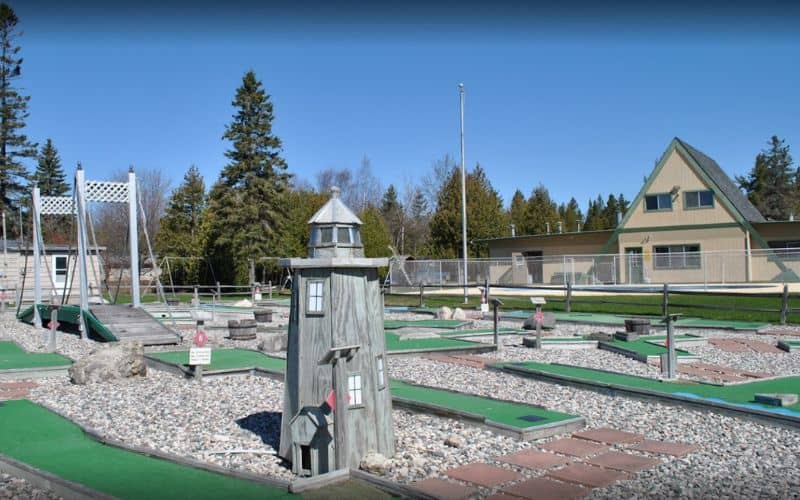 KOA's have a presence in the UP of Michigan, including this one on the Lake Michigan side of St. Ignace.
It is somewhat farther out from the city of St. Ignace, but they compensate with a dedicated shuttle service that lets you get to the city as well as easy access to the ferries out to Mackinac Island in roughly 10 to 12 minutes.
The St. Ignace KOA is a great option for setting up a home base while you still explore the area.
They offer a lot of great amenities, including a plethora of 50-Amp electrical sites, full hookup sites, and even great Wi-Fi, which is increasingly rare in the UP of Michigan. St. Ignace KOA even has a few sites with cable TV hookups available.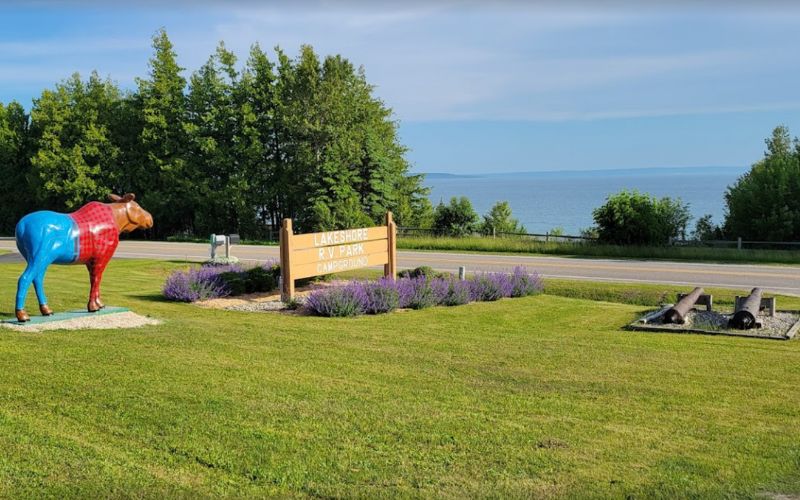 Lakeshore Park is the westernmost privately owned campground in the St. Ignace area.
This gives you more of a feeling like you are directly on Lake Michigan, instead of adjacent to a city.
While Lakeshore Park is a slightly smaller RV campground, it also has more of a rustic feel, that lets you get back to nature.
There are a lot of great wilderness hiking and adventure opportunities in the area. You are also less than an hour from the GarLyn Zoo Wildlife Park to the west.
Every night you will be treated to some seriously stunning sunsets over pearl blue Lake Michigan from just about every campsite in the park.
They offer a lot of full hookup RV campsites with sewer and electric. Many of their campsites have 30- and 50-amp electrical services available.
The family that owns Lakeshore Park specifically laid it out to be big-rig friendly with a lot of easy access pull-thru campsites.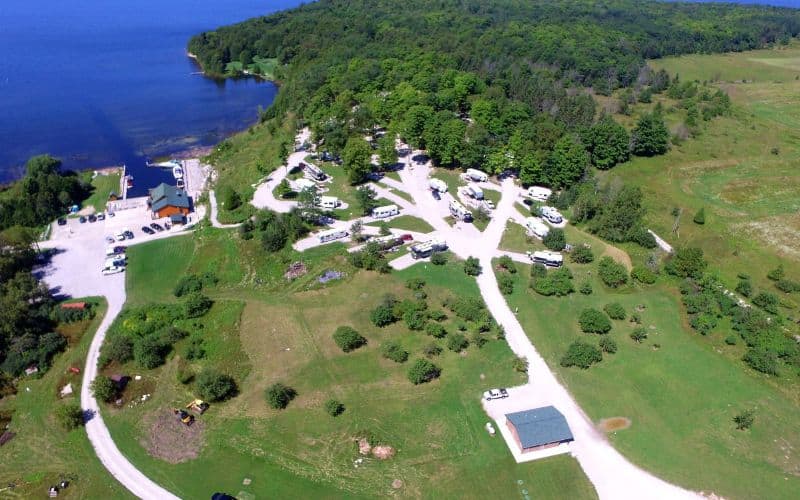 Bay Ridge RV Park and campground is located at the head of the Big Bay D' Noc. It is surrounded by majestic pristine forests speckled with rich fertile farmland.
The roadside fruit stands in the summer is let you enjoy fresh-picked in-season fruit.
There are also a lot of great wineries near Bay Ridge that are worth a short or perhaps a long tour.
Bay Ridge RV park has 40 back-in RV campsites. They offer full hooks up with water and sewer.
They have sites with 20-, 30-, and 50-Amp service. Though they do charge an extra $5 for 50 Amp power.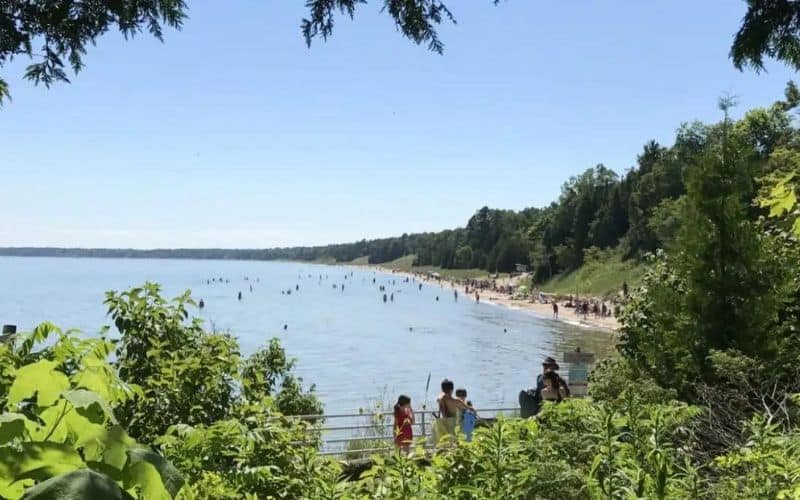 Dove Tail Acres is a little closer to the action, and within a reasonable distance of Green Bay for times when you might need to do a major resupply.
This part of Door County is known for some famously beautiful sunsets. Sister Bay Marina is also nearby as are a variety of charter fishing opportunities.
Dove Tail Acres offers back-in and pull-through RV campsites that are capable of comfortably accommodating big rigs.
They have 33 back-in RV sites, 27 pull-through RV sites. Each is equipped with 50 amp electrical, full sewer and water hookups, and access to a newly constructed bath and shower house. There's also a well-stocked convenience store on the property.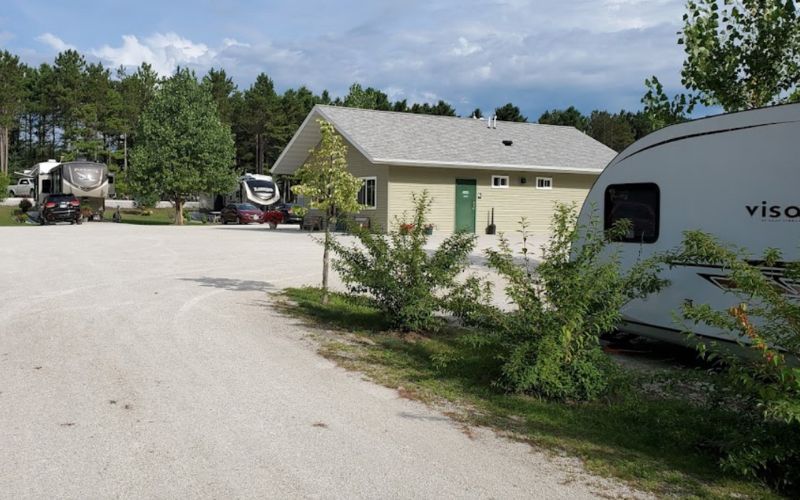 The Two Rivers area just southeast of Green Bay offers beautiful wilderness, as well as the Point Beach area.
There are a lot of great lake salmon and lake trout fishing charters in this area, which makes it a great area for avid anglers to set up base camp.
Sheffel's Hideaway rubs shoulders with Point Beach park. They have 93 RV sites in total.
Sites 1 through 63 are back-in RV campsites that have individual water connections, electric service picnic tables, and fire rings with cooking grates. It's also worth noting that 59-63 are pull-through.
If you are a single bachelor looking for the tranquility of the great outdoors and the opportunity to connect with nature, then the Jellystone Park campground is not the place for you.
If you are a parent who wants to hear their kids describe a camping trip as "The Best Vacation Ever" then Jellystone Park campground is going to be a dream come true.
This is one of the best family fun parks other than Wisconsin Dells, that the Badger State has to offer.
It's also right on Milwaukee's doorstep, so you can always take a day or two to explore what the city has to offer when you need a break from the Yogi Bear-themed fun.
The Jellystone RV campground is adjacent to the theme park. It offers a variety of RV sites, including back-in sites and pull-through sites that were specifically designed to accommodate big rig RVs. Most of the sites have water and electric access.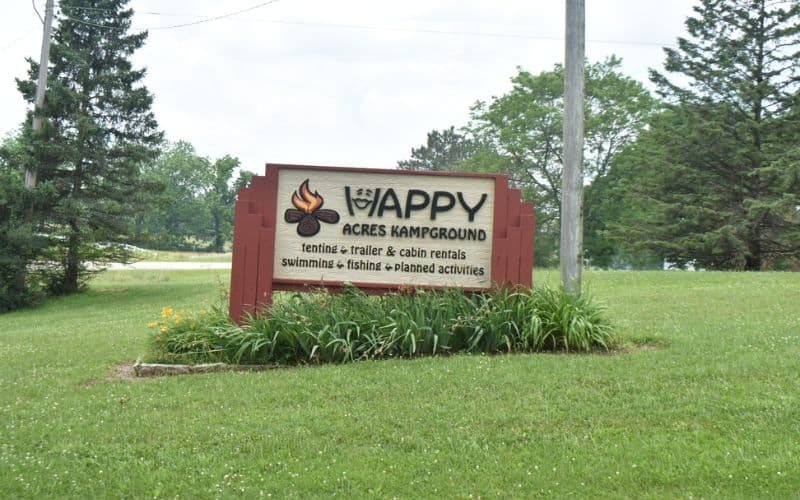 Located just outside of Kenosha near the border of Southern Wisconsin and Northern Illinois is in a great location.
You can easily strike out to see the sights of Milwaukee, Lake Michigan, or Lake Geneva.
It's also worth bearing in mind that Chicago is also very close by. You can get from Happy Acres Kampground to Chicago's Millennium Park in a little over an hour.
Though no one would argue with you if you chose to spend the bulk of your time in the campground itself.
Happy Acres offers a lot of fun for families. This includes their own manmade swimming beach, as well as a fish pond, swimming pool, basketball courts, an obstacle course, and playground. There is even a bingo pavilion.
Happy Acres Kampground has a plethora of RV campsites with various amenities. This includes a dozen pull-through sites for big rigs, as well as scores of back-in sites.
There is full water, sewer, and power offered on many sites. As well as RV campsites that are set up for 30 Amp and 50 Amp electrical service.
State Park & Public Land RV Campgrounds Around Lake Michigan
Most of the states on the shores of Lake Michigan have state parks with campgrounds that require an access or usage fee.
This is usually a minimal charge. Buying the yearly pass is a great way to save money if you are planning on taking a grand tour of Lake Michigan.
Not all state parks have full hookups available. Some only have potable water, other's just have electrical.
The reservations for prime campsites can also be snapped up in advance by locals and people who love to take annual trips to the area.
So, be sure to check the amenities offered at each campsite. You should also mark a date on your calendar in January or February to reserve the ideal site for your RV at a state park campsite. Especially if you have a big rig, or you want to stay during a special event.
In some of the more remote areas around Lake Michigan state parks and federally maintained primitive campgrounds can have spotty Wi-Fi and cell service. So, it's best to plan for this.
If you will be passing through a town with good Wi-Fi, check your e-mails, send your messages and do all your movie downloads.
Then make sure that your DVD and Blue-Ray collection is well stocked with things you or your kids want to watch.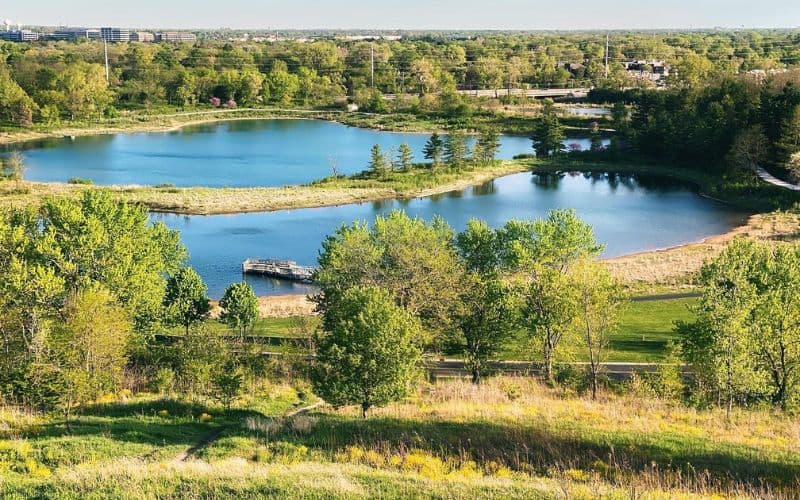 The Forest Preserve District of DuPage County has strived to protect and improve the county's natural areas while providing high-quality educational and recreational experiences for the people who love to enjoy nature.
Yet it is also stunningly close to Chicago and the Southeastern shores of Lake Michigan.
It offers 60 wooded and semi-wooded sites. Each has electricity and a gravel parking pad, fire ring and picnic table. However none of them have sewage or water hookups.
So, this is a location better served for people who like to boondock or dry camp.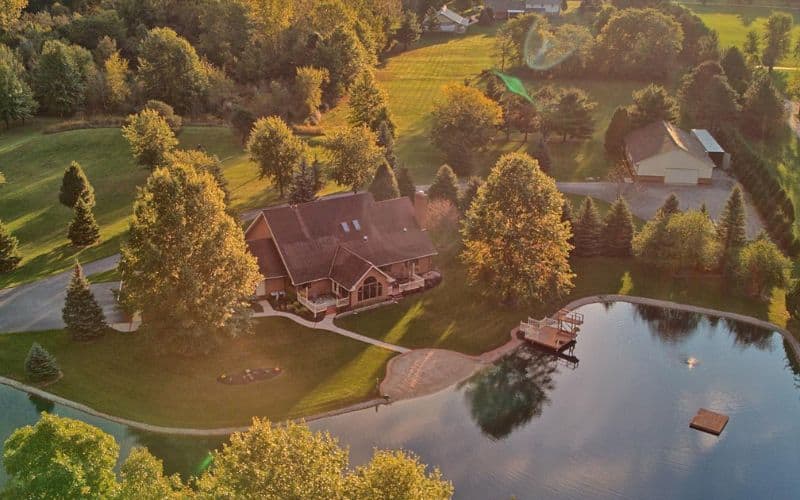 Van Buren State Park is perfectly positioned on the shores of Lake Michigan.
It offers up a mile of pristine sandy beach, high dune formations and a modern campground and offers easy access to Van Buren Trail State Park.
The popular town of South Haven is just minutes away with tons of quaint local shops and restaurants.
It offers over 220 rustic campground sites that are RV-compatible. They recommend that rigs be limited to 45 feet or less. There is a dump station and vault toilets on-site.
This is a great campground for modest-size RVs who want to get back to nature and have the capability of staying off the grid for multiple days of boondocking.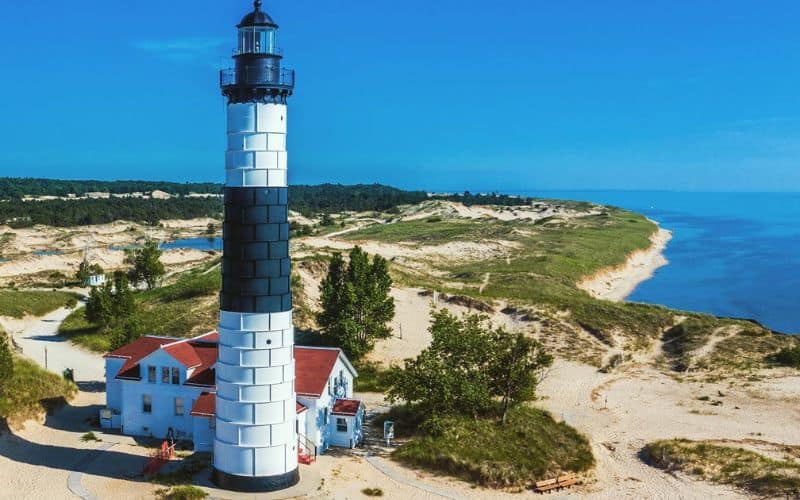 Ludington State Park is a nature & beach lovers' paradise. It is also located very close to the S.S. Badger's port of call, which is an RV-friendly ferry service linking Manitowoc Wisconsin to the town of Ludington Michigan.
It is also a very popular fall color tour destination with tons of natural wonders to let you soak in the surroundings for a full week, or park up for a few days while taking a grand tour of Lake Michigan.
Ludington State Park has four different campgrounds to choose from each with its own charms and general amenities.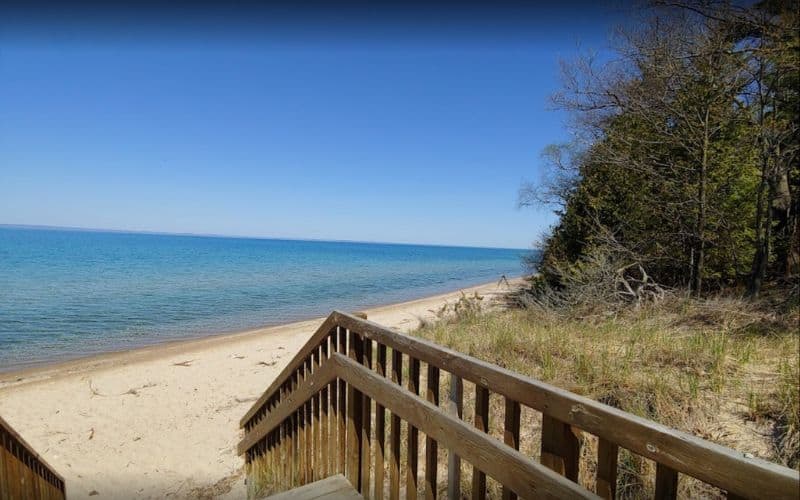 Barnes Park campground and RV park is managed both by the State of Michigan and Antrim County.
It is located on Grand Traverse Bay between Traverse City and Charlevoix. This makes it a great centrally located camping spot that lets you enjoy both destinations.
Not to mention being within easy striking distance of the Straits of Mackinaw.
It has a total of 84 spacious, wooded electric and rustic campsites for tents, RVs, motorhomes, vans, trailers, campers.
There aren't any water hookups available, but there is a convenient RV dump station on site.
There is also a pair of spacious pavilions with electrical outlets. Each pavilion has up to 10 picnic tables and 4 BBQ grills.
They even have two modern bathhouses with coin-operated showers.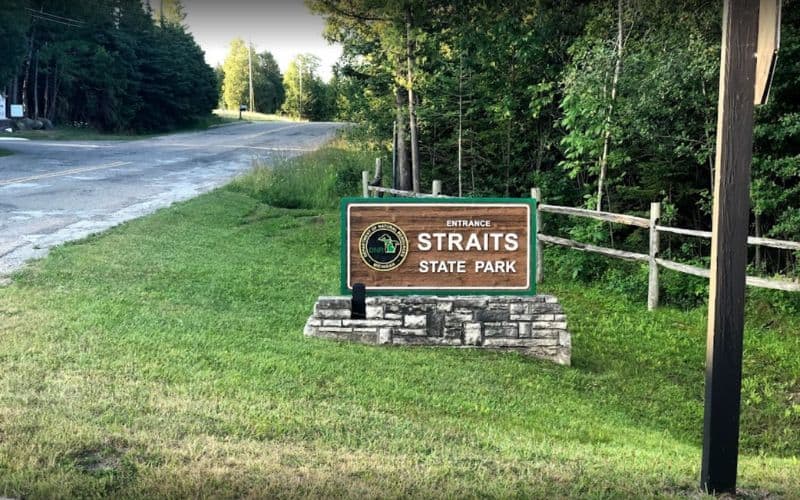 Strait's campground is one of the most modern and cleanest RV campgrounds in the St. Ignace area.
It also treats you to majestic views of the Straits of Mackinaw, Lake Michigan sunsets with dappled of light, of the towering Mackinaw Bridge that looms large nearby.
Your kids will enjoy the playground, and there is a lot of great hiking and swimming opportunities.
When the weather is right, and you are willing, it offers nearby access to make the long walk across the majestic Mackinaw suspension bridge.
In summer Straits Campground can easily get crowded. So, you definitely want to make your reservations in advance.
There are three loops with two offering 20- and 30-amp electrical service.
Throughout the property, you'll find vault toilets, and some modern toilets and there is even an RV sanitation station on site.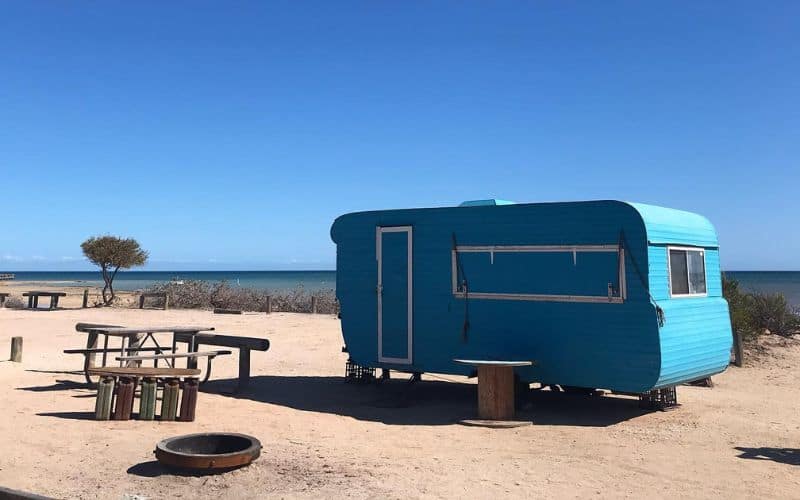 As the name implies, Gladstone Bay Campground & RV Park is part of the City of Gladstone park system.
It is officially open to RV camping from early May through the middle of October. Most of the RV sites have electrical service, and some have water and sewer available.
They are in the process of updating the number of sites with access in the future, as the RV campground is in such high demand.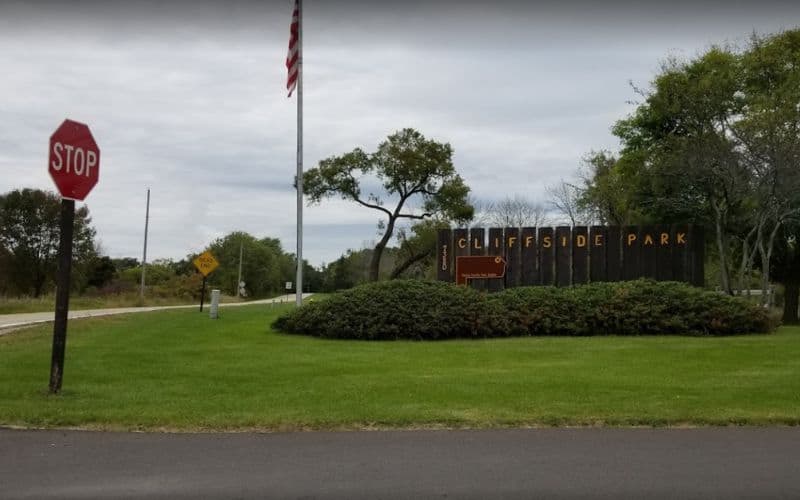 Cliffside Campground is open from the second weekend in April until the second weekend in October.
It is conveniently located between Milwaukee and Chicago. Access to Lake Michigan is less than 20 minutes away.
Cliffside Campground is a 92-site campground and RV park. Though every one of the sites is back-in only and accommodates up to a 45′ RV with slide-outs.
Harvest Host Sites Around Lake Michigan
Harvest Hosts is a membership program that provides campers and RV travelers with premium access to a vast network of wineries, farms, breweries, museums, and prime festival locations as well as other unique attractions.
They often invite self-contained RV travelers to visit and stay overnight. They strive to provide meaningful experiences for RV travelers and Hosts alike.
This requires a yearly membership fee, which opens up access for you to be invited to stay at hundreds of interesting locations around North America.
Harvest Host campsites are particularly popular around Lake Michigan, to let travelers enjoy the bounty of fruit harvests, wine season and cultural festivals that abound throughout the region.
The cost is higher than a privately owned or state campground. However, you are getting premium access, with prime foods, beverages and other unique travel opportunities.
Not to mention, that a lot of the Harvest Host campsites around Lake Michigan offer up stunning vistas!
Since Harvest Host campsites are usually limited to shorter stays, they tend to be more popular with RV travelers who are taking an active grand tour of Lake Michigan and the rest of the Great Lakes region.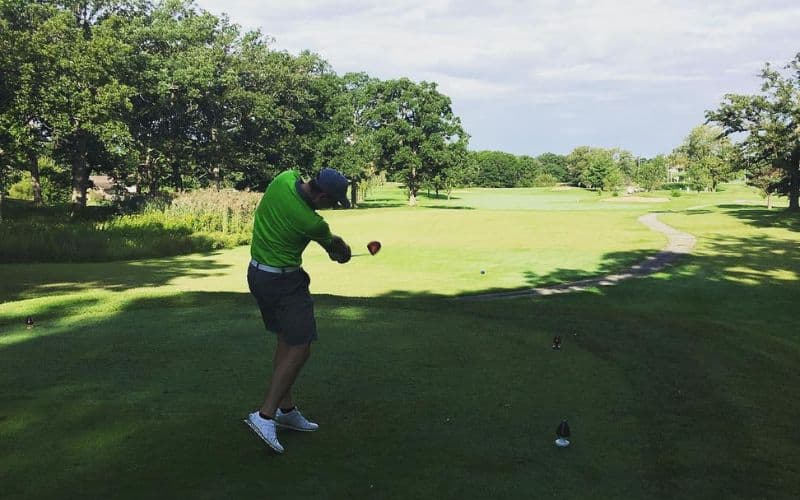 Balmoral Woods is located in Crete, Illinois, which makes it easily accessible to Downtown Chicago as well as northwestern Indiana.
It has been rated as one of the best public golf facilities in the Chicago area, which draws tons of avid golfers.
Balmoral woods offers a demanding, superbly conditioned, round of golf laid out over 120-plus acres of wooded, rolling hills. It also offers a restaurant with plenty of food options.
Camping availability is highly limited. A Harvest Hosts member can reserve one of the two pet-friendly spaces for RVs of any size.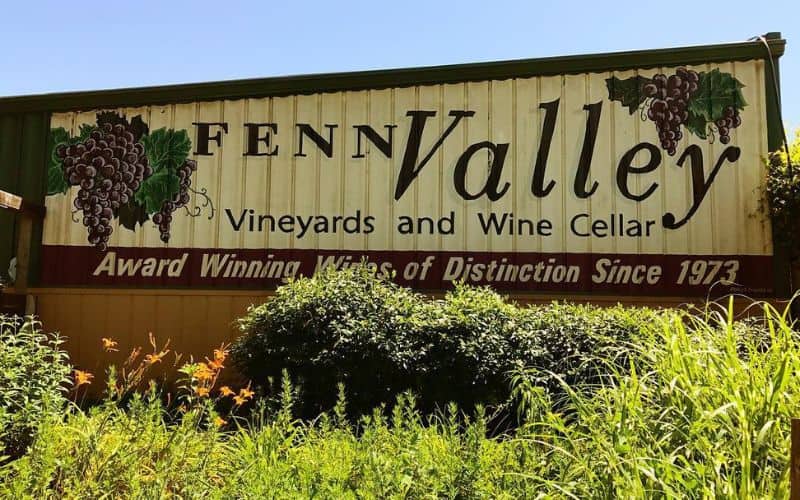 Fenn Valley Vineyards is a picturesque winery located near Fennville, Michigan.
It is close to the southern dunes on Lake Michigan as well as a stone's throw from Holland, Michigan which boasts tulip festivals in May, as well as the urban opportunities of Grand Rapids.
Fenn Valley Vineyard is a pet-friendly Harvest Host with 2 RV sites. The nicely appointed campsite are positioned near beautiful rows of vineyards in a quiet location.
They proudly offer a variety of delicious white and red wines available for sampling, and the winery hosts events with live music and food in the summer.
Oceana Golf Club is an RVing golf-lovers dream. It is conveniently located just a few miles off US-31.
It features a beautifully maintained eighteen-hole golf course in a serene setting.
If you are passionate about the game of golf, you can enjoy a variety of holes, and there is a "dollar per hole" Friday specials each week. The also offer golf carts for daily rental.
Brengman Brother's Winery is located just outside of Traverse City, Michigan.
They offer single overnight accommodations for RV Harvest Host members. The wintery offers a unique tasting room experience.
There is also a gift shop offer a variety of local wines, grown and bottled on site. Brengman Brothers Winery is dedicated to producing the finest natural and ecologically-balanced wines, offering up their wares for sale after the tasting room experience is completed.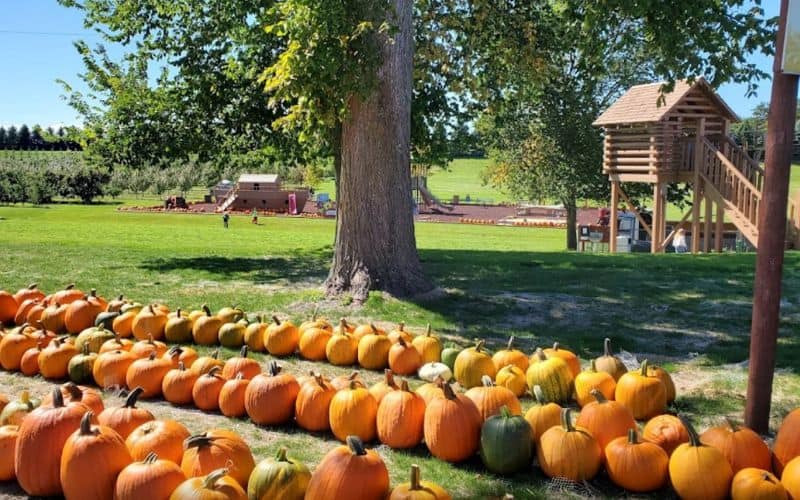 Friske Orchards is a family business that is also Michigan favorite Harvest Host location.
It offers up the quaint small-town charm of Ellsworth, along the northern shores of Lake Michigan.
Friske's farmer's market features a fruit stand with a huge selection, and u-pick fruits are also available seasonally.
They also offer year-round bakers and a petting zoo for children. In the fall they also offer hayrides, and pumpkin picking are available.
Harvest Host members can stay on-site for free. Though there are minimal hookups for long-term stays.
Ultimately, Friske's is an overnight destination that will leave you with a smile on your face and full stomach as you continue on with your grand tour of Lake Michigan.
As the name implies, the Gourd barn is a farm that specializes in all things Gourd.
They sells seeds, fruits and dried gourds, as well as the tools to use gourds are part of your own handicrafts.
They also have art, classes, pheasants, chickens, and other historic farm attractions. They offer rustic on-site camping for RVs of all sizes.
Though there aren't any traditional hookups, so be prepared to boondock for a night or two. Still, it's a great stop on a grand tour of Lake Michigan.
Frequently Asked Questions
Is There An RV Friendly Ferry Service That Crosses Lake Michigan?
While there are several ferry services that cross Lake Michigan on the S.S. Badger is equipped to carry RVs.
It goes between Manitowoc, Wisconsin and Ludington Michigan, and is a great way to bypass Chicago and the toll roads of Norther Indiana.
The trip takes roughly four-house, not counting the time change from Central to Eastern Time.
RVs, travel trailers, fifth wheel, and motorhomes are charged $8 per foot for a one-way ticket. Round trip arrangements reduce the cost slightly to $15 per square foot.
Their loading requirements also require you to make reservations well in advance.
Do You Need A Special Permit To Camp In Michigan?
The state of Michigan does require you to carry an active Dispersed Camping Pass to camp in state or publicly maintained campgrounds that are North of the Saginaw bay "Red Line."
The cost for a Michigan state camping pass is only $17, yet the fine for camping without one can be as much as $500.
Are There A Lot Of Toll Roads Around Lake Michigan?
Potential toll roads vary by state. In the state of Michigan, there are no toll roads along Lake Michigan other than the $4 toll that all vehicles must pay to cross the Straits of Mackinaw. There also aren't any tolls on the eastern coast of Wisconsin.
However, toll roads are very common the closer you get to Chicago and throughout Northern Indiana.
An electronic toll pass will help expedite the process. You should also bear in mind that if you have a fifth-wheel trailer or a Class A motorhome that these states might require you to pull into weigh stations to assess that you pass all their road legal requirements.
Conclusion
Whether you are taking a grand tour around the whole of Lake Michigan or looking for a single spot to park up for a week and soak in everything the area has to offer, you will certainly feel spoiled for choice.
State Park campgrounds around the Lake Michigan region are a great way to get back to nature, whereas Harvest Host sties are a great way to get a fun taste of the region as you continue with your travels.
If you are going to pick one out of the four states bordering Lake Michigan, lower Michigan is probably the best place to start looking.
In the summertime, you will be treated to a staggering amount of fresh fruit as well as great cultural festivals.
It's a place where nature and urban attractions easily rub shoulders without the suburban sprawl that crowds up so many other regions.