Nestled in the heart of the Great Lakes region, the Upper Peninsula of Michigan offers boundless opportunities to let you bask in nature.
It gleefully offers up towering virgin forests, glimmering agate beaches, and some interesting gourmet delicacies that you simply cannot find anywhere else on the planet.
To boot, it's also one of the most pet-friendly regions in the lower 48, which makes it easy to bring Fido with you.
With so much to offer, the UP of Michigan is rife with a lot of great campgrounds and RV parks.
There's something for everyone, whether you are looking to see it all, or simply soak in the sun and waves at a premier destination.
From rustic campsites in the Porcupine Mountains Wilderness State Park to RV sites with electric hookups, you'll find the perfect camping spot in the Upper Peninsula to call home for a few days (or weeks).
So pack your camping gear or load up your RV and head to the Michigan's Upper Peninsula for a truly memorable and scenic getaway. Trust us, you won't be disappointed!
In this blog post, we'll introduce you to some of the most beautiful campgrounds and RV parks in the Upper Peninsula, each offering its own unique charms and amenities.
How To Get To The Upper Peninsula Of Michigan
There are three common routes that you can use to get to the Upper Peninsula of Michigan.
The most common is to take the Mackinaw Bridge over the Straits of Mackinaw to the city of St. Ignace.
This is the most common route for people living south and east of the state of Indiana or Ohio.
Just keep in mind that there is a tool for the Mackinaw Bridge. For RVs, the fee is based on the number of axles you have at $5 per axle.
Travelers coming from Canada or New England often choose to come through Sault Ste. Marie is in the northeast corner of the UP.
It's a mere 45 Mike's to the North of St. Ignace and gives you access to a lot of interesting camping opportunities as well as tours of a truly multi-cultural city.
The third way to get to the UP of Michigan is to come through US Highway 2 and the town of Ironwood.
This is a wild, untamed part of Michigan's Upper Peninsula. To the north are the pristine porcupine mountains, Lake Superior, and the unspoiled dark sky opportunities of the Keweenaw Peninsula.
To the southeast are Escanaba, Manistee, and the Bays D' Noc region of Lake Michigan.
12 Best Campgrounds & RV Parks in the UP of Michigan
The Upper Peninsula of Michigan is loaded with state parks, national forests, state-managed lakes sure, and privately owned campgrounds to suit just about any travel style.
The primary regions that attract the most RV travelers include the Sault Ste. Marie area, St. Ignace, Marquette, and the Bays D' Noc region near Escanaba.
Here are the 12 of our favorite campgrounds and RV parks to unplug, unwind, and immerse yourself in the natural beauty of the Michigan's Upper Peninsula.
1. Straits RV Campground
Straits Campground is the place to camp if you want to enjoy everything that the Straits of Mackinaw has to offer.
It's certainly one of the most modern and cleanest campgrounds in the in the UP. It treats you to majestic views of the Straits of Mackinaw, Lake Michigan sunsets with dappled light, and the towering Mackinaw Bridge that looms large nearby.
Your kids will love the expansive playground, and there's also a lot of great hiking and swimming.
Shuttle services can quickly get you to St. Ignace, which is the gateway to the ferry services that can take you out to gorgeous Mackinac Island.
They also have fireworks every weekend between the fourth of July and Labor Day weekend.
Just keep in mind that Straights Campground can fill up quickly in the peak of summer it can get crowded. So, you definitely want to make your reservations in advance.
There are three loops with two offering 20- and 30-amp electrical service. Throughout the property, you'll find vault toilets, and some modern toilets and there is even an RV sanitation station on site.
2. Rivermouth Campgrounds Near Tahquamenon Falls State Park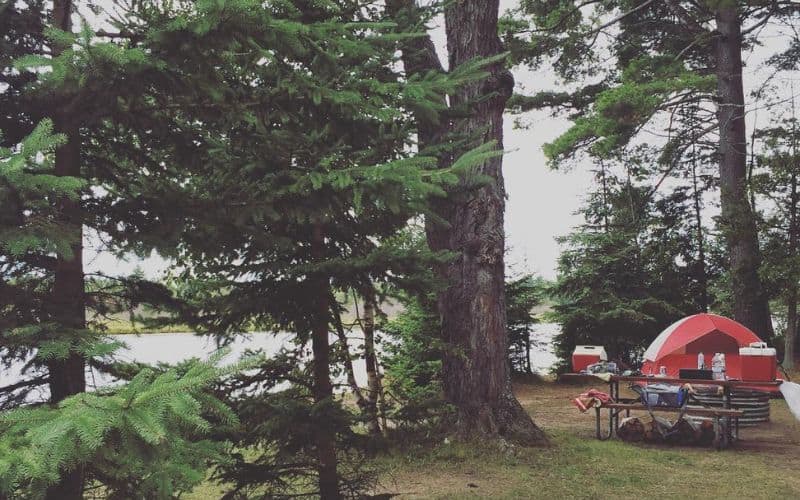 Tahquamenon Falls State Park is one of the most popular camping stops in the Upper Peninsula of Michigan.
It is most famous for the majestic waterfalls that are stained to look like rootbeer by the sediments and wood fibers from the local tamarack trees.
The 50,000-acre state park is rife with wild animals. Including the chance to see a moose.
Though this also means that you need to be wise about policing your food supplies, to keep raccoons and other nuisance animals out of your campsite.
Tahquamenon Falls State Park has multiple campgrounds, as well as a boat launch, a well-appointed picnic area, and more than 35 miles of trails.
There is also a well-stocked camp store and a variety of paved sites with 30 Amp electrical service and a few sites with 50 Amp service.
The various campgrounds also have a dump station, a recycling area, restrooms, a playground, and a vault toilet.
3. Soo Locks Campground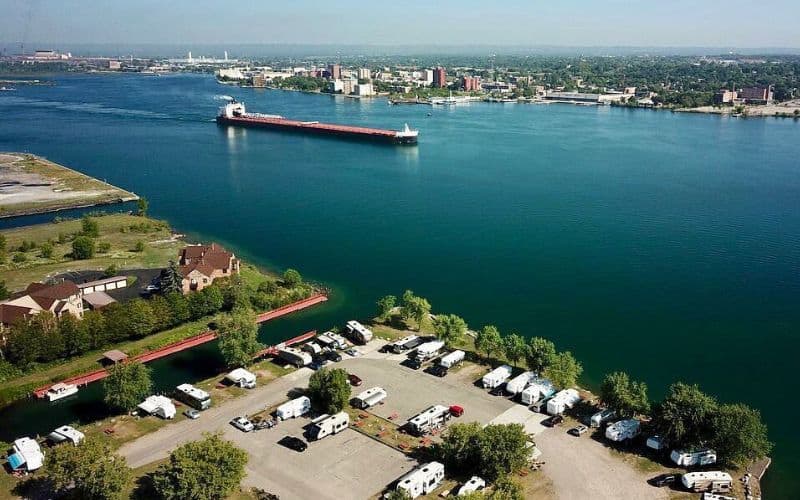 The Soo Locks Campground is located in the city of Sault Ste. Marie is right on the locks, letting you watch massive ships come and go. It's municipally managed and kept very clean.
Since you are in the city there are modern amenities and supplies nearby.
There is also a lot to see in the city, including boat tours. If you have a passport, there are many French Canadian historical-cultural sites across the locks.
Just keep in mind that navigating the roads in Sault Ste. Marie can be a little bit of a challenge for a big rig like a Class A motorhome or a fifth-wheel trailer.
When you get there, you will feel spoiled for choice with over 100 sites, most having a direct view of the water and the locks.
Soo Locks Campground offers sites with water & electricity access. There are restrooms and multiple dump stations on site.
They also have a game room and campground store to let you resupply without having to drive too deep into the city.
4. Gitche Gumee RV Park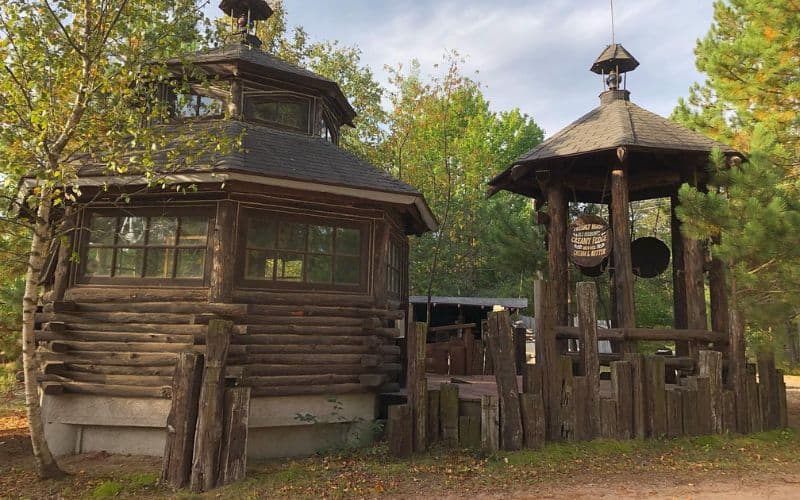 GitcheGumee RV park and campground is centrally located near Marquette, which is the biggest city in the Upper Peninsula of Michigan as well as being close to Munising and Pictured Rocks National Lakeshore.
They have great beach access with amazing sunset views, as well as firepits.
The proximity to the cool waters of Lake Superior also makes for cool evening breezes, even on the hottest days of summer.
GitcheGumme RV park is also close to the Marquette Ojibwa Casino for times when you might want to get away for a little gambling and adult entertainment.
GitcheGume RV Park is open all year round and is big rig friendly with pull-through sites as well as a variety of back-in sites.
They offer full hookups, including water, sewer, and electricity. If you are looking for a big-rig-friendly RV park with a gorgeous beach, and tons of entertainment options, that make it easy to enjoy Marquette as well as Pictured Rocks, then this is probably the campground for you.
5. Pictured Rocks RV Park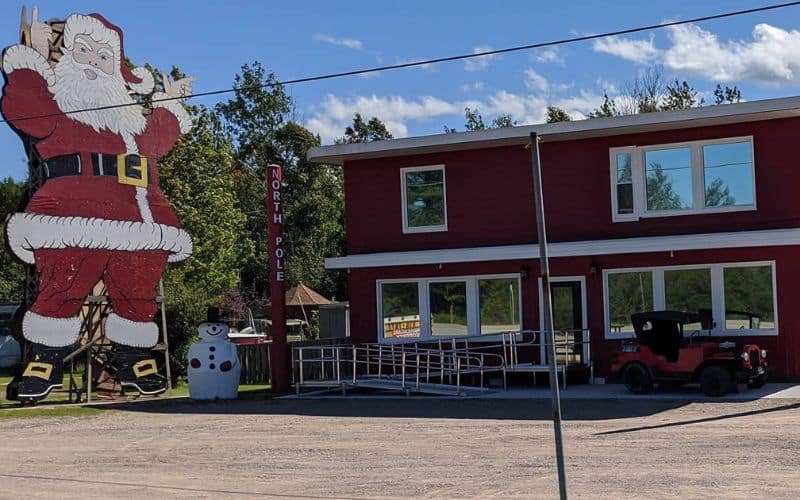 Pictured Rocks National Lakeshore and the adjacent Hiawatha National Forest offer pristine nature at their finest.
You could spend a full week in this area hiking and exploring the shores, waterfalls, beaches, and forests, while still feeling like there is more left to experience.
Pictured Rocks RV Park is conveniently close to the town of Munising, which lets you resupply or stock up each day.
They even have close access to marinas that host both the Pictured Rocks Boat Tours as well as the Glass Bottom Shipwreck Tours.
Yet the Hiawatha National Forest and Pictured Rocks National Lakeshore itselfare less than a 15-mile drive away.
The campground offers campsites that appeal to just about any camping style. They have 16 pads that are big rig friendly.
They offer 50-, 30-, and 20-amp electric service, with water hookups, sewer hookups, and free Wi-Fi. Each site includes a fire ring and a family-size sturdy picnic table.
6. Nahma Resort & RV Campground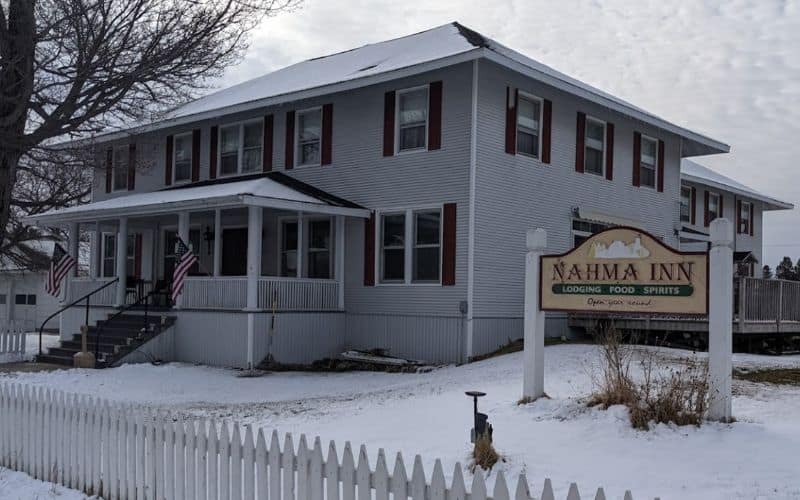 Formerly known as the Upper Peninsula Golf and Lake Resort, Nahma Resort is both a full-service resort with premier golfing and boats as well as a well-appointed RV campground.
They have an extensive marina with boat rentals available at a very reasonable rate.
This is a great opportunity to explore the fishing and boating that can only be experienced on Lake Michigan's Big Bay D' Noc.
The Nahma RV campground portion has 50 back-in sites. Each of them has at least 40 feet of lakeshore.
If you have your own boat you can even pull it up to your site. Just keep in mind that even though these sites are right on the water, there isn't any sort of sewer access offered for RV sites, only optional 30- and 50-Amp electricity.
7. Rippling River Resort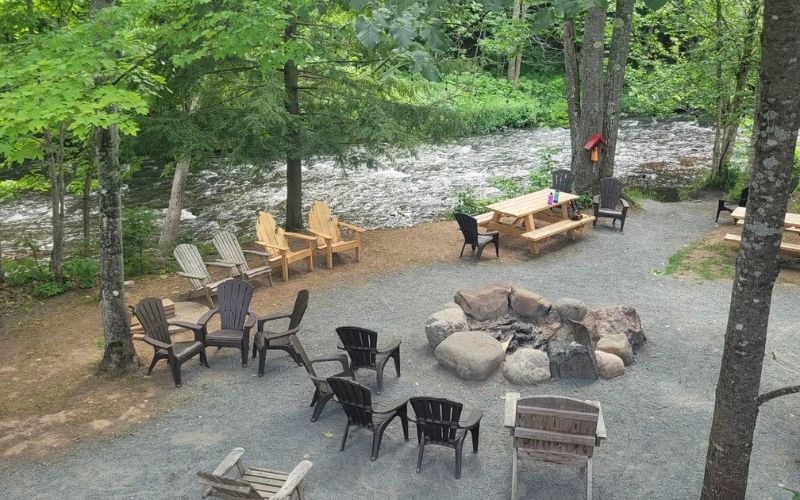 Marquette is the largest city in the Upper Peninsula of Michigan. It offers a lot of modern attractions, art museums, fine dining, pet-friendly restaurants, and boat tours out onto boundless Lake Superior.
Yet there are also a lot of great natural opportunities just minutes away.
Rippling River Resort is minutes from downtown Marquette and includes a campground with an RV park included. They offer RV sites with just electric as well as sites with full hookups.
Most of Rippling River's RV sites are back-in sites. However, they do offer a small number of larger pull-through sites.
If you do have a big rig, you should plan on making your reservations well in advance to get one of the pull-thru campsites in the center of the camp.
Rippling River Resort has a lot of amenities, including an RV dump station on the property, as well as a pool, hot tub, and a great playground for the kids.
They have 30 and 50 Amp electrical services available as well as water and sewer hooks ups.
You'll enjoy free Wi-Fi access with a strong signal, which is rare in many parts of the UP.
8. Upper Michigan's Baraga State Park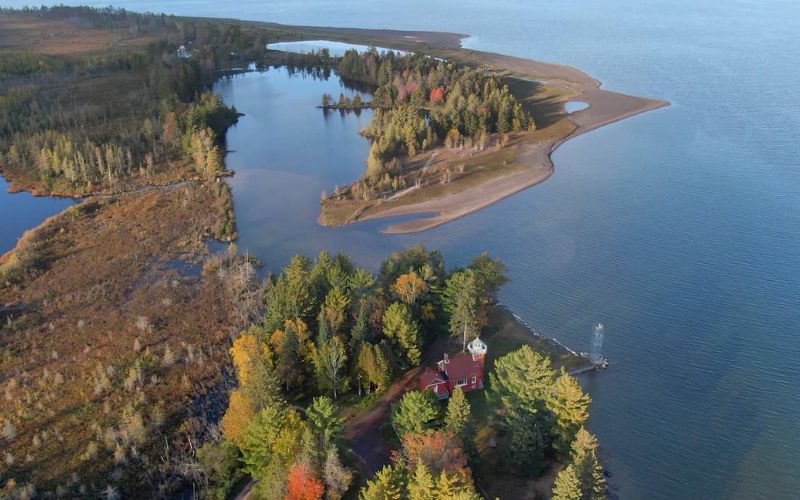 One of the great things about Baraga State Park's campground is that it provides easy access to a wide range of the Upper Peninsula's hotspots.
This includes the unspoiled vistas of Keweenaw Bay, the nearby Sturgeon River Gorge, and cliffside vistas that are seldom visited by many of the other throngs of tourists who explore the UP.
If you are willing to drive an hour or two, you can explore the length of the Keweenaw Peninsula, Houghton, the Porcupine Mountains, and even Marquette, which is the largest city in Michigan's Upper Peninsula.
There is also a casino nearby for times when you might want to take a break from the pristine wilderness for a few hours to play some games.
Though one thing to note, the locals pronounce the name Baraga as "Bear-Gra" and they will know you are a tourist if you mispronounce it.
Baraga State Park has good WiFi, which is astonishing for where how wild the surrounding area is.
Most of the RV sites have electrical hookups, as well as water and sewer. There are also vault toilets and modern restrooms.
The park also offers the option to rent a mini-cabin or one of their cute teepee tents, which can be a fun experience for your kids.
9. City Of Houghton RV Park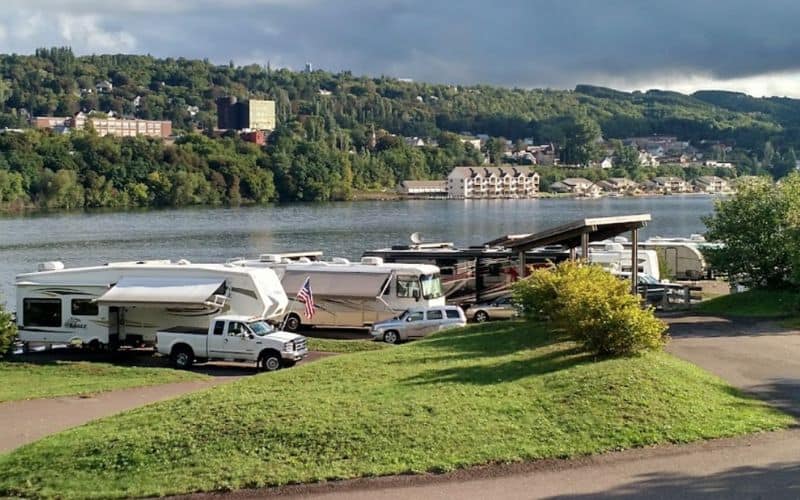 Houghton RV park is considered the "Gateway to the Keweenaw" peninsula which juts out proudly into Lake Superior.
It's a great home base to park up your RV and explore everything the region has to offer.
O Kun De Kun falls to the south is one of the few plunge waterfalls in the northern Great Lakes region.
There are great copper mines and the porcupine mountains just an hour away.
The Keweenaw peninsula has over 7 majestic waterfalls that are just a short hike from the road.
Brockway Mountain Drive on the northwestern coast of the peninsula offers majestic vistas and boasts the highest point in the Midwest between the Rocky Mountains and the Alleghenies.
City of Houghton RV Park is a full hook-up-only campground. They don't have any formal shower houses and only public bathrooms.
So, they don't allow popup campers and tent camping. The majority of their sites are back in, with firm pads that will accommodate big rigs. Most of their sites are right on the canal.
There is a swimming beach within walking distance, and the City of Houghton offers great attractions, as well as restaurants to suit any taste.
Though the thing you kids will go bonkers over is the humongous chutes and ladders playground that casts its shadow over the RV campground.
10. McLain State Park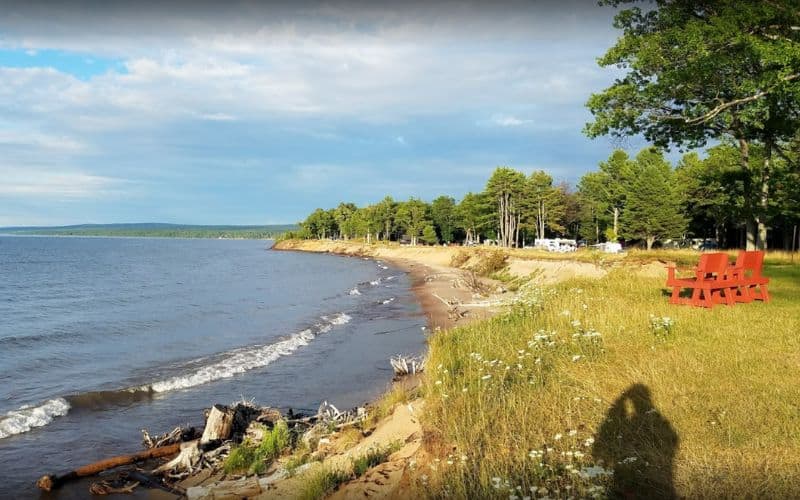 McClain State Park is a gem of a state park on the shores of Lake Superior, at the base of the Keweenaw peninsula.
This is another great home base to set up your RV to explore the Peninsula. If you follow the coast road, it will take you up the astonishing vistas of Brockway Mountain drive, which is the highest point in the Midwest between the Alleghenies in the east and the distant Rocky Mountains
McClain State Park has a beautiful beach that is seldom used, and offers immense views of the sunset over Lake Superior.
Once the sun goes down, you will be treated to the unique experience of the Keweenaw Peninsula's dark skies.
There are also hiking trails and a lighthouse vista directly accessible from the park.
Since it's pet-friendly, this makes a great place to take your four-legged best friend on a morning or evening walk.
The RV campground in McClain State park is semi-rustic. It includes 30 Amp electrical hookups, an on-site dump station, modern restrooms, a camp store, and mini-cabin rentals.
Most of the sites are back in, though there are a few that offer somewhat tight pull-thru access.
11. The Lake Fanny Hooe Resort & RV Park
Copper Harbor, at the tip of the Keweenaw Peninsula, is the gateway to pristine Isle Royale out in Lake Superior.
Lake Fanny Hooe Resort & Campground is a great home base for day trips out to the Isle, as well as soaking at the end of the world feeling.
Copper Harbor also has art opportunities, nature tours, waterfalls nearby, and great hiking opportunities.
Anglers will appreciate the great fishing on Lake Fanny Hooe, as well as the nearby trout streams.
Lake Fanny Hooe RV park has a wide range of camping opportunities. This includes some rustic and very private feeling sites for families who love to boondock, as well as big rig-friendly sites with full hookups available.
Just note that electrical service is limited to just 30 Amp connections.
Campsites include a picnic table as well as a fire pit at each site. The park has a dedicated dump station as well as clean bathrooms with hot showers. There is even a clubhouse and a nice size playground for the kids.
12. Big Bear Campground In Union River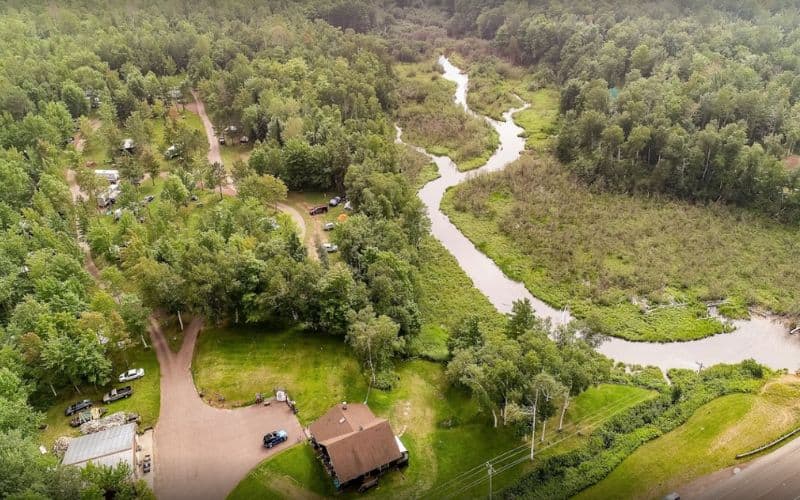 Located at the footsteps of the Porcupine Mountains, Big Bear Union River Campground offers one of the best opportunities to experience the Upper Peninsula's dark skies.
It's worth staying there at least one night just to view the Milky Way like never before.
It is a mere matter of minutes to drive to the Lake in the Clouds, with the town of Ontonagon, Michigan, roughly 20 minutes away for resupplying.
Big Bear Campground offers 30 Amp electrical service to all their RV campsites. There are also a few sites that have water hookups.
There are several back-in and pull-thru sites available. They offer bathrooms with showers and there are a dump station on-premises.
Though one of the biggest reasons so many people fall in love with Big Bear is the enormous sandy beach right across the lonely road.
Conclusion
The pristine Upper Peninsula of Michigan shimmers like a diamond with the opportunities to enjoy the azure waters of both Lake Superior and Lake Michigan.
The unspoiled wilderness tantalizes many, and the low cost of living makes it easy to spread your budget an extra mile to see just what lies over the next horizon.
If you are looking for a home base to soak in and explore one region, then the City of Houghton RV park and the GitcheGumme Campground should be at the top of your list.
Both are surrounded by amazing natural beauty, with great hikes and beaches at your fingertips.
Yet they are also close enough to town that you can restock at a moment's notice.
If you are looking to explore multiple areas, then you might want to hop from Straits Park after a busy weekend to the quiet environs of Tahquamenon Falls State Park or Big Bear at Union Bay.
Both destinations boast the best of what nature has to offer, with the peace and quiet everyone craves deep down.