When it comes to hitting the road with the family, minivans, and SUVs are the trusty steeds of choice. With plenty of room for kids, cargo, and everything in between, they make family road trips a breeze. But when it comes to towing a camper trailer, can your beloved challenge of towing a camper trailer?
The truth is, it's a bit of a mixed bag. While most current minivans can tow between 3,500 and 3,600 pounds with the right equipment, whether you should tow with a minivan is more complex than a simple yes or no.
On the bright side, many minivans can easily pull a lightweight teardrop or popup camper. These cozy trailers are perfect for a small family or couple looking to hit the road and explore new places. However, if you're considering a larger travel trailer, things can get a bit tricky.
To determine just how much weight your minivan can safely tow, it's crucial to examine its towing capacity and assess which pull-behind campers are the best fit. With a little research and the right equipment, your trusty minivan could become the ultimate family adventure mobile.
How Big of a Camper Can a Minivan Pull?
The average minivan has a maximum towing capacity of around 3,500-pounds, which is sufficient to pull most teardrop campers and popup campers.
They can even tow a handful of lightweight travel trailers like this Forest River Wolf Pup 16FQ and the iCamp Elite that can be pull behind a minivan.
Can A Minivan Tow A Travel Trailer?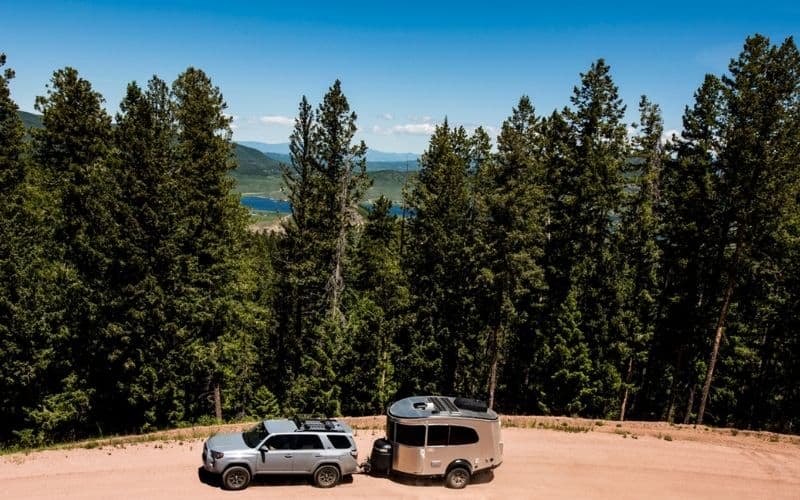 While not all minivans are up to the task, some models with a robust towing package can handle pulling a travel trailer.
The Forest River Wolf Pup 16FQ, with its dry weight of 3,000 pounds, and the Coachmen Clipper Ultra Lite 17 CFQ, with a dry weight of 2,908 pounds, are two such trailers that can be towed by a properly equipped minivan.
However, it's important to note that to be considered legal for towing purposes on state and federal roads, your minivan must have a tow package professionally installed. Some minivan models and trim levels come equipped with a tow package, but if your vehicle doesn't have one, you'll need to upgrade through a licensed mechanic or dealer before before you hitch up your trailer.
How Can You Tell How Much Your Minivan Can Tow?
The rated towing weight or maximum towing capacity for any vehicle is stamped on the Vehicle Identification Number Plate.
You can typically find the VIN plate under the hood on a door pillar, or in the driver's side door well.
You should also be able to find this information in your minivan's owner's manual.
Which Minivan is Best for Towing a Travel Trailer?
One of the best minivans for towing a lightweight travel trailer is the Dodge Grand Caravan. Though it's not the only minivan worthy of being used as a tow vehicle.
6 Compact Campers to Pull Behind A Minivan
There are a lot of great teardrop campers and popup campers that can be towed by a minivan.
Though for a lot of people the ability to trail a lightweight travel trailer sits as the gold standard of the towable RV experience.
So, we made sure to feature an impressive variety of travel trailers and camper options that can be confidently towed by a minivan.
1. Forest River Wolf Pup 16 FQ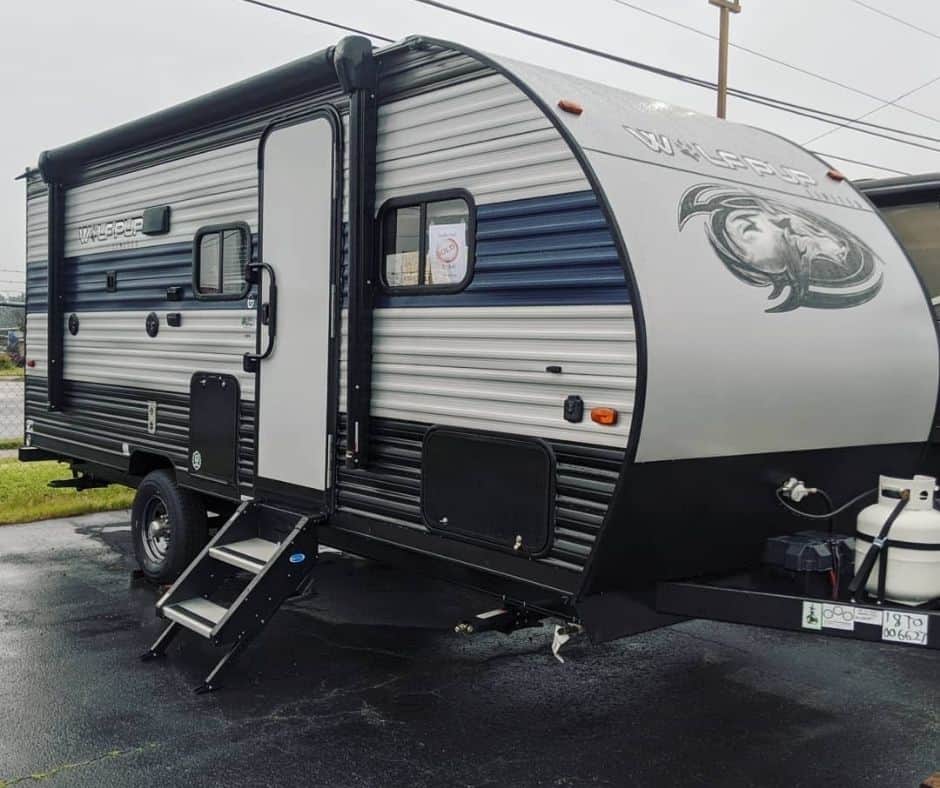 With a dry weight of 3031 lbs. the Forest River Wolf Pup, 16 FQ is a travel trailer that sits at the top end of what a minivan can tow.
With careful packing and a robust tow package installed it offers a lot for a small family who prioritizes a balance between the living area and sleeping space. Not to mention it even offers a complete bathroom in the rear.
2. Coachmen Clipper Ultra Lite 17 CFQ
One of the great things about the Coachmen Clipper Ultra Lite 17 CFQ is that it only has a hitch weight of just 333-pounds, which is pretty friendly for a travel trailer that you can tow behind a minivan.
Here again, you have a camper that can be towed by a minivan, so long as you pack it wisely.
If you load it to even half the maximum capacity of 925-pounds, you will likely go over the maximum towing capacity that your minivan can safely.
3. Forest River R-Pod RP 180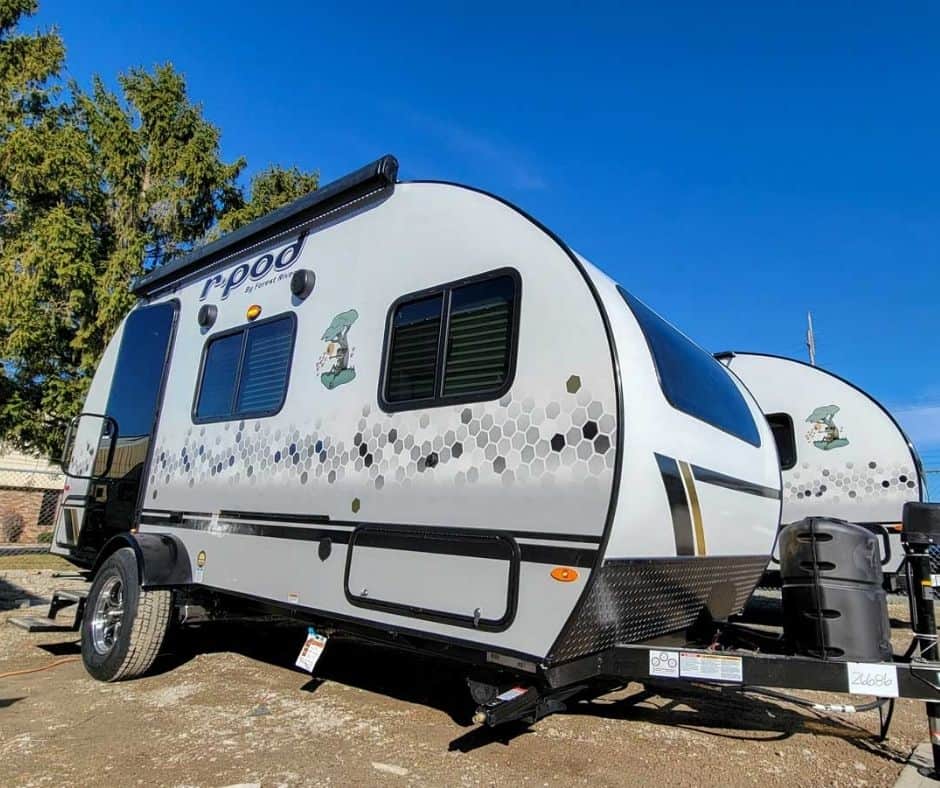 The Forest River R-Pod is one of the most popular lightweight travel trailers to emerge on the RV scene.
With a dry weight of under 3,000-pounds and a hitch weight of just 332-pounds, it is within range of what a minivan can tow. Though you still do have to be wise about how much you load into it.
What you are treated to is a queen-size bed in the front, a convertible dinette at midship, and a tidy galley with a two-burner stove.
Though the thing your family is probably going to appreciate the most is the full bathroom in the back of the Forest River R-Pod RP 180.
4. Scamp 13 Deluxe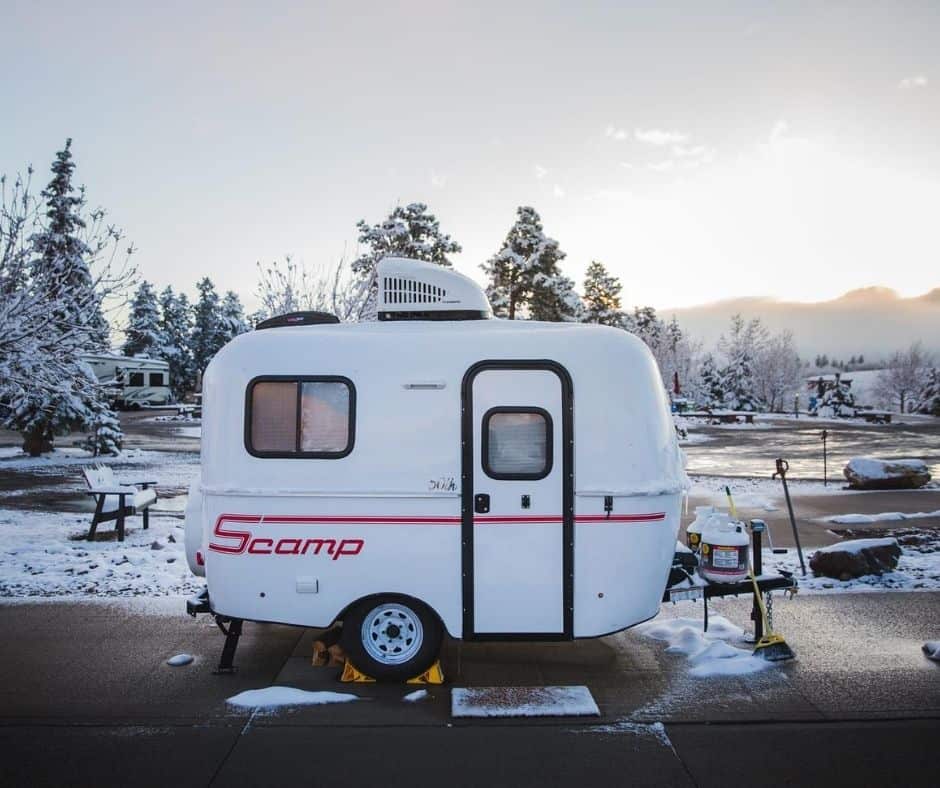 Scamp is a fiberglass camper company with an immensely loyal following. The 13' Deluxe is a compact camper that can be easily towed by a minivan.
While it doesn't have the cargo capacity of some of the slightly bigger travel trailers on our list, it also doesn't come with a lot of packing worries.
Plus you get treated to a compact camper with multiple floor plans. Some even include a wet bath, while others swap out bathroom facilities for more sleeping and table space.
5. Timberleaf Pika Teardrop Camper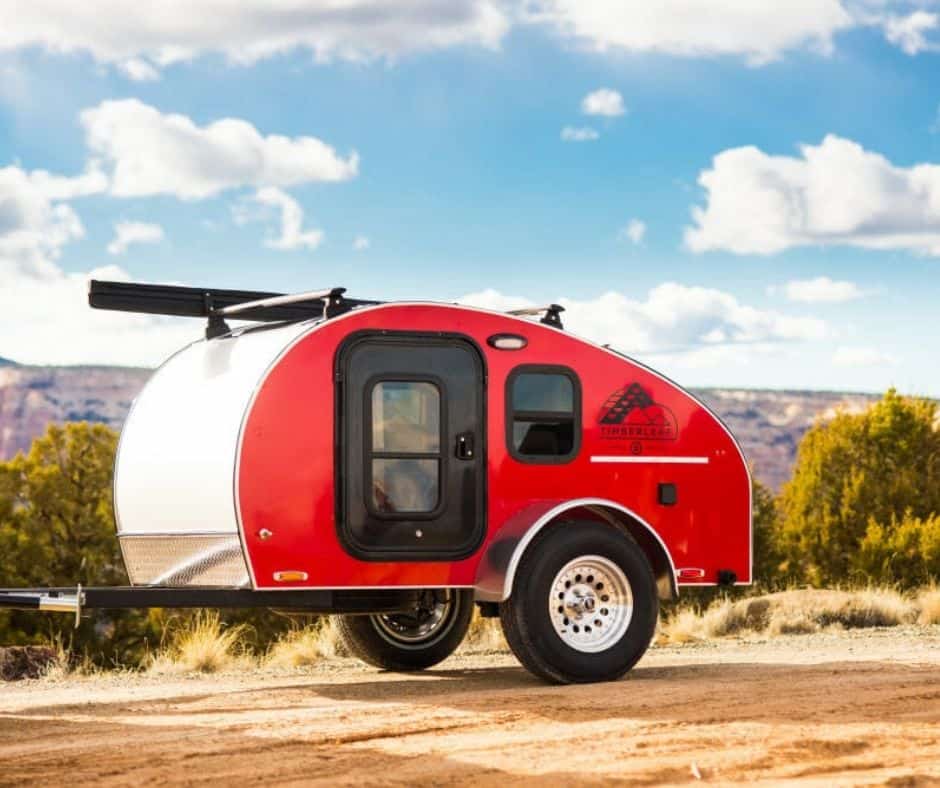 As a customizable teardrop camper, the Timberleaf Pika is easily towable by a minivan.
It starts out with a base dry weight of 1,025-pounds and goes up from there based on the options you select to customize it.
Of course, there is a lot of rugged durabilities built into the Pika, which means it won't let you down if your minivan needs to pull it off the well-paved roads.
6. iCamp Elite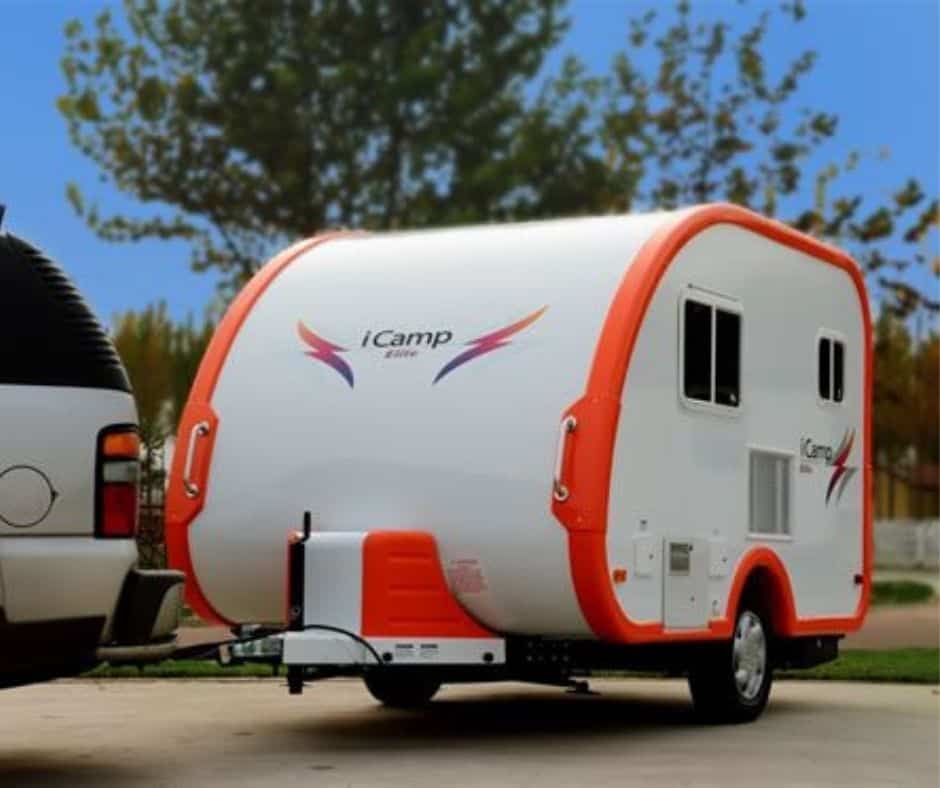 With a tall profile roof and a dry weight of 2,366-pounds, the iCamp Elite is like the love child or a teardrop camper and a lightweight travel trailer that can be confidently towed by a minivan.
Even if you push the payload capacity to the maximum of 534-pounds, it will still be within range of what a powerful minivan can tow.
It even comes with a convenient marine toilet, and a small shower, which your family will appreciate. It also comes with water storage tanks to support it.
Frequently Asked Questions
How Much Can I Safely Tow With a Minivan?
The general rule of thumb is that you should only tow up to 80% of the maximum rated towing capacity for any vehicle, including minivans.
This means that if your minivan has a typical maximum towing capacity of 3,500-pounds is 2,800-pounds.
Keeping the gross weight of the camper you are towing under this amount will leave you with 20% of power in reserve for doing things like merging into highway speed traffic or towing the camper up a steep incline.
How Do I Know The Gross Weight Of My Camper?
A travel trailer's gross vehicle weight rating (GVWR) is the dry weight plus the cargo weight of the payload capacity.
If your camper has a dry weight of 2,500-pounds and you pack it with 300-pounds of camping equipment it would have a real-world gross weight of 2,800-pounds.
You can then compare this number to the maximum towing capacity of your minivan, after adjusting for the 80% safe towing concept.
Conclusion
With the popularity of minivans and vacations in the great outdoors at an all-time high, it only makes sense that a lot of families are on the hunt for campers that can be pulled by a minivan.
The good news is, that a lot of minivans can pull a camper. A few can even pull a lightweight, thoughtfully packed travel trailer.
Of course, to legally tow a camper your minivan needs to have a professionally installed tow package with a capable hitch.
You also need to double-check the maximum towing capacity of your minivan in the owner's manual or on the VIN plate.
If you are shopping for a minivan to pull a camper like the iCamp Elite or the Forest River R-Pod you might want to start with the Dodge Caravan, the Chrysler Pacifica, and the Toyota Sienna.
They all have a best-in-class maximum towing capability of 3,500 to 3,600-pounds and a reputation for reliability when it comes to towing and maintenance.