For decades leasing was a great way to get a new vehicle with a comprehensive warranty with a surprisingly affordable monthly payment.
At the end of the three to five-year turn, you brought a car or truck back to the dealership with the option to buy it at the depreciated value, or simply walk away.
This has a lot of aspiring travelers wondering if they can lease an RV just like a car?
Unfortunately, you can't lease an RV exactly like you can a car or a truck. Though there are a few ways to get mid to long-term access to an RV with a reasonable monthly payment. It just isn't technically considering "Leasing" the RV.
To find out how you can enjoy RV travel without making a major multi-year investment, we will have to take a closer look at things like long-term motorhome or travel trailer rental opportunities.
This calls for asking and answering a few key questions, as well as peering a little deeper into the things you need to do to have a positive RV rental experience.
Why Can't You Lease An RV?
The biggest reason why you can't lease an RV is the way they depreciate.
They take the same sort of big value hit that a new car or truck does when you drive it off the dealership lot. Sometimes this can be over 20% of the initial purchase price.
Except most high-value RVs have a higher overall price tag. This translates into tens of thousands of dollars lost by the dealership or ownership group.
From their perspective, this is money that they simply aren't going to recoup in the course of the modest monthly payment most people expect from a vehicle leasing agreement.
For them to make any reasonable profit off leasing to you, the payments on a Class A motorhome, a fifth-wheel, or a destination travel trailer would need to be well over $1,000 or more.
This doesn't make a lot of sense for the average person who just wants an RV to take one or two extended vacations a year.
Especially when you consider that with a little advanced planning and perhaps a little skillful negotiating, you can rent an RV for a month or so for a fairly reasonable rate.
How to Find Long-Term RV Rentals
There are a few different ways to rent an RV. The one that's best for you will depend on how long you want to rent it for, the size of the RV you want, and how much wiggle room you have in your budget.
1. RV Dealerships
Some RV dealerships will let you rent an RV for a weekend or perhaps an entire week.
Though this is usually contingent on the idea that you are taking it out for an extended test drive with the intention of buying it or a similar model later.
The rates and the insurance they require might also be a bit of an issue if you have a limited budget.
2. Rental Agency
Just like renting a car or a truck, there are some rental agencies like Enterprise or Avis that have RVs in their fleet.
The rates can vary and you tend to only find rental RV's in parts of the country with popular camping attractions nearby.
3. Peer To Peer
Websites like Outdoorsy, RVshare, and Cruise America help you connect with RV owners who are willing to rent their RVs.
Each has different rules and requirements as well as its own fee schedule. You might also need to pay a setup and takedown fee.
Though if you are willing to do the legwork, it's a great way to rent an RV for a reasonable rate. They tend to ask more per night for shorter stays than longer ones.
What Are Some Of The Best RV Rental Websites?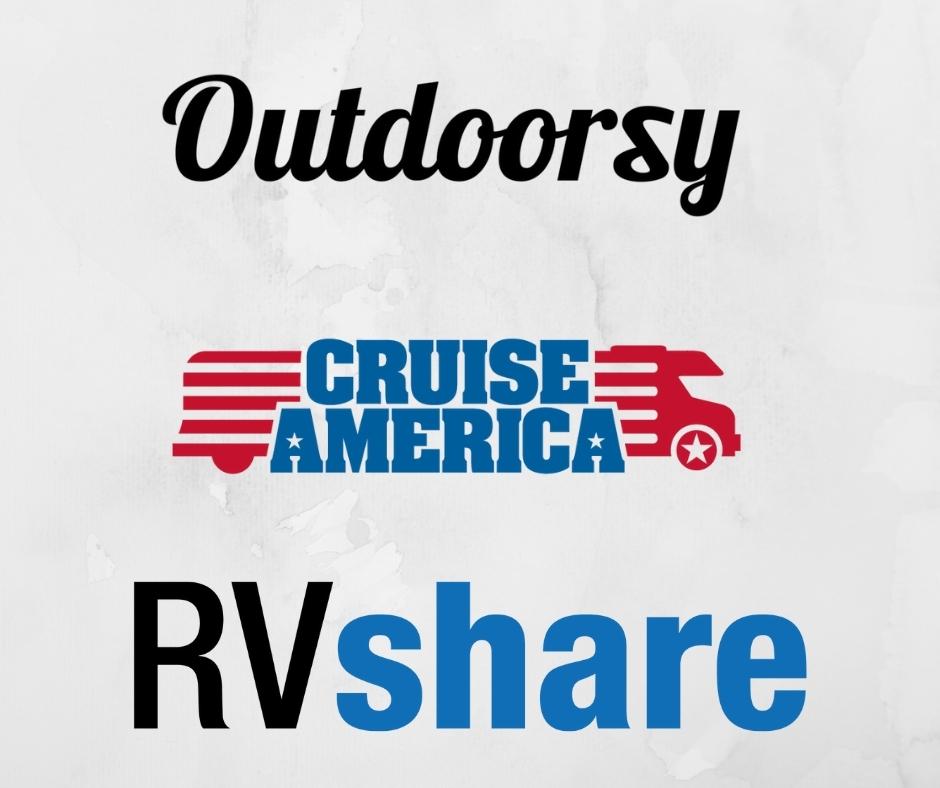 They have over 150 locations throughout the United States and Canada.
They have a rental fleet of around 4,000 RV which are mostly Class C motorhomes and pickup campers.
Cruise American is considered a rental company rather than a peer-to-peer rental site.
They connected over 60,000 all privately owned RVs with prospective renters Their service area is limited to the United States only and includes a wide range of RVs from pop-up campers, to travel trailers, fifth-wheels, and motorhomes.
As a peer-to-peer RV rental company, the terms and restrictions for the available RVs are based on the private owner's requirements.
They are another peer-to-peer RV rental site similar to RVShare. Though they are available in Canada and Australia as well as the United States.
The terms and restrictions for the available RVs are based on the private owner's requirements.
Though Outdoorsy tends to have higher standards for who can offer their RV to rent through their site, which translates into a higher general satisfaction rating.
They boast that over 93% of their users give the experience 5 out of 5 stars.
Benefits Of Leasing An RV With Long-Term RV Rentals
Unfortunately, leasing an RV like a car which is typically comes with a three-year or four-year contract is not an option, but it's possible to rent a different types or of RVs including, motorhomes, travel trailers, truck campers for weeks or months without actually buying it or paying a huge sum.
There are a few benefits to a long-term RV rental. Most peer-to-peer RV rentals and rental agencies offer a better per-night rental rate for longer contracts.
They might also ask for a lower upfront deposit. You also get to use the RV for longer, which means you can take longer trips to explore more of the country at one time.
You also don't have to rush from Point A to Point B to get back home in time to meet the return deadline.
If you start to feel a little road-weary or you want to spend more time at one location than previously planned, you're not under the gun.
How Much Does Does A Long-Term RV Rental Cost?
The cost of a long-term RV rental can vary depending on the make and model of the RV as well as the owner's own pricing schedule.
The average RV rental costs across the US is between $50 to $200 per night on average. However, if you choose to rent for the long-term (such as a month or even a year), you can get prices as low as $50 per night or $1500 per month!
You can use the following monthly rental price chart to give you a ballpark figure for each type of RV.
This is with the baseline assumption that the RV is within 10 years old and in good condition.
Here are the average long-term RV rental prices across the US:
| RV Type | Monthly RV Rental Cost Per Night |
| --- | --- |
| Popup Camper | $40 to $90 |
| Teardrop Camper | $60 tp $95 |
| Small Travel Trailer | $75 to $150 |
| Large Travel Trailer | $95 to $175 |
| Destination Travel Trailer | $125 to $200 |
| Fifth-Wheel Trailer | $150 to $300 |
| Toy Hauler | $100 to $200 |
| Class C Motorhome | $150 to $200 |
| Class B Motorhome | $100 to $200 |
| Class A Motorhome | $175 to $275 |
Do I Need Special Insurance To Rent An RV?
RVShare and Outdoorsy include insurance and 24/7 roadside assistance. This policy has a $1,500 deductible and comes with modest liability and collision coverage.
You can usually upgrade to a higher policy for between $10 to $40 depending on the type of RV.
Are There Requirements To Be Able To Rent An RV?
The requirements for a long-term RV rental can vary from state to state, and certain rental agencies have their own requirements.
For example, Outdoorsy requires you to pass a basic DMV background check. Of course, you also need to have a valid driver's license.
If you will be traveling into Canada they also have their own background checks that need to be performed before you can cross the border with a rental RV.
Conclusion
While you can't lease an RV like you can a car or truck, you can find some decent long-term rental rates.
This gives you the freedom to roam without having to make the major investment of buying the RV of your dreams.
If you want to rent from a peer-to-peer RV rental site, you might want to start your research by looking through Outdoorsy or RVshare.
They have tons of options throughout the United States, and many of the private owners are willing to negotiate terms on a long-term RV rental.
This is a great way to gain access to the RV of your dreams from someone who knows the ins and outs of the model you are renting.