'Casita' is a Spanish word that translates to 'little house', which makes a Casita trailer your own little house…on wheels!
Casita travel trailers are very well-built light-weight travel trailers made out of molded fiberglass. These mini campers are great for towing behind smaller trucks and SUVs and they still offer plenty of living space and glamping amenities.
But what makes Casita travel trailers different from the competition?
Maybe it's the marine-grade fiberglass shell over the heavy-duty steel frame. Or maybe it is the rubber torsion bar suspension that allows for superior handling towing.
It might even be the fact that every Casita trailer model comes with a full one-year warranty on all Casita manufactured parts and labor.
There is a lot to love about these trailers, but nobody buys a new trailer without diving deep into all of their floorplans.
So we are going to help you along your way with a thorough overview of the Casita trailer brand today! We'll also look at the travel trailers Casita manufactures and give a quick rundown on what separates the different models in their line of travel trailers.
Why Are Casita Travel Trailers So Popular?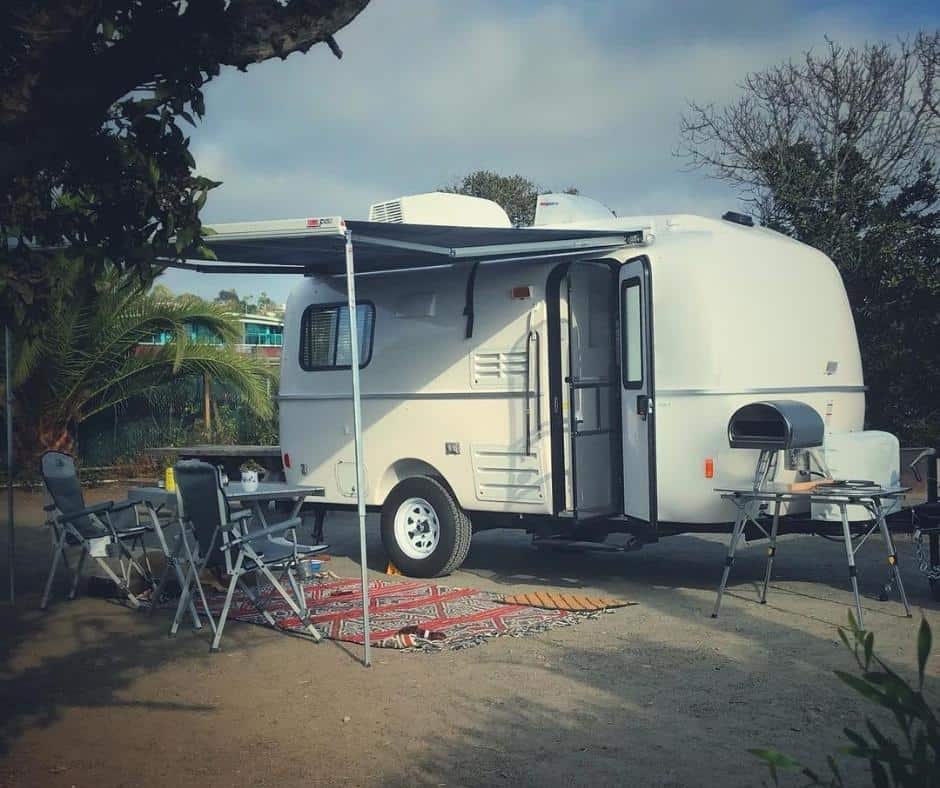 Casita is one of those rare trailer brands that often gets mentioned among the likes of Airstreams and Winnebagos.
The brand has oddly gained its own sort of cult following over the years, but why?
To really understand the popularity of Casita travel trailers, we need to dive into a brief history of the trailer industry.
Gas shortages hit the industry hard in the 1970s. People were less likely to invest in RVs, which provided a rare opportunity for trailers.
It was during this time that the Boler trailer company originated in Canada.
Boler was one of the first brands to begin manufacturing fiberglass trailers. In the early 1980s, an original Boler crewmember left the company and started Casita to focus on crafting lightweight, all-fiberglass travel trailers.
Based in Texas and family-owned to this day, Casita continues to provide top-of-the-line fiberglass trailers.
Their popularity is based on their lightweight design, seamless fiberglass construction, fuel efficiency, and opportunity for customization.
It may also have something to do with the company's dedication to Texas-style hospitality and customer service!
How Much Does A Casita Travel Trailer Cost?
All Casita travel trailers are available in either a standard or a deluxe edition. From there, you will be able to choose a number of appliances and add-ons that will ultimately impact your bottom line.
That said, here are the starting prices for all five standard and deluxe Casita trailer models:
All Standard Casitas Start at a Base Price of $23,996
All Deluxe Casitas Start at a Base Price of $25,694
If you are shopping through previously-owned Casita campers, you will likely need to budget somewhere between $10,000 and $20,000 for a used Casita trailer model.
That price will mainly function based on the year and current condition of the trailer.
How Much Do Casita Travel Trailers Weigh?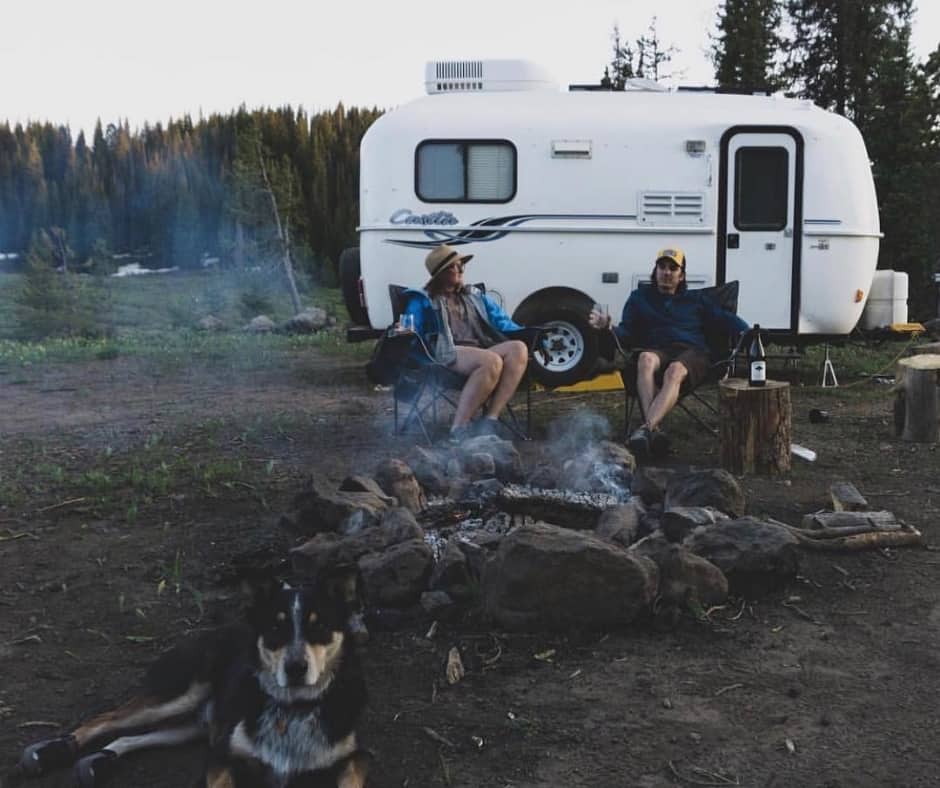 Depending on the option you choose, your Casita trailer's starting dry weight will be 2,210 pounds for standard models or 2,480 pounds for deluxe models.
These are the starting weights for all Casita models with standard features.
They do not factor in the many add-ons that you may choose to include in the final construction of your trailer before you drive it off the lot.
Additionally, these weights do not factor in the additional loads of your camping gear, kitchen appliances, and recreation equipment.
The final weight that your tow vehicle will need to be able to handle will likely be anywhere from 500 to 1,500 pounds heavier than these Casita base weights.
Do Casita Travel Trailers Hold Their Value?
One of the major threats to all RVs and travel trailers is water damage. Small leaks can turn into gushing streams of water inside your RV quicker than you can find where the heck you stashed that can of Flex Seal.
Seamless, molded fiberglass RVs and trailers, however, and much less susceptible to leaks and water damage than all other campers made with different construction processes.
The potential for water damage is not zero, but it is significantly reduced with this design style.
Most of the interior furniture in Casita trailers is also made of sturdy but lightweight fiberglass material.
This keeps the trailer's weight down, allows it to accommodate many decor styles, and also eliminates warping that can decrease the value of the trailer over the long term.
This is the primary reason why you see many older Casita trailers on the road these days.
It is also one of the reasons why Casita travel trailers tend to hold their value better than some other camper types.
Depending on the year, make, and model, you may be able to find a used Casita camper for much less than the original asking price.
Still, it is rare to find these trailers advertised for much less than $10,000.
While they may not hold their value as well as Airstream trailers, Casita models are available for a much lower initial price than most Airstreams and still retain their value and durability for years.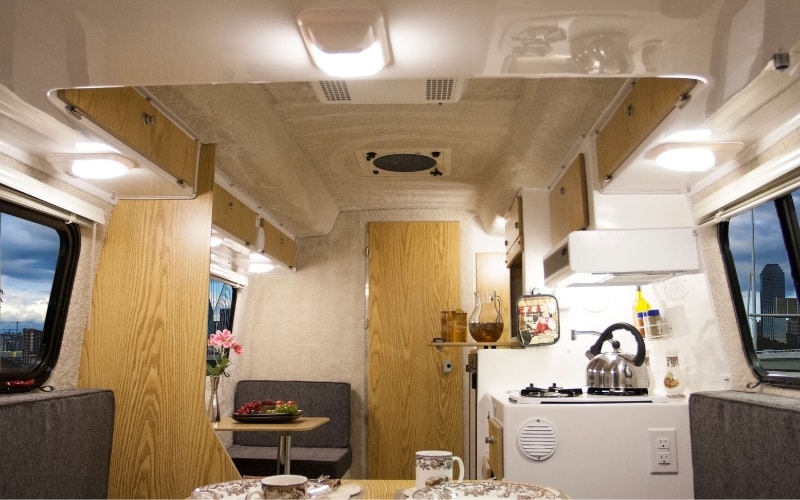 Casita Travel Trailer Floorplans
There are five different Casita models you can choose from. They are the Spirit, Independence, Heritage, Freedom, and Liberty (sensing a theme?!).
These floorplans share many characteristics, but they mainly differ in their sleeping capacities.
Here are the main specifications for all Casita models:
With those general specifications laid out, let's take a closer look at each of these Casita floor plans.
1. Spirit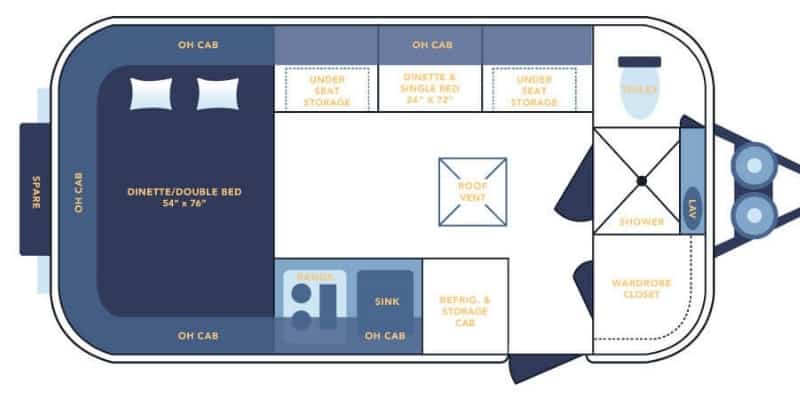 The Spirit is a single-axle camper that is designed for traveling families.
While it sleeps up to five people comfortably, the convertible dinette tables (yes, there are two!) provide enough seating space to fit six people comfortably.
The dinette at the back of the Spirit can also be permanently left down as a double bed if you do not need it for seating.
If you do so, you will still have the full functionality of the side dinette table and its large picture-frame window.
The Deluxe Spirit features a toilet, shower, and wardrobe closet at the front of the rig.
The Standard Spirit model removes the restroom and closet areas and replaces them with double bunk beds and additional underneath storage.
2. Independence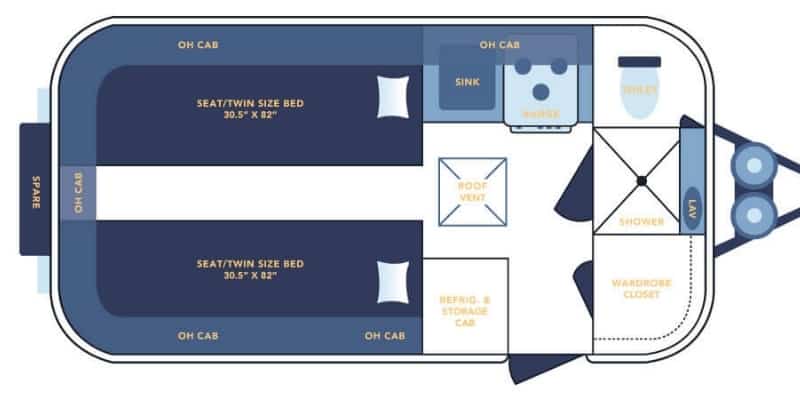 The Casita Independence camper is designed for traveling friends or even couples that enjoy their own sleeping space.
At the rear of this trailer, there are two separate and permanent twin beds that maintain easy access to the kitchen and living areas without disturbing your camper mate.
These twin beds also both feature plenty of underneath storage so you can both keep your own gear and personal items organized separately.
A total of three large, picture-frame windows allow plenty of natural light into the Independence and also provide great ventilation on hot days.
Like the Spirit, the Deluxe Independence features a full restroom and wardrobe closet at the front of the rig.
The Standard model replaces these amenities with double bunk beds and additional underneath storage.
3. Heritage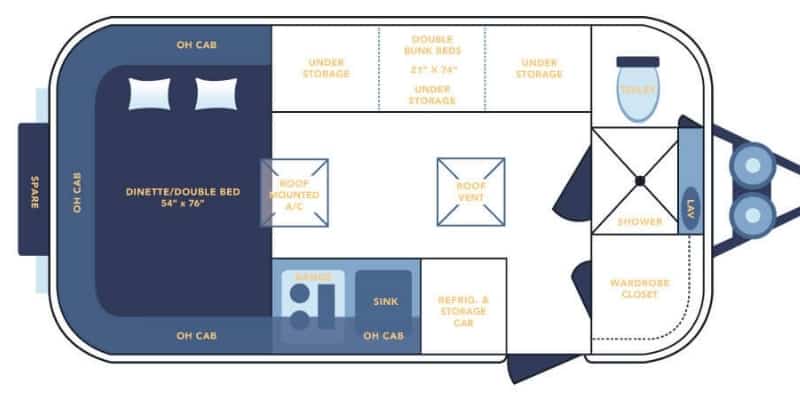 The Casita Heritage is a great choice for young families buying their first camping trailer.
It has the most sleeping capacity of all Casita's models and still includes a fully functional kitchen like all of the other models.
At the rear of the trailer, the double bed can be left down permanently or folded up into a dinette with seating for up to four people.
On the driver's side, double bunk beds with underneath storage compartments provide sleeping space for the kids and all their gear.
If sleeping for four is enough for your family, go with the Deluxe Heritage because it has a toilet, shower, and wardrobe closet.
If you need additional sleeping space, the Standard Heritage model provides an additional pair of bunk beds with underneath storage at the front of the camper.
4. Freedom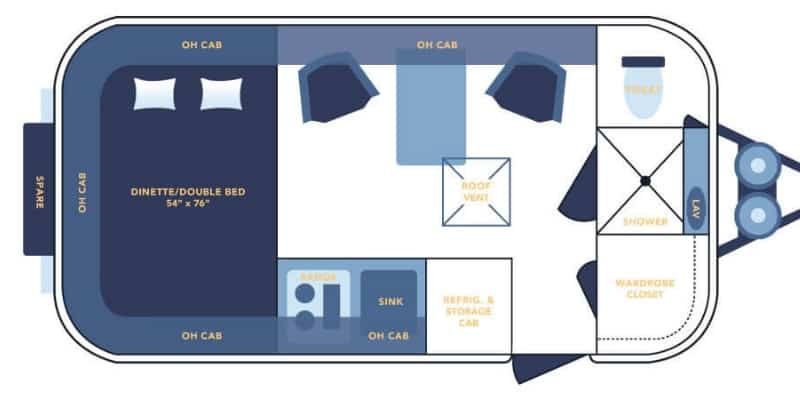 The Freedom floorplan is designed for couples that occasionally like to host friends or grandkids along their travels.
At the rear of the rig, there is a permanent double bed that can be converted to a dinette with seating for up to four people.
On the driver's side, two swivel chairs with plush upholstery can be used for dining, reading, or your mobile office.
On rainy days, they also make a great space for simply enjoying the view out of the screened-in picture-frame window behind them.
If you are just traveling as a couple, we advise choosing the Deluxe Freedom model for its restroom and closet amenities.
But if you frequently host guests on your travels, you might choose the Standard model for its double bunks and additional underneath storage.
5. Liberty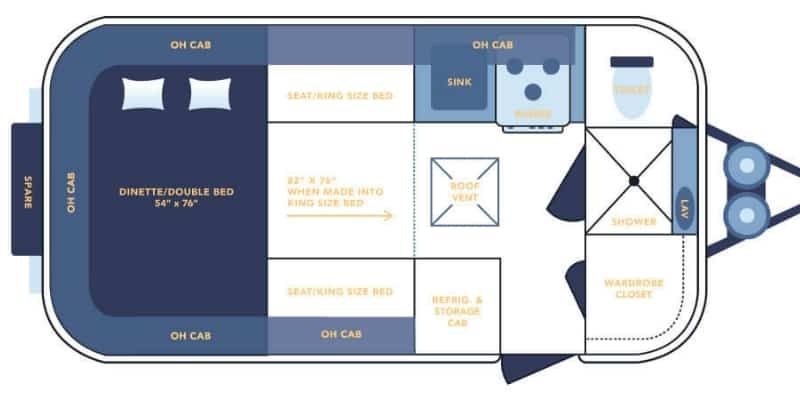 The Casita Liberty arguably provides the most versatility of any model from this trailer brand.
There are two dining areas in this camper that can be converted to a double bed, two individual single beds, or a large king-sized bed.
If you leave the rear double bed set up permanently, you will still be able to enjoy enough dining space and seating for two people using the small forward table.
The conversion to the king-sized bed also makes this trailer ideal for the glamping solo traveler or the couple with multiple furry travel companions.
This model also features three large, operational picture-frame windows that supply excellent views of your natural surroundings.
They also reduce your power needs by letting in plenty of natural light and provide natural cross-ventilation on hot days.
You also get to pick your poison between the lavatory and wardrobe facilities of the Deluxe model versus the double bunk beds and underneath storage compartments supplied by the Standard Liberty Casita.
More On Standard Versus Deluxe Models
For each of the floorplans listed above, you will have the option of choosing a standard trailer or upgrading to a deluxe version.
Here is a quick side-by-side comparison of the standard and deluxe features for Casita's trailers:
| | |
| --- | --- |
| | |
| Bathroom facilities are always on-hand when needed | Adds two bunks to two additional sleepers or extra gear storage |
| Includes shower for easy bathing with minimal maintenance | Removes black water tank for less towing weight and less dump station hassle |
| Maintains an open feel and preserves as much interior space as possible | Ideal for permanent campground living or those with access to portable facilities |
Are Casita Travel Trailers Any Good?
As you can probably tell, there are Casita floorplans that are great for large families, friends traveling together, couples with or without furry companions, and even solo travelers.
If you are new to the world of travel trailers, Casita also significantly simplifies the selection process by focusing on a smaller set of standard features.
From there, they give you the options for adding only the amenities and appliances that you absolutely need.
All Casita travel trailer models are constructed with care and offer great long-term durability. They also make towing a trailer super easy (especially when it comes to backing into tight campsites) and will not require an extended setup process every time you pull into a new campground.
For folks that like to experience many different climates, the Casita is also insulated well enough to handle colder evenings.
Plus, the standard roof vent and optional air conditioning unit make their models feel comfortable in 100-plus degree temperatures.
Whether it is for the installation of a standard feature or an optional add-on, Casita also uses products and appliances from only trusted and reliable brand name partners.
That means that not only will the body and frame of the trailer last, but so will all of the appliances inside.
Conclusion
The cool thing about Casita's trailer models is that all the general specifications are the same.
So once you decide on whether or not those specifications will work for your tow vehicle and camping style, you can focus solely on the layouts of the various floorplans.
We hope you have enjoyed this review of the Casita trailer brand and now have a better idea of whether this camper style will work for you.
As always, we wish you the best of luck finding a new trailer and in all of your camping adventures to come!