Even the cheapest class B RVs on the market can be the most expensive models per square foot.
However, despite the cost, class B RVs continue to be one of the most highly sought-after types of RVs for the unique perks that accompany their price tag.
They are self-contained, easy to maneuver, and can park nearly anywhere a standard vehicle can fit. With a class B RV, travelers gain versatility and flexibility unparalleled to other RVs.
Class B RVs are more sturdy, cheaper on gas, and have few restrictions on where they can travel than other RVs, but tend to have the highest price per square foot compared to other RVs on the market. The cheapest new class B RVs on the market start at over $80,000, while the cheapest class B+ RVs start at $100,000.
As an increasing number of people look to road travel and alternative lifestyles, class B RVs are experiencing an influx of interested buyers from all demographics and financial standings.
To help you start shopping for your next vehicle, we've put together this guide to introduce you to the best and cheapest new class B RVs on the market.
What is a Class B Motorhome?
Class B motorhomes, also known as camper vans, are a type of recreational vehicle that merges the practicality and ease of a van with the comforts and amenities of an RV.
Class B RVs are sturdier and more compact than class A or class C RVs, increasing both their safety rating and their maneuverability.
Class B vs Class B+
There are two types of RVs – class B and class B+. Class B+ models are usually over 20 feet long and walk the line between class B and class C RVs. They commonly include features such as full bathrooms and additional storage and sleeping spaces.
However, they also use more gas and are not ideal for stealth camping. Any full camper van is classified as a class B RV, even if it only has a bed along with a small kitchen space and some storage.
Common add-ons for small campers include portable toilets and outdoor showers. Some campers may also have a pop-top roof to facilitate standing in the van while parked.
Luxury class B campers tend to be built into a larger van chassis and come with more features. Most will have a wet bath that includes a toilet, sink and shower in one contained space, as well as enough headroom to stand up comfortably.
Class B RVs are built into a solid truck or van chassis and average 16-19 feet long. Class B+ RVs take these vehicles up a notch to something that's between a class B and a class C RV.
These motorhomes are still built into a solid chassis, but at an average of 23 feet long, they are larger than standard class B RVs.
This extra square space is commonly used to extend the bathroom area. Class B+ RVs often have a dry bath with a shower that's separate from the toilet as well as more storage and potentially more sleeping space than other class B RVs.
The price of a new class B RV can be anywhere from around $60,000 to upward of $300,000.
It's a big price range that's largely dependent on the category of class B RV that you choose as well as its make, model, and brand. Let's take a look at some of the cheapest new class B RVs on the market.
Here Are the 6 Cheapest New Class B and Class B+ Motorhomes You Can Buy Right Now
Even the cheapest new class B RVs on the market have a lot to offer, and choosing the right one largely comes down to figuring out how you plan to use the vehicle.
While those that enjoy spending their time outdoors and engaging in various sports and activities may desire more cargo room, those who love RVs for the ability to travel in comfort may choose a model with more amenities.
1. Thor Motor Coach Rize 18M
MSRP: $84,375
Thor Motor Coach Rize 18M class B motorhome is the cheapest new RV on our list at a suggested retail price of $84,375.
It's built into a sturdy RAM Promaster® chassis, and although it doesn't offer any features that particularly make it stand out, it has everything you need in a fully contained camper.
The Thor Motor Coach Rize is just shy of 18 feet long, making it easy to navigate and maneuver. However, it still has all of the basic features you could want regardless of if you're camping somewhere with hook-ups, planning to boondock, or stealthing in the city.
Some of the notable features in this class B RV include:
This class B RV comfortably sleeps two and can transport up to four people. It has both form and function, and as one of the cheapest new class B RVs on the market, it is perfect for those who want it all.
2. Pleasure-Way Tofino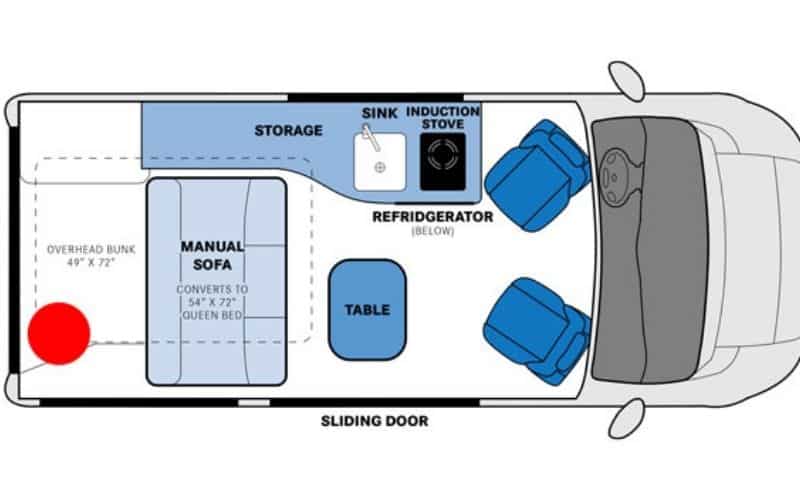 MSRP: $85,150
For a suggested retail price of $85,150, the Pleasure-Way Tofino makes an excellent choice for anyone needing an adventure vehicle.
Built into a Ram Promaster® 1500 Van chassis that only measures 17 feet 9 inches long (541 cm), the Pleasure-Way Tofino has few limitations on where it can take you.
One of the things that's not included in this class B RV is a bathroom, but it's done intentionally to create an entire 70 cubic feet of cargo room.
This is a vehicle for travelers who want to bring lots of equipment and gear and who are willing to give up some creature comforts to do so.
Aside from a bathroom, this RV still has many features that make it a great travel vehicle. It has a manual sofa with two lap belts that can function as passenger seating.
In addition to the two front seats, these allow 4 people to travel in this RV. The pop-top roof also lifts to create an overhead sleeping space big enough for two.
This space comes with a 2" thick mattress, USB charging ports, lighting controls, and zippered vents.
Other features in the Pleasure-Way Tofino include the following:
Other possible optional features of this class B RV include solar panels, a roof rack, and door screens.
3. Winnebago Solis Pocket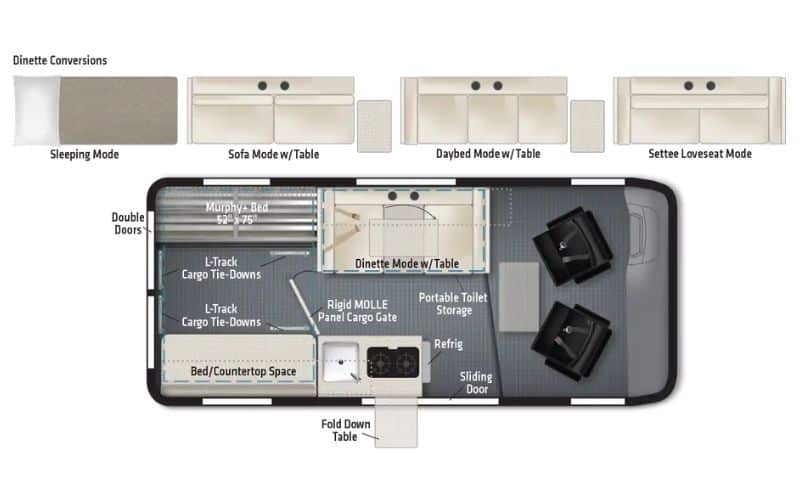 MSRP: Starting at $99,566 The Winnebago Solis Pocket is perfect for anyone who works remotely and wants to travel throughout the year. It's built into a RAM® Promaster® chassis and has a suggested retail price that starts just under $100,000.
It measures 17 feet 11 inches in length, features all basic amenities, and emphasizes an efficient space that can be adjusted to your needs.
The stand-out feature of the galley of this class B RV is the convertible dinette that has an adjustable or removable table and can be transformed into a sofa, a daybed or a love seat.
It also has a 3-point seat belt on both benches, allowing for four people to travel in this RV.
It also has swivel cab seats and plenty of storage options for small and large gear.
This class B RV doesn't have a bathroom, but it does come with a portable toilet that can be stored under the dinette.
What it does have that makes this model unique is a fillable and exchangeable 20-pound propane cylinder, a feature usually not found in class B RVs.
This facilitates the included Truma® VarioHeat™ system that can be used while traveling in cold climates.
Other features found in the Winnebago Solis Pocket include:
Winnebago continues to be a major player in the RV industry with its 2022 Solis Pocket. This class B RV covers all of your basic needs while offering an adjustable space that can be used for work and play.
Cheapest Class B+ RV
With class B+ RVs, you get space and amenities that more closely resemble those of a class C RV.
The average length of class B+ RVs is over 20 feet, they often feature a dry bath, and some may even come with extendable slides.
Although they are not ideal for use in cities and other densely packed areas, they are still easier to maneuver than other types of motorhomes while offering more comforts than standard class B RVs.
4. Gulf Stream BTouring Cruiser 5210
MSRP $110,573
The Gulf Stream BTouring Cruiser 5210 is the cheapest model of this line at a suggested retail price of $110,573.
It is built into a Ford E350 chassis and measures 22 feet 6 inches long. The main difference that the size of this vehicle offers compared to standard class B RVs is a full dry bath.
It also has ample storage and head space as well as a 25,000 BTU furnace for those who wish to travel in colder months.
Other features found in the Gulf Stream BTouring Cruiser 5210 include:
The 5210 is the cheapest of six different Gulf Stream BTouring Cruiser models. Other models also include up to two slides for more spacious living and sleeping areas.
5. Thor Motor Coach Gemini 23TE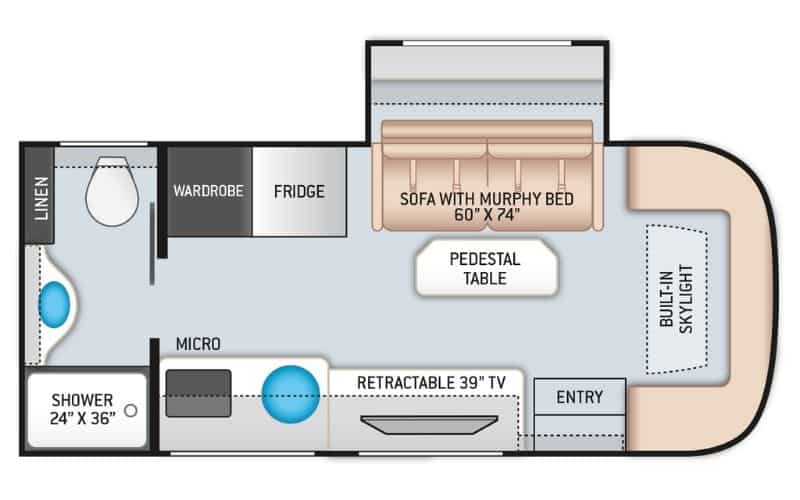 MSRP: $137,850
The Thor Motor Coach Gemini 23TE comes with an assortment of features that makes it stand out.
Built into a Ford Transit chassis, this class B RV measures 23 feet 7 inches long.
Despite its large size, Thor Motor Coach has included the right features to make this RV easy to handle and maneuver.
It comes with all-wheel drive (AWD) system as well as a rear-view mirror with a back-up monitor.
It also comes with the Ford® Safety Systems, which include:
Other unique features included in this class B+ RV are a 100-watt Solar Panel with Controller, exterior LP connection, and a tankless water heater.
It has a two-burner gas stove with electric start, an Onan® RV QG 4000 Gas Generator, single door refrigerator, and a 19000 BTU furnace.
The Thor Motor Coach Gemini 23TE can also come with the following optional features:
Thor Motor Coaches never slack on features. The Thor Motor Coach Gemini 23TE is the perfect all-season and all-terrain vehicle for those who also want comfort and convenience.
6. LEISURE TRAVEL WONDER 24RTB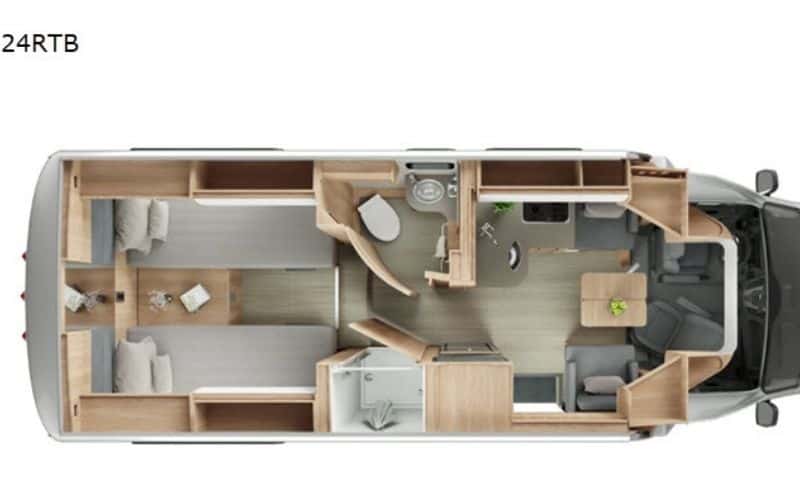 MSRP: $144,129
At 24 feet 9 inches long, the Leisure Travel Wonder 24RTB is the largest Class B+ model on our list.
It's built into a Ford Transit 350 HD chassis and features a full-sized bathroom and a full kitchen, as well as two separate entertainment locations and an exterior pass-through storage compartment with a bicycle/cargo slide.
Other highlights of the Leisure Travel Wonder 24RTB include the following:
The Leisure Travel Wonder 24RTB offers the best in comfort and usability. It has all of the amenities needed to lounge indoors, but enough storage room to bring all of your essential outdoor gear.
Other Cheap Class B RVs on the Market
If even the cheapest new class B RVs on the market are still out of your price range, there are several other ways to find more affordable options. These include:
Choosing not to buy a new vehicle may mean giving up some of the fancy bells and whistles, but it can also save a lot of money upfront.
In addition you'll find models that are no longer being made on the used market for prices that are tens of thousands of dollars cheaper than even the cheapest new class B RVs.
Rent a Class B RV for Your Travels
Between the popularity of RV road travel and lodging options like Airbnb, it is no surprise that it is now possible to rent a class B RV.
RVs can be rented from dealerships or private owners, and they offer an affordable alternative to a traditional vacation.
The average cost to rent a class B RV is $100-$200/night for vehicles that are 10+ years old, and $200-$350/night for vehicles less than 10 years old.
Renting an RV is a great option for anyone not ready to commit to purchasing an RV by letting you pay for only the days you use it and saving money in the long run.
Buy a Used Class B RV
Buying a used class B RV is one of the easiest and cheapest ways to find an affordable camper van.
Depending on your price range, you can find anything from old and high-mileage vans that can cost under $10,000 to newer vans sold by owners looking to upgrade.
When you're on the market for a used RV, remember that Being smart while shopping for a used class B RV can also benefit you in finding the best and cheapest deal. Some helpful tips in educating yourself before buying include:
While it's easy to get excited about hitting the open road, and it might become tempting to find the first RV you look at, remember that being selective can save you money and lead you to finding the perfect vehicle for your travels.
Build Your Own Camper Van
New custom class B RVs can easily cost over $100,000, but the rise in the popularity of camper vans has led to some creative alternatives.
A great way to save money while still getting your perfect van is to buy a van chassis and build the camper part yourself.
Whether you're a skilled crafts(wo)man or a novice using platforms like YouTube to build your RV one step at a time, the resources necessary to build your own camper van are available and abundant.
Especially since #vanlife popularized the alternative road travel lifestyle, a simple internet search will lead to countless resources on how to build a camper van with any amenities you may desire.
For those who don't want to do the work themselves, there are also lots of great van conversion companies available to help you get the camper van of your dreams.
Choose The Cheapest Class B RVs on the Market
Class B RVs come in many shapes and sizes, and their cost reflects just that. Whether you're ready to spend upwards of $80,000 for a brand-new vehicle or you'd rather rent, buy used, or build your own van, the variety of options makes it easy to find a class B RV that's right for nearly any need and budget.