For those of you that are new to the world of RVing, it's important that you know about the diesel pusher RV.
These class A RVs feature the most stylish and luxurious floor plans on the market in 2023. 
Diesel motorhomes also have some really important advantages over other types of recreational vehicles.
These advantages make them a popular choice if you're looking for an RV for full-time living or luxury camping.
If you're new to the world of RV camping, you might wondering What is a Diesel Pusher motorhome? And that's exactly why we've put this guide together!
We'll discuss the pros and cons of class A diesel pushers, answer some of the most frequently asked questions about these recreational vehicles, and review five of the best class A diesel pusher motorhomes on the market today.
So, let's talk about class A diesel motorhomes!
What Is A Diesel Pusher Motorhome?
A diesel pusher RV is a Class A motorhome with a diesel engine mounted at the back of the rig. Instead of the engine pulling your RV down the road (like with a gas engine), the diesel engine pushes the entire weight of the RV forward from the rear.
Diesel motorhome is one of the longest on the market. It's also well-known for offering a variety of luxury, residential-sized appliances inside.
In other words, if you want to live in or travel in an RV that feels and functions as close to your residential home as possible, you want a Diesel motorhome.
How Much Does A Diesel Pusher Motorhome Cost?
Class A diesel motorhomes tend to have a higher price tag than some other types of RVs.
You remember how we just said that they are as close to having a residential home-on-wheels as possible? Well, their price tag reflects that level of luxury and functionality.
Most of the best diesel pusher RVs cost somewhere between $250,000 and $500,000.
But there are certainly a handful of exceptions you can find outside of that price range (in both directions).
You might be surprised, but we've also seen six-figure diesel RVs out there.
Things To Consider When Comparing Diesel Vs Gas Motorhomes
In addition to the placement of the engine, gas RV and diesel pushers have other important differences of note.
Let's briefly summarize them here so that you can more effectively compare the rigs you check out on your next visit to your local RV dealership.
Generator Placement
Because the engine is in the back of a diesel RV, that doesn't leave any room for the onboard generator back there.
That's usually where it's placed in a gas-powered motorhome. So, in a class A diesel motorhome, you'll most likely find the generator below the cabin where the engine would normally be.
Fuel Efficiency
There is also a difference in fuel economy when you're comparing gas RVs versus diesel motorhomes.
Generally, diesel pushers tend to be a bit more economical, but the prices of diesel fuel are sometimes more or less affordable than gasoline, depending on your location.
Maintenance
The skills and techniques used to fix and maintain diesel engines are also going to be different than those used for gasoline engines.
So you'll need to keep in mind that your local mechanic shop may not have the skills or experience required to work on diesel engines.
5 Best Diesel Motorhomes in 2023
Diesel RVs provide luxury living and camping experiences on wheels. If you're interested in investing in a diesel motorhome, here are five of the best Class A diesel pusher motorhome models currently on the market:
1. Tiffin Phaeton Luxury Diesel Pusher Motorhome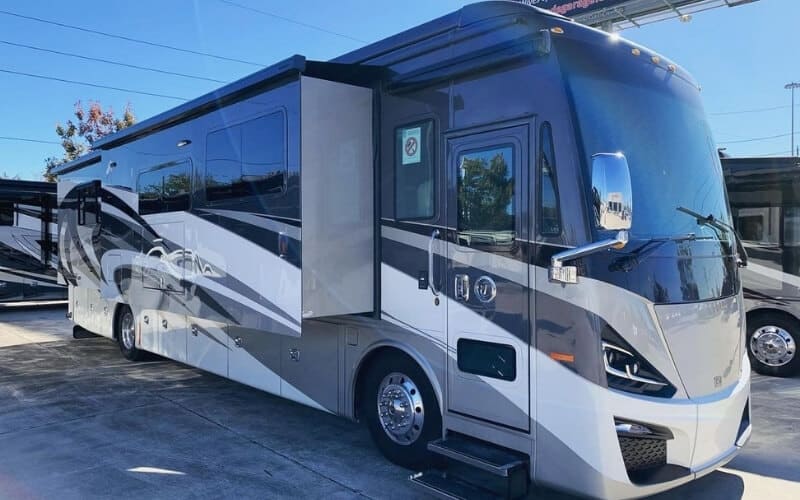 Price: Starts at $336,451
Tiffin is widely regarded as one of the best diesel RV brands because they offer luxurious floor plans at more affordable prices than many other brands.
That's precisely why you'll find two different diesel pusher models from Tiffin on our list today.
Speaking specifically about the Phaeton, you'll be able to choose lengths from 38 up to 45 feet and this Class A diesel motorhome is available with a total of six different floor plans.
Some features that are standard to all of those floor plans, however, include motion sensor lighting on all exterior storage compartments, a stainless steel residential refrigerator, and a central vacuum cleaner.
In the living area, theater seating gives you and your co-pilot individual seats that can recline and adjust according to your distinct preferences.
Across from those seats, the entertainment system is perfect for watching our favorite shows, but it can also be concealed in the lift TV console when you're not watching it.
Some of the optional accessories that can be added to the Tiffin Phaeton include a stackable washer and dryer, in-dash navigation system, and dishwasher.
But one thing we love is that all windows come with privacy and solar shades standard so that you can block out harsh UV rays in the late afternoon or keep things dark and cool when you want to sleep in.
2. Winnebago Forza Class A Diesel Motorhome
Price: Starts at $268,240
The Winnebago Forza class A diesel motorhome is available with several different floor plans from 36 up to 40 feet in length.
A total of three slide-outs gives you plenty of indoor living space when you're set up in a site (or off-grid) and an outdoor entertainment system allows you to enjoy live sports or television shows while you're tending your portable gas grill outside.
This rolling luxury home can sleep up to eight people and even features an indoor electric fireplace to keep you warm and cozy on cooler camping evenings.
It also boasts ample, full-width underneath storage for all of your recreation and camping gear and it's the most affordable diesel motorhome on our list.
In the cockpit, you'll find a host of features that will make you and your co-pilot more comfortable on long road trips.
That includes six-way power assist seats and three-points seat belts that can be adjusted so that they don't rub you the wrong way.
And you'll also be able to easily navigate tighter parking lots with the rearview monitor camera system with touch screen capability.
3. Newmar Ventana Diesel Pusher Motorhome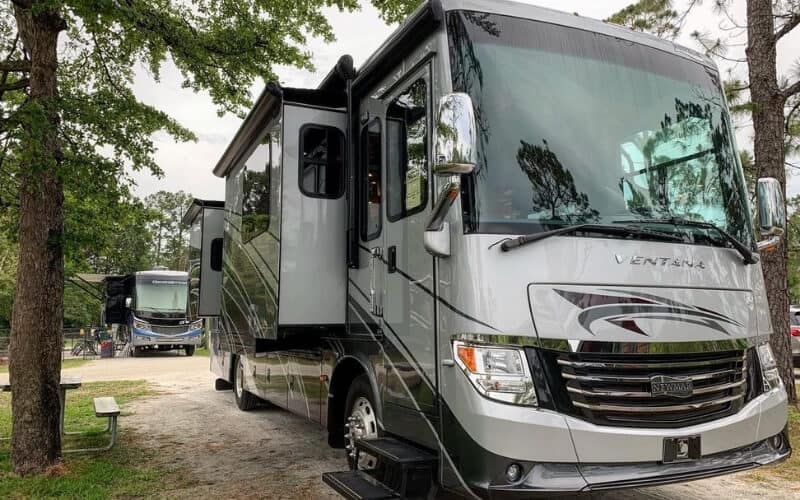 Price: Starts at $305,036
If you look into the Newmar Ventana diesel RV, you'll find 13 different floor plans to choose from.
This Class A diesel motorhome is available in lengths from 34 feet up to 43 feet and it features a true two-bedroom design that provides plenty of privacy for two couples traveling together or when you want to host a couple of friends during your travels.
Stainless steel appliances in the kitchen give this rig a residential feel and light-colored wood cabinetry throughout keeps the space feeling bright and spacious.
You'll also have the option of having a residential-style dishwasher installed in the kitchen of this diesel RV, so you don't have to hand wash every night like you would with most other RVs.
In the cockpit, your co-pilot can enjoy a passenger seat workstation that makes it easier to check emails, research campgrounds, and get any other needed work done while you're driving.
And, as the driver, you'll be able to enjoy the benefit of Newmar's patented Comfort Drive steering system, which provides a smoother, easier driving experience.
4. Tiffin Allegro Breeze Class A Diesel Motorhome
Price: Starts at $281,844
The Tiffin Allegro Breeze is one of the shortest Class A diesel motorhome, which gives you the advantage of being able to fit in a wider selection of campgrounds and RV parks.
It's also a great choice for newer RVers because it's incredibly nimble and, yet, still offers the kind of luxury you'd expect from a diesel pusher.
In the kitchen, you'll be able to store plenty of food in the residential-sized refrigerator and the double sink makes it easier to keep dirty dishes separated from defrosting foods.
Oh, and you'll also be able to enjoy panoramic views out of your kitchen window while you're prepping meals.
In spite of its smaller length, this rig features multiple slide-outs to increase the living space when you're parked.
And you'll also be able to use its hydraulic leveling system to easily settle your rig into place once you arrive at your next destination.
5. Newmar Dutch Star Diesel Motor Coach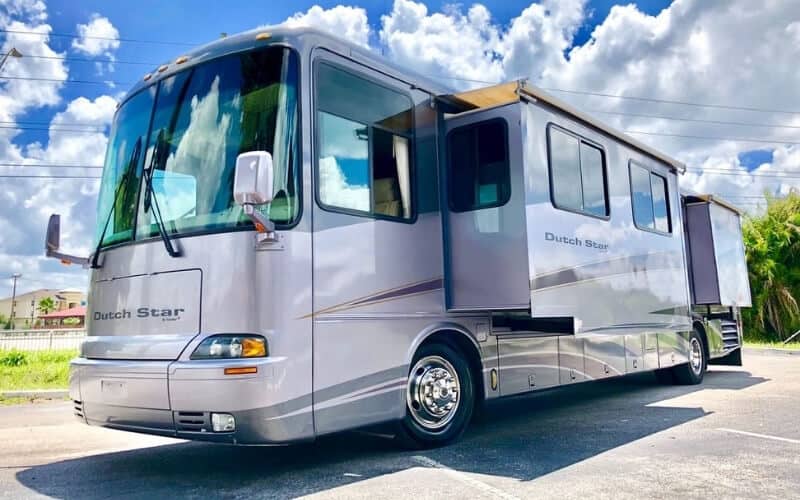 Price: Starts at $394,095
The Newmar Dutch Star offers a total of 13 different floor plans with lengths ranging from 37 feet up to 43 feet.
Choices are everything with this diesel motorhome, which makes it a great choice for you if you're an experienced RV that knows what you want and wants this diesel motorhome to (perhaps) be the last one you ever purchase.
Made for pure driving comfort and control, this rig boasts automatic traction control, electronic stability control, and Newmar's patented Comfort Drive steering system.
While it's an optional feature, this RV is also prepared for the installation of OnGuard's Collision Mitigation Adaptive Cruise System, which provides a safer cruise control driving experience for long-distance travel.
In terms of living comfort, multiple slide-outs significantly expand the space when you're parked and you'll have so many layout options to choose from.
Whether you want a Euro-booth dinette, multiple recliners with reading lights, powered theater seating, or several other living room setups, you'll be able to customize your space with this RV.
And in terms of entertainment, you'll be able to enjoy different shows in the living room and bedroom, if you so choose.
If you want to watch something outside, you'll also have the option of an exterior entertainment center in the sidewall or storage compartment with a third 43" LED 4K TV.
Pros of Diesel Motorhomes
In comparison to other RV types, here are some of the benefits of a class A diesel motorhome.
Better Fuel Economy
Diesel motorhomes get better gas mileage than their gas-powered counterparts. And that helps to offset the slightly higher price of diesel fuel (in most locations!).
Smoother, Quieter Ride
In an RV with a gas engine, you're basically sitting on top of the engine while you're driving.
But because the engine is in the back of a diesel pusher, you'll be able to enjoy a much quieter driving experience and you also won't experience as much engine rumble right under the cockpit while you're driving.
Minimal Exhaust Fumes When Driving
Again, the engine is in the back! This means that the exhaust fumes are trailing behind your RV instead of having some of them enter the cockpit and sting your nostrils while you're trying to navigate.
More Power
Generally speaking, diesel engines have more torque than gas engines (all other things relative).
So you'll enjoy more towing power and have an easier time climbing steep grades with a diesel RV than you will with a gas RV.
Long-Term Value
Diesel RVs also tend to hold their value a bit better than their gas-powered counterparts.
So, if you do decide to sell your RV and upgrade 10-15 years down the line, you should be able to sell a well-maintained diesel motorcoach for more than a well-kept gas RV.
Longer Generator Run Time
In most diesel RVs, the generator also runs on diesel fuel. This gives most generators in diesel RVs a longer run time than many gas-powered generators, which can be particularly useful for extended boondocking trips.
Cons of Diesel Motorhomes
On the other hand, there are a few disadvantages of choosing a diesel motorhome that we also want you to be aware of. Here they are:
Higher Up-Front Cost
Because of the luxurious nature of diesel RVs and the fact that many of them boast residential-sized appliances, you'll find the MSRP on most diesels to be higher than gas RVs of similar sizes.
Higher Maintenance Costs
Finding a diesel mechanic can sometimes be a needle-in-the-haystack type of endeavor. And because these mechanics are harder to find, they tend to charge a higher premium for their services.
Less Bedroom Headroom
Because the engine is located at the rear of a diesel pusher RV, most of them have some sort of a step up into the bedroom, which is also located at the rear of the rig (in most floor plans).
This just means you might have slightly less headroom in the bedroom of a diesel RV than you would in a 5th wheel, travel trailer, or gas RV.
Higher Gas Costs
In many places, diesel fuel used to be more affordable than gasoline. But that's rarely the case anymore.
While you may occasionally still find stations offering a lower price on their diesel fuel, the odds are you'll pay a higher price per gallon for diesel fuel.
FAQ
Are Diesel RVs Really Worth The Money?
If you have the budget to afford a diesel pusher, we don't see many reasons you'd be unhappy with your purchase.
While we realize that these RVs are the epitome of decadence, they can also serve as your primary residence if that suits your lifestyle.
That being said, some of the best purposes for class A diesel RVs include long-term boondocking in states with a healthy amount of public land, tailgating at sporting or entertainment events, and enjoying the best big-rig-friendly RV parks in the United States.
How Many Miles Will A Diesel RV Last?
Actually diesel engines are well-known for their long lifespans. On average, the service life of a well-maintained diesel engine is about 500,000 miles before a major repair is required.
Of course, the real answer to the question of how many miles your diesel RV will last will depend on how well you keep up with annual service and maintenance.
That being said, there's no reason why the next diesel motorhome you buy can't be the last one you ever need!
Conclusion
If you're willing to make a larger initial investment and you know you can find someone trustworthy to work on your diesel RV when the time comes, there are many good reasons to choose a diesel pusher over a gas-powered RV.
And if you're looking for an RV for full-time living or traveling for multiple months at a time, it's hard to beat the comfort and luxury that you'll find with a diesel motorhome.
We hope you've found these reviews and insights on diesel RVs useful and, as always, we wish you nothing but the best on all of your upcoming RV travels!