Every square foot of an RV is sacred. Each year, Recreational Vehicle manufacturers seek to maximize the versatility of their products to give travelers the most comforts while on the road.
Previously, RVers had to decide between A large RV with more amenities or a small RV that improves drivability without the interior space.
A new category of RVs has come around seeking to restore balance in the RV world by providing the best of both worlds. The Class B+ RV is a modern class of RV that will give its owner greater freedom.
But what is a Class B+ motorhome and what makes it different than a Class B RV?
A Class B+ motorhome is an RV built to combine the benefits of Class B and Class C RVs. Built on a large van or bus chassis, Class B+ RVs are more extensive than a Class B motorhome while still fitting in a parking spot. They pack in more interior space than a Class B motorhome and require less gas than a Class C RV.
Fully self-contained, high-performance vehicles, these Class B+ RVs are an excellent investment for those looking to step up from a smaller camper or owners who want a bit of everything out of their mobile home.
Class B+ is a complicated subsection of campers that gracefully walks the line between a Class B and Class C RV.
We'll explore the newest addition to the RV universe to understand its niche within the industry and help you better understand if a Class B+ motorhome is right for you and help you to find the best Class B+ you can buy.
What's The Difference Between A Class B And A Class B+ RV?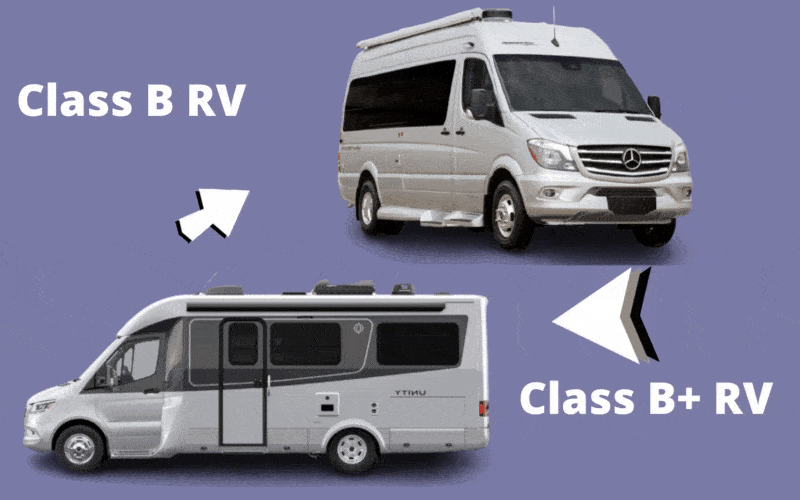 The main difference between a Class B and a Class B+ RV is length.
Class B' RVs cap out at 19' long, 4' shorter than most Class B+ motorhomes. Class B motorhomes are drastically smaller than other RV's to increase gas mileage and park-ability and are typically favored by those traveling alone or with one other person.
Small families looking for a bit more space or Rver's not concerned about mpg may favor the B+'s superior comforts of home.
This smaller size reduces the amount of interior space available, which means manufacturers have to sacrifice some comforts in the name of saving space.
1: Class B+ Have More Storage Space Than Class B Van
Every cabinet counts. A Class B camper doesn't come close to the storage capabilities of the few extra feet allotted in a Class B+ RV.
In addition to cabinet space, Class B+ RVs have larger water storage space and additional outdoor containers.
If you tend to favor longer trips into the wilderness, it will behoove you to bring extra water, and a Class B+ RV may have the extra storage boost you need to get out there safely.
2: Class B+ Have Larger Bathroom Space Than Class B
The most luxurious Class B campers still generally come with a wet bath, a set-up in which the entire bathroom also functions as a shower.
The extra square footage of a Class B+ motorhomes allots precious feet to your bathroom's layout, giving you bathroom storage and space to get clean in style.
In most Class B+ motorhomes you will have a dry bath, where the shower is separate from the sink and toilet
3: Class B+ Are No Suitable For Stealth Camping
Depending on your needs, you can find a Class B camper that can look like a plumbing vehicle to the untrained eye.
There's no Class B+ on the market that is also capable of looking like there is no one sleeping inside of it. Stealth Camping will be much more challenging to pull off in a Class B+ RV.
Differences Between Class B+ RVs and Class C RVs
Class B+ RVs are more aerodynamic than a Class C. When examining the differences between a Class B+ and a Class C, check what designers left out of the vehicle.
Designers optimized a Class C design to keep in the main amenities of a larger camper while removing unnecessary components in the name of efficiency.
Class C campers pack in more beds and may include things like a dishwasher or a bidet. If you don't need to have everything from your house travel with you, the differences may work in your favor.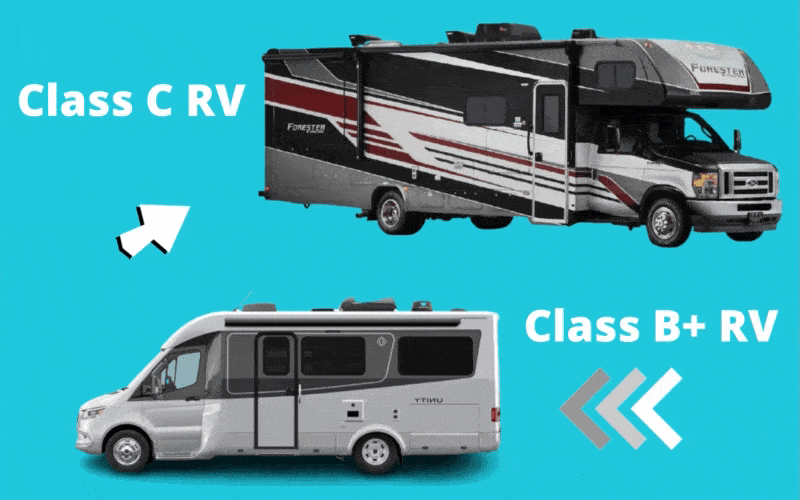 1: Slightly Reduced Length
The smallest Class C RV is longer than the largest Class B+ RV. Averaging around 24', Class B+ RVs can squeeze into a standard parking spot. This subtle reduction opens up many doors for your journey.
A class B+ campervan will be somewhere between 23-26 feet in length, while a class C can be anywhere from 27 to 39 feet long.
You should expect your new RV to fit in a parking space without many inches to spare.
This reduction also allows the Class B+ to be more aerodynamic, making them feel safer to drive than some more extensive options on the market.
2: Not Enough Beds For the Neighbors
The leading way developers chose to reduce the length and increase drivability was by removing beds.
Class B+ campers can comfortably sleep fewer people than a bigger RV. 2-8 people can rest their heads in a Class B+, compared to up to 12 in Class C.
3: Spend Less Time At the Pump
All those weight and girth reductions primary benefactors are the gas tank. Class B+ RVs get better gas mileage than a Class C camper.
The engines come in gas or diesel, but a Class B+ camper will leave you on the highway longer no matter your choice.
Higher quality Class B+ Campers have recorded MPG's of up to 19, all while carrying a full kitchen into the woods.
How Much Does a Class B+ RV Cost?
Class B+ RV prices depend on the floor plan, year, drivetrain and much more. If you're in the market for a new Class B+ RV, you should be prepared to invest anywhere from $128,000 to $300,000.
That price could be even higher if you plan on tacking on lots of extra features.
This Class of RV is one of the most expensive options on the market, as they seek to add the same amount of amenities as a bigger vehicle with a reduced strain on the engine.
That kind of investment requires a hefty payoff, but time and time again, owners find satisfaction with the unique blend of features offered by a Class B+ RV.
Try to understand what you are looking for out of your RV before deciding if the Class is worth the investment.
Advantages of Owning a Class B+ Motorhome
The benefits of a Class B+ RV echo throughout the Rving process. From the moment you drive off with your new mobile home, you'll find a leisurely time parking this prominent coach and relish the amenities inside.
This vehicle class has combined performance and functionality to give you an optimal blend of benefits and function. Check out some highlights of the class:
1: Class B+ RVs are Driver Friendly And easily maneuverable
Getting behind the wheel of a Class C campervan can be challenging. By reducing small details like an over-cab bunk bed and dishwashers, Class B+ RVs will allow you to carry everything you need to explore the outdoors without feeling like you're driving a tank.
They are the largest class of campers that can still access tight roads in national parks or are lightweight enough to handle bumpy roads.
Larger Class B+ RVs feature various slide-out areas that boost the square footage of your vehicle without impairing your driving.
2: Class B+ RV Come Equipped With Spacious Kitchen
The Class is driver-friendly, but that doesn't mean designers skimped on the perks. Depending on the model you select, your Class B+ RV can still pack in a stove, oven, full sink, and plenty of counter space.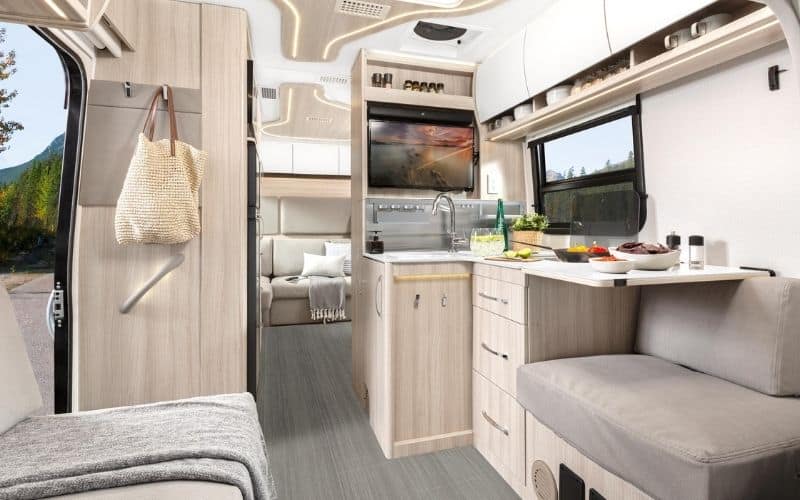 Because the class is one of the most modern options on the market, manufacturers honed these spaces to ensure not an inch of the room is wasted.
Expect your kitchen to come packed with high-tech features to make you feel at home cooking on the road.
Some Class B campers just 3 feet shorter have only a fraction of the capability as a typical Class B+ kitchen.
3: Class B+ Can Have A Dry Bath, Where The Shower Is Separate From The Sink And Toilet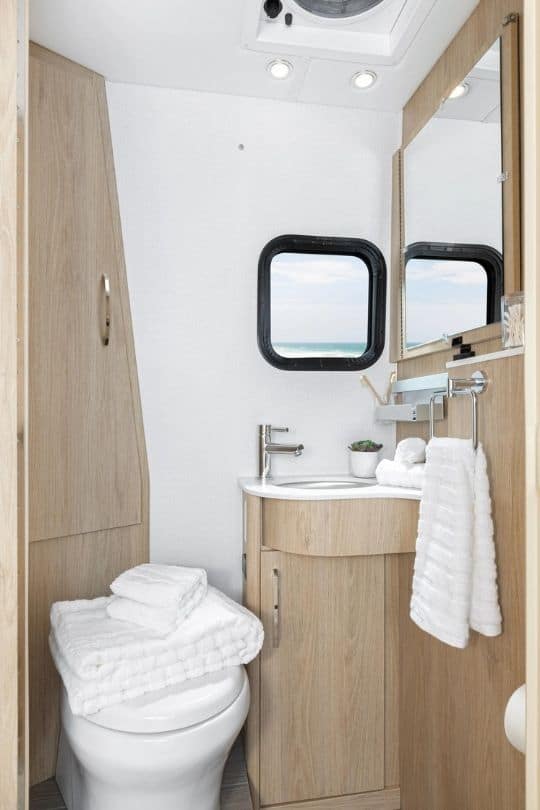 An essential part of your RV experience is the comforts offered by your bathroom.
If you want a whole boondocking experience, your RV must include a toilet and shower that allows you to spend more time in the wilderness.
A smaller RV won't have much of a bathroom at all or include the basics.
The extra feet added on open up worlds of opportunity, and manufacturers figured out how to slip a dry bathroom into the square footage without forcing consumers to drive a gargantuan RV.
4: Can Safely Head Down Country Roads
Anyone who has ever spent time on a Road owned by the National Forest Service has wished they spent the extra money on a 4X4 RV. Anything larger than a Class B+ RV won't be able to handle rugged roads.
The class is the biggest option that still includes all wheel drive or 4 wheel drive capabilities. This means you can confidently maneuver your RV deeper into the wild.
Reasons to Avoid Class B+ RVs
It all sounds perfect, but there are other options on the market for a reason. Class B+ RVs can't quite do it all.
Here's why you may stay away from the class B+ motorhomes:
1: Most expensive Class of RV
Class B+ RVs are far and away the most expensive RV per square foot. Some used RVs in this class can still cost $200,000, more expensive than new models in other groupings.
The cost difference could eventually cover itself through the increased gas mileage, but if you're not looking to make a hefty initial investment, the Class may not be for you.
2: Still Not Much Storage Space
While it's certainly an upgrade over the storage capabilities of a smaller campervan, Most Class B+ motorhomes exemplify high-performance in a smaller space.
One of the few things you can't mimic from a larger RV is the storage space added on by all those extra square feet.
What you can expect out of Your Class B+
If you're thinking of committing to the Class B+, here is what you will receive as a return for your investment.
Take the time to build out the perfect RV in your head and see if the qualities of a Class B+ line up with your needs.
If you aren't excited about the cramped areas of a Class B camper but don't want to drive around a unit bigger than some condos, you can expect to find the best balance of efficiency and amenities an RV can offer in your Class B+ camper.
These amenities and specs make the Class B+ stand out from other subsections of RVs.
1: Ergonomic Interior Space
While the length of a Class B+ camper sits around 21-26 feet, the interior design has left plenty of room for comfort. Your RV will be capable of sleeping somewhere between 2-8 people.
These sleeping quarters will all be on the ground floor, as to increase the aerodynamics of the vehicle Class B+ will not feature a cab-over sleeping quarter.
The extra space also manifests itself by guaranteeing you a stand-up shower to enhance the comforts of your portable bathroom.
2: Big Screen Entertainment Center
You won't miss anything on the road with a spacious camper like these. The interior has left room for activities, and modern Class B+ campers feature plenty of space for a big screen TV and comfy chairs to enjoy a rainy movie night.
Most vehicles in the class feature floor plans with slide-outs to give you a full table for board games and other family activities without being too huge to navigate in traffic.
3: A Recreational Utility Vehicle
Class B+ camper vans are built on a cut-away cab chassis, which is the same cockpit set up as a B van, but with an RV body added to increase interior space, allowing your Class B+ van to use all wheel drive to help you get off-grid.
The cab-chassis establishes the class as a Recreational Utility Vehicle, which has similar qualities to an SUV.
They are more maneuverable and still feel somewhat similar to driving a standard car, with the safety features of a modern vehicle included.
5 Best Class B+ Motorhomes for 2021
Now that we know what this class is capable of, let's explore these facets in action by taking a closer look at the best in class B+ RVs.
Each one of these manufacturers took care of the details at every corner to provide a quality product that has something to offer your next vacation.
This class's modern style has created a competitive market. Companies are pushing their recreational vehicles to the cutting edge of comfort, convenience, and drivability to provide the best RV's on the market.
As the most expensive RV per square foot, the expectations are high, and the RVs on this list have delivered a powerful performance to be worth your investment.
Here are the 5 best Class B+ motorhomes that offer combination of luxury and home comfort:
1. Leisure Travel Unity Class B+ Diesel Motorhome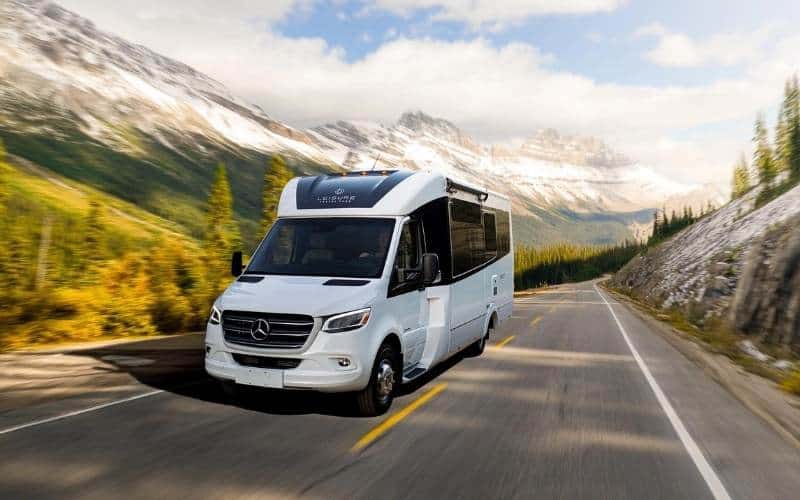 To be the best in this category of RV's, you'll have to pack a ton of features into a small space, and the Leisure Travel Unity Class B+ RV has taken care of everything to give you a better experience on the road.
You can travel in style and still get 15-19 MPG's behind the wheel of this Mercedes Benz 3500 Sprinter Chassis.
The diesel engine could give you a few hundred thousand extra miles to roam around in, and the interior will make sure you think twice before heading back home.
A queen-size bed folds out across the entertainment center, and a full-sized shower gives you relaxation on the go.
The kitchen packs in a large sink and big screen TV, and they were sure to leave space for a wrap-around couch.
The features included in this van have received recognition as the best "city escape" RV of 2019, and the company continues to improve on the model to bring you everything you could look for in your life on the road.
2. Phoenix Cruiser Class B+ RV
If you're looking to make your RV home, you may want to make a few adjustments.
Most RV companies will give you modification options and have several different floor plans laid out, but this Phoenix Cruiser provides an efficient performance alongside myriad possibilities that make it easy to customize your Class B+ motorhome completely.
There are four different bed layouts, and through their website, Phoenix gives you control over every option, from the cab area to your cabinet colors.
You can add on slide-outs, awnings, and beds to build out your experience from the ground up.
3. Gulf Stream BT Cruiser Class B+ Gas Motorhome
Gulf Stream's goal with the BT Cruiser Class B+ RV was to create 'the sportscar of motorhomes,' and the compact model built on a Ford Chassis has saved space without sacrificing comfort.
The kitchen in this unit boasts a full stove, oven, microwave, and plenty of countertop space.
What caps it off is the dual couch style, which allows you to eat family-style meals with a removable table in the middle of the floorplan.
Starting as small as 22 feet in length, Gulf Stream somehow still manages to squeeze in all the comforts of home.
4. Thor Gemini 24TF Class B Plus RV
Don't let the low price tag fool you; the Thor Gemini still packs in plenty of features on top of this Mercedes Chassis RV.
You'll find a queen-size bed and sleep for three inside the 25-foot long class B+ motorhome.
The low-priced Class B+ RV still boasts an all-wheel drive, and its compact shape allows you to sleep in more hard-to-reach areas.
The inside of the Gemini is a modern, sleek-looking kitchen area and sleeping space built for the road.
Outside you'll find an awning, a rooftop ready for a solar panel, and an exterior TV for entertaining.
If you don't need to have it all, the Thor Gemini will give you plenty of bang for your buck.
5. NeXus Viper Class B+ Gas Motorhome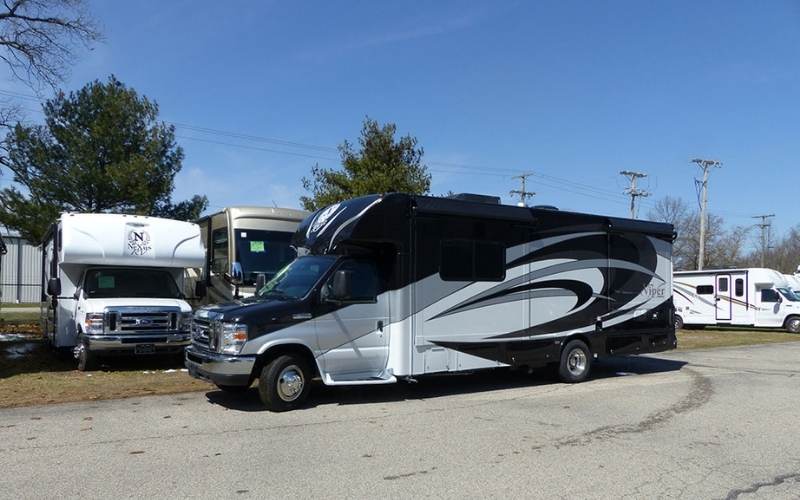 NeXus slides onto our list thanks to their modern approach to RVing. The Viper is the only Class B+ gas motorhome offered by the company, so they put all their eggs into its basket.
Each new Viper provides an entertainment center that doubles as extra storage space, making use of the above cab space to give you more value.
What stands out about this option is the technology employed in the interior space.
Bluetooth Surround sound speakers, satellite radio capabilities, and a 25,000 BTU furnace come with each Viper to give you the best RV technology on the market.
Is A Class B+ The Right Choice?
Now that you know more about what features these RV's pack into their smaller space, you can better understand whether or not the investment is suitable for you.
If you have a small family that is eager to come with you every time you take off, this RV class is the perfect tool to get everyone there.
Many potential RV owners can't imagine squeezing everything into the small space of a Class B van yet don't like the large size and gas costs of a larger unit.
If you want to get more out of your RV without sacrificing size, this is the class for you.
Do your research and come to a conclusion on whether or not the benefits of this Class outweigh the costs for your own benefit.
There are a plethora of different styles of Class B+ campers on the market, and companies are constantly developing new features, so figure out what you want out of your next adventure and find the perfect vehicle to take you into the great outdoors.