Class B motorhomes draw a very loyal following from people who want to enjoy the RV experience, without having to deal with the headaches of driving a lumbering Class A or Class C motorhome.
This also means that RV manufacturers are quick to flood the market with new models every year, with some turning out consistently great models every year.
Though with such a flooded field it can be hard to separate out the best Class B RVs from the pretenders to the throne.
If you are thinking about investing in one of these models for the first time, you might be wondering what Class B motorhome manufacturers rise to the top.
Top RV bards like Winnebago and Pleasure Way both have a reputation for turning out consistently good Class B motorhomes year after year. Though they aren't the only class B manufacturers who offer models worthy of your hard-earned money.
Choosing the best Class B RV that will fit your lifestyles and budgets requires careful thought. You need to understand what advantages some companies offer over others.
To help make the search of the perfect Class B RV little bit easier, we have pulled together a list of the top 8 Class B motorhome brands to shop for in 2023.
What Is A Class B Motorhome?
Class B motorhome is a self-motorized drivable RV usually built on a van chassis and can have a gas or a diesel engine.
They are the smallest motorhome type available in different lengths that are on par with most transit vans which can range from 16 to 21 feet, with a few of the larger models measuring in as long as 25-feet.
Some Class B motorhomes also have power slide-out sections or special Murphy beds to help maximize the interior space. Though this is somewhat rare and can affect the overall weight of the vehicle.
What Makes Class B Motorhomes So Popular?
Sometimes referred to as "Camper Vans" one of the things that makes Class B motorhomes so popular is that they are smaller and more nimble on the road.
Due to their compact size, a Class B RV has a clear advantage over the larger Class C and Class A RVs.
Class B RVs are streamlined, easy to drive and more fuel-efficient while still offering greater living space best suited for small groups.
Things To Consider While Choosing The Right Class B RV For You
The Class B motorhome marketplace tends to be a little crowded. While this is certainly a statement about their popularity, it also makes it hard for the uninitiated to spot the best models from the manufacturers who have a knack for making shortcuts in their material build quality or engineering.
To help you spot some of the best class B RV manufacturers it helps to keep a few key criteria in mind.
The Chassis
Most of the best Class B motorhomes are built on a transit van chassis or panel van frame.
Once they dial it in, most RV makers will stick with the same chassis throughout their most popular models.
This spares them from having to proverbially "Reinvent the wheel" with each updated model, so they can focus on other important quality features.
The Engine
Some Class B motorhomes have gasoline-powered engines, which are convenient and offer immediate acceleration, which is handy for times when you might need to pass someone on the highway.
Though an increasing number of popular Class B motorhomes use diesel engines to give them superior torque and oftentimes superior fuel efficiency.
Slide-Out
Some Class B motorhomes have power-retractable slide-out sections.
This helps maximize the interior space when you set up camp, yet also allows the camper to drive seamlessly down the road.
The tradeoff is that they tend to weigh more, which can impact fuel efficiency.
Related: 4 Excellent Class B RV's With Slide-Outs
Reputation
Some Class B RV manufacturers are known for turning out high-quality models year after year.
This helps them standout in the crowd, as well as securing a loyal following.
Having so many brand-enthusiasts often translates into things like online forums where you can ask informed questions to an experienced audience.
It also means more dealerships with mechanics who are well-versed in handling basic maintenance and repairs as well as affordable upgrades.
8 of The Best Class B RV Manufacturers in 2023
We waded through this competitive field to look at some of the most popular Class B motorhomes and the manufacturers who are dedicated to putting their best foot forward with every model year.
This included looking at the sturdiness of their chassis or frame as well as the reliable engine that they use in many of their most popular models.
Here are the 8 best Class B RV brands we think should be the most worthy of your consideration in 2023:
1: Leisure Travel Vans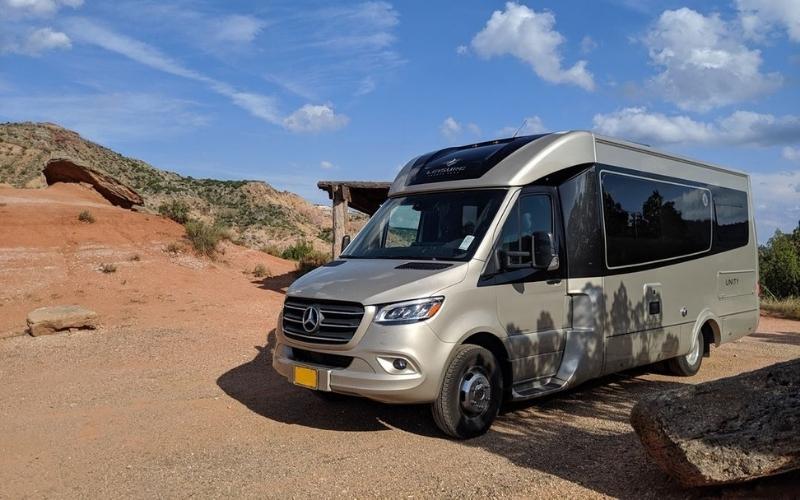 Leisure Travel Vans tends to lean heavily on the well-tested Mercedez Benz cargo van chassis, which has a reputation for being very sturdy as well as giving it the rigidity for comfortable handling on the road.
They have models with gasoline engines as well as a fuel-efficient 3.0-Liter turbo diesel engine.
As one of the arguably newer players in this field Leisure Travel Vans focuses on making sure all the little details are covered in their most popular models.
This includes making every effort to make their Class B motorhomes easy to drive with convenient features at the operator's fingertips.
Throughout their models, they also focus on convenient use of space, as well as functionality.
This translates into a strong loyal following of owners who frequent message boards and social media platforms to help answer questions. They also have a reputation for superior customer service.
Leisure Travel Vans Most Popular Class B Models
The Wonder and The Unity are two of Leisure Travel Van's most popular models that attract Class B motorhome enthusiasts.
This also means there is a strong following online to ask questions and familiarize yourself with the brand.
Of their two most popular models the Wonder is more of an entry-level model with a price range of around $120,000. It's available in four floorplans, and it measures in at 25-feet long.
Its beating heart is a 3.5L Eco-Boost V6 Gasoline engine with a 10 Speed Automatic Transmission with a special Tow Haul Mode
The Unity is the higher level Class B motorhome in Leisure Travel Van's lineup. It has six distinct floorplans and starts at around $135,000 to $140,000k.
It also offers a little more power from its 3.0 L V6 Turbo Diesel engine, which is paired with a 7 Speed Auto Transmission.
2: Winnebago Industries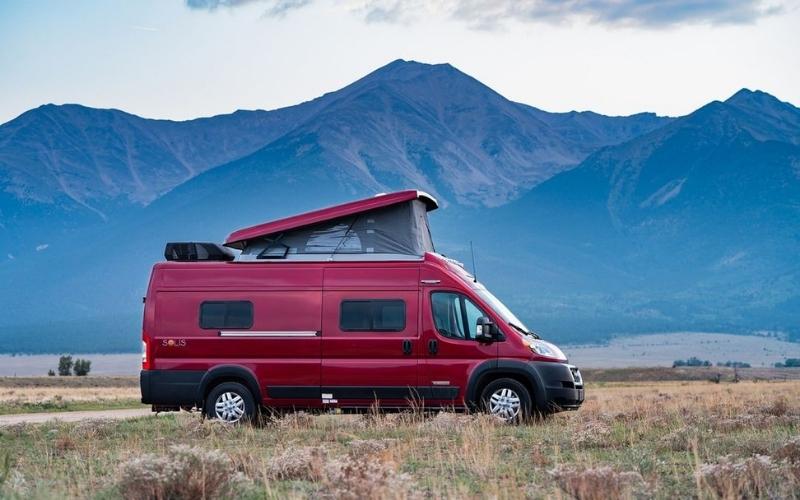 Winnebago Industries is one of the strongest names in the RV industry with a powerful following in all three classes of motorhome.
They have been around since the late 1950s and have several subsidiary companies with their own niche RV lines.
Winnebago really made its name in the Class B motorhome niche in the 1980s through the mid-1990s by offering quality models at prices families could comfortably afford.
This has helped them cement a loyal following with a strong social media presence for asking questions and reading reviews. They also have a reputation for offering some of the RV industry's best customer service.
Winnebagos's Class B motorhomes tend to feature the Ram ProMaster chassis or the Mercedes-Benz Sprinter chassis.
Both of which have a reputation for being durable and strong. They have both gasoline and diesel engines in their lineup.
Though their more updated models tend to lean toward diesel engines that they then pair with highly reliable 7 speed automatic Mercedes-Benz transmission.
This helps to put the powerdown while also providing enough torque to pull a boat or trailer behind it.
Winnebago Industries Most Popular Class B Models
Winnebago has several popular models under their name-brand lineup. This includes some best-selling gasoline models like the Solis and the Travato as well as diesel models like the Boldt and the Era.
The Winnebago Solis and Travato are built on the heavy-duty Ram Promaster chassis frame and have a Pentastar VVT V6 gasoline engine as their beating heart.
It puts the power down with a 6-speed automatic transmission that also translates into a towing capacity of up to 3,500-pounds.
The Winnebago Boldt and the Era are built on the popular Mercedes-Benz Sprinter van chassis and are powered by a Mercedes-Benz 3.0-Liter V6 engine.
When paired with the Mercedes-Benz 7-speed automatic transmission, you get a robust towing capacity of up to 5,000-pounds, which will let you pull most boats and other equipment trailers on your RV adventure.
3: Airstream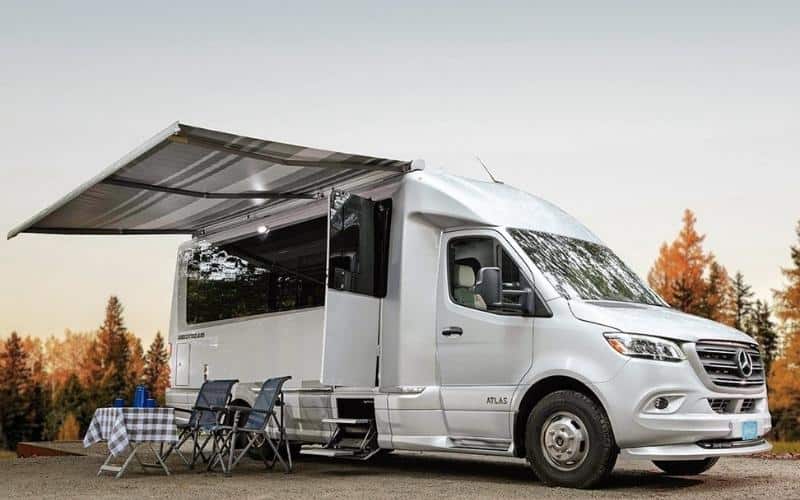 Airstream made its name in the 1950s and 1960s with an award-winning lineup of gleaming travel trailers.
Over the years they have stayed true to this brand concept, while also embracing other opportunities to expand its market presence. This includes quietly building a lineup of high-quality Class B motorhomes.
They made it a point to partner with Mercedes-Benz for their chassis, engine, and transmission.
Not only does this mean you are getting a quality-engineered vehicle, but you are also getting a Class B motorhome that handles well on the open road.
With so much familiarity throughout the line, it also makes it easier for mechanics and dealers to quickly source parts and provide timely service.
Airstream's Most Popular Class B Models
The Airstream Interstate and the Airstream Atlas tend to be two of the most popular Class B motorhomes in their lineup.
Both use Mercedes-Benz Sprinter chassis with the larger Atlas using the 3500-series chassis, and the Interstate using the 2500-series. These chassis also have a reputation in the trades for being high-quality transit vans.
Both the Interstate and the Airstream Atlas use a robust 3.0-Liter diesel engine. The power it produces is then put down by a 7-speed automatic Mercedes-Benz transmission.
This also translates into a maximum towing capacity of up to 5,000-pounds for both models.
This is more than enough power to let you tow a boat or your favorite outdoor toys on a trailer with confidence.
4: Regency RV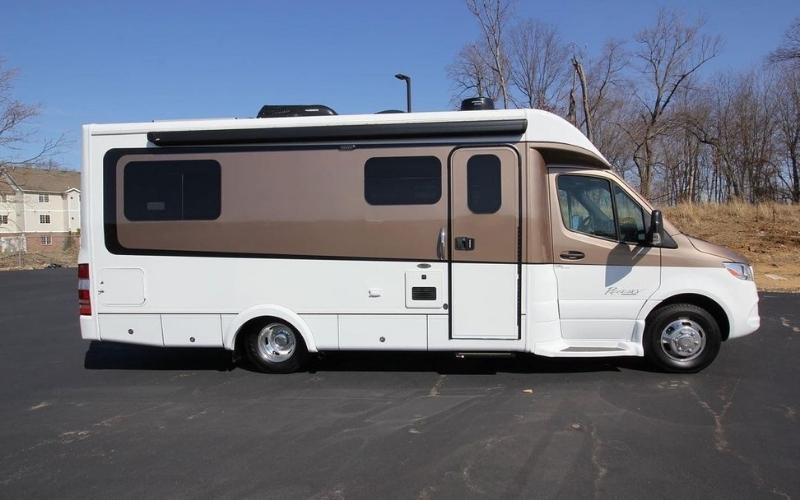 Based out of Elkhart Indiana, Regency RV has a reputation for producing a fresh lineup of RVs every year.
They take great pride in quality workmanship as well as offering models that owners can customize to their preferred creature comforts.
Their Class B motorhomes use both the popular heavy-duty RAM ProMaster chassis as well as the Mercedes-Benz Sprinter.They have gasoline and diesel options available.
The interior of their popular models is known for being a blend clean minimalism that is infused with luxury features.
Their baseline costs start around $100,000 and can vary widely from there depending on the customizable features you choose to have the manufacturer install.
Regency RV's Most Popular Class B Models
There are two top-of-the-line Class B motorhomes to consider in the Regency lineup. Bothare built on different chassis, which ultimately makes them two distinctly different entities.
The Regency National Traveler is built on the RAM ProMaster chassis which measures-in at 20 feet and 11 inches long.
It has a powerful 3.6L V6 gasoline engine with lots of acceleration. This is a great entry-level Class B motorhome that drives very much like a familiar panel van. It is available in floor plans with a murphy bed or a queen bed.
The Regency Ultra takes a different approach and is constructed on a Mercedes Benz chassis, which makes it 25 feet and 1 inch long.
It also has a powerful diesel engine that gives it enough horsepower to commandingly tow up to 6,000-pounds.
Just like the National Traveler, it has a queen bed or Murphy bed, options as well as a floor plan with a pair of rear twin beds.
5: The Storyteller Overland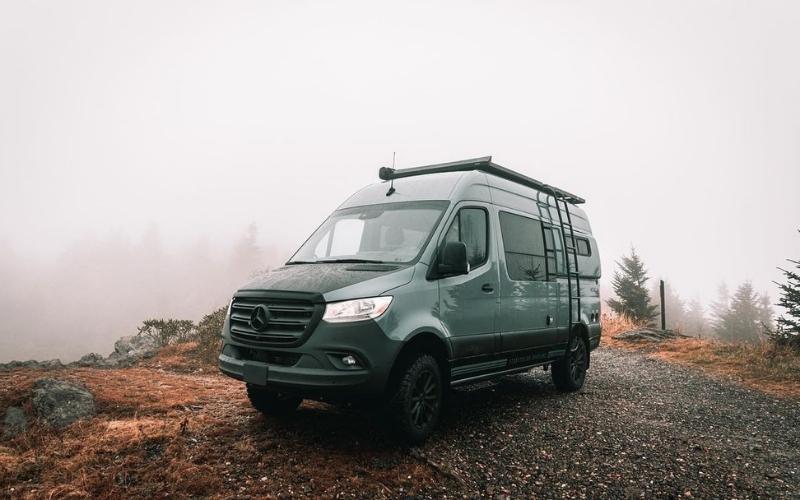 Constructed in a facility in Birmingham, Alabama, Storyteller Overland has been steadily growing in popularity since 2016.
They are engineered to offer rugged dependability to traveling families who want to get out in the great outdoors to build the kind of memories that go beyond what an RV park has to offer.
To that point, they are built with 4×4 capable drive trains and a built-in Volta Power System generator, that keeps a pair of automotive M-Power Lithium-ion batteries.
Storyteller Overland's Most Popular Class B Models
The two strongest modes in the Storyteller Overland are the Stealth MODE and the Beast MODE. Both have heavy-duty drive trains for superior offroad traction and power.
Both the Stealth MODE and Beast Mode are built on the Sprinter chassis and have a robust 3.0L V6 Turbo Diesel engine.
This also translates into a 5,000-pound maximum towing capacity. Each has a bevy of customizable options including things like solar panels and energy-efficient LED lights, as well as fresh and wastewater storage tanks.
6: Coachmen RV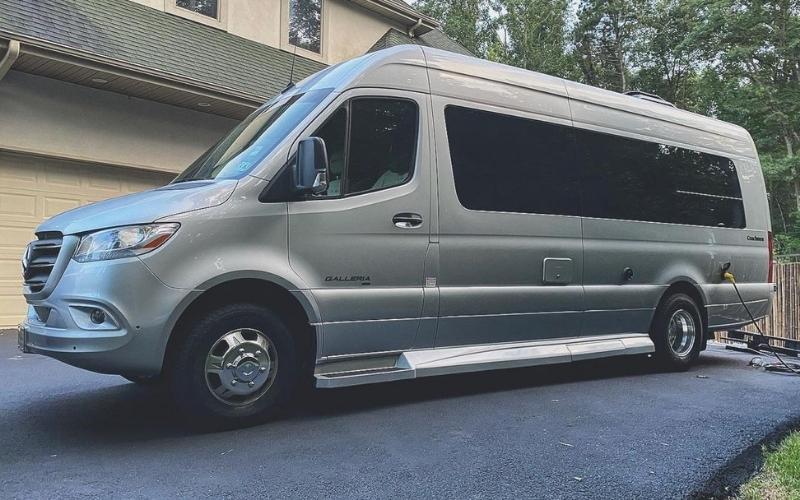 Coachmen have a loyal following of RV enthusiasts at every level, including the Class B RV niche where they have several award-winning models.
They tend to focus on the am Pro Master 3500 chassis and the Mercedes Benz Chassis, with gasoline and diesel options.
Their lineup of Class B motorhomes is known to be comfortable with customizable optional extras.
This includes things like upgraded kitchens as well as their special "Polar Package" for four-season campers and people who want to use their Class B motorhomes for full-timing.
Coachmen RV's Most Popular Class B Models
While Coachmen's Galleria is best known for attracting full-timers, it is their updated Nova that won the RV New's Best of Show and Best Type B Motorhome awards.
The Coachmen Nova is built on the RAM Promaster 3500 Chassis. It is available in two floor plans the 20 C and the 20 RB.
Both have very similar statistics measuring in at 20 feet and 11-inches long with the same large fresh and gray water storage tanks.
Though the Coachmen Nova 20 C has a 19-gallon black water storage tank as opposed to the 10-gallon black water tank used in the 20 RB floor plan.
7: Pleasure Way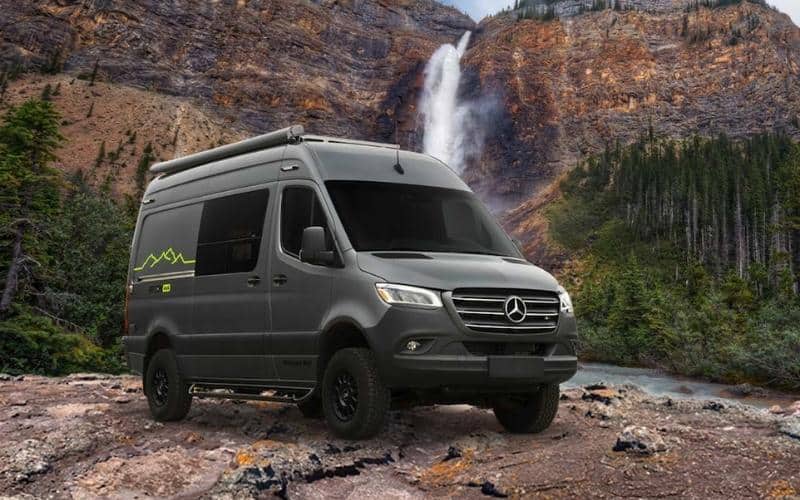 Don't let the name fool you into thinking that this line of RVs is meant for delicate living in RV parks and high-end glamping campgrounds.
Pleasure Way RVs are engineered to be robust with a 4X4 option in the new Recon Class B motorhome.
They use a wide range of chassis frames throughout their lineup including Ford, RAM Promaster and the increasingly popular Mercedes-Benz Sprinter.
They have nine different base models to pick from. Then the manufacturer offers a wide range of ways to customize it to suit your travel needs and lifestyle.
Pleasure Ways Most Popular Class B Motorhomes
There are a lot of great options in the Pleasure Way lineup, though their new 4X4 Recon "Adventure Van" stands head and shoulders above its brethren.
It's built on the powerful Mercedes-Benz 2500 Sprinter 4×4 chassis with a robust drive train that lets you truly take it off-road in style and comfort.
There is a lot of durable, thoughtful engineering infused into the Pleasure Way Recon. When you are going down the road it has a large storage area in the back to hold all your essential camping gear.
When it comes time to set up camp it transforms into a remarkably comfortable murphy bed.
There's even a midship wet bath with waste and fresh water storage tanks to support you for days of off-the-grid boondocking.
8: Hymer
Hymer is a rare European RV manufacturer that has started to carve out a niche for itself in the US domestic marketplace.
As a German-based company with over six decades of experience, they have a reputation for quality engineering and material build quality.
Their domestic Class B models tend to make use of the RAM Promaster Chassis and the Pentastar VVT 3.6 literV6 gasoline engine.
Hymer's Most Popular Class B Motorhomes
On the US domestic marketplace, the Aktiv is Hymer's most popular model. It is built on the RAM Promaster Chassis and has a powerful Pentastar VVT 3.6 literV6 gasoline engine.
This translates into superior power when paired with a 6-speed automatic transmission, which gives it a 5,100-pound maximum towing capacity.
Frequently Asked Questions
Is A Gasoline Or Diesel Engine Better For A Class B Motorhome?
This is a matter of personal preference when it comes to trading off acceleration for power.
If you like the acceleration to pass other vehicles on the road, or you want to use the Class B as a commuter vehicle or just a way to tackle the daily school run, then you might want to prioritize a Class B motorhome with a peppy gasoline engine.
If you want to be able to tow a boat or a toy trailer behind you on vacation, then you might want to lean toward a diesel engine.
They tend to produce more functional torque with towing capacities around 5,000-pounds.
Diesel engines in Class B motorhomes also tend to be more fuel-efficient than their gasoline-equivalent.
Do Class B Motorhomes Have Bathrooms?
Not all Class B motorhomes have bathrooms in them. Many have a basic kitchenette with a sink.
Though there are a few models that have a wet bath or a cassette toilet.
If a bathroom is a priority for you, then you might want to start your search with Class B motorhomes that have a power slide-out section.
Which Is Better In A Class B Motorhome A Queen Or A Murphy Bed?
With a queen-size bed, you are getting a little bit more of what you are used to at home. Though the tradeoff is in the space it actively takes up inside a Class B motorhome.
While some might be built into a power slide-out section to save space, they will still take up a lot more room than a murphy bed.
When you aren't using it to sleep a murphy bed takes up very little space.
This gives you more interior room and ultimately helps save on weight since most Class B motorhomes with a murphy bed don't have heavy power slide-out sections.
So, What Class B RV Brand Should I Pick?
There are certainly some well-established and relative newcomers in the Class B motorhome niche.
If you are looking for something that can take you off-road with a commanding presence and the kind of features to support you for days off boondocking, then you might want to start with the Storyteller Overland lineup of rugged 4X4 Class B motorhomes.
If you are looking for a well-established RV manufacturer with a decades-long reputation for superior customer service and an online presence to let you share your immersive experience, then you might want to start your Class B RV shopping with Winnebago's lineup.
While these are two very well-deserving starting points, these two manufacturers represent just the tip of the iceberg when it comes to finding the best Class B motorhomes on today's RV landscape.