Planning a trip through the Tar Heel State and worried you may have to rely on good old Walmart for a night's sleep? Want to save money and actually enjoy your time?
Well, you're in luck! There are actually many options for stunning free camping in North Carolina.
We all know the East Coast has a reputation for having both limited and pricey camping. Luckily, this is just not the case in North Carolina – as long as you know where to look.
For one, North Carolina has four national forests stretching from the Great Smoky Mountains to the long stretches of shoreline on the Atlantic coast.
With the immense variety of natural beauty, it is no wonder that 7 million people visit these forests every year, making North Carolina a popular destination for outdoor enthusiasts everywhere.
Not surprisingly, most of the free camping opportunities are located in the state's 4 national forests: Nantahala, Pisgah, Uwharrie, and Croatan.
These free campsites are typically dispersed dry camping opportunities. This means you must bring your own amenities (which is why we travel in an RV in the first place, am I right?).
The upside is that most of these camping spots are very secluded. Meaning: no people! And if you're anything like me, you'll gladly trade a five-minute shower for some peace and tranquility.
Let's dig in!
First, is Boondocking in North Carolina even legal?
According to the USDA Forest Service, dispersed camping in North Carolina is only allowed in designated areas.
Meaning, no one can simply pull off anywhere and spend the night. Luckily, there is a list of designated camping spots to reference on the USDA's website, along with many other resources.
Although restrictions exist, you will soon see that there is an abundance of sites to choose from; all completely free and in stunning locations.
Another important rule to remember is: there is a 14 day limit for public land camping (unless otherwise noted).
This protects the land and surrounding ecosystem from regular human activity and allows others to enjoy the area as well.
In most cases, there are little to no amenities at these sites. Therefore, it is important to prepare accordingly and pack out anything you brought into the camp.
I highly recommend a visit to the USDA's Outdoor and Safety Ethics page, which provides helpful information on topics such as weather safety, wildlife safety, and outdoor ethics.
After all, having the right preparedness in any situation allows for more enjoyment and relaxation.
So, in short: yes! Boondocking is absolutely legal in North Carolina, as long as you're camping in designated areas, abiding by the time limit, and respecting the outdoor ethics of the area.
And luckily, there is no shortage of free camping areas located throughout the vast National Forests.
Of course, like everywhere else in the United States, camping on private property is prohibited.
This includes most businesses unless otherwise noted (Thank you, Walmart!). So get ready, grab a notebook, and let's dive in!
Where to Find Free Camping in North Carolina
During my travels, I used several different resources to find places to camp.
I've found that having a variety of tools under your belt is essential, as some websites and apps may show locations that others do not.
Moreover, you'll have a variety of reviews from fellow campers that can be extremely helpful when deciding where to stay.
I can't tell you how many times I found a spot on one app, and then switched to another app to find reviews.
It gives me much more confidence when deciding where to stay – and most importantly – avoid driving my rig all the way to a location just to realize it won't work out (raise your hand if this has happened to you, too!).
So, without further adieu, here are 5 resources to help you find that perfect campsite:
We planned almost our entire cross-country road trip with this app. I love Allstays because it shows EVERYTHING.
From free dispersed camping to RV parks; from dump stations to truck stops.
Allstays even indicates clearance restrictions and road grade, which is especially important in mountainous areas like North Carolina.
It was actually in North Carolina where our brakes almost melted while driving down a mountain.
We were RV newbies and didn't pay attention to the level of elevation we reached.
Sure enough, we found ourselves parked on the side of a narrow road in our 35 foot Class A with cars whizzing by.
As you might guess, it was absolutely terrifying. So my advice to you is this: know your rig and pay attention to road grade. Learn from our mistakes!
Another helpful thing to know about Allstays is that it indicates if a site is in a National Forest, Private Campsite, State Park, etc.
This is very useful while traveling through North Carolina, as nearly all dispersed camping is located in the National Forests.
At $9.99, the Allstays Camp & RV app is on the pricey side. That being said, I've found it completely invaluable.
Campendium is a great app for finding free campsites because it is so user-friendly and popular.
Remember, the more popular an app is, the more reviews you'll find! Reviews can be extremely important, especially when finding dispersed camping in remote locations.
If it wasn't for the reviews from helpful campers, we could have driven miles out of our way just to find a spot for the night, only to find out that the road is washed out.
Like Allstays, Campendium uses a map feature that shows public lands, RV parks, parking, and dump stations.
It also has several search filters, allowing you to search specifically for free places to camp.
Campendium is a free app (option to upgrade) and is compatible with both iOS and Android.
Good old Freecampsites.net. So simple, so pure. So what if it doesn't come in the form of an app?
If it wasn't for this website, I wouldn't have found free beachfront camping on the Gulf of Mexico!
The amazing thing about Freecampsites.net is that it is 100% dedicated to finding FREE sites (hence the name).
Because of this, you're more likely to find those hidden gems that you'd usually only know about from a friend, of a friend, of a friend.
Just because you actually have to type it into your web browser, doesn't mean there is a lack of reviews.
The site is very popular among travelers, especially those who want to provide valuable information about their experience!
I'm a little bummed that I didn't know about this app when we traveled across the U.S. a few years ago.
Like the rest of the resources we cover, The Dyrt uses a map feature to show campsites in a specific location.
It is user-friendly and shows a wide variety of sites. The best part about this app is the ability to filter your search results down to EXACTLY what you want.
Want a free campsite that allows big rigs? You got it. How about a place under $25 with pull-in sites? Easy!
Another great thing about The Dyrt: the pictures! Along with their reviews, fellow campers can also post pictures of their stay.
This gives you a good idea of what the area looks like and whether or not you'll want to spend a night (or 10!) at that location.
The Dyrt is completely free (with an option to upgrade) and is compatible with both iOS and Android.
RV Parky is another useful resource for finding secluded campsites. Honestly, it reminds me of a free version of Allstays Camp & RV, which makes it a great option if you're not quite ready to make that $10 purchase.
RV Parky shows the Walmarts, Cracker Barrels, RV Parks, public land camping, and even the truck stops in a given area.
Like Allstays, it indicates the type of campsite by icon, which is great if you just want to quickly scan an area.
Like the other resources above, RV Parky also has many reviews from other campers, making it another valuable tool to have throughout your travels.
Ok, enough about travel apps. Let's get to why you clicked on this article in the first place:
10 Gorgeous Spots For Dispersed Camping In North Carolina
Here are 10 free camping spots in North Carolina that you might want to check out.
1. Badin Horse Camp Campground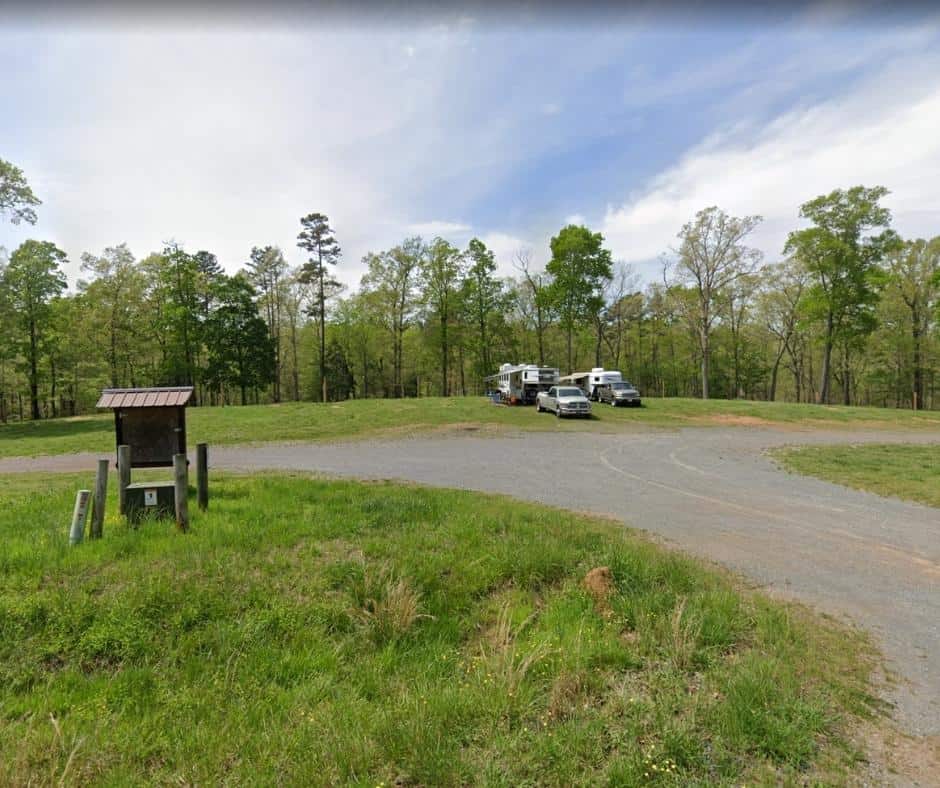 Badin Horse Camp is a primitive camping area that accommodates rigs of all sizes.
Located in Uwharrie National Forest, there are 6-15 campsites located in a grassy field that offers both sunlight and shade.
This free camping opportunity is an equestrian's paradise, with plenty of riding trails and tie-ups to secure your horses at the campsites.
There are no amenities, but I think we can all agree that finding a secluded, free campsite that accommodates big rigs is a rare gem, regardless!
2. Kistler Memorial Highway Dispersed
Found on Allstays Camp & RV, Kistler Memorial Highway dispersed is a hidden gem located in Pisgah National Forest.
It is completely free and can accommodate a 20 ft rig. There are hiking trails in the area and a breathtaking waterfall nearby, giving nature lovers a secluded hidden paradise to stay.
This isn't a well-known spot, as it is not featured on the other apps. Please be cautious while driving in, as the road is not maintained.
But you know what they say – without risk there is no reward. Sometimes the most memorable campsites are the ones we have to work for!
3. Ammons Branch Campground
Ammons Branch Campground is a small, secluded area located in Nantahala National Forest.
According to reviews on Campendium, this campground has 4 sites with room for 1 or 2 small RVs (about 25 feet max).
In fact, there are even bathroom facilities, which makes Ammons Branch a fantastic option for anyone in a small rig who doesn't like to carry their – ahem – waste around with them.
Like the many other National Forest campsites, there are hiking and horseback riding trails all throughout the area. Go see it for yourself and check out the awe-inspiring views!
4. Pine Ridge Road NCSR #1147
According to a camper on Allstays Camp & RV, this locale is "picturesque camping right on the lake".
Amazingly, there are seven lakefront sites and even more free sites on Joyce Kilmer Road and Long Hungry Road.
Located just below Great Smoky Mountains National Park, this area is a fantastic free place to stay while you explore the best of North Carolina.
Unfortunately, this spot can only accommodate a 20 ft rig or smaller. If you're in something bigger, no worries! We have many more free spots to share with you.
5. Victor Fields Dispersed Camping
If you're looking for a private clearing in the woods all to yourself, this one's for you!
Victor Fields is located near the Blue Ridge Parkway in Pisgah National Forest.
Here, you'll have access to 12 miles of incredible hiking, including views of the black mountains.
There are only 2 sites available, but they accommodate rigs of any size.
This is a secluded area with little (if any) cell phone service and no amenities, so be sure to bring plenty of provisions with you (as well as a method for off-grid communication). And remember: pack in, pack out!
6. Catfish Lake Boat Ramp
Looking for free, lakefront camping in your big rig? This site is located on Catfish Lake in Croatan National Forest and is great for RVs of all sizes.
It makes for a perfect place to stop on your way to North Carolina's beautiful beaches.
Make sure you soak up everything Croatan National Forest has to offer, including the saltwater estuaries, gorgeous riverside beaches, and stretches of endless shoreline. And of course, don't forget your bug spray!
7. Sugar Cove Pisgah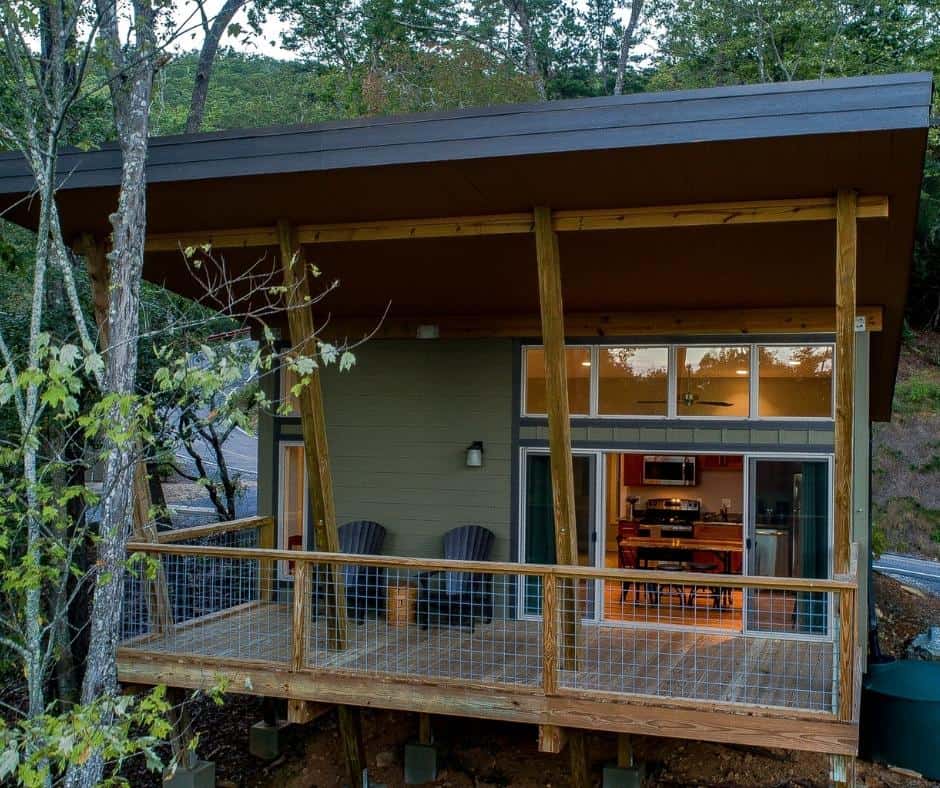 Calling all fishing fanatics! If you've been dreaming of finding a site where you can drop in a line and relax, look no further.
Sugar Cove Pisgah is located in Pisgah National Forest and features two sites along a large creek.
According to a camper on Freecampsites.net, the first site allows room for multiple rigs, while the second site is about half the size.
And like nearly every campsite featured, it has amazing hiking nearby as well. There are no amenities in this area, so prepare accordingly!
8. Curtis Creek North Dispersed Campsite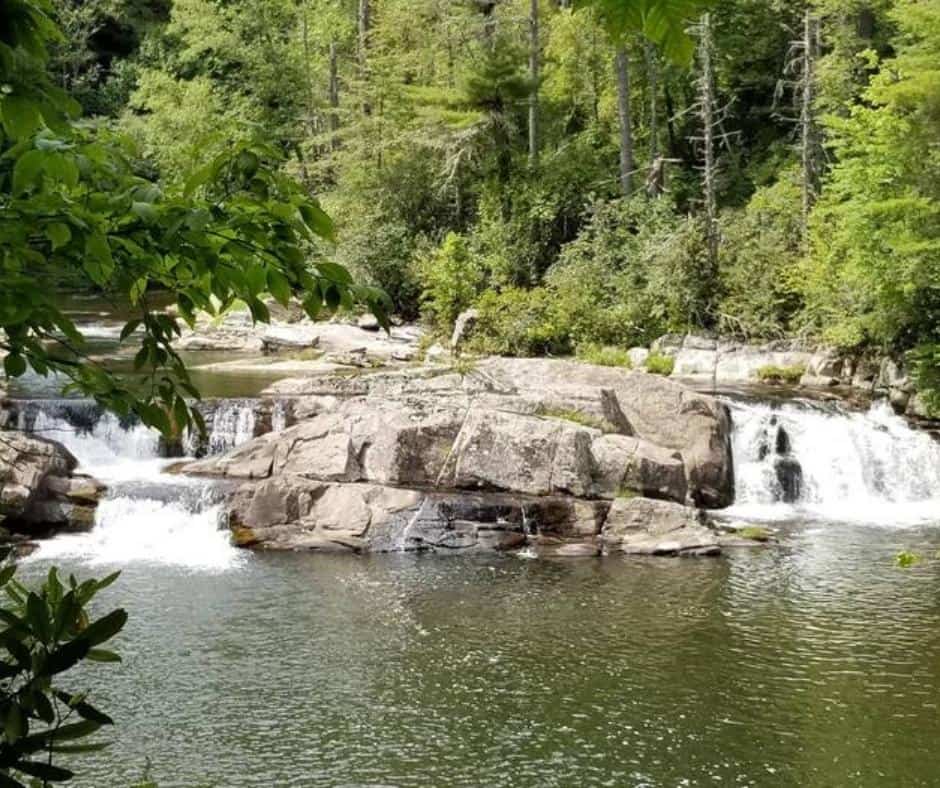 Curtis Creek North Dispersed Campsite is located near Sugar Cove Pisgah in Pisgah National Forest.
This campsite is perfect for small rigs such as truck campers and vans, as the road leading to the sites is narrow and steep.
Campers in larger rigs should look elsewhere to avoid getting into a predicament driving in.
There are 1-5 primitive sites with no amenities except a fire ring, but this area is perfect if you are an avid bicyclist or hiker.
9. Blue Valley Dispersed Campground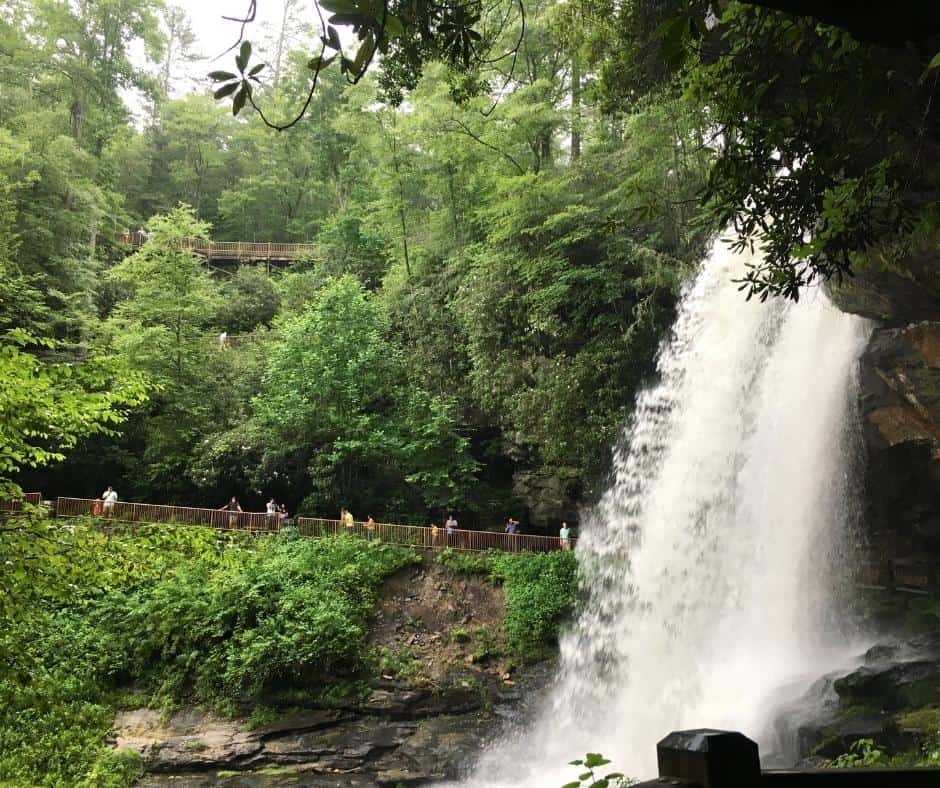 Located in Nantahala National Forest, Blue Valley Dispersed Campground truly offers something for everyone.
While it is completely free, this is a campground that accommodates rigs of any size.
There are also several amenities such as tables, grills, and toilets, and with approximately 22 sites, you will have plenty of options to choose from.
Enjoy swimming, fishing, or bird watching? Wilson lake is close by and is a perfect place for all three of these activities!
10. Brown Mountain OHV Entrance Road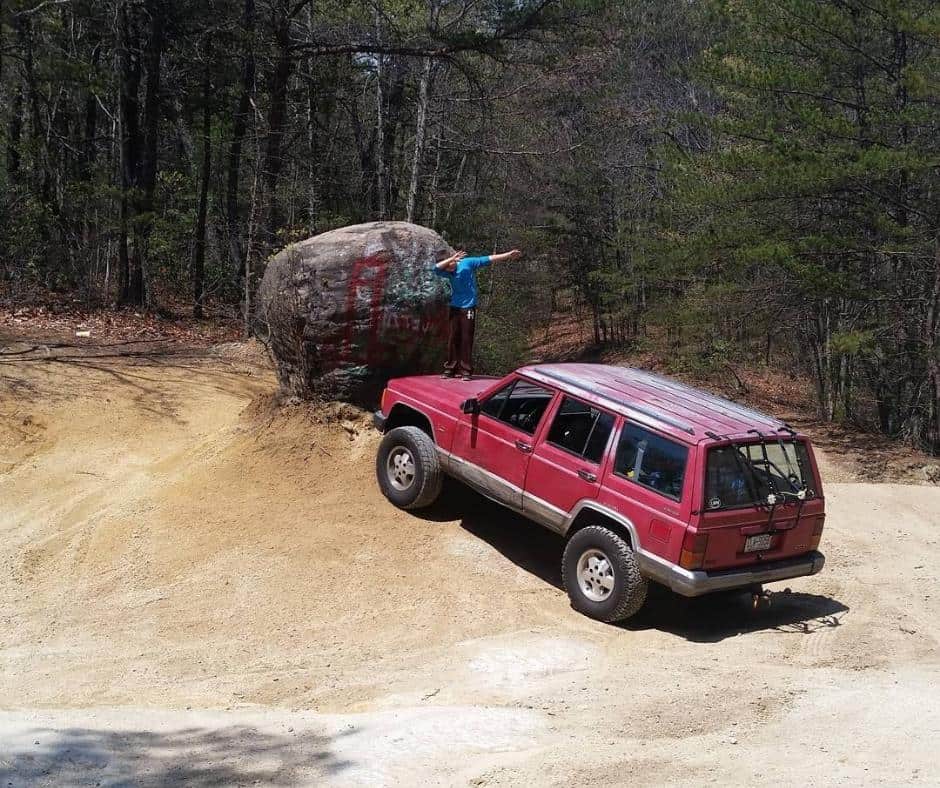 This spot is another gem found in Pisgah National Forest. It is completely free and has approximately seven campsites (two of the sites can fit a decent-sized rig).
Amenities include grills, picnic tables, restrooms, and fire rings.
According to a camper on freecampsites.net, the nearby stream is "stocked with trout" making it another amazing find for avid fishermen (and women!).
Didn't find any sites that match perfectly with your plans? There are SO many more.
Check out the resources we covered above, or go to the USDA's list of dispersed camping sites.
Have you ever traveled through North Carolina? What were your favorite places to stay? Tell us about your travels in the comments below!