Teardrop campers were all the rage after World War Two. This was a time when Americans were answering the call of the open road more than ever before thanks to the new interstate infrastructure projects connecting sea to shining sea.
Of course, in those days the only people who had pickup trucks were construction workers and farmers.
The average family had a sedan made from Detroit steel and a modest amount of horsepower.
This made teardrop trailers the perfect fit for small families that wanted to travel with more comfort than you can ever get from tenting.
In those days, it was pretty hard to find a teardrop trailer manufacturer near you. So, a lot of people with do-it-yourself skills started building their own.
This flooded the roads with vintage models custom-styled and appointed to meet each family's tastes.
Today teardrops are enjoying a vigorous renaissance thanks to their easy towing, and stylish good looks.
While it's much easier to find them at an RV dealership than it was 60 years ago, a lot of do-it-yourselfers are embracing the idea of building their own, or replicated the one their dad made back in the day.
If you are an avid do-it-yourselfer and you love the look for a quality teardrop trailer, then the following list of teardrop camper kits might be the perfect place to get your creative juices flowing.
We took the time to take a closer look at some of the best kits being offered by teardrop trailer craftsmen across the country.
We tried to include something for every skill level, from the Birch Campers comprehensive kit that can be assembled in under 50-hours to the Kuffel Creek vintage trailer plans where you fabricate every square inch of the teardrop camper.
How Much Does It Cost To Build Your Own Teardrop Trailer?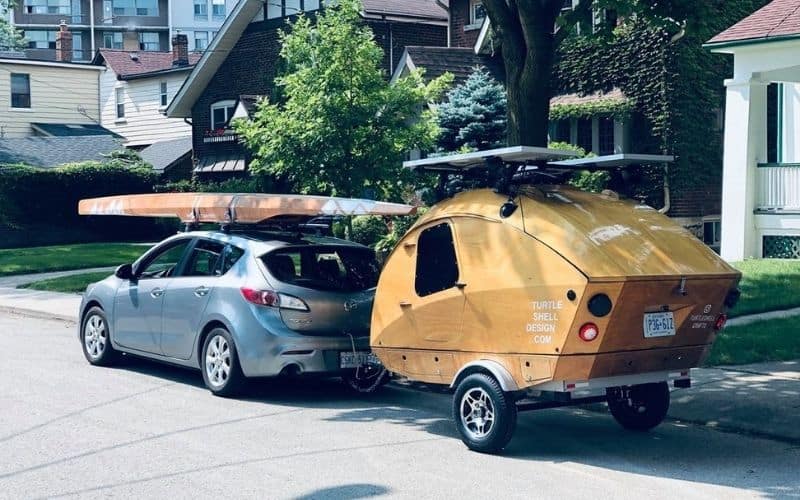 On average, you should be able to build a basic teardrop trailer for around $5,000 to $7,000.
Though the more you customize it the more the price will go up.
Some of the most lavish models can come in over $15,000 or more depending on the kind of appliances and materials you put into them.
What Kind Of Trailer Do I Need To Build A Teardrop Camper?
Most DIY teardrop trailers are built on a 4' X 8' utility trailer frame.
Though there is no hard and fast rule saying that you couldn't go with a larger platform or a trailer with beefed-up suspension for taking the teardrop trailer off-road.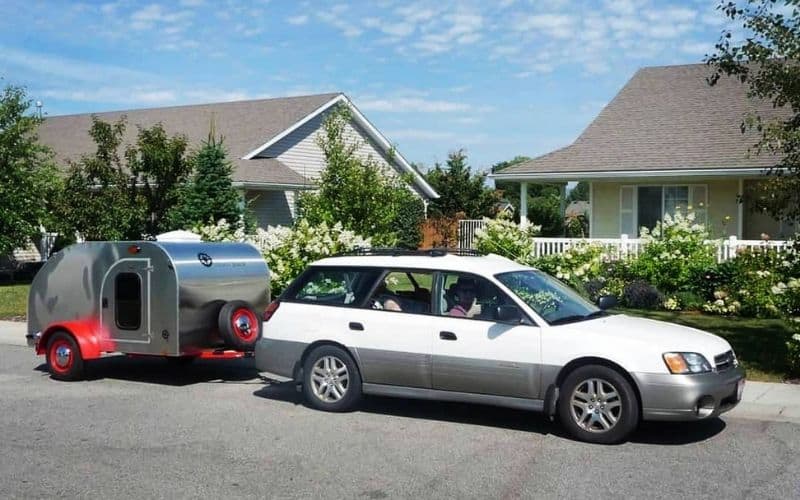 6 Best Teardrop Trailer Kits & Plans On The Market
In the following list, we tried to weed out some of the fly-by-night online plans offered up by one man working alone in his garage.
Instead, we tried to take a closer look at actual companies that are selling kits with parts or plans that are easy for you to source on your own.
Along the way, we also tried to keep in mind construction materials, and how challenging the build might be.  
These are the six best DIY teardrop camper conversion kits we could find on the market.
1. Chesapeake Light Craft Build-Your-Own Teardrop Camper Kit And Plans
Chesapeake Light Craft started out as a boat manufacturer producing lightweight watercraft in the beautiful Chesapeake bay area.
Their kit taps into a lot of what they learned by making wooden boats.
This gives the teardrop trailer an organic look as opposed to the sort of "Canned Ham" look that you find in a lot of teardrop campers with a metal exterior shell.
The tradeoff here is that you do need to go the extra mile to preserve and maintain the wood exterior.
Without proper storage, in the winter the elements can start to affect the finish causing it to dull.
So, if you do pull the trigger with this kit, you should store this teardrop trailer indoors or in a garage when you aren't traveling with it.
The camper is designed to be built on a 5' X 8' trailer frame. This gives it enough room for a full-size bed in the interior sleeping space, while also affording enough room for a rear hatch that can house a modest RV kitchen.
The trailer isn't included in the kit, but they strongly recommend using the Trailex SUT-1000-CLC Flatbed Trailer Kit, which boasts superior stability and the kind of strong suspension system you need to handle the weight of a complete wood construction teardrop trailer.
The construction method borrows directly from what kayak manufacturers call "Stitch & Glue."
Then the seams are reinforced with waterproof epoxy and fiberglass tape.This type of advanced joinery requires some special clamps and hardware jigs in certain places. Not to mention precision.
So, if you are somewhat of a novice when it comes to joinery techniques, you might find this teardrop trailer kit might challenge your depth.
One of the other nice things about the Chesapeake Light Craft's teardrop trailer kit is the reinforced roof rack. It is strong enough to let you bring a canoe, kayak, or mountain bike with you.
2. Birch Campers Ultralight DIY Teardrop Camper Kit
Based out of Philadelphia birch campers is made up of a team of highly experienced fabricators.
The kit comes with what you need to build the most of the teardrop trailer.
This includes the basic wooden frames and steel beams as well as the Lexan window, roof vent, doors, and other hardware components.
Following the directions to the letter will give you a sturdy wooden travel trailer that serves as a blank canvas ready for your customized features.
Here again, you are talking about a teardrop trailer with a largely wooden exterior.
This means you will either need to use treated wood or take extra measures to protect it from the elements.
A coating or two of marine-grade spar varnish will go a long way toward preventing moisture problems in the long term.
The kit itself was designed to let you build the teardrop trailer in under 50-hours.
This makes Birch campers one of the top options for do-it-yourselfers with intermediate construction skills, or people who want to enjoy their new custom camper without having to spend all winter tinkering in the garage.
Birch Campers also hosts an online forum that gives you a place to ask questions and bounce ideas off of other people who have already built their own camper.
Taking the time to sort through the custom builds and creative ideas that other people have designed will go a long way toward helping you make the most out of your build.
Inside the initial kit, you will also find some great optional extras and basic equipment that you find in a lot of high-quality teardrop trailers.
This includes kitchen cabinets, a pair of rooftop rails,as well as some basic electrical supplies, and a modest propane stove.
You can add them in as you see fit or replace them with your own vision.
If you don't want to go through all the hassle of sourcing essential components, then you might want to move Birch Campers kit up your list.
3. Big Woody Teardrop Camper Ultimate Kit
Big Woody has a reputation for offering teardrop trailer plans and kits at very affordable prices.
In fact, one of their most popular models known as the "Ultimate" only costs $899. This represents the most affordable of all the true "Kits" on this list.
Big Woody subdivides their kits into a variety of "Packages."This lets you do a little mixing and matching what you need for the project you have in mind.
While taking into account what you might already have on hand. If you stick to their most affordable and popular kit the "Ultimate" you get the wood hardware and templates as well as the galley and electrical package.
The Ultimate also comes with the weather stripping package and the hardware for a folding side table.
Just keep in mind that with this kit you will be the one sourcing the wood. While you get a lot of templates and hardware components the larger materials are left up to you.
This might be a little bit of an issue if it's hard to get affordable lumber in your area.
The electrical kit also has you sourcing the 12-volt deep cycle house battery. Though you get everything you need to make the electrical install, including the battery box, two outlets, light fixtures, and a 15 Amp male power connection for plugging into shore power at an RV park.
The bottomline is that while the Big Woody is a very affordable kit, you are still going to sink some extra time and money into sourcing some of the bulk materials yourself.
4. TeardropsNW Off-Road Teardrop Trailer Kits
As the name implies Teardrops NW is manned by a team of dedicated craftsmen, and their dog, based out of the Pacific Northwest.
Their kits are precision made using state-of-the-art CNC technology. They even offer financing options to help make some of their more advanced kits accessible and affordable.
Teardrops NW has a wide range of models, some are engineered for people who love to drive down the highway from one RV park to the next, as well as models that are designed to appeal to dry campers who want boondock off-road.
They break their kits down into "Features" or packages to help you customize your build, or purchase just the things you need, without having to double up on something you might already have onhand.
This includes Frame & Body, Cabin, Galley, and Electrical features that can work with most of their affordable plans.
If you are looking for a high-quality teardrop kit with a lot of easy-to-install custom options, you might want to move Teardrops NW up your list.
They have several thoughtful optional upgrades to let you build out your teardrop trailer to suit your travel style.
The Off-Road Upgrade package includes aTimbren 3500HD axle with upgraded electric brakes, as well as modifications to the frame for greater off-road endurance. It also upgrades the base trailer to 15-inch steel rims.
Their Electrical and trim package comes with everything you need to wire your teardrop like a professional.
It includes a 13-speed Fantastic Fan, 2 porch lights, 3 interior LED lights, a pair of 110V outlets witha GFCI outlet. There's also a voltage meter, a 12-volt plug, a USB port, and an on-off main switch.
When it comes to interior cabinetry Teardrops NW goes the extra mile to offer a variety of options.
This includes things like two drawer and three drawer cabinets as well as a well-organized "Aztec" galley array.
They let you mix and match to create the galley or interior cabinets to fit your needs. Or you can leave them out to install your own creations.
If you aren't an accomplished cabinet maker, but you want well-built cabinets in your teardrop trailer, then you need to move Teardrops NW up your list.
5. Overland Trailer 5′ x 8′ Teardrop Trailer Kit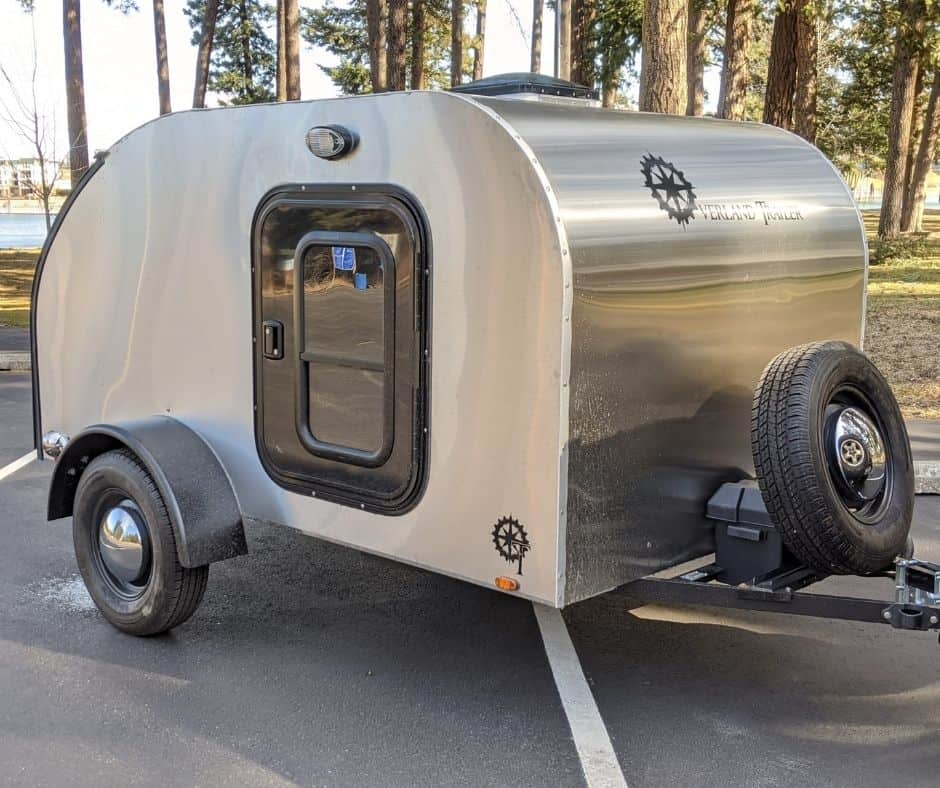 Overland Trailer has a very popular teardrop trailer known as the 58 Heald. So popular that the manufacturer is offering it as a clone kit.
This lets you build your own replica of their popular teardrop camper at a fraction of the price of buying direct.
Though there are some pros and cons to this approach. The nice thing is that the teardrop trailer the plans "Clone" is made largely from metal with welded sections.
This gives you a level of durability that a wooden teardrop kit cannot match. Unfortunately, this also increases the cost and limits the customization options to just the interior and the tires.
If you are already a fan of the 58 Heald, or a metal-skinned teardrop trailer is a top priority, then this is probably the ideal kit for you.
Since they also make the 58 Heald as part of their normal lineup, Overland Trailer provides you with one of the most comprehensive teardrop trailer kits.
This includes comprehensive manufacturing build plans, and companion videos that walk you through the construction process step by step.
You also get the trailer frame and body wiring plans with all the necessary components. The kit includes all the necessary wood parts that are CNC precision milled.
It's also important to note that the necessary plywood is included for the Galley Hatch Door, Sidewalls, and Cabinetry.
Though you cut it yourself. This spares you from having to source and transport the plywood from a hardware store, which you see with a lot of competitor models.
Arguably the most important part of the Overland Trailer 58 Heald kit is the aluminum skin for the roof and the sidewalls.
Every part is laser cut and designed to match perfectly with the steel frame.
The trailer components include a 1,200 pound Dexter torsion axle and brackets as well as the round steel fenders and all the necessary external lights and electrical components to ensure the trailer is truly road legal.
This might not seem like a big deal on paper, but it does come in handy when you need to go to the DMV to get the trailer officially licensed.
6. Kuffel Creek Teardrop Trailer Plans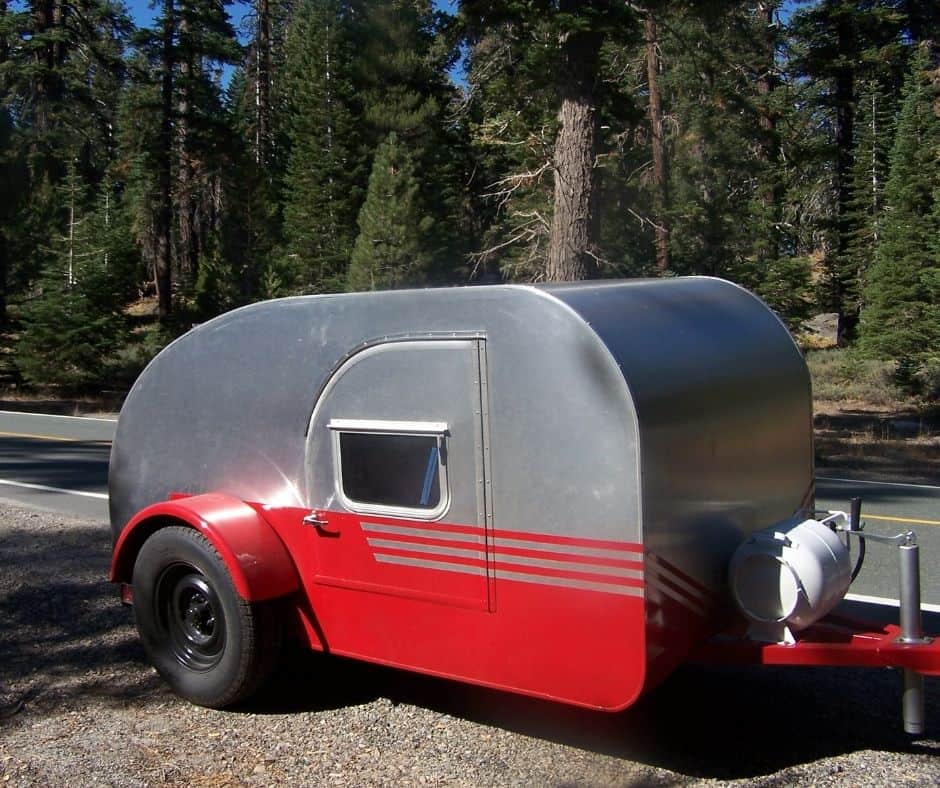 Kuffel Creek offers detailed plans for three of their most popular models. The Benroy, the 8-foot Cubby, and the 10-foot Comet.
One of the nice things about these plans is that they call for giving the final teardrop trailer a metal skin.
Yet they also allow for more customizable wiggle room than you get from other metallic shell teardrop trailers.
They believe so strongly in the build quality of their plans that all three are backed with a 100% money-back guarantee.
It's important to note here that this is not so much of a "Kit" as it is comprehensive plans for high-quality teardrop trailers.
This means Kuffel Creek is more for hands-on do-it-yourselfers who are completely comfortable sourcing and creating their own components.
Including finding a compatible trailer. If you are an accomplished fabricator with the right tools and you want to connect with a vintage teardrop trailer construction project, then one of these three kits will be perfect for you.
The Benroy has the vintage look and feel of the teardrop trailers that dominated the RV landscape after World War Two.
It is easy to tow and boasts superior aerodynamics. There is a single side door to access the interior and a spacious kitchen in the rear hatch.
The 8-foot Cubby is a step up in size and robustness of engineering. It needs to be built on a 5' X 8' trailer frame.
This can make it a little tricky to source the 5-foot wide sheet of aluminum you will need to skin the roof, as opposed to the 4-foot wide skin used in a lot of smaller aluminum shell teardrop trailers.
You'll appreciate the cabinet storage space inside as well as the relatively large kitchen behind the rear hatch.
The 10-foot Comet is the largest of the Kuffel Creek plans. This means you get a lot of interior sleeping and storage space, with enough elbow room to bring a young child or perhaps two children with you.
Thegalley includes a built-in icebox, an electric water system that's supported by a 12-gallonfresh water storage tank, a roll-out stove, and even a space to store a folding 4-seater table with benches.
Conclusion
Building your own teardrop trailer is certainly a labor of love. When done conscientiously it can also be a more affordable way to get a custom camper that perfectly matches your travel style and essential needs.
The teardrop trailer kit that is best for you will depend on your preferred materials, as well as your natural mechanical ability.
If you love the natural look of wood and you are adept at joinery, then it's hard to look past the Chesapeake Light Craft or Birch Campers.
If you are working on a limited budget then the Big Woody Ultimate might be the perfect fit.
Fans of teardrop trailers with a durable metal shell might want to move the Overland Trailer kit or Kuffel Creek's plans high up their list.