You've just taken the plunge and bought your first travel trailer. Congratulations!
Now you're dreaming of your first trip—perhaps you're reading under your awning next to a blubbering river or of relaxing in your camper after traversing the mountains in your truck all day.
The possibilities that traveling with a camper offers are exciting, but there are some essential travel trailer accessories that you will want to obtain before hitting the road.
Now you're probably wondering:
What new travel trailer essentials are must-have and I need to buy right now?
What can I buy later?
Travel trailers are a unique type of RV in that they require a separate towing vehicle that can be detached once you reach your destination.
They require many of the same accessories as other RVs, in addition to some must-have accessories necessary for safe towing.
From hitching up before an adventure to getting comfortable at night, there is a unique learning curve that comes with traveling with an RV trailer.
This complete checklist of new travel trailer must-have essentials is here to help you understand what you will need when buying your first RV trailer so that you can set out on your first trip confident and prepared.
Here are 22 Must-Haves you're going to need after buying your first travel trailer.
Essential Travel Trailer Accessories for Safe Towing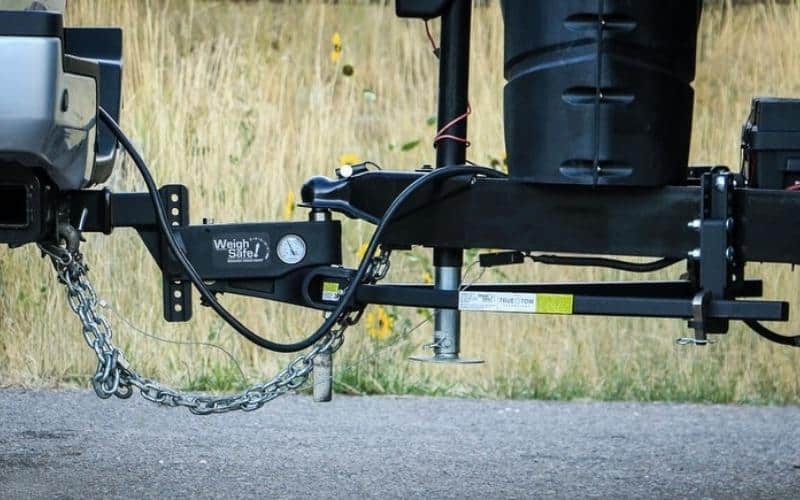 Towing a travel trailer may at first seem intimidating, but it doesn't have to be much more difficult than driving a motorhome or even a large vehicle.
Towing a trailer simply requires a bit of practice and the proper equipment. Let's start with the essential accessories you'll need to safely tow your travel trailer.
1. Trailer Hitch Mount
Some trucks and SUVs come outfitted with a ball mount while other vehicles are tow-ready, but only have the square receiver.
If a square receiver is what your vehicle features, you will need a trailer hitch mount.
Trailer hitch mounts provide the ball hitch for a trailer to latch onto.
They are easily inserted and removed from the square receiver and can be relatively affordable.
There are many varieties of trailer hitch mounts for different types of trailers, so be sure to purchase one with a ball hitch that has the right diameter for your camper.
2. Trailer Braker
When your tow vehicle comes to a halt, you'll need the trailer to do so as well, and you'll need a trailer brake to make it happen.
There are two separate parts to a trailer brake that you'll need to obtain.
The first is the brake control, a small rectangular device that gets mounted near the dash of the towing vehicle.
The second is a T-connector wiring harness, which connects the brake control to the vehicle to make the trailer brakes function. Be sure to purchase the correct T-connector for your vehicle.
3. Weight Distribution Hitch and Sway Bar
Proper towing equipment is crucial for road safety and comfortable towing.
It makes for a secure connection between vehicle and trailer while providing the greatest amount of control over your trailer while towing.
There are two primary pieces of equipment that nearly anyone towing a travel trailer should have – a weight distribution hitch and a sway bar.
Any trailer that weights over 50% of your vehicle's towing capacity should be outfitted with a weight distribution hitch.
A weight distribution hitch transfers the weight of the trailer from the tongue to the front wheels.
This keeps your towing vehicle and your trailer level and, in turn, ensures proper traction and braking abilities.
The addition of this hitch will also help in preventing your trailer from swaying into other lanes, a common and potentially dangerous occurrence.
While some weight distribution hitches come complete with sway control, others will require you to purchase a separate sway bar.
To understand the difference, simply take a look at how the trailer connects to the towing vehicle.
While a weight distribution hitch controls the up and down movements, a sway bar controls the side to side.
When equipped with both, your trailer will easily follow behind your vehicle.
4. Tire Pressure Gauge
Tire blowouts can lead to dangerous situations on the road, and a major cause of blowouts is improper tire pressure.
For this reason, it's important to frequently check your tires, preferably before each trip and especially in extreme climates or major elevation changes.
You have an option between a handheld gauge and a tire pressure monitor system.
While a handheld gauge takes more work to check each tire, they are also significantly cheaper.
However. A monitor system is a smart investment for anyone who travels regularly.
5. Hitch Lock
A hitch lock is an important safety mechanism for anyone with a towable RV.
It covers the trailer hitch to prevent someone from easily hooking up and towing your trailer away.
Although it's possible to travel without a hitch lock, they are a relatively affordable and easy way to help protect your possessions.
If you want to read detailed review guide, please check our article about hitch lock.
6. Backup Camera
The biggest hurdle that many people have when towing a travel trailer is backing it up or otherwise maneuvering tight spaces.
However, backup cameras can make these tasks significantly easier by letting us see an otherwise blind spot.
Backup cameras are designed to attach to the rear of the trailer and displays the video either on the vehicles head unit display or on a separate monitor that gets installed in the vehicle.
Backup camera systems cost upwards of $100 with a decent price range depending on additional parts and features.
Essential Accessories for a Fully Functioning Travel Trailer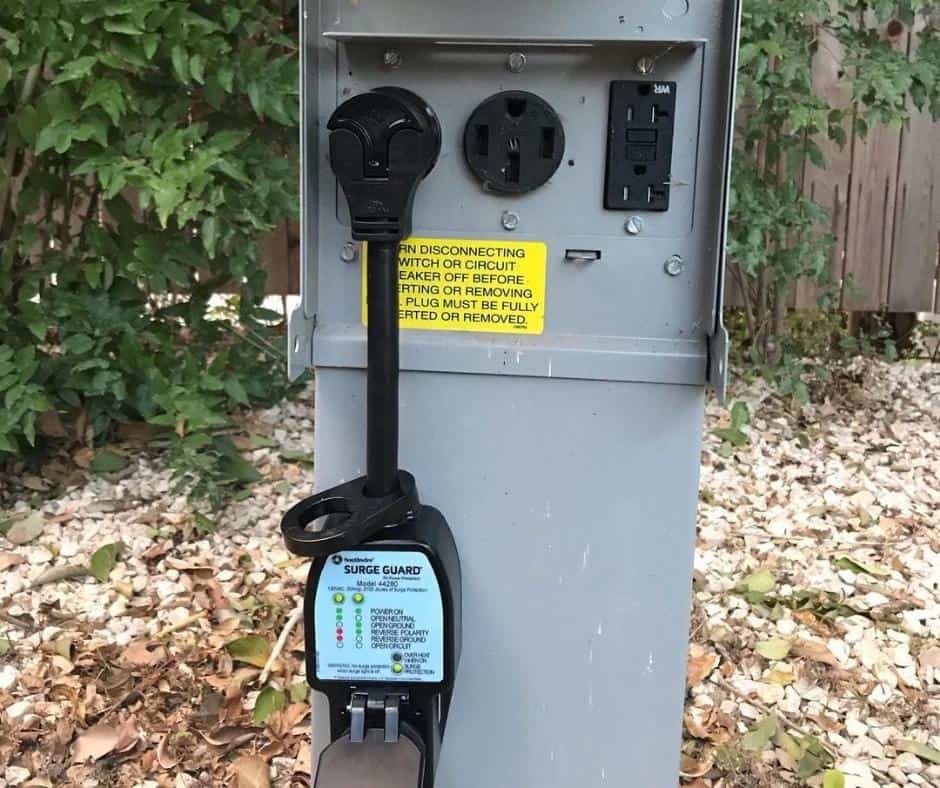 You're hitched up and ready to go with all of your essential towing equipment, but you're not quite ready to hit the road yet.
Like other RVs, travel trailers need to be outfitted with some key accessories to make your camper fully functioning and livable.
Bellow are the essential accessories you'll need before setting out on your first trip.
1. Freshwater Hose
Whether you want to connect to a campground water source or want to fill up your freshwater holding tank before a boondocking trip, you'll need a freshwater hose to do so.
A basic garden hose will do the trick, though there are a few details that you may want to consider before picking the right hose for your needs.
The first consideration should be the length of the hose. As you travel, your camp spot may be further from a water spicket than others.
Many hoses designed specifically for RV drinking water will start at a length of 20-25 feet, although going longer can help prevent having to buy another hose on the occasion that yours doesn't quite reach.
Another detail to consider is the climates you will likely travel in. High heats and hot pavement can melt and break a thin hose, while a heated hose may be necessary in freezing temperatures.
Full-timers and all-season travelers will likely fare best with both a sturdy drinking water hose and a heated hose, both of which can be connected if you ever need to reach a more removed spicket.
While you are out buying a new hose, you may want to consider grabbing a water hose elbow as well.
They not only ensure a sealed connection between the hose and the trailer's water intake spout, but they also make the connection easier to make and remove, both of which can help prevent future damages.
2. Water Filter
The quality of the water that you'll encounter while camping can vary drastically.
Even if it is deemed safe to drink, some water may contain unwanted heavy metals, chemicals, and minerals such as:
These contaminants are not only harmful to your health, but they can create buildup in pipes and tanks as well.
A water filter that connects directly to the hose, however, can significantly reduce these contaminants to protect you and your camper.
Read our comprehensive Buying Guide to learn how to choose the best RV water filter for your specific RV and lifestyle.
3. Water Pressure Regulator
Water pressure regulators serve two important purposes. The first is to protect your trailer from high water pressure that could bust a pipe.
Since we can't control the water pressure at campgrounds, it is a good idea to regulate it before it enters the trailer.
Secondly, an adjustable water pressure regulator (as opposed to a regulator that only reduces water pressure) could also increase any low water pressure that you may encounter at campsites.
This can make for significantly more enjoyable showers as well as an easier time doing dishes, both of which are arguably also essential for the complete travel trailer experience.
4. Sewage Hoses
Sewage hoses are used to empty the contents of your holding tanks into a designated septic system.
They have a wide diameter to facilitate toilet paper and fecal matter, and you'll want to choose a sturdy option that will not easily rupture.
Many people also choose a clear connector for a visual indication as to when the gray water has flushed the hose clean.
Further, read our article about The 5 Best RV Sewer Hoses Of 2023.
5. Sewage Hose Support
Your sewage hose eliminates your trailer's holding tanks with the use of gravity.
If you try to empty your tanks, but the hose is not on a steady decline, you may end up with the contents getting stuck in the hose.
A sewage hose support allows you to create a ramp that will guarantee a downward slope, even if there is no decline in the ground around the trailer.
It also prevents the hose from rolling around and possibly detaching from either connection or rupturing in the process.
6. Surge Protector/ EMS
Connecting to a campsite's electrical hookup is a camping luxury unique to RVers, but doing so without the proper protection is a risky gamble.
The electrical systems at many campgrounds are often old or badly maintained, and electrical surges and dips are relatively common occurrences.
If an electrical event such as a power surge, brownout, or faulty wiring were to occur when you connect to the system, it could potentially damage every electronic device in your trailer.
Surge protectors and electrical management systems (EMS) prevent this from happening.
The difference between the two is the amount of protection they offer.
A surge protector will safeguard your RV from sudden power surges that could potentially damage your electrical devices, and most will alert you when the electrical system at the campground is faulty.
They are the bare minimum of what you should purchase to safeguard your vehicle and can be found for under $100.
Electrical management systems will cost more, sometimes more than double what a surge protector costs, but the degree of protection that they offer is much more expansive.
Along with protecting your rig from power surges, they also protect against power dips which can also be damaging, specifically to your refrigerator and AC unit.
An EMS can also protect against many other common power issues and will cut power before the issue affects your RV.
7. Power Adapter
Many new RVers have pulled up to a campsite, went to plug in their shore power cord, and realized that the plug was not a match.
To save yourself an unexpected night without power by learning from their mistakes, don't forget to bring a power adapter with you.
8. Leveling Blocks
What someone new to RVing may not think about until it's too late is that not all camping spots will be on level ground.
This can be problematic for multiple reasons concerning both your comfort as well as the maintenance of your trailer.
First of all, we don't suggest living on a slant. It could lead to uncomfortable and restless sleep as well as your items sliding or falling out of place and overall unnecessary hassle and discomfort.
Secondly, letting your trailer sit at a slant for an extended period of time can easily damage your refrigerator.
Unlike standard refrigerators found in houses, many RV models are gas absorption refrigerators.
These refrigerators use gravity to run the cooling system. When the trailer is sitting on a slant, the liquid will not circulate as it needs to and the ammonia fluid to collect in the evaporator tubing.
This can reduce or even completely block the circulation, in turn preventing the fridge from staying cold.
Before you find yourself without a working refrigerator, grab some leveling blocks.
Adjust them to the necessary height and simply roll your wheels onto them to create a level foundation for your camper.
9. Chocks
Wheel chocks are important because they stabilize your wheels and keep your trailer from rolling when it is sitting detached from the tow vehicle.
There are two different types of chocks depending on which is your priority.
X-Chocks are made for stability, but don't provide enough traction to prevent your trailer from rolling.
They are usually made of metal and are placed between tires to keep them from moving.
Standard wheel chocks look like small ramps and are usually made of plastic or rubber. They are placed in front of or behind the wheel to keep the trailer from rolling.
This is an especially important safety protocol whenever you park your camper on an incline.
When choosing the right wheel chocks for your needs, consider the following about your RV:
10. Holding Tank Treatment
Unlike toilets in houses that dump directly into either a city sewage or a septic system, standard travel trailer toilets empty into a holding tank instead.
These can get smelly and can accumulate buildup, so a way to clean them becomes essential.
Holding tank treatments help to disintegrate buildup and keep any foul smells from seeping into your trailer's living spaces.
They come as liquids, powders, or pods with various scents. Other aspects to pay attention to when choosing a holding tank treatment are:
11. Coaxial Cable
One of the luxuries unique to camping in an RV is the ability to watch your favorite shows while on the road, but you'll have to remember to bring your own cable to do so.
Unlike the videos we watch over Wi-fi, cable television still needs to be transmitted directly to our televisions.
While many campgrounds have cable TV connections, you'll need your own coaxial cable to access this service.
Our Favorite Travel Trailer Accessories That We Wouldn't Travel Without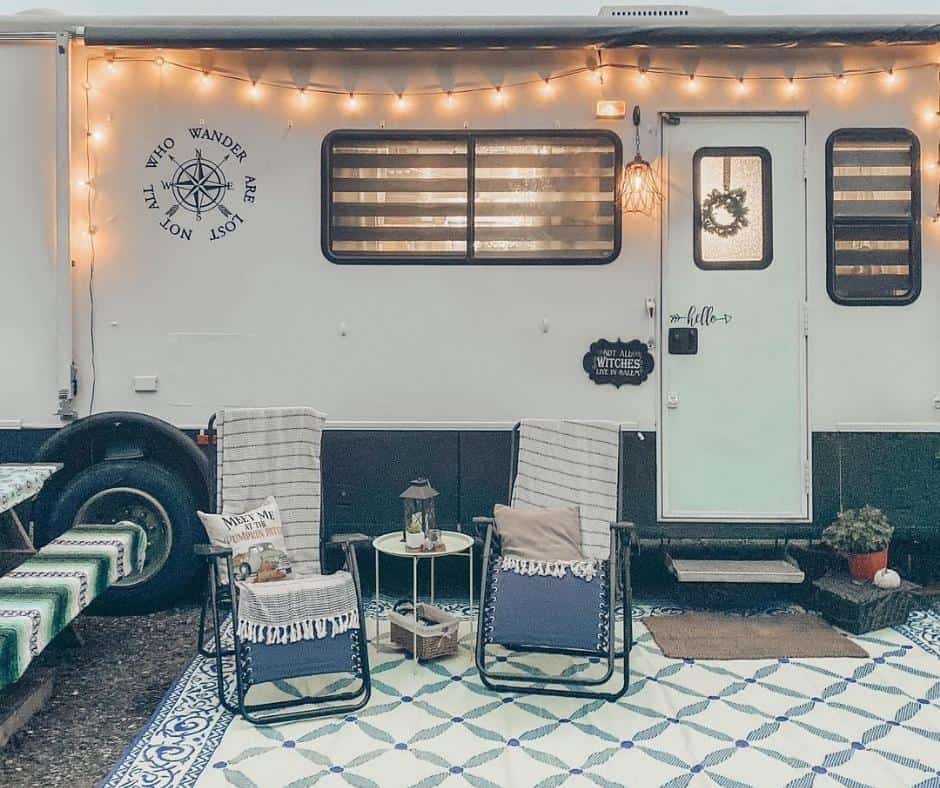 Sometimes, the word "essential" may be relevant. Even though your vehicle and camper may be hitched and prepared to travel, there are other accessories that can be game changers in your enjoyment and experience while traveling with a trailer.
We've gathered some of our favorite travel trailer accessories that we wouldn't travel without.
1. Collapsible Household Items
Trailers come with limited storage space and a maximum weight capacity, which means packing smart and packing light are both essential.
One of the biggest space-consuming items is often dishware, particularly pots and bowls.
While metal pots can't change their size, one of the greatest space-saving items for the kitchen are collapsible bowls and containers.
Usually made of silicone, these containers can fold down to be only an inch or two in diameter, saving a significant amount of space in your pantry.
What makes these even better is that silicone can withstand both heat and cold well, and they can generally even be used to heat up food in the microwave as well.
While bowls may be one of the handiest space-saving gadgets, there are many other collapsible household items that are great for RV travel.
Some other items that you can find in folding or collapsible versions include the following:
2. Water Filter
While a filter that connects directly to your hose is an essential accessory, we'd also recommend a pitcher filter to keep clean and cold water on hand at all times.
Water filters make great alternatives to water bottles and can be especially convenient for RV travel.
For those who plan to primarily stay at campground with hookups, refilling a water filter from the tap can significantly reduce the weight and bulk of the water you'd otherwise need to bring along.
Even if you'd rather boondock and still plan to bring a separate drinking water container with you, using a water filter instead of water bottles still leaves you with much less trash to deal with.
On top of that, using a filter is always a cheaper and more environmentally friendly option.
3. Toolbox
Even the nicest and most expensive travel trailers are bound to have something break or go wrong while on the road.
RVs are built to be mobile, meaning they are made with lightweight materials and the ability to rattle and shake down the road.
With so much force being put onto a seemingly solid structure, it is only a matter of time for even the sturdiest models to experience some damage.
For this reason, we highly suggest keeping at least a basic toolbox on hand.
Whether you can fix the problem yourself or you simply patch it enough to make it to a mechanic, a tool set can potentially save you a great deal of money and hassle in many unforeseen circumstances.
4. Headlamp
One of the greatest lessons most seasoned RVers can teach is to prepare for the unexpected.
Perhaps you hit traffic and have to set up camp in the dark, or you unexpectedly run out of propane in the middle of the night and have to go outside to switch tanks.
To be able to efficiently work on or around your trailer at night, we highly suggest keeping a few pairs of headlamps on hand.
They are small and lightweight, but can make your life significantly easier in some unexpected situations.
5. Outdoor Patio Mat
Patio mats are an excellent way to extend the space of your camper.
As the name suggests, they create a patio-type space on which you can place chairs and tables for an additional living space.
They are sturdy enough to be placed on nearly any type of terrain and are especially useful in preventing debris from being tracked inside.
We review RV outdoor rugs to give you an idea of which is the best camping rugs available on market.
6. Tire Cover
Keeping your trailer tires in their best condition will save you money on repairs and will help keep your vehicle on the road. A great way to protect them is by using tire covers.
Both hot and cold temperatures can work to deteriorate your tires. Direct sunlight can dry out and crack the rubber while potentially inflating the tire and stretching the rubber out.
Extreme cold temperatures, on the other hand, can stiffen the rubber to a cracking point while potentially deflating tires.
To shield your tires from these harsh environmental impacts, use tire covers whenever you are parked for any extended period of time, and especially if you are in direct sunlight.
They usually come with some insulation and are made to easily slip over tires.
7. Dehumidifier
Water is the well-known enemy of campers. It can cause mold and rot, and it can seep into every nook and crevice of your vehicle.
Especially in colder climates where your furnace keeps the inside warmer than the external temperature, condensation can quickly form on windows, walls, and even under mattresses.
Dehumidifiers, however, are an excellent way to combat excess moisture and prevent it from damaging your RV.
They come in many different shapes and sizes to fit the needs of nearly any space, and there are even some designed specifically for RV use.
And for those who prefer to boondock or who are concerned about a dehumidifier taking up one of their outlets, there are also non-electric dehumidifiers that can help reduce moisture through water-absorbing crystals.
8. Portable Generator
A portable generator is nearly essential for anyone who likes to boondock, but they can also be great to have as a backup resource band safety measure for anyone.
Resources may at times become scares and unreliable while traveling, but a generator can hold you over.
Generators come in a lot of different shapes and sizes depending on how you plan to use them and how much power you will need.
Many even come with separate solar panels to help you recharge and stay powered.
9. Hot Spot/Signal Booster
Getting internet while camping can be tricky, but hot spots and signal boosters can help.
Each operates differently and which will work best for your needs depends on where you decide to camp.
Hot spots run over a mobile network, which means they catch data from wherever that mobile network reaches.
If you buy a Verizon hotspot, for example, it will provide you with data anywhere a Verizon signal can be found.
While hotspots directly from mobile networks will be limited to that specific network, there are also other hotspot that connect to the strongest available signal from any carrier.
Network coverage areas vary across the country. Choosing a hotspot that will work best for you should begin with checking a network coverage map and comparing it to where you plan to travel.
And if you want more flexibility, you may want to consider a hotspot that can connect to various networks.
Unlike hotspots, signal boosters simply increase the strength of an already connected signal.
These are especially handy for anyone who frequents campgrounds that offer Wi-fi.
The reality is that, even if a campground offers Wi-fi, the signal may only be strong near the router, but not at your actual camp site.
A signal booster will take the signal and increase it so that you can do things like get work done, upload photos, or watch videos from the comfort of your trailer.