Full-timers, hunters, people who love to camp in winter or in the mountains, and tradesmen who work year-round on remote job sites often need an winterized RV that can handle extreme low temperatures.
If this sounds like you might be wondering what are some of the best RVs for extreme cold weather camping?
Right off the bat the 2020 Heartland Bighorn BH 3985 RRD and the 2020 Ice Castle Stub RV America II have a reputation for being able to take good care of you when the mercury starts to dip to astonishing lows. Though it isn't just the make and model of RV that make the difference when it comes to camping in extreme cold conditions.
To truly make sure that you can stay warm, and comfortable in your RV during extremely cold weather, we are going to have to take a closer look at the things you can do to retain heat in your camper trailer.
This includes taking safety measures for you as well as the things you can do to prevent your RV from being damaged by cold weather.
Once we have those things factored in we can take a closer look at the highly insulated camper trailer RVs that can stand up well to extreme cold and those that can take it to the next level with just a few minor modifications.
What Defines An Extreme Cold Weather RV?
A lot of extreme cold weather RVs are referred to as "Four Season RV" or a "True Four Season RV." They have superior insulation, and other special features that make them more capable of withstanding temperatures down to 32-degrees or colder. This might be things like insulation on the waterline, or superior R-factor insulation in the walls or ceiling.
The cold weather travel trailer manufacturers usually backs it up with some sort of guarantee that it will handle temperatures all the way down to 32 or maybe even zero degrees Fahrenheit.
Though for some, this is just the tip of the iceberg when it comes to looking for an RV that can handle extreme cold.
In some parts of the upper Midwestern United States, the northeast, and parts of Canada there are ice fisherman who buys RVs that were specifically engineered to spends days if not weeks out on frigid ice sheets with holes in the floor.
They pull up fish after fish all within the comfort of their toasty warm RV. There are even those who will take a normal RV meant for simple summer living and modify it to handle the extreme cold of a northern winter.
So, if we are going to find the best extreme cold weather RVs or those that can be modified, we are going to have to take a look at some of the nuts and bolts features they rely on to keep people warm when the mercury proverbially plummets off a cliff.
This also includes defining just how much cold protection you need in your RV to keep everyone comfortable and prevent the RV from being permanently damaged.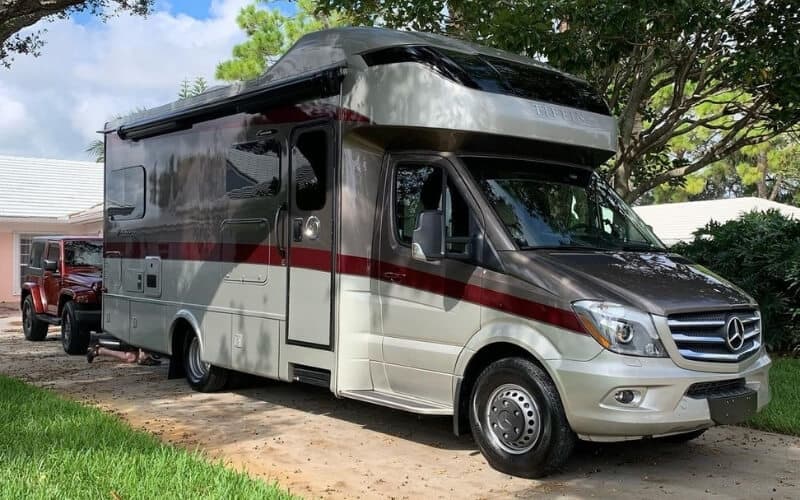 Do I Need A Four Season RV That Can Handle Extreme Cold?
Most people go RVing in the summer, spring, or early fall where even a cool night can be combated with a basic RV furnace or secondary propane heater like a sunflower heater.
If you aren't going to be tangling with temperatures below 32-degrees Fahrenheit, then chances are you won't need to prioritize some of the features that go into an RV that is built for extreme cold conditions.
Though people with the following interests might strongly consider investing in an RV that was engineered with cold-weather features or one that can be easily modified to handle extreme cold.
Key Factors That Improve An RV's Ability To Withstand Extreme Cold
There are a few key factors to consider when shopping for an RV that can withstand extreme cold weather.
Sometimes they are engineered into the RV itself or they are the sort of thing you can upgrade yourself or via a dealership's "Cold Weather Upgrade Package."
1: Insulation For An Extreme Cold RV
Insulation is a key factor when it comes to an RV that can withstand extreme cold below 32-degrees.
This is usually expressed as an R-Value. The higher the R-Value the better the insulation is at holding in the heat.
Though, it's also worth bearing in mind that where that insulation is installed is just as important as its inherent R-Value.
The ceiling and walls are the most common places where you will find high R-Value in an RV that can withstand cold weather.
Though the floor and things like the storage tanks or water lines can also be a major factor when camping in your RV at temperatures that are below 32-degrees.
Something as simple as a little ice forming in a water line can cause it to rupture, which not only robs you of water but can also cause severe damage to the plumbing and other parts of the RV.
If you will be frequently camping in your RV at below-freezing temperatures, then you will want to prioritize one that has insulation in the floor and other underbelly components.
If you will only occasionally camp in your RV in places where temperatures might dip near freezing for an hour or two in the deepest cold of the night, then you might be able to stave off the cold with skirting, underbelly heating, or installing retail-grade pipe insulation sleeves on the water lines.
2: Dual Pane Thermal Rated Windows
The windows are another area where RVs are prone to heat loss. Even an RV with high R-Value insulation installed in the walls, ceiling, and floor can still lose a lot of precious heat through conduction with single-pane windows.
If you are going to be staying in extreme cold temperatures with your RV and you don't want to overtax your furnace, then you should prioritize an RV that has double pane windows or some type of other thermal rated glass.
This is especially true for ice fishermen and full-timers who travel in the northern states during the winter.
If you are just planning to use your RV for camping in mildly cold weather of the fall, for something like a weekend camping trip, and the forecast is calling for an extreme cold snap, you might be able to temporarily duplicate dual pane windows.
This could be as simple as covering them with clear plastic window insulation as you find in winter home window kits.
3: A Heated & Enclosed Underbelly
As I alluded to earlier, the underbelly of an RV is one of the most vulnerable places on an RV that is called upon to endure extreme cold weather.
The underbelly does serve a wide range of purposes, though arguably the most important for an extreme cold weather RV is its ability to protect the water storage tanks and the water lines from freezing.
Right off the bat, an RV with an enclosed underbelly with insulation will go a long way toward not only keeping the RV's interior floor from getting cold, but it also helps to prevent water tanks and water lines from freezing.
This is great if you are going to be staying at temperatures between 20 to 32-degrees Fahrenheit for a night or two.
If you are going to be staying in cold temperatures below 32 degrees or even below 0 degrees for a day or more, then you really should prioritize an RV with an enclosed and insulated underbelly with a heating system included.
This is usually a small electric resistor system that gently warms water storage tanks and water lines to prevent freezing as well as dangerous ruptures.
3: Pex Water Lines
Water starts to expand as it transitions from 39 degrees down to the freezing point at 32 degrees.
When it hits 32 the rate of expansion as it transitions into ice can apply excess force on the water lines and connections.
Since water is incompressible, this force has the potential to rupture the water lines causing major damage to not only the RV plumbing but other nearby components that are exposed to water when the ruptured lines are thawed later.
Pex piping is a relatively new innovation. This is a special type of water line material that expands a little bit to accommodate the expansion of water into ice.
They might be a great upgrade to an RV with an exposed underbelly or part of an extreme cold RV that needs a little added insurance factored into an already enclosed and insulated underbelly.
Also check our article about How to keep RV pipes from freezing while camping.
4: The RV's Furnace
The propane furnace in the RV is by far the most important element of an RV that needs to withstand extreme cold weather.
The BTU rating or British Thermal Units is the standard measure for how much heat a furnace can put out in an hour.
For most mid-size RVs like a 20+ foot travel trailer or a fifth-wheel trailer, you want to see a propane furnace that is rated to produce at least 30,000 BTUs per hour.
The larger the RV the higher you want the BTU rating to be. Some larger RVs will sport up to 40,000 or even 45,000 BTU per hour propane furnaces.
You also want to see a higher BTU rating in an RV that might have a lower R-Value insulation.
5: The Distribution Of Heat Ducts From An RV Furnace
The number of heat ducts in an RV is a lesser-appreciated feature in RVs that can withstand extreme cold weather.
An RV with a small number of ducts tends to have hot and cold spots. Over time the cold spots in an RV, especially those near the floor can lead to progressive heat loss that overtaxes the RV's built-in propane furnace.
If you fall in love with an RV that has a small number of heat ducts, or you've noticed problems with hot and cold spots in your RV on cool fall evenings, you might be able to temporarily improve heat distribution by installing one or two small 12-volt fans.
Try to position them up high near a heat duct. Set the fan on low and point it toward the cold spots on the floor.
This will help circulate the air in the RV during cold weather without creating a heat depriving draft.
8 Best Extreme Cold Weather RVs
There are some traditional RVs that have been upgraded with superior R-Value insulation, high BTU per hour propane furnaces and other key features to help them handle extreme cold better than the standard showroom models.
At the same time, some specialty manufacturers offer extreme cold RV capable models that have all the bells and whistles to handle deep drops in the mercury.
Throughout our reviews, we tried to keep an eye out for both, as well as included models that appeal to specific niche needs.
These extreme cold weather RVs will keep you warm and toasty during your wintertime camping adventure:
1. 2020 Ice Castle Stub RV America II Fish House Trailer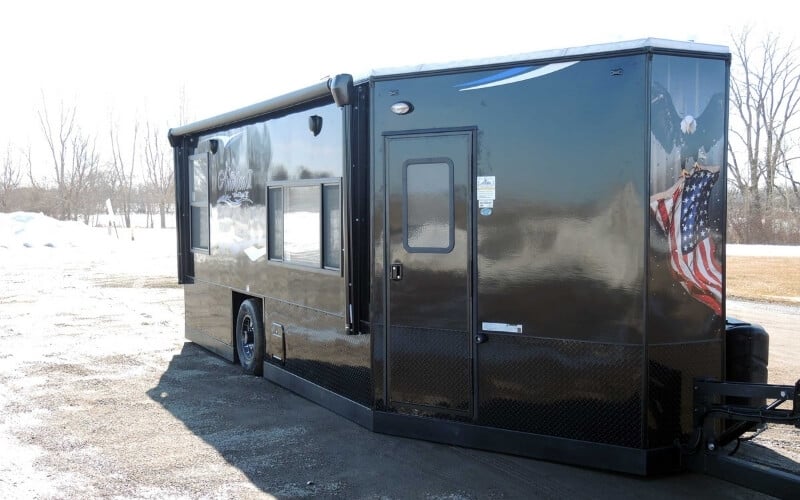 Ice Castle is one of the leading manufacturers of RVs that are built to withstand extreme cold weather.
Primarily meant to cater to the needs of ice fisherman who brave frozen lakes in the far north, you can trust that it has everything you need to keep you warm and comfortable even when the outside temperatures dip into the negative double digits.
It is insulated with closed cell spray foam for superior insulation. The 30,000 BTU furnace might sound a little small for severe cold, but the interior does indeed stay toasty warm even in strong windchills warnings.
This is also thanks to Ice Castle's proprietary Maxx Air Distribution Vents, as well as the spray foam and fiberglass siding.
It's understandable to think that this extreme cold capable travel trailer is a one-trick pony meant only to cater to ice fisherman.
After all there are six holes cut into the floor for fishing lines and a hydraulic system that lowers down until the belly is literally sitting on the ice.
However, the suspension and other characteristics also mean you can use it like a typical, albeit heavy travel trailer during the summer.
The superior insulation and Maxx Air distribution system even help maximize the built-in air conditioning system when temperatures climb high.
2. 2019 Northwood Arctic Fox Classic 22G Travel Trailer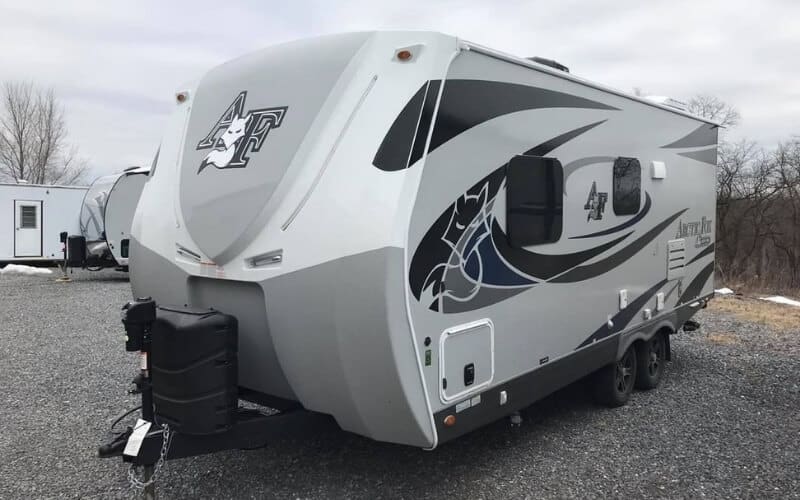 The 2019 Northwood Arctic Fox Classic with the 22G floorplan is one of the best travel trailer for extreme cold weather.
This camper trailer model literally ticks every box you want to see in not only a "Four Season" RV, but it has all the features you want to really take the bitter chill on without worry.
It's well-insulated, it has thermal pane windows, the underbelly is enclosed as well as heated.
Some people might look at the 25,500 BTU per hour propane furnace and feel like it's a little underpowered compared to some of the competitors who offer 30,000 or even 40,000 BTU per hour furnaces.
Though the superior insulation in the 2019 Northwood Arctic Fox Classic 22G and the impressive heat distribution of the air ducting system really make this travel trailer very thermally efficient.
3. Glacier 17 RV Explorer Toy Hauler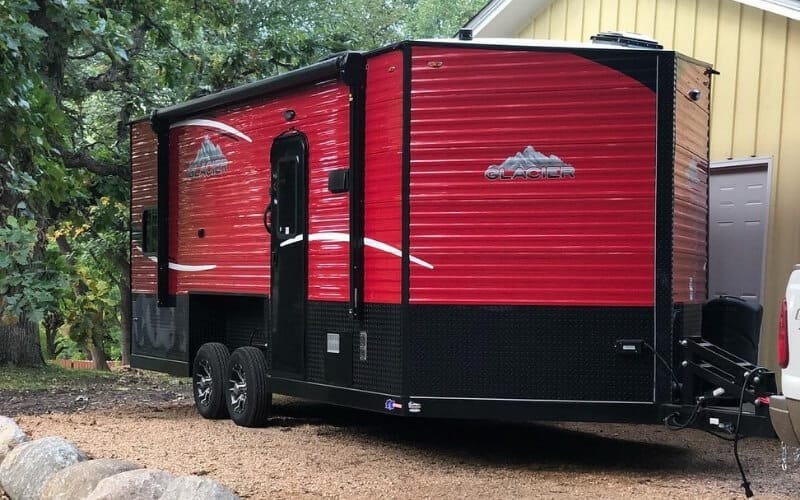 The Glacier 17 RV Explorer Toy Hauler is another versatile extreme cold weather RV.
The entire body of the Glacier 17 RV Explorer Toy Hauler is insulated in thick blocks of R-16 rated insulation.
It has thermal pane windows and the 30,000 BTU forced air propane furnace diverts hot air through a series of ceiling-mounted power vents with fans installed into them.
This keeps hot air from pooling at the ceiling to help keep the floor toasty warm.
The Glacier 17 RV Explorer Toy Hauler is a travel trailer that was originally designed to be a portable ice fishing house.
Though it's just as well suited to be a summertime travel trailer. Especially when you consider that it can also serve as a toy hauler with a payload capacity of 1,084-pounds.
4. 2020 Jayco Redhawk 26XD Class C Motorhome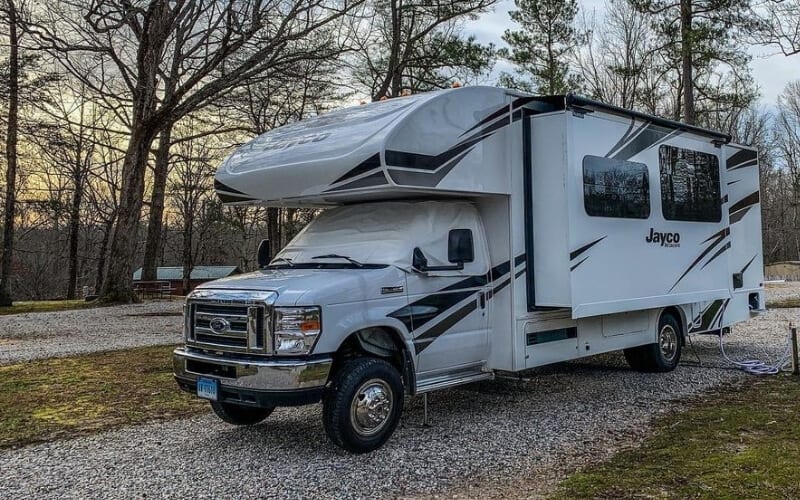 The 2020 Jayco Redhawk 26XD is a Class C motorhome that was engineered to handle cold weather.
It has R-15 insulation in the roof, R-9 floor, and R-5 walls. This helps make the most out of the toasty 30,000 BTU forced air propane furnace.
Though the thing that really helps this motorhome withstand extreme cold is the enclosed underbelly with a heated storage tank.
This is great insurance against potential freeze-ups in the plumbing system when the temperatures dip below 32-degrees Fahrenheit. It also helps buffer the R-9 Floor insulation.
As an RV Class C motorhome, you will appreciate the layout. The power-retractable slide out in the rear really helps maximize the space in the queen-sized master suite.
The midship kitchen and living area use a spacious open concept. The kitchen is complete with a stove, range, refrigerator, and microwave.
There's even a complete bathroom in the rear with a toilet, shower, and sink.
All these things make the 2020 Jayco Redhawk 26XD for a small family that likes to travel in the winter. It's also suitable for full-timers who love to live life on the move.
5. 2020 Heartland Bighorn BH 3985 RRD Fifth Wheel Trailer
The 2020 Heartland Bighorn BH 3985 RRD was designed with mountain campers and people who need to stay in the cold in mind.
This 5th wheel trailer has freeze proof insulation installed throughout, as well as a very warm 40,000 BTU forced air propane furnace that is distributed evenly via a thoughtfully engineered heat ducting system.
Though this isn't the full extent of this RV's cold weather endurance. It also has an enclosed underbelly with expandable pex water lines.
The entire system is also supported by large fresh, gray, and black water storage tanks. This higher volume of water also reduced the freezing risk for times when you might need to stay for multiple days.
With a dry weight of 14,079-pounds, a gross vehicle weight rating of 16,500-pounds, and a hitch weight of 2,945-pounds, this robust fifth-wheel trailer is the sort of thing you take with you and leave in place for multiple days if not weeks at a time.
It's a great option for keeping in a four-season RV park for year-round camping or for using as a base camp on long fall hunting trips.
6. Forest River Rockwood Windjammer 3008W Travel Trailer
The Rockwood lineup is one of Forest Rivers most popular with sportsman who need a home base travel trailer for fall hunting and fishing trips.
Not only is the 30,0000 BTU propane forced air furnace nice and toasty, but the hot air it produces is ducted through the floor.
This helps to keep the floor warm and maximizes the insulation value offered by the R-7 in the walls, R-12 in the floor, and R-14 in the roof.
The interior of the Forest River – Rockwood Windjammer 3008W is also very spacious. This is thanks in part to a pair of power-retractable slideout sections.
The one in the rear produces a queen size master suite that is privately separated from the rest of the travel trailer by the pass-thru bathroom.
Then there's another power retractable slide out section in the front-midship that produces a spacious living room with couch, and dinette that convert into sleeping space.
There's even a pair of Lazy Boy recliners as well as a counter top breakfast nook with seating for two that looks into the spacious kitchen in the front nose of the Forest River – Rockwood Windjammer 3008W.
All these comfort features, sleeping space and the impressive heating system makes the Forest River – Rockwood Windjammer 3008W one of the best extreme cold weather RVs for families.
Just make sure you have a three-quarter ton pickup truck to pull the 7,482-pound dry weight of this 34-foot long travel trailer.
7. 2020 Keystone Raptor 351 Fifth Wheel Toy Hauler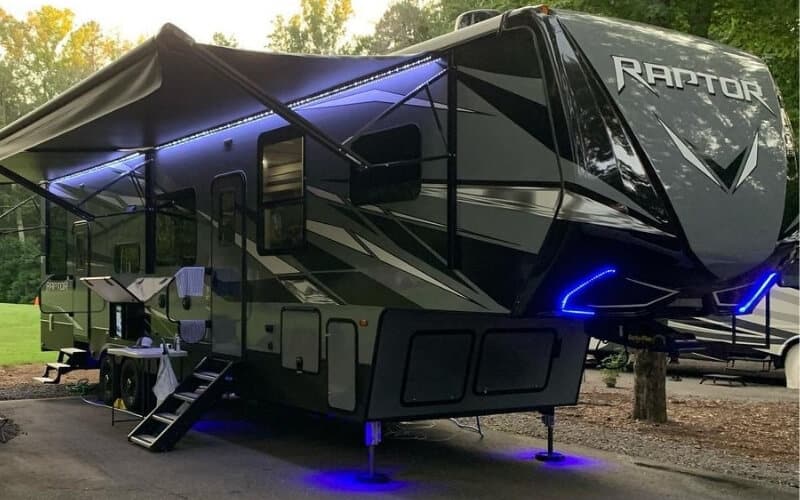 Keystone is one of the most well-trusted fifth wheel trailer manufacturers in the RV market, with models to suit just about any interest, especially in their broad line up of fifth wheel trailers.
You see this shine through in the all-weather engineering of the 2020 Keystone – Raptor 351, which can also serve as a more than capable toy hauler.
The weather proofing system of this all weather fifth wheel toy hauler includes tightly sealing doors and thermal pane windows, as well as a heated and enclosed underbelly.
The water storage tanks are also enormous, which further reduces the risk of freeze ups in severe cold conditions, while also providing you with enough storage to camp for days off the grid.
The 35,000 BTU per hour rated forced air propane furnace is more than toasty on it's own.
Though the heat it produces is then shunted through Keystone's Max Flo Air System for equal distribution.
This same system also works to maximize the air conditioner's efficiency in the summer.
8. 2020 Forest River Cherokee Arctic Wolf 287BH 5th Wheel With Arctic Package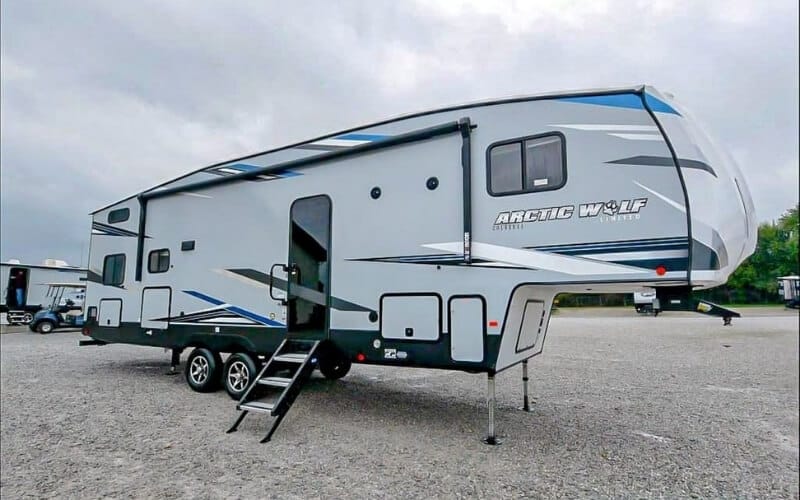 The Cherokee Artic Wolf line by Forest River is one of the most popular 5th wheel make and model pairings for extreme cold weather camping.
With an enclosed and heated underbelly you have little risk of a freeze up occurring in your plumbing system, even when the temperatures start to drop into the single digits or below.
The 35,000 BTU furnace that comes with the "Arctic Package" is also ducted into a special circulation system that evenly distributes heat to keep the floor as warm as the ceiling.
Though with all this cold fortification, the 2020 Forest River – Cherokee Arctic Wolf 287BH is stil not sort on comfort or luxury.
There is a true master suite in the front with a queen size bed. It's separated from the rest of the RV's interior by a step up hallway and bathroom for superior privacy.
The mid-ship slide out section houses a sofa and a large size dinette that also convert into sleeping space. There's even double stacked bunk beds in the rear of the fifth-wheel trailer.
When you take into account all the cold weather fortifications from the Arctic package and all the sleeping space, the 2020 Forest River – Cherokee Arctic Wolf 287BH, is one of the best extreme cold weather 5th wheel trailers for a family that loves four season traveling. It's also a great option to set up as a winter hunting base camp.
Frequently Asked Questions
Can I Insulate The Underbelly Of My RV Myself?
Depending on the RV and your mechanical skills, you could insulate the underbelly of your RV yourself to help it withstand extreme cold.
This might consist of installing insulated panels or applying closed-cell spray foam insulation.
Just make sure that you aren't accidentally covering up wires, access panels, or other components that you might need to access again later on.
What Is Skirting And Does It Help Insulate An RV In Extreme Cold Weather?
Skirting is generally a series of panels or sheets that are deployed around the lower exterior of an RV.
When complete, they help hold in the heat near the RV's floor, water pipes, and water storage tanks.
They can buy you around 10-degrees of protection. Especially if they are properly insulated with an R-value rated insulation or some type of spray foam insulation. https://www.youtube.com/embed/GW8QXms6VMU?rel=0&modestbranding=1&controls=1&showinfo=1&fs=1&wmode=transparent
Skirting also helps prevent wind from robbing the underbelly of an RV of precious heat. This can be a major factor for people who camp in their RV in the mountains or out on the ice.
Even an RV with an enclosed, insulated and heated underbelly will benefit from additional skirting.
You just have to come up with an efficient strategy for hauling it with you from Point A to Point B. The skirting also needs to completely surround the underbelly of the RV.
Even a modest air leak can lead to significant heat loss when the wind blows hard on a cold day.
Conclusion
Just a few decades ago, only a handful of RVs was truly set up to handle the extreme cold.
Today the demand for cold enduring RVs has continued to meet the needs of full-timers, winter campers, fall hunters, and ice fishing enthusiasts.
The RVs on this list represent the proverbial tip of the iceberg when it comes to the best extreme cold weather RVs.
If you want a comfortable base camp for a long fall hunting trip or four-season travel at RV parks, then the 2020 Heartland Bighorn BH 3985 RRD Fifth Wheel Trailer is likely the best extreme cold RV for you.
It has a powerfully warm furnace, an enclosed underbelly with large water storage tanks, and expanding pex pipes to keep you supported for weeks at a time.
If you are an ice fisherman who wants to live on the frozen lake for long weekends of high-end angling then the 2020 Ice Castle Stub RV America II is one of the best extreme cold weather RVs.
It has the insulation and heating system needed to keep you warm and even sits down on the ice to get you inches from the holes.
Whatever your priorities are, it's clear that there are a lot of great extreme cold weather RVs on the market.
The ones on this list represent some of the best places to start to meet travel and niche interests when the mercury starts to dip.