Fifth-wheel trailers are available in a staggering array of sizes and styles to suit just about any need.
They tend to be very popular with tradesmen and construction workers who already have the robust pickup trucks needed to tow them, as well as RV adventurers who want to live in luxury while they're on the road, but still want to easily tour the surrounding countryside.
Put in perspective, a fifth-wheel campers fit perfectly in between the comforts of a large motorhome, and the transportability of a travel trailer.
Not to mention the convenience of not having to break camp when you want to tour the area as you do with a motorhome.
If this sounds like your way to travel, you might be wondering what the average cost of a fifth-wheel trailer is?
While fifth-wheel price range vary widely by size, manufacturer and trim level, a ballpark average cost for a new fifth-wheel trailer usually runs between $75,000 and $100,000. Though there are certainly some affordable small fifth-wheel trailers, as well as luxury fifth-wheel trailers that will put a serious dent in your bank account.
To truly help you dial in the best fifth-wheel trailer that's right for you, we'll need to take a closer look at this wide marketplace as well as the costs that come with ownership.
What Defines A Luxury Fifth-Wheel Trailer?
In esthetics luxury is defined by light and space. While you will certainly find more open concept floorplans, large windows, and skylights in "Luxury" fifth-wheel trailers, most of the time it's describing creature comforts.
They typically have nicely appointed master suites with tons of storage space for personal items and clothes.
All the beds will be comfortable and couches will likely be upholstered with leather. In the kitchen, you will find top of the line appliances and custom countertops, as well as real wood cabinets.
How Much Does A Luxury Fifth Wheel Cost?
Most luxury fifth-wheel trailers cost more than $100,000, with some costing as much as $150,000. RV manufacturers realize what a major investment that a luxury fifth-wheel trailer is.
So, they make sure to build the frames, axles, side walls and other functional components to be very durable.
Are All Fifth-Wheel Trailers Luxury Models?
Not all fifth-wheel trailers are classified as being a "Luxury" model.
In fact, there are many that are rather basic, and designed to appeal to tradesmen and construction workers who want the comforts of home, but don't necessarily care to pay extra for leather furniture and jacuzzi tubs.
There are quite a few every day fifth-wheel trailers that are comfortable, without being over-stated, which makes them more affordable. Some can be found new for around $60,000 to $70,000.
Most Popular Fifth-Wheel Trailer Manufacturers And How Much Do They Cost?
Several manufacturers have dominated the fifth-wheel trailer marketplace for decades.
Then some newcomers have stepped up as their lines have expanded to offer some inviting fifth-wheel models and floorplans.
While there are others worthy of your consideration, the manufacturers on this list are a great place to start.
1. Keystone RV
In recent years Keystone has fallen under the Thor Industries umbrella.
Though they've been allowed to keep their own brand identity, while also having access to the parent company's materials and components.
The Keystone Montana is one of the most popular fifth-wheel trailers in their line. It's large, durable, and loaded with creature comforts.
The Average Cost Of A Keystone Fifth-Wheel Trailer – This manufacturer offers more than just the Montana in the fifth-wheel segment.
They also have entry-level fifth-wheels like their Cougar which might cost as little as $53,000, whereas the highest level of the Montana or the Keystone Big Horn can cost you around $99,000.
2. Forest River
As one of the stronger names in the Berkshire Hathaway group of companies, Forest River has a well-established presence in the fifth-wheel trailer marketplace.
They offer a wide range of models to accommodate any niche and price range.
This includes entry-level fifth-wheel trailers, as well as models designed to boondock off the grid, and luxury models with customizable floorplans.
Their Wildcat Maxx is one of the better places to start shopping for this industry giant.
The Average Cost Of A Forest River Fifth-Wheel Trailer – With a lot of options and floorplans in their fifth-wheel trailer line, the low end of their range costs around $52,000 to as much as $110,000 for their luxury models.
3. Dutchmen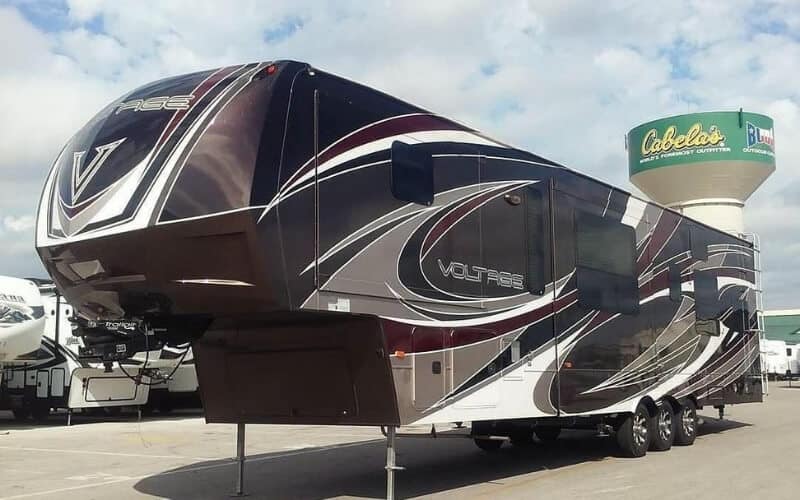 Here again, Dutchmen is one of the stalwart names in the fifth-wheel trailer marketplace. They are technically under the giant Thor Industries umbrella.
Still, they are allowed to maintain their own brand identity, while still having access to Thor's components and manufacturing techniques.
The Dutchmen Voltage is one of the more popular fifth-wheel campers in their line. It's available in 10 distinct floorplans with a lot of optional extra upgrades.
The Average Cost Of A Dutchmen Fifth-Wheel Trailer – An entry-level fifth-wheel trailer in the Dutchmen line might cost you as little as $72,000 with dealership sales available for a greater discount.
At the top end of their line, the most well-appointed luxury floorplan of the Dutchmen Voltage can cost you as much as $129,000.
4. Grand Design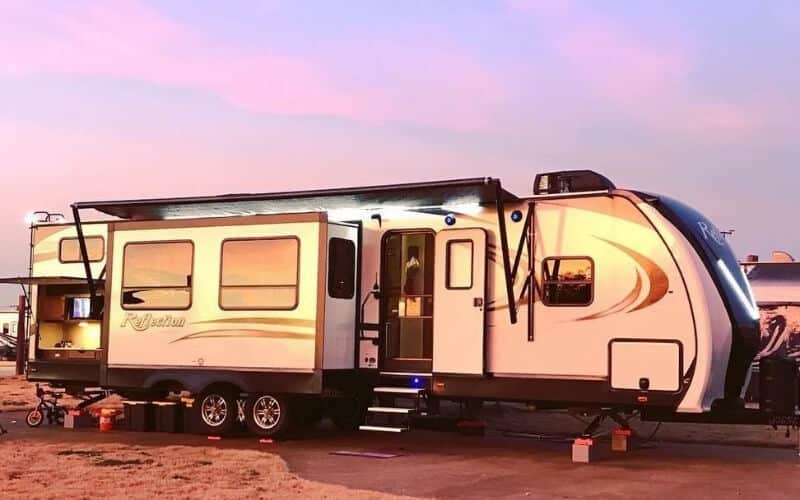 Grand Design is quietly tucked under Winnebago industry's wing, yet they have their own distinct flair.
Open concepts floor plans are part of Grand Design's brand identity, which you see reflected in the fifth-wheel campers.
The Grand Design Reflection is viewed by most as the most successful and versatile models in their line.
It's available in 8 distinct floor plans, with four slide-out sections to give it a spacious feel.
The Average Cost Of A Grand Design Fifth-Wheel Trailer – With many different spacious floorplans and popular models like the Reflection and the Solitude, Grand Design is well represented through a variety of fifth-wheel niches.
You should be able to buy an entry-level fifth-wheel from Grand Design for as little as $70,000 to as much as $135,000 for a luxury fifth-wheel.
5. Jayco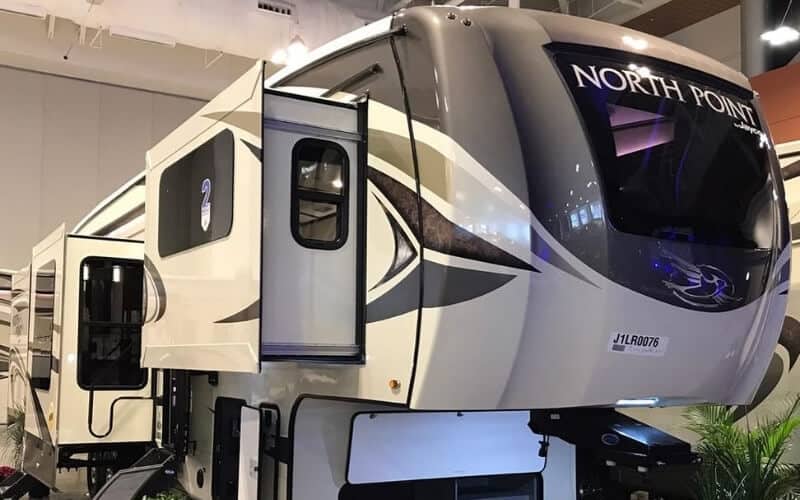 Jayco is another one of Thor's affiliates that enjoys its own identity while still having access to high-end materials and engineering.
Jayco also tends to be mindful about the weight of their travel trailers and fifth-wheels, for easier towing, which also translates to less stress on the pickup truck tow vehicle.
The Jayco Northpoint is a great place to start shopping the fifth-wheels in their line.
It has nine different floorplans, each with optional upgrades to let you strip it down to a basic entry-level fifth-wheel trailer, or deck it out for a true luxury feel.
The Average Cost Of A Jayco Fifth-Wheel Trailer – Depending on the floor plan and optional extras, you might be able to get an entry-level Jayco Fifth-Wheel trailer for as low as $70,000 or a luxury model for as much as $130,000.
6. Winnebago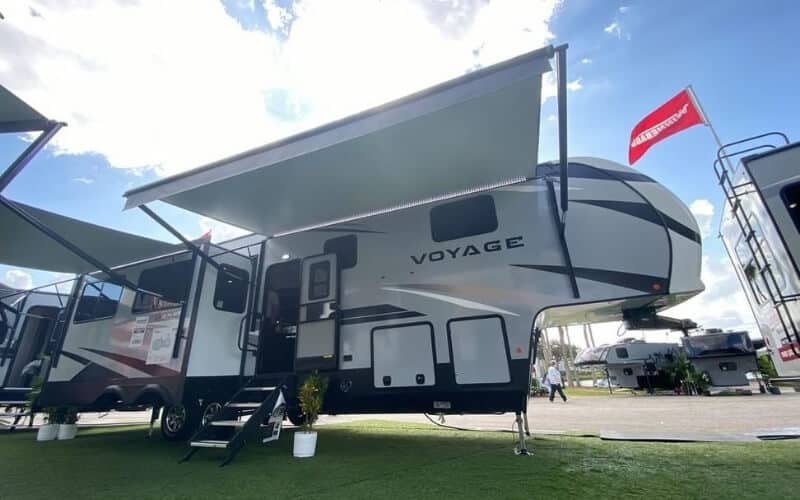 Winnebago is a well-established RV manufacturer with models available in just about every niche.
They really grew into an industry giant in the 1980s and 1990s during the boom in motorhome popularity.
Today, they have also expanded into the fifth-wheel marketplace. Their broad range includes lightweight entry-level fifth-wheel trailers like the Micro Mini to the heavy-weight luxury Voyage.
Within all of their models, there's room for upgrading the appliances, furnishings, and other special features.
The Average Cost Of A Winnebago Fifth-Wheel Trailer – The entry-level version of the Winnebago Micro Minnie can cost as little as $35,000, whereas the highest trim levels of the Winnebago Voyage fifth-wheel can cost upwards of $99,000.
7. Thor Industries
Thor owns a wide range of other RV manufacturers. They allow the to maintain their own brand identity just like Thor maintains its own.
Yet they also pool their components, resources, and engineering principles to offer a diverse spectrum of models, including fifth-wheel trailers to appeal to nearly every price range and interest.
The Average Cost Of A Thor Fifth-Wheel Trailer – On the lowest end of their spectrum, you could get an entry-level fifth-wheel trailer from Thor for as little as $40,000.
On the high end of their spectrum, Thor also offers luxury models, decked out with optional upgrades for as much as $150,000.
8. Coachmen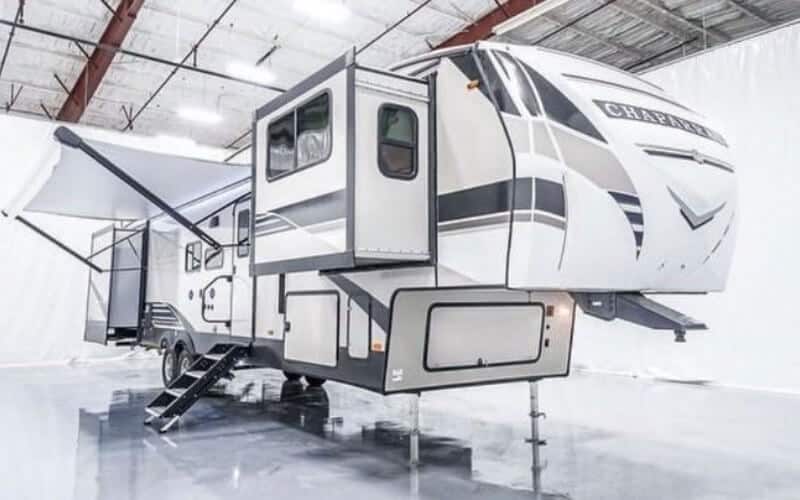 Coachmen is another industry leader with a decades-long presence in the fifth-wheel market niche.
They were bought out by Forest River, who was later bought out by Berkshire Hathaway.
While there was a short period of destabilization Coachmen has balanced out and their access to high-end, cost-efficient components from their partners has helped them to reinvigorate the line.
The Coachmen Chaparral is one of the most popular fifth-wheel trailers they offer.
The Average Cost Of A Coachmen Fifth-Wheel Trailer – With models and floorplans to accommodate entry-level interests, you can buy a coachmen fifth-wheel trailer for as little as $45,000. Though they do offer luxury models that can cost over $100,000.
Fifth-Wheel Trailer Cost Of Ownership
Just like a car or truck, a fifth-wheel trailer will have a few underlying cost of ownership factors that you need to keep in mind.
This includes things like maintenance, insurance, and basic upkeep. Ultimately, you don't want to blow your entire budget on a brand new camper just to find out later that you don't have the financial wiggle room to use it to its full potential.
Tires & Wheel Bearings
On travel trailers and fifth-wheel campers, tires and wheel bearings often get overlooked.
To the point where a blown tire or a burned-out bearing can leave you stranded on the side of the road and possibly facing an expensive repair.
Depending on the size and type, you should expect to replace all of your fifth-wheel trailer's tires every three to six years.
More if you are traveling frequently. You can expect each tire to run you between $175 to $250.
Taking good care of your tires will also help extend their lifespan. This includes checking to make sure each tire has the correct PSI, as well as visually inspecting the tires before every trip to make sure the tread isn't overly worn.
When storing it for the winter, you ideally want to keep the tires on a paved slab, where they can't be affected by the freeze-thaw effect of ice and mud.
Make sure to grease the wheel bearings every spring and pay attention to any strange noises the wheels make when going down the road.
Wheel bearings on a fifth-wheel trailer bear a lot of load force, so you should plan to have them inspected and perhaps replaced every 10,000 miles.
Insurance
If you are going to be financing your fifth-wheel trailer, then the lending institution will require a basic level of insurance coverage.
While a portion of the insurance premium cost will be based on your driving record, the value of the fifth-wheel trailer will also come into play.
There are even some that are in a higher insurance group. If you are debating between two similarly priced fifth-wheel trailers, take a little extra time to get an insurance quote, and then factor that into your decision.
Assuming you have a good driving record, you can expect the average fifth-wheel trailer's insurance to run between $800 to $950 per year.
Though there are some insurance providers who might offer discounted rates for a fifth-wheel trailer that will spend all summer sitting in a seasonal RV park.
Frequently Asked Questions
Can I Tow A Fifth-Wheel Trailer With A Half-Ton Pickup Truck?
While there are a few lightweight fifth-wheel trailers like the Winnebago Micro Mini and the Scamp that can be towed by a half-ton pickup truck, most simply weight too much or the half-ton truck lacks sufficient payload capacity.
For the most part, you should only consider an average weight fifth-wheel trailer if you have a three-quarter or one-ton pickup truck.
They have the robust suspension, powerful engine and superior payload capacity to tow a fifth-wheel trailer.
If you don't have a sufficient tow vehicle, you will need to factor that into your budget.
Do I Need A Special Hitch To Tow A Fifth-Wheel Trailer?
The special hitch, hardware, and installation are one of the hidden costs of fifth-wheel trailer ownership.
Fifth wheel hitches and gooseneck hitches need to be installed directly into the frame and structure of the tow vehicle's cargo box.
While you might be able to find some lightweight fifth-wheel hitches for as little as $500, you should expect a hitch that's robust enough to handle the job will cost you at least $800 to $1,000. That's before the cost of installation.
Do Fifth-Wheel Trailers Depreciate?
Just like cars, trucks, and even Class A motorhomes fifth-wheel trailers will suffer the ravages of depreciation. As a baseline expectation, a new fifth-wheel trailer will lose roughly 20% of its value within the first three years after you drive it off the dealership's lot. From there you can expect a 3 to 5% decrease in value per year.
While this might give you pause when considering a new fifth-wheel trailer, it also shines a spotlight on opportunities to get a great value on a gently used fifth-wheel trailer.
Some families invest in a quality fifth-wheel trailer for three or four years, then they downsize when the kids graduate and head off to college.
So, if you are willing to take your time, you might be able to find a pre-owned fifth-wheel camper at a great value.
Should I Buy A Used Fifth-Wheel Trailer?
The depreciation effect of fifth-wheel trailers, means that a gently used model could be a great deal.
Within the first three years you can expect a fifth-wheel trailer to depreciate 20% off the original price. Yet the components might only show a minimal amount of wear and tear.
This means you could potentially pay only $80,000 for a three or four-year old fifth-wheel trailer in good, that was originally $100,000 the day the owner drove it off the dealership's lot.
Just make sure to look for things that show pride of ownership from the seller. This includes having all inspection and routine maintenance paperwork easily available.
You should also keep an eye out for any sort of lapse in the license registration.
A physical inspection or high-quality online images is also a very important. Look for things like water spots on the ceiling, especially around skylights and in corners.
Beware discolored wheel and hubcaps which may indicate brake assist or wheel bearing problems.
If you are viewing on line, be sure to ask for some sort of visual reference on the tire tread.
Assuming that all these things pass muster and you don't see any other red flags, you might be able to get a great deal on a used fifth-wheel trailer.
It might just be that the previous owner took good care of it and is downsizing after their kids have grown and left the nest.
You also have to keep in mind that not all manufacturer warranties are transferrable to a second party.
Before signing on the dotted line on a used fifth-wheel trailer, make sure to ask about existing warranty coverage, and check the fine print to see if it's transferable upon a private party sale.
Conclusion
A fifth-wheel camper is a great option for RV travelers who want the luxury offered by a motorhome, but also want their own vehicle to drive around without having to break camp just to somewhere.
They're especially popular with construction workers and tradesmen who might already have to three-quarter or one-ton trucks needed to pull them.
If you are interested in an affordable lightweight fifth-wheel trailer, you can get a baseline Winnebago Micro Mini for as little as $35,000.
On the high end, you can get a Grand Design Solitude or Grand Design Reflection with a lot of luxury bells and whistles for around $135,000.