Fifth-wheel trailers are a very popular type of RV that appeals to individuals and families who want to travel with space as well as comfort, yet don't specifically want to invest in a motorhome.
These RV's are designed to be towed behind a full-size pickup truck, but you might be wondering if your truck can handle the weight.
You are probably wondering How much does a 5th wheel weigh?
Fifth wheel campers can vary in weight depending on the characteristics of the frame, the features, and other critical details. A 5th wheel trailer can weigh as little as 2,500 pounds whereas a heavy unit can exceed 20,000 pounds. On average you can expect most to land in a range between 12,000 to 15,000 pounds.
In this article, we'll take a closer look at the different classes of fifth-wheel trailers, as well as some of the features that can contribute to their weight.
The overarching goal is to help you better calculate the size and characteristics of the pickup truck you will need to tow a specific fifth-wheel trailer.
Defining Fifth Wheel Trailers By Weight Class
With so much size and versatility, fifth-wheel trailers can have some pretty impressive swings in their weight and their impact on a vehicle's towing package requirements.
If you are like some, you might want to purchase a lightweight fifth wheel camper. The ballpark weight is around 9,000 pounds or less.
A Mid-size fifth wheel camper can weight between 9,000 to 14,000-pounds. At the top of the scale, full size, fifth wheel campers, which are sometimes called "Luxury Fifth Wheels" can weight well over 14,000 pounds to as much as 22,000 pounds. Characteristics and features like large water tanks can influence how a fifth wheel camper is rated as well as the overall weight you need to contend with.
As you shop for a fifth wheel camper, bear in mind the features you prioritize.
Adding one or two might significantly increase weight. Especially if you need to sleep multiple people.
On the other end of the spectrum if you only need some basic features to support yourself and a significant other, you might be prioritize a smaller, stripped down fifth wheel camper with less features.
Lightweight Fifth Wheel Camper Weight And Characteristics
At first glance, lightweight fifth-wheel campers are very appealing. They tend to weight 9,000 pounds or less.
This is largely due to the ease of towing, and maneuverability, as well as their overall fuel conservation.
Going with a lighter unit may also make it possible to tow safely with a half-ton pickup truck, rather than a more costly three-quarter-ton or one-ton truck.
The trade-off here is that a lightweight fifth wheel camper can feel a little stripped down and small.
In truth, some of the less expensive models do feel a little bit like an overgrown travel trailer with a much more expensive hitch.
There are even a few manufacturers who sell the same model with a standard hitch or an exactly similar model with a gooseneck, fifth-wheel hitch. But
All that's not to say that these are your only options in the lightweight fifth wheel class.
Indeed, there are some that derive their appealing lightness thanks to thoughtful design as well as lightweight, durable material selection.
Here are some lightweight fifth-wheel campers you should give a closer look.
1. The 2019 Forest River / Cherokee Arctic Wolf 245RK4
Forest River and Cherokee are two brands that are under the same corporate umbrella.
So, don't let the name confuse you, the Arctic Wolf is essentially the same regardless of the badge.
It's the various floor plans which might affect overall weight as well as price.Dry Weight 7,928 lbsGVWR is 9900 lbsHitch weight is 1345 lbs
2. The Jayco Eagle HTX 26RLX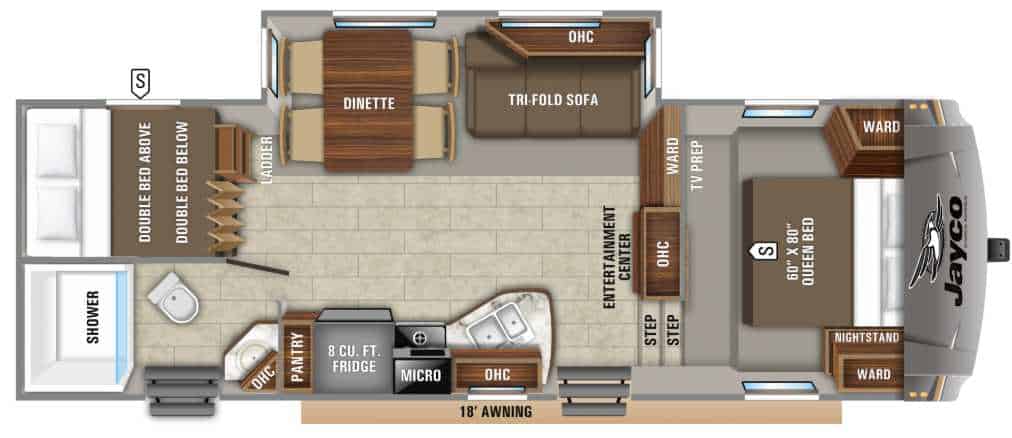 Jayco is one of the larger and more-trusted names in the RV industry. Most Eagle floor plans are equipped with their in-house Climate Shield features that give it some four-season capability.
It also comes wired for30 amp electrical service with detachable Powersmart™ technology.
Dry Weight 7,915 lbs.
GVWR 9,995 lbs.
Hitch Weight1,450 lbs.
Mid-Size Fifth Wheel Trailer Characteristics
In general, a mid-size fifth wheel camper weighs more than 9,000 pounds, yet still rings in at less than 14,000 pounds. Most have dual axles and tend to have more bells and whistles than their lightweight siblings. Some of these fifth-wheel RVs can measure in at over 32-feet long.
Of course, once you graduate into this weight class the debate over tow vehicle size is over.
Even if you can attach a half-ton truck to a mid-size fifth-wheel trailer, you could still be at risk of trailer sway problems, or suffer a potential climbing or braking problem if you need to tackle an incline or travel at altitude.
This excess weight does lend itself to some more comfort features.
This really a case where you need to prioritize a three-quarter or even a one-ton truck.
Not only do they have stronger tow characteristics and load capacity, but they also tend to have diesel engines that are capable of producing much more power, while also being relatively fuel-efficient.
The following are a few popular mid-size fifth-wheel campers to consider.
3. The Keystone Montana 3121RL
Keystone is a reliable RV brand that is owned by the titan Thor Industries.
This allows them to maintain their own corporate identity, yet they also have access to high-end, high-quality materials, components and engineering.
As the name implies, the Montana was designed with high country camping in mind. Yet it is also equally at home in the desert, at the beach or in the forest.
Dry Weight 11,935 lbs.
GVWR 16,380 lbs.
Hitch Weight 2,385 lbs.
4. The Winnebago Minnie Plus 27BHSS
Winnebago is one of the more well-established and trusted names in the RV industry.
Their Minnie is one of their most popular travel trailers, which they have recently expanded into the Minne Plus Fifth Wheel camper.
Dry Weight 6,620 lbs.
GVWR 9,995 lbs.
Hitch Weight 760 lbs.
5. The Grand Design Solitude 373Fb / 373FB-r

Grand Design is technically a subsidiary of Winnebago. However, they are allowed to maintain their own brand identity, while still having access to their parent company's materials, components, and engineering prowess.
Dry Weight 13,950 lbs.
GVWR 16,800 lbs.
Hitch Weight 2,800 lbs.
Full Size, Luxury Fifth Wheel Camper Characteristics
Full-size fifth-wheel trailers are often called "Luxury Fifth Wheels" due to the fact that most of them get their girth from the wide range of special features built-in.
Manufacturers who produce units in this class tend to do so intending to directly compete with Luxury motorhomes.
By weight, a full-size fifth wheel camper is going to weigh 12,000 pounds or more. Though most reach closer to the high end of the spectrum around 20,000 pounds. The length of these behemoths can vary. Though many of the true "Luxury" models can be over 40-feet, with a few ringing in at 45-feet.
Of course, this all translates into high capacity towing needs. Each luxury item essentially adds weight.
While you might be able to get by with a three-quarter-ton pickup truck for a lighter model, it's best to plan for a full one-ton truck with a powerful diesel engine.
This includes things like:
Full-size kitchen with a residential refrigerator
An exterior pull-out kitchen
Built-in hot tub
Large bathroom with full-size bathtub
Digital media center
50-inch TV with expanded entertainment center
Master suite with king-size bed
Walk-in closets
Two full bedrooms
Luxury furniture
Superior suspension systems
Four-season insulation
Over-size fresh, gray, and black water tanks
The following are some of the more popular full size, luxury fifth wheel models to consider.
6. The Redwood by Thor Industries RW388ES
Technically Redwood is its own segment within Thor industries' broad line. It was designed with luxury, durability and weather resilience in mind.

As standard,it comes with an aerodynamic profile and many other easy towing features. It also has:
1. A 5.5 Onan LP Generator
2. Large holding tanks with heating pads
3. Power slide awnings
4. Electronic assist disc brakes
5. The ability to accommodate a third 15,000 6. BTU air conditioner
Dry Weight 14,514 lbs.
GVWR 17,900 lbs.
Hitch Weight 2,580 lbs.
7. Jayco North Point Fifth Wheel Camper 377RLBH
Jayco is one of the industry leaders with quality fifth-wheel campers at nearly every level.
Their North Point step into the luxury, full-size niche with a bevy of standard features as well as multiple floor plans and option packages.
Dry Weight 14,040 lbs.
GVWR 16,750 lbs.
Hitch Weight 2,885 lbs.
8. The Forest River Cardinal Fifth Wheel 3950TZX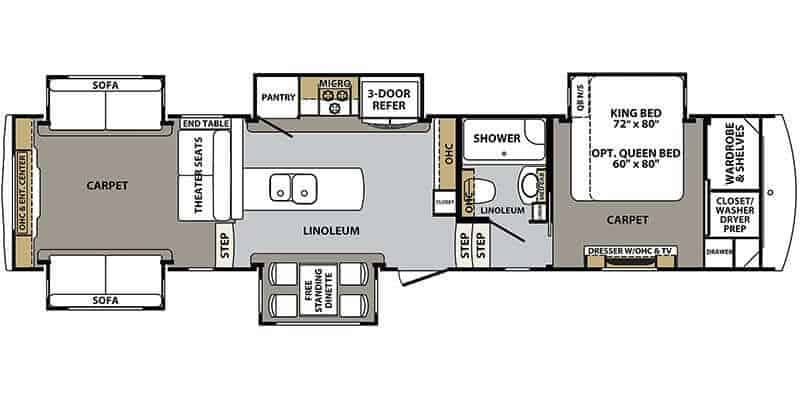 As a well-established RV manufacturer, Forest River offers three different trim levels for its premier Cardinal fifth-wheel camper trailer.
Still, if you are going to give this category serious consideration, then it's best to pull out the extra budget space so you can opt for the well-appointed Forest River Cardinal Luxury Edition.
Dry Weight 14,446 lbs.
GVWR 16,435 lbs.
Hitch Weight 2,755 lbs.
Fifth Wheel Toy Haulers
There is another niche in the fifth wheel trailer market for toy haulers. Most people think of a toy hauler as being a stripped-down travel trailer that can also bring ATVs or snow machines in the back.
When you get to your destination, you take the "Toys" out and then fill the space they once occupied with folding tables, chairs or perhaps a pull-down murphy bed.
The average weight range on toy hauler fifth wheel campers can vary widely depending on the features, and characteristics, as well as the cargo bay size. As a general ball park you should expect them to weight between 12,000 to 14,000 pounds on their own.
When you really stop and take a moment to think about it, this sort of thing plays well with fifth wheel trailers as well.
Just bear in mind that the weight of the toys will not be included in the gross weight of the fifth-wheel trailer.
So, be prepared to do a little extra math when it comes to determining the overall weight and how much your tow vehicle can handle.
9. The Palomino Puma 381FTB
Palomino is another trusted name in the RV industry, with fans who are passionate about the line.
There are multiple floor plans for the Puma, though the 381FTB is the one that best fits the definition of being a true toy hauler.
The rear cargo area measures in at 12-feet by 7-feet maximum capacity. When the toys are removed this gives you just enough space for a queen size bed with perhaps a dressing screen for added privacy.
The rear door measures in at 7-feet long and has a spring assist deployment system, which lets you use it as a heavy-duty ramp.
Dry Weight 10,133 lbs.
GVWR 14,123 lbs.
Hitch Weight 1,760 lbs.
10. The Dutchmen Voltage 3605
Dutchmen is another titan in the RV industry, with a wide range of high-quality RVs backed by a long-standing reputation.
The Voltage 3605 can serve as a spacious fifth wheel camper as well as a high capacity toy hauler.
There are several different floor plans and optional extras to consider this model. It tends to have an average gross weight of around 13,600 pounds. With a hitch weight of 3,067.
It has an 11-foot by 7-foot cargo area, which can accommodate a queen-size bed once the toys have been removed through the rear hatch door/ramp.
Dry Weight 10,133 lbs.
GVWR 14,123 lbs.
Hitch Weight 1,760 lbs.
Frequently Asked Questions
What Do The Different Weights Mean?
Hitch Weight
This is an important consideration when it comes to a fifth-wheel camper, as it indicated the amount of weight the special hitch in the truck's cargo box has to endure.
Due to the various features and options that can be put into a large fifth-wheel trailer, some manufacturers don't like to advertise their hitch weight without having a specific model number first.
Cargo Carrying Capacity
This is essentially the amount of weight that the fifth wheel RV can carry in addition to its onboard features. This includes things like freshwater, and wastewater tanks. It can be a major factor when it comes to toy hauler fifth wheels.
Gross Axle Weight Rating
Often expressed as "GAWR" it is the maximum weight as well as the cargo. This is directly related to the trailer's axles, which means you will generally see a much higher GAWR on dual axle trailers.
Gross Vehicle Weight Ratio
Sometimes expressed as GVRW factors in the hitch weight as well as the total weight of the trailer's capacity, this includes things like onboard cargo.
How Do I Reduce Weight While Traveling?
There's no doubt about it, the more weight you can save while traveling, the less fuel you will go through along the way.
This can be a major factor if your fifth wheel camper's gross/total weight is pushing the maximum capacity of your pickup truck as a tow vehicle.
If you have a long journey ahead of you or there are a lot of changes in elevation between point A and point B, there are a few things you can do to reduce the overall load of the fifth wheel camper.
Not only can they save you in terms of fuel consumption, but it can also reduce the risk of dangerous trailer sway and other potential safety issues.
This includes things like:
Traveling with empty tanks
This method does require a little bit of advanced research. Before you leave home, test to make sure that your freshwater system is in good working order and that all your gray or black water tanks are empty.
A gallon of water weighs in just under 9 pounds. If you have a 50-gallon tank, traveling with it empty saves you a little under 450 pounds.
This can be a factor if you are going to climb elevation along the way.
When you get near your intended destination, try to source some freshwater from a nearby RV park or a truck stop plaza. That way you are only towing the water weight for the last few miles.
This same idea works in reverse for the drive back home.
Try to use a dump station that is in your RV park or as close as possible, so you are traveling with empty tanks on the way home.
This also spares you having to deal with the tanks later, or a potentially costly spill accident on the road.
Smart Loading
There have been many a trailer that has bogged down the tow vehicle due to sloppy loading.
Ideally, you want to balance the weight of your cargo in the trailer, with a slight bias over the axles.
This will help reduce the hitch weight while allowing the axles to bear some of the load along the way.
The worst thing to do is to put too much weight on the far rear of the fifth-wheel trailer.
This could have the next effect of lifting the nose, which could compromise the tow vehicle's ability to make the most out of its own torque and traction.
Can Routine Maintenance Affect A Fifth Wheel Trailer's Towing Characteristics?
In general, all trailers need routine maintenance. With fifth-wheel trailers, tire and axle maintenance are especially important.
Every spring and fall you want to assess each tire's tread to make sure it has enough life to handle another season, or if it needs to be replaced.
Each spring you will need to make sure the bearings in each wheel hub are thoroughly greased.
Fortunately, most modern manufacturers will include special ports that connect directly to a standard grease gun.
While making your seasonal inspection, also take a moment to look at the suspension system for any signs of potential failure.
Leaks and cracks on shocks and struts need to be addressed as soon as possible.
If your fifth wheel camper has leaf springs, you also want to check them for rust and cracks. Make sure to also take a look at the shackles and hangers that attach the leaf springs to the frame of the camper.
A fifth wheel camper that is accidentally overloaded is far more likely to suffer a failure of a shackle or hanger.
When this happens, the connection fails even though the leaf spring remains intact. This could cause the leaf spring to puncture through the hull of the camper or cause the wheel well to rub severely on one or more of the tires.
Before leaving on a trip, you also need to check the air pressure of each tire.
Not only can low tire pressure increase traction and strain on the tow vehicle, but it also increases the chances of high-speed tire failure
Will My Truck Have A Goose Neck Trailer?
Very few new pickup trucks come with a gooseneck hitch already installed in the cargo box.
The few that do, tend to sit at the top of their line and might have features you don't necessarily want, which ultimately drive up the price tag.
Fortunately, having a gooseneck hitch installed in the cargo box is relatively inexpensive.
Depending on your vehicle dealer or the RV dealer, you might even be able to get a secondary install thrown in at a very small upcharge.
Final Conclusion
If you are shopping for a fifth-wheel camper for your family, the marketplace leaves you spoiled for choice.
It can be very tempting to simply let your budget guide you and buy one of the first units that seem to slide into your financial comfort zone.
However, a more methodical approach that also factors in weight, as well as how features and cargo contribute to gross weight, is less likely to leave you with buyer's remorse.
The last thing you want to do is make a massive investment in a luxury fifth wheel trailer only to find out that your pickup truck simply cannot tow it or might struggle to tow it safely.