The Ford F-150 is the historically best-selling full-size truck in the world. This popular half-ton pickup truck has been reconfigured and reimagined for various uses over the last four decades.
So, it only stands to reason that RV manufacturers have followed hot on their coattails to create camper shells to match a wide range of models. 
Finding the best f150 camper shell for your F150 will depend on the specifics of your truck's cargo box and your travel style.
This starts with rolling up our sleeves to get a better understanding of the strengths of the F150 to determine the best type of camper shell to match. We need to ask and answer a few important questions to do this. 
What Is A Camper Shell?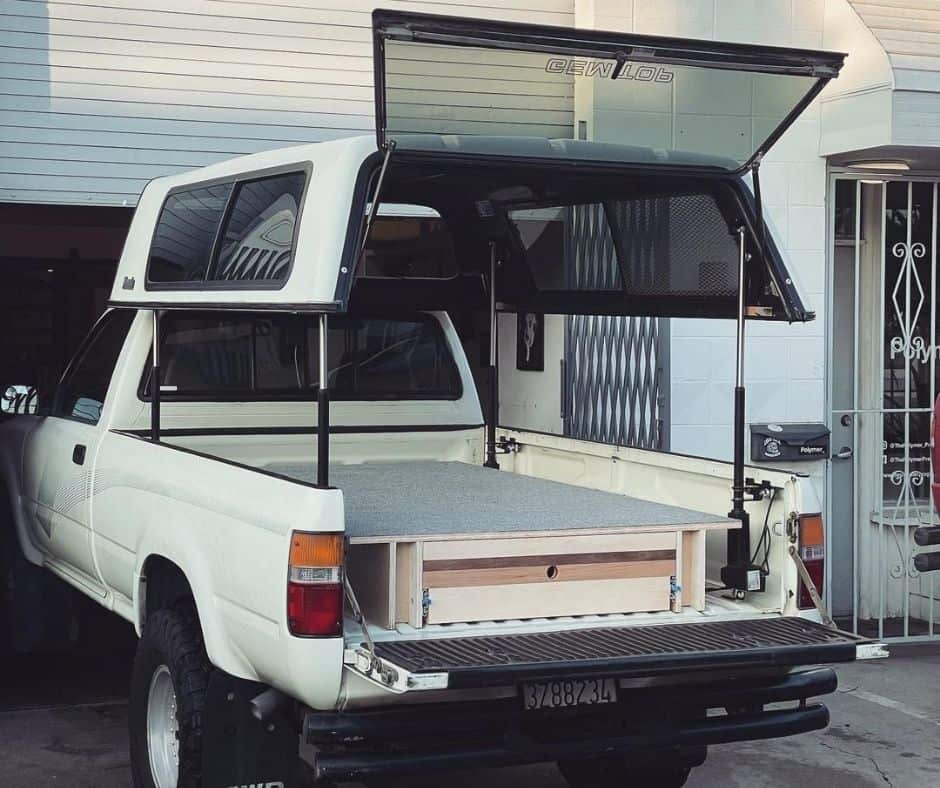 A ford f150 camper shell or truck cap has a lot in common with a truck camper, except it is more stripped down.
It is more like an evolved type of truck topper, and most don't have any sort of cab-over bunk.
Though a few do have extendable side walls as you find with a lot of popular soft-sided truck campers.
Camper shells also tend to be lighter than a traditional truck camper. This means you can usually slide them into the cargo box of your F150 with help from a friend or two, without having to resort to any sort of heavy equipment or drastic feats of engineering.
This is the sort of thing that your truck's leaf springs, shackles, and hangers will thank you for later!
Since camper shells are so light and don't have a major impact on your F150s suspension system, they don't need the jacks or stabilizers that you find with a lot of traditional truck campers.
This also makes it easier for you to pull into a campground and set up camp quickly, then break camp and keep traveling right away the next morning.
How Much Does A Camper Shell Cost?
The average camper shell can usually be hand for around $5,000. With a few bare-bones models costing right around $2,000.
Though the more special features and creature comforts you put into it, the higher the final price and the cost of ownership will be.
How Much Does A Camper Shell Weigh?
An average camper shell will only weigh between 250 to 325-pounds, which is friendly for just about any pickup truck's payload capacity.
Especially the Ford F150 which has a payload capacity ranging from 1,745 to 2,238-pounds.
The Different Types Of Camper Shells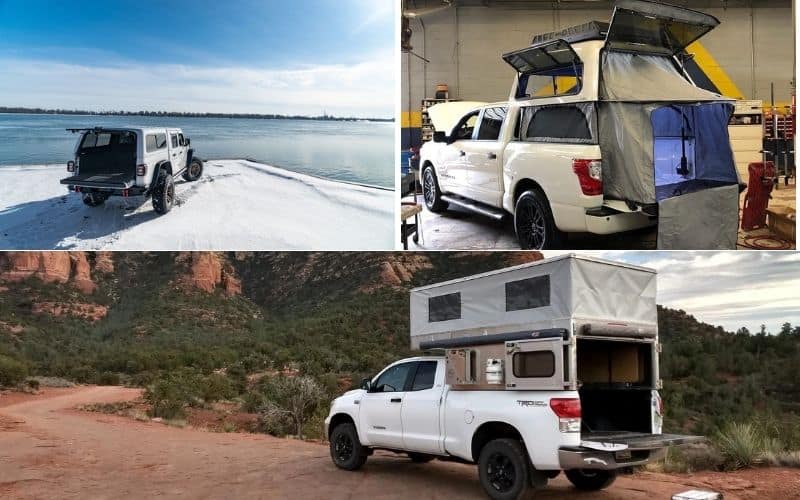 It's important to note that there are two different types of camper shells to consider.
The one that is right for you will depend on your travel style, personal preference, and the effect on your F150.
Camper Shell Materials
The basic materials that a camper shell is made from can also influence its performance and comfort.
Not to mention the weight and overall ease of install. If you want to be able to slide the camper shell into place with the help of one or two strong-backed friends, then you might want to look for one that is made from lighter materials like aluminum, as opposed to bulky, heavier fiberglass.
Though the construction of the material does have other factors you should be mindful of beyond just the weight.
Aluminum
This is great for lightweight camper shells, though the tradeoff is in the overall weight. However, it does tend to be more expensive.
So, you'll need to make room in your budget to afford an aluminum camper shell that's extra-light for installing in your truck.
Fiberglass
Known for its superior durability and relatively lower price compared to aluminum.
Fiberglass camper shells also tend to have much better insulation, which can be a factor if you want to use your truck camper shell for fall camping, or you want to install a small window air conditioner to keep you cool in the summer.
Of course, fiberglass is also much heavier than aluminum. To the point, where you might need to bring in some mechanical assistance to install and later remove it from the cargo box of your pickup truck.
Composite Plastic
Innovations in plastic production and manufacturing have made composite plastics an attractive alternative to fiberglass and aluminum in truck camper shells.
Plastic tends to make a durable shell that is only slightly heavier than aluminum.
Though due to its relative newness in this niche, it can sometimes come with a high price tag attached to it.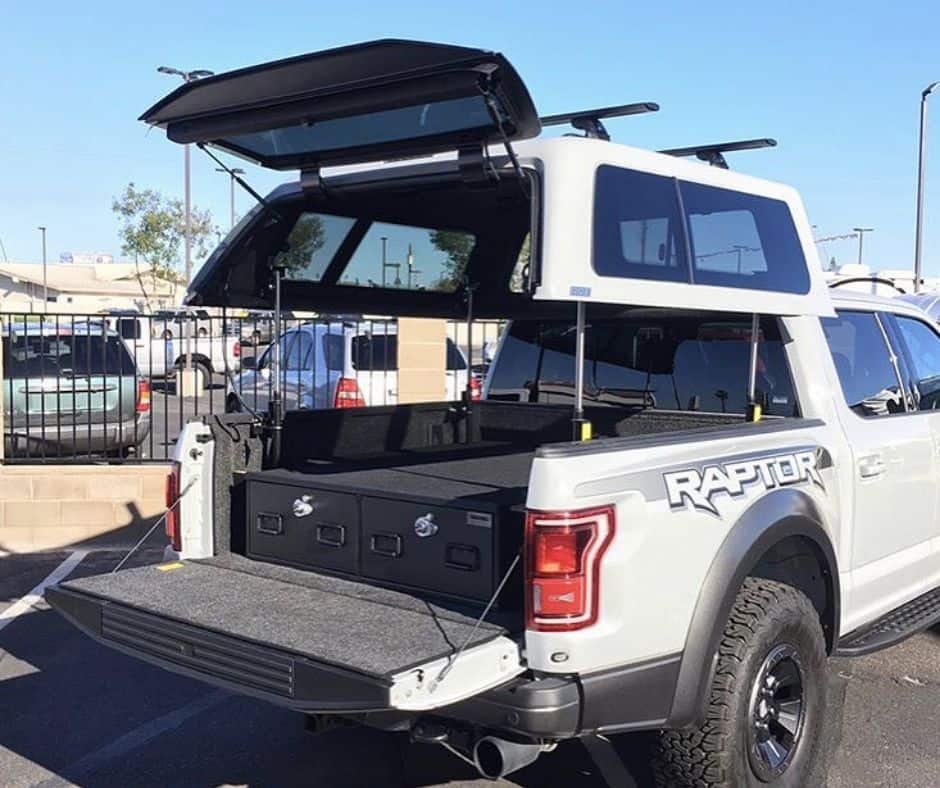 5 great Ford F-150 Truck Camper Shells
When it comes to truck camper shells, it's usually best to work directly with the manufacturer.
They can help you understand your options, and most can offer customization features to specifically fit your preferred travel style.
With that in mind, we hit the high points of some of the most popular truck camper shell manufacturers who have a powerful reputation for creating models that make the most out of everything the F150 platform has to offer.
1. The LHR XD Hi-High Truck Cap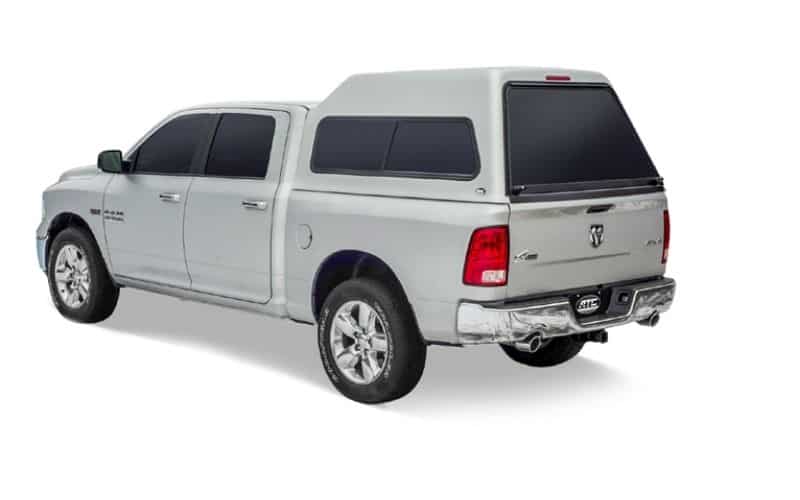 The LHR XD Hi-High Truck Cap boasts being the tallest high-rise truck camper shell on the market.
While some of the competitors will argue the inches, it still represents one of the best static shells you can get to fit your F150, without having to worry about a bunch of moving parts.
It gives you the ability to install it into your truck once and then let it live attached and secured whether you are camping with it or not.
What you get is a truck camper shell that was designed to be very durable. It features a state-of-the-art honeycomb for a reinforced roof for strength and durability.
It also has oversized tinted windows, which are great for times when you don't want to get up with the dawn.
They can even install it with interior 12-volt lighting that runs off a typical deep cycle lead-acid battery.
It's imbued with so much quality construction that LHR even backs it with a limited lifetime warranty.
The arguable downside here is that there isn't a lot of bells and whistles on the interior. You are left to configure it as you see fit.
So, the real appeal is that you are getting a tough topper fit to be a camper, that you can leave installed and expect it to last just as long as your F150.
The initial price ranges are $2,500 and go up from there as you add your own accessories and optional add-ons.
2. The Leer 122 High Rise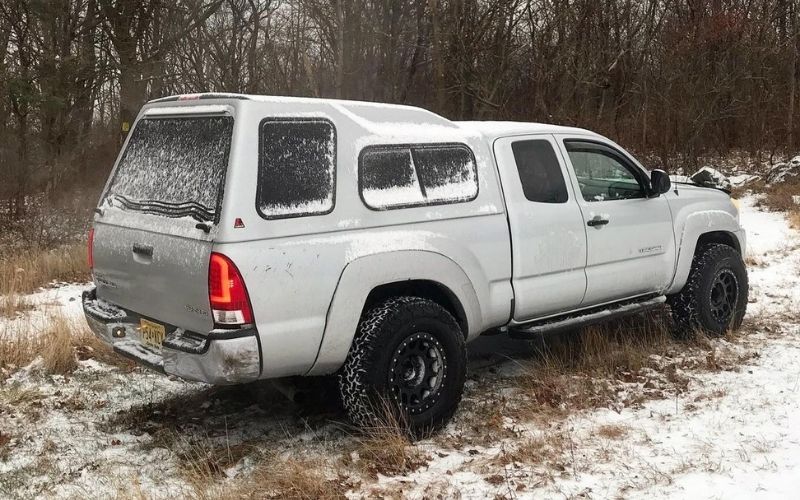 Leer is one of the most popular and well-recognized truck topper brands. So, It only makes sense that we include one of their most popular truck camper shells in the form of the Leer 122 High Rise.
It's designed to be aerodynamic, while still rising 8-inches higher than an F150 cab.
Like a lot of high-rise truck camper shells, like this, you are dealing with an evolved truck topper.
You see all the standard material build quality that you expect out of an industry leader.
So, what you are really getting is access to Leer's lineup of accessories that are specifically designed to fit the 122, and an F150.
This includes interior features like clothes hangers, storage lockers, pet screen windows, and fishing rod holders to help keep your interior properly organized.
Then you can choose other exterior options like Canyon cargo baskets, roof racks, and roof storage lockers.
The base price ranges from $2,100 to $2,500 for the truck camper shell itself. Then the accessories are an additional investment that can increase the price from there.
3. The Unicover Safari V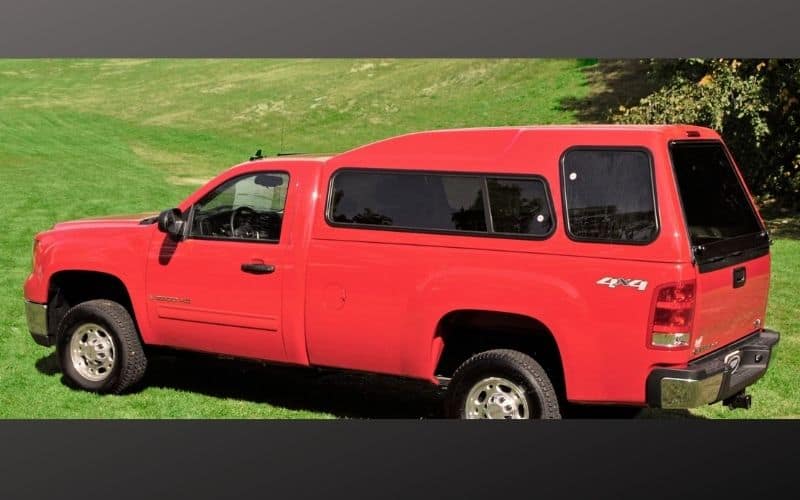 When you pair the Unicover Safari V with an F-150, you get a perfect marriage between one of the most durable cargo-carrying pickup trucks on the US domestic market and a high-quality fiberglass camper shell.
This includes a lot of material build quality features like an insulated roof, truly dark privacy glass, 12-volt lights, and a recessed brake light.
You should consider investing in the optional extras when you work directly with the manufacturer.
This includes things like a framed picture window, which can let you install a vigorous window fan, as well as fold-down trays and horizontal shells to help keep all your gear organized. 
The initial price starts around $1,500 for a Unicover Safari V that will fit a standard F150 cargo box.
Then the additional options drive the price up from there. This makes it one of the best truck camper shells for an F150 for price-conscious people. 
4. The ARE Walk-In Door Truck Camper Shell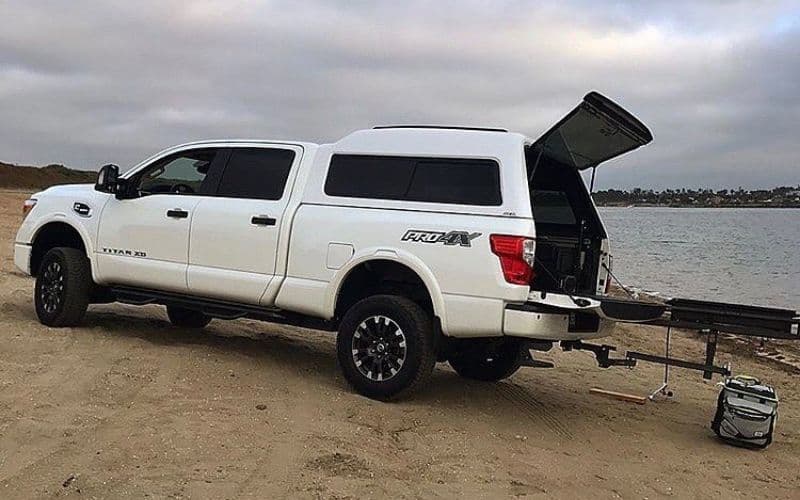 Specifications
One of the things that sets the ARE Walk-In Door truck camper shell from the competition is that it has a tinted glass vertical door that feels very much like a residential door or the kind of door you might find on a small travel trailer.
If you do need to load gear or use the cargo box of your truck for your Monday through Friday job the entire rear door does open upward to let you have full access to the cargo box.
The shell of the ARE is made from high-quality fiberglass that is still impressively light to install and leave installed.
ARE also went the extra mile to design this truck camper shell for family safety. All doors and windows have exterior locks as well as an interior security strap.
The windows also have extra-dark privacy glass, which is something most families prioritize.
The starting price for the ARE Walk-In Door Truck Camper Shell ranges around $1,800.
Though it can vary depending on the size and dynamics of your F150s cargo box. The weight can also vary from 170 to 240-pounds.
5. OVRLND Full Size Camper Shell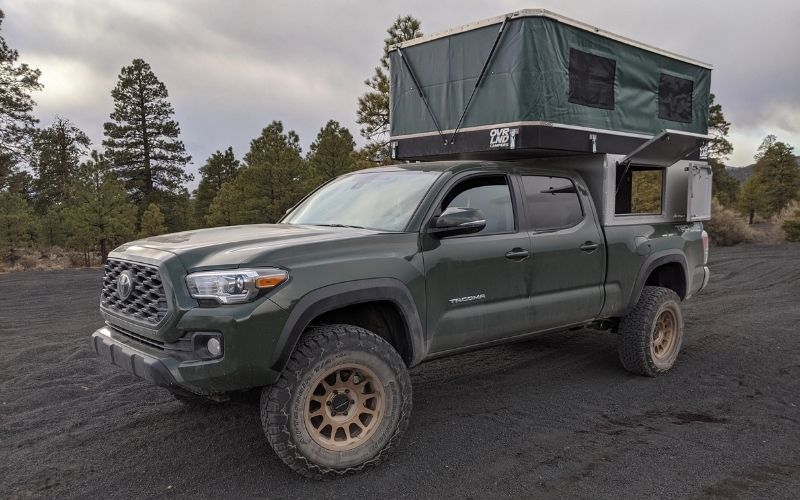 OVRLND is a custom camper shell company that offers a wide range of models to suit the truck spectrum.
Their full-size option is designed to fit the F150 and similar half-ton pickup trucks. The initial price tag starts at $9,100 and goes up from there.
This gives you a basic camper shell made from a special "Honeycomb" plastic composite material combined with aluminum sheeting and structural components.
It measures in at 68″ W x 80″ L when extended and 68″ W x 40″ L when collapsed. It has a flip-up rear door that makes it easy to move all your gear in and out.
When you want to set up camp the roof expands up with an exceptionally strong PVC-based type of waterproof canvas.
The elaborate and innovative customization options they offer are one of the things that sets OVRLND apart from many of the other truck camper shell manufacturers.
They use a proprietary "Camp Tackle Module" to let you customize the interior to best match your travel style.
This includes ways to optimize the potential storage, create new seating, add cook and prep space, and more.
They also offer a wide range of add-ons and exterior enhancements. Some of the popular options include anodized skins to reduce the corrosion of saltwater sea breezes, barn doors, solar options, and even an "Arctic Canvas Liner" for camping in cold conditions.
If you have the budget and you want a truly customizable truck camper shell, then OVRLND is probably going to be the best option for you.
Just be prepared to wait for it, as they estimate their timeline from your first deposit to receipt of your custom truck camper shell is roughly 7 months.
Frequently Asked Questions
Does A Truck Camper Shell Affect The MPG of An F150?
When it comes to aerodynamics, modern-day truck camper shells are designed to be as sleek as possible, with minimal impact on the MPG.
The weight on the other hand can affect the MPG, the same way that your F150 gets slightly slower MPG if you are hauling cargo.
Though all things are factored in, you shouldn't expect more than a 10% decrease in overall fuel efficiency.
Are Truck Camper Shells Easy To Install & Remove?
One of the great things about most truck camper shells is that they are light enough for two to three people to install and remove in just a few minutes.
Though most people choose truck camper shells that can be permanently affixed to their F150.
This lets you pack up and head out early on a Friday night to get a head start on a weekend camping trip. 
What are the features of a Ford F-150 camper shell?
Weather protection: Camper shells provide excellent weather protection for your truck bed and cargo. They can keep out rain, snow, wind, and dust, so your gear will stay dry and clean.
Security: Camper shells can also help to deter theft. They provide a secure enclosure for your cargo, making it more difficult for thieves to access.
Storage space: Camper shells add significant storage space to your truck. You can use the extra space to store camping gear, tools, or anything else you need to haul.
Style: Camper shells can also add a touch of style to your truck. Many camper shell styles are available, so you can find one that matches your taste.
Convenience: Camper shells make it easy to access your cargo. The rear door of the shell can be opened from either side, making it easy to load and unload gear.
Durability: Camper shells are made from durable materials like fiberglass or aluminum. This makes them resistant to dents, scratches, and rust.
What are the benefits of using a Ford F-150 topper?
The Ford F-150 topper is a great way to keep your cargo safe and secure while on the go. It provides additional protection from the elements, such as rain, snow, and wind.
The F150 shell adds an extra layer of security for items in the bed of your truck. With a Ford F-150 topper, you can rest assured that your cargo will remain safe and secure no matter where you travel.
The Ford F-150 topper helps to reduce drag when hauling heavier loads. This reduces fuel consumption and increases the efficiency of your vehicle. It also helps protect your paint job by shielding it from dirt and debris while on the road.
What are the different types of F-150 shells available
The Ford F-150 is one of the most popular pickup trucks on the market and offers a variety of shells to choose from. These shells come in three main types: regular, extended cab, and crew cab.
Regular cab shells are the most basic type, featuring two front doors and a single row of seating for up to three passengers. Extended cab shells offer additional storage space behind the rear seat with two small doors that open outward. Crew cab shells provide even more room with four full-sized doors and seating for up to six passengers.
These shell types are available in various trim levels that feature different features, such as power windows, heated seats, audio systems, and off-road packages. Depending on your budget and needs, you can find an F-150 shell that fits your lifestyle perfectly.
Conclusion
The Ford F150 is one of the most popular pickup trucks in the history of the world and certainly the most common pickup truck you see on US highways.
So, it only stands to reason that many great truck camper shells are designed to make the most out of its robust payload capacity. 
If you want a truck camper shell with a residential door, but you can still leave it installed to haul equipment on Monday through Friday, then the ARE Walk-In Door Truck Camper Shell might be the best pairing for your F150.
It combines durability and lightweight construction with the security features a traveling family prioritizes. 
If you want a truck camper shell that pops up for added headroom, and you want to work directly with the manufacturer to customize it to your vision, then the OVRLND Full Size Camper Shell is certainly going to be the best truck camper shell for your F150.
Though you must be liberal with your budget and patient enough to give them time to build it to your specs.