Interested in camping all year round, no matter if it's snowing or if it's scorching hot? Then you'll want a four-season RV that stands up to the extremes of cold and hot weather.
Being able to enjoy your camp trailer throughout the winter is a dream come true for many RVers.
So today, we'll look at what four-season RVs really are and who has the best brands on the market.
What are Four-Season Campers?
There's not an industry standard for what constitutes a four-season RV, so different manufacturers have varying standards.
These differences can cause confusion, so what does the average person mean when they say "four seasons"? To most of us, it quite literally means that you can comfortably camp in your RV during the Winter, Spring, Summer, and Fall.
But to RV manufacturers, four-season means what kind of winter weather conditions the camper can withstand.
A true four-season RV allows you to camp in cold weather down to zero degrees Fahrenheit. It also means that the camper is well insulated for comfort both in the cold winter and during the summer heat.
Having a four-season RV means you can stay comfortable all year long. You'll stay cooler in the summer and warmer during the winter.
What Makes a Good Four-Season RV?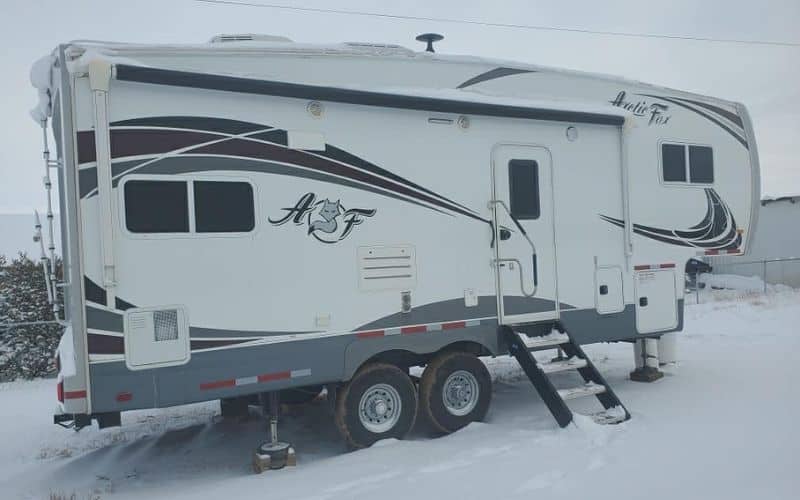 Things you should look for when purchasing a four-season RV are:
Paying attention to these details means that you'll have a better time camping in cold weather.
A good air conditioner for summer and a strong furnace for winter will greatly increase your opportunities for camping year-round.
Enclosed & Heated Underbelly
A heated and enclosed underbelly keeps your RV water lines from freezing and cracking when winter temperatures drop.
Once the temperature crawls below 32 degrees Fahrenheit, you begin to worry about not being able to use any of your water lines and then about damage to your pipes.
A heated underbelly keeps your fresh, black and gray water lines and tanks from freezing up.
Good Insulation
Having good insulation will hold in your furnace's warmth all winter long. As a cold wind whips around your camper, it sucks away your heat.
So good insulation is important for trapping that heat inside while it blocks the cold out.
Furthermore, thicker walls with higher insulation levels mean you can enjoy nature's beauty any time of year.
This added insulation also keeps your RV cooler in the summer heat. It means your air conditioner does less work to keep you comfortable.
So that saves energy and money too. A four-season RV lets you visit winter ski resorts and beaches in the summer.
Dual Pane Windows
So much heat is lost through our RV's windows. That's why purchasing a four-season RV with dual pane windows makes sense.
Thermal windows generally have two panes. Then air is trapped between the layers, acting as an insulating layer.
Dual pane windows are an integral part in using your camper year-round.
What RV Brands make the Best 4-season campers?
Buying an RV is a big expense, so you want to do your homework to choose the best camper for your family.
Since more companies now claim to have four-season RVs, how do you know where to start? Today we're reviewing six brands that stand above their competitors.
These brands live up to four-season demands so that you can enjoy your RV all year long.
Northwood Manufacturing's Arctic Fox brand of campers has long been considered one of the best in four-season RV construction.
Their attention to detail and desire to keep their customers enjoying nature all year round stand above the competition.
For example, my own Arctic Fox truck camper meets all our needs until we get near 20 degrees below zero Fahrenheit. That's saying a lot for an RV!
Northwood Manufacturing is based in Northeast Oregon at the foot of the Blue Mountains.
The mountain range gets between 150 and 300 inches (380 and 760 cm) of snowfall every year.
So the company is perfectly situated to understand the need for warm interiors. It's something they excel at!
Arctic Fox Heating System
Arctic Fox campers have a great feature: they come with a fan to pull warm air from the living cabin into the underbelly.
When the outside temperature is low enough, the fan works in conjunction with your furnace to heat the enclosed tanks and dump valves.
Combined with high levels of insulation, this underbelly heat protects your fresh, black, and gray tanks from freezing.
That means you don't have to worry so much about cracked pipes. In addition, you'll still be able to continue normal daily activities like brushing your teeth or washing dishes…no matter how cold it gets.
The air conditioning and furnace systems are heavy-duty enough to control the temperature in your four-season RV throughout the year.
You'll be cool in summer with exterior awnings for shade and thermal pane windows to reflect the sun's heat.
Arctic Fox by Northwood Manufacturing is a great option for your family's camping needs. This brand delivers warmth in winter and cool days during the summer.
Starting Price: Some models start as low as $29,999.
Additional Features
Lance campers are beautifully made and luxuriously appointed. Both their truck camper and travel trailer models are built to keep you in the great outdoors throughout the seasons of the year.
I love their LiveLanceLife motto, which pretty much sums up the entire RV Life experience:
EXPLORATION AFFIRMS WE ARE ALIVE AND DEMANDS THAT WE ARE PRESENT. BECAUSE LIFE IS NOW. WHEN WE RAMBLE OUT INTO THE WORLD, LIMITS AND WORRIES VANISH IN OUR REARVIEW MIRRORS. SO LET'S EXERCISE OUR RIGHT TO PURSUE ALL POINTS OF THE COMPASS AND SHARE THE JOURNEY WITH THE ONES WE LOVE.

#LiveLanceLife
You'll find the standard Four Seasons Comfort Technology Package to have everything you need to stay out there camping.
First you'll notice the ultra-lightweight dual-pane acrylic Euro windows that look stylish.
They also can be adjusted to fit your needs to keep air circulating in warm weather. Place them in the secured vent position for a small amount of air or choose wide open for maximum airflow.
These windows protect against heat loss in the winter through their double pane functionality.
For your skylights and vents, Lance provides insulated hatch covers. These snap-on coverings keep windy nights outside where they belong, so you'll be warm in winter weather.
They also protect against summer's glaring sun, which means your camper also stays cooler in the summer.
Next you'll be glad for Lance's ducted heating system which routes heat into individually insulated holding tanks.
That keeps the tanks, valves and PEX water lines from freezing. Combine all that with Lance's well-insulated walls and roofs and you'll be warm enough for winter skiing without worrying about your RV freezing.
In addition to its four-season RV capability, Lance strives to maintain high standards in green building.
That means they're building campers to enjoy the environment while reducing damage to the environment in their manufacturing processes.
Their Green Certification is based on resource efficiency, energy efficiency, water efficiency & indoor air quality in their building, lighting and manufacturing.
Starting Price: Some models start as low as $26,000.
Additional Features
Outdoors RV is also located in Northeast Oregon, where we love to camp! They call their brand of RVing "Mountain Tough Four Seasons Camping".
Outdoors RV aims to meet the needs of explorers who want to find alpine lakes and rugged snow-capped mountains, not those of the three-month summer campers.
Both are awesome adventures, but we are definitely talking about four-season camping today.
There are three types of RVs to choose from, based on the way you like to camp: Back Country Series, Trail Series, & Mountain Series. Then you can add the Titanium Series for a premium trim package.
Outdoors RV uses an extra large furnace for your winter camping heat system. This furnace stands up to all the cold weather you can throw at it.
Thermal pane windows mean you still get the huge views you want when camping, but you also get the protection from weather extremes that you need for comfort.
Extended season camping means protection from wind and cold as well as the summer heat. These standard option thermal pane windows do just that.
Not only does the fully enclosed underbelly protect your RV from road debris, it is also the first layer of protection for all your holding tanks.
This R15 aerofoil insulated area protects your tanks from freezing winter temperatures.
Furthermore, similar to the functionality of Artic Fox, Outdoors RV runs a fan down to your underbelly when your furnace is operating.
It pulls warm air into the underbelly to protect your camper's tanks and water lines.
Starting Price: Some models start as low as $43,000.
Additional Features
Another great brand for four-season RV camping is Forest River. This company knows its customers and creates the type of RV that today's buyer wants.
And you can tell that by the humongous owner rallies that the company has.
Over 15,000 Forest River Owners Group (FROG) members share memories and stories that last a lifetime. Now that's a great statement for the popularity of these campers.
As one of the best four-season RV brands, Forest River's Arctic Wolf line of campers stands out.
By adding the Weather Guard Package, you'll guarantee comfort throughout the year.
Camping in the snowy mountains will be just as easy as camping along the beach in summer.
The Elemental Package offers a high-efficiency large furnace to keep your family toasty all winter long.
The fully enclosed underbelly also has forced air heat when the furnace is running. This further protects your camper's water lines from the potential of freezing and bursting.
In addition, the electric fireplace with remote-control settings will keep you toasty warm as well.
Along the same lines, Forest River uses a high-efficiency duct work pattern that maximizes interior air flow.
This "Super H" pattern creates an efficient line of air to keep your camper warmer or cooler, as needed.
Combined with the high circulation ceiling fan, you'll appreciate that the camper's circulation works great.
The good-sized air conditioning unit has a quick, cool air dump feature that cools your camper down quickly.
Add to that the upgraded 2″ thick laminated exterior walls with block foam insulation and you'll stay so cool in the summer heat.
Finally, Forest River Weather Guard Package includes heat reflectivity on the camper's roof to keep heat down.
Starting Price: Some models start as low as $29,999
Additional Features
Grand Design RVs have a great option for a four-season RV. Their Reflection campers offer the Arctic Package, which keeps the camper warm in winter and cool in summer.
With maximum insulation and a heated underbelly, Grand Design Delivers on its promise to keep you cozy.
Furthermore, the fully laminated sidewalls, rear walls, and slide walls/roof are filled with rigid foam insulation.
The floor is double protected with radiant foil beneath the heated underbelly and fiberglass insulation on the main floor. The roof and front cap are similarly insulated up to R40 protection.
You'll find the gooseneck and baggage doors are also heavily insulated to keep cool air from seeping in around the edges.
In addition to all this great insulation, Grand Design Reflection campers have a high-performance furnace and a fireplace to keep you warm all winter long.
GDRVs pride themselves on luxury, value, and tow ability features. You'll be glad to have this camper series on your list of the best four-season RV brands.
Starting Price: Reflection models start at $79,584
Additional Features
Heartland RVs have the Yeti Extreme Cold Weather Package option. With this package, you add to their already well-appointed trailers by adding things like a heating pad for your holding tanks.
It's important to remember that you only use this heating pad when your tanks have liquids in them. Using it on an empty tank could damage operations.
The Yeti Package also adds radiant insulation to your camper. Furthermore, a heated main water line protects your line from freezing in very cold situations.
The 40,000 BTU furnace works overtime to keep your family warm, while the summer heat can't compete with the 15,000 BTU air conditioner's power.
Heartland's Bighorn 5th Wheel Series offers true four-season protection from the weather. So you can get out there to enjoy camping any time of year.
These are larger camp trailers than some of the others on this best-of-four-season RV list, so you'll expect to pay higher prices.
But for the roominess combined with the ability to use them throughout the year, Heartland RVs are a great choice.
Starting Price: Bighorn 5th Wheels starts at $124,707.
Additional Features
Which Four-Season RV is Best For You?
The final choice for which four-season RV is best for you comes down to your own preferences and budget.
As you can see, there's a large difference in cost as well as in size of these campers. From a smaller truck camper to a two-bed / two-bath fifth wheel, there's a four-season camper that will meet your requirements.
Look for these minimum requirements when choosing your RV:
By doing some homework and then visiting showrooms, you'll be able to choose the best camper for your family.
Then you can enjoy the outdoors all year round. This list of four-season campers is a good start for your search, but there are others to choose from too. So get out there and start shopping!