When you're looking through potential RV parks, it can be frustrating to figure out what kind of amenities they offer.
You can't effectively plan if you don't know what kind of place you'll be parking.
For example, you won't need a generator when your site has a power connection.
Unfortunately, there is no set requirement of amenities an RV park must offer, and the variation is astronomical. However, most RV Parks agree on what the term "full hookups" entails.
But What is a "full hookup" at an RV park??
RV sites with full hookups provide water, electrical, and sewer service. You will be able to connect your RV to all three of these services so that you don't need to move it to dump wastewater tanks, refill freshwater tanks, or recharge batteries.
In addition to these three services, some RV parks offer additional services and amenities. Some parks also offer sites with 'partial hookups'.
In this guide, we are going to provide critical information on RV hookups and campground amenities.
First, we'll go over what the three hookups are and what sorts of adapters and hoses you'll need to bring with you to make use of them safely.
We will then discuss when you might want to spring for the "full hookups" sites and how often you might need access to them.
Finally, we'll talk about other luxury amenities an RV park may include in the price of a "full hookups" site.
So let's get right into it!
What Are "Full Hookups" At An RV Park?
Most RV parks have a number of sites with full or partial hookups.
"Full hookups" is how an RV park says a designated site provides all three necessary connections: power, water, sewage. The first two, power and water give you a resource while the third sewage gives you the space to empty what you've produced.
RV parks with full hookups are often the most coveted because they allow your RV to operate much like a residential home once you are connected.
You won't have to run your generator to operate larger appliances, ration water to avoid running out, or move your RV to empty your wastewater tanks every few days.
In other words, full hookups make RV camping as clean and easy as possible.
Let's briefly break down each of these services and how they will impact your RV life.
Water
Even if your RV has a 100 gallon freshwater tank, you will run out eventually. That is not the case, however, if you are hooked up to a city water connection at an RV park with full hookups.
Instead of relying on the water in your onboard freshwater tank, you will connect one end of a hose to the water connection at your site and the other to the city water inlet on your RV. That inlet will provide fresh water directly to the sinks, shower, and toilet in your RV.
That means you will preserve whatever freshwater you were already holding in your onboard tank while parked at a full hookup RV site.
Plus, most RV parks don't charge a usage rate for water unless you are staying on a long-term basis (exceptions exist).
Sewer
The black water and grey water tanks on most RVs tend to have smaller capacities than the capacity of the freshwater tank.
This means that you will often need to empty those tanks before you run out of fresh water.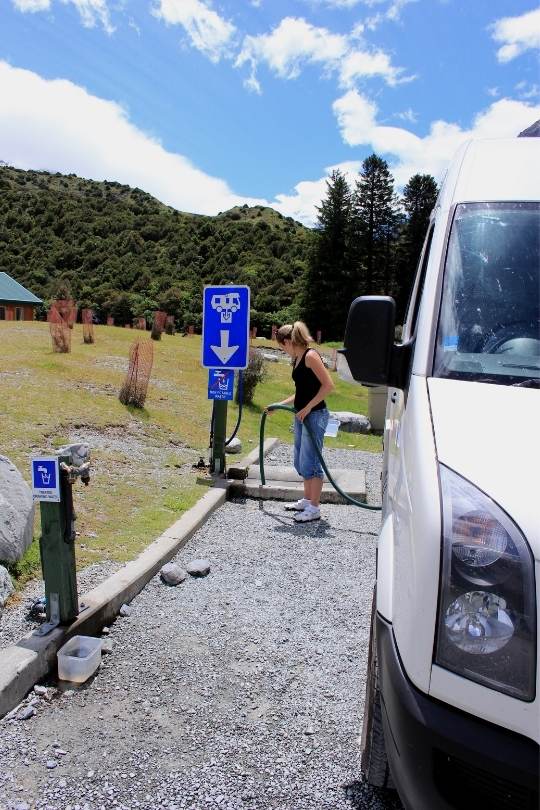 Driving down the road with full wastewater tanks is one of my least favorite parts of RV living. Plus, there is always the fun process of trying to empty your tanks in the most sanitary manner possible when you do get to a dump station.
That is why so many full-time RVers love sites with sewer connections. You can connect your drain hose upon arrival and your tanks will naturally drain as you use them. This also makes full hookups the preferred choice for long-term RV living.
Electricity
All RVs are equipped with at least two batteries and some type of generator. They are designed to help you live off-grid for days at a time, but not all of the largest appliances in your RV will work all the time.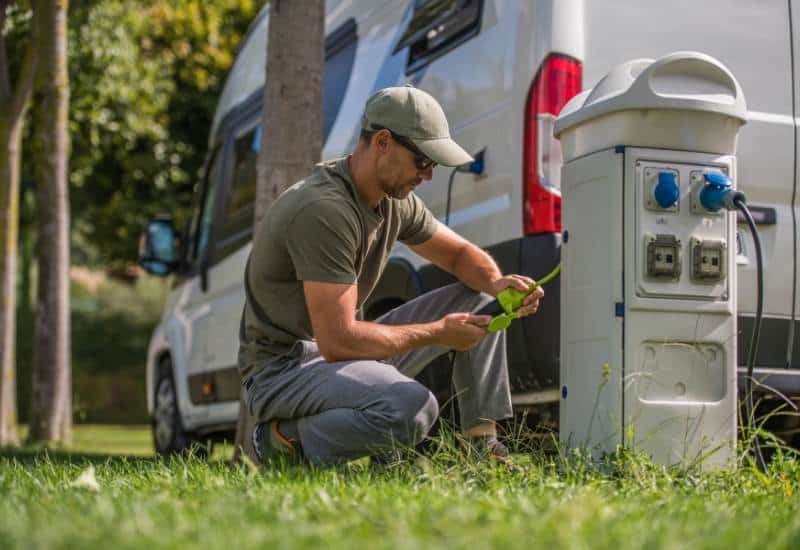 When you are plugged into an electrical connection at a site with full hookups, however, your RV's appliances should be fully functional. You can run your air conditioning units without powering up a noisy generator and waking up your neighbors.
Plus, you can save the charge on your RV's onboard batteries by powering smaller electronics from the wall outlets.
Overall, electricity is vital to the complete functionality of any RV. Just be aware that some RV parks will charge for electricity based on usage and this is especially true if you are staying in one place on a long-term basis.
Keep in mind that RV parks usually offer either 30 amp or 50 amp electrical service. They may even have two sites that are both advertised as "full hookup sites," while offering different levels of electrical service.
So you just need to know whether your RV requires a 30 amp or 50 amp connection in order to book a full hookup site that is compatible with your rig.
Plus, you will need to be aware that many full hookup campsites with 50 amp service are going to be slightly more expensive than sites with 30 amp service.
Will You Pay More For Full Hookups?
The luxury provided by sites with full hookups often make them the first spots to book up when dates become available.
As you might expect, this high level of demand also means that most RV parks charge more for sites with full hookups.
Nightly and monthly rates can vary a lot from location-to-location. Generally speaking, however, you can expect to pay somewhere between $10 and $30 more for full hookup RV sites. It is rare, actually, to find full hookup RV spots for less than $40 almost anywhere you travel in the U.S.
That being said, savvy RV owners know that finding a good deal on a campsite with full hookups requires patience and diligence.
Plus, you can sign up for services like Good Sam Roadside Assistance and receive campground discounts as a membership perk. 
What Are Partial Hookups?
If full hookups provide water, sewer, and electrical service, partial hookups offer one or two of these services, but never all three. You will find sites that offer only water and others that offer only water and electricity.
From our experience, it is rare to find sites with sewer and either water or electrical, but not all three.
It seems that a sewer connection is the service that is most often missing on partial hookup RV sites.
Do RV Parks Offer Additional Services?
In addition to water, sewer, and electric services, most RV parks often offer a few additional amenities and services.
These days, WiFi is almost always on the top of our minds when we pull into a new RV park, which is why most modern RV parks offer it. 
Some other examples of the additional services and amenities you might find at an RV park include, but are not limited to, restrooms and showers, a pool and a hot tub, laundry rooms, recreation areas, a community store, cable TV connections, and phone service.
Some RV parks even offer luxury sites. These sites include full hookups and other premium amenities that range from electronic to cooking comforts.
Some sites feature perfectly level ground, which makes parking and stabilizing your RV a breeze.
Sometimes RV Parks charge more for pull-through sites compared to their back-in sites.
Another variation in the physical site itself is length: if you have a long rig setup, you may need to pay extra for a longer site.
Other premium sites may cater to the digitally inclined, offering a cable connection and wi-fi. Others may feature cooking or eating areas.
While many RV parks may have communal barbeque pits or picnic tables, knowing that your site will include a grill, table, or fire pit for your exclusive use can make a huge difference in your planning.
If your site has a fire pit, then you won't need to bring a portable one from home; all you'll need is firewood and your s'mores supplies!
What About Propane?
While you would think that a term "full" would truly be representative of an all-inclusive experience, propane is often the odd-service-out when it comes to full hookup RV sites.
Many RV parks do offer a service to refill your rig's onboard or portable propane tanks, but you will have to go to them for that service.
If you have a travel trailer or 5th wheel with multiple smaller propane tanks, this probably won't be too much of an inconvenience.
Some parks may even come around in a golf cart and pick up, refill, and drop off smaller propane tanks.
From my experience, however, things are a little bit more difficult for RVs with larger propane tanks that are accessed through one of the underneath storage compartments.
Even if the park has a propane fill station, you will have to disconnect your rig and roll it to get close enough to refill.
However, some areas will have third-party propane companies that will offer delivery service.
Last time I lived in an RV full-time in the winter, for example, I paid to have a 120-gallon propane tank delivered and hookup to my RV's propane line. 
Then, the company came back every 2-3 weeks to make sure the tank remained full throughout the winter.
So, this is always an option if you are permanently living in an RV park with full hookups. 
Advantages and Disadvantages of Full Hookups
While full hookups provide a level of luxury that is befitting of the term 'glamping', they are not 100% necessary (and even preferred) by all types of RVers.
So let's talk about some of the pros and cons of full hookup RV sites.
Advantages of Full Hookups
Here are a few of the simple pleasures you can enjoy if you get a site with full hookups:
Full Power
Full hookups often means having plenty of power for all of your appliances. You will not have to worry as much about only running a set number of appliances at a time to avoid tripping a breaker or blowing a fuse.
Easy Extended Stays
For full-time RVers, full hookups make your rig a true mobile home. You won't have to move for any other reason than to park your rig in a location where the view out your kitchen window is a little different.
Normal Lifestyle
Admittedly, I had a little trouble adjusting to the showers and water rationing that goes with RV living. But full hookup sites take away a lot of the stress of rationing your water and conserving electricity that come with RV boondocking or dry camping.
Easy Cleaning
As someone who grew up in an extremely clean household, embracing the often-dirty nature of camping took some time.
But when you have full hookups, it is much easier to use a little extra water to keep the interior of your RV clean. Even if you don't keep it 100% dirt-free, it will also make the cleaning process much easier when you get home from your trip.
Disadvantages of Full Hookups
Here are a few reasons why some RVers actually avoid booking full hookup RV sites:
Cost
As we mentioned above, full hookup sites always cost more than sites with partial hookups. Plus, there is also the option of camping at a free primitive campsite or staying in a rest area for free.
For RVers looking to save a little bit of money on overnight expenses, the task of moving your rig to dump and refill every few days might be worth the financial savings.
Neighbors
In general, RVers that love boondocking are seeking solitude, tranquility, peace, and quiet. You won't find too many full hookup RV sites in places where there aren't at least a few neighbors within shouting distance.
In addition, campgrounds that offer a lot of sites with full hookups tend to be located in places that experience a regular stream of traffic. That means that the surrounding area may also be busier than what you are really looking for from your RV experience.
Environmental Impact
One of the great things about living in an RV is that it really makes you realize how much water and electricity you are using (and how much waste you are producing) on a daily basis.
But you tend to insulate yourself from really having to buckle down and reduce your environmental impact when you are living with full hookups.
Conclusion
In my opinion, full hookup sites are best for extended RV stays. If you know that your wastewater tanks will be full in about three days, on average, and you plan to stay for a full week, do you really want to break down, move to dump, and set back up twice in the span of a week?
I'm going to guess that the answer is probably no, and most full-time RVers would agree with you.
While full hookups aren't necessary for short RV trips or folks that prefer dry camping or boondocking, they are the preferred site type for everyone else.
This is why they are often the first sites off the board when you are checking into campground availability.
So, if you know you need a full hookup site, make sure you plan your travels and book campground stays well in advance.
Otherwise, you will spend half of your trip jocketing your RV around and setting up/breaking down camp while everyone else is relaxing or recreating!
We hope that this article has been useful in explaining what full hookups mean in an RV park.
As always, we wish you the best of luck on your RV travels during the coming season and we would love to hear where you plan to travel in the comments below!