Coming up with great gift ideas for RV owners can sometimes be stressful. There is so much pressure and expectation around giving the 'perfect' RV gift, but it can be hard to know what RV owners will really appreciate and utilize in their everyday lives.
Fortunately, RV owners often have an unrivaled passion for their form of travel. That passion makes it easier to select great gifts that they'll actually use as they explore new territory.
If you're searching for gift ideas for RV, motorhome or camper owners in your life, we're here to help you out with some of the best RV gifts to put under the Christmas tree these holidays.
In this RVers gift guide we've picked 60 of the coolest and most practical gifts for RV campers that any enthusiast would love. If we're being realistic, we have to acknowledge that not all gifts are created equal. Some are fun and some are practical.
Some are better for Dad while others are meant for that RVer in your life that seemingly already has everything. So that's why we've broken our gift choices up into categories so you can more easily find the perfect gifts for RV owners who are seasoned campers!
So, whether you're seeking gift RV ideas for dad or your friends, you'll love the comprehensive guide we've put together for you!
Top 20 Gifts Ideas For RVers In 2023
There are certain essentials that all RVers need to have in their rigs. These are our picks for the top 20 gift ideas for RV owners:
1. America The Beautiful National Park Pass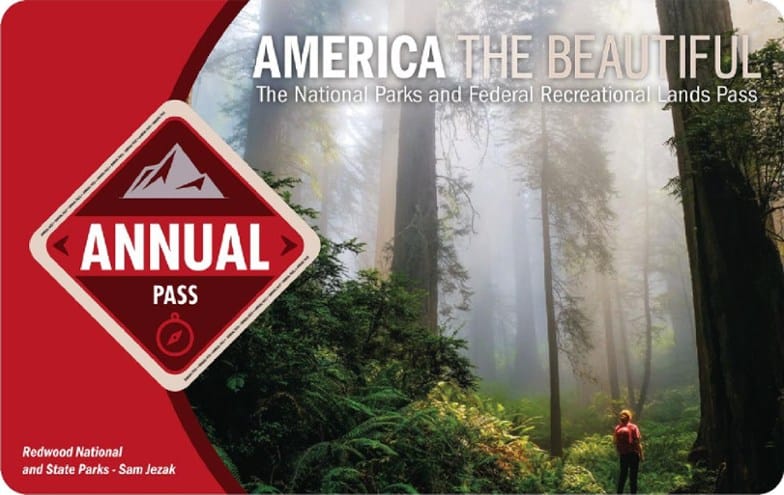 Perhaps the only thing better than giving someone a new RV accessory is providing them with the gift of access to some of America's most breathtaking natural landscapes.
There are more than 2,000 federally-protected parks, monuments, and heritage sites throughout the U.S.A. and you can get access to all of them with the America The Beautiful National Park Pass.
For one flat fee, this pass covers your entrance fee to all of these parks for a full calendar year and it's valid from the month of purchase.
The National Park Pass is also honored at sites managed by the U.S. Forest Service, Bureau of Land Management, Fish and Wildlife Service, Bureau of Reclamation, and Army Corps of Engineers.
2. Tire Pressure Monitoring System
This is admittedly a higher-priced gift for RV owners, but it's also one of the best ways to ensure the safety of your RV and everyone in it.
Blown tires are unpredictable by nature, but having a monitoring system in place can help you avoid some of the post-blowout issues that we don't even like to consider.
A tire pressure monitoring system allows you to monitor the status of tires right from the driver's seat.
When choosing a tire pressure monitoring system, make sure that yours has enough sensors to monitor all of your RV's tires.
And if you need some help deciding on one, check out some of the best RV tire pressure monitoring systems.
3. RV Patio Mat
If you're shopping for someone who likes to minimize the amount of dirt that gets tracked inside their RV, a patio mat or outdoor rug is a great idea.
I've always maintained that "it is camping after all," but I do realize that it's nice to keep the outdoors out of YOUR doors!
These mats will trap dirt before it gets into your RV and also give you a more comfortable outdoor living space when camping in warm weather.
There are patio mats and rugs of many sizes out there, but you'd do well to choose something that's large enough to cover the whole area underneath your awning.
If you need some easy options to choose from, check out some of the best RV outdoor rugs.
4. The Instant Pot Duo Pressure Cooker
Not all RV kitchens have plenty of space for multiple pots. As a result, you often can't cook the types of complex meals you'd enjoy at home.
Most RVers like to eat well, even if they don't necessarily want to spend the time to prepare and cook intricate meals while they're on vacation.
But a pressure cooker is the perfect gift for RV owners because it allows you to make a variety of meals and you won't have to spend so much time monitoring your dishes to avoid overcooking.
This allows you to enjoy relaxing around your campsite while your Instant Pot Duo Pressure Cooker takes care of all your meal prep needs.
5. A Logbook or Travel Journal
A logbook or travel journal is the perfect gift for any RVer that likes to move around a lot.
It's also great for full-time RVers because it allows you to note parks, campgrounds, and other sites that you might like to visit again if you ever return to a certain region.
The Ultimate RV Logbook is "the most efficient way to record and reference your campsites as you travel."
It even has a checklist that includes all of America's national parks and an index of Canadian province and territories!
6. Outdoor Hammock And Hammock Stand
Lounging around the campsite is only enjoyable if you have the right camping chair.
But if you're looking for a top RV gift idea for someone who enjoys outdoor naps in the afternoon, an outdoor hammock and hammock stand is perfect for swinging in the breeze as you enjoy the sun on your face.
The problem with many standard outdoor hammocks is that they require a pair of thick, healthy trees that are perfectly spaced apart.
That's not always easy to find right next to your RV, travel trailer, or 5th wheel.
But this particular hammock comes with its own lightweight stand that allows you to set it up wherever you desire.
7. A Customized Welcome Flag
If you've ever tried to locate a friend's RV in a crowded campground, you already know that it's not always easy to differentiate RVs from one another.
But it's hard to miss your friend's rig if they have a personalized welcome flag with their name or a custom greeting printed on it.
This particular welcome flag is designed to fit a classic garden stand and it allows you to customize up to three lines of text.
So whether you want to let visitors know when you first established your RV basecamp or welcome them with a cheeky greeting, it's a great way to stand out from the crowd at the next campground you visit.
8. Portable Outdoor Fire Pit
Cold camping evenings always call for a fire and, in fact, that is one of the major reasons why many of us fell in love with camping in the first place.
But, because of fire restrictions and other limiting factors, it's not always possible to start a wood fire in a designated fire ring right outside of your RV.
We think that shouldn't stop you from staying out to tell campfire stories and peek up for shooting stars once the sun goes down.
And that's why we've chosen this portable outdoor fire pit as one of our top 20 gift ideas for RVers.
It requires propane fuel and includes a ten-foot hose so that you can keep your propane cylinder safely out of the way while it's in use.
9. Screened-In Pop-Up Tent
If you or the RVer you're looking to find a gift for often travels to camping destinations where insect life can be troublesome, having a screened-in pop-up tent handy can be a game-changer.
No RVer imagines arriving at their anticipated destination and realizing that they don't even want to spend time outside because there are too many nagging insects flying around.
Once you set up this screened-in pop-up tent, you'll be able to relax outside without constantly being pestered by flies, mosquitoes, or whatever else if flying around.
And because it has mesh walls, it still allows plenty of air flow so that the area inside the tent doesn't heat up uncomfortable on warm summer days.
10. Kindle Paperwhite
One of my personal laments about RV travel is that I don't have space in my rig to transport my book library everywhere I go. But I'm a little old-school and we find ourselves squarely here in the digital age.
It simply doesn't make sense to carry a half-a-dozen paperback books somewhere in your RV when you could have four times that many books stored digitally on your Kindle Paperwhite.
These devices are waterproof and offer 32GB of storage space. They also allow you to adjust the brightness of the screen so that it feels like you're reading a standard paper book.
And they still allow you to highlight or annotate your favorite quotes or paragraphs so that you can go back and reference them in the future.
11. A Cast Iron Dutch Oven
Cooking when you're RVing is much more fun when you can cook on an open fire.
Unfortunately, not all dishes can be easily or safely cooked on an open fire if you don't come prepared with the proper cookware and utensils.
While we'll talk about utensils a bit later, a cast iron dutch oven is an awesome gift idea for RV owners who love to cook on an open fire.
Whether you're searing, simmering, braising, baking, or frying, there's not much you can't do with a large, six-quart cast iron dutch oven like this one!
12. Portable Outdoor Speaker
Many modern RVs have pretty outstanding built-in stereo systems and some even have outdoor speakers for enjoying your favorite tunes while you're cooking or hanging in your campsite.
But that's not always the case and we believe that you should never travel without the ability to play your favorite tunes when you want them.
While we do encourage being respectful of your RV park neighbors, a portable outdoor speaker can be a great RV gift idea because it doesn't take up much space but it packs an auditory punch.
This particular Bose speaker features Bluetooth pairing and it offers up to six hours of runtime on its rechargeable battery. It's also waterproof and shock-resistant!
13. Inflatable Solar Lantern
Life is always better when we can shine a light on the unknown darkness.
While we don't want to wax too poetic on you here, we do know that it never feels good to find out that your lantern or flashlight is out of batteries just when you need them most.
With the Luci Inflatable Solar Lantern, you can leave your lantern out in the sun for a few hours each day and you'll never have to worry about draining or replacing your batteries.
The Luci Light is collapsible, compact, and extremely lightweight. I personally love this lantern for all of my RV camping needs because it requires basically no space when I'm not using it!
14. New Backup Camera
For the RVer in your life that's having trouble seeing where he or she is going when the RV is in reverse, a new backup camera can be an epic gift idea.
Many older RVs can even be retrofitted with a new backup camera that makes it much easier to maneuver in tight parking lots or into smaller RV campsites.
This particular backup camera offers plug-and-play versatility and it requires a 12-volt cigarette lighter outlet for power.
The camera component is waterproof and it connects directly to your taillights to provide a view behind your rig every time you put it into reverse.
It also gives you guidelines when making turns so that you can get a better sense of how close you really are to certain objects.
If you need to know which one is good and decide to choice best, check our best rv beackup cameras
15. Folding Solar Panel Kit
This folding solar panel kit is an excellent RV gift idea for anyone that likes to spend a lot of their time off-the-grid. Not all RVers like to rely on electricity from a new campground every other day.
And, honestly, there's no reason to pay for that electricity when you could be harnessing the power of the sun.
This folding solar panel kit from Rockpals is compatible with most solar generators and power stations.
It boasts high conversion efficiency and comes with ample connectors for charging a wide variety of devices.
This includes most smartphones, GPS units, digital cameras, tablets, and much more.
If you also a off the grid camper, please check our best portable solar panel for RV
16. Portable solar Power Station
The ability to harness the power of the sun to extend the amount of time you can spend off-the-grid only goes as far as your ability to store that power.
And that's exactly what a portable power station is meant to do. These power stations are essentially batteries that can be charged via a variety of power sources.
This particular portable power station can be recharged using solar panels, a 12-volt carport, or a standard 12-volt AC outlet.
It's a great solution for keeping all of your small electronic devices charged without having to rely on your RV's coach battery.
But it also enough power for small blenders, pellet smokers, and any other appliances with a maximum of 500 running watts.
17. Portable Generator
If you really want to double down on your ability to camp in remote locations for days on end, you'll also need a quality portable generator.
Unlike a power station, these generators typically run on some type of liquid fuel, such as liquid propane or unleaded gasoline.
Some models even have the ability to run on both fuel types, which allows you to choose whichever is more affordable in your location.
This particular portable generator from WEN is one of the lightest and quietest on the market. It runs on unleaded gasoline and boasts a maximum run time of up to 10.8 hours.
It's also capable of supplying maximums of 2,000 starting watts and 1,700 running watts while supplying clean electricity that won't damage your RV appliances or small electronic devices.
Looking for any top rated portable generators, please check on our best rv portable generators
18. RV Cell Phone Signal Booster
Staying on the theme of remote RV camping, sometimes we like to explore more rural locations precisely because we don't want to have cell service.
But emergency or unexpected situations can arise that require us to be able to contact someone we love or someone who can help us out of a tricky situation.
Whether you want it for emergency service or just to improve your remote connectivity, a cell phone signal booster is a top gift idea for RV owners.
This particular signal booster kit from weBoost works with all phones, tablets, and notebooks computers and it reduces the likelihood of dropped calls while also allowing you to enjoy more consistent data downloads speeds when you're working remotely.
Also want to boost your cell phone signal in your RV, lets check best RV cell phone signal booster.
19. Lightweight Folding Camping Table
From remote accessibility to simple convenience, you'll quickly notice if you have nowhere to set your drinks or snacks next to your RV camping chairs.
When that moment arrives, you'll wish you had a lightweight folding camping table that was sturdy enough to handle a decent load while also collapsing down into a compact package for easy storage.
This particular camping table from CampLand is made of aluminum and weighs just ten pounds.
It is waterproof and collapses down to dimensions measuring 36.81" x 7.52" x 5.12" (length x width x height).
It's also capable of handling up to 66 pounds and you'll be able to assemble it in minutes without needing any additional tools or hardware.
20. Simple Brew RV Coffee Maker
For me, it can be tough to start my day without a warm cup of coffee. And that's especially true when I wake up on cooler mornings in my RV and have to put on several layers just to take the dog for a walk.
But with the right coffee maker, I can simply push a button on my way from the bed to the bathroom and my coffee begins brewing while I'm taking care of other morning necessities.
This Simple Brew Coffee Maker can brew up to four cups of coffee at a time and requires just 650 watts of AC power.
It's also small enough (10.1" x 7.25" x 11.8") to store in RV cabinets when you're not using it and it features its own proprietary 'Grab-A-Cup' pause button if you need to pour the first cup before the full brew cycle is finished!
Want to try some new personalize taste in coffee, So check out the best coffee maker for RV
---
Practical Gift Ideas For RV Owners
By nature, most RVers are practical people above all else. The nature of RV living is that you have limited space for luxury items.
So you'll want to check out our picks for the best practical RV gift ideas:
1. GSI Outdoors Folding Water Cube
Sure, your RV, travel trailer, or 5th wheel probably already has at least one water tank onboard.
But having extra water stores for off-grid living or simply to drink higher quality water is never a bad idea.
Having extra water also allows you to travel for longer periods before having to stop and refill your onboard water tanks.
This GSI Outdoors Folding Water Cube carries up to 3.9 gallons of water. It also has a convenient pour spout that makes it easy to refill water bottles, wash your hands, or rinse dirty dishes.
And it collapses down so that it barely requires any storage space between trips.
2. RV CouchCoaster
There's nothing worse than spilling a hot cup of coffee or a glass of red wine on your RV couch. But unfortunately, not all couches or RV sofa beds come with beverage holders.
You can always just get a standard set of coasters for putting your drinks down while you're relaxing, but the RV CouchCoaster is much more than your standard coaster.
It's a great gift for RVers because it keeps your drink close and reduces the hazard of spilling your beverage if you get up quickly or receive an unexpected surprise visitor.
This coaster hooks right over the arm of your RV sofa (as long as it's a minimum of 5.5 inches wide) and it fits all mugs, tumblers, and glasses up to 3.5 inches wide.
3. Road Atlas
I know, I know. Why would you get an old-fashioned road atlas when you could install one of the best RV GPS systems? But I'd argue that not all GPS systems work to their optimal capability all the time.
And they can be completely compromised in very rural areas where you don't have sufficient reception.
It's hard to beat an old-school atlas when it comes to solving all of your RV navigation conundrums.
But you should make sure you have the most up-to-date atlas possible so that you aren't confused by road upgrades that aren't pictured on your 10-year-old atlas.
Additionally, many of these atlases make it much easier to find campgrounds that offer AAA or Good Sam discounts!
4. YETI MOLLE Bottle Opener
Always carrying a bottle opener on your keychain or in your pocket can be annoying. Plus, it's not really practical for RV camping, which is precisely why having a bottle opener attached to your cooler or installed directly to the outside of your rig is a great idea.
And the outdoor installation will allow you to set up a recycling bin beneath the opener for your bottle caps to fall right into.
This YETI MOLLE Bottle Opener fits any one-inch MOLLE system. That makes it compatible with any backpack or soft-sided cooler that has one-inch straps.
Using screws, you can also permanently install it to any hardwood surface inside or outside of your RV.
And it's made with corrosion-resistant stainless steel that is tough enough to handle the elements.
5. Inline Water Purifier
Full-time RVers don't always get to enjoy the best drinking water. This is a seldom-acknowledged reality of RV life, but it can be hard to find consistently safe and tasty drinking water when you're constantly moving around.
Municipal regulations and the source of water in campgrounds can impact the safety and the taste of the water coming into your RV.
The simplest and most effective way to improve the quality of your RV drinking water is to install an inline water purifier.
The clear importance of clean drinking water is what makes this a great gift for RV owners.
These purifiers screw right onto your RV water hose and filter out sediments, heavy metals, chlorine, and other chemicals.
If you want to detailed guide about water filters, then read our article Best RV water filter in 2023.
6. Mild Scented Candles (or Incense Sticks!)
Living in a confined space can sometimes mean coming home to a less-than-desirable smell.
And whether it's coming from the kitchen or the bathroom, a set of mild scented candles is a great way to purify the air in your RV. And if you're a fan of incense, that's also a great solution for unpleasant RV odors.
The two-pack of lavender-scented soy candles from Mrs. Meyer's that we linked to above will burn for up to 35 hours and the jars are recyclable when they do burn through.
And if you're into incense, this pack of approximately 140 incense sticks is great for cleansing the air in your RV and it comes with its own burner tray.
7. Folding Step Stool
This is the perfect practical gift for the shorter RVer in your life. From experience, it sucks to have to stand on your tip-toes to reach higher cabinets or adjust the awning on your rig.
And there are an almost endless number of applications that a folding step stool can be used for once it's in the hands of a seasoned RVer.
From making it easier to reach the bolted-on RV ladder on the back of your rig to giving you the extra reach you need to wash the sides of your rig, a folding step stool is a super affordable and majorly practical RV gift idea.
This particular step stool offers a maximum standing height of nine inches and it easily folds down to store flat when you're not using it.
8. The Ove Glove Two-Pack
Standard oven mitts just don't cut it for some RV campers. For one, dealing with a cast iron dutch oven that has been sitting in an open fire for the last hour requires something more heavy-duty.
And if you've ever baked in an RV oven, you already know that the 250-degree setting doesn't always feel much different than the 450-degree setting.
For the RV chef in your family, one of the most practical RV gift ideas is the Ove Glove Two-Pack. Popularized in early-2000s infomercials, the Ove Glove really does offer "superior heat and flame hand protection".
These gloves withstand temperatures up to 540 degrees Fahrenheit and give you the type of five-finger flexibility that oven mitts just can't compete with. Plus, these gloves are machine washable when you need to remove dirt, ash, or other gunk!
9. Collapsible Measuring Cups
Storage space is almost always limited in RVs. Even the most frugal RVers will typically find a way to fill their entire space with minimal room leftover.
But the key to maximizing RV storage space is stacking items or finding ones that stack themselves. And, to be honest, any collapsible household item deserves a second-look for RV living.
You'd possibly be surprised by how often you'll need measuring cups in an RV. But they probably aren't high on your priority list when it comes to items that you really want to make space for.
That's why collapsible measuring cups are such a practical RV gift idea. They give you all of the functionality of traditional measuring cups while taking up less than half the space!
10. A Shower Caddy
While most modern RVs have their own showers inside them, that's not always the case for smaller rigs or cab-over campers.
And even RVers that have their own showers will sometimes like to avoid filling up their onboard grey water tanks by using the shower facilities at each campground they stop in.
If you have an RVer in your life that relies on campground shower facilities more than the shower in their rig, a shower caddy is a super practical RV gift idea.
This particular caddy has four separate compartments so that you can organize all of your toiletries according your special, personal method.
And it has a webbing grab handle for easy transportation, a hanging hook for keeping it off the ground in public shower facilities, and a removable pocket mirror for checking your morning bedhead!
---
Fun RV Gift Ideas And Super Cool Gifts For RV Owners
Every experienced RVer has a checklist of things they need to think about every time they check into a new campsite (and also before they drive away!).
But once those items are checked off, it's finally time for fun. So check out these fun RV gift ideas that RV owners will absolutely love:
1. Clever Throw Pillows
Decorating is the best way to make your RV really feel like home. But it can also give you a way to turn heads or start a conversation when you have guests into your RV.
Some people don't like throw pillows, but more people do. And this is why we've included them among our fun RV gift ideas.
This four-pack of clever Asamour throw pillows is designed with a vintage wood background that sort of reminds us of shiplap.
Each pillow also has a unique camping-related saying or image, such as 'Adventure Awaits' and 'Happy Camper'.
Of course, if vintage wood doesn't match your RV's decor, there are plenty of other design options out there that will provide a better match!
2. Inflatable Kayak (or Inflatable Paddleboard!)
If the RV owner that you're searching for a gift for loves paddling, an inflatable kayak or paddleboard will give him or her the ability to get on the water without the headache of worrying about where to store a hard-sided kayak while you're driving.
These inflatable paddle craft will easily fit under the back bed or in your RV's underneath storage compartments without taking up unnecessary space.
The Intex Excursion Pro inflatable kayak is one of the most popular inflatable kayaks for RVers because it's versatile enough to handle one paddler, two paddlers, a paddler and a dog, a paddler and a small child, or a paddler and a bunch of fishing gear.
And if your special RV owner is into paddleboarding, you might consider this 10-foot inflatable paddleboard because it weighs just 22 pounds and it's super easy to carry from your campsite down to the water without needing a kayak strap or rolling cart.
3. Electric Air Pump
While you might not consider the pump itself 'fun,' the ability to blow up your inflatable recreation equipment faster and with less effort means you'll have more time and energy to have fun once your equipment is fully inflated.
There are pumps out there that plug into your RV's cigarette lighter and others that require a 120-volt AC outlet, so you'll have options to choose from.
But, for our money, this 20 PSI electric air pump is one of the best because it gives you the ability to set the maximum pressure for the items you're inflating.
The pump will then automatically shut off when that pressure is reached. So, you'll be able to turn it on and finish preparing the rest of your gear without worrying about it overinflating your equipment!
4. RV State Sticker Travel Map
While the RV logbook we mentioned in our top 20 RV gift ideas is a great way to internally track your favorite campgrounds and RV sites, there's nothing like advertising how far along you are in your quest to visit all 50 states in your RV.
Whether you have space on the back or side of your rig, this map is a fun RV gift idea for sparking conversation at every campground you pull into.
This particular RV State Sticker Travel Map is only 11" x 17", so it doesn't actually require a whole lot of space. The map itself arrives blank and with only an outline of the United States.
Then you'll need to keep the separate sheet of peel-and-stick state stickers handy in your RV so that you can add them to your blank outline every time you cross a new state line!
5. Decorative Pillow Covers
Do the pillows in your RV need an upgrade? This fun RV gift idea will allow you to keep your same pillows for a few more years while making them look brand new.
Pillow covers are a fun and clever way to revamp the interior decor of your RV without spending too much on an entirely new set of RV pillows.
These particular pillow covers are made of cotton linen and fit 18" x 18" pillows. They feature an invisible zipper that won't scrape or cut your arm when you sit down and they are safe to machine wash next time you find a laundromat or RV park with a laundry facility.
They also include travel-related inspiration quotes such as 'Adventure Awaits' and 'Dream, Explore, Discover'.
6. Collapsible Corn Hole Set
Once your RV is parked and set up, it's time for fun and games. There are a lot of popular ones out there, but corn hole quite possibly might take the cake.
If you've ever played before though, you know that it's not the most compact game in the world. So that would usually make it impractical for bringing on RV camping vacations.
Thankfully, someone out there is way ahead of us on this one and they already invented a collapsible corn hole set.
The boards are the standard 3' x 2' size and it comes with a total of eight bean bags (four red and four blue).
Because the boards aren't made of wood, however, this set also comes with four stakes to keep each board in place (eight stakes total).
7. Vintage LED String Lights
If you're traveling in your RV during certain holidays (or you're a full-time RVer), you'll need to be able to make your RV look and feel festive.
There's quite possibly nothing more festive than the right colored lights for any occasion.
These vintage LED string lights are 48 feet long, which means you can string them along your entire RV (even if you have a super long rig!).
They offer you the choice of 16 different colors and you can select from them via the included remote control.
This remote control also gives you the ability to dim the lights with a touch of a button or time when they come on in the evening.
8. Ladder Toss Lawn Game
Another fun RV gift idea is the ladder toss lawn game. Compact games are the way-to-go when you're traveling in an RV, and your fellow campers will be stoked that you brought this one along.
If you're looking for a fun way to spend time around the campsite, this game is a perfect gift choice.
Ladder toss can be played with up to four players and when you collapse this set all the parts fit in a compact carrying case that easily stores underneath your RV.
The PVC frames assemble in a matter of minutes and the frame extends to full dimensions of 40" tall and 24" wide. This set also comes with a full set of red and blue bolas (three each).
9. Bocce Ball Set
Contrary to popular belief, you don't need a perfectly manicured and maintained court to play bocce ball on.
Some of my first bocce experiences were at a city park and we moved around the whole park as we finished our game.
And while you might not want to explore your whole RV campground this way, a bocce ball is still a fun RV gift idea for that special RVer in your life.
This particular set will allow you to play on grass, sand, or dirt. It has four green and four red balls with different scoring patterns.
It also includes the all-important yellow Pallino ball and the case that everything gets stored in measures a compact 7" x 7" x 7" (length x width x depth).
10. Scrabble Deluxe Travel Edition
When you need some indoor fun on rainy RV days, there's quite possibly no more classic of a game than Scrabble.
But nobody is going to play classic Scrabble in a moving RV and that game also requires way too much storage space inside your rig.
That's precisely why the brilliant creators of this timeless board game downsized and tweaked their original game to create Scrabble Deluxe Travel Edition.
When closed up, the case for this game measures just 9.8" x 9.2" x 1.2" and weighs just 1.5 pounds.
But it still comes with everything you expect from a classic Scrabble game, including solid wood letter racks, a scorepad, and a mini golf pencil.
---
Father's Day Gifts for RV'ing Dads
Dad winds up doing a lot more work than probably you even realize just to get your RV ready to roll every time you want to relocate.
Some of these RV gifts will help make Dad's life easier when taking care of your rig and some are just for fun or relaxation. These are our best picks for Father's Day Gifts for the RVing Dad in 2023:
1. Minnetonka Men's Moccasins
Unfortunately, not all RVs have enough insulation to keep your toes warm even when the furnace is running properly.
And we all know how Dad doesn't like to have cold toes! A pair of moccasins or slippers is one of the best RV gifts for Dad, and that's especially true if you do any winter RVing or if your RV has hardwood or laminate flooring.
When overnight temperatures start to dip down into the 30s and 40s, Dad will really appreciate having a warm pair of moccasins to slide his feet into when he has to wake up to use the restroom in the middle of the night.
And while you can also think about getting one of the safest space heaters for RV use if you're overwintering, these Minnetonka Men's Moccasins are a great gift for Dad and they have a durable outsole so he can even wear them outside too!
2. Gentlemen's Hardware Flashlight Tool
Experienced outdoorsmen never go anywhere without a multi-tool. But RVers rarely carry them because they usually have enough storage space for a full-sized toolkit.
If you have one of those Dads that always complains about not having the right tool, it's time to find him a pocket-sized multi-tool that can clip onto his belt or keychain.
The Gentlemen Hardware Pocket Flashlight Tool is an excellent RV gift for Dad because it includes two screwdrivers (flat head and Philip's head), an LED flashlight, a bottle opener, and a straight-edge knife blade.
It also weighs only 1.44 ounces and have the durable stainless steel carabiner, So your Dad easily attaches to any set of keys or bag for easy use.
3. Barbecue Utensil Set
Every Dad likes to barbecue, right? Well, so far I haven't personally found one that doesn't, but most Dads don't necessarily like to stick their hands right into the fire when it's time to remove potatoes or flip your steaks.
That's why your RV Dad needs a high-quality, compact barbecue utensil set.
Whether you're cooking in a fire ring with a flip-up grill or you just bought one of the best portable grills for RVing, this 18-piece utensil set from Cuisinart includes all of the tools you'll need for grilling meats, veggies, potatoes, and anything else you can think of.
And when you convince Dad to let you make S'mores after dinner, it also includes four stainless steel skewers that are perfect for roasting marshmallows!
4. Headlamp
Dad always needs to see where he's going, right? Well, gone are the days when you always needed to keep a flashlight sitting behind or next to the door just in case the power goes out.
Now, everyone should have a headlamp by their bedside table or hanging from the hooks above your RV door.
We know that Dad often has to be the one to go outside when issues arise in the middle of the night.
And sometimes he needs to have both of his hands free when he does, which is why a headlamp is a great RV gift for Dad.
This particular headlamp has a super long (220 hours!) run time and it either runs on three AAA batteries (easy and cheap to replace) or Petzl's CORE rechargeable battery (sold separately and more expensive, but better for the environment!).
5. Multimeter
Any good RV Dad needs to have the ability to troubleshoot electrical issues in his rig.
And even if your Dad isn't the most adept at fixing those issues, the ability to diagnose them properly can save you both time and money.
Plus, he'll be able to relate more information to a skilled electrician to know if a problem should be classified as 'dire' or simply 'inconvenient'.
A multimeter is a tool that allows you to perform a wide range of electrical tests, including AC/DC voltage, AC/DC current, resistance, continuity, capacitance, frequency, and more.
And this particular model includes a backlit screen for night-time applications and explosion-proof ceramic fuses for maximum safety.
6. Telescoping Ladder
The unfortunate reality of RV storage is that you don't have enough room for a full-sized ladder underneath most rigs.
But, sometimes, Dad is going to need a little extra help to repair damaged running light covers or check the hardware on your RV awning. That's why you should consider giving him the gift of a telescoping ladder.
These ladders give you all of the functionality of a standard folding ladder, but they only require a fraction of the storage space.
This particular ladder extends to a maximum height of 12.5 feet and boasts a weight capacity of 330 pounds.
But it collapses down to compact dimensions measuring just 37.5" x 20.4" x 3.7" (height x width x depth) when you're ready to store it.
7. Zero Gravity Camping Chair
Standard camping chairs might do the trick just fine. And many of them require less space than a chair that offers zero-gravity comfort.
But if you're really looking to impress Dad with a great RV gift, a zero gravity folding lounge chair is an excellent choice.
These PHI VILLA camping chairs require no assembly and they have their own drink trays and headrest attached to the right arm of the chair.
This chair can hold up to 350 pounds and can be adjusted to any angle from 0 to 170 degrees.
So if your Dad needs a comfortable chair for sitting and maybe even taking an afternoon nap outside of your RV, these chairs are a great choice.
8. Camper Leveling Blocks
Ok, I'll admit: this isn't the most glamorous of RV gifts for Dad. But if your Dad is anything like mine, he is first and foremost practical above all else.
And without an easy way to make sure your RV is level wherever you park it, certain important appliances inside of your RV might not be able to do their job.
Many RVs need to be level (or at least very close to it) for the refrigerator and other essential appliances to function efficiently.
So Dad needs an easy way to drive up onto some kind of mechanism that gets your rig as close to level possible.
That's a simple and super practical reason why this set of ten RV leveling blocks is one of the best RV gifts for Dad!
9. Tabletop Propane Grill
We are really not sure of the science behind it, but almost all Dads love to barbecue.
Maybe its something more primal in their nature, but men seem to thoroughly enjoy the challenge of cooking a piece of meat to perfection on an outdoor grill.
While many RVers always prefer to grill over an open fire if possible, the reality is that it's not always possible.
For those times when you need an alternative, you can get Dad a portable tabletop propane grill.
This particular grill has a full 288 square inches of cooking space and offers a durable, stainless steel design that's built to last (and also turn heads at your next campground!).
10. A Massive Tool Set
Every Dad needs his tools and the importance of them is heightened when you're living or traveling in an RV.
You never quite know what fixes you're going to have to make to your rig (or help someone else with while traveling).
And we all know how much Dads like to lend a helping hand, even if it's not always requested!
So the final RV gift for Dads on our list is a massive toolset! Everything in this particular 148-piece set is chrome plated and heat-treated for maximum corrosion resistance.
And it's all housed in a compact, blow-molded case that measures just 14.61" x 9.06" x 2.76" (length x width x depth) for easy storage underneath your RV.
---
Unique RV Gift Ideas For Campers Who Have Everything
If you know any RVers that have been doing it for a while, it might be harder for you to come up with unique RV gift ideas for campers who have everything.
But we've done a deep dive to bring you some less-obvious RV gift ideas that are guaranteed to surprise even the most experienced RVer.
1. Sand Tracks Recovery Boards
For those campers that seem to have everything, you might still be able to come up with a gift that helps them get out of a sticky situation.
Even if they already have everything that they like to recreate in their RV, those items will be rendered useless if their RV itself gets stuck unexpectedly.
If you know anyone that loves off-grid RVing, Sand Tracks Recovery Boards are an excellent unique RV gift idea.
These ORCISH Recovery Boards are designed to sink their teeth into the tread on your RV's tires. By doing so, they will prevent your rig from slipping back into mud, sand, or snow.
They are made of fiber-reinforced nylon and they also have a built-in shovel on each end.
2. Solar Tiki Torches
Everyone can set up an outdoor living space outside of their RV. But not everyone can truly give that living space the same ambience that you'll find in the backyards of the rich and famous.
Well, we have news for you: tiki torches aren't reserved for only the nicest of suburban homes.
And we also have more good news. Not all tiki torches run on liquid propane or unleaded gasoline.
Tiki torches that use those fuels are unreasonable for RVing because you'll end up wasting so much fuel.
But Solar Tiki Torches harness the power of the sun to help you create a tropical ambiance outside of your RV in the evenings, which is why they're a unique RV gift idea for campers who have everything else already!
3. Stemless RV-Themed Wine Glasses
Carrying traditional stemmed wine glasses in your RV is just asking for a disaster. And most RVers should know that glassware is generally to be avoided altogether when it comes to all RV kitchenware.
We recognize, however, that drinking wine out of glass just feels more appropriate than drinking out of plastic.
And if you're going to keep any kind of wine glasses in your RV, going stemless is a must. And then, why not choose wine glasses that have some sort of RV-related theme.
This particular 17-ounce glass has the clever saying 'RV Having Fun Yet?' on it. The text on it is engraved so that it will never wear off and it's dishwasher-safe so that you can run it through when you get home!
4. Portable Ice Maker For RV
If you're looking for a gift for an RVer that doesn't have an ice maker built into their fridge, a portable ice maker is a great unique gift idea.
Not all RVs have the extra space for this kind of appliances, but it doesn't have to find a permanent home if you can simply strap it into an area that you don't use while you're driving.
This particular ice maker requires a 110 or 120-volt AC power connection. Once it's powered up, it's capable of producing up to 26 pounds of ice in 24 hours.
But its first ice cubes will be ready in just six minutes and it has a two-liter water reservoir that you simply need to fill before plugging it in and letting it make ice for you!
5. 'Sorry For What I Said While Parking The RV' Coffee Mug
Anyone that has ever driven an RV or, more importantly, tried to park one in a less-than-ideal campsite knows that it's not always a cake walk.
Sometimes our finer sides don't always maintain their pretty facade when we're trying to navigate our RV perfectly into a site that we're hoping to occupy for the next few days.
I've personally been witness to quite a few passionate arguments while trying to park an RV.
For the most part, they've all been peacefully resolved once the engine is turned off and everyone takes a deep breath.
But this mug is a great unique RV gift idea for campers who have everything because anyone who has driven or ridden in an RV can relate to its message!
6. Camping Chair Food And Drink Tray
Most folks already have camping chairs under their RV. And that's especially true for the campers in your life that already have everything.
But if you want to impress them and add a super practical item to their arsenal, a food and drink tray that attaches directly to their camping chairs is a great unique gift idea.
These particular food and drink trays are made by Camco, an extremely well-trusted brand in RV accessories.
They're made to attach to zero-gravity chairs. And if you don't already have some of those, you might want to check out our RV gift ideas for Dads.
Oh, and these trays even include drainage holes so you don't have to worry about spills accumulating!
7. Electric Heated Blanket
Winter RVing isn't always the easiest endeavor. Cold overnight temperatures can make it very uncomfortable to live in a dwelling that isn't always the most insulated option around.
That being said, many full-time RVers invest in furnaces and heaters to keep their rigs warm.
But not everyone thinks about the value of an electric heated blanket. Of course, you'll need a reliable power connection to use one, but it's a great way to warm up your bed before you get into it.
So this unique RV gift idea for campers who have everything is all about sleeping more comfortably.
And there's no better way to ensure your bed is always warm while also saving some money on your propane bill.
8. Wireless Weather Station
Most of us tend to plan our days around the weather. When we're at home, we have access to all the latest and greatest weather apps and news reports that we could imagine.
But most RVers experience the exact opposite because service can sometimes be hard to come by when you're camping.
Because we all have smartphones in our pockets these days, even those campers who have everything probably don't have a wireless weather station.
This particular model gives you indoor and outdoor temperatures, as well as a variety of additional useful weather information, such as humidity level, heat index, and dew point.
9. Outdoor Projector Light
Ok, this one is so unique that you might even find yourself asking, is this really necessary?
But, from personal experience, the folks that drive by your RV are going to be jealous that they didn't think of this unique RV gift idea before you did.
This outdoor projector light is built for the coldest months of the year. You could spend a bunch of time stringing lights onto your RV, or you could just purchase this rotating projector light.
It has a bunch of different green-and-red color patterns to choose from and it comes with its own stake to place it firmly in the ground outside of your RV.
10. HitchSafe Key Vault
I've been living and traveling in RVs for a long time, but I've quite possibly never seen a gift idea more unique than this one.
When you need to leave your RV to float the river, bike down your favorite mountain trail, or do anything else that you don't necessarily want to bring your keys with you for, this gift idea will come in handy.
As long as you don't have a bike rack or anything else in the hitch mount on the back of your rig, you can install this HitchSafe Key Vault with ease.
It requires a four-digit lock code and it doesn't require any tools to install. It fits in standard two-inch hitch receivers and is made of high-impact aluminum to guarantee the security of your small, but very important, valuables.
Conclusion
The best gift ideas are the ones that truly come from listening closely to the needs of the person you're giving that gift too.
But we do hope that you've found some inspiration from this comprehensive list of gifts for RV owners!