With a fascinating history that dates back over 100 years, tons of oceanic wildlife, and one of the most unique shorelines on the planet, Glass Beach in California has a lot to offer visitors.
Whether you're going to hunt along it's multi-colored sand for beautiful pieces of sea glass, or explore it's surrounding biosphere, there's something for everyone.
Want to stay overnight? RV camping near Glass Beach is a great way to immerse yourself in this beautiful landscape, as the RV parks and campgrounds will put you only a few miles away from Glass Beach.
And that's not all. In this ultimate guide, we'll tell you how you can see this unique beach, along with things to do nearby, best campgrounds, beach regulations, and more!
If you're planning a visit this epic California's glass beach, I hope this guide will serve as a helpful resource for you.
How Was Glass Beach Created?
As with any unique place on this planet, Glass Beach has it's mythical creation story. However, there's also an empirical, scientific explanation for it's uniqueness.
We like the myth and the reality so we'll let you be the tie-breaker: Which creation story do you prefer?
The Myth Of Fort Bragg's Sea Glass Beach
The old legend begins with a mermaid watching a sailor from afar. Soon she falls madly in love with him.
This infatuation drives her to follow him wherever he goes, and tame the stormy seas to protect him—awww.
Eventually, Neptune discovers her forbidden love. He's furious. So, he banishes her to the depths of the ocean.
Without her there to tame the ocean, her sailor boyfriend is killed by a vicious storm.
Broken-hearted the mermaid cries endlessly on the sea floor. Her tears wash up on Glass Beach in the form of sea glass, giving the shore it's unique appearance.
As much as we'd all love this to be the real story, it's not. The true story is much more mundane. In fact, it's even a little sad.
The Reality
In truth, and to put it simply, Glass Beach is a result of severe pollution. From 1906 to 1967 the beaches outside of Fort Bragg were used as dump sites.
Residents of the area discarded their refuse, including glass bottles and even vehicles, onto the sandy shores adjacent to MacKerricher State Park.
At last, in 1967, dumping was prohibited on the beaches. The residents were horrified at the trash left-over.
To amend this pollution, they embarked on a massive clean-up project.
Over the years that followed, large and non-biodegradable items were removed until only broken glass and bio-degradable items remained.
In the intervening decades the ocean water beat that glass into smooth multi-colored pebbles.
Today, Glass Beach in California looks nothing like a dump site, instead, it stands as one of the most unique and beautiful beaches in the state. Talk about, Extreme Beach Makeover.
Is It Beach Glass Or Sea Glass?
Sea Glass, sometimes called Beach Glass, refers to the weathered glass found along the shores of large bodies of water.
This includes oceans, seas, rivers, lakes, etc. The glass varies in color, but can most often be found in white, green, and shades of brown.
All of these colors result from different types of artificial glass dumped along the shore, or in the water.
Over time the water molds the glass into beautiful shapes, and even accentuates the original patterns in the material.
They're miniature works of art. The more you hunt around the beach, the more you'll find interesting examples of sea glass.
The Different Sea Glass Colors
Knowing the colors of Sea Glass can help you determine their origin. This is pretty cool because knowing the origin of the color can help give you a glimpse into the past.
Here's a brief guide on the different sources of glass for the various colors:
Common Sea Glass Colors
Clear White
This is the most common type of sea glass. That's probably due to the fact that it's the most common type of glass in general.
Brown
This color is almost as common as clear white. It comes mostly from beer bottles, or possibly from old Clorox or Lysol bottles from the 50s.
Green
This is the least common of the common colors. Green sea glass originates from wine bottles, beer bottles, and old soda bottles like Sprite.
Certain lighter or darker shades of green might actually be quite rare. Refer to this link if you want discern if you've found a rare piece of green sea glass.
Uncommon Sea Glass Colors
Red
The most common source for this color of glass is any product made by Anchor Hocking Glass Company.
They made decorative items and Schlitz Beer bottles in the 1950s.
Apparently, they used gold to make red hued glass back in the day, but Anchor Hocking figured out a way to do it with copper. Despite this innovation, red sea glass is still quite rare.
Orange
This sea glass derives from decorative glass, and old warning lights. Only 1 in every 20,000 pieces of sea glass are colored orange. That means if you find one it's pretty special.
Turquoise
Discarded seltzer bottles and decorative glass wares become teal or turquoise sea glass.
The seltzer bottles originated from a company in New York. Some insulators on electric poles were made from this color of glass as well.
Opaque White
Any opaque sea glass is pretty rare. If you find opaque white it likely originates from a company named Fire King.
They made household items in the mid-1900s. You can tell sea glass is opaque when light will not shine through it clearly.
For more information on Sea Glass colors check out this website, called By The Sea Jewelry.
Can You Take Glass From Glass Beach California?
In short—no. It's illegal to take glass from the Glass Beach. This law is in place to preserve the beach for future generations. Once you see the sea glass, it'll be tempting to take some, but please resist the temptation.
Glass Beach used to have a much larger quantity of sea glass. Over the years people have taken pieces of it with them, and it's resulted in a far less colorful shore. Help preserve this unique beach. Take a picture, leave the sea glass.
Basic Information About Visiting Glass Beach
Cost: FREE
Distance from parking lot: An easy .25 mile walk to the beach
Best time to visit:
Go during the week to avoid crowds. Or on Saturday and Sunday you can visit at sunrise to avoid the weekend rush.
Visit during low-tide when the water recedes from the shore. The lower ocean levels reveal more sea glass than high-tide times.
Directions: From Highway 1 turn West on Elm St, on the north side of Fort Bragg.
Then drive to the intersection at Glass Beach Road, and follow the signs to the new parking lot that was developed in 2017.
After that, follow the trailhead signs on foot until you reach the beach.
Location: Glass Beach on Google Maps
Still Want More Information On Sea Glass?
Visit the International Sea Glass Museum in Mendocino!
This small museum packs a big punch. You can learn about the history of Glass Beach in deeper detail, and browse their impressive sea glass collection.
The museum contains over 3000 exhibits, the largest sea glass collection in the world!
Cost: FREE
Pets Allowed: Only service animals
Hours: 10:00AM – 5:00PM Daily
For more information visit International Sea Glass Museum website.
Where To RV Camp Near Glass Beach?
Honestly, you should stay in this area for a couple of days. There's enough to see, and you can slow your pace down to match the beach vibe of the locals.
We searched the area for the RV parks and campgrounds with the best amenities, the most interesting location, and the closest proximity to Glass Beach.
Based on those criteria these are our top two choices:
1. Dolphin Isle Marina And RV Park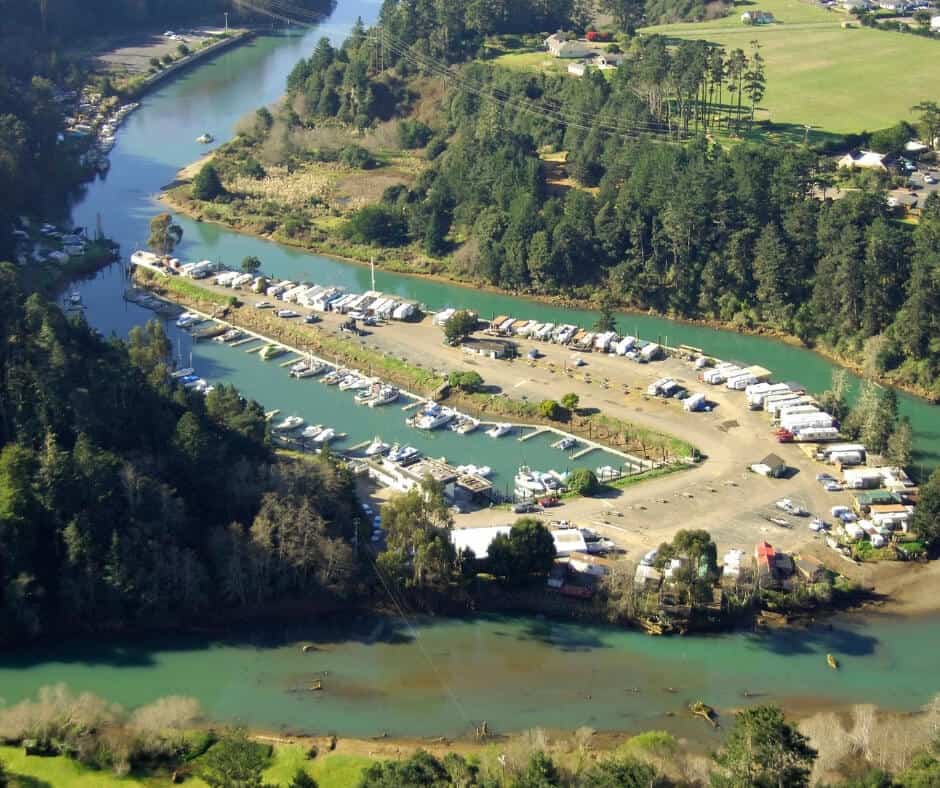 Why We Love It?
This spot is right next to the Noyo River. Thus, many water sports are within walking distance. You can rent a kayak from Liquid Fusion and paddle around the river.
You'll see sea lions, otters, and some of the other abundant wildlife in the area. Physical activity not your thing?
That's okay! Rent a boat from the marina and go for a cruise, or try your hand at fishing.
This RV park puts you smack dab in the middle of Mendocino so you can experience the city's unique shopping, delicious food, and friendly local community.
Distance from Glass Beach Parking Lot:
3.9 miles, or 11 minutes driving
Basic Amenities:
45′ Max Length
Wi-Fi: Yes
Propane: No
Number of RV Sites: 85
Full Hookups: Yes
30/50 Amp: 30 amp
Back-In/Pull-Through Sites: Both
Pool/Hot Tub: None
Showers/Laundry: Both
Pets Allowed: Yes
Cell Reception: Yes
Rates: Check website for seasonal rates.
Location: 32399 Basin St, Fort Bragg, CA 95437
How to make a reservation?
Call (707) 964-4113 from 9am to 5pm
2. Surfwood Campground – MacKerricher State Park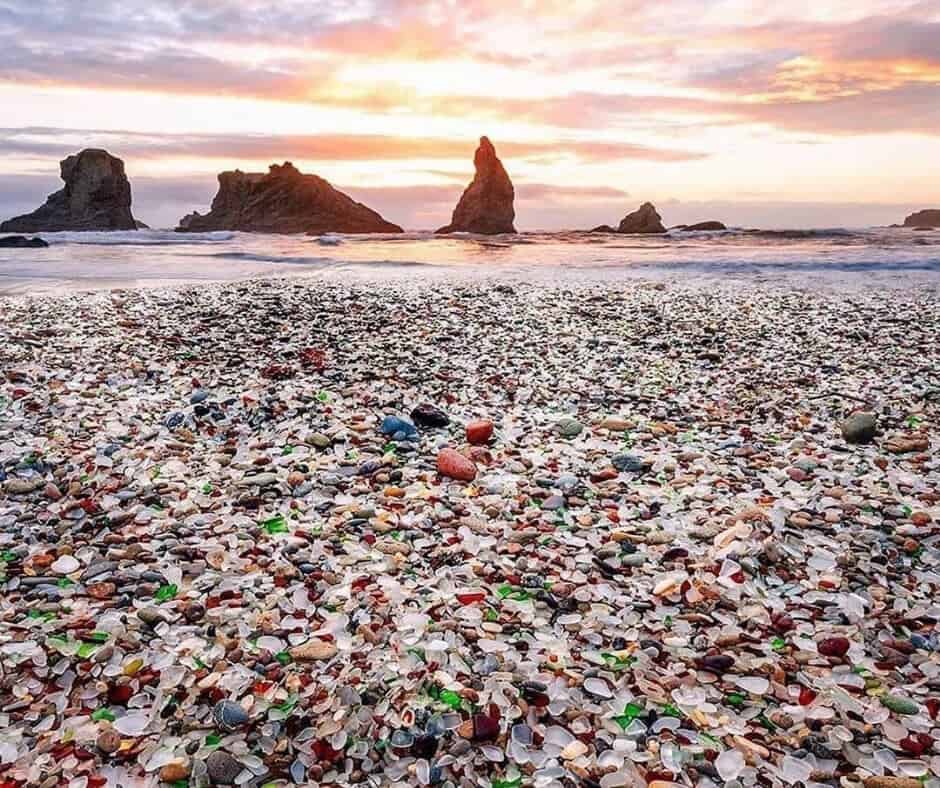 Why We Love It?
Nature-lovers and beach bums will love this spot. It's within walking distance of the ocean, and the shore line features a number of tide pools, teeming with wildlife.
You'll find lazy seals sunbathing, over 90 bird species, and even a lookout for whale watching.
It's a quiet and peaceful place to RV camp outside the noisier Fort Bragg. If you love biking, running, hiking, or just relaxing, this is the spot for you.
Distance from Glass Beach Parking Lot:
3.9 miles, or 11 minutes driving
Basic Amenities:
35′ Max Length
Wi-Fi: Yes
Propane: No
Number of RV Sites: 85
Full Hookups: None
30/50 Amp: N/A
Back-In/Pull-Through Sites: Both
Pool/Hot Tub: None
Showers/Laundry: Showers
Pets Allowed: Yes
Cell Reception: Yes
Rates: Check website for seasonal rates.
Location: 24100 Mackerricher Park Rd, Fort Bragg, CA 95437
How to make a reservation?
Visit HERE to make an online reservation.
Top 3 Things To Do Near Glass Beach, Fort Bragg
Done exploring Glass Beach? Before you jump back in your RV you should check out some of the other nearby attractions.
We searched for the 3 top sights in Fort Bragg based on Google user ratings. Here they are from highest to lowest rating:
1. The MacKerricher State Park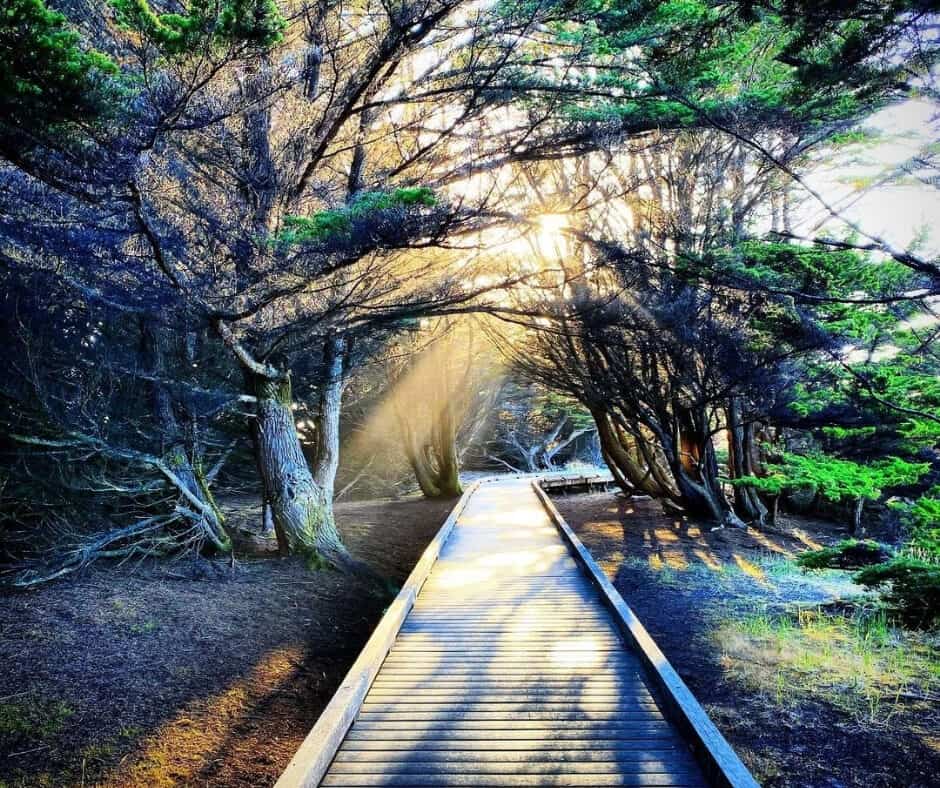 The mixture of habitats at this state park gives the landscape an otherworldly appearance. They include dunes, tide pools, forests, and wetlands.
Seals and whales can be spotted off-shore with a careful eye. Visitors can also see 90 species of birds near Cleone Lake.
The park is popular for hiking, jogging, bicycling, and horseback riding. It also possesses a wheelchair accessible nature trail. WARNING: RV maximum length – 35ft.
Cost: Day use fee – FREE
Pets Allowed: Yes. Allowed in most of the park, but must be on a leash. Keep an eye out for signs that prohibit pets in certain areas.
Location: The MacKerricher State Park
For more information visit The MacKerricher State Park website.
2. Mendocino Coast Botanical Gardens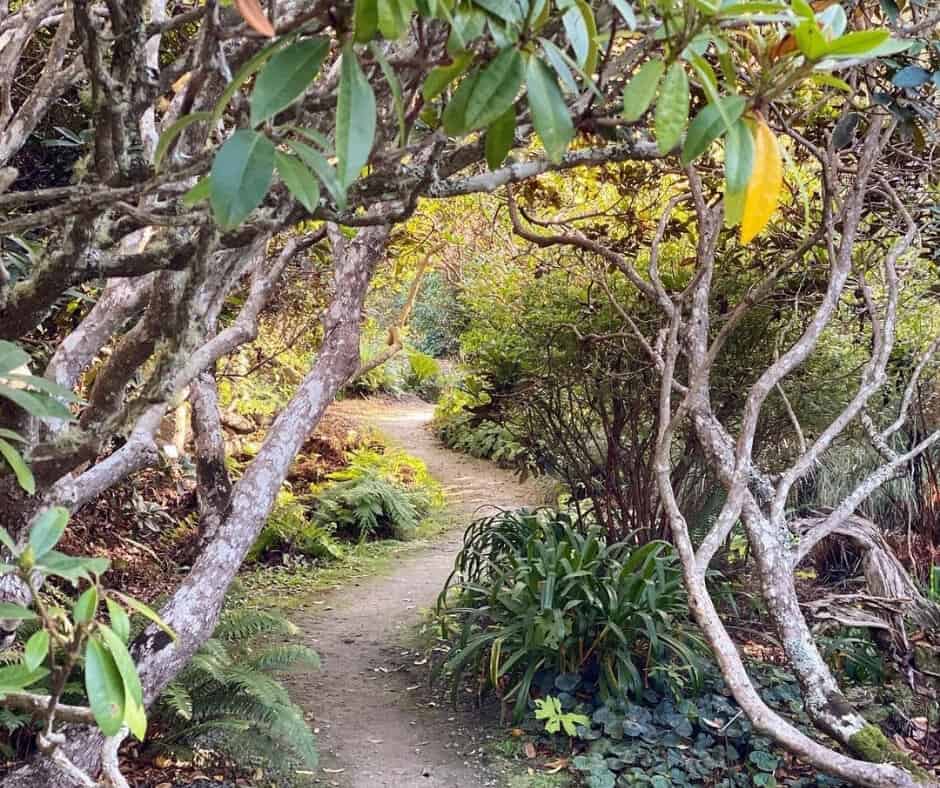 This beautiful botanical garden offers colorful displays, and the pounding waves of the ocean in one package.
The California coast weather makes this a garden for all seasons. Gardeners and nature lovers flock to it for it's manicured gardens, dense coastal pine forest, native plants and animals, and coastal bluffs blanketed in flowers.
The botanical garden is a true jewel of the Pacific Coast. Best part? By visiting you help support this non-profit botanical garden and its ultimate mission.
Cost: FREE for Members of the Gardens; $15.00 General admission (15 and older) ; $12.00 Seniors (65 and older); $8.00 Juniors (aged 6 to 14); FREE Children (aged 5 and under)
Pets Allowed: Yes. Friendly pets allowed on 6ft leashes.
Hours: 10:00AM – 5:00PM Daily
Location: 18220 CA-1, Fort Bragg, CA 95437
For more information visit the Mendocino Coast's Botanical Garden website.
3. Skunk Train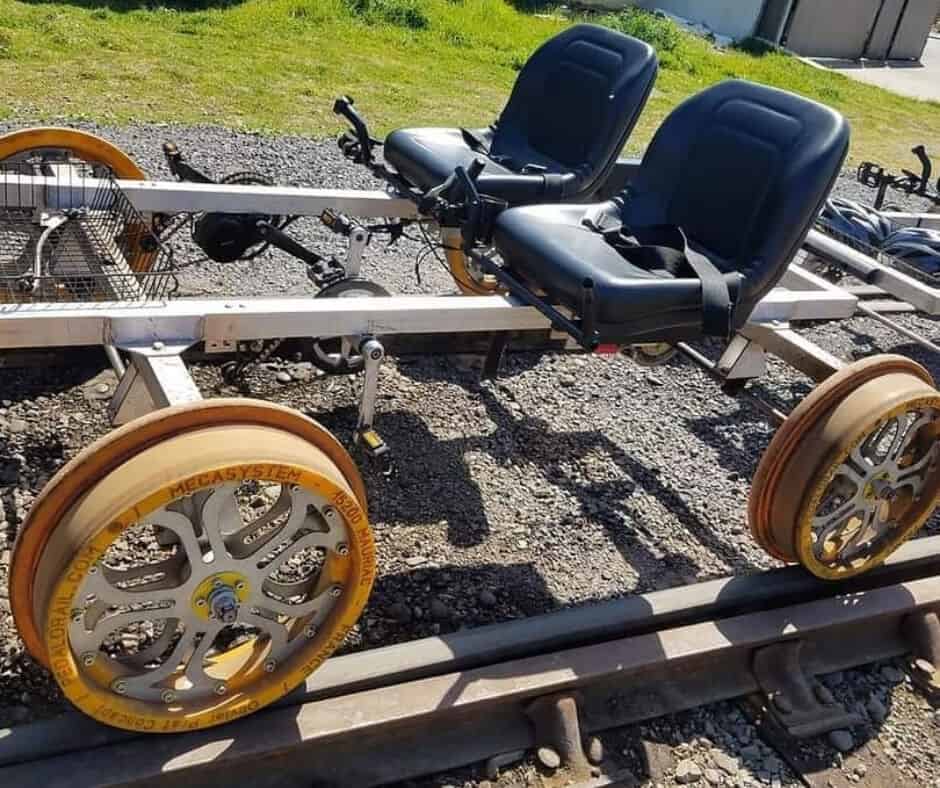 Be transported back in time on this magical train ride through the redwoods.
The Skunk Train has slugged it's way through old-growth forests, impressive tunnels, and over scenic bridges since1885.
It will take riders through the heart of Noyo River Canyon. It's a great addition to your Glass Beach itinerary.
Cost: Rates vary. Check the website for details.
Pets Allowed: From the Skunk Train website: "Dogs are the only pets permitted on board. We do ask that you be considerate of your dog though – they simply may not like trains. Please bring whatever they need to be comfortable (food, water, dishes, a leash, etc.). Dogs are $10.95 and reservations are suggested"
Hours: Everyday; times vary by experience options
Location: 18220 CA-1, Fort Bragg, CA 95437
For more information visit the Skunk Train website.
Now you know: Glass Beach in California is a MUST-SEE! Have you ever visited this unique sight? Tell us about it by commenting below.