Are you tired of your bottom getting cold while you are sitting around the campfire?
You can always put a blanket over your legs, but the heat from even the warmest of fires will rarely reach your backside. Heated camping chairs are the perfect solution for instant cool relief or soothing warmth.
Surprisingly, heated camp chairs are actually more affordable than some of the best luxury camping recliners out there.
So why not invest in a heated folding chair that helps you stay warm and relaxed while gazing up at the night sky?
Even if you are a seasoned RVer, heated camping chairs are relatively new to the market.
So let's talk a little bit more about what the heck these chairs are and how they work before reviewing a few cool models!
What Is A Heated Camping Chair?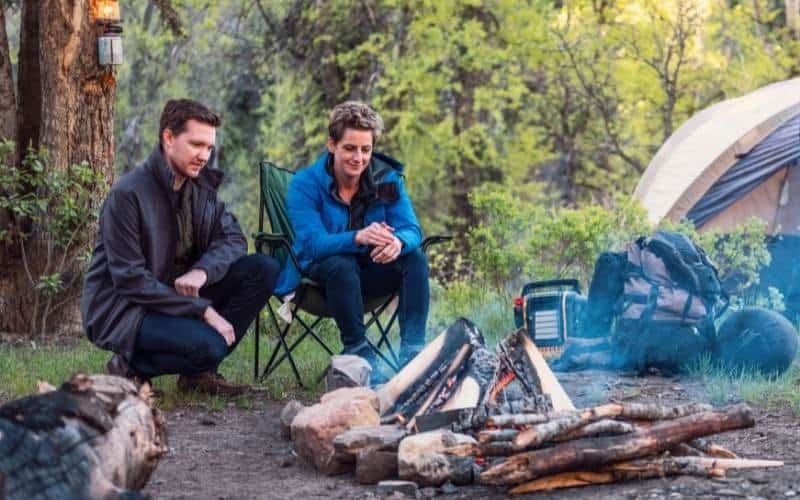 A heated camping chair is an outdoor camping chair with a warmer cushion built into the seat.
Think of it as a traditional camping chair, but with a heating pad built into the seat. Temperatures will vary by model, but some will heat up to about 110 degrees Fahrenheit.
How Heated Camping Chairs Work
Heated camp chairs require the use of a rechargeable battery to power electric heating coils embedded in the seat cushion.
While not all models come with a portable battery, they are compatible with just about any battery out there.
Once you have your battery plugged in via the chair's USB port, all you need to do is turn it on and sit down while it heats up underneath you.
Depending on the specific chair you choose, it should run effectively for anywhere from 45 minutes up to about three hours when your battery is fully charged.
Who Should Consider A Heated Camping Chair?
The first people I thought of when I first heard about these chairs were stargazers. How else do you stay warm as you are waiting for a meteor shower in a campground with a fire ban?
Seriously, though, with so many places (ahem, California) having to institute intense restrictions on personal campfires, heated camping chairs will give you a way to comfortably stay outside once temperatures begin to drop.
At the other end of the day, you should consider a heated camping chair if you like to enjoy your cup of morning tea or coffee outside.
A heated folding camp chair will allow you to enjoy outdoor mornings when it is a bit too chilly outside to sit comfortably in a normal camping chair for any length of time.
Best Heated Camping Chairs To Buy
Being a newer piece of camping innovation, there really aren't that many heated camping chairs on the market.
We have, however, found three nice options and reviewed their form, function, and feasibility for various types of camping environments.
Hope you enjoy it!
1: POP Designs B087832GWZ Heated Portable Chair
The Hot Seat from POP Designs works with any standard USB battery (but doesn't come with one).
It can heat up to about 110 degrees Fahrenheit (~43 degrees Celsius) and features essentially the same design as any folding camping chair.
That allows you to use it just like a regular camping chair if temperatures don't require the heating pad to be plugged in.
When you do need it, however, there's a small side pocket that will hold your power bank.
The seat has high, medium, and low settings so you don't have to burn your bottom with that 110-degree temperature if you don't quite need it.
The On-Off button is also easily accessible on the outside of the storage pocket for the battery bank.
If you really love that ability to recline in your old camping chair, The Hot Seat also meets those needs. Simply lift up on the extra-large armrests and slide back until you reach your preferred position.
In terms of design and construction, The Hot Seat uses an X-frame design with half-inch reinforced, powder-coated tubing to provide plenty of strength and durability.
Those combined features give this chair a maximum weight capacity of 300 pounds.
The material used for this seat is also polyester and water-resistant just in case you forget to bring these chairs in before a rainstorm.
If you always feel like you do not have a place for all your items in your current camping chair, the makers of The Hot Seat seem to have experienced that problem as well.
To that end, they included a mesh beverage holder pocket and an ergonomic phone and key pocket on the side of the chair.
On the front of the chair, there is an additional front pocket with a single divider for items like sunglasses and snacks.
This chair's storage ability does not end there, though. There is an additional seatback pocket for storing larger items as well.
With all of those features, The Hot Seat heated camping chair still weighs just 11 pounds and comes with its own extra-large travel bag so it is not a struggle to get it back into the bag after each use.
At the end of the day, it also means a lot to me that POP Design covers The Hot Seat with a two-year warranty!
Best Features
2: POP Designs B08ZJPWVB1 Original Heated Stadium Bleacher Seat
POP Design's Original Hot Seat was actually a bleacher seat for keeping your bottom warm when watching your favorite team dominate that outdoor snow game.
That said, it is a good option for setting up at the picnic table in your RV campground as well.
The seat is available as a single or in a two-pack so that you and your RV partner don't have to fight over it.
The exterior material on the seat is 600-denier polyester that provides decent weather protection if it happens to see a little rain.
Just like the newer Hot Seat, it can be powered with any portable power bank and includes a small pocket on the right arm where the USB cord is located.
The Original Hot Seat warms up even more than the newer Hot Seat and gets up to 115 degrees Fahrenheit (~46 degrees Celsius).
It also includes three heat settings and features easy push-button operation with the power button on the front of the right armrest.
While you might expect this seat to have less storage than the newer Hot Seat version, it actually compares quite well.
There are three smaller pockets that offer quick access and one larger pocket for oversized items. There is also a hidden cup holder to keep your favorite beverage secure.
In terms of dimensions, The Original Hot Seat is 20 inches wide with the armrests down and 16 inches wide with them raised up.
The back is also approximately 20 inches high and can be reclined to six different positions depending on your preference.
The runtime for this heated camping chair will depend on the size of the portable power bank you use with it. Here's a quick table for comparison's sake:
| | |
| --- | --- |
| Power Bank Size (in milliamp-hours; mAh) | Approximate Runtime (in hours) |
| | |
| | |
| | |
| | |
| | |
| | |
Just like the framed Hot Seat version, The Original Hot Seat is backed by POP Design's two-year warranty.
Best Features
3: Chaheati Maxx CH111CB Heated camping Chair
If you are looking for an all-inclusive heated folding chair option, check out the Chaheati Maxx Heated Chair.
This chair looks just like a traditional portable camp chair, but it comes with an 11.1-volt lithium rechargeable battery and its charger.
This is an oversized camping chair that is made from 100% nylon material. The button to operate the heating controls is on the edge of the chair just about the side pocket that holds the battery.
That battery also includes a USB port that provides the ability to recharge your phone while you are also heating your backside.
Speaking of heat, there are four temperature settings on this four-season camping chair so you can adjust according to the outside temperature.
The seat cushion on this chair incorporates woven heating technology instead of traditional heating coils. The weight limit on the chair is approximately 280 pounds and the battery is rated to last about two hours when you are running the chair on its highest setting.
In terms of specifications, the chair is about 39 inches tall when fully expanded and it weighs just under 11 pounds.
It also features cup holders on both arms and a mossy oak color to help you blend in at the campground.
Just like your traditional camping chair, this heated chair also comes with its own dedicated carrying bag.
Best Features
Where To Get A Battery For A Heated Camping Chair
The good news is that Amazon will specifically suggest battery models that are compatible with whichever heated camping chair you are interested in.
All you have to do is scroll down to their 'Frequently Bought Together' section for some suggestions.
That being said, the power banks they suggest are essentially the same kind that you would use to recharge your smartphone or other small electronics when boondocking or dry camping.
Goal Zero and Anker are two reputable brands that we would recommend. But you will also need to consider the power bank size that makes the most sense for you.
What Battery Size Do I Need For A Heated Camping Chair?
While compatibility is not an issue with these heated camping chairs, you will need to choose a battery that will allow you to run your chair for your preferred amount of time.
At the absolute minimum, you will need a battery bank rated at 2,500 mAh (milliamp-hours).
That will really only allow you to run your heated camping chair for about an hour before you need to recharge it.
At the opposite end of the spectrum, a 20,000 mAh power bank will run these chairs for up to 7.5 hours. But there are a couple of problems with a battery bank that large.
For starters, they are pretty expensive. From a practical standpoint, they will likely not fit in the storage pocket that is built into the chair.
To suggest a happy medium, we would recommend getting a power bank rated for something between 5,000 and 10,000 mAh.
This will allow you to run your chair for anywhere from two to four hours, depending on your setting choices.
In this size range, we would stand by the Goal Zero Flip 24 Power Bank if you are looking for something at the lower end of that range or the Anker PowerCore Slim 10000 PD if you are looking for something at the higher end of the scale.
Conclusion
At first glance, I get that these chairs might appear to be a serious "luxury" camping amenity.
But when you consider that some of the higher-end camping recliners are much more expensive than these heated camping chairs, they seem a little less crazy.