Honda has spent decades building its global reputation for reliability in all the vehicles they produce.
The Honda Element is one of their newer offerings in the crossover SUV market. Interestingly enough, it has boxy chassis that is somewhat reminiscent of a minivan.
With a feisty blend of practical headroom, storage space, reliability, and a great mile-per gallon rating, it has inspired a lot of people to convert it into a camper in a lot of creative ways.
Add to this the fact that some trim levels of the Honda element even have all-wheel drive, which can get you out of a jam if you like to camp off the grid or at primitive campsites.
To help get you inspired, we decided to scour the internet for some of the best DIY Honda Element conversions and some crafty kits to and turn Honda Element into a camper.
Each of the following examples showcases ingenuity, creativity, or making the most out of the technology they had available to create campers that can be lived in everyday, or simply taken out on weekend adventures.
How Much Does It Cost to Convert Honda Element to a Camper?
If you are going to buy a conversion kit for your Honda Element, it can cost you as much as $1,500 to $2,000 or more.
If you are planning to take a do-it-yourself approach, then the costs come down.
A relatively minimalist Honda Element camper conversion might be as cheap as $250.
Though you could easily drive the price up to more than $1,000 when you start adding in things like power stations and refrigerator/freezer appliances.
Why Choose Honda Element for Camper Conversion
There's a lot to love about the Honda Element that has helped cultivate a nearly cult following. To the point that Honda is even bringing the element back!
6 Gorgeous Honda Element Camper Conversions for Van Life Inspiration
We scoured through droves of internet videos, blog posts, and articles to find you some of the best examples of what a Honda element can do.
Then we broke them down to help get your creative juices flowing or help you pick and choose which camper conversion "Elements" are best for your Honda Element.
Take a look at these stunning DIY Honda Element camper conversions we found and get inspired.
1. Nate from Element Van Life
Nate from Element Van Life has been living in his Honda Element camper conversion since the sprig of 2016.
This has given him ample time and experience to work out the bugs in his design to update it with some practical real-world features.
Nate's exterior enhancements are minimal. Though the addition of an OEM roof rack gives him a place to keep his outdoor equipment.
In a pinch, this type of roof cargo rack can also be used to secure storage pods, which can come in handy for longer camping trips.
Yet it's also sturdy enough to hold a small kayak or even an additional bike rack.
Nate's most recent update adds a 100 Watt rigid solar panel which is connected to his internal "House Battery" system.
It's a great way to keep some added power available inside, without having to tap directly into the Honda Element's battery or alternator.
On the interior, he has a wall of custom cabinets built into the rear driver's sidewall.
They are versatile enough to hold hanging clothes for times when he is in town or stow a sleeping bag and other camping items when he is answering the call of the great outdoors.
It can also be purposed as a food storage pantry for non-perishable items.
He then uses a Dometic CF18 12-volt camping fridge to keep his perishable items. It's powered by the same roof solar panel and AMG storage batteries.
2. Travel Curiosities Honda Element Camper Conversion
Travel Curiosities is largely based in the beautiful vistas of Colorado. With everything the Rocky Mountains have to offer, it's no wonder why she would embrace the 2006 Honda Element as a conversion camper capable of living life at altitude.
The functional build of this Honda Element camper conversion starts with a pair of long, sturdy wooden storage boxes in the back.
The lids can be lifted up to access the storage compartment. A center panel sits between them to create a sort of storage corridor underneath for sundry items, while the top serves as a platform for a camping pad or air mattress.
The use of wooden storage boxes like this gives Travel Curiosities Honda Element conversion a modular versatility.
Boxes can be added or taken away based on the storage needs for each trip.
3. A Honda Element Micro Camper Named Encelia
This BOHO build uses a low loft bed to maximize the headroom. Yet it can still double as a Japanese-style sitting area for the kitchen and table setting.
It's also hinged to let you lift it up for storage or spare tire access. Any type of camping pad or air mattress can then be added to further transform the rear loft into a comfortable bed.
One of the things that stands out about this Encelia build is that it has functional plumbing in the form of a single-basin enamel-coated bowl like you would use in a large kitchen mixer.
Water is pumped to the sink fixture via a hand crank, which doesn't have the excessive power consumption needs of a 12-volt electric water pump.
This also encourages mindful, conservative water usage. The bowl can then be easily tossed out without having to go through all the complicated plumbing and drain features of installing a gray water system. Though it's wise to stick to ecologically friendly soaps.
Just like earlier builds, the Encelia Honda Element camper conversion has a roof-top mounted 100 Watt solar system.
Current produced by the panel is then stored in a Jackery power station. It helps power a Dometic freezer to help keep perishable items safely cold.
4. Phil & Vanessa's Honda Element VanLife
Phil & Vanessa live in their Honda Element full time. Like a lot of people who live in their DIY camper conversions, the day-in-day-out practicality of features gets truly tested in the real world. This has helped them refine what they use and how they use it.
One of the biggest challenges with any compact camper conversion is coming up with a functional kitchen space.
Phil & Vanessa take this challenge head-on as if drawing inspiration from a lot of successful teardrop campers that have a rear kitchen hatch.
Except they reimagine their kitchen with the pop-down tailgate of their Honda Element.
It has a traditional two-burner propane camp stove with a side platform for a cutting board.
Since it's on an elevated platform, it lets them reach under to pull out storage bins with pots, pans, and cooking utensils.
The other side of the rear storage area has a 7-gallon "Aquatainer" to hold fresh water as well as a cooler to hold perishable items.
They power their interior 12-volt lights from a rechargeable Goal Zero Yeti 150 power station.
This lets them make the most out of their efficient interior LED lights as well as power their essential devices.
5. Amy's Micro Camper Conversion
There's a modular component to Amy's Honda Element camper conversion in that you can easily remove the majority of the components to turn it back into an everyday Honda Element.
Not is this handy for using it as a simple daily driver, but it could come in handy if you ever come to the point where you want to sell your element, and don't want any permanent modifications affecting the resale value.
Like a lot of Honda Element conversion's Amy starts out with a sleeping and seating platform along the passenger side of the rear cargo bay.
Though her platform is lower than most, which caters to it being used as a seating area. It also make it easier for her to use a laptop when working from the road.
The sleeping platform has two pull-out sections that let it transform from day time seating to a night time bed frame. Then she places a 4-inch memory foam mattress to create a custom bed mat.
Sticking with the modular intent, she connected the desk, the cabinets and the bed frame in place with turnbuckles that are connected to the cargo tie down hard points.
This might not seem like a big deal, but the turnbuckles allow you to tighten cordage to not only hold things in place, but prevent a lot of the rattles that can happen in a DIY camper conversion.
One of the really creative things that Amy did with this Honda Element camper conversion is to repurpose the moon roof.
She essentially created a wooden jig that locks into the moonroof's frame. Then an i-Pad or similar tablet device can be secured into it. This gives her a virtual TV to watch when laying in bed at night.
6. Honda Element AWD Camper Build
This Honda Element camper conversion is based off a 2003 all-wheel-drive model that taps into the Element's ability to go off road.
Taking it to the next level he adds a state-of-the-art solar panel system that also powers a compression refrigerator that can cool down to near zero degrees.
This gives you the ability to freeze things in the small capacity chamber. You can then use a cooler for your daily items.
This is possible thanks to a high capacity battery power station that can be charged at the start of a trip, and maintained by the solar panel system.
The power system also runs to some inexpensive, energy efficient LED lights.
The power system includes an inverter to help power the fridge/freezer, while also having a series of cooling fans.
This helps prevent battery damage due to overheating, while also serving as a brain to store the power from the 100 watt solar panel.
The cooling fans are also important, because the battery he uses is a 10D lead-acid battery, like you would find in a farm tractor.
It has a 240 Amp-Hour capacity. Though like all lead acid batteries, heat buildup can cause serious problems.
The big benefit of going with a lead-acid battery over lithium-ion is that you can get this 10D battery for around $100 to $150.
Where as the same capacity lithium-ion battery might cost you as much as $750 to as much as $1,500.
2 Best Conversion Kits To Convert a Honda Element Into a Camper
Camper conversions have been a top topic for decades. With a lot of aftermarket manufacturers selling versatile systems.
Some are compact, lightweight, and affordable enough to work for the Honda Element. Though the one that is right for you might vary depending on your mechanical skills.
Here are the two best Honda Element camper conversion kits we could find on the market.
1. The Freeway Camper Kit for the Honda Element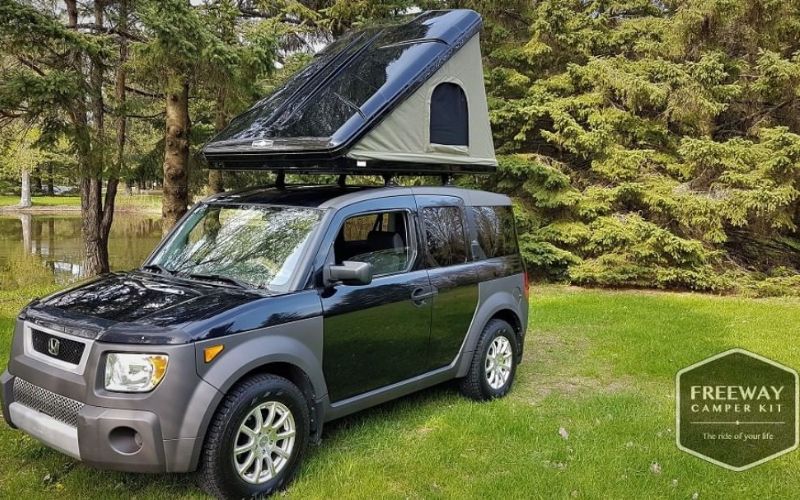 Freeway camper kit really rolled up their sleeves and sharpened their pencils coming up with a multi-tier camper conversion kit that is specifically designed to be compatible with pre-owned Honda Element models.
One of the great things about it is the way it creates a tent camper or expandable storage area above the Honda Element.
This is a great feature for times when you might be camping off the beaten path and you want to make sure your supplies are up high enough to not have to worry about animals at the night.
It has more than enough storage space for things like a portable water tank, cool box, and a portable toilet.
It's easy to access by simply standing on the tailgate or by lifting the bed panels.
There are multiple trim levels to consider with the Freeway Camper Conversion kit. Each raises the price while adding to the convenience of the camper conversion.
It uses an interlocking system that is impressively sturdy, which means you don't have to make any permanent physical changes to your Honda Element.
This also means you can easily uninstall it when you are done with your trip.
2. The Ursa Minor Kit Compatible with the Honda Element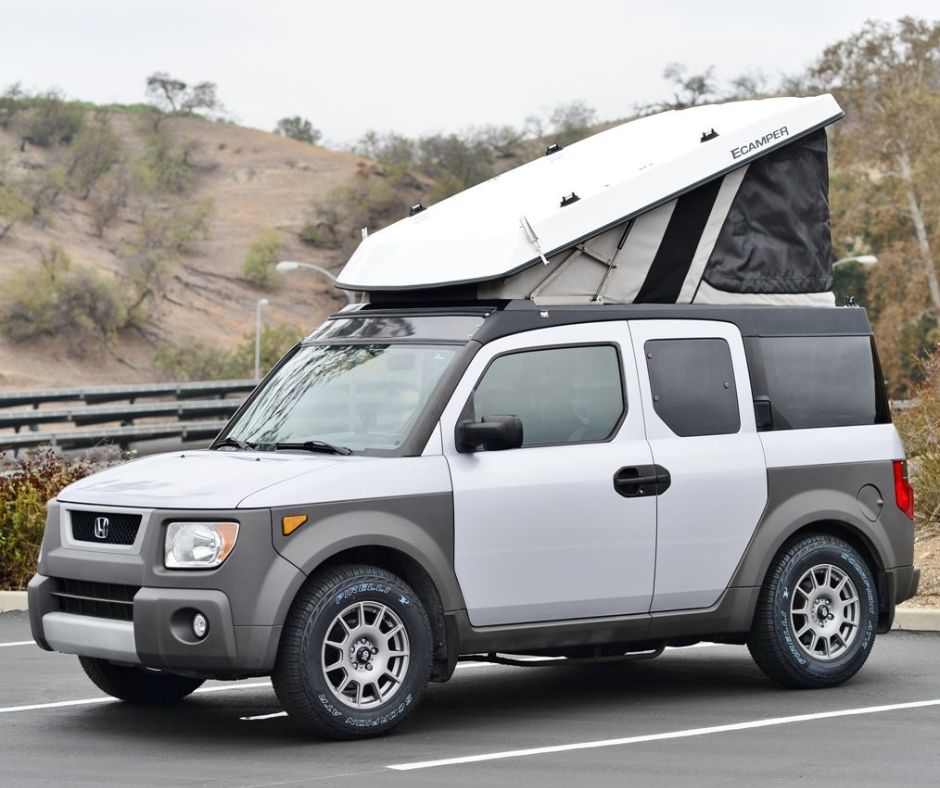 This is a universal kit for small SUV and crossover camper conversions. Though you need to understand that this kit does make some modest permanent physical changes to the roof of your Honda Element.
It also requires you to have a sunroof in your model, or you will need to have an upgraded sunroof installed.
This creates a hatch that lets you access the pop-up roof tent from inside the vehicle.
When you are driving down the road the hard shell sits on the roof. This essentially takes away the use of the sunroof for letting light in.
Though it is so compact and streamlined that it won't affect your Element's aerodynamics.
It also doesn't make a lot of rattling noises like a lot of roof rack accessories are prone to do.
When you embrace the full conversion you get a Honda Element camper conversion with up to 6 feet of headroom when popped up, as well as a comfortable 7′ x 4′ mattress with washable covers and energy-efficient interior LED lighting.
It features lightweight composite construction that minimizes the impact on handling.
This is thanks in large part to the gas spring-assisted hinges that make it quick and easy to open.
The Best Accessories for a Honda Element Camper Conversion
There are a couple of key components that you find in a lot of Honda Element camper conversions.
While most people can do things like build a simple lumber loft for a bed or find some discounted cabinets to secure to one of the interior sidewalls, there are some devices and electronics that you can't make yourself.
With some of these quality, size and engineering are important.
Solar Panels
With solar panels, you want rigid panels that can be permanently or semi-permanently mounted on the roof of your Honda Element camper conversion.
Flexible panels and adjustable panels might be tempting, but they really don't stand up well to the kind of wind shear you might experience on the open road.
It's also better to buy an all-in-one solar panel kit than it is to piece everything together just to save a few dollars here and there.
ExpertPower C7LB200WMPPT20 200W 12V Solar Power Kit
The Expert Power 200W 12V Solar Power Kit is a rigid solar panel system kit with everything you need to wire and connect it to your onboard power station or battery bank.
It even uses Monocrystalline Silicon cutting edge technology to deliver 200 Watt, while being the size of what a 100 Watt solar panel was just a decade ago.
Roof Cargo Rack For Honda Element
A cargo rack is pretty much a "Must-Have" item for any Honda Element camper conversion.
Though you still want to prioritize one that is easy to install and rigid. Especially if it is going to be tasked with double duty as both a cargo carrier and a support system for a rigid solar panel system.
You also need to make sure that the cargo rack you choose is truly compatible with your make and model Honda Element.
ROSY PIXEL NGC-Q001054 Honda Element Aluminum Top Rails
These ROSY PIXEL Roof Rack Cross Bars are designed to be compatible with all models of the Honda Element from 2003 to 2011.
They were designed to be easy to install. They're made from lightweight aluminum, and are even rated to hold up to 165-pounds of cargo!
Power Station
The size of the power station you need will vary depending on your power source, as well as your need.
If you are just charging your phone and running energy-efficient LED lights in the evening, then you can get away with a smaller power station.
Especially if you are connecting that power station to a rooftop solar panel.
1. Jackery B07D29QNMJ 240Wh Portable Power Station
One of the most popular lithium power stations money can buy, the Jackery 240 Watt-hour model is best used as a companion to a rooftop solar panel.
It has more than enough storage capacity to charge modest devices, run LED lights, and even run a low-power camping fan at night.
If your solar panel can't keep up with the power demand, you can also recharge this Jackery Power station directly from a grid power source or a small generator.
2. BigBlue LA05US 140000mAh Portable Solar Generator
This 504Wh Camping Power Station, BigBlue is another big step up in power station capacity from the Jackery.
It is engineered to work with a solar panel or be charged directly from a grid source or a generator.
Though the 504 Watt-Hour capacity gives it the ability to do things like maintaining a Yeti Cooler or a Dometic camping refrigerator.
Refrigerators & Coolers
One of the most important components of living comfortably in a Honda Element camper conversion is having a way to keep perishable food and drinks cold.
Two of the most popular ways to do this are either a well-insulated cooler or a portable camping absorption refrigerator/freezer.
The biggest factor here is where you plan to place it, which will determine just how big of a unit you can get.
1. YETI 10022300000 Roadie 24 Cooler
Yeti is one of the premium cooler manufacturers, and they've proven to be worthy of the investment.
The Roadie 24 is an upgraded model that is 10% lighter in weight and holds 20% more than a Roadie 20, it even has 30% better thermal efficiency.
This is a great option for a Honda Element camper conversion where you don't want to deal with power-draining appliances.
The Yeti Roadie 24 is taller yet more compact. It has an internal capacity of 18 cans with a 2:1 ice-to-can ratio and is even tall enough to chill a typical wine bottle.
The top is durable enough to double as a small tabletop. You can even get it in an array of different colors to match the interior décor of your Honda Element.
2. Dometic CD 50 Drawer Refrigerator
Dometic is a popular manufacturer of powered camper refrigerators and freezer combos.
Though their prices have shot up recently with some of their models that work on AC and DC.
This CD-50 model only runs on DC, which reduces the price. This might be a knock against it for people who want to bring it into a dorm room or teenagers' bedroom, but it's a virtual bonus for a Honda Element camper conversion.
You can connect it directly to the DC port on your power station. It has a 47-liter capacity, yet it only measures in at a tidy 19.7 x 21.3 x 15 inches.
It might be a tight fit in the passenger side footwell of a Honda Element, but you can certainly use it as a base for a kitchen cabinet in the back. It even has a pull-out freezer tray!