It's been said that every glass inevitably breaks, every tree will one day fall, and that everyone will eventually die.
Though you could add to this list the fact that every motorhome has a limited lifespan.
So, let's say you've gotten to that point where the old girl just doesn't have it in her to go on one last adventure.
Maybe the engine won't start, maybe the structural walls are coming loose from the chassis, or perhaps it's just time to upgrade now that the kids have moved out of the house.
Any one of these reasons and more could leave you wondering "How Do I Get Rid Of My Old Motorhome?"
The easiest way dispose of your or camper or motorhome is to bring it to the local scrap yard who will give you a flat rate based on the estimated amount of scrap metal there is in it. Though this is not the best option for turning any sort of lingering profit.
If you are industrious, or simply well connected there are a few different ways you can get rid of an old motorhome to get the most bang for your buck.
The one that is best for you will depend on the reason why you are getting rid of your old motorhome.
8 Ways to Get Rid of Your Old Motorhome Or Camper Trailer
If you have a RV that you no longer want, you may be wondering how you can get rid of it. Fortunately, there are a variety of junk RV & camper disposal options.
Here's a brief overview of the different ways you can get rid of an old camper or motorhome, whether it's in tip-top shape or past its prime.
1: Sell Your Motorhome To A Scrap Yard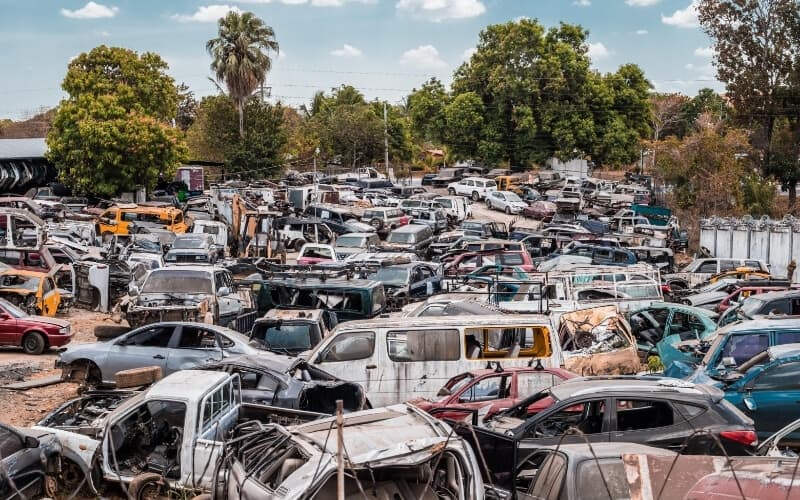 A fair number of scrap yards will take motorhomes based on their estimated scrap metal weight.
Though just like selling them your car or truck, you'll likely only get around $500. Though when you scrap a standard road vehicle, you often get a price quote based on the weight of the vehicle.
This means you would get more for a half-ton pickup truck than you would for a sub-compact car.
When it comes to a motorhome, a lot of scrap yards have gotten savvy to the fact a lot of it is made from materials that have no value to their enterprise.
Fiberglass walls, porcelain toilets, and laminated countertops just represent additional materials that they need to dispose of.
So, if you do find a scrap yard that is happy to take your motorhome, expect them to give you a flat rate with little room for negotiation.
2: Strip It Down Yourself And Part It Out
Depending on the state of your motorhome, you might be able to maximize the potential profit by stripping it down yourself and selling the components.
This can be surprisingly popular if you have a "Vintage" motorhome or one that has some unique fixtures that are hard for RV enthusiasts to find.
This is a labor-intensive process, where you're going to have to count your personal man-hours as having zero value.
Still, you might be able to get $20 for a working water pump, $50 for an inverter, $30 for the three-burner stove with oven, $50 for a full-size RV absorption refrigerator.
Assuming they are all in good working order and you clean them up enough, you might be able to turn a tidy profit on your motorhome.
Once you've stripped out everything of value, you can then drive it to the scrap yard, and take their flat-rate offer with the peace of mind knowing you got every penny out of your motorhome that was possible.
3: Donate Your Motorhome For A Tax Break
There are some technical colleges and non-profit organizations that will take just about anything vehicle related including RV's and motorhomes.
They might scrap it themselves, repurpose it as something else, or use it as an educational project for students in the auto shop program.
There are even some places that will take old vintage RVs, decommission them, remove the tires, and drive train to create a lodging property.
When you go this route, you have to accept that you're likely not going to see any cash in hand value. However, you can write the donation off on your taxes at the end of the year.
They will also handle all the paperwork, which can sometimes be a hassle when transferring the title of a large motorhome.
A lot of these non-profit organizations are also old hats at this, and they have the trailers and equipment needed to safely haul your motorhome away.
This could be a major benefit if you have a major mechanical fault that prevents you from being able to drive your motorhome from Point A to Point B.
The actual value to you is minimal. You might save a little bit on your taxes.
Though if you have a knack for just hitting that next highest tax bracket every year, then donating your old motorhome might just have some real-world value in the end.
4: Selling Your Old Motorhome To A Private Party
Let's say that your older motorhome still runs well enough and the interior is in decent shape, but you want to sell it to downsize after the kids have left the house, or upgrade to a luxury model.
Some people buy older motorhomes every day from private sellers. The challenge here is knowing how much to sell it for and who to sell it to.
In general, RVs aren't easy to determine the value. Though motorhomes, because they have recordable mileage on the odometer and additional licensing as well as maintenance requirements are a little easier to dial in.
There are websites like the NADA that offer some basic values for a lot of popular motorhomes.
They also include articles on how to best dial in the asking price for an older, pre-owned motorhome. You likely won't get a hard and fast number, but it should still give you a ballpark figure.
Once you have the price dialed in, you can start thinking about where to sell your older motorhome.
Some websites help you connect with potential buyers anywhere in the United States and Canada.
The problem here is that you might be selling your old motorhome in New York City, and a potential buyer is in Los Angeles, California.
You'll get more attention, but a lot of it might be too far away to be feasible for an easy sale.
5: Convert It For A Lodging Property
There is a small but growing trend in the private lodging industry, where individuals who have a good location near a popular lake, or natural attraction will decommission older RVs and travel trailers, fix them up and offer them out as a rental. It's more popular with niche RVs like airstream, but a prime location matters as well.
The motorhome or travel trailer never moves on the road again. Most of the time the road-going components are removed or decommissioned.
The exterior is fixed, and the interior is brought up to modern standards, or simply repaired to the original specifications.
If one of these auto-campgrounds is reasonably near you, and your motorhome is still roadworthy to get it there, they might buy it off you hassle-free.
Once it's fixed up to the campground's standards, they will offer it on sites like VRBO or Air BNB.
Who knows, if you ever get a nostalgic itch for your old motorhome, you might just rent it for a weekend again.
6: Sell It On Consignment Or Use It As A Trade-In
This is probably one of the least profitable options. Though some dealerships will take your old motorhome and sell it on consignment.
Unfortunately, most will charge you a fee to take up space on their lot and then they take a 10 to 15% commission on the final sale price.
The tradeoff here is that they handle the paperwork, the sales process, and all the other hassles. So, you will save a lot more of your precious time.
If you are getting rid of your old motorhome to upgrade or downsize to another RV, and you've got your eye on a high-priced "Luxury" model, the RV dealership salesman might give you a very favorable offer to take the old motorhome off your hands.
Though, this is truly only a feasible option if it is still minimally roadworthy.
7: Sell It To A Junk Dealer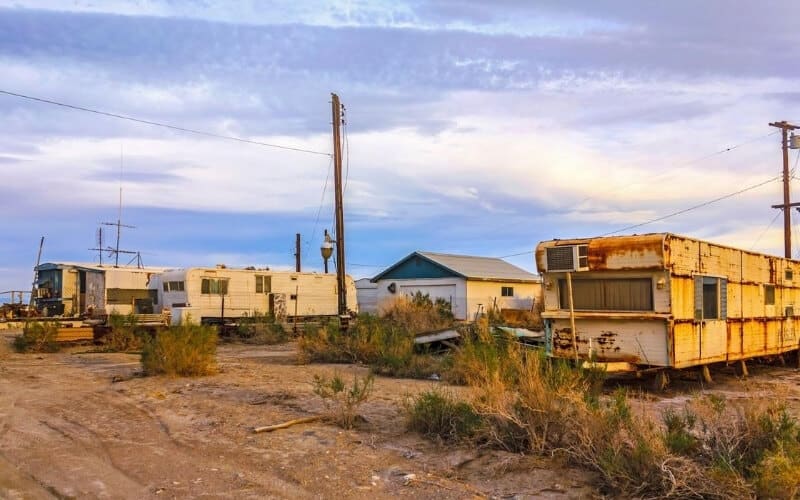 Depending on where you live there might be a junk dealer nearby who is happy to take on old RVs, cars, and trucks.
They handle most of the paperwork and give you cash on the barrel head deal that will be on par with what the scrap yard will offer.
Then they tear it down, sell the viable components and they eventually bring it to the scrap yard.
With this option, you want to make sure that you are taking out anything with your personal information on it.
8: Reach Out To Online RV Communities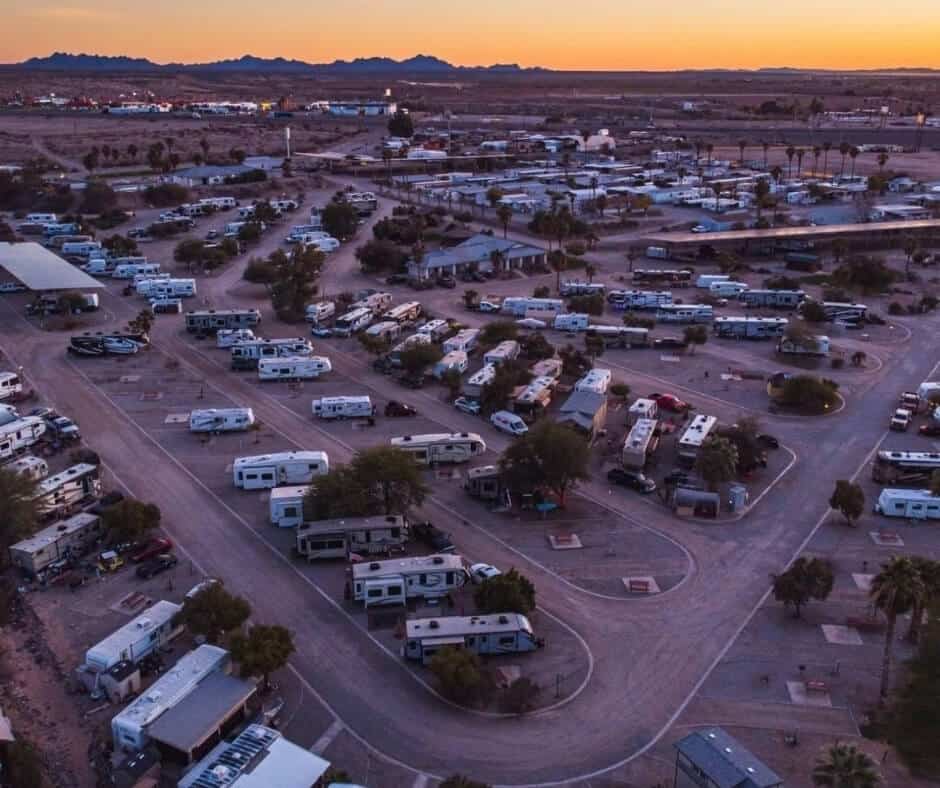 With the growing popularity of the RV lifestyle, online RV communities and message boards are attracting new members every day from nearly every walk of life.
You can then post a message, with an honest assessment of the condition of your RV, and maybe someone will have a lead on where you can sell it.
There are even some people who will buy a piece of lake land or hunting land that wants to stay in the great outdoors but don't want to stay in a tent, yet don't have the money to build a cabin.
If the interior of your old motorhome is in decent shape, and all the necessary amenities work properly, you might be able to sell it to someone who is looking to park it as a temporary cabin.
Conclusion
Getting rid of your old motorhome can sometimes be a challenge. Not only is there a fair amount of paperwork involved, but it can also be hard to get a good deal.
Of course, it's also hard letting go of the memories you've shared with it over all the years on the road.
Still, if you're willing to roll up your sleeves, and do the legwork, there are some good options out there.
If you just want to get cash in hand and walk away, a junk dealer or a scrap yard might be your best option.
If you're looking to maximize your profit, and you've got some time on your hands, dismantling the components to part it out before scrapping is probably the best option for getting rid of your old RV.
On the other end of the spectrum, let's say you don't care about turning a profit and you wouldn't mind the tax break at the end of the year, there are a lot of great places to donate your old motorhome.