If you are searching for an RV that offers a lot of living space, but you don't want to deal with the excessive weight and size of a large travel trailer of a fifth wheel, then a hybrid travel trailer might be the perfect thing to meet your family's needs.
Hybrid travel trailers are essentially a cross between a traditional travel trailer and a tent pop-up camper. Sometimes referred to as "Expandable Trailers" they offer lightweight towing characteristics with extra interior space and versatility.
These unique RVs have folding sections in the front, back or side walls that transform into tent covered beds.
This gives you more sleeping space, while also opening up the interior floor plan with more functional living area.
While they certainly have a lot of strengths, Hybrid campers also have a few drawbacks that might not make them perfect for everyone.
Is a hybrid camper is perfect RV for your family's adventure needs —and if so, which one you should get?
To help you to determine we decided to dive headlong into this ever-expanding niche to create an ultimate guide Along the way, we will ask and answer some key questions.
This includes looking at some key features as well as reviewing some of the best hybrid campers on the market today.
What Are Hybrid Campers?
A hybrid camper trailer is essentially a cross between a hard-sided travel trailer and a popup camper, Most have two or more ends that pull out to provide more sleeping room, while also helping to maximize the interior living space.
Some can sleep as many as 10 people at a time, which makes them very appealing to larger families who also need to be mindful of their budget.
A Hybrid camper looks very much like a compact hard-sided travel trailer when it's parked up in your backyard or being towed down the road.
When you get to your campsite or RV park, you can set it up and then one or more sides "Pop Out" to expand the interior living and sleeping space.
Hybrid campers tend to be lighter, andgeneral more affordable than traditional hard-sided travel trailers.
Most of the best hybrid travel trailers can even be towed by many popular family vehicles like mini-vans or SUVs.
What Are The Pros & Cons Of A Hybrid Camper Trailers?
There are a few benefits and a few arguable drawbacks to a hybrid camper that are worth exploring before deciding that it's perfect for you.
The Benefits Of A Hybrid Camper
The Drawbacks Of A Hybrid Camper
How Much Does A Hybrid Camper Weigh?
Hybrid campers can vary in size and weight. Though most of the popular models weigh between 3,000 to 6,000 pounds with some of the lightest models only tipping the scales around 2,500-pounds.
Some of the largest hybrid campers can tip the scales by as much as 8,500 pounds.
How Much Does A Hybrid Camper Cost?
The average hybrid camper costs around $18,000. Though this is a relatively barebones model equipped with basic features and not a whole lot of bells and whistles.
A larger hybrid camper with a lot of optional creature comforts selected via the manufacturer can cost as much as $40,000.
5 Of The Best Hybrid Camper Trailers On The Market
While reviewing hybrid campers we tried to keep an eye out for material build quality, especially in the expanding tent section fabric, as well as the number of people it can sleep.
We also tried to include a few models that appeal to niche-specific interests such as families who like to boondock off the grid, and need a hybrid camper that can support them.
With all that in mind, here are five of the best hybrid camper trailers that are worthy of your consideration:
1. Forest River Rockwood Roo 233S Expandable Travel Trailer
The Forest River – Rockwood Roo 233S is a larger hybrid camper meant to accommodate larger families.
It has three expandable pop-out sections to maximize the internal sleeping area.
It also has a modest slide-out section to accommodate a family dinette.
With a dry weight of just over 5,000-pounds and a hitch weight of 650, it could be towed by a robust mid-size SUV with a towing package installed.
One of the impressive things about the Forest River – Rockwood Roo 233S is the fact that it has a dry bath with a separated shower and toilet, as well as a small sink with a vanity mirror.
It also comes with modest waste and fresh water storage tanks, which are handy for a family that likes to camp off the grid for multiple days at a time, and needs water available for things like bathing and washing dishes.
2. 2021 Jayco Jay Feather Hybrid X23E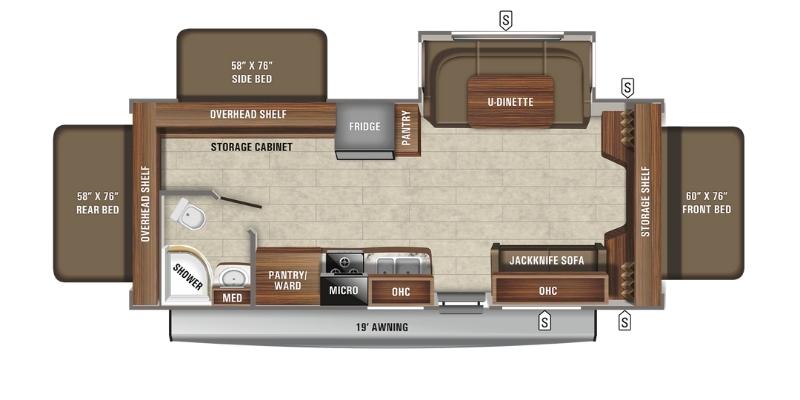 The Jay Feather is one of Jayco's most popular travel trailer camper platforms. It has many highly successful permutations, which you see in the spacious interior space of the Jayco – Jay Feather X23E.
It has three expandable pop-out sections that help maximize the sleeping area, as well as a family dinette built into a modest slide-out section.
All this room also allows for a complete "Dry Bath" bathroom where the shower and the toilet are separate entities.
It also allows for a spacious kitchen with an impressive pantry and the kind of functional living space that has helped make hybrid campers increasingly popular.
3. 2021 Palomino SolAire eXpandable 147X

The Palomino – Solaire 147X resides on the lighter end of the hybrid camper spectrum.
With a gross vehicle weight rating of just over 3,800-pounds and a hitch weight of just 315-pounds, it is easily towable by a mid-size SUV with a robust towing package installed.
When you also consider that its dual pop-out sections give it the ability to sleep up to 8 people, it might just be the best option for a family who wants their SUV to work for its living on the weekends.
The Palomino – Solaire 147X also has robust waste and fresh water storage tanks for a relatively small hybrid camper.
This gives it the ability to support a family for multiple days of boondocking without needing to refill or empty the tanks.
4. 2021 Forest River Flagstaff Shamrock 19 Hybrid Trailer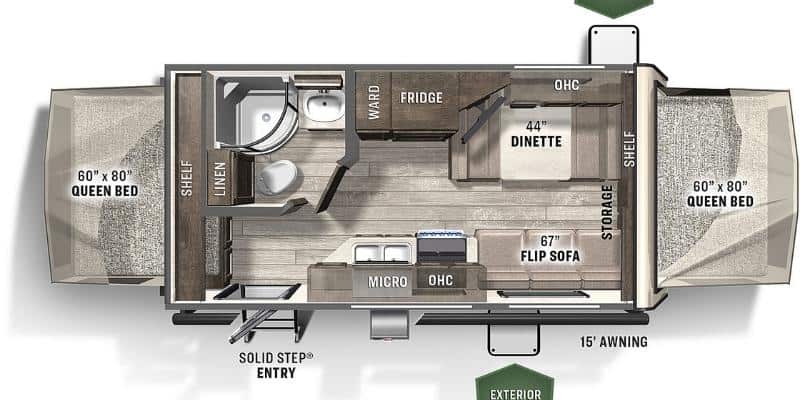 Forest River is one of the best RV manufacturers in the industry, with well-designed models in every niche, to meet just about any family camping need.
So it comes as little surprise that the Forest River Flagstaff Shamrock 19 is one of the most popular hybrid campers on the market today.
This hybrid camper has two pop-out expandable sections to maximize the living space, while also making the most of the interior with a thoughtful floor plan.
Though one of the really impressive things about it is the large fresh water storage tank that is paired with a set of 30 gallon black and gray water tanks.
This makes the Forest River Flagstaff Shamrock 19 one of the best hybrid campers for boondocking off the beaten path. Just make sure to bring a generator along with you.
5. 2021 Keystone Bullet Crossfire 2190EX
The Keystone – Bullet Crossfire 2190EX is another high-quality hybrid camper that was designed to accommodate families that need to sleep a lot of heads.
With its three large expandable pop-out sections and the power slide-out dinette area, it can sleep up to 10 people on paper, though 7 to 8 is probably a more realistically comfortable number.
Of course, all this convertible sleeping space also means that the Keystone – Bullet Crossfire 2190EX's floor plan allows room for a relatively spacious dry bath with a separate toilet and shower.
It's all supported by some impressively large fresh and wastewater storage tanks.
Frequently Asked Questions
Are Hybrid Campers Any Good?
Hybrid campers are good for families who need to sleep a lot of heads but still need to travel on a reasonable budget.
They are also great for people who have SUVs or a powerful minivan and don't want to invest in a gas-guzzling full size pickup truck just to tow a travel trailer.
Yet hybrid campers also aren't as durable as some of their hard-sided siblings.
Though with proper care and indoor storage in the winter they can certainly last 10 to 15 years of more, which is sure to offer you a good return on your investment.
How Many People Can You Sleep In A Hybrid Camper?
The average number of people you can sleep in an average-size hybrid camper is around 6 to 8.
Though this can vary depending on how much elbow room everyone needs and how willing people are to double up in the expanded beds.
Larger campers and families that are comfortable with a little cuddling might be able to sleep up to 10 or possibly even 12 people.
Do Hybrid Campers Leak?
The seam where the heavy-duty canvas of the pop-out tent sections meet the roof and side walls of the hard-sided travel trailer frame do have a tendency to develop leaks over time.
Being careful while setting up camp, and winterizing your camper for indoor storage out of the elements can reduce the long-term risk of developing leaks.
Minor leaks can be repaired is they are caught early.
Some of the best hybrid camper manufacturers also offer replacement tents at a relatively friendly price point.
How Many Expanding Pop-Out Sections Does A Hybrid Camper Have?
Most hybrid campers have two pop-out or "Expanding" sections. Though some models might only have one.
It all depends on the size and the manufacturer's design. A few of the best hybrid campers for families might have three or even a modest-size power-retractable slide-out section.
Do Hybrid Campers Have Bathrooms?
Small to medium hybrid campers might have a wet bath that combines the toilet and shower into one facility.
Though this isn't always the case. Some might only have a cassette toilet, and you are left to fend for your own bathing needs.
A few of the larger hybrid campers do manage to fit a "Dry Bath" which has a toilet and separate shower.
Do Hybrid Campers Come With Air Conditioning?
Most hybrid campers come with some form of built-in air conditioning, though not all do.
Fortunately, they do have superior airflow compared to a hard-sided travel trailer of roughly the same size.
Parking in a shady spot and strategically using the open windows to allow a breeze to blow through will go a long way toward helping keep the interior cool, while also reducing the need to use the energy-intensive air conditioner.
Conclusion
The hybrid camper concept has really taken off in recent years thanks to its ability to combine the sturdiness of a hard-sided travel trailer with the lightweight and maximum sleeping space of a popup camper.
The fact that most of them can be easily towed by a mid-size SUV or a light-duty pickup truck with a tow package installed only adds to their popularity with families who love to travel.
If you have a larger family and a dedicated midsize SUV to serve as your tow vehicle, then the Palomino – Solaire 147X might be the best hybrid camper to meet your needs. It is lightweight yet sturdy and can sleep up to 8 people.
If you are a family that loves to get off the grid for some boondocking and you prioritize a dry bath with a separate shower and toilet, then the Forest River Flagstaff Shamrock 19 might be the best hybrid camper on this list.
It has a huge freshwater storage tank as well as big gray and black water storage tanks to support a family off the grid for several days at a time.