Buying or selling an RV for many people is a stressful time. Add to this the genuine trend that many families buy an entry-level RV like a small travel trailer or teardrop camper, then upgrade to a larger unit as their family grows and their interests change.
So, chances are good if the RV adventure bug bites you hard; you will likely need to buy or sell another RV at some point.
Many people prefer going to a private party to purchase a gently pre-owned RV rather than deal with the constant upselling and potentially over-inflated prices you find at many RV dealerships.
Knowing how much your RV is worth or knowing if the RV you are buying or selling is very important.
Some people will assess prices based on the selling price of a dealership or by comparing it to similar units on the RV market.
All this seems a little subjective for most buyers and only increases the caution most RV buyers and sellers feel throughout the shopping and purchasing process.
If you're considering buying or selling an RV, Kelley blue book value for rv seems to be the simple way to learn about market values for new and used models.
You might wonder: is there a Kelley Blue Book for RVs and travel trailers?
In the past, Kelley Bluebook did indeed have some RV listings. But unfortunately, Kelley Blue Book no longer actively valuate used RVs or travel trailers. Luckily, there are alternative websites like NADA (National Automobile Dealers' Association), RVTrader and RVUSA for assessing retail and private party value of your motorhome, travel trailer, camper van or slide-in truck campers.
This article contains many key insights and answers to questions "How much is my RV worth for trade-in?" and "What is the best way to sell my RV?" We'll look at industry trends and tools to help buyers and sellers make a fair deal.
RV Pricing Guide Alternatives To kelley blue book used rv values
Unfortunately, Kelley RV blue book seems to have downgraded to the point where they now only have automobile listings.
It's also worth noting that Kelley blue book rv isn't the only vehicle property value guide. Other RV pricing guides are maintained by other companies with a solid reputation in the industry.
With a few options, we thought it was worth the time to examine your RV pricing guide options closely.
We will also look at a few things that you might want to consider if you are in the market to buy or sell an RV and camper blue book.
Especially if you're going to go through a private party instead of a dealership.
1. RV Pricing And Value Guide By NADA
More commonly known as the NADA, this is a fast-growing competitor to Kelley Bluebook. 
When they noticed Kelley Bluebook left the RV market open, the NADA started offering some RV pricing guides and articles to help you zero in on the best possible price for new and used RVs or travel trailers.
One feather in their cap of note is that the nada rv value makes every possible effort to make their website intuitive.
The easiest way to get a reasonable price quote on an RV you are investigating.
Step 1: Select the manufacturer; this will generate a comprehensive list of options to filter.
Step 2: Select the model you are interested in. This might also produce a list of body styles
Step 3: Select the body style and year or years you are interested in. In some cases, there might also be optional floorplans.
At this point, you'll get a basic price quote that you can factor in accessories and additional extras that the second party might have included or removed.
The NADA does its best to keep accurate and updated records. Though you might find, some of the less popular models are a little out of date.
2. RVUSA
RVUSA is a resource site for RV buyers and sellers. They have a comprehensive listing of RVs complete with detailed specs.
It's a great resource to start researching the RV or travel trailer you want. They also have tools to help you connect with other second-party RV buyers, sellers, and dealerships and a forum to help you learn more about RVs.
Interested parties can also post ads or advertise an RV that they have for sale. It's a great way to connect with other RV buyers and sellers and test the market to see what similar units are selling for.
Regarding pricing RVs by make, model, year, and floorplan RV USA tends to have some holes.
You can dial the exact model you want in their comprehensive library. Unfortunately, they only have a hard and fast MSRP on about half of the models, and those are usually only new model years.
Ultimately, it's probably better to think of RVUSA as a comparative guide to help you research rv values.
Otherwise, you might be investigating too much to get an accurate answer.
3. RV Price Checker By RVTrader
RVTrader is in a similar vein to RVUSA, though they do tend to have more pricing options. This makes them a good middle ground between NADA and RVUSA.
The RVTrader website is easy to use and provides a general pricing estimate for most RVs, motorhomes, and popular travel trailers today.
You enter the pertinent information, and it will give you a price range between the highest possible value for an RV in good condition, the lowest value, or a unit that may have been poorly cared for, and an average between the two.
So, you need to accept that there's a "Price Range" and any other specifics and accessories you will need to factor in yourself.
Things That Can Affect The Price Of A Pre-Owned RV And Travel Trailer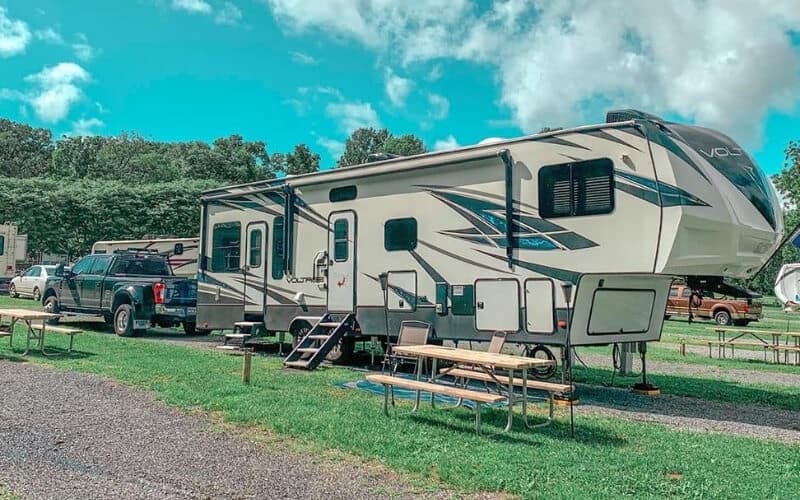 Most website-used RV and travel trailer pricing guides will only give you a price range of a "Best Guess" on a unit.
Beyond that, you need to take stock of other things that can influence how the price might be higher or lower than the average. This includes things like:
The Overall Condition
This can be hard to determine if you are buying the RV or travel trailer from a private party in another state or too far away to make a quick test drive.
You can look for certain cues in the pictures, like the telltale sign of water leaks, dents, discolored panels, sidewall cracks, and rust around the wheel wells.
While at it, pay attention to the upholstery, especially on convertible sleeper beds and tri-fold sofa beds.
Mileage
This is a bigger factor for motorhomes. Though with travel trailers, toy haulers, and fifth-wheel campers, the distance traveled can still affect things like electronic trailer brakes, tire tread life, and the state of the wheel bearings.
Unfortunately, most trailer and tow-behind camper owners don't track the distance traveled accurately.
Extras & Accessories
RV manufacturers and dealerships love adding extra extras, optional features and upgraded appliance packages into certain model floorplans.
This includes hydraulic levelers, power awnings, satellite TV antennas, backup cameras, and many upgradable appliances.
Sometimes they even offer bed upgrades from a queen size to a king size. It's a great way for them to increase the initial sale price, which tends to increase when a private party sells it secondhand.
Inspection & Repair Records 
This is just as much about showing pride in ownership as maintaining accurate records.
If a private seller has these records and is willing to show them to you, it's certainly a statement of confidence.
It also gives you an idea of what has been maintained and what might need to be done to the RV in the future.
Do RV's RV Depreciate?
RVs depreciate in value very much like cars and trucks. This can be good or bad, depending on whether you are the buyer or the seller of a pre-owned RV. They also continue to depreciate over time and will be influenced by their condition and mileage, much like a typical road car.
This means you can potentially get more bang for your buck if you're willing to buy a gently used RV.
Though there might be a little negotiating over the price. Especially if the seller came up with their price without much research.
Certain brands like Airstream tend to hold onto their value better than others.
In general, you can expect the average RV to depreciate about 20% in the first year. Then it will continue to depreciate by another 2 to 5 percent yearly.
Tips For Selling Your Used RVs And Travel Trailers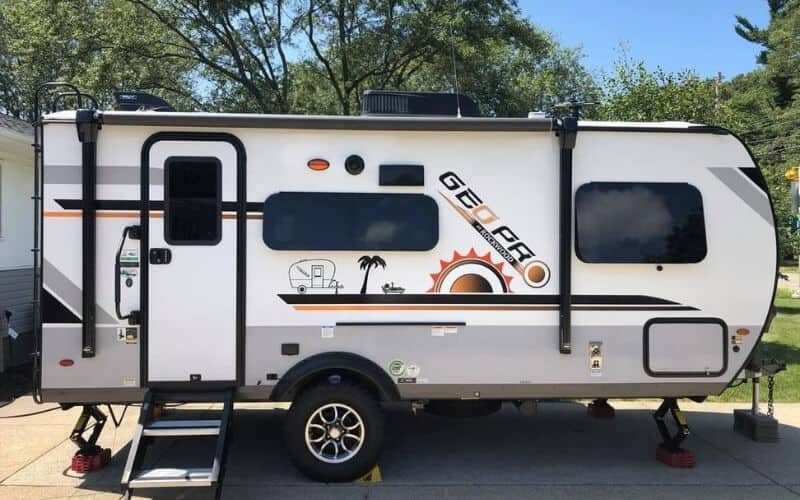 Selling your pre-owned RV and Travel trailers can be a little tricky. You will fight the tides of depreciation, yet you still want to get the most for your money.
The fear is that you'll put too high of an asking price on it, which will scare potential buyers away. Yet you don't want to put too low of a price on it.
A few key steps in the process will help iron out some of the more common wrinkles and ensure that you are getting the most possible for your RV.
Step 1: Take Care Of Any Maintenance Issues
You must address any minor maintenance issues before listing your RV and Travel trailers.
This includes fixing any leaky faucets, ensuring all the trim is properly attached, upholstering is in good condition, and maybe even going so far as to rotate the tires.
If you sell a motorhome, you'll want the oil changed, and any other engine maintenance is up to date.
You should also make sure that any necessary state inspections have been completed. Then the tabs should also be up to date.
Step 2: Give It A Good Deep Cleaning
A clean RV shows pride in ownership, which encourages potential buyers to prefer your offerings over another not-so-clean RV in the same price range. So, a good deep cleaning is also an absolute must!
The refrigerator must be spotless, all bedding is freshly washed, smoke marks by the kitchen stove top wiped away, and the bathroom is spotless.
Empty the cupboards and give them a good wipe-down. Then make sure all glass surfaces are cleaned and all crumbs are vacuumed free of crumbs.
Step 3: Get A Clean Title
If you owned your RV outright and paid it off, the bank would have sent you a lien release card.
This is a simple document that proves you've paid it off in full and that you are the full owner of the RV.
You can then take this information to the local Department of motor vehicles, and they will provide you with a clean title with no traces of the previous lender.
If you no longer have the lien release card, you can call the bank, and they should be able to provide you with a duplicate in a few minutes.
If you still owe money on your RV or travel trailer, contact your lender to let them know you are considering selling.
They may have rules in place that you need to follow. Of course, any lending institution will want full repayment upon sale or that you have some other type of collateral to cover the difference if you can't sell the RV for more than you still owe on it.
Step 4: Sell At The Right Time Of Year
If the northern tier states, the price of an RV or travel trailer can swing slightly based on the season. Dealerships know their sales will dry up once the snow starts to fly.
They often offer clearance sales at cut-rate prices to move vehicles off their sales lot.
The problem is when they cut prices steeply, it turns them into competition for private sellers hoping to sell a gently pre-owned RV.
Imagine you are a potential buyer, deciding if you want to risk buying a preowned RV or travel trailer with an unknown history or spending a few thousand dollars more to get a brand-new clearance model from an RV dealership.
In the northern United States and Canada, RV purchasing tends to pick up in spring through the summer.
This is when dealerships are offering models at the highest price tag. It also means you can raise the asking price of your RV or travel trailer to make a potential buyer feel like they are getting a good deal compared to the high-pressure environment of the dealership.
Step 5: Choose Where And How To Sell Your RV Or Travel Trailer
If you have some time and experience negotiating sales, you might be interested in selling it yourself.
You will certainly make the most money this way, but you must consider what your time is worth.
Putting an ad online with a site like RVUSA will help attract interested parties. However, they might be on the other side of the country.
You could try selling it locally through a newspaper ad or a public sales board.
Even the local grocery store might have a tag board where anyone can post an ad for anything they're selling.
It's often free or for a very minimal fee. The nice part about this angle is that if you do find an interested party, you can deal with them face to face, they can take test drives conveniently, and it costs you next to nothing to advertise.
The problem is that there might not be an interested party locally, or they might not notice your ad.
So, if you advertise locally, you have to expect a while to garner interest and close a deal.
Selling on consignment with a local RV or car dealership is another option. Locals who come into their lot are already interested.
It also spares you from doing the legwork, closing the deal, or playing salesman.
The problem is the dealership will likely charge you a fee for holding your RV, and they will take a piece of the final profits for the effort.
Step 6: Closing The Deal & Accepting Payment
Let's say you've researched a fair price for your used RV and travel trailer, garnered a fair amount of interest, and negotiated a good deal with a private buyer.
You even went so far as to ensure you got a clean title from the DMV.
Signing over the RV to the second party is relatively simple. Even a portion of the title has all the necessary blanks for them to fill in. You'll also want to include a bill of sale.
Once everything is completed, the buyer is responsible for filing the sale with the Department of Motor Vehicles in their state.
You will need to inform your insurance company of the sale as soon as possible, and depending on their financing, you should gently encourage them to take out their insurance policy for transporting it back to their home.
When taking payment, inform them in advance that you want straight cash or a cashier's check.
There have been too many times when someone made a private sale of a high ticket item, only to find later that the private check lacked sufficient funds.
Frequently Asked Questions
What is the NADA RV value for my RV?
The NADA RV value for your RV is determined by the National Automobile Dealers Association (NADA) and is based on a combination of factors such as make, model, year, condition, and features. To get an accurate estimate of your RV's value, you must provide detailed information about its condition. You can do this online at the NADA website or contact an RV dealer or appraiser to help determine the value.
Once you have all the necessary information, you can use the NADA guide to determine what your RV is worth. The guide will give you a range of values representing different conditions and features. It's important to note that these values are only estimates and may not reflect what a buyer would pay for your RV.
What are the values of different types of RVs?
An RV's value depends on various factors, including the make and model, its age, condition, and features. Generally, newer RVs with more amenities tend to have higher values than older models. Luxury RVs, such as Class A motorhomes or fifth wheels, can range in value from $50,000 to over $500,000, depending on their condition and features.
Pop-up campers and travel trailers tend to be lower in price but still vary greatly depending on their age and condition; they typically range from $3,000 to $25,000.
Toy haulers and truck campers usually fall between these extremes at around $10,000-$50,000.
What are the used RV values according to Kelley Blue Book?
According to Kelley Blue Book, used RV values depend on various factors such as the vehicle's age, condition, and features. Generally speaking, newer models with more features tend to have higher values than older models with fewer features.
Kelley Blue Book provides a range of estimated values for used RVs based on these factors. To determine the value of a specific RV, users can enter information about their vehicle into KBB's online tool to get an estimate. The tool considers factors such as make and model year, condition rating, odometer reading, and optional equipment when calculating an estimated value.
What is the RV blue book value for my RV?
The RV blue book value for your RV is determined by various factors, including the make and model of the vehicle, its age, condition, and mileage. It's important to note that the blue book value is not necessarily an exact figure but rather an estimate based on current market prices.
To get an accurate estimate of your RV's worth, it's best to consult with a professional appraiser who can assess the vehicle in person. You can also use online resources such as NADA Guides or Kelley Blue Book to get a general idea of what your RV may be worth.
What is the Kelley Blue Book value for my RV?
Your RV's Kelley Blue Book value depends on various factors, including its age, condition, and features. To get an accurate estimate of the value of your RV, you'll need to use the Kelley Blue Book website or mobile app.
When you enter your vehicle's information into the KBB website or app, they will provide you with a range of estimated values based on its condition. This range is meant to give you an idea of how much your RV is worth in the current market. You can also use KBB's trade-in value estimator to understand what a dealer might offer if you sell it today.
Remember that the Kelley Blue Book values are estimates and should not be taken as definitive figures. If you're looking for an exact number, it's best to consult a professional appraiser who can inspect your RV in person and provide an accurate assessment.
Can I Sell My Used RV Or Travel TrailerTo A Dealership?
Some RV dealerships will help to sell your used RV or travel trailer on consignment. However, they take a percentage of the sale price for their services.
Almost all RV dealerships will offer you a trade-in offer if you buy a new unit from them.
In a case like this, the amount you buy the new RV will influence how much you get for the trade-in of your gently used RV. However, that's only up to a point.
If you are trying to sell to a private buyer, you will likely need to be patient. Sites like RVUSA will let you post an ad for very little.
Since internet ads are national and sometimes international, the interested buyer could be thousands of miles away.
Finding a buyer close to you will take time, but it's your best chance to see a good return on your investment.
Ensuring you have a clean title or a lien release card will help speed the sale process.
All the maintenance and inspection records available will also give the buyer more confidence.
It could even convince them that your unit is "The One." This is handy if they live a few hours from you and you want them to travel for a test drive or hands-on private showing.
Is It A Bad Idea To Sell My RV On Consignment?
Selling on consignment certainly takes the pressure off you to negotiate with a private buyer.
You also don't have to spend as much time making ads, talking with interested parties, and losing hours to talks that go nowhere.
It also tends to be a faster way to make a sale, as people are already shopping for an RV at the dealership.
The tradeoff with putting your RV on consignment with a dealership is that they will take a percentage of the sale.
Depending on the RV or travel trailer, its age, condition, and the time of year, some dealerships might ask for as much as 10 to 15% of the sale.
So, you certainly do not see the same profit you would be selling yourself.
Ultimately, whether or not the consignment is good or bad for you depends on how much you value your time.
Consignment is a great way to essentially "Outsource" the RV sales process if you are an entrepreneur who already stretches hours between business and family.
On the other end of the spectrum, let's say you're a road construction worker laid off in the winter and want to sell the old RV you live in while working on the road in the summer.
With a little time to kill, you could shoulder the negotiation process to make as much money as possible for the down payment on a new RV in the spring.
Should I Stage My RV's Interior Like Selling A Home?
Staging might make the sale if you are trying to sell your RV or travel trailer via online ads or host sites like RVUSA.
Ideally, you want to make it look like a person could live there. Dishes and other daily use items should be put away, and beds should be made in all photos.
Simple things like a tasteful vase of flowers and neutral-tone art that matches the rest of the interior concept will help. It also shows the pride of ownership that most potential buyers look for.
If you habitually put bumper stickers and other décor on the outside, you might want to try to remove them.
Especially if they have political or religious messages that might turn off a potential buyer looking online and trying to determine if you are a reputable seller.
Is It A Good Idea To Rent My RV?
Some third-party websites like RVshare connect private parties with RV owners.
If you aren't using your RV as much as you thought, or your children have grown and left the nest, you can put your RV on one of these sites for someone to rent. It's a great way to bring in some extra income.
Sometimes, letting a potential buyer rent your RV through a third-party site can serve as a "Test Drive."
They might take their family for a week-long camping trip and fall in love with your RV. More than one successful sale has been closed this way.
Even if they don't choose to buy later, you'll still make a tidy little sum off the rental.
What is the camper blue book value for my camper?
Your camper's blue book value depends on various factors, such as age, make, model, and condition. To estimate your camper's value accurately, consult a trusted online resource such as NADAguides.com or Kelley Blue Book.
On these websites, you can enter your camper's information to receive a range of values that reflect the current market conditions for similar campers. The values provided will usually be based on different scenarios, such as whether the camper is in excellent condition or needs some repairs.
Conclusion
Determining a fair value for a new or used RV or travel trailer can be stressful. While Kelley Bluebook no longer offers RV prices, there are still some great resources to help you dial in the right price for the used RV you are looking to buy or sell. If you are looking for a hard and fast number to value your RV by, then the NADA website is probably the first place to start.
It's very easy to use, and the NADA also provides other sales tools. Check out the RV Trader website if you want a general price range to negotiate a sale.
It will help you double-check the quote against what the NADA site offers.
If you're considering selling your RV or travel trailer, you can weigh the cost of your time against what the local RV dealerships offer for consignment.
If you have the time and patience, a site like RVUSA might be the perfect place to list an ad or check out the competition.