The Jeep Gladiator has grown to become one of Jeep's most popular, dependable, and rugged models.
So, it's no wonder why it's caught the attention of so many RV and camping enthusiasts.
If you've had your eye on a Jeep Gladiator, or you own one already and you want to use it to answer the call of the open road, then you might be wondering what are the best campers for a Jeep Gladiator?
The good news is, there are more options out there than you might expect. The AT Overland Summit and the GEO Cab Badger LT are two of the more popular, and rugged options.
Though this is a field that is as rich as the Gladiator is powerful. So, we decided to lock it in four-wheel drive to try to climb the mountain of options and find the best campers for a Jeep Gladiator on the market today.
Though the uninitiated might find a few bumps along this rugged road. So, before we unraveled some of the best campers to pair with your preferred Gladiator, we decided to ask and answer some key questions.
Can You Put a Camper on a Jeep Gladiator?
Designed with rugged features, the Jeep Gladiator offers a maximum towing capacity of 7,650 pounds when equipped with the Max Tow Package.
But can the Jeep Gladiator tow an RV trailer? Simply put, yes; however, they aren't as robust in payload capacity as a full-size pickup truck, you can indeed put a wide range of truck campers in the cargo box of a Jeep Gladiator.
Most Jeep Gladiator trim levels still only have enough suspension, durability, and payload capacity to handle a roof tent campers, a lightweight slide-in truck camper camper that is designed to specifically fit onto a short bed truck.
What Is The Jeep Gladiator Towing and Payload Capacity?
When we talk about the 2022 Jeep Gladiator the towing and payload capacity can vary based on the trim level.
This can be a factor if you are trying to decide if you want to install a truck camper into the cargo box or if you want to up the ante to buy a small travel trailer or teardrop camper to pull behind it.
As you can see from the chart, a higher towing capacity doesn't always translate into a superior payload capacity in the Jeep Gladiator.
If you are deadest on being able to commandingly tow a travel trailer, then the High Altitude is going to be your best trim level of the Jeep Gladiator.
Just bear in mind that you are trading off up to 500 pounds of payload capacity.
To make the most out of the cargo box for a truck camper then you want to stick to a Jeep Gladiator from the Freedom, Willys, or Sport trim levels, which have a 1,700-pound payload capacity.
You also need to bear in mind that these trim levels can affect the price with a starting MSRP between $36,480 and $53,170.
5 Camper Trailers That Can Be Towed With A Jeep Gladiator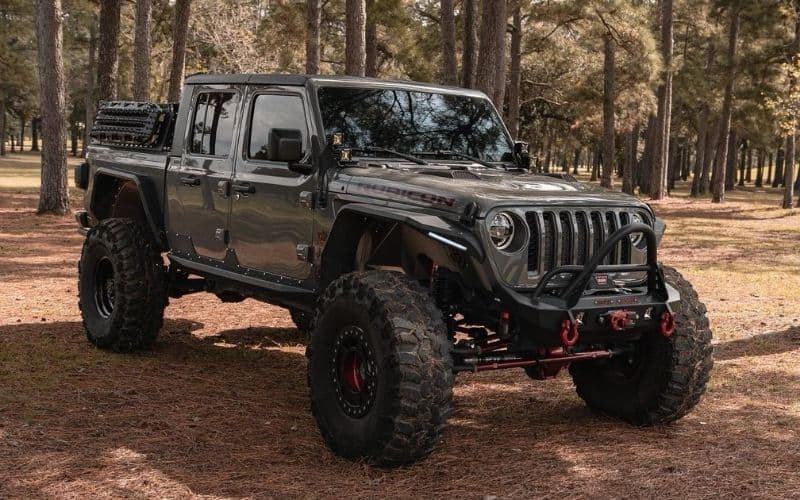 The Jeep Gladiator offers a fair amount of payload capacity, which plays a critical role in making sure the suspension system can support the camper while you are traveling down the road as well as setting up at camp.
Throughout the choosing process, we tried to be mindful of the influence of weight as well as the sort of features that will appeal to family travelers and certain niche camping styles.
The end result is a swath of well-built truck campers that the Jeep Gladiator can support with confidence.
Here are the 5 great camper to turn your Jeep Gladiator into cozy micro-home:
1. Alu Cab Canopy Camper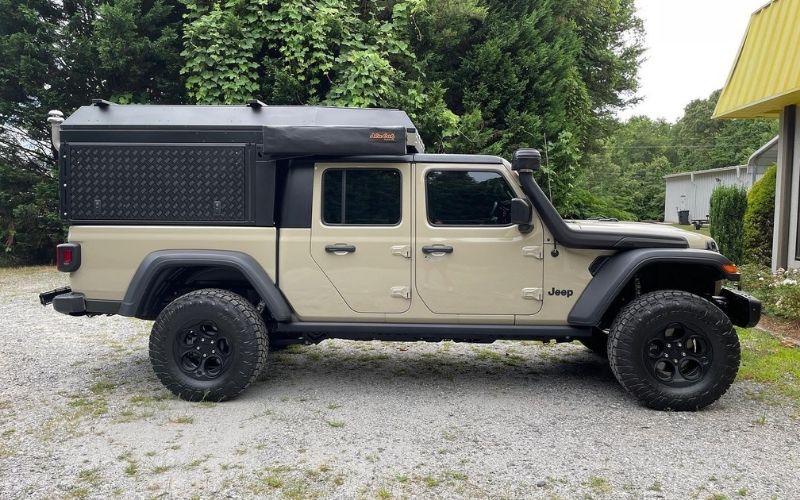 The Alu Cab Canopy Camper was designed with international specifications, as it is popular in both the United States and abroad.
While you might have to do a little math, you can take confidence in knowing that this truck topper was specifically designed to pair with the Jeep Gladiator, with enough space to accommodate a traveling couple or a small family.
The construction quality of the Alu Canopy Camper topper is also very impressive. The body frame is sturdy with expandable panels that transform into windows.
There's also a large hatch door in the back to gain easy access. The roof pops up to make more sleeping space and has walls made from high-quality canvas.
There are even load bars on top to let you secure equipment like mountain bikes, kayaks, or a small canoe.
The interior of the Alu Canopy Camper is arguably spartan, which in this case is a good thing as it allows you to set it up to your travel preference.
It also comes with five swivel-mounted, dual-colored colored interior lights, USB ports on each side of the frame, and a high-density foam mattress with a zip-off cover to help keep the underlying mattress clean.
2. The GFC Platform pop-top camper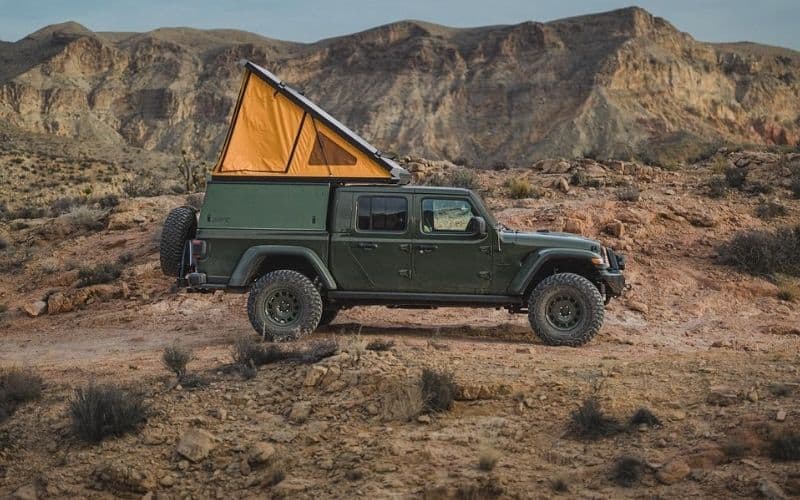 Go faster campers has a diverse and customizable lineup of truck campers, that includes models like the Platform Camper which is easily compatible with the 2019 and newer models of the Jeep Gladiator.
It was designed using space-age engineering principles and materials. This translates into an impressively 300-pound dry weight.
This gives you plenty of weight in reserve on the Jeep Gladiator's payload capacity and suspension.
The GFC Platform Camper was designed to sleep two adults and a child. The roof pops up into a spacious A-frame which gives you more headroom.
The total expanded height from the bed of the Jeep Gladiator to the interior ceiling measures at 5-feet.
The roof of the Go Faster Campers Platform Camper was also designed to be used as a cargo rack for kayaks and mountain bikes.
Though it was also engineered to support aftermarket solar panels, which is great for times when you might want to go boondocking off the grid and you want to use green energy to keep your house battery bank charged.
When you work directly with GFC they can help you explore your solar options as part of the custom design process.
3. The GEO Cab Badger LT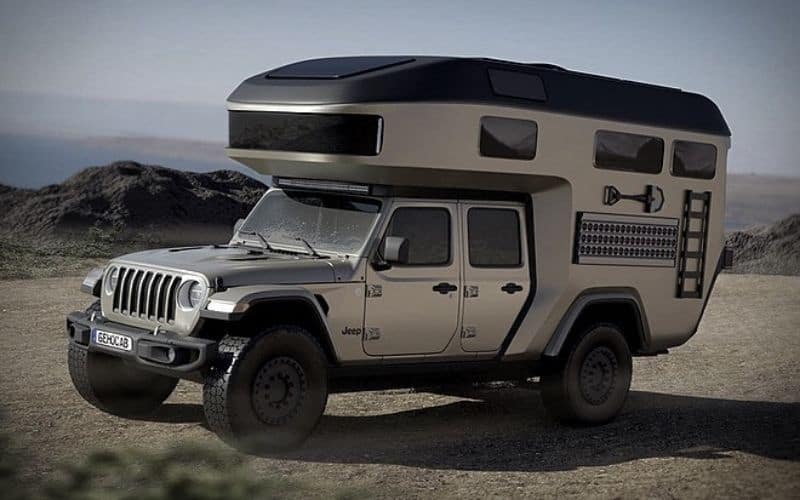 GEO Cab has four distinct floorplans to fit a wide range of trucks. Their Badger LT was specifically designed to pair with the Jeep Gladiator.
Just bear in mind that this carbon-fiber truck camper has a dry weight of 1,157-pounds, which pushes the limit of what the Jeep Gladiator Rubicon, Mojave, 80th Anniversary, and High-Altitude trim levels can handle.
One of the interesting things about the GEO Cab Badger LT is that it is one of the few hard-sided truck campers that will fit the Jeep Gladiator that has a solid cabover sleeping section.
The big advantage here is that you get more living space in the interior area.
Though you will be dealing with minimal headroom when you sleep. To that point, there is even a custom optional toilet feature that you can have installed when you work directly with the manufacturer.
4. The AT Overland Summit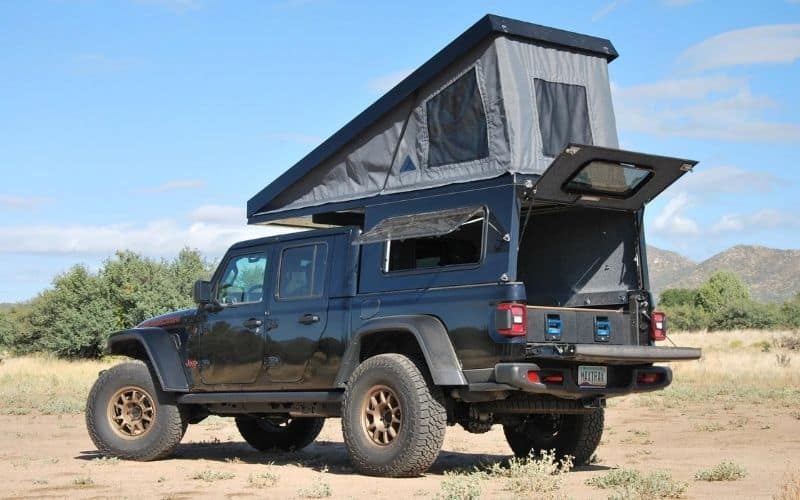 AT Overland is one of the fastest-growing truck camper manufacturers with a range of models that are meant to fit most full size and mid-size light-duty pickup trucks.
In their lineup, the Overland Summit is the model that was designed to best pair with the Jeep Gladiator in mind.
The AT Overland Summit truck topper uses aluminum structural components and state of the art honeycomb composite to create a lightweight truck camper.
To that point, it only has a dry weight of just 340-pounds. Yet it is still strong enough that the roof can support up to 600-pounds!
One of the other advantages of the honeycomb composite construction is the superior insulative qualities it provides.
When combine with the double pane acrylic windows the AT Overland Summit offers one of the best ways to stay cool in the summer and warm during fall camping.
It's also worth bearing in mind that AT Overland embraces customization. When you work directly with them to create the ideal truck camper for your Jeep Gladiator, you can get access to an extensive menu of optional extras.
This includes things like Max Air climate controls, optional solar panels, a rear lift gate, bug screens and bed stiffeners. Just to name a few!
5. The 50/Ten Full Camping System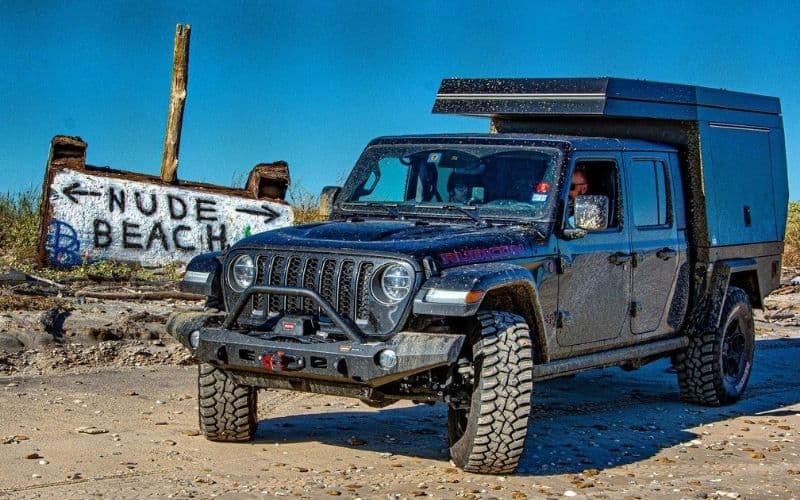 The 50/Ten Full Camping System offers a way to conveniently stow all your essential camping gear and keep it organized.
It does this with a three-way engineering strategy that comprises the "Tray" floor plan, the "Box" and the popup "Tent" to create a comprehensive camping experience all in a model that will confidently fit inside the cargo box of the Jeep Gladiator.
When set up the interior height of 95-inches is impressive. This makes it arguably the best option for tall individuals and people who prioritize headroom.
The upper pop-up tent portion is removable, as well as replaceable, all at a very affordable price.
Though it's the storage trays in the Box section that are arguably the biggest selling feature.
They let you set up cargo compartments as you see fit to store all your essential gear.
This also spares you from having a sea of disorganized sealable totes sloshing around in the back of your Gladiator truck camper while you go down the road.
Frequently Asked Questions
Is It Better To Tow A Trailer Behind The Jeep Gladiator Or Get A Truck Camper?
The 6,000-pound maximum towing capacity that comes with most Jeep Gladiator trim levels does give you the ability to tow a teardrop trailer, popup camper or a small travel trailer with a gross vehicle weight rating of up to 3,200-pounds.
When you compare this to the living space and available features of the best truck campers for a Jeep Gladiator it really is a case of having 6 of one or a half-dozen of the other.
It comes down to personal taste as well as how good you are at backing up a trailer.
You should also bear in mind that towing a trailer will having a bigger impact on the Jeep Gladiator's fuel consumption compared to hauling a truck camper in the cargo box.
How Much Will A Camper Affect Fuel Consumption?
You can expect a 10 to 15% reduction in your Jeep Gladiators mile per gallon fuel consumption when you have a truck camper installed.
Though weight and aerodynamics of a specific model can also influence these numbers up or down.
How Much Does A Truck Camper Cost?
The cost of a truck camper to fit a Jeep Gladiator can be as low as $7,500 to as high as $25,000.
It depends on the manufacturer as well as the custom optional extras that you want to be installed.
This is comparable in price to the range you can expect with modern-day teardrop campers.
Excellent Camper

Options To Pair With Your Jeep Gladiator
The popularity of the Jeep Gladiator has continued to rise, which has inspired more and more truck camper manufacturers to offer models to match it.
The one that is best for your Jeep Gladiator will depend on your travel preferences and how you like to camp.
If you are looking for a truck camper that can keep you cool in the summer and warm in the fall, and still has the durability to haul a lot of your essential camping gear, then the AT Overland Summit is likely the best camper for your Jeep Gladiator.
It's lightweight aluminum structure and the honeycomb composite construction provide strength and insulation value.
Not to mention there is a staggering array of customizable options to set it up to your specifications.
If you are looking for a model with a cabover sleeping area and tons of interior living space, then the GEO Cab Badger LT is likely going to be the best truck camper for your Jeep Gladiator.
While the sleeping space is a little snug with headroom, it gives you more interior living space than most of the models in this niche.