Lightweight pickup trucks are incredibly popular for both their comfort, size, and utility. So, there's little surprise that lightweight truck campers that accommodate them are also very popular.
People who own half-ton and three-quarter-ton pickup trucks often use them to tow equipment trailers, recreational equipment, or transport tools as part of their everyday job.
This makes lightweight truck campers very popular for tradesmen and construction workers as well as small families that want to have their living accommodations and transportation all in one unit.
Though the popularity of lightweight truck campers also means the marketplace is loaded with options. Some have slide-outs to maximize space, and few have a pop-up canvas tent top to make them more lightweight overall.
Some have questionable quality or are tailored to meet specific niche interests. This can make it challenging to find the best truck camper with very low dry weights.
But the good news is, in this post, we've rounded up the top six light slide-in campers that fit in the bed of your half-ton truck or a midsize pickup. From weight and size to features and price, we've got you covered.
Before diving into our favorite picks, it probably helps to define what makes a good lightweight truck camper as well as what some of the benefits are of choosing a lightweight truck camper over some other type of RV.
What Is A Lightweight Truck Camper?
The Term "Lightweight Truck Camper" can be a little bit subjective. Though most will define a lightweight truck camper as being one that has a dry weight of under 2,000-pounds and can be safely hauled by most half-ton pickup trucks. This includes trucks like the Ford F-150, Ram 1500, and the Chevrolet Silverado, and their various trim levels.
It's also worth bearing in mind that most of these trucks are available with different can styles and cargo box sizes, which can influence the type of floor plan needed for a lightweight truck camper to be compatible.
There are also some variations in the types of lightweight truck camper you might choose.
Some are little more than robust truck toppers, while others are popup models that are compact when you drive down the road, yet expand to give you an interior space that's on par or even larger than what you might get in a tow-behind teardrop camper.
Many have a rudimentary kitchen and a few even have some type of bathroom with a shower.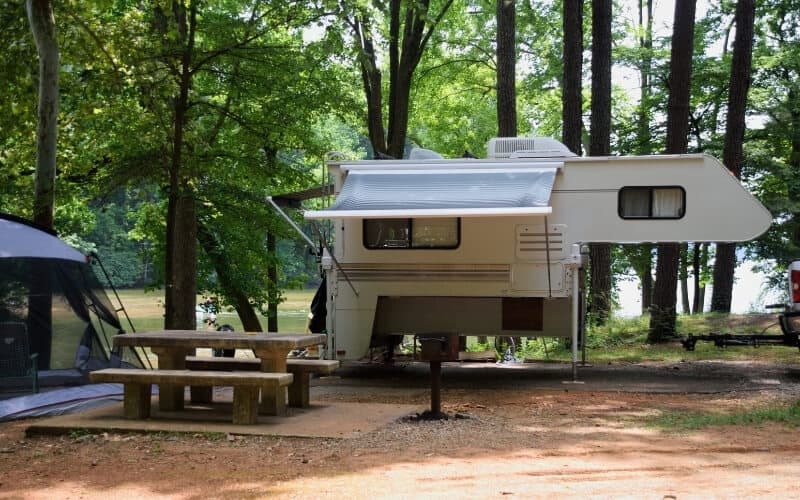 What Are The Benefits Of A Lightweight Truck Camper?
Lightweight truck campers are very convenient for a variety of reasons.
Right off the bath, they are easier to take with you than a travel trailer or teardrop camper, as you don't have to worry about maintaining a separate trailer with all it's moving parts and vulnerable connections.
There are also a lot of lightweight camper enthusiasts who will tell you they feel more comfortable having their living accommodation with them, at all times.
Lightweight popup campers also tend to be more weather resistant than teardrop campers that can be vulnerable to strong winds.
They also tend to be more waterproof than popup campers that can become prone to leaks in the canvas over time. All while giving you superior security for holding high-value tools and other valuables.
8 Best Lightweight Truck Campers
With all the options available on the market today and the different floor plans that can be matched with various half-ton, or three-quarter-ton pickup trucks, finding the best lightweight truck camper for you can feel a bit challenging.
You might even be wondering what are some of the best lightweight truck campers?
For starters the Lance – TC 650 and the Palomino – Real-Lite HS-1803are two of the top contenders. They can fit a lot of different pickup truck cargo boxes and come loaded with a lot of features RV travelers prioritize in a lightweight pickup camper. Though they certainly aren't the only lightweight pickup campers worthy of your hard-earned dollars.
To find the best lightweight pickup camper for you, we will need to take a closer look at some of the top models in the field.
This includes touching base on what sets them apart from the competitors, as well as keeping a vigilant eye out for the material build quality and engineering that makes them a smart return on your investment.
Here are our choices for the 8 best lightweight pickup truck campers:
1. Lance 650 Truck Camper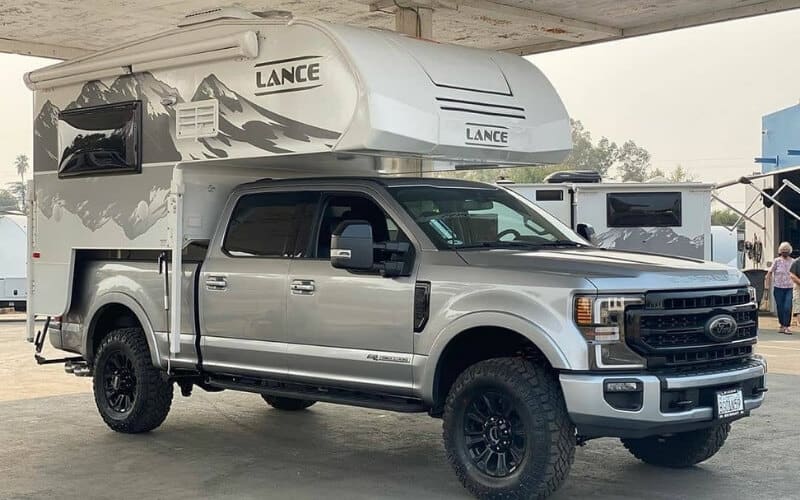 The Lance TC 650 is an impressive lightweight pickup camper that only tips the scales with a 1,650-pound dry weight. Yet it also has a lot of the comfort features that RV enthusiasts prioritize.
This makes it a great choice for a lot of half-ton pickup trucks like the Ford F-150 and the Chevy Silverado, or the Dodge Ram 1500 that have the payload capacity to handle it.
The interior floorplan gives you a tidy living area with a comfortable U-shaped dinette that faces the kitchen area with it's two-burner stove.
This lower portion of the lightweight truck camper also houses the wet bath area with a shower and a flushing toilet.
The whole thing is supported by modest fresh, and gray water storage tanks as well as a large 16-gallon blackwater storage tank.
This is nice for times when you might want to boondock off the grid and not spend a lot of time worrying about making trips to the RV dumpsite.
If there is a complaint with this layout its that the RV absorption refrigerator and the TV are awkwardly installed in the upper queen size sleeping area.
This isn't much of an issue if you are traveling alone or as a couple. Though it could be inconvenient if you are traveling with an only child and you all want to watch a TV show at the same time.
2. Capri Cowboy Hard-Side Long Bed Truck Camper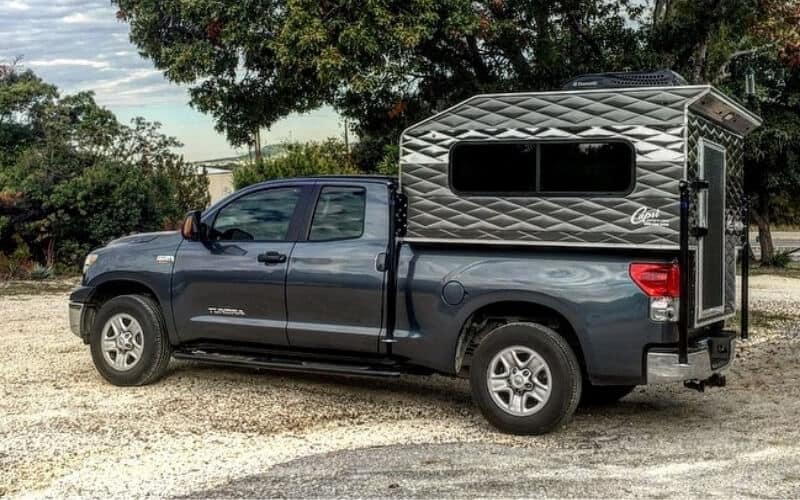 Capri is a very well-known truck camper brand offering a wide lineup of truly lightweight truck campers like the Capri Cowboy. This particular model is designed to fit an 8-foot long box, which is the top end of this lineup.
If you happen to have a smaller cargo box in your pickup truck, there are other floorplan options available for 6.5-foot and 5.5-foot cargo boxes like you find with crew cab trucks.
Yet this model only tips the scale with 750-pound dry weight and a GVWR of 1,340-pounds when fully loaded.
The interior of the Capri Cowboy is spacious. This is thanks in large part to the 8-foot cargo box floorplan as well as a thoughtful economy of space in the overall design concept.
With this particular floorplan, the sleeping space and benches can be set up to sleep two to three people comfortably, which is handy for a traveling couple of a small family with an only child.
Though the trade-off with this large, wood-centric interior of the Capri Cowboy for an 8-foot cargo box is that you don't get much in the way of bathroom or kitchen facilities.
You basically get a sink and enough countertop space to put something like a two-burner Coleman camp stove.
3. Livin' Lite CampLite 6.8 Aluminum Truck Camper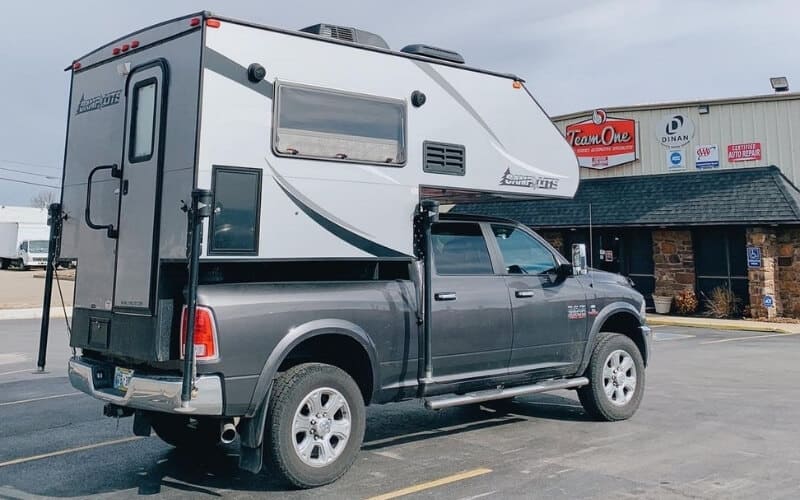 The Livin' Lite CampLite 6.8 rides the top of the line for being a lightweight truck camper, as it tips the scales with just over a 2,000-pound dry weight.
Though this buys you enough interior room to sleep up to four people. There are also a lot of amenities that go beyond what you might find in a teardrop camper in the same range.
The interior of the Livin' Lite CampLite 6.8 is compact, yet conveniently laid out to make the most out of the living space without compromising the sleeping capacity.
The seating area converts into enough sleeping space for two children, and the upper bunk measures 60-inches by 80-inches.
This makes the Livin' Lite CampLite 6.8 a great option for a family of four with two young children.
The bathroom and kitchen are also rather impressive in the Livin' Lite CampLite 6.8. The wet bath has a shower and a toilet. The kitchen even has its own dedicated sink with a two-burner stove and a microwave.
It's also worth noting that the water system in the Livin' Lite CampLite 6.8 is supported by a single 19-gallon fresh water storage tank and feeds to a single 27-gallon black water storage tank.
There is no formal gray water tank. This means you could bring an additional 8-gallons of water with you in an accessory fresh water tank for hand and dishwashing.
When the black water tank is full of effluent and shower water you can then make one single stop at an RV dumpsite. In this way, the Livin' Lite CampLite 6.8 might be the best lightweight truck camper for a small family that likes to boondock for a few days at a time camping off the grid.
4. Palomino Backpack HS750 Truck Camper
Palomino is one of the RV industry leaders with models designed to suit just about any conceivable need. You see this catering to the needs of lightweight truck camper enthusiasts with the 1,870-pound dry weight Palomino Backpack HS-750.
The floor plan will also fit snugly into the cargo box of most domestic half-ton pickup trucks with an extended cab. The interior of the Palomino Backpack HS-750 has a wet bath with a toilet and a tidy shower combo in one.
It also has a kitchen with its own separate sink. Both are fed by a relatively large 21-gallon freshwater tank and drain into a pair of 8-gallon gray water and black water storage tanks.
Of course, when you do the math there is a little disparity there in that you will never completely empty the fresh water storage tank into the two waste tanks.
This speaks to the Palomino Backpack HS-750 being engineered for live in campgrounds and RV parks where dump facilities are close at hand.
5. Travel Lite 960RX Truck Camper For Long Bed Trucks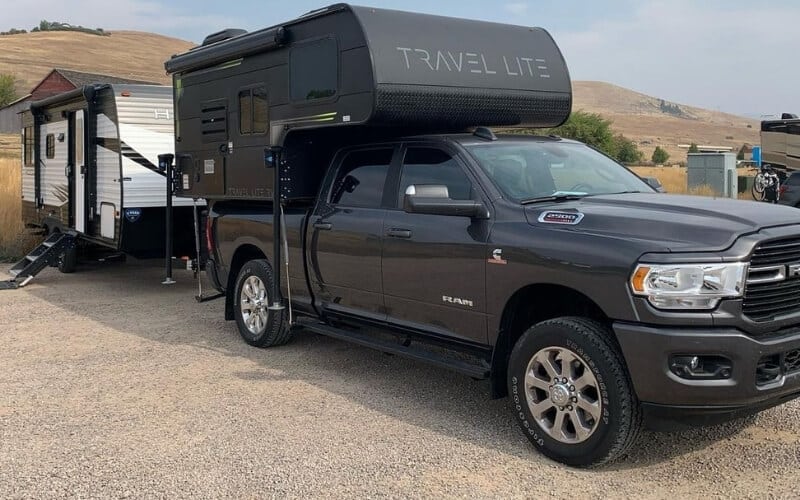 Right off the bat, it's worth noting that the Travel Lite 960RX is only designed to fit in a long box pickup truck and won't tuck into any smaller of a cargo box.
It also tips the scales at a hefty 2060-pounds. Though the tradeoff here is a lot more interior sleeping and living space than you see in a lot of the other lightweight truck campers in this niche.
The interior has a true queen size bed in the upper sleeping area, that is paired with a lot of handy storage. It's the perfect place for a couple to sleep in semi-privacy without having to mingle their things into the rest of the family's storage items.
The lower dinette section also converts into a bed that is enough space for one teenager or perhaps two younger children. There is a relatively large wet bath in the rear of the Travel Lite 960RX.
It has a shower with a little more elbow room than you might expect and a toilet that flushes directly to the 6-gallon black water storage tank. There's also a small 8-gallon gray water storage tank.
Here again, the disparity in size between the large fresh water storage tank and the two wastewater storage tanks speaks to the Travel Lite 960RX being designed for life in an RV park or campground with facilities rather than a go-anywhere boondocking camper for long trips off the grid.
6. Palomino Real-Lite HS-1803 Hard Side Truck Camper
The Palomino Real-Lite HS-1803 lives up to its name by tipping the scales at a mere 1,870-pounds. Its truck bed length of 8.2 feet will fit most standard or long cargo box, half-ton pickup trucks, which is handy for small families and tradesmen who need to bring their sleeping accommodation with them to the job site.
The interior of the Palomino Real-Lite HS-1803 is spacious for a lightweight truck camper. There is a decent size wet bath with a shower and a flushing toilet.
The layout of the primary living space is thoughtful, with a large dinette, facing the kitchen area.
Though here again the TV is positioned so that it's only really comfortable to watch if you are laying in the upper bunk.
One of the lesser-noted things about the Palomino Real-Lite HS-1803 is the 20,000 BTU heater. You probably won't appreciate it when you are trying to sleep on a hot and humid night in July.
Though if you are someone who likes to camp at altitude or needs a lightweight truck camper to use as a hunting base camp in the fall, then it is perfect for keeping you toasty warm.
If there is an area of complaint with the Palomino Real-Lite HS-1803 it's the relatively small size of the gray water storage tank. At 8-gallons, you are going to run out of storage for your hand and dishwashing water in a hurry.
Though this isn't really an issue if you are staying at a campground or an RV park with dump facilities close at hand.
7. Phoenix Mini-Max Lightweight Pop-Up Truck Camper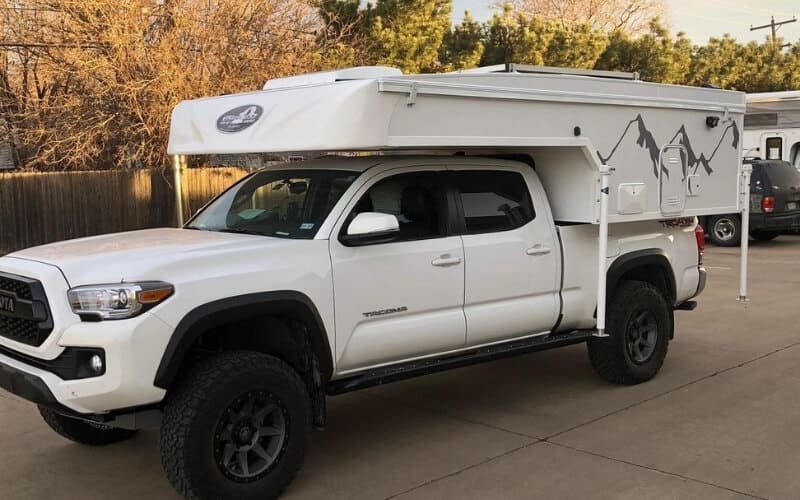 The Phoenix Mini-Max is a popup camper that fits most short and mid-size cargo box pickup trucks. It's 1,210 pound dry weight also makes it a great pup-up truck camper option for half-ton trucks.
Though when you fully loaded it with gear and top up the water storage tanks the gross weight can start to push over the level that a lot of half-ton truck owners are comfortable driving down the road with.
This sort of speaks to the Phoenix Mini-Max being best served in an RV park or campground with resources close at hand. Though with this in mind the 5-gallon cassette toilet is convenient.
Not only does it save on the overall weight, but it's easy to simply pop it out and take it directly to the nearest RV dump station without having to break camp and collapse the Phoenix Mini-Max popup camper's roof.
8. Hawk Four Wheel Pop Up Truck Camper
The Four Wheel Camper Hawk pop-up truck camper was designed to be lightweight and easy to transport, on a short bed half-ton pickup truck, even when driving at highway speeds. It has a 20-gallon fresh water storage tank and a 5 gallon cassette toilet which really helps keep the weight down.
When you consider that it only has a dry weight of 1,075-pounds the Four Wheel Camper Hawk might just be the best lightweight popup truck camper on this list. It even comes with a 85 liter DC compressor refrigerator and a pair of 10-pound propane tanks.
There's even a 160 Watt rooftop mounted solar panel system to help top up the single house battery that's included in the purchase. All of this in a very friendly priced lightweight truck camper.
Frequently Asked Questions
How Much Do Lightweight Truck Campers Cost?
As a general baseline, most lightweight truck campers start out around $8,000, which can be slightly less than a similarly appointed teardrop camper. Though this is just the bottom end of the scale for a rather basic and stripped-down model.
Some of the higher-end models with all the bells and whistles could ring in as much as $30,000 to $40,000.
Can A Midsize Pickup Truck Carry A Truck Camper?
While there might be a few exotic options out there on the international marketplace, most midsize pickup trucks don't have the width to accommodate the floorplan of a truck camper.
They also don't tend to have the payload capacity or the suspension to handle safely supporting most lightweight truck campers.
Does The Weight Of A Truck Camper Alter The MPG?
Unfortunately, even the most lightweight of truck campers will still have an impact on the truck's miles per gallon.
Depending on the overall weight and the aerodynamics of the lightweight truck camper, you can expect to lose 15 to as much as 25% of the average miles per gallon. Though this number will be less if you happen to have a diesel engine.
Can I Install A Truck Camper Meant For A Short Bed Truck Into A Long Bed?
Technically you can, so long as it fits properly over the wheel well and is still within 12-inches of the rear of the cab.
There might need to be some modifications made to the attachment hardware. So, if you aren't experienced with installing one, you might want to seek professional installation.
Conclusion
There certainly are a lot of great lightweight truck campers on the market today.
Finding the best lightweight truck camper for you starts with factoring in the payload capacity and box size of your pickup truck. Then you can dial in the features you prioritize.
If you are the kind of person who needs a lightweight truck camper that can keep you warm when you camp in the mountains or on long fall hunting trips, then the Palomino Real-Lite HS-1803 or the Lance TC 650 might be at the top of your list. Both can sleep you comfortably and have toasty warm heaters.
If your RV camping style calls for more boondocking off the grid, then the Livin' Lite CampLite 6.8 might be the best lightweight truck for you.
It has large fresh water and black water storage tanks to support you for multiple days of living away from the comfortable resources of a traditional campground or RV park.
Whatever kind of pickup truck you have or the type of truck camper features you prioritize, chances are good that the best lightweight truck camper for you is somewhere on this list.