The Mercedes-Benz Metris is a commercial passenger van that Mercedes-Benz sells only in the United States and Canada.
They started manufacturing this model in 2015 and it has quickly taken off not only as a commercial vehicle but as a great base model for a lot of creative camper conversions.
If you've been thinking about embracing the "Vanlife" concept, then you might draw some great inspiration from some of the following Mercedes Metris Camper Conversions ideas and custom van builders.
This starts with getting to know some of the technical specs of the Mercedes Metris.
Get to Know the Mercedes Metris Technical Specs
The turbocharged 2.0-liter, 4-cylinder engine of the Mercedes Benz Metris is surprisingly powerful for its size.
Mercedes engineers get away with a 4-cylinder engine by pairing it with a 7-speed automatic transmission that puts as much of the power down as humanly possible.
This translates into a great MPG rating for what was essentially designed to be a commercial passenger van.
The chassis and the suspension system on the Mercedes Metris is also impressive. Most of the models have a payload capacity of up to 2,500-pounds.
This translates into the ability to handle a lot of custom interior modifications, adding cabinets and such.
Not to mention it practically begs you to install a cargo rack on the roof.
The rear door is available in either a 270-degree swing-open rear door or a hatchback-style tailgate.
While the door doesn't influence the price, it can impact the design ideas you use for your Metris camper conversion build.
If you have your heart set on a cargo roof rack, then you definitely want to lean toward the tailgate model, which essentially gives you the standing platform for unloading your gear.
6 Mercedes Metris Camper Conversion Companies
A lot of people who convert a Mercedes Metris into a camper van choose to go through a professional coach works builder.
Not only does it spare them to risk of accidentally damaging something, but coach works builders can also add a popup tent kit to expand the roof and add a lot more sleeping space.
Though, the downside of having your Metris camper conversion handled by a professional coachbuilder is the cost and the time it takes to get the completed project.
These days a lot of coachbuilders have a waiting list months in advance, and the cost just to add the popup roof tent starts at $10,000 and goes up from there.
Still, if you have the budget and the patience, the end result is a custom Metris camper conversion that is sure to impress.  
If you are truly interested in a custom build, here are 6 amazing Mercedes Metris camper van conversion companies to check out.
1. A Metris Named Walter By Keystone Coachworks
Average cost of $15,000 to $25,000
Walter was custom converted by Keystone Coachworks based in Eugene Oregon.
This particular Metris started out as a completely empty cargo van, which served as a convenient canvas to convert into a highly functional camper.
One of the most notable changes to boost the living and sleeping space was by adding a pop-top tent camper space.
This gives it the ability to sleep up to four people comfortably. There is also an expandable awning on the side which adds to the exterior living space.
When the roof is popped up there is more than enough headroom for a 6-foot tall person to stand up.
At bedtime, the bed can be swung down from the roof of the popup section and locked into place.
This lets you enjoy plenty of headroom and walk-around space during the day, while still making use of functional sleeping space at night.
Inside you'll find some Corian cabinets integrated into a tidy kitchen space. There's also a sink with a flush-mounted, popup top.
This means that when you aren't using the sink you have full use of the entire counter.
The passenger seat also has a locking swivel, which lets you turn it around to use as a functional seat.
2. The Incredible Westie Pop Top Metris By GTRV
Average cost of $15,000 to $27,000
This camper conversion uses a 2019 Mercedes Metris Cargo Van as its base. Here again, it's a professional coachworks creation.
It uses a popup canvas system to maximize the headroom and interior living space.
A flush-mounted propane stove with a build-in propane tank and sink maximizes the counter space.
There's even a tankless hot water heater to give you hot enough water to truly wash dishes.
There's a two-way refrigerator that runs off the van's battery. All without over-taxing the stock alternator.
This Mercedes Metris also has a shore power connection installed so that the refrigerator automatically switches over to 110 volts when you connect to another power source.
The sleeping area of the Westie is built overtop of a well-thought-out cargo system. You can access it from inside to grab storage bins and duffel bags.
Yet you can also convert it over to hold longer items like ski poles and skis. Right next to it is a vent for the furnace. This makes it a true four-season go-anywhere camper conversion.
You also have to like that they put in black-out curtains for privacy as well as letting you sleep past dawn.
This might not sound like a big deal on paper, but it can be a real boon if you are camping in Canada or northern tier states in the summer when sunrise can start as early as 4:30 or 5:00 am.
3. The Peace Vans Weekender
Cost tiers start at $10,000 to 28,000 with full custom conversion costing $50,000+
Peace Vans is another conversion van coachworks company that specializes in Mercedes Metris camper conversions.
They have three primary build models with the Weekender being one of their most popular.
It was designed for people who prioritize cargo space on the inside while still enjoying a relatively wide rear bench seat.
Of course, it also has a canvas pop-top, that also folds perfectly flat into a bed for two.
The rear seat slides have three positions which provide you with additional cargo space where you need it.
There's even a convenient table that attaches to the base of the bench seat to give you a true dining room feel.
The Weekender was designed to be ideal for Mercedes Metris models that have dual sliding doors to create an open-air living room.
Though it can also be adapted to work with a single sliding door model. There's even an awning option to expand your exterior living space.
Though you might be better served by using a snap & grommet system to attach a screen tent. This would also help keep the bugs out in the evening.
If you like to boondock off the beaten path, Peace Vans also offers a suspension lift system. It costs a little over $2,000, but it adds 1.5 inches of suspension travel.
Not only does this make for a smoother ride when you go off-road, but it also allows you to install larger tires on your Mercedes Metris.
4. The Driverge Metris Getaway
Average cost from $10,000 to $40,000
Driverge is another coachworks company that specializes in customizable Mercedes Metris camper conversions.
Their Getaway base conversion package is the most popular and includes things like an elevating roof with an integrated spring system that opens up an additional sleeping area that is just big enough for two people on a 2-inch-thick memory foam mattress.
There's even a pair o USB charging ports in the upper sleeping area with tons of storage.
In the lower interior, there is a rear bench seat that also converts into a bed that can sleep two people.
This means that you can truly sleep four people in this Getaway conversion on the weekend, yet you can still use it as your Monday through Friday daily driver.
Driverge also offers a bunch of customizable optional extras. This starts with heavy-duty cargo roof racks to let you bring things like mountain bikes or a kayak with you.
There's also a retractable pull-out side awning that gives you a shaded outdoor lounging area.
Though the optional extra that should be at the top of your list is their integrated solar panels.
5. Contravans
Average cost between $4,000 to $15,000
Contravans is a coachworks builder who embraces customization and client satisfaction.
They have a base model that you can freely add or subtract from to create the Mercedes Metris camper conversion of your dreams.
Though one way that they depart from a lot of other coachworks companies is that they don't specifically offer a pop-up tent.
For some, this is a minus, though for others it's a bonus. Especially when you consider that it keeps the price down and doesn't require making any major modifications to the chassis, the body, or the frame.
It also opens the door for adding a heavy-duty roof rack, which can be a priority if you like to bring your mountain bikes, a canoe, or other heavy outdoor equipment with you when you travel.
Some of the most popular options offered by Contra Vans include Roof racks & awnings or bike racks & exterior storage pods.
They also offer solar panel systems complete with charge controller and Bluetooth monitor packages.
If privacy is a concern or you like to camp in the mountains where it can get cold at night Contravans also offers upgraded insulation & sound deadening packages as well as blackout window curtains
6. Metris Camper Conversions From Oregon Motor Coach Center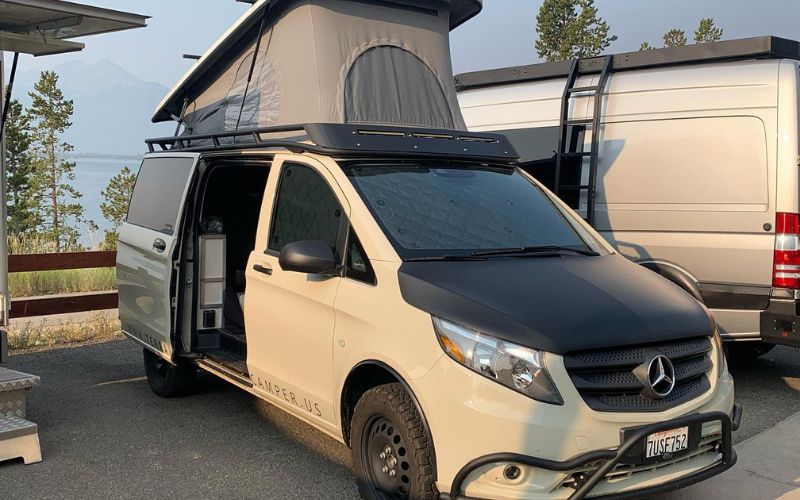 Cost varies from as low as $12,000 to as much as $50,000+
Oregon is sort of the epicenter of a lot of custom coachworks companies, so it's no surprise to see the Oregon Motor Coach Center based out of Eugene.
They offer a suite of options that lets you pick and choose your own unique Metris camper conversion.
They tend to work with completely stripped-down base models. Not only does this make the installation process easier, but it allows them to do things like installing Fat Mat sound deadening panels and upgraded insulation.
The interior kit lets you choose between Fabric wrapped panels, hardwood panels, tongue & groove, as well as laminate, ultra-leather, or vinyl.
Flooring options include rubber coin, vinyl plank, indoor/outdoor carpeting, linoleum, and even hardwood flooring.
They also offer a staggering array of custom cabinets and furniture as well as appliances that can run off 12 Volt DC or AC electricity.
One of the places where Oregon Motor Coach Center sets itself apart from the other professional coach works companies is that they offer innovative plumbing options.
While it will certainly affect the rest of the interior design, they do go so far as to offer marine toilets, gray water systems, freshwater systems, and even a few interesting shower options.
Do-It-Yourself Mercedes Metris Camper Conversions Ideas For Van Life
Let's say you've done your homework and the professional coach works companies simply aren't in your budget.
That's okay because there are a lot of people who have rolled up their sleeves to create their own DIY Metris camper conversions.
You can draw on some of the following examples for further inspiration on how to convert your Metris campervan dreams into reality.
Clare and Rob's NYC Metris Conversion
This Mercedes Metris camper conversion was a labor of love and care that took the creators Clare & Rob over a year to complete.
Though what you get in the end is an impressive camper that can take them anywhere with all the touches of a home away from home. All without having to leave 21st-century technology behind.
The Metris they used as their base model was a stripped-down cargo van. This is a great blank canvas, though it lacked windows.
So, they carefully cut sculpted holes in the panels and parts of the body to accommodate aftermarket tinted windows. All without altering the chassis or the necessary structure of the Metris.
They also went so far as to install a fully functional kitchen that includes a sink, as well as a refrigerator.
They even installed a roof vent to take steam and cooking odors away. This left enough room at the rear of the van, for a bed and large storage compartments.
Blue Ridge Adventure Vehicles
Blue Ridge Adventure Vehicles used a 2016 Mercedes Metris cargo van as the base template for their camper conversion.
It embraces the Van Life concept while still being the sort of micro camper that you can use for long weekend adventures.
It has a Max Air vent fan on the top, which addresses the ventilation issues that can sometimes arise inside a panel van on a hot day, without having to add any sort of popup tent to improve airflow.
As a cargo van, it doesn't come with any windows. Blue Ridge Adventure Vehicles only added two small windows to the side panel and the sliding door.
Then they used the vertical space to install tall floor-to-ceiling shelving and cabinets.
All while making sure there were at least 48 inches in between. This ensures that you can still use the cargo capacity of the Metris to do things like haul standard sheets of plywood. It is also large enough to fit a full-size air mattress.
They added a 120 Volt shore power outlet that lets them use campground electricity.
Then there are also 12 Volt USB outlets inside that let them charge essential devices. Interior lighting comes via energy-efficient LED lights.
The kitchen area features a two-burner propane Dometic stovetop. There's also a small single basin sink that is plumbed with an electric water pump to feed fresh water from a 3-gallon water container.
There is also a 3-gallon gray water tank. Making sure they are in the same capacity ensures that you never have an overflow issue.
Conclusion
The Mercedes Metris might be a relative newcomer in the US domestic van market, but they are quickly growing in popularity and availability.
You can usually find one that is only a few years old for a great price. The cargo panel vans tend to be the easiest blank canvas to work with.
Once you have the Metris picked out, you can choose between taking it to a professional coachworks company, where the floor price for a camper conversion is going to start at $10,000 just to add the popup tent, and then rises from there.
The wait on these conversions can be long. Especially if there are supply chain issues.
If you have the time, and the mechanical skills, you might want to embrace a DIY Metris camper conversion.
A lot can be done with simple plywood to create shelves and cabinets for around $100 or so.
Then air mattresses and memory foam can give you an inexpensive sleeping space.
LED lights and a simple battery or rechargeable power station can handle a lot of your basic power needs.
Embracing the DIY concept, you can create a very functional Metric camper conversion for $1,000 or perhaps less.
This is compared to the tens of thousands of dollars you might spend by going to a professional coach works company.